Looking for the best things to do in Jackson Hole in winter? Getting ready to spend your winter vacation having a blast? When it comes to things to do in Jackson Hole Wyoming in winter, there's plenty – you'll be spoiled with all the choices!
Jackson Hole is located in the stunning Teton Mountain Range, offering some of the best skiing, snowboarding, and snowmobiling activities to keep you going in the winter season. That means that a lot of people are drawn to Jackson Hole in the winter, so you'll be able to find plenty of activities to keep you and your family busy.
Recently, Tony and I took our oldest son on a winter vacation to Jackson Wyoming to celebrate his birthday. For a mom who used to always avoid cold destinations, I was surprised by how much I loved our trip to Jackson in the winter!
You see, we've enjoyed exploring Grand Tetons with kids and learned about all the fun things to do in Jackson Hole with kids during the summer months on previous trips. This time around, I'm excited to share with you what I learned on our most recent trip to help you plan a Jackson Hole Wyoming winter vacation.
THIS ARTICLE MAY CONTAIN COMPENSATED LINKS. PLEASE READ OUR DISCLAIMER FOR MORE INFO.
Where To Stay In Jackson Hole For Skiing?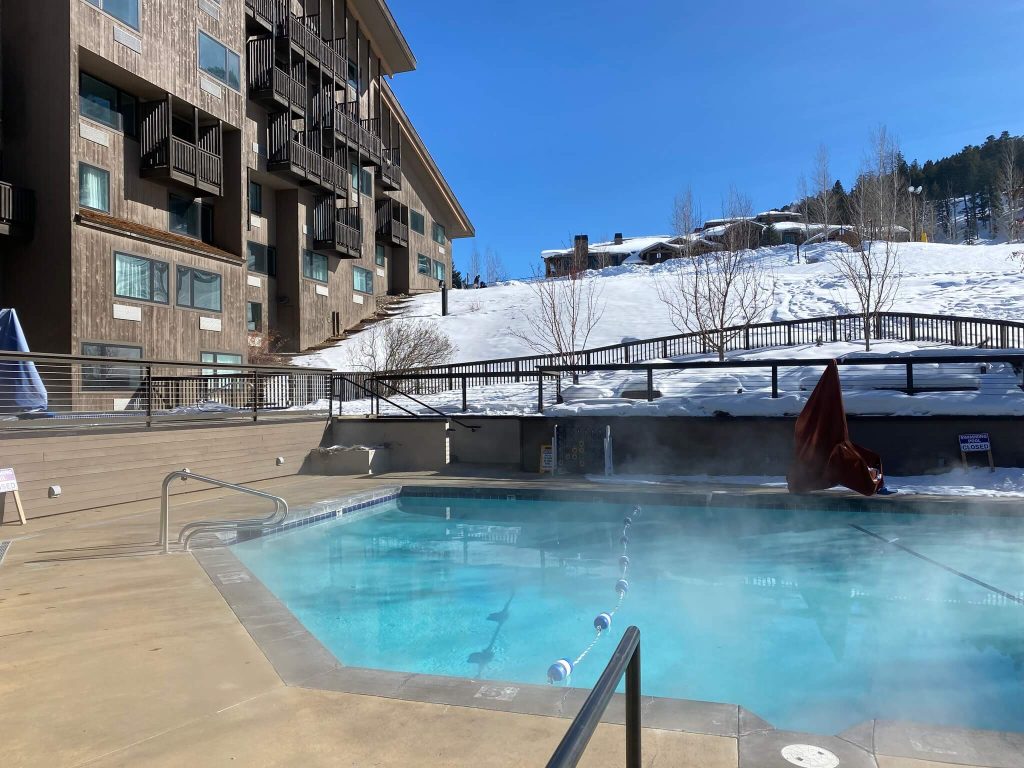 Looking for the best place to stay in Jackson hole for skiing? In my personal experience, Snow King Resort, located in downtown Jackson (the city), offers an affordable yet incredible experience for skiers. They actually provide one of the best options for ski in and ski out in Jackson, to their very own Snow King Mountain Resort.
Keep in mind that Jackson Hole Ski Resort is a 20-minute drive from Snow King Resort and Lodging. However, Snow King offers free ski shuttle services to their guests.
We enjoyed the outdoor heated pool and hot tub, along with the laid-out hotel room with plenty of room for hanging our ski gear each night. I also appreciated the use of a storage closet near the front desk of the hotel, where we were able to store our skis and poles.
If you have a large family, Snow King also offers Luxury Condominiums with more space. Check rates for Snow King here.
If you'd rather stay in Teton Village so that you can walk to the ski lifts at Jackson Hole Resort, then one of the top picks is the Snake River Lodge and Spa, where you can enjoy not only ski-in/ski-out access to the slopes but also stunning views of the valley and Teton Mountain range. Click here for rates at Snake River Lodge and Spa.
FAQ's About Jackson Hole In The Winter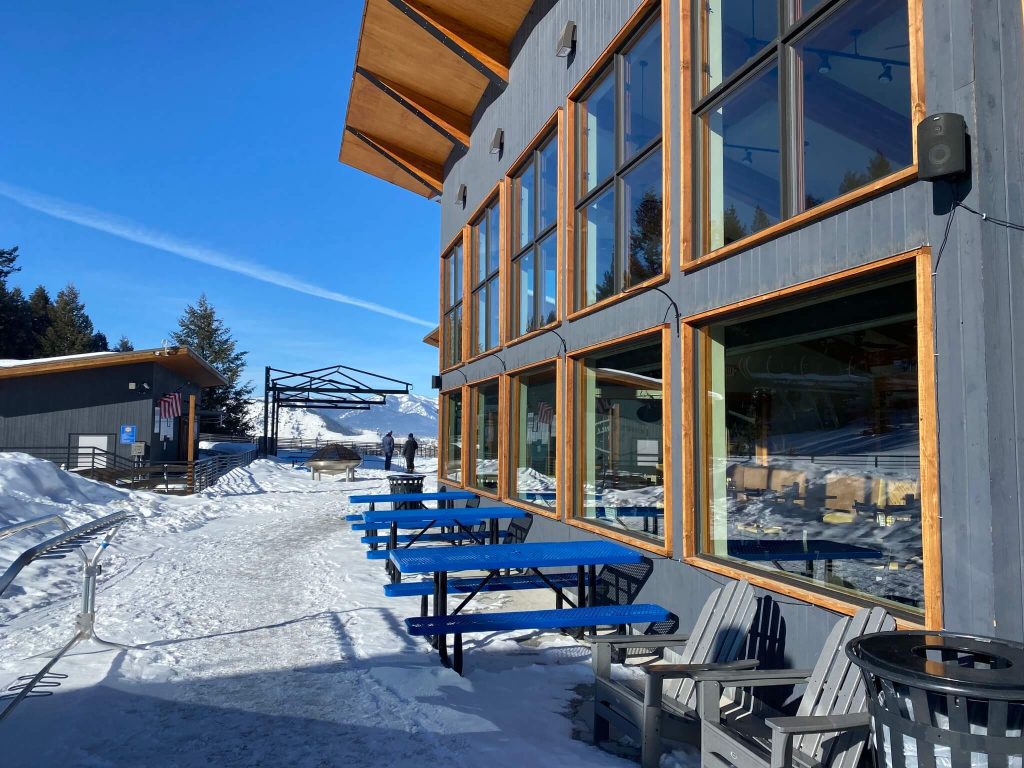 Is Jackson Hole fun in the winter?
Jackson Hole is one of the best places to visit for epic winter fun! With so much to do, you'll seriously never get bored! Skiing, snowboarding, snowshoeing, snow tubing, snowmobiling, and visiting hot springs are just a few of the exciting winter activities.
What is the coldest month in Jackson Hole?
The coldest month in Jackson Hole is typically January. It gets down to an average low of 6°F (-14°C) and an average high of 24°F (-4.5°C). During this time, you'll be able to enjoy all things to do in Jackson Hole winter such as skiing, snowboarding, and snowmobiling.
Do I need a car in Jackson Hole in the Winter?
If you plan to fly into Jackson's airport, you can find car rentals if you'd like. Yet, you might be surprised to learn that you don't need a car to experience most of what Jackson Hole offers in the winter. Most hotels and resorts offer a free shuttle to and from the ski resorts and into downtown Jackson. There's also a free bus service throughout the city of Jackson. It's worth noting that the city of Jackson is very walkable, even in the winter months.
Is it hard to Drive To Jackson Hole In The Winter?
Driving to Jackson Hole in the winter is not difficult as long as you take the necessary precautions. You'll want to check road conditions before you leave so that you can plan accordingly. If you're coming from Idaho you'll be driving East over the Teton Pass and you may need chains on your tires if it's currently snowing.
14 Jackson Hole Wyoming Winter Activities
Let's dive into the top Jackson Hole winter activities that will make your trip incredible. Book a few of these to things to do in Jackson Hole in the winter so that you can have the best
Jackson hole winter vacation.
1. Visit National Parks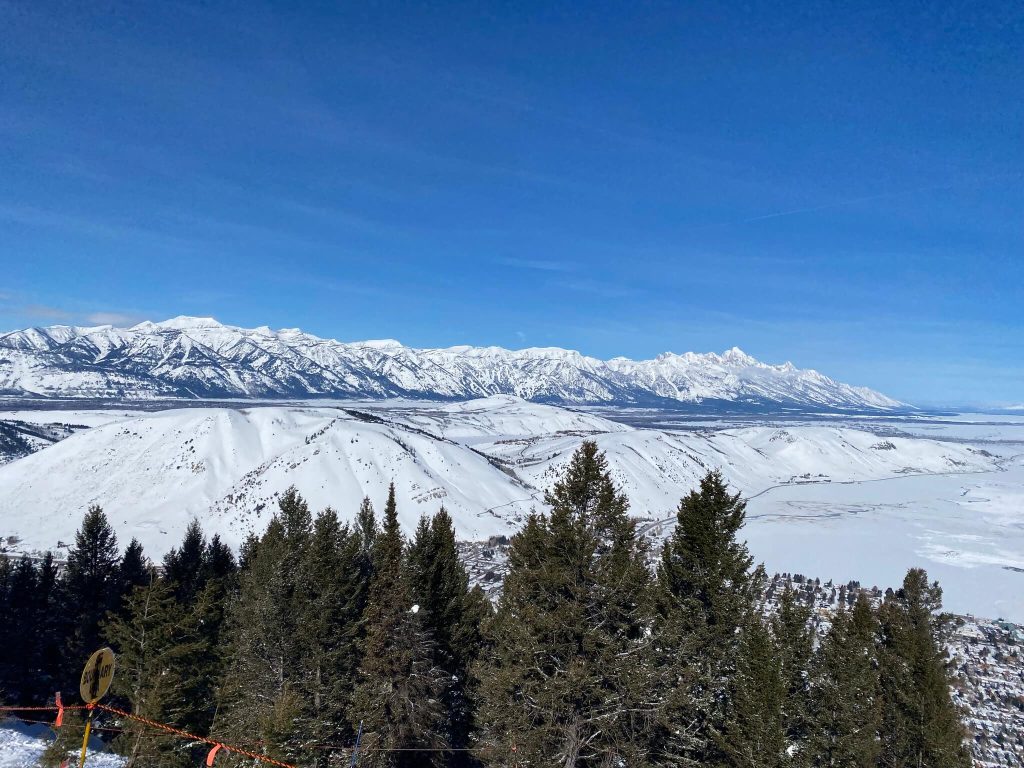 Have you tried visiting National Parks during winter? You may be surprised by how beautiful it can be! If you're in Jackson Hole, try visiting Grand Teton National Park and Yellowstone National Park. You'll be amazed by the snow-covered mountains, frozen lakes and rivers, and all of the wildlife that can be seen during this time.
2. Go on Wildlife Tours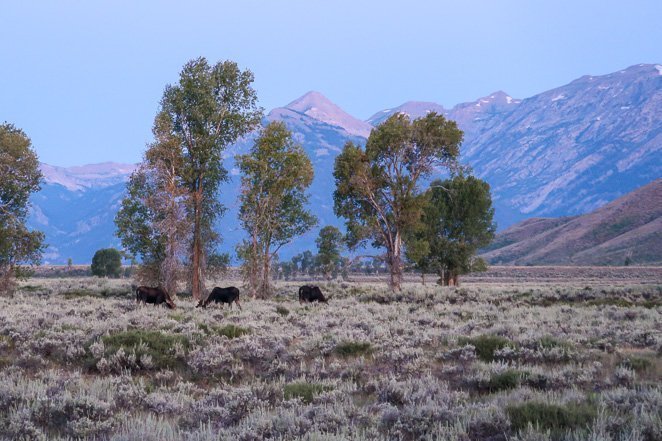 Winter is a great time to go on Wildlife Tours in Jackson Hole. While the mountains are blanketed under snow, it's easier to spot wildlife, making it the perfect time to go on a tour and see the local wildlife in Jackson such as elk, moose, deer, bison, bears, and even wolves. You can take a wildlife winter tour at National Elk Refuge and Grand Teton National Park.
3. Take A Photo Under The Elk Antler Arches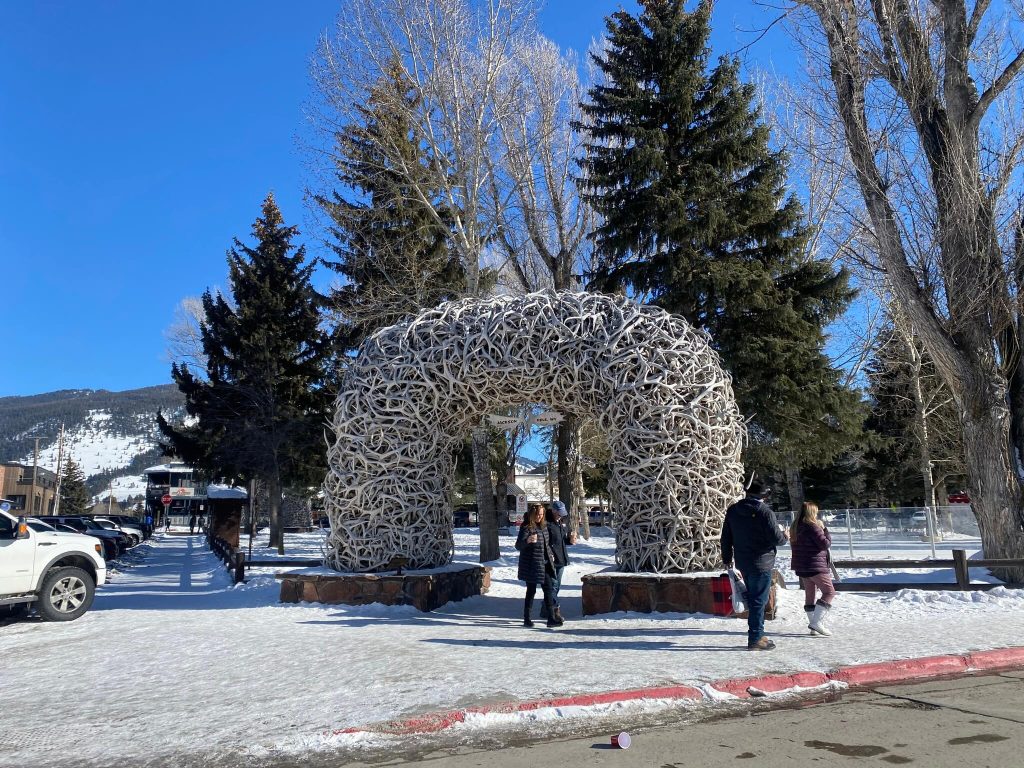 If you're looking for free things to do in Jackson Hole with kids or with the family, then go walk around the Jackson town square and grab a family photo under the famous Elk Antler Arches. These arches were created with over 2,000 elk antlers donated by the National Elk Refuge that the animals shed each year.
4. Go Skiing and Snowboarding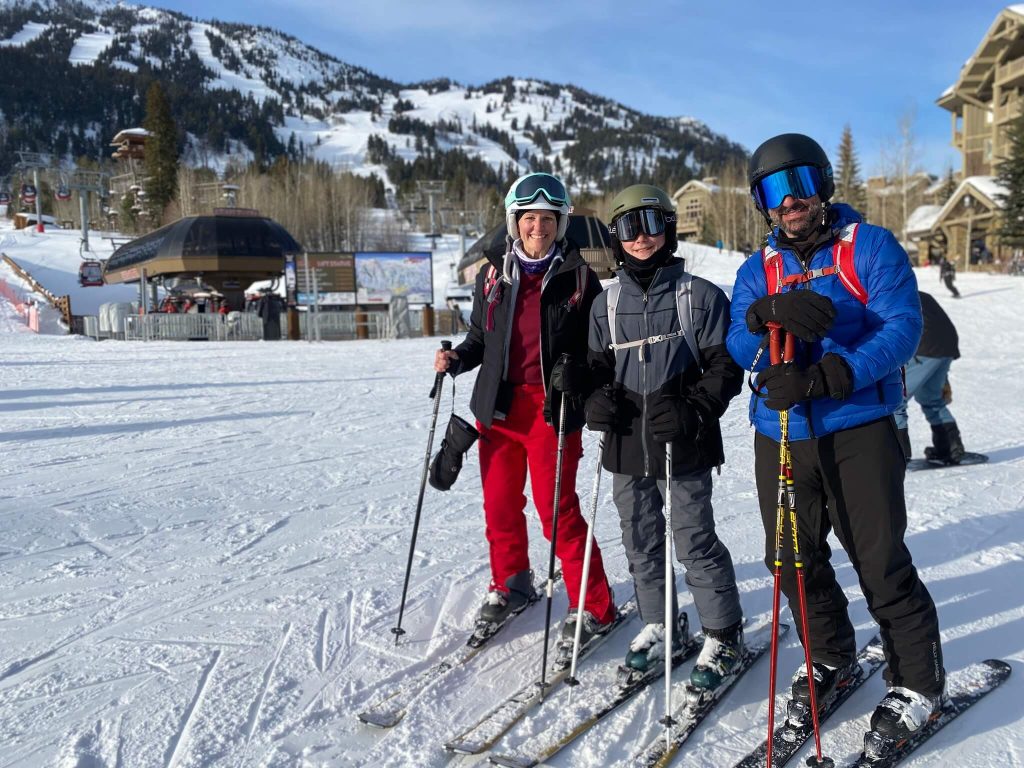 If you're searching for the best things to do in Jackson Hole in the winter, then be prepared to visit one of the most popular ski towns in the West. Skiing and snowboarding are popular winter activities in Jackson Hole.
The area is home to one of the best ski resorts, Jackson Hole Mountain Resort. In addition, you can also experience Snow King Resort skiing in downtown Jackson. These two resorts offer amazing terrain for beginner to expert skiers and snowboarders alike. Honestly, if you're learning to ski at 40, then Jackson is a great place to visit with their great ski instructors and variety of beginner, intermediate, and advanced runs.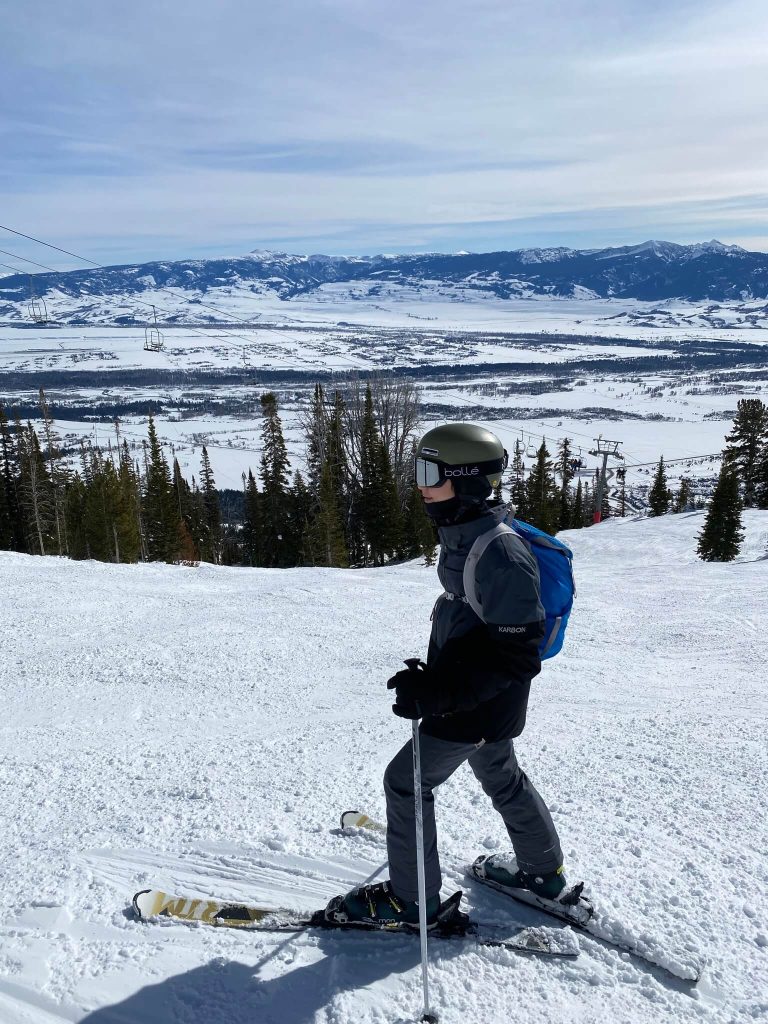 My son and I just learned to ski this season and found Jackson Hole Mountain Resort to be such an incredible experience. There's a large beginner area with several green runs at the base of the mountain, while there are also so many amazing intermediate ski runs. Jackson hole is no longer just a place for expert skiers like it once was, not after they added two new lifts in the mid-2000's that opened up so many more intermediate options.
5. Try Going on a Dog Sledding Tour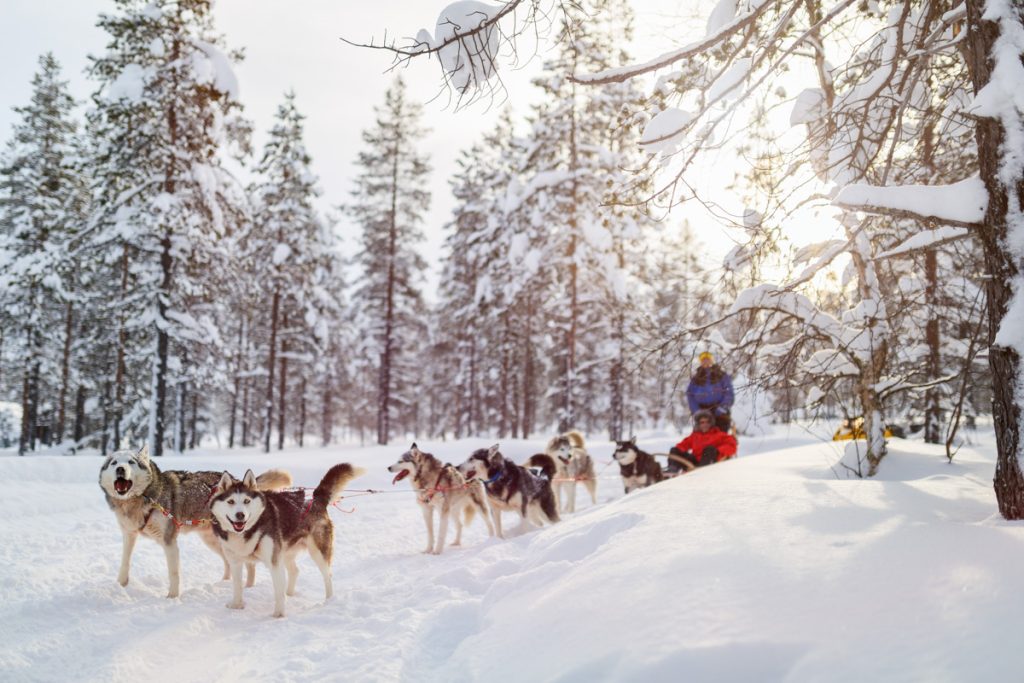 You've seen it on TV, but have you ever tried it yourself? Dog sledding is one of the unique things to do in Jackson Hole! Many people are drawn to the area during this time of year because they can enjoy a dog sledding experience. A pack of sled dogs will guide you into the wilderness, where you can see some of the wildlife that's native to the area.
6. Enjoy Winter Snowshoeing or Cross Country Skiing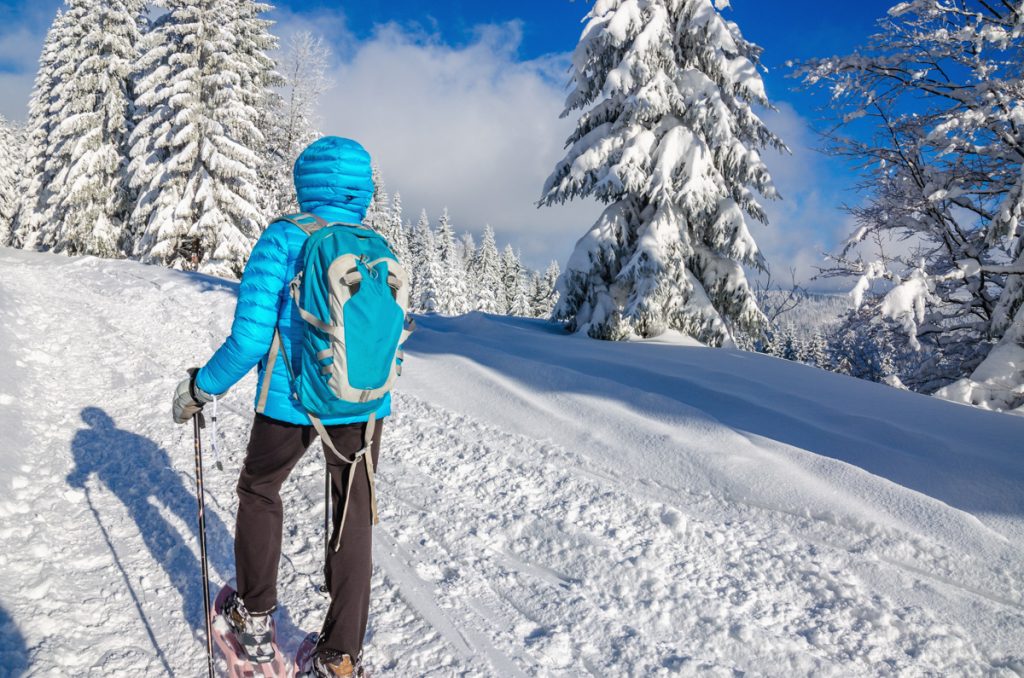 If you feel like downhill skiing and snowboarding are something you don't want to do, then why not try snowshoeing or cross-country skiing? This is a low-impact option and a great way to explore the area. You can take a guided snowshoeing or cross-country ski trip through Grand Teton National Park and enjoy the powder-covered nordic trails.
7. Go Snowmobiling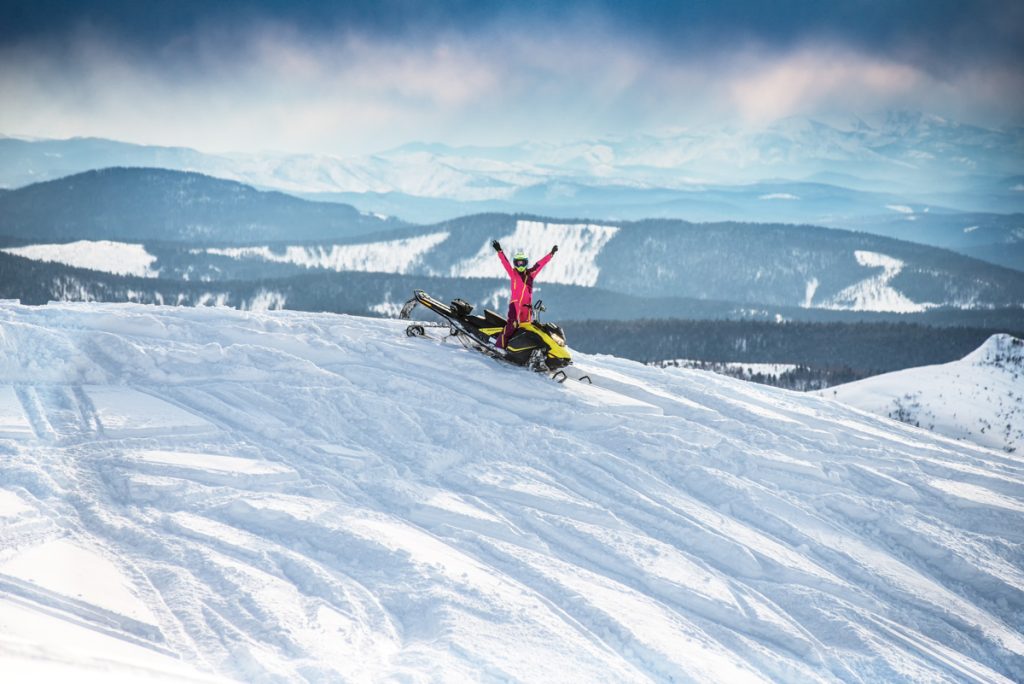 Another great way to explore the area is by snowmobile. Enjoy snowmobiling on the trails that wind through forests, mountains, and valleys of the Jackson area. Take a guided tour or rent your own snowmobile and explore! You can tour around Yellowstone National Park, Grand Teton National Park, Gross Ventre Range, Togwetee Pass, and other landmarks that you can find in the area.
8. Visit a Hot Spring
One of the most relaxing and therapeutic things to do in Jackson Hole in winter is to visit a hot spring. You can find natural hot springs located in the area that offer stunning views of the mountains and let you relax and warm up after a long day of exploring.
Some of the known hot springs you can find in the area are the Astoria Hot Springs near Snake River and Granite Hot Springs located at the end of Granite Creek Road, south of Jackson.
Related Post: Visit Idaho Hot Springs
9. Go Ice Skating
If you want to take a break from downhill skiing but still want to be outside and enjoy a winter sport, why not try ice skating? You can find an outdoor ice skating rink at Jackson Town Square, the Town Square rink. It's the perfect place to take your family and friends, ice skate around leisurely, or even try some figure skating tricks.
Or, if you are staying in Teton Village at the Jackson Hole Resort, then plan to go ice skating on the Village Rink on the commons.
10. Enjoy Shopping in Downtown Jackson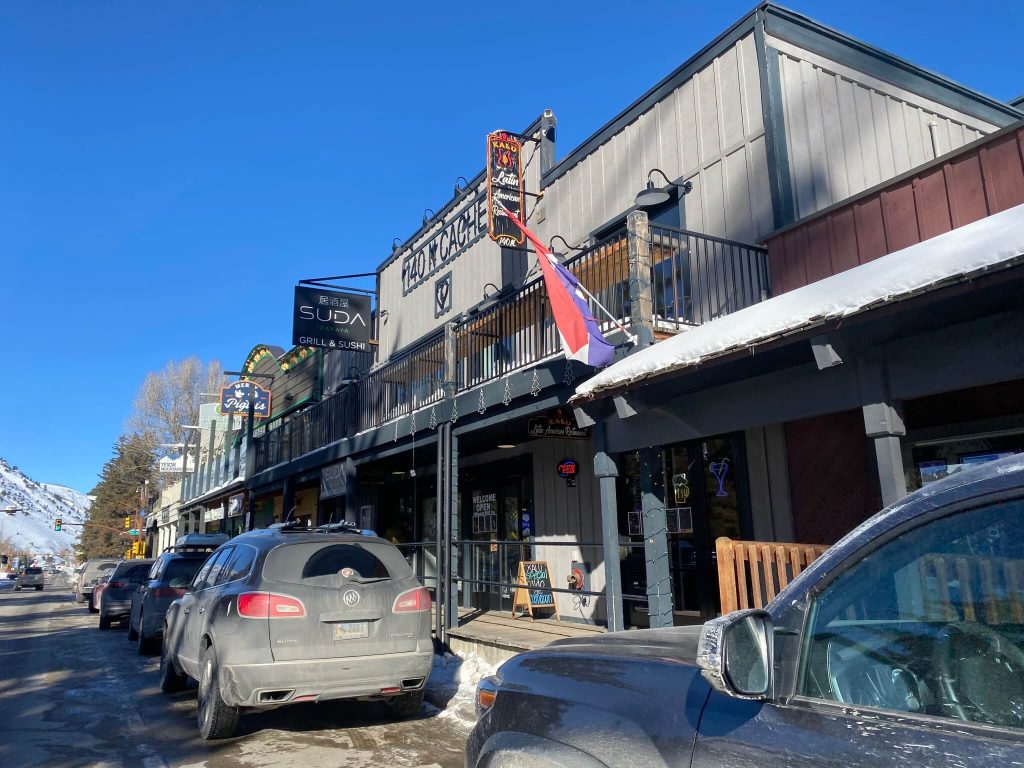 If you're looking for things to do in downtown Jackson Hole, shopping during winter months is an ideal option. You can stroll around Jackson Town Square, look at the boutiques and shop for souvenirs. If you don't want to go far, Teton Village at the base of Jackson Hole Mountain Resort has some great shopping options as well.
11. Try Sleigh Riding
As the snow falls, you can enjoy a fun sleigh ride in Jackson Hole with your family or loved one. You can take a horse-drawn sleigh ride around the National Elk Refuge and see the animals up close! Enjoy the beautiful Jackson Wyoming winter scenery while experiencing something you may never have thought to do.
12. Enjoy Tram & Gondola Rides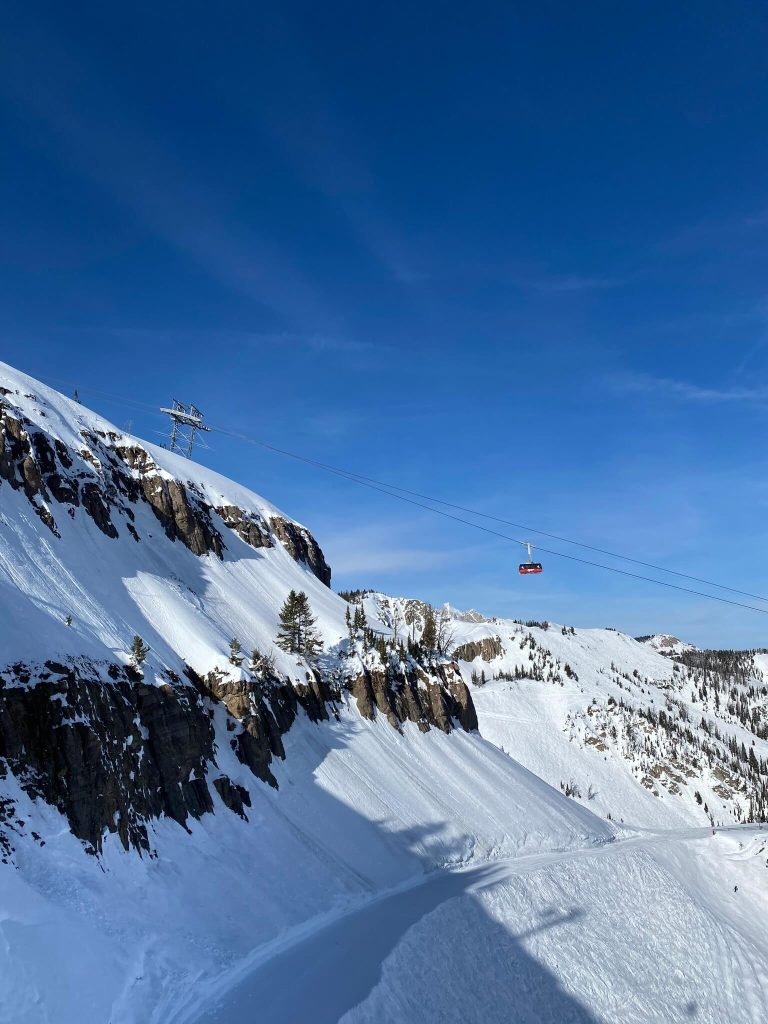 Want to try a different way to experience Jackson Hole Wyoming in winter? Take a ride on the Aerial Tram at Jackson Hole Resort, which will take you up 10,450 feet to the Rendezvous Mountain peak. As you soar up, you can get amazing views of the Teton Mountains, the town of Jackson, the Snake River Valley, and Grand Teton National Park.
Or, you can take the Bridger gondola ride to more than 9,000 feet in elevation and see the valley while enjoying the snowy setting. While your at the top of the Bridger Gondola, have lunch at Piste Mountain Bistro.
13. Go Fat Bike Riding
Want to try something a bit unique to winter activities? Rent a bike with fat tires and explore all the trails that Jackson has to offer. It's becoming popular to see people riding their fat bikes on the paths along the road as you drive from the city of Jackson to Jackson Hole Resort. Why not join them?
14. Go Snow Tubing at Snow King
A fun way to get outdoors and do something that is bound to make you laugh is to take the family snow tubing at Snow King Resort. It doesn't take any skill and can allow everyone in your family to play in the snow for a bit.
Where To Eat In Jackson Hole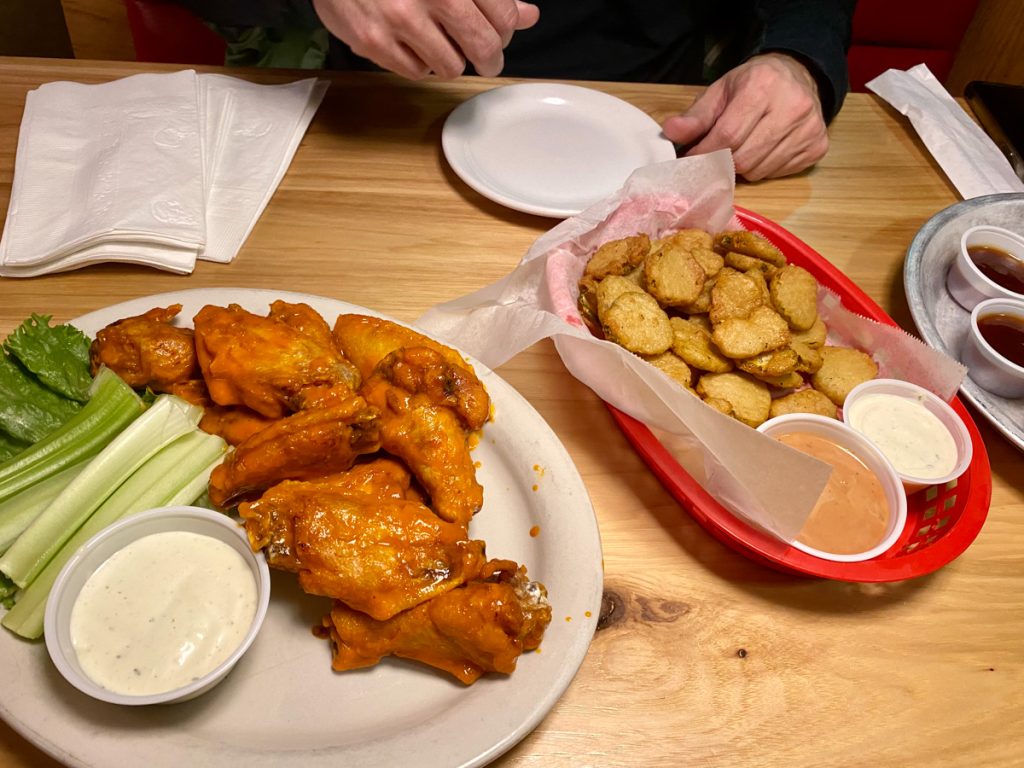 There are so many great options for places to eat in Jackson.
I highly recommend grabbing BBQ at Bubba's Bar-B-Que Restaurant in town. The service was great, the portion sizes large, and the baby back ribs and chicken wings were delicious.
If you plan to stay at Snow King Resort, then be sure to plan to fill up at their on-site restaurant Hayden's Post breakfast buffet. I appreciated the high-quality breakfast meats, breakfast potatoes, and scrambled eggs. They also had a full yogurt parfait station and fresh fruit.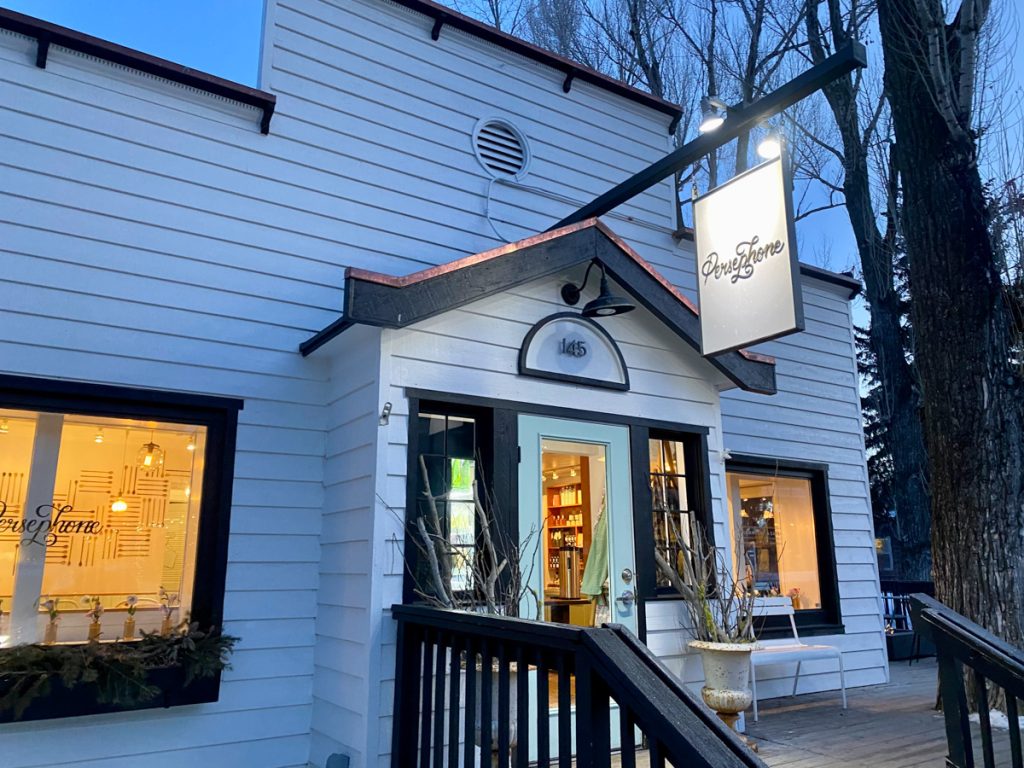 I also recommend going to Persephone Bakery for yummy pastries and coffee, which are both perfect for a chilly winter morning.