THIS ARTICLE MAY CONTAIN COMPENSATED LINKS. PLEASE READ OUR DISCLAIMER FOR MORE INFO. THIS POST WAS WRITTEN BY JILL GREISING-MURSCHEL, A FAMILY TRAVEL AND RV LIVING EXPERT.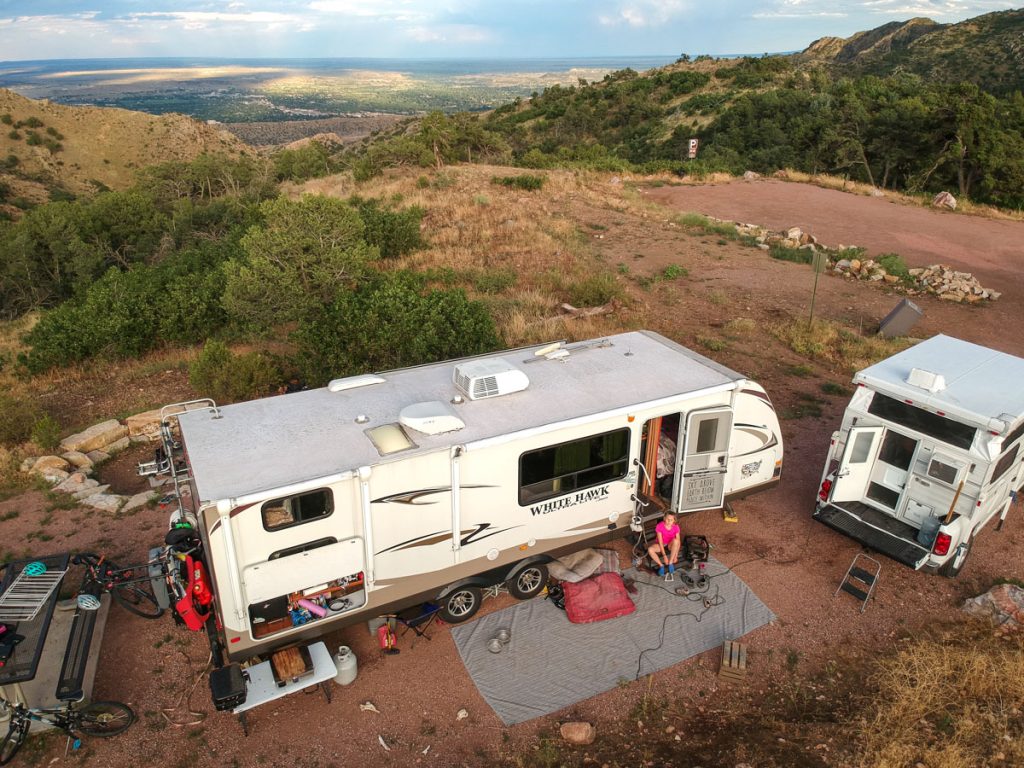 Are you planning on taking your RV experience to the next level? One way to do so is by setting up an outdoor kitchen in your RV.
How does this differ from having your kitchen from the default RV set up? Well, having an outdoor kitchen is more convenient and allows you to fully embrace the outdoor lifestyle and enjoy your meals in nature.
Aside from that, this RV kitchen idea setup may be the best for your lifestyle, as some prefer to cook and dine outside of their RV rather than staying inside.
As a former full-time RVer, I will never get used to how small the kitchen space is inside the RV. And if you're like me who feels the same about this, creating an outdoor kitchen is worth considering.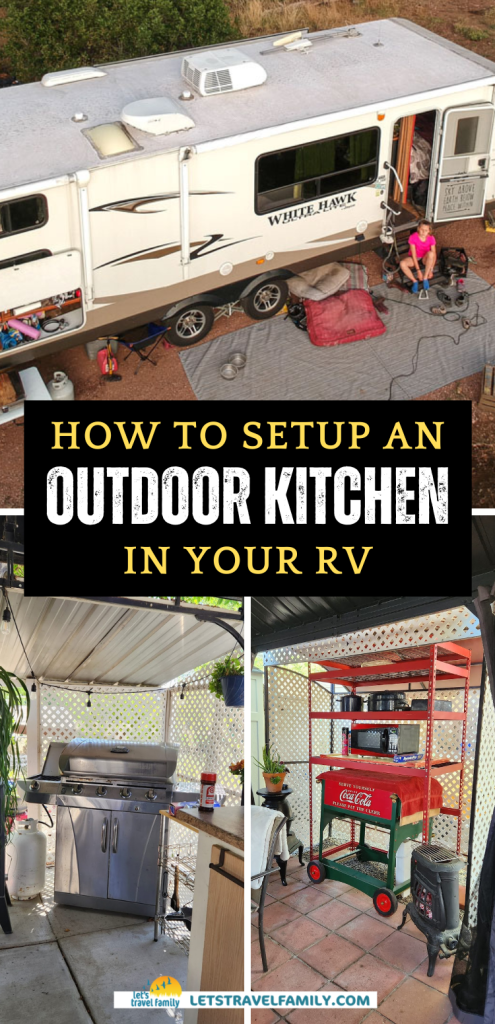 Benefits of Having an Outdoor Kitchen in your RV
More space: By having RV outdoor kitchen mods, you can free up more space inside your RV for other essentials or activities.
No cooking smells: Cooking strong-smelling food like fish or bacon inside the RV can be a disaster. With an outdoor kitchen, you can cook these dishes without worrying about the lingering smell inside.
Embrace the outdoor lifestyle: An outdoor kitchen allows you to fully embrace the RV lifestyle and enjoy meals in nature with your family and friends.
Versatility: Depending on your setup, an outdoor kitchen can also serve as a barbeque or grilling station, making it perfect for hosting gatherings.
Keep your RV clean: Cooking inside the RV can lead to spills and messes. With an outdoor kitchen, you can keep your RV clean and tidy while enjoying delicious meals.
Now we've got that covered, let's hop into some must have RV kitchen accessories and equipment you can try when building your own DIY RV outdoor kitchen ideas.
1. Portable Grill
This is a simple and budget-friendly option for creating an outdoor kitchen for RV. All you need is a foldable table, a portable grill, and some cooking utensils. The table can be easily stored when not in use, and the grill can also be used for other outdoor activities like camping or picnics.
However, some RVers have their outdoor kitchen for camper with a semi-permanent set up, just like this one example from Joyce Garrett where she uses this large Char-Broil Stainless Steel 4-Burner Cabinet Style Liquid Propane Gas Grill for her outdoor kitchen set up.
2. Foldable Table
A foldable table is a lifesaver when you're full-time RVing; aside from using it as a dining table, it can also serve as your outdoor kitchen counter or, bonus, a work desk!
Simply add a portable stove and some storage containers for your cooking utensils! You have an instant outdoor kitchen set up. This Lifetime Height Adjustable Craft Camping Table is popular among RVers due to its versatility and durability.
Related post: The Best Camping Table — Your 2023 Guide
3. Outdoor Portable Sink
Well, to complete your outdoor kitchen setup, you might also need a sink for washing dishes and hands. An outdoor portable sink like this one from Amazon is a perfect addition to your RV kitchen. It has a foldable table and a sink that can easily be stored when not used.
4. Fridge or Cooler
Remember to keep your beverages and ingredients cool with a fridge or cooler. Depending on your space, you can choose between a compact fridge or a portable cooler that can be plugged into your RV's power source.
This portable car fridge, for example, is an ideal choice for those with limited space but still want to keep their food and drinks cold.
5. Lighting
Lighting is essential for any outdoor kitchen setup, especially if you plan on cooking in the evening or at night. String lights are popular among RVers as they add a cozy ambiance to the space. Consider adding motion sensor lights for convenience and safety.
6. Microwave or Toaster Oven
For those who prefer a more convenient way of cooking, a microwave or toaster oven can be a great addition to your RV outdoor kitchen. Here's an inspirational photo from Joyce Garrett for her outdoor kitchen with her microwave set up in a cabinet rolling cart for easy storage.
7. Storage Containers
Maximize the space in your outdoor kitchen with storage containers for your utensils, pasta, condiments, and spices. There are many compact and stackable options available in the market that are perfect for RV living.
Related post: RV Camper Accessories for Inside
8. Instant Pot
If you're an avid reader of our RV blog, you've probably noticed how much we love our Instant Pot. It's a versatile and time-saving appliance that can cook various dishes, making it a valuable addition to your outdoor kitchen setup.
If you're searching for the best RV appliance you can add to your camper outdoor kitchen, I've written a blog on these Best RV Appliances For Your Small RV Kitchen so you can check out which appliances are best for your RV kitchen.
9. Pots and Pans
Of course, you'll need pots and pans for cooking. Opt for stackable or detachable handles like this one from CAROTE to save space in your RV kitchen. You can also consider getting a cast iron skillet for outdoor cooking and grilling. This versatile cookware can handle high heat and is perfect for cooking on a campfire or grill.
10. Ice Maker
An ice maker in your outdoor kitchen will save you from constantly running to the store for bags of ice. There are portable options available that can fit perfectly in your RV's storage space. Plus, you'll always have ice for cold drinks and cocktails.
11. Cast Iron Griddle
A cast iron griddle is another essential for your outdoor kitchen. It's perfect for cooking breakfast foods like pancakes, eggs, and bacon and can also be used for burgers or grilled sandwiches.
If you don't have a full-set RV outdoor kitchen grill like this, a cast iron griddle is the best substitute, and it adds that rustic feel to your camper outdoor kitchen. You can also place it on a portable stove or use it over a campfire.
12. Dish Rack and Drying Mat
Lastly, remember to bring a dish rack and drying mat for your outdoor kitchen. This will make cleaning up much more accessible and organized. You can place this near your outdoor sink or where you'll be washing dishes.
There you have it: an easy outdoor kitchen for camper ideas to make your camping and RVing experience more enjoyable. With these accessories and equipment, you can create a functional and comfortable outdoor kitchen that will make cooking in your RV a breeze. Happy camping!
Let's continue exploring new RV outdoor kitchen hacks. After all, it's not just about the destination but also the journey and making the most out of your home on wheels.
Happy travels!