Are you searching for essential camper accessories for inside of an RV camper? Or are you just gathering inspiration for RV interior accessories to make it more comfortable and livable?
One thing for sure is that when we jumped into RV life, there were a lot of mistakes and impulse buys along the way. We bought the things we didn't need and did not think about what we really needed.
But it's part of learning the skills of owning an RV, sourcing for the essential camper accessories.
So, in this article, I am going to share with you the essential items that will make your RV life more comfortable and enjoyable.
THIS ARTICLE MAY CONTAIN COMPENSATED LINKS. PLEASE READ OUR DISCLAIMER FOR MORE INFO.
Best Camper Accessories for Inside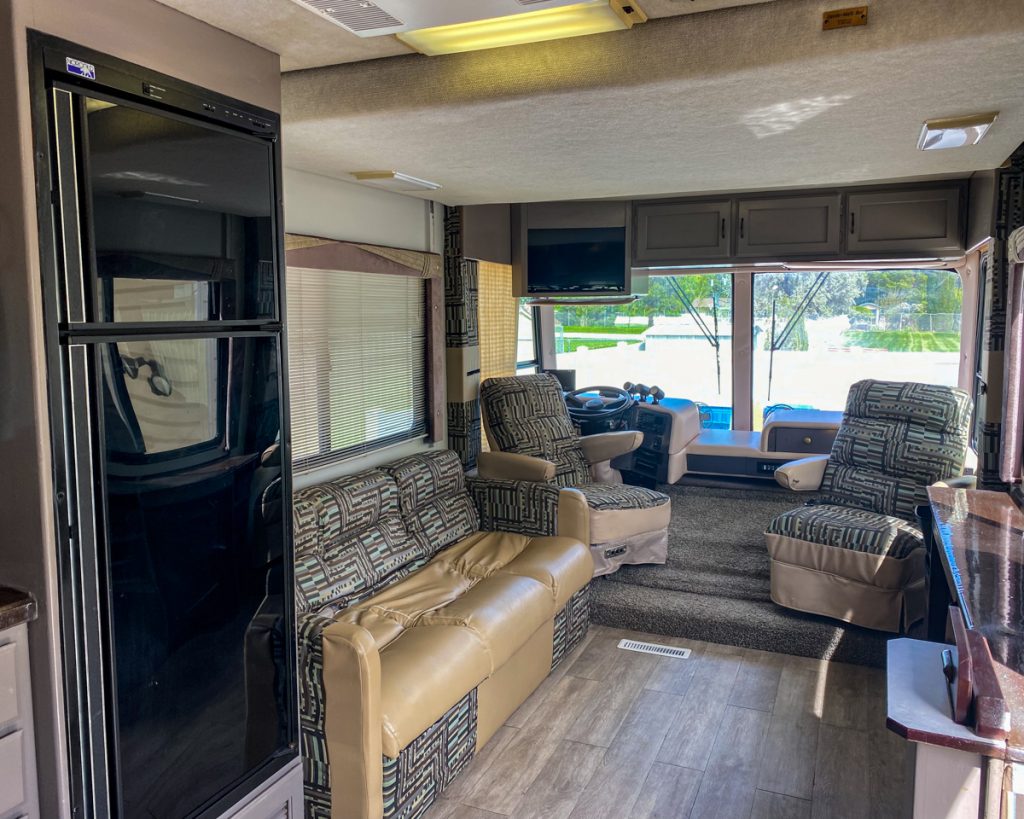 When it comes to outfitting your camper for the ultimate adventure, you'll want to pay attention to all the details. Think minimalist living.
From camper bathroom storage hacks to organizing your RV kitchen, keeping your RV organized is going to prevent headaches and stress.
Equipping your RV with the right camper accessories will make your RVing so much more fun.
Recently, I shared about the best RV washer dryer combo, and this is one of the essential camper accessories for inside that every full time RV owner should have.
Below, I am listing out essential items for every part of your camper: RV kitchen, RV bathroom, and even fun RV accessories for your camper.
RV Accessories for Inside a Luxury RV
For your luxury RV accessories, there are many different ways to make your RV camping experience more enjoyable. Here are some of my personal top pick items for luxury RV accessories.
Espresso Maker
There's nothing more luxurious than having a cup of espresso or cappuccino in the morning! This Nespresso Inissia Espresso Maker is perfect for RV life as it only needs one-touch operation and has an incredibly small footprint.
RV Dishwasher
Have you ever thought of having an RV dishwasher? Yes, there are a couple of RV dishwashers that you can fit into your RV! This COMFEE' Portable Dishwasher is the perfect size for yourRV as it can fit up to 6 place settings.
Berkey Filter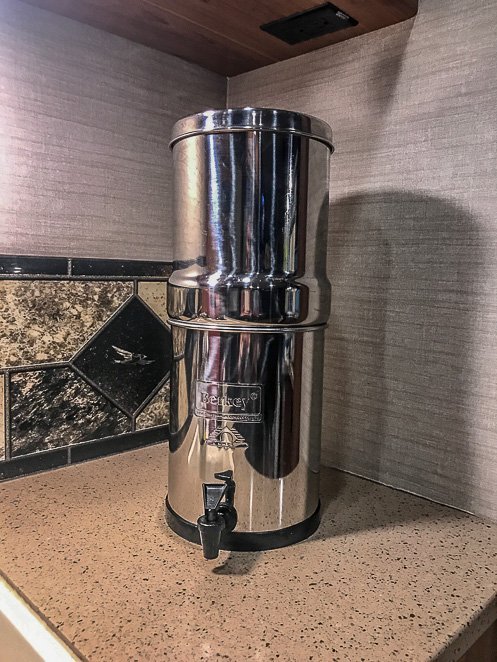 Clean water is a necessity for RV living. The Berkey Filter is an easy and affordable way to filter your RV water, especially for those who prefer to stay off-grid or boondock often. This Berkey portable water system is a great filter for RV living since it's compact and comes with two filter elements that can produce up to 3000 gallons of pure water.
Dehumidifier
Traveling in pretty humid places could cause many issues in your camper. So, having a dehumidifier is essential for RVers to keep the humidity level right and avoid musty odors. The Pohl Schmitt electric dehumidifier is our top pick for our best dehumidifier for RV camping because of it's power and affordable price.
Space Heater
Sometimes, we just can't escape the cold. This is when a quality space heater comes into the picture. The Mr. Heater F232000 MH9BX Buddy has always been our favorite when we used to RV, It's compact, robust, and highly efficient.
For more recommendations, I've written this best space heater for RV life where I've listed some of my picks for RV space heaters.
RV Interior Accessories for Organizing your RV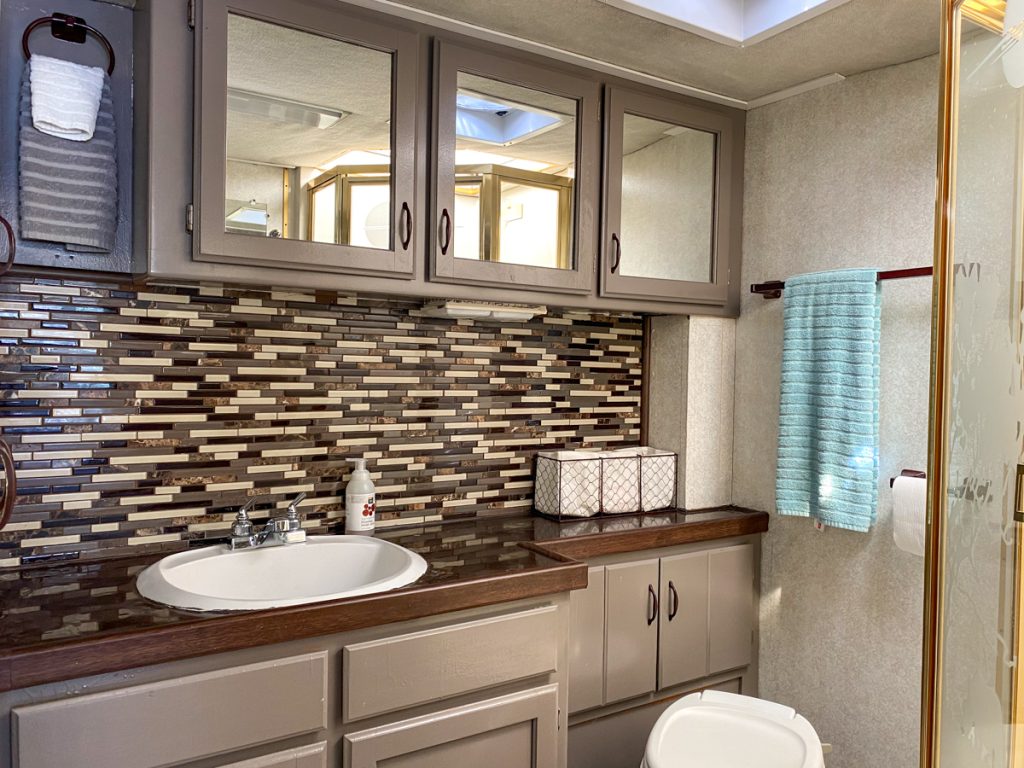 Organizing your RV used to be one of the trickiest things for me. Camper trailers have a very limited space. So, having some interior organizing accessories for the RV is ideal. Here are some of the RV accessories for organizing that I highly recommend.
Collapsible Storage Bins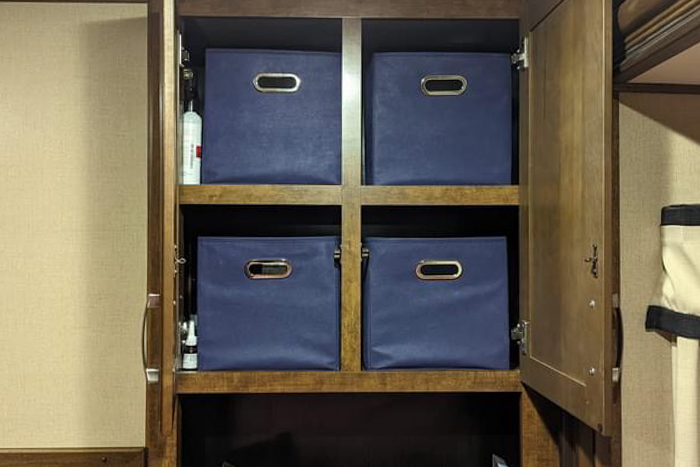 Space is limited in a camper so you have to find ways to make things efficient. These collapsible storage bins are great for keeping your items organized while making use of every space possible in your RV. They are versatile and can be placed in different parts of your RV, including organizing your RV bedroom.
RV Shower Organizer
One of my favorite RV bathroom storage ideas is this RV shower organizer with hooks to hang your towels and bottles. It has strong suction cups that stick without drilling so that it won't leave any marks in your RV shower or wall.
Air-Tight Containers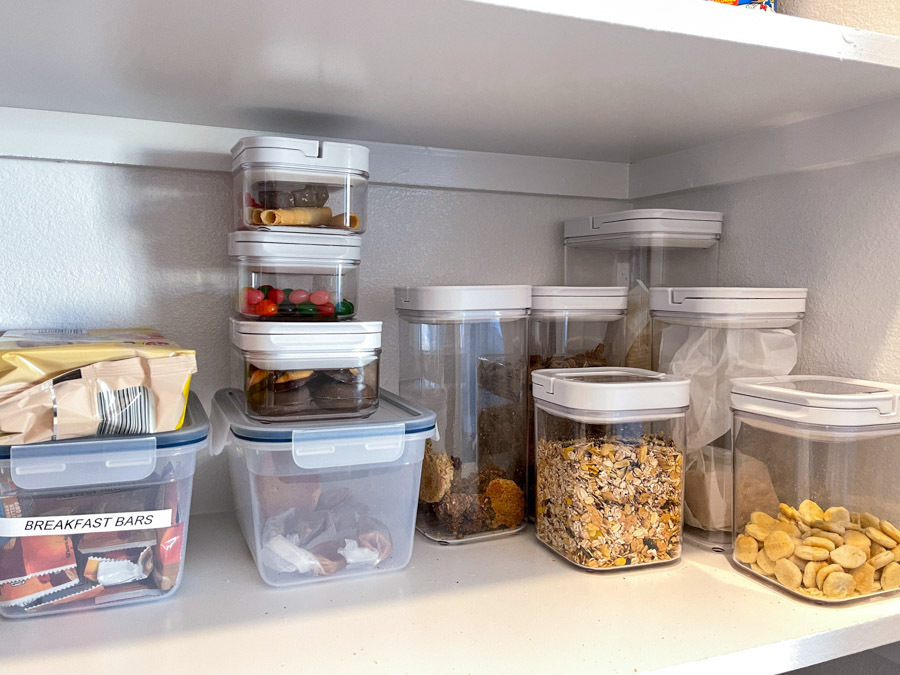 When it comes to keeping your dry goods safe, air-tight containers are the way to go. These OXO Good Grips POP Containers are great for organizing your RV kitchen as it has different sizes and is also stackable to make use of every inch of space in your RV.
Holiday Accessories for Inside of An RV
Looking for some fun holiday accessories for inside your RV? If yo plan to be camping or living in your RV around the holidays, it can be fun to decorate your RV. Here are some of our top picks for holiday accessories.
String Lights
String lights can bring warm and cozy inside your RV! Christmas lights or string lights are one of our RV Christmas decoration ideas as they really give that Christmas vibe inside the RV. There's a variety of Christmas lights that you can choose from, from clear white to colored LED lights.
Holiday Pillows
A cute and no-brainer holiday pillows. They are one of the easiest ways to dress up your RV for the holidays.
Cobwebs with Spiders
If you're searching for unique RV camper decorations for Halloween that will surely spook your campers, these Halloween Cobwebs with Spiders are the perfect choice! It comes in a pack of four and can be used to decorate different parts of your RV, such as windows, curtains, or doorways. It's also reusable, so you can reuse it for next year's decoration.
RV Accessories for Inside an RV Kitchen
For me, there's only one part of the RV that's really DIFFICULT to organize, and that's the kitchen. That's why I invested in these RV kitchen accessories and RV kitchen appliances. Small RV kitchens require you to be creative when buying RV accessories.
Here are some of our top picks for RV kitchen accessories.
RV Paper Towel Holder
It's one of those "I never knew I needed it"- sort of kitchen accessories. Having an RV paper towel holder is essential. Especially for those who like to keep their RV kitchen countertop organized and clutter-free.
This stainless RV paper towel holder is one of our favorites! It has a wall-mount bracket to hold any standard-sized paper towel rolls and a non-absorbent foam pad to keep your countertop clean.
For other recommendations, read our deep dive into the best RV paper towel holders.
Floating Shelves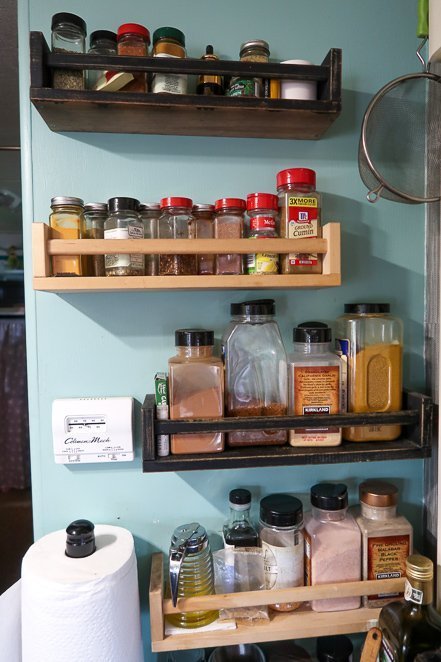 Floating shelves are great for adding space to your RV kitchens. I've talked about this a lot in my previous posts, including my RV spice rack ideas, because it's that handy! Here's one from Amazon that I highly recommend.
RV Inside Accessories To Keep Things Clean
If you're concerned about the dirt and grime, then check out these accessories to keep your RV clean.
Microfiber Cleaning Cloths
A microfiber cleaning cloth a great RV inside accessory for keeping your RV clean. It's great for dusting and cleaning every part of the inside of your camper. From windows to kitchen countertops, it works great. These microfiber cloths are super absorbent, lint-free, and non-abrasive.
RV Vacuum Cleaner
If you have any carpet, you'll want to have an RV vacuum cleaner. This Bissell Featherweight Vacuum is one of our favorites. It's lightweight, corded with a 15ft power cord and comes with 3 different nozzles for hard-to-reach places in your RV.
Depending on what you need, you can find the perfect RV vacuum cleaner for you. I've written a whole blog about it so make sure to check it out!
Flexible Sealant
Though it's not totally an accessory, it's nice to have flexible sealant for sealing cracks and gaps. It's an elastic sealant that stretches with the changing temperatures of your RV, so it won't crack or shrink easily like other sealants. This Geocel Pro Flex Clear RV Flexible Sealant is our top pick because it's 100% waterproof and UV-resistant which provides a long-lasting seal against water, dust, and dirt.
When we had a problem with getting rid of ants in our RV, this sealant was a big help in preventing them from entering. It's really an effective sealant that does the job when it comes to keeping bugs and other critters out of your RV.
What's Your Favorite RV Inside Accessory?
Do you have any favorite RV inside accessories that we missed in this list? We'd love to hear your thoughts about it. Share your ideas in the comments section below!