When you think about traveling with a small kitchen, do you picture using small RV kitchen appliances? RV life, tiny living, or just trying to keep more counter space available can motivate you to find the best RV appliances for your RV kitchen.
That's what this article is all about.
Helping you find the best 'small' appliances for your RV kitchen. Those that don't take up as much space and may even have more than one use. Weather you're RV living full time or taking your campervan out on the weekends, consider what kitchen appliances you'll want and need and how much space they will take up.
Useful Small RV Kitchen Appliances
I'm going to start with coffee makers and electric tea kettle, then dive into blenders and hand mixers, then followed by toasters and some other unique small appliances that you might not have thought about.
THIS ARTICLE MAY CONTAIN COMPENSATED LINKS. PLEASE READ OUR DISCLAIMER FOR MORE INFO.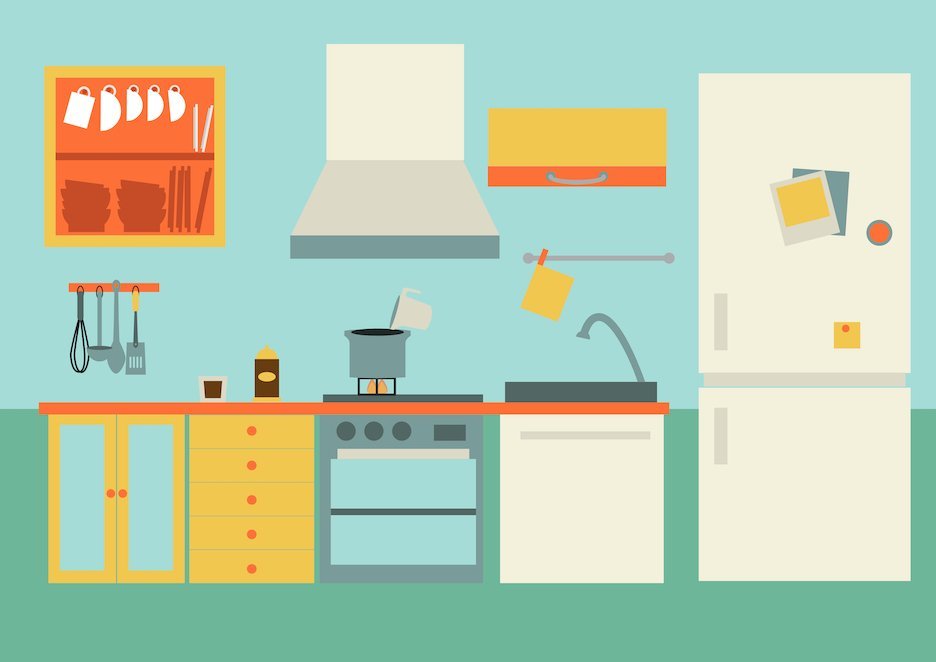 Small Coffee Makers And Tea Kettles For RVs
One of the first kitchen appliances that most Americans think about is an appliance that will help them make their morning coffee. Or, maybe that's just me.
I did some research and wanted to share with you the best RV coffee makers for your small kitchen.
Click the photos or links below to learn more.
If you're looking for a small coffee maker, then this Black Decker 5-cup Coffee Maker might be perfect for you.
Or, if you like the little pods of coffee like my mom does, then this is a very highly rated option that is small and compact.
Click here to see the best price on Target for a slim Keurig.
Now, if you're looking for an espresso maker, then we can be friends!
No, really, Tony and I love our espresso so much that we bought the highest rated hand pump portable espresso maker when we were getting ready to backpack around Asia, because we knew we couldn't be without our espresso!
Okay, so maybe you're not going backpacking or you don't plan to dry camp in an RV much (when the Staresso above would come in really handy). When I was researching the highest rated 'real deal' espresso maker, I found this space saving espresso maker.
We loved our Breville espresso maker, but it was large and took up a lot of our small RV kitchen counter space. Recently, after 10 years of use, it stopped working properly. We honestly were so sad because as I've shared earlier, Tony and I love our espresso.
So I jumped into research mode and did some digging and found that Breville has this compact espresso maker with great reviews!! It's so much smaller and takes up way less storage and counter space than our old Breville.
If you're not as picky as we are, you can always get a French press and plan to boil water using your propane stove top each time. Which can work great when you don't have access to electricity.
That brings me to share what I found to be the highest-rated, yet still pretty small, electric kettle. This one is small enough to fit in your cupboard when not in use as it's only 0.5L.
Or, check out this cool collapsible tea kettle!
If you're looking for a small and basic tea kettle for your propane stove to help with that French press above, then this one comes highly recommended.
Compact Blenders & Hand Mixers For RV Life
You don't need to give up your smoothies when you are living in an RV or tiny home. You can make room in your small kitchen for a blender or mixer. Here are a few highly-rated options that might work for you.
This Ninja smoothie blender uses the cup you'll drink from to mix your smoothie, which will cut down on the extra dishes you want to get away from in an RV kitchen.
Remember to click the photos or links to learn more.
You could always go the route of getting an immersion blender like this one, so that it has multiple purposes. You can use it to make smoothies or to whip up your pancake batter.
If you're looking for a hand mixer specifically, I love how this one stores your beaters on the side of the mixer! The reviews are great too.
Now, if you'd like an option to use your blender without power, such as when you are boondocking or dry camping, then this might be your pick. It can support up to blending cycles on a USB rechargeable battery. How cool is that?!
If you plan to use your blender regularly, then you might be willing to purchase a 'regular blender' that's powerful, but still not too big.
The Ninja 1000-watt blender is powerful and still manages to keep a small enough base for a small kitchen appliance.
Compact Toasters For An RV Kitchen
Now, do you need a toaster in your camper? That depends. We've been known to make toast in our RV oven when our toaster broke. Yet, we decided to replace it, even with a tiny kitchen, because our family has toast almost every day for breakfast.
That's why I decided to search and find the best-reviewed compact toasters to limit the counter space they would take up in a small kitchen.
Remember to click the photos or links to learn more.
This compact toaster is simple and much smaller than some of the bulky ones I've seen at Target or Walmart lately.
Or, check out this longer toaster that might fit better along the back of your counter in your small kitchen.
Unique Small Kitchen Appliances
Looking for some RV gift ideas for someone in your life? These are the kitchen appliances that they won't really 'need', but might be nice.
Air Fryer – For an Instant Pot
Do you plan to keep, or already have, a crock pot or also known as an Instant Pot? If so, then this next small kitchen appliance might be perfect for you!
Our friends bought this slow cooker last year while we were camping next door to them. We saw it in action as it made us s'mores. It was so incredibly cool!
It's an Instant Pot lid that turns it into an Air Fryer!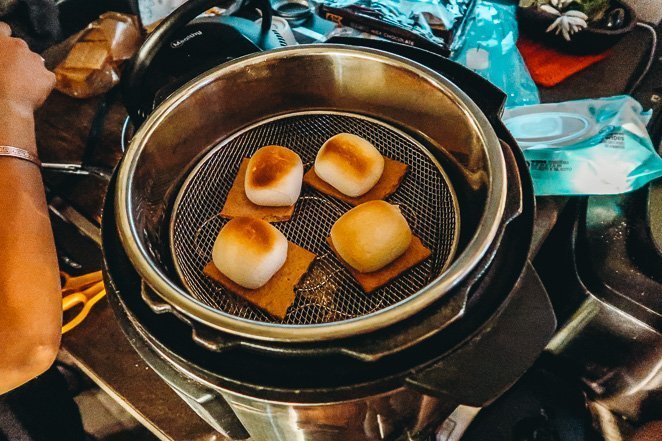 This instant pot pressure cooker can almost cook anything you used to cook in a regular pot; it's very convenient and easy to use!
Ice Maker For Small Spaces
This one so many full-time RVers miss once they hit the road, the ability to make ice in their tiny freezers. So would I call this a splurge? Maybe. I guess it depends on your drink preferences.
If you have a small kitchen refrigerator, you may not have room to keep any of your drinks cold. Soda, bottled water, beer etc. That's when an ice maker comes in handy.
This ice maker is highly rated and one of the smallest out there at 9.5 x 12 x 13.5 inches. Learn more about the Vremi countertop ice maker here.
Related Articles
Did you find this article helpful? If so, then be sure to check out some of these related articles on our blog.