Looking for helpful tips on organizing your RV kitchen? Let's face it, the problem in organizing RV kitchen isn't the space but finding the perfect items and organizers to fit the space. The struggle is real, and I'm here to help!
As a previous full time RV living mom, I've experienced firsthand how hard it can be to keep an RV kitchen organized and clutter-free. Especially with the limited space in an RV, it can be quite a challenge to find the right items to help save space and make your RV cooking experience as easy and enjoyable as possible.
But don't worry! I'm here with some useful RV kitchen ideas and tips that can make organizing your kitchen more accessible than ever before. So whether you're looking for tips on organizing your RV kitchen accessories or RV appliances, these 20 useful RV kitchen organization ideas will definitely help you out!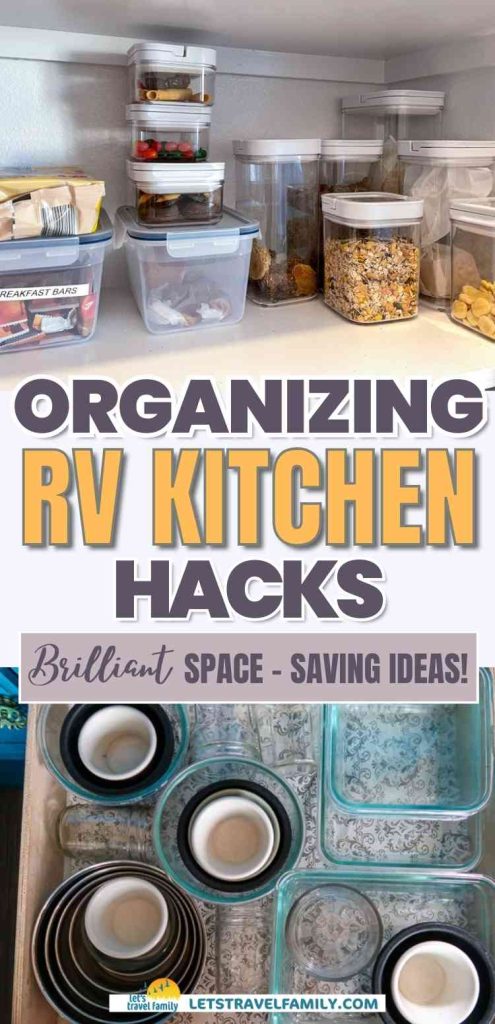 THIS ARTICLE MAY CONTAIN COMPENSATED LINKS. PLEASE READ OUR DISCLAIMER FOR MORE INFO.
Tips To Organize RV Kitchen
Before we diving into the essential items and organizers, here are a few specific tips that will help keep your RV kitchen tidy and organized:
Utilize Door Space.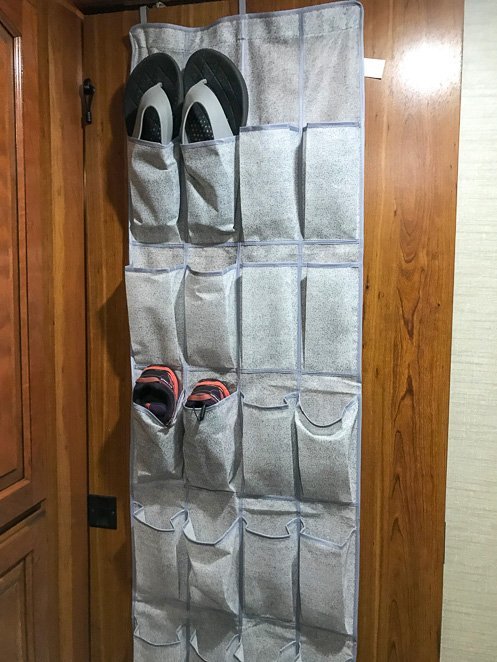 In our Class C RV, our motorhome had a few doors to separate the bedroom, bunkroom, and bathroom. We used the door space to hang all our kitchen towels, oven mitts, and pot holders. And even other items to maximize the door space usage.
Make Use of Vertical Wall Space.
Another organizing small RV kitchen hack is to make use of your vertical wall space. We used this trick to mount extra shelves for our RV spice rack. This also helped keep the countertop clutter-free and kept everything organized.
Keep Cabinets Organized with Storage Bins and Containers.
Using storage bins and containers is essential when organizing RV kitchen cabinets. This helps keep everything in its rightful place and makes it easier for you to find what you need in your camper kitchen quickly.
Reorganize Your Pantry Regularly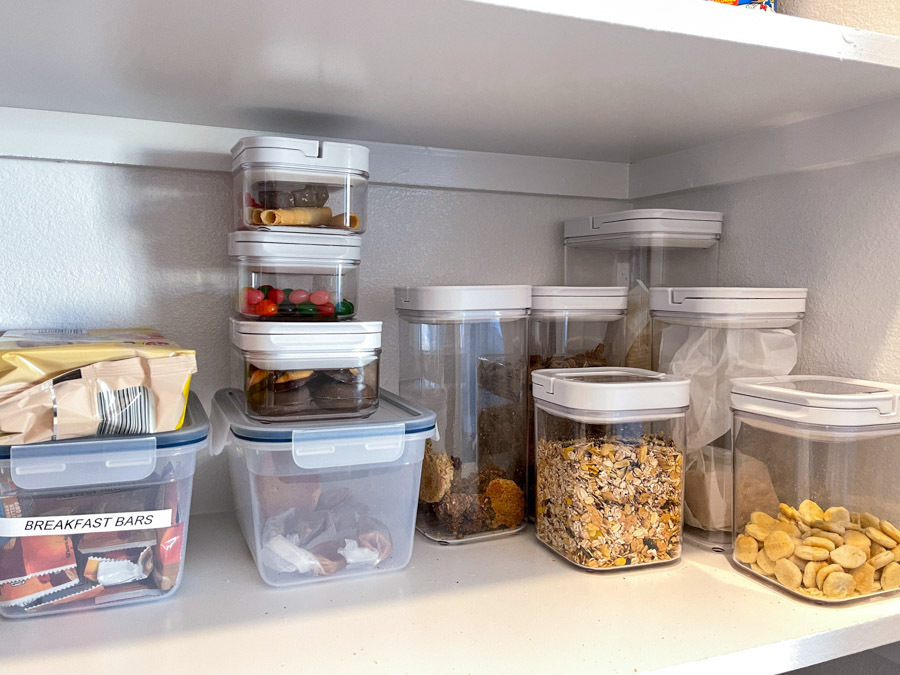 It's essential to organize your RV pantry regularly to stay clutter-free and use all of your ingredients. We often took out older items, cleaned up the shelves, and reorganized the pantry items. This is one of our top frugal living tips for RVing full time.
Utilize Under The Counter Space
Let's remember the under-counter space! This is a great place to store all your luxury RV accessories for your kitchen that you want to be hidden away.
Read the related blog: RV Camper Accessories for Inside
RV Kitchen Pantry
When it comes to searching for RV pantry storage ideas, the list is almost endless. But. here are some of my essential organizing items for the pantry of your RV kitchen:
Stackable Pantry Bins
These stackable pantry bins are great organizers for storing canned goods and other food items that you want to store in your RV kitchen pantry. Those clear acrylic storage containers that you can find on Amazon work well in keeping everything in one place and within reach.
Nicole from livingtinywithawolf.com shared: "We use clear storage bins for the high shelves! Makes getting spices and teas a breeze when you can just pull the whole container down!"
Wall Mounted Rack
If there is any best RV kitchen pantry idea, this is definitely one of them. A wall-mounted rack can be a great addition to an already organized RV pantry. This helps keep your other items hung either on the side of your RV pantry cabinet, wall, or door.
Pull-Out Cabinet Organizer
If you're tired of searching through the deepest part of your cabinet, then this pull-out cabinet organizer is perfect for you. This item helps make items in the deepest part of the cabinets easily accessible and maximizes storage space!
RV Closets
If you're looking for RV closet storage ideas, then here are some of the essential items that I use in organizing our RV closets:
Over-the-Door Shoe Holder
This over-the-door shoe holder is a great item to have in your RV closets. It helps keep all your smaller items, like shampoo bottles, medications, and other items, in one place. Plus, the camper closet organizer also helps you maximize storage space as this can be hung on the door or cabinet of your RV closets.
Add Hanging Shelves
Hanging shelves are easy to install and non-permanent storage ideas for RV closets. We use RV closet shelves to store our folded towels, linens, and other bedding accessories that we can hang on the side of the closet.
Make Use of Tension Rods
This organization hack is a must-try if you want to maximize your RV closets. Tension rods are great for fitting things like belts, scarves, and other fabrics on the side of your closet. This helps keep all the items in one place and makes it easier for you to access them quickly.
Related Post: Find the Best RV Washer and Dryer Combo
RV Drawers
One of the best ways to maximize any part of your RV space is by having organized drawers for your RV. Here are some of the essential items that I use in organizing our RV drawers:
Utensil Organizer Inserts
Utensil organizer inserts are great for storing utensils, cutlery, and other kitchen items that you want to store inside your camper drawer. The best thing about this RV silverware organizer is that it can fit perfectly in your drawer and helps keep everything in its rightful place.
Get inspiration from these examples sent to us by Melissa Flores, on how she organizes her RV drawers using utensil inserts!
RV Storage Boxes with Dividers
Using storage boxes with dividers is another excellent way to organize RV drawers. These storage boxes come with separate compartments, which you can use for storing different items like vitamins, medications, snacks, or any other small items you want to store in the drawers.
Adjustable Drawer Dividers
Another useful RV drawer organizer, aside from utensil organizers, is drawer dividers. These are usually customizable, where you can add or remove the dividers depending on your need. Drawer dividers help keep all your items organized and make it easier for you to find what you need quickly in your RV sliding drawers.
Here's how Lillian Davis uses her adjustable drawer dividers in organizing her spice jars!
Food in RV
The most crucial part of organizing your RV kitchen space is keeping your food items in order. Here are some helpful RV food storage ideas to keep your food items organized while on the road:
Invest in Air-Tight Containers
Air-tight containers are great for storing all kinds of food items and preserving their freshness. Plus, using these containers helps minimize countertop clutter and keeps everything in one place.
These stackable ones from Amazon are great for storing snacks, cereals, and other items you want to keep in the RV kitchen.
Place Snacks in Portable Bins
I personally love this idea as it makes snacking easy while on the road. I store all our snacks and drinks in separate portable bins for quick and easy access. This helps keep all my food items organized and minimizes mess in the RV kitchen space.
RV Fridge
Lastly, RV fridge organization is another must-do when it comes to organizing your RV kitchen space. Here are some helpful RV refrigerator storage ideas to help you maximize storage in your RV fridge:
Use Ziplock Bags
Using reusable ziplock bags is a great way to store and organize leftovers, pre-made meals, and other food items that you want to store in your RV fridge.
Invest in Clear Storage Containers
These clear storage containers are also a great way to keep all our food items organized inside the fridge. Since these are transparent, it is easier to see what's inside, and everything looks neat and tidy in the RV fridge. There are several clear fridge organizers that you can find on Amazon that you can use to store your food items.
Get a Multi-Layer Refrigerator Storage Rack
If you want to maximize storage space even further inside your RV, then this refrigerator storage rack is perfect for you. The multi-layer fridge storage rack helps add more layers of storage ideas for the top and inside of the refrigerator and helps keep all your food items orderly and within reach.
Use Egg Holder Trays
These egg holder trays also serve as drawer organizers specifically made for storing eggs. Now, why should you have these?
With the egg holder tray, you can take it out and store your eggs securely inside your RV fridge!
Before You Go…..
Organizing your RV kitchen space is not an easy task. Check out our ultimate post sharing 45 RV storage ideas you may not have thought of. Or, check out our detailed post about the top RV gadgets you'll want to have on hand.
Happy travels!