When it comes to the best camping clothes, there are a few essential items you should always pack. Whether you're camping in the summer or winter, layering is key to staying comfortable and preventing overheating or getting too cold.
If you're trying to stay warm camping in a tent, then packing the right clothing can be so important.
During a camping trip, your camping clothing should include a moisture-wicking base layer, mid-layers for insulation and protection from the elements, and an outer layer jacket to keep you dry. Don't forget to bring a pair of comfortable shoes and several pairs of socks.
Depending on the weather, there are different fabric options to consider. So before starting your camping must haves list, it's important to think about the climate you'll be camping in. It's all about the comfort and protection we get from the clothing we wear.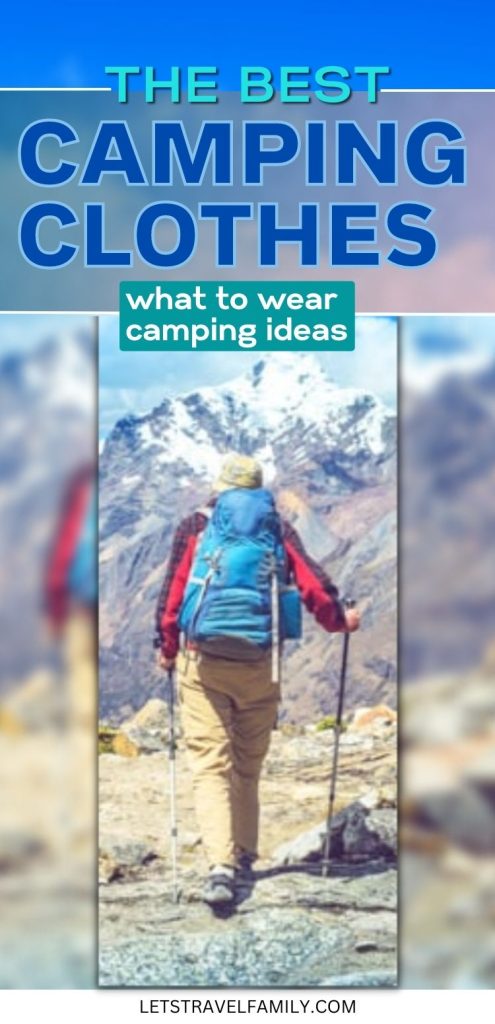 THIS ARTICLE MAY CONTAIN COMPENSATED LINKS. PLEASE READ OUR DISCLAIMER FOR MORE INFO.
Importance Of Pre-Packing Camping Clothes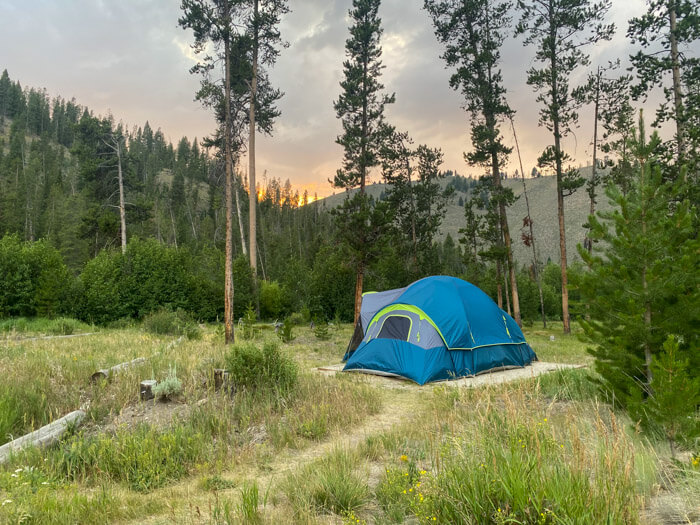 Many campers mistakenly think that they can just throw on any old clothes before heading out the door. But the truth is, you need to consider the type of camping activities you'll be doing while camping, such as hiking, fishing, or swimming.
That means you'll want to bring camping outfits that are both functional and comfortable. And if you don't plan ahead, you could find yourself in an uncomfortable and potentially dangerous situation. So it's essential to pre-pack the right clothing for your camping trip.
Besides being prepared with the best camping clothes and supplies, it's also important to bring along essential camping gear such as a flashlight, fire starter, camping stove, and tent. All of these items will make your camping experience much more enjoyable and relaxing.
To summarize, here is a list of what to wear for camping:
Lightweight shirts
Lightweight shorts and pants
Camping Fleece Jackets
Hiking Boots
Rain Jacket or Poncho Hat
Gloves & Hat for cool weather
Quality socks
If you're not sure where to start, these are the essentials you'll need to make sure your camping experience is enjoyable and safe. With the right clothing and gear, you can have a great time exploring the outdoors. So don't forget to pack separate outfits before you head out on your next camping trip!
What To Wear Camping in Summer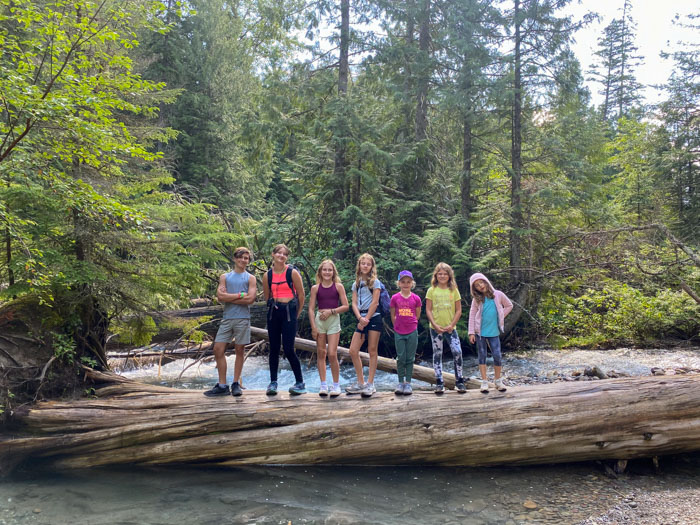 Camping in summer can get hot, so you'll want to wear lightweight clothing that will keep you cool and comfortable. With the increase in temperature, you'll want to avoid wearing heavy materials such as wool or denim that can make you sweat.
A summer camping trip calls for lightweight and breathable fabrics. Opt for lightweight, long-sleeved shirts with built-in sun protection to keep you cool in the heat. I like checking with Rei.com and Backcountry.com for the perfect outdoor gear.
Camping in National Parks during the summer is one of the best experiences to do with your family. Just make sure to pack your essential camping gear and clothes so you can enjoy a safe and enjoyable trip. Here are the camping outfit ideas for the summer:
Lightweight Shirts
Wearing lightweight and breathable clothing is the key to staying comfortable during those hot summer days. The Poly Baselayer Crew shirt for men is made with a lightweight, breathable fabric, and anti-odor treatment for warm temperatures and odor control. It's the perfect shirt to wear while camping in summer.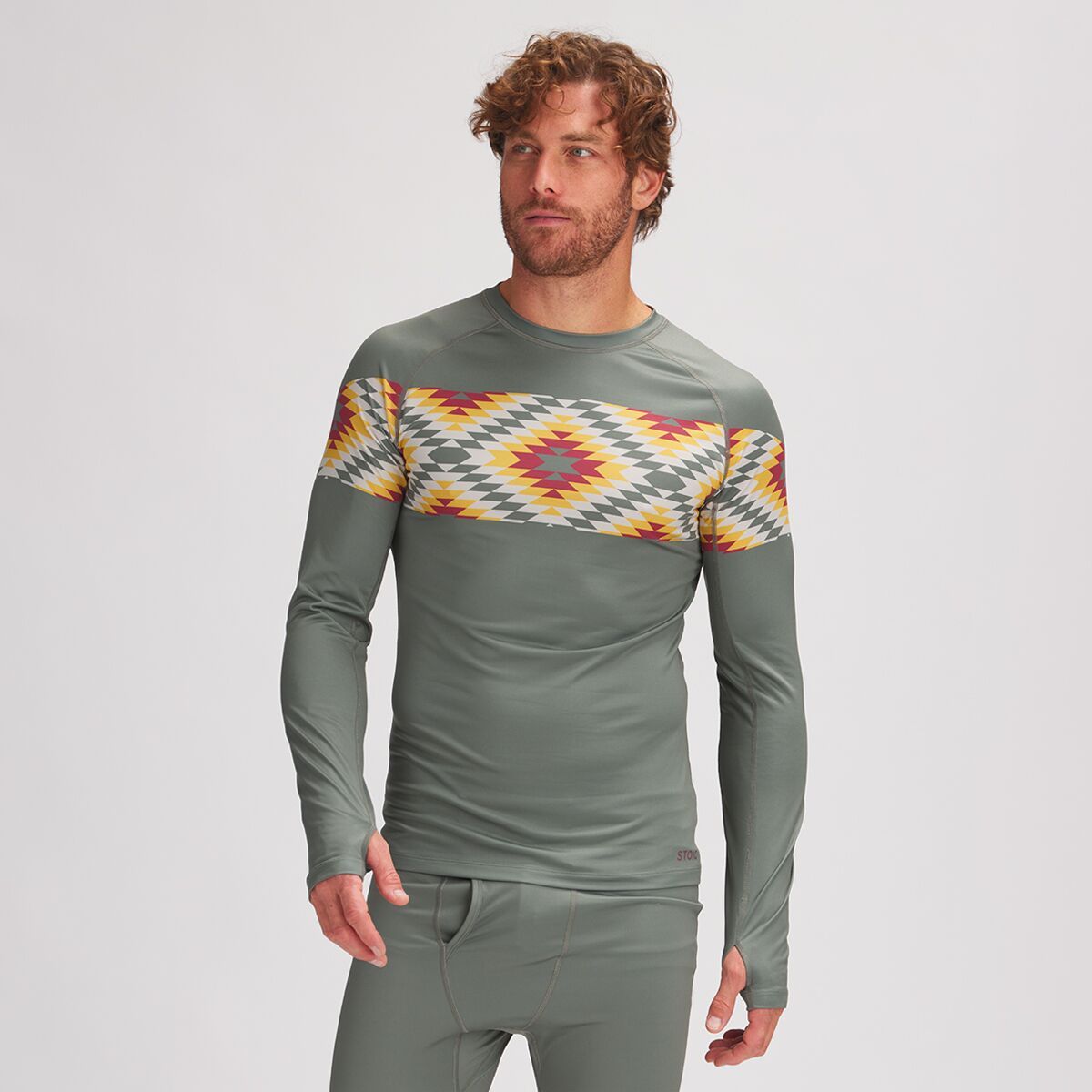 Personally, I love wearing a polyester shirt for camping in the summer. Not only does it keep you cool and comfortable, but it's also lightweight and breathable. This long-sleeved hoody from Kuhl is truly one of my favorites!
Hiking Pants or Shorts
When it comes to hiking pants or shorts, look for fabrics that are lightweight, quick-drying, and moisture-wicking. The Marmot Kodachrome Shorts from REI are perfect for summer camping trips. They're made with a lightweight and breathable fabric, and feature durable water-repellent finish to keep you dry.
For women's pants, I personally am obsessed with this women's Trekr pants from Kuhl. Camping can get really dirty, especially in summer time when everything gets dry and dusty. And these pants really have a good outer layer that dust doesn't easily stick to it, even wearing it them day!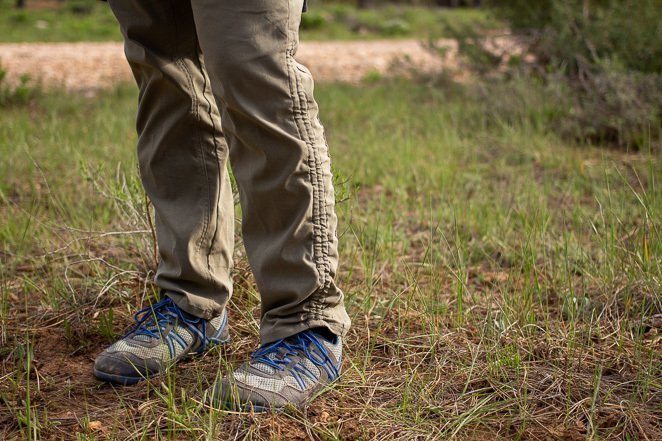 My husband loves wearing cargo pants as well since they have lots of pockets to store your gear. So this Craghoppers NosiLife Convertible cargo is his go-to pant when camping in the summer. It features an insect-repellent finish, and it's made with a lightweight yet durable fabric for optimal comfort. You wouldn't believe that it also offers SolarShield technology for UPF 50+ sun protection!
Hat & Sun Protection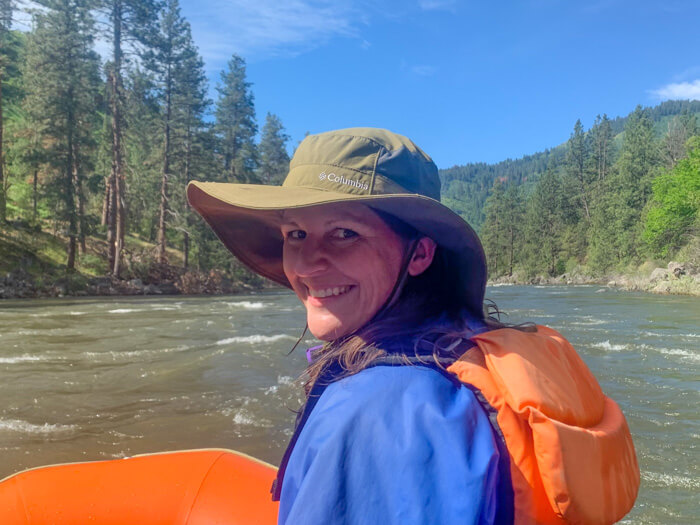 A hat is essential for keeping the sun out of your eyes and off of your scalp. I like wearing wide-brimmed hats that provide shade to my face, ears, and neck. With multiple styles and functions, you can find on the internet, finding one can be a challenge.
I make sure to look for lightweight material with a 2-inch wide brim that's enough to provide shade to my scalp and face. One tip is to make sure to check the size of your head before purchasing a hat. To make sure it's snug and fit, you can use a measuring tape to get a perfect size.
For added sun protection, I love wearing sunglasses with UV protection since it can keep your eyes safe and comfortable while outdoors. A good pair of sunglasses can be a great investment for any outdoor enthusiast!
Hiking Shoes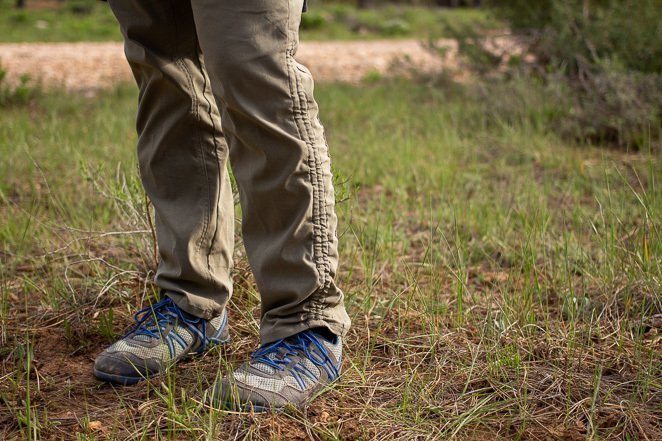 To fully equip yourself during a camping trip, wearing the right hiking shoes is essential. When it comes to choosing a pair of hiking shoes, comfort should be your number one priority. I have become a huge fan of Xero shoes. They are minimalist shoes that make me feel like I'm walking around barefoot, yet with protection. I have bought 4 different styles of Xeros and usually bring my hikers and my Xero sandals when camping during the warmer months.
Look for shoes that have a breathable and waterproof membrane to ensure your feet stay cool and dry.
Also, closed hiking shoes or sandals are also great for camping in the summer, since they can keep dirt and debris off of your feet. Some people have different preferences for their shoes, so it's important to do your research and find out what works best for you.
What To Wear Camping in Winter or Fall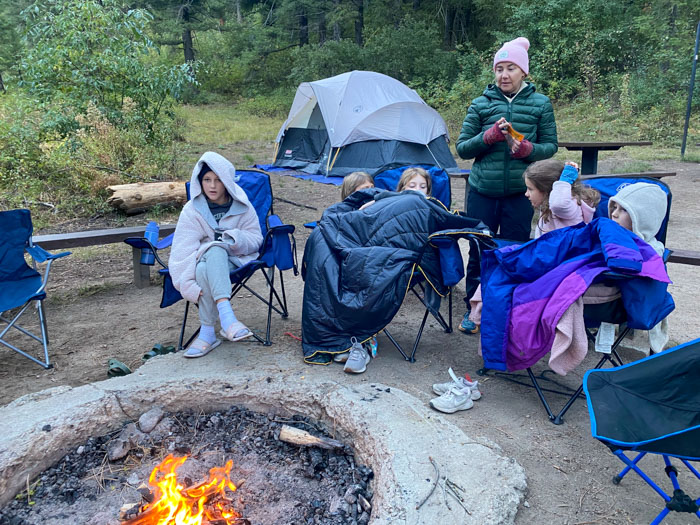 A winter camping trip can be a great way to enjoy the outdoors during the cold months. But, don't forget to bring along the right clothing and camping gear to keep you warm and safe.
Depending on the temperature of the area you're camping from, it's important to wear clothes that are thick, warm, and breathable. Look for fleece jackets, insulated pants, and boots that have waterproof membranes to keep you from getting wet. Layering your clothes is also important, it could be helpful to wear a base layer of synthetic or wool fabric and then add several layers on top.
Here are the must-haves to wear for cold-weather camping:
Base Layers & Mid Layers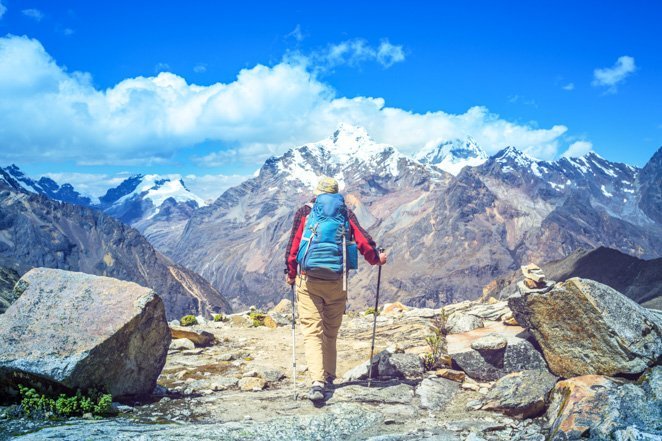 Layering is the key to keeping warm in the winter. Different temperatures would ask for different kinds of base layers. For cold weather, look for long-sleeved tops and bottoms made from synthetic or merino wool fabric.
To layer up, your base layer would typically be of a lightweight merino wool blend like this Merino long-sleeve base layer from Backcountry is ideal. Follow up with a mid-layer made from thicker fleece material like this one from Columbia.
Outerwear
A waterproof and breathable jacket is essential for winter camping. Look for either insulated or uninsulated outerwear with a waterproof membrane as your outerwear jacket.
For extra warmth and protection from the elements, you could also add a fleece vest and mid-layer on top. A scarf, balaclava, and insulated beanie are also great for adding warmth around the neck and head area.
Hiking Pants
As much as it's important to keep your upper body warm, it's equally important to keep your lower body warm and dry. And picking the right hiking pants also plays a major role in your clothes for camping.
Choose pants that have a lightweight yet durable fabric for optimal comfort. You wouldn't believe that it also has to be waterproof and breathable. These Trekr pants from Kuhl are specially designed for cold weather camping, with an articulated fit and a waterproof/breathable fabric.
Also, remember to wear pants with enough pocket space to store all your gear. And these MAGCOMSEN Men's Winter Hiking Pants include plenty of pockets and has a ripstop material for articulated knees, which is great for extra comfort and warmth.
The right gear and clothing can make or break your camping trip, so it pays to be well-prepared. With the right knowledge and equipment, you can make sure that your outdoor camping clothes are enjoyable, safe, and comfortable for everyone involved.
Winter Hiking Boots
When camping in cold weather, never forget to wear a good pair of winter-appropriate waterproof hiking boots. They should have a waterproof membrane and insulated foam inside, to keep your feet warm and dry throughout the day.
Look for boots with a lug pattern sole, this will provide you with extra traction on slippery terrain. The lacing system should also be secure to ensure a snug fit, with enough room for thick socks if needed such as wool socks.
If you're searching for both comfort and style, these Winter Boots from Backcountry are an excellent choice. They come with a leather upper, waterproof membrane, and insulated foam.
Everyone should take the time to find the perfect pair of boots that feel comfortable and provide warmth.
Other Winter Gear
You may also need to bring along other items such as a winter sleeping bag, hand/foot warmers, and winter hiking gloves to stay warm.
A good winter sleeping bag will have a temperature rating and should be made from down or synthetic material. Sleeping bag for adults come in different sizes, so make sure you get the right size for your body.
Hand and foot warmers are a great way to stay warm while camping outdoors. It's important to find the right type of warmer that fits your needs, from single-use to reusable ones.
Make sure to plan ahead and prepare for any weather. There are many options on what to wear when camping whether it's summer or winter, but having the right gear can make all the difference. With the right knowledge and equipment, you can enjoy a safe and comfortable winter camping experience. Happy camping!