Hiking in winter can be just as challenging as doing it in the summer. Having the best cold weather hiking pants, boots, and clothing is essential.
The strongest equipment you'll have against the cold is your clothes, so to have the best hiking experience, you should be equipped with the appropriate hiking pants for cold weather.
On this blog, we've previously shared our tips on finding the overall best hiking clothes, creating the best winter hiking gear list, and how camelbaks are essential for hiking. Today, let's focus on finding you the best hiking pants for cooler weather to help you get out and hike in the colder months.
Of course, the whole ensemble of your outfit should be fitting of the temperature. Your rain pants will not just protect you from the low temperatures, the best winter hiking pants can also reduce the risk of getting the usual scratches from things like broken twigs or rocks when hiking too.
So what should you look for in a pair of warm hiking pants? Find out by reading our hiking winter pants review below.
THIS ARTICLE MAY CONTAIN COMPENSATED LINKS. PLEASE READ OUR DISCLAIMER FOR MORE INFO. THIS POST WAS WRITTEN BY JILL GREISING-MURSCHEL, A FAMILY TRAVEL AND RV LIVING EXPERT.
What To Wear Hiking in Cold Weather
First off, what features should we look for? The best hiking pants for cooler weather must be warm. So, fleece lining would be nice.
It's also important for it to be waterproof and durable given that we may have to hike in the snow during the season. These two are the priority features that every winter hiking pants should have.
Read our reviews below to see the top winter hiking pants we've found and why we think it's worth buying.
Cold Weather Hiking Pants For Women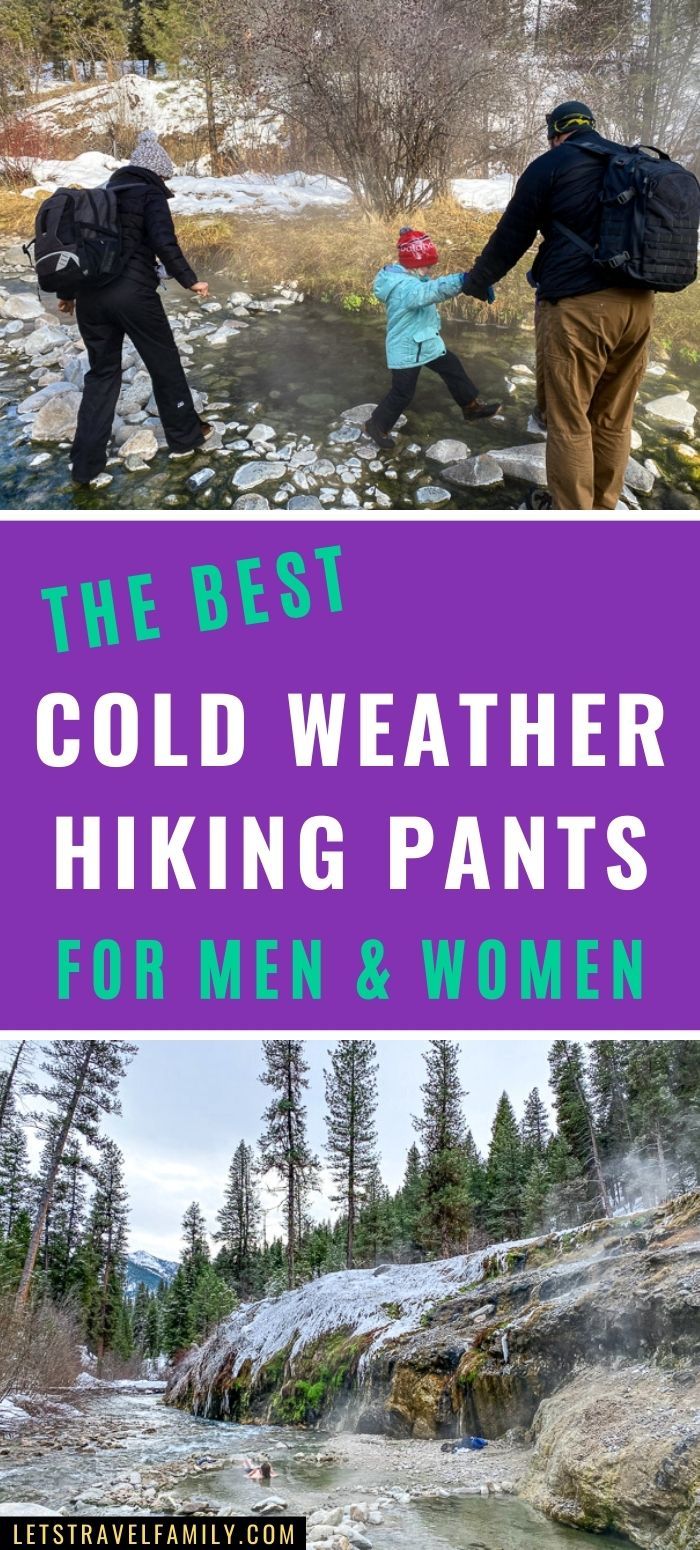 1. W's Klash Pant
Trekr pants from Kuhl are the best pants to hike in during Spring— I own and pair and love them. So I also searched for great winter ski pants on the Kuhl website and found this winter gem, W's Klash Pant.
KUHL Trekr Pants – Women's | REI Co-op
W's Klash Pants are made of FLEXWORX™ durable softshell fabric. Not only that, but it's also resistant to abrasion and has a Durable Water Repellent (DWR) finish, making it a comfortable pair to trudge in even in the snowy season.
Features:
Made of four advanced fabrics with the main body made of 72% nylon, 20% polyester, and 8% spandex
Reverse coil zippers and mesh pockets
Waistband with ultra suede interior and drawcord
Nylon webbing belt hoops
Reflective hits and cord zipper pulls
2. Arctix Women's Insulated Snow Pants
Arctix Women's Insulated Snow Pants is a high-performance outerwear with a multi-layered breathable construction designed for winter. Its ThermaTech insulation can keep the user warm while remaining lightweight and not bulky at all.
This affordable pair of pants also feature reinforced ankle, scuff, and hem guards to add to the product's durability.
The finishing touch? Its boot gaiters with grippers, are truly a product that's designed for winter from top to bottom!
Features:
Adjustable and elastic waistband
Flexible composition
Boot gaiters and zippers
Zippered pockets
Reinforced ankle, scuff, and hem guards
Stylish design
3. BenBoy Women's Waterproof Hiking Pants
One of the best waterproof hiking pants for women is BenBoy's Waterproof Hiking Pants. Just like the others, it has a fleece lining and has an insulated feature that's perfect for any activity during winter.
It also has a good fit while maintaining its breathability and comfort. For any outdoor activity during the cold season, these pants are a must-have.
Features:
85% polyester and 15% spandex
Fleece lining
Waterproof and windproof
Four(4) zippered pockets
Adjustable waist
4. REI Co-op Powderbound Insulated Snow Pants
Powderbound Insulated Snow Pants is REI Co-op's bet in the best snow pants for women category. With breathable protection and insulated warmth, a pair of these pants can fit any activity that involves snow.
REI Co-op Powderbound Insulated Snow Pants – Women's | REI Co-op
Made of a two-layered waterproof and windproof material with a Durable Water Repellent (DWR) Finish, this is a great pick. These women's winter hiking pants also have boot gaiters and reinforced hems so you can wear them for not just hiking, but other winter sports as well.
Features:
Waterproof and windproof
DRW Finish
Insulated warmth
Inner thigh vents
Boot gaiters
Tough scuffguard and reinforced hems
Zippered pockets
Adjustable waistband with belt loops
Double snap button closure (for fly)
5. Columbia Bugaboo Omni-Heat Snow Pants
Is warmth your utmost priority when looking for pants for winter? Then you better check out the Columbia Bugaboo Omni-Heat Snow Pants.
Columbia Bugaboo Omni-Heat Snow Pants – Women's | REI Co-op
Armored with the Omnitech breathable and waterproof fabric, and the Omni-Heat thermal reflective technology, you won't have to worry about the cold when you have this on.
Features:
Nylon fabric
Waterproof and breathable
Omni-Heat thermal reflective technology to deliver warmth
Adjustable waistband
Zippered pockets
Leg gaiters
Reinforced hems
Lower-leg snap gussets
Cold Weather Hiking Pants For Men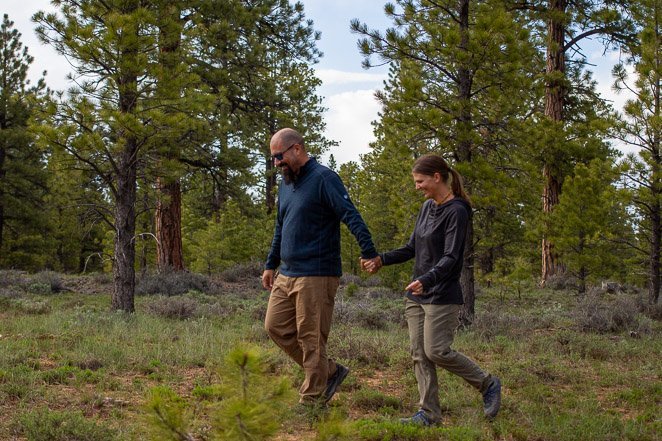 1. TBMPOY Men's Outdoor Pants with Belt
Hiking clothes have come a long way, and TBMPOY Men's Outdoor Pants with Belt is proof of that.
Made of lightweight and waterproof material, this product is a top choice for cold weather hiking gear. It also has two types: thin & quick drying material or thick and fleece material, with the latter as a better fit for winter hiking.
The pants are comfortable to wear thanks to its windproof and breathable features. It also has a flexible knee design and an adjustable waistband that makes moving around much easier.
These pants also have a fleece lining to keep you warm, perfect for winter.
Features:
Comes in different sizes, from XS to XXL
Made of 85% Polyamide and 15% Spandex
Waterproof, windproof, and breathable
Comes in two types: Thin & Quick-Dry and Thick & Fleece
Zipper pockets and closure
2. CQR Men's Tactical Pants
As a best-seller in the category of hiking pants, CQR Men's Tactical Pants is a must-have if you love winter hiking.
These pants are water repellent, lightweight, and are shrink, fade, & wrinkle-resistant. Just the right features to protect you from the cold and the dirt all around while outdoors.
They also boast of a military design and high-strength alloy for its button. A Tactical Belt can be bought separately to complete the look.
Features:
High-density alloy button
Duratex fabric to protect from outside contaminants and dirt
Made of mixed polyester and cotton rip-stop
Cargo pockets
Shrink, fade, and wrinkle-resistant
Elastic waistband
Lightweight
3. MAGCOMSEN Men's Winter Hiking Pants
Do you need a pair of hiking pants that can help you brave the snow? Then MAGCOMSEN Men's Winter Hiking Pants may be just what you need.
The pants come in two variants: thin and thick. The thick variant is the fleece-lined hiking pants which match winter hiking.
So if you end up loving the thick mixed polyester and spandex hiking pants for your winter hike, then you might as well buy the thin variant for your summer hikes as well.
What makes this choice stand out is its micro stretch fabric that's perfect for any outdoor activity.
Features:
Elastic waistband with belt hoops
Ripstop material for articulated knees
Four(4) zipper pockets
Fleece lining for thick variant
Wind and water resistant
Polyester and spandex, breathable material
4. BenBoy Men's Outdoor Hiking Pants
Like the others on the list, BenBoy Men's Outdoor Hiking Pants is made of polyester and spandex which makes it waterproof, windproof, abrasion resistant, warm (thanks to its fleece lining), and they're free of pilling.
To add to that, the pants are stylish with its design of multiple zipper pockets for added efficiency.
Features:
92% polyester and 8% spandex
Zippered pockets and closure
Breathable Softshell pants
Adjustable waistband
Also comes with an adjustable belt
Anti-static, -friction
Waterproof and windproof
5. Arc'teryx Gamma Lightweight Pants
Are you willing to splurge for the best winter hiking experience? Then check one of the top hiking pants—Arc'teryx Gamma Lightweight Pant Men's
This pair of pants are made of nylon and elastane (commonly known as spandex), and are paired with the lightweight and fast-drying TerraTex fabric.
There's also a built in adjustable webbing belt paired with a soft brushed backer in the inner waistband for a comfy and secure fit.
These pants are perfectly designed to deliver mobility and comfort for outdoorsy people—making it ideal for any hiking trip.
Features:
94% nylon and 6% spandex
Lightweight and fast-drying TerraTex fabric
Patterned for mobility and comfort
Adjustable webbing belt
Zippered and mesh-lined pockets for extra storage
---
During a winter hike, it's not just pants for winter hiking gear that are needed.
One thing you also should not forget is bringing water, or even better, a portable water filter like the one we included as one of the best gifts for hikers.
Give this cold weather hiking post by the American Hiking Society a read to know more about the important details of winter camping.