Camping with children can be a fun and exciting way to bond as a family and connect with nature. Being prepared is the best way to have a successful trip, and having the best camping gear for families will ensure just that!
Keeping it simple keeps you sane when bringing younger kids on a camping trip. You will already be bringing extra food, the best camping clothes, and possibly an extra tent. That's why you'll need the best camping accessories to have a great time.
The following items of the best family camping gear accessories will help you stay organized and bring only the items you are most likely to need for family camping trips.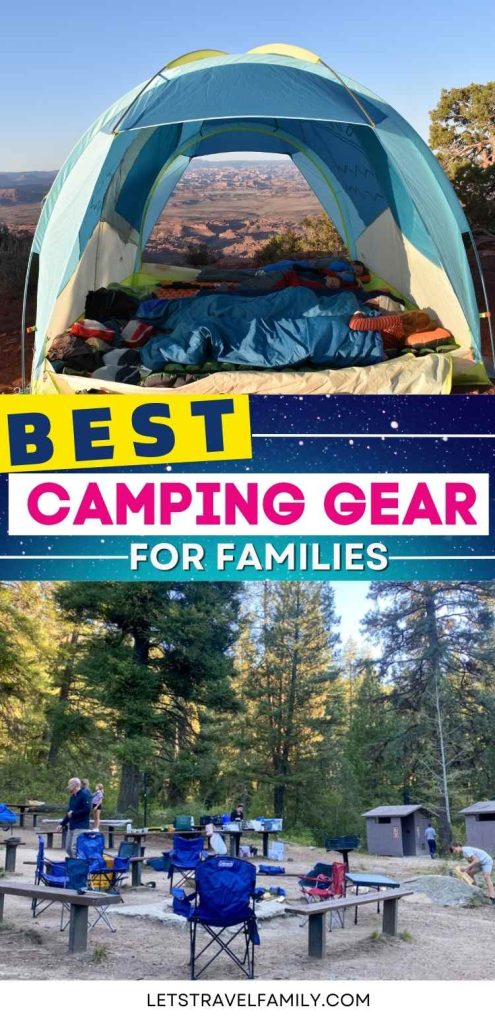 THIS ARTICLE MAY CONTAIN COMPENSATED LINKS. PLEASE READ OUR DISCLAIMER FOR MORE INFO.
Considerations Of Camping Essentials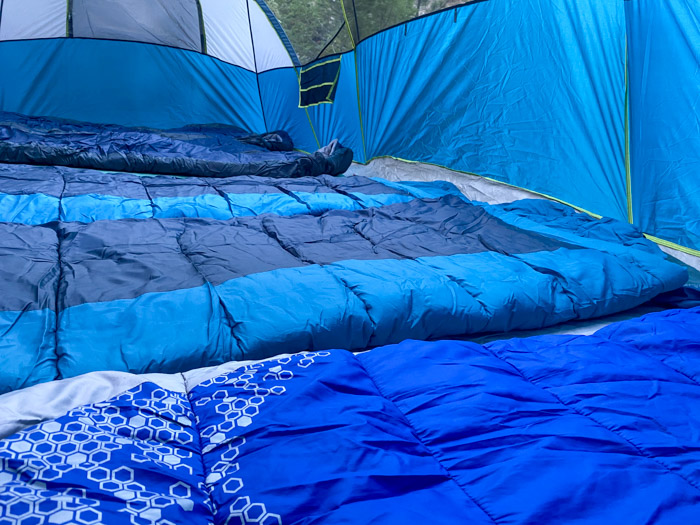 There are a few questions and great ideas you'll need to consider before going camping as a family for the first time. Figure out who you'll be camping with, or more specifically, how many people you intend to camp with. Also, determine if you plan to rough it, or if you're wanting to invest in some glamping accessories for a more luxurious camping experience.
Determine what time(s) of the year you want to camp. How long do you intend to camp on any given trip? Think about what you intend to eat and how you'll be cooking while camping, as well.
Once you've answered those key questions, get the right family camping gear for your next outdoor adventure. Here is a quick list of things you might want to purchase or borrow from a friend.
Sleeping bag for adults
Pillows
Camping mattress or pad for kids
Camping mattress or pad for adults
Cookware
Flashlight or lanterns
First Aid Kit
Lighter or matches
Swiss Army Knife
Bug spray
Sunblock
See more great camping accessories here!
Type Of Family Tent
A family camping tent is the first item you'll need. There are a variety of things to consider when buying the best family tent. First, having determined when you plan to camp, purchase an appropriate tent.
If you're wondering how to stay warm camping in a tent, then keep reading. You see, the best camping tents are three-season, designed for the moderate temperatures and weather of spring, summer, and fall. If you plan to camp on those cold nights of winter, a four-season tent will quickly become your best friend.
Tents come in various sizes (two-man, three-man, four-man, etc.), so purchase based on the number of people you intend to camp with (who will sleep in your tent). Double-walled tents provide better breathability and prevent condensation; single-walled tents are lighter to carry and roll up smaller.
If you intend to go backpacking, consider the weight and packed size of the tent. Tents often run small, so try pitching the best tent in the store to get a feel for the size, construction, ventilation, and layout.
Make sure that the seams are factory sealed, or seal them yourself to prevent water seepage. The best family tents should come with the equipment you'll need to pitch, including poles, stakes, and guy lines.
Sleeping Bags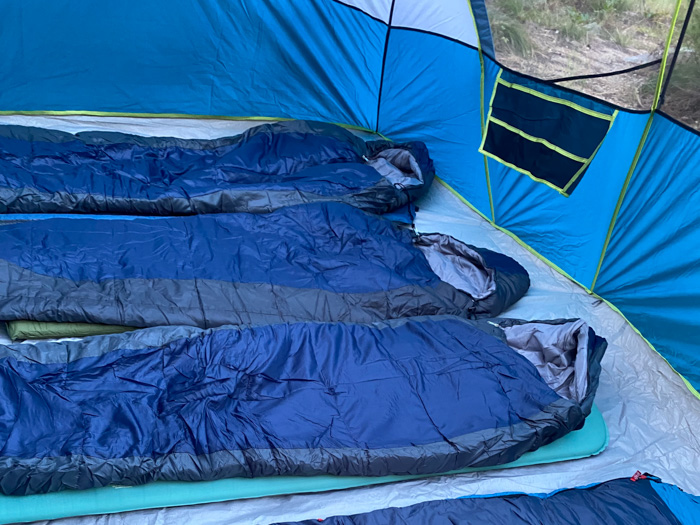 A sleeping bag will be your next purchase for your camping experience. Sleeping bags are made with down or synthetic fill and some come at a reasonable price. Down has a better weight-to-warmth ratio and is great for children's sleeping bag, but is more expensive than synthetic bags.
Down is also difficult to dry once it gets wet. Sleeping bags are rated for the lowest temperature they are designed to be used in. From sub-zero winter bags to bags good for very moderate weather only. Consider the cold weather and temperatures that are likely where and when you'll be camping. Again, if you plan to backpack, consider the weight and size of the right sleeping bag.
Camping Pad or Mattress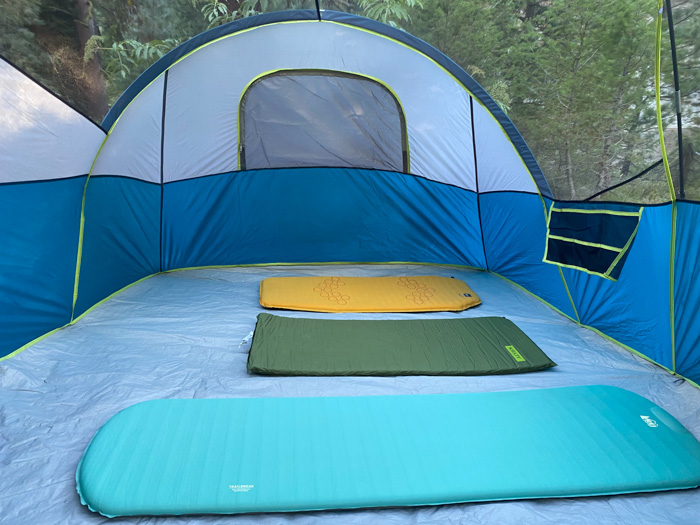 For better comfort when sleeping, you'll want to bring inflatable camping mattresses. Don't worry, many high-quality camping pads can roll up small and take up very little space, and can be blown up by mouth. You do not need to bring a large air mattress.
Zip-Top Bags
Zip-top bags in varying sizes keep your supplies separated, clean, and waterproof. Consider purchasing several extra large bags and then labeling them by types of items (bedroom, bathroom, etc.) or by a family member. Then everyone will know where to look for the flashlights. Empty zip-top bags are perfect for sealing up used diapers and other garbage.
Cooking Supplies and Bins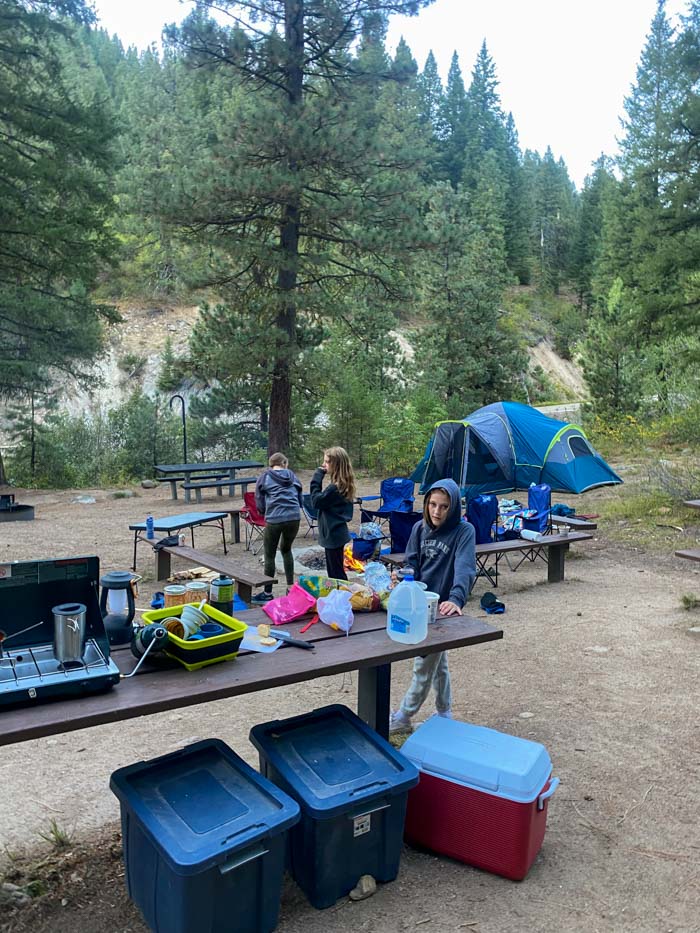 You will need to consider a plastic bin to carry our cooking pans and food. Yet, you can still stay simple by planning easy meals that can be prepared with a few basic pots and pans. Pre-measured dry ingredients can be stored in zip-top bags with cooking directions on the outside.
Cookware and Utensils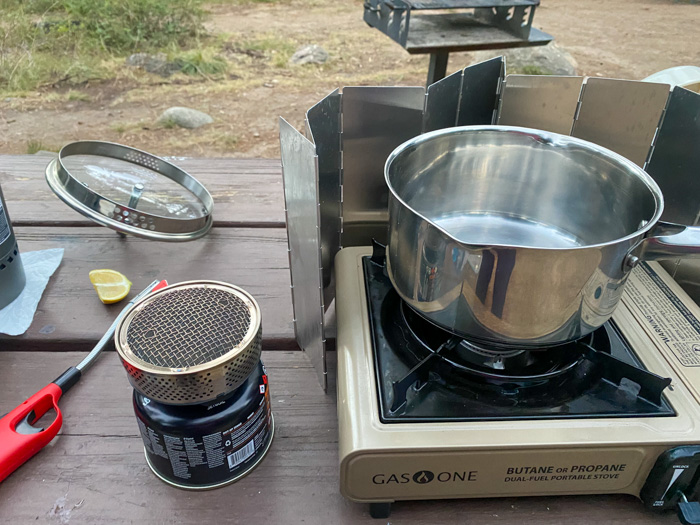 You will need to bring cookware and utensils for your family camping trip. Consider sporks or utensils that can have multiple functions.
Portable Propane Fire Pit
Bringing your own portable propane fire pit is a great option if you don't want to bring firewood. It's also a fun way to roast marshmallows but check with the campground for any fire restrictions. It's lightweight and also very easy to use, especially for on-the-go camping. This could be a good addition to your camp kitchen gear.
Cooler for Your Food
A cooler is essential for keeping food fresh and storing items that can't be cooked right away. It's best to get one that fits your needs; if you plan on car camping, a larger one will do the trick. If you want to keep things cold without ice, then this highly-rated electric cooler can run off a camping battery that you could bring along.
Newspaper And Waterproof Matches
You do not want to discover that Junior dropped your regular matches in a puddle just as you're using damp wood to start a fire for your hungry family. These waterproof matches can easily set up a fire, even in the worst conditions. They are great for camping, grilling, and any other outdoor activity you might be doing.
Paper Towels, Wipes, And Waterless Soap
Wipes and waterless soap make it easy to keep your hands clean without worrying about your water supply. Paper towels and wipes are also handy for cleaning up any sticky spills that might attract bugs.
First Aid Kit and a Safety Plan
A safety plan brings peace of mind to campers with or without children. Make sure that you have thought through possible emergencies and know how you will deal with them. Research your campsite and its surrounding area to learn any specifics you will need for your trip. Definitely bring the three items listed below.
You can purchase a pre-packed first aid kit or put together your own family camping kit. Antibiotic ointment, adhesive bandages, and sunscreen are three must-haves when camping with children. Also, check expirations to make sure that all medications are up-to-date.
Flashlights
Flashlights will not only keep you from tripping over tree roots on your way to the outhouse, but they will also help children feel safer in an unfamiliar environment. Kid-size flashlights are great for younger children.
Whistles
Whistles give children a way to call for you if they get separated on a hike or lost looking for firewood. Make sure each child knows not to use the whistle as a toy.
Camp Blanket And Chairs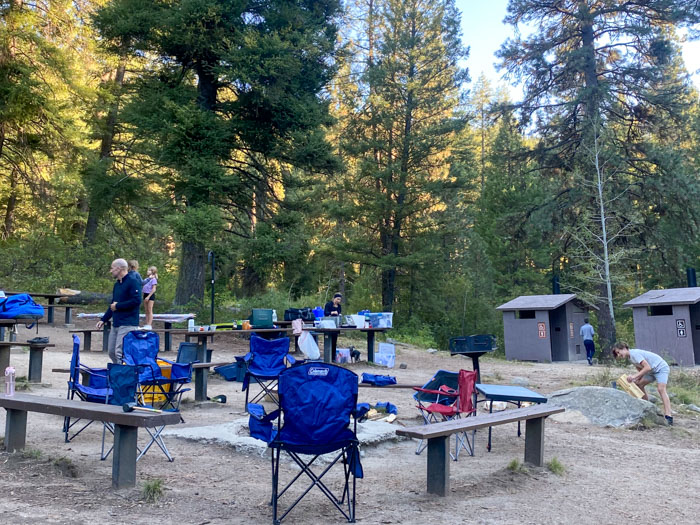 A waterproof blanket is a great place for older kids to sit and play if the ground is too wet. Camping chairs are also a great idea to bring along, depending on if you have access to a picnic table with built-in benches at your campsite. These are great around the campfire, and most kids will love having their own camp chairs.
Other Things To Consider When Camping With Your Kids
Having a variety of entertainment options for young campers ensures less complaining and more fun. Choose campgrounds that have playgrounds and/or areas for swimming, fishing, or boating. In addition to hiking and roasting marshmallows, find out what your children are interested in doing, and consider bringing the following items to increase everyone's enjoyment.
Kids love camping, and there are different activities your kids can do while camping, this includes:
Music And Stories
If someone in your family plays a portable musical instrument such as a guitar, this is a great item to bring along. Even without instruments, however, singing and storytelling are wonderful ways to pass the time. You may wish to bring a book of songs or tall tales.
Cards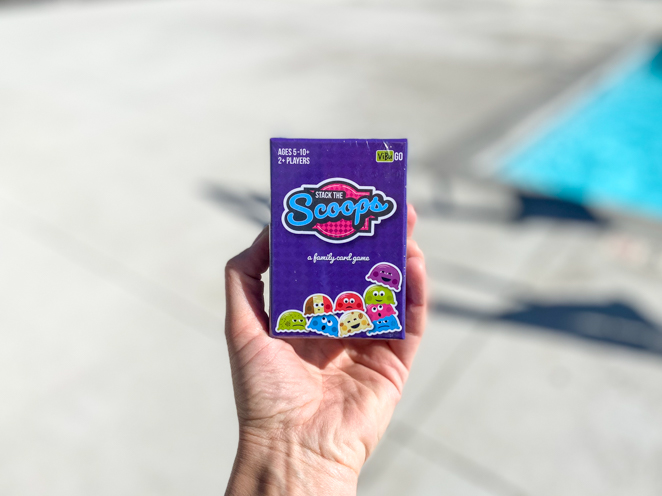 A simple deck of cards offers a multitude of possibilities from a simple matching game for young children to solitaire for the family member needing a little alone time. Or, consider getting this fun camping game created by a traveling family of four. Our kids love this card game.
Camping offers an excellent family adventure as long as you have a camping equipment list handy. Bringing children requires additional packing and preparation, a big enough tent for those cold nights, and even a picnic table, but it often reminds everyone involved to slow down, observe, and appreciate the great experience.
Make sure to take note of these great camping gear on your next camping trip. It will make your trip much more enjoyable and memorable. Plus, it will surely help you plan and prepare for a successful camping adventure with your kids!