Do you enjoy the outdoors and want to know how to stay warm camping in a tent during your next weekend trip? Camping is one of the activities our family loves to do together, yet it takes some preparation so that everyone can be comfortable.
Whether camping during the warm summer months or the late spring or early fall seasons, getting your family outdoors is always a great decision. It will no doubt bring you closer to each other and help everyone disconnect from technology for a bit while connecting with nature. Honestly, there are so many fun things to do while camping to keep everyone happy. Yet, when it comes to camping in a tent on cold nights, you'll want to make sure that you're prepared to keep yourselves warm.
There are several things to prepare when camping, including making sure you have the right camping gear and the best camping clothes. Whatever the season is, knowing how to stay warm camping in a tent should always be a top consideration.
I've shared some tips for staying warm on a cold camping trip so that you can enjoy your next camping weekend despite the evening chill. Keep reading to learn the best ways to keep warm while camping in a tent.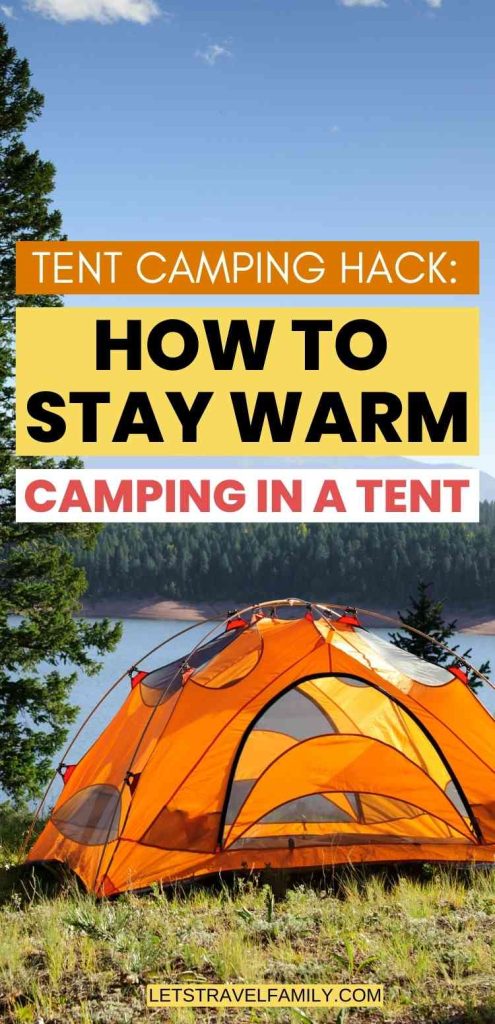 THIS ARTICLE MAY CONTAIN COMPENSATED LINKS. PLEASE READ OUR DISCLAIMER FOR MORE INFO. THIS POST WAS WRITTEN BY JILL GREISING-MURSCHEL, A FAMILY TRAVEL AND RV LIVING EXPERT.
Choosing The Right Tent
When camping, your tent is your shelter from the elements. That's why choosing the right tent is a must. These are some of the things you need to consider when choosing the right tent for camping.
Pick Smaller Tents
Smaller tents are usually warmer such as a 2 person to four person tent that can help keep your body heat inside. You may even consider insulated camping tents. There are several ways to keep warm in a tent, and picking out the right size is the best way to stay warm in a tent.
Include An Inner Tent
Consider buying a Crua Culla temperature-regulating tent that is made to go inside your waterproof tent. It will not only help keep you warm but acts as a darkening tent with some noise-canceling benefits as well. Our friends used this on our camping trip last summer and loved it!
Choose A Three-Season Tent
A three-season or three-season tent offers more protection during cold months. It's designed to withstand harsh weather conditions and has a sturdy construction. These tents can withstand 0-degree temperatures and windy weather, making them perfect for shoulder-season camping in the Spring and Fall.
Keep Your Tent Ventilated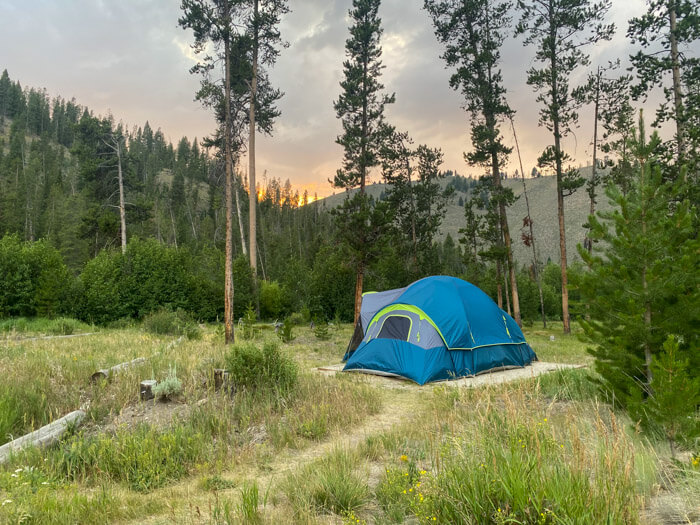 Keeping your tent ventilated can actually help you keep the tent warmer. When you breathe, you will increase condensation inside the tent if it's not vented properly. This will ensure that your tent stays warm while preventing condensation due to cold outside temperatures.
The tent size should be big enough to fit all your sleeping gear such as camping pads and mat, sleeping bags, and your small bag of clothes.
There are many tents made for different seasons and one of our favorites is the Marmot Guest House 4 Tent, which can accommodate four people inside. It's made to withstand the three-season weather and is made with waterproof and fire-resistant materials.
If you're camping in extremely cold temperatures, it would be best to look for a tent that can withstand freezing temperatures. Try to search for tents that can hold out 3-4 seasons.
Investing in a winter camping tent can also be an option, as it offers greater protection against cold weather, wind, and snow. A three-season tent usually accommodates 2-4 people and is lightweight, which makes it easy to carry during camping trips.
Choose the Warmest Sleeping Bag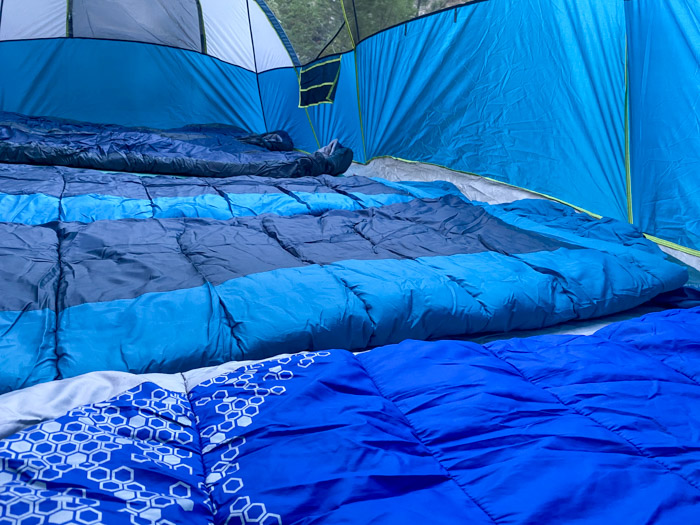 The key to a good night's sleep outdoors is having warm sleeping bags for everyone in your family. If you're searching for ways on how to stay warm while tent camping, then it's important to choose the right sleeping bag as it should be able to provide warmth and comfort while you sleep.
Just imagine falling asleep in a cold bed during a cold night. It's not the most pleasant experience, right? The same goes for camping in a tent. Make sure to choose the warmest sleeping bag that you can find.
Choose A Sleeping Bag for Cold Weather
Look for sleeping bags that are specifically made to keep you warm during cold-weather camping trips. Consider investing in a sleeping bags made with down feathers such as this one.
Check the size of the sleeping bag
Choose a sleeping bag that's the right size for your size and fits your body. There are different types of sleeping bags depending on your size. You can find a double sleeping bag, regular-sized one, child size.
Sleeping Bag Liner
Sleeping bag liners are a great way in keeping warm and also adds comfort to your sleeping bag. It's also an easier way to keep your sleeping bag clean. There are different types of sleeping bag liners made for cold weather like silk, wool and fleece.
Material and Filling
The material and filling of your sleeping bag also matter. Synthetic fabric sleeping bag are the best choice because they offer extra warmth, even when it's wet. Synthetic materials are also easier to wash and take care of, which is useful for those who camp often.
While many sleeping bags can make you stay warm, there are some that are designed specifically for cold weather or the winter season. There are thickly made winter sleeping bag that is made for 0 to -50 degrees (F) temperatures, which are the best sleeping bag to use when camping on cold nights and trapping more body heat.
This Marmot Never Summer Sleeping Bag from REI is a great choice for keeping you warm during cold nights. It's made with 650-fill-power-down insulation making it warm and cozy for cold-weather camping trips.
This one is also a great option for campers looking for a durable winter sleeping bag. It's made with water-resistant synthetic material and is a cheaper option compared to down-filled sleeping bag.
If you're searching for extra way to staying warm in a tent, then keep your yead warm with a sleeping bag with a hood or wear a hat. This will help with extra insulation as well as increase body heat when the temperatures drop.
Make Use of A Sleeping Pad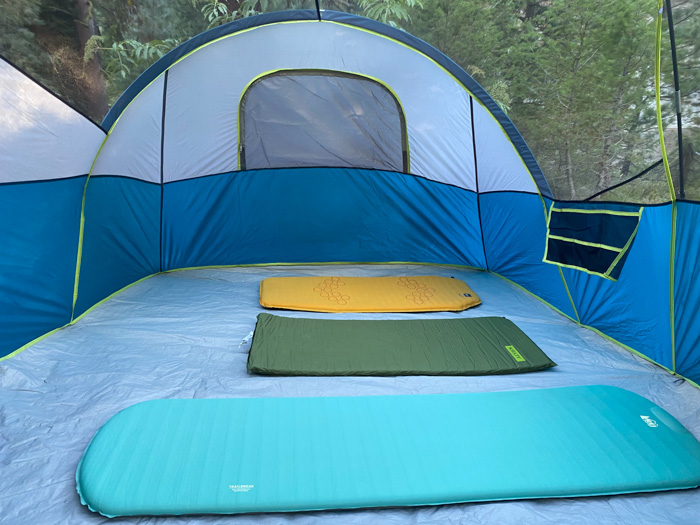 A good sleeping pad will help you stay warm and comfortable while camping. It's one of the best glamping accessories that we recommend. It's designed to provide insulation and protection from the cold ground. A thin air mattress that makes it more comfortable AND keeps you off the cold ground, so you stay warmer.
You'll want to find the highest R-value for cold winter camping such as an R6 or R7. This is a great pick from REI for the very cold winter nights or this one with an R-value of 7.1. If you are tent camping in the summer and just want to stay a bit warmer on chilly nights, then an R-value 3 might be good enough.
Instead of sleeping in your bed cold, a sleeping pad will help you keep in your body heat while you sleep. Here are what to look for when choosing sleeping pads:
Insulation
Look for pads with extra layers of insulation like foam or down to give you an extra layer of warmth. You can find insulated sleeping pads specifically made for cold-weather camping.
Size and Width
Choose a sleeping pad that's the right size and width to fit your body. If a pad is too small, you'll have part of your body touching the ground. It's also important to look for a sleeping pad that's lightweight and easy to carry if you plan to do any backpacking.
The Kammok Pongo Insulated Sleeping Pad is one of my favorite sleeping pads. It has a cool design that is very comfortable and lightweight. As mentioned, insulated sleeping pads are made to provide an extra layer of warmth. This one is also waterproof and structured support.
Dress in Warm Layers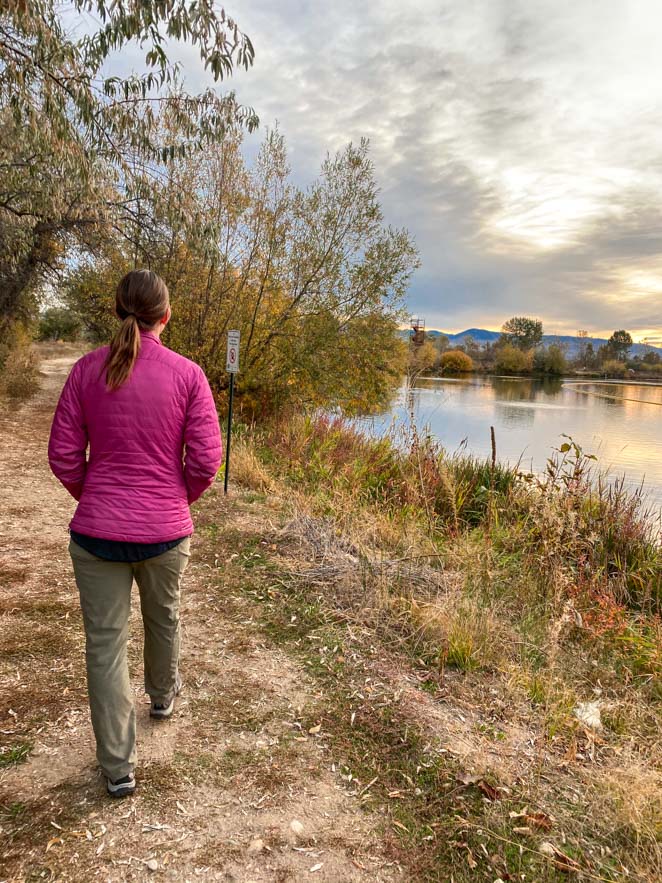 If you're searching for ways to conserve body heat and stay warm during cold nights, then dress in layers. Layering helps keep you warm by trapping air for insulation. You can also take off your layers if you get too warm during the night.
I usually wear a cotton long sleeve t-shirt, light fleece hoodie, and waterproof jacket to keep me warm. Make sure you wear the best cold-weather camping pants that are also water-resistant and put on a pair of merino wool socks for extra insulation. My sleeping clothes are usually lightweight, and comfortable, but still give that extra layer of warmth.
These are just a few tips to keep you warm while camping in cold weather. Staying warm is important during camping, so make sure you have the right sleeping bag and gear to keep your body temperature regulated. Also, keep your head warm with a beanie or hooded cap.
If you're first time camping in cold weather, then these tips will help you stay warm and prepared for your trip.
Find a good Base Layer
Base layers are important for staying warm while camping, especially when temperatures drop. They help to regulate your body temperature and provide protection from the elements. Personally, I mentioned before how I loved the Merino long-sleeve base layer from Backcountry, especially for cold temps.
Layer up with fleeces and wool
Once you've got your base layer sorted, it's time to start layering up. Fleece and wool are great materials for keeping you warm. They're great insulators as they trap heat inside the material, making them a great choice for cold-weather camping.
Bring Extra Blankets
Having an extra blanket or two will help to add extra insulation when needed. If you find yourself getting cold, use the extra blankets to get warm. I would recommend bringing blankets made from wool or fleece blankets.
Use A Hot Water Bottle in your Sleeping Bag
When you're snuggling up in your sleeping bag a hot water bottle placed in your core area will help keep you warm. Make sure it's covered with a towel for safety reasons and that the temperature is not too hot.
You can use hot water bottles between your legs, in your feet area, and above your shoulders to keep yourself warm. If you don't have one, you can always use disposable hand warmers heat packs that are designed to keep your body temperature regulated when skiing in the winter.
Warm Up by a Campfire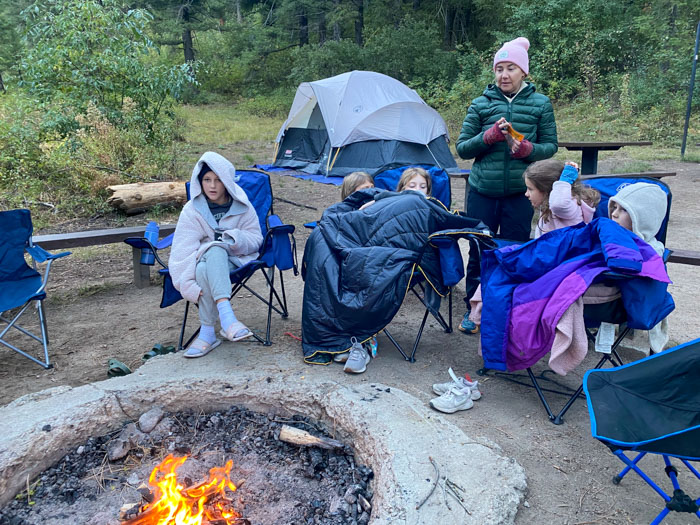 Campfires are a great way to warm up and relax during cold nights. Sitting around the fire with your family and friends, enjoying fun camping activities for kids, or playing board games can help make your camping trip even more enjoyable.
It's a great place to enjoy a hot meal or a hot drink while keeping warm. If there's no fire ring, bring one of the best portable propane fire pits for camping.
This is the perfect opportunity to heat up a cup of hot cocoa or tea to sip on. Personally, I love drinking hot herbal tea before going to sleep in our tent while camping.
Of course, you can also enjoy roasting some marshmallows that can make your cold night even more enjoyable, especially with kids around!
Try These Tips for Cold Weather Camping
Camping in cold weather can be a lot of fun, but it's important to make sure you're prepared and have the right gear. Don't forget to wear wool layers of clothing, bring the right sleeping bags and camping pads, and be ready with a hot water bottle or hand warmers, and even consider bringing some of these cool camping gadgets.
By following these tips on how to stay warm while camping in a tent, you can stay warm and comfortable during your cold-weather camping trips.
Happy Camping! 🙂