Everyone likes to have a list of the best winter hiking gear for their hiking trips to make sure that they have fun, stay safe, and feel comfortable. The essentials for the first three seasons are pretty much the same, but a hiker's winter hiking gear list should be just a little different.
This is because you'll need the best winter hiking gear and winter hiking clothes to get through the very different conditions that the season brings. Much like you would if you were searching for what to wear skiing.
Read through our list of gear for winter hiking, and you'll come across some winter hiking tips as well.
THIS ARTICLE MAY CONTAIN COMPENSATED LINKS. PLEASE READ OUR DISCLAIMER FOR MORE INFO.
Best Winter Hiking Gear List
1. Wool Hat
Let's start with the essential gear at the top of your head. Whether you like it or not, there will come a time when you need to wear a beanie for hiking, and that's in winter.
Not just any hat will do, you need one that can actually fend off the cold, so a thermal one made with Merino Wool like this one.
2. Neck Gaiter Face Mask
To protect your face from the direct cold winds that winter hiking entails, it's also essential to bring a neck gaiter. This is one of the most crucial yet cheap gear ideas for hiking.
Since you'll want to wear it for most of the hike (which means you'll probably wear it for hours), you should buy one that's made of comfortable material. Check the Achiou Neck Gaiter Face Mask made of breathable and moisture-wicking fabric or this one from UHEREBUY.
3. Thermal Underwear or Base Layer
Layering is SO important when it comes to winter hiking. That's what you have to keep in mind when preparing your gear list. Layer everything, just not to the point that you're too wrapped up you can't move easily anymore.
Having said that, everyone should invest in thermal long underwear or often referred to as a base layer, for winter hiking. REI has an excellent selection of base layer options for men and women that you can check out here.
If you can find smart wool base layer pants and a long-sleeved shirt like this one, then I highly recommend grabbing them. They help wick the sweat away while keeping you warm and are so worth the investment. Don't forget your winter hiking mid layer and a thick jacket for a packed snow adventure!
4. Clothing Mid Layer
Depending on the temperature outside while hiking in the cold winter monthly, you may only wear 2 layers, the thermal underwear plus this mid-layer. But, it's called "midlayer" since there are super cold days when you'll also wear that third layer.
Mid-layers are preferably made of fleece for heat and comfort. Check out these top-rated fleece tops for men and women.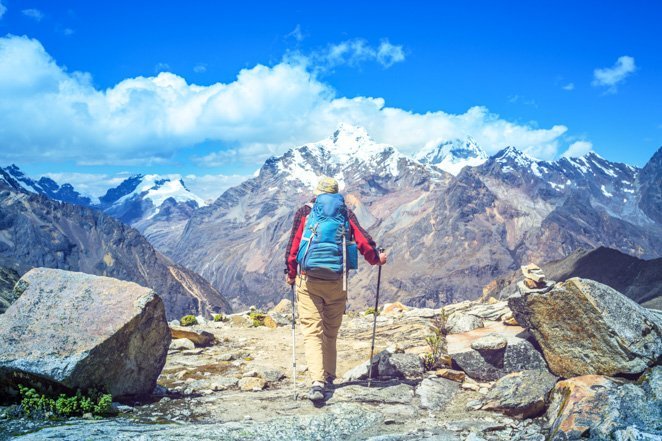 5. Waterproof Backpack
Plan to carry a waterproof backpack to bring along all your other hiking essentials, without worrying that they'll get wet due to the weather. This applies to kids as well, since having their own makes them feel more excited for the hike.
We recommend buying a Camelbak if you want to buy hydration packs for the kids. I wrote a whole post on Camelbaks right here. If you want a regular hiking bag for the kids, check out Osprey's Daylite Kid's Backpack.
Daylite Kid's Everyday Backpack – 4-12 Y/O – 10 Liter- Osprey Packs Official Site
Here are some top-rated hiking back-packs to check out for adults too.
6. Outer Jacket
For the top layer when the cold is just too much for only two layers, you'll need an outer jacket.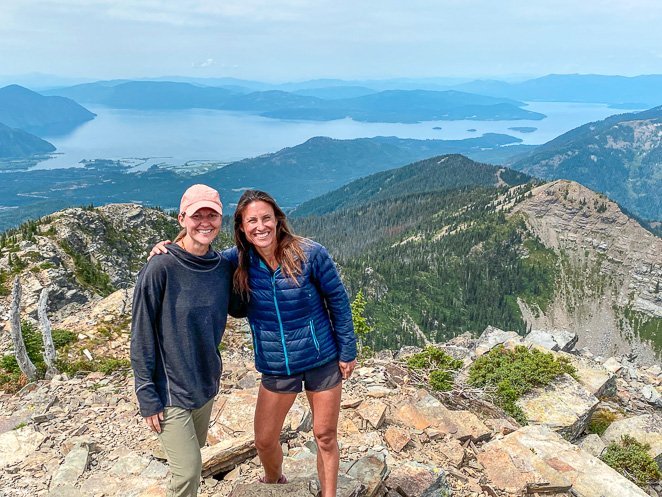 My top pick for a quality hiking jacket is the Patagonia Nano Puff jacket. Not only does it keep you really warm trapping most of your body heat while being water-resistant and made out of 55% recycled material, but it also folds up super small for you to stash in your backup if you get too warm on your hike.
Patagonia Nano Puff Jacket – Women's | REI Co-op
I also love how Patagonia stands behind their products and will repair your jacket if it shows damage.
Pro tip – if you're shopping near the end of the season, Patagonia jackets at REI often go on sale, so be sure to keep your eye out!
Patagonia Nano Puff Jacket – Men's | REI Co-op
7. Winter Hiking Gloves
The best hiking gloves are different for each season. Fingerless gloves may work great during summer, but you won't want to wear only them when you go winter hiking. Most hikers also layer their hiking gloves to stay warm during their hike.
We suggest that you check this liner from Aegend and these winter hiking gloves made of thermal material from OZERO.
8. Insulated Hiking Pants
Wool lining comes in so handy in your winter gear, even in your winter hiking pants. One of the best places to find great deals on warm hiking pants is REI.
Or you can check out our post reviewing some of the top cold weather hiking pants here.
9. Hiking Boots for Winter Hikes
Finding warm and comfortable-fitting hiking boots is essential for a fun winter hike. Preferably with boot gaiters and wool lining for winter hiking boots if you're going to be experiencing extreme cold weather. The best footwear is really the type of boots or shoes that will keep your feet warm.
Or, you can use your Merrell MOAB hiker shoes you wear for summer hikes while adding gaiters over your hiking shoes.
Merrell Moab 3 GORE-TEX Hiking Shoes – Women's | REI Co-op
10. Gaiters For Hiking Boots
Gaiters like these are so simple, yet can make sure a big difference in keeping the snow or rain out of your boots. They also pack up easily into your backpack without taking up much space.
11. Hiking Socks
After trying out many brands of socks, one of our favorite winter hiking socks are Darn Tough Socks. They are made of merino wool, are very comfortable, and made here in the USA.
Make sure you get wool sock or warm socks, especially for winter day hiking or any cold weather hiking activity.
12. Trekking poles
Trekking poles are not really on our list of essential gear when hiking, but it's a good addition. They can help your knees when you have to go through some steep slopes and can stop you from slipping on ice.
Check out this trekking pole made of tough aluminum which is perfect for rocky terrain. Or this one if you prefer collapsible ones.
Leki Lhasa AS Trekking Poles – Pair – Women's | REI Co-op
Check out some great hiking gadgets for fun gift ideas.
13. Water bottle – insulated
Bringing water is a must when you're exploring the outdoors, especially if it's a long hike. Get an insulated one so you can enjoy your hot beverage even after hours of hiking.
We recommend this environment-friendly and BPA-free one from Hydro Flask. This would also make for a fun gift for a fellow hiker you know!
14. Portable water filter
It's a pretty common occurrence for hikers to run out of water in the middle of the hike. And, most of the time, the only source of water you'll find are lakes or deep snow.
However, even if the water from these lakes looks clean, they're not, so the National Park Service reminds hikers to purify the water first using a portable water filter before drinking it. This is why I'd highly recommend taking along the Sport Berkey Water bottle. It's a filter/purifier that you can have with you at all times.
15. Snacks
Water may be enough for some, but surely most of us would need some snacks on our trips as well. Most of us will probably bring the usual granola bars since it's light and can easily be brought to trips.
16. Sunscreen
A fact that's usually ignored is that you need sunscreen in the winter months. Meaning, even if you can't feel much of the heat of the sun during winter hikes, it's still there and you'll still need to apply sunscreen. Especially with the reflection from the snow nearby.
Our family's favorite sunscreen brand is Badger sunscreen. The mineral zinc oxide stays on your skin and is safe on children.
17. First aid
A first aid kit is something you should have during a summer or winter hike, even if you think that it seems safe. I would also recommend adding a compact Thermal Foil blanket to your pack too.
18. Ziplock or garbage bag
Nature gives us all these amazing places, trails, and views, so the least we could do is take care of it. Be a responsible hiker and always bring a zip lock or garbage bag to put your garbage (or garbage you come across) in whenever you hike. Pack it out.
19. Compass
This good old friend of hikers is still extremely helpful for your hikes these days. Check this durable and lightweight compass.
Being prepared for your winter hike is really important. Having the right hiking gear can make such a difference when you're ready to get out there this season. Remember to enjoy your time exploring.