On the search for the best composting toilet for RV life? We'll help you decide through this article where we dive deep into a comparison guide and look at the top reviewed camping composting toilets for RVs.
A compact composting toilet is probably the best toilet you can get if you're traveling around in an RV full time, or even just on the weekends. But how do you know which compost toilet to get? Read our tips and composting toilet for RVs reviews below.
THIS ARTICLE MAY CONTAIN COMPENSATED LINKS. PLEASE READ OUR DISCLAIMER FOR MORE INFO.
What is a Composting Toilet
First, what is a composting toilet? A composting toilet is defined as a type of dry toilet that treats human excreta or liquid and solid waste through composting, converting it to a nitrogen-rich material.
The most compact composting toilet is commonly used in rural areas and places suffering from water scarcity due to its ability to work without water. It is also used by people who want to minimize their impacts on water resources.
Most composting toilets can be installed almost anywhere so it's your best bet for your tiny house bathroom or your RV toilet.
Our Top Pick for the BEST Composting Toilet for RV Life: Click here to see our top pick for a composting toilet if you don't want to read to the end of the post..
How Does a Composting Toilet Work
Now you might be curious about how composting toilets work. Their fundamental use is to recycle human waste by using the processes of decomposition and evaporation in composting toilet waste.
The fluid part of the waste is evaporated through the vent system while the solid part decomposes and is then converted to fertilizer soil.
It is generally the same composting process you have to undergo if you have a compost pit in your backyard.
Now, how does an RV toilet work?
The main difference is that in an RV composting toilet, there's still the use of water, though minimal, after flushing the 'p'. Doing your business in an RV toilet may also affect the water for the whole RV so you have to be more thoughtful.
Onto the next question, do composting toilets smell? And it may come as a surprise to you but they actually DO NOT SMELL.
Composting toilets actually smell a lot less than regular RV toilets after a few days of filling them and before dumping your black tanks.
How is this true? Well, when you separate the liquid waste from the solid waste it helps alleviate the odar issues to get in a 'regular' RV toilet.
The vent systems installed in the tank of the composting toilet also helps in keeping the bathroom smell fine so no need to worry on the smell!
That's why adding a composting toilet to your dry camping essentials list is a great idea.
Building a Composting Toilet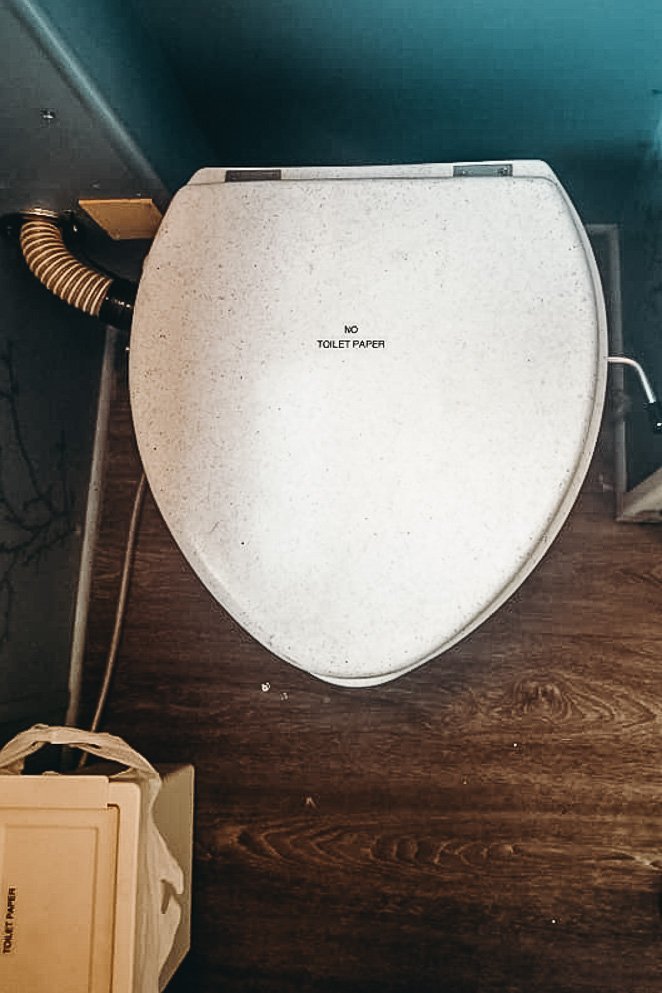 Building a DIY composting toilet can be pretty simple. But first, you need to have a home composting system.
Basically, the difficulty of setting up a compost toilet solely depends on how much you value aesthetics and comfort. It can be a single bucket if no one minds. Or you can build one that's complete with a toilet seat and cover.
You can also choose if you want to mix urine and feces in the system or separate them.
Best Composting Toilet for RV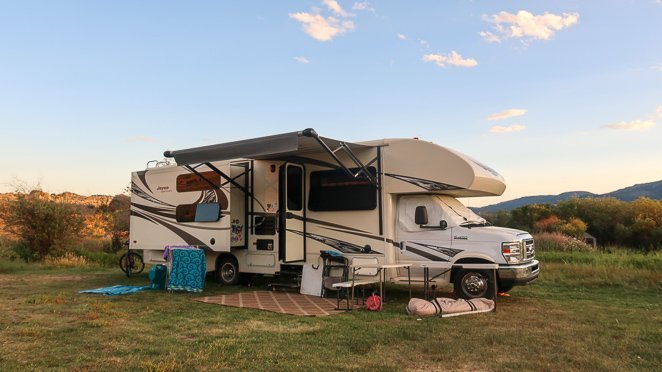 For that, we highly recommend you to go for a self composting toilet which is not only easy to build but also environment-friendly. Also, you won't need a black tank if you choose a composting toilet rather than the conventional toilet for RVs.
To help you choose the right one, here are our opinions on some of the best self contained toilets you can buy!
Comparison Guide
When it comes to composting toilets, we HAVE to consider a lot of factors. From our reviews below, find which will fit your situation the most.
To choose the best composting toilet, we need to set some standards.
First, what's your setting? Is the composting toilet to be used in a tiny house? For RV living full time or part-time? For weekend RV travels? Or for camping?
After mulling over these questions, you can move on to the other standards we'll show in the comparison chart.
In this comparison guide, we will consider the material, durability, price, and comfort.
Comparison Chart
| Brand | Image | Cost | Material | Comfort | Rating |
| --- | --- | --- | --- | --- | --- |
| | Popular | $$$ | Stainless Hardware | Full Size Elongated Seat | **** |
| | Top Pick | $$$ | Stainless Hardware | Molded Design | **** |
| | Cheap | $ | Heavy Duty Plastic (Polyethylene) | Flush Feature | *** |
| | | $$$$ | — | Vent Feature | *** |
| | Best Gas | $$ | High Gloss Polyethylene | Seat and Vent Feature | *** |
Best Portable Toilet
Portable toilets are not only useful for RVers, they are usually used while camping as well.
That means that these toilets are not installed into an RV, but instead can be carried around and moved when needed.
Given that, the first thing to consider when it comes to a portable toilet is if it's user-friendly.
Camco has a good collection of composting toilets but this Camco Portable Toilet is the best deal that I've found.
Many composting toilets are too simplistic so there's no room for a flush function. However, Camco has it. Another good feature is that there's no leak, may it be odor or waste.
Detachable holding tank
Sealing slide valve to lock odor and waste
Flush feature
Sturdy build
Another great portable toilet you can check out is the Dometic Portable Toilet.
Best Budget Toilet
If you want to start with an inexpensive one, you can trust Stansport portable camp toilet to do the work.
It's a good portable toilet that's easy to carry around but still features a full seat for comfort. With its heavy duty plastic material, it can guarantee you an 'on-the-go' restroom experience with complete amenities!
Sturdy plastic walls
Full-size seat that accommodates up-to 350 lbs
Built-in handles
Best Compact Toilet
The Sun Mar Compact composting toilet is a favorite for compact toilets.
The brand prides itself on their 'ultimate waste treatment solution' and protection for public health and environment. But aside from this, they produce pretty good compact products.
The Sun Mar compact composting toilet system is waterless which makes it more convenient for outdoor trips.
Waterless
Bio-drum good for 3 pax
Small
Odorless operation
Environment-friendly
Best Waterless Toilet
Nature's Head Dry composting toilet with a Spider handle is a compact top-rated composting toilet. It's a hit for RVers and for a good reason.
Nature's Head composting toilet quality is top-notch and it's easy to use. It also has a trap door system that you can use to separate the solids from the liquids.
Stainless hardware
User-friendly
Odorless
With vent hose and fan
Best Rated Toilets
1. Nature's Head Self Contained Composting Toilet
Constantly mentioned in lists of the best composting toilets, the Nature's Head's composting toilet is certainly a favorite. Given the features we mentioned above, it's easy to understand why.
Trap door system + durability = perfection!
2. Nature's Head Dry Composting Toilet
Another great composting toilet from Nature's Head is their Dry Composting Toilet with the Spider Handle. It is compact, durable, and easy to empty. The best for RVs!
3. Sun Mar Compact Self-contained Toilet
This Sun mar toilet is another popular choice among the RV community. It can save space compared to other composting toilets.
4. Separett Villa 9215
The Separett Villa 9215 is often mentioned as the best off grid toilet out there. It's waterless, odorless, and uses low power which is also perfect for a tiny house or an RV. The large capacity is a huge plus.
5. Sun Mar Excel Self-contained Composting Toilet
Known as one of the best composting toilets from Sun Mar, this Excel Self-Contained Toilet is a great one that doesn't use water or electricity. You can also install an optional vent with it.
6. C Head Composting Toilet
For marine travel, it's best to choose a C head Composting Toilet because that's the company's specialty. And it's NOT limited to boat use, you can use it for an RV!
It's low maintenance, separates solid and liquid, and is inexpensive.
7. Airhead Composting Toilet
Another great marine toilet that you can use for RVs is the Airhead Waterless Composting Toilet. Being a dry toilet, it has less waste volume and less odor. Another good thing about this air head composting toilet is that it has a separate seat and lid!
How Much is a Composting Toilet?
The price range for composting toilets is pretty wide. Portable ones can be pretty cheap for $70 to $90. Meanwhile, commercial composting toilets range from $1500 to $2000.
That's a big amount so if you're looking for a long-lasting one, be sure to choose well.
I hope that this article and comparison guide helps you choose the best composting toilet for your RV life.
Read our related posts:
What do you need in your RV tool kit?Read our review of the best generators for camping here.Organize your RV with these hacks.Learn about living in an RV full time here.
Do you have more questions on composting toilets? Ask us below!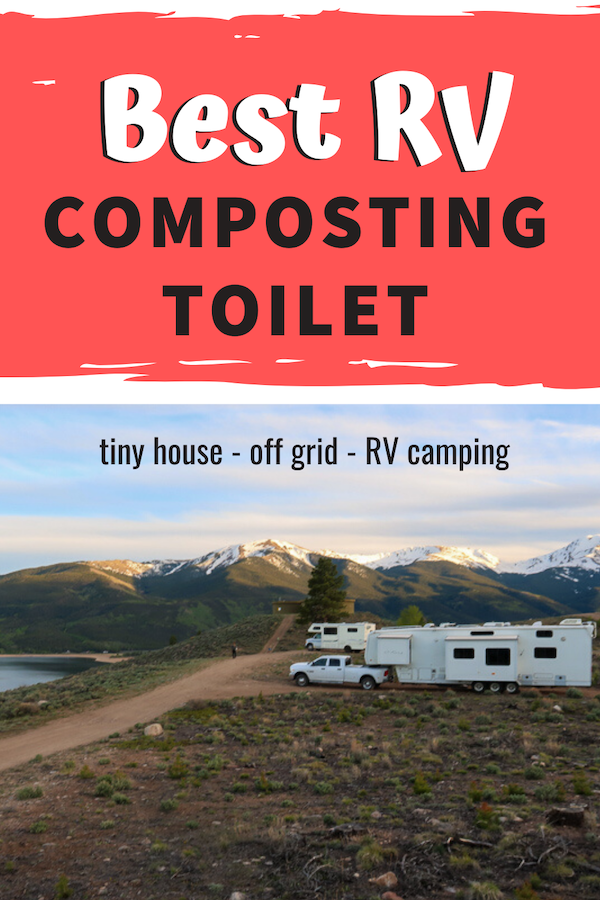 Let's Travel Family is a participant in the Amazon Services LLC Associates Program, an affiliate advertising program designed to provide a means for sites to earn advertising fees by advertising and linking to amazon.com, amazon.co.uk, amazon.ca. Amazon and the Amazon logo are trademarks of Amazon.com, Inc. or its affiliates.