What tools should you put in your RV tool kit? A camper tool kit should have a few specific essentials. Owning an RV presents its own set of challenges. Yet, being prepared with the right tools in your RV toolbox can help you put your mind at ease during your next trip out.
The best RV tool kit should have at least these 9 tools—and possibly more—to make sure you aren't stranded somewhere with no power, a flat tire, or other issues. Yet, you also want to pay attention to the weight and space available in your RV or motorhome as you consider what should go into your RV travel tool kit.
Don't weigh yourself down with too many rv tools.
That's why we've created this list for the best RV tool set to give you a good idea of what essentials you need in your travel trailer tool kit.
What is a tool really? The Webster dictionary defines a tool as a handheld device that aids in accomplishing a task.
Well, I can tell you that since launched into living and traveling full-time in an RV back in 2017, tools for RV travel are very necessary.
So, what 'tools' do you really need? Let's dive in.
THIS ARTICLE MAY CONTAIN COMPENSATED LINKS. PLEASE READ OUR DISCLAIMER FOR MORE INFO.
1. Smart Phone With An Internet Connection
Just like how we have our own Youtube channel, there are many RVers out there that run YouTube channels and show you how to fix most systems in an RV.
For example, if you've ever wondered how your RV refrigerator works, what a battery shunt is, or why your slide won't go in or out, chances are someone has made a video about it and how they fixed it.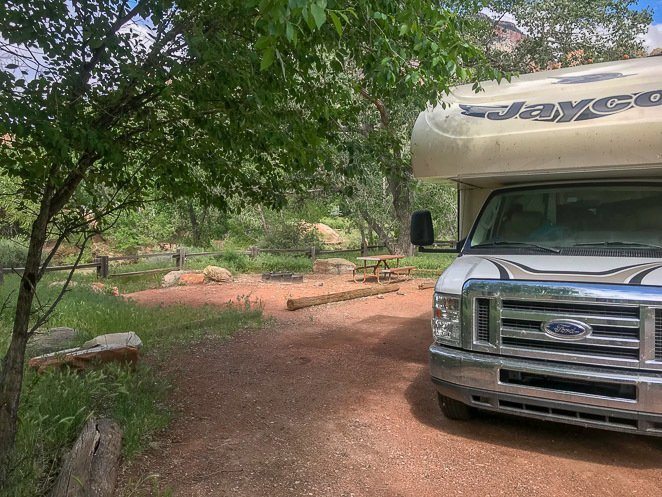 What makes full time RVing different than just weekend camping?
We don't have a garage full of tools or our favorite local RV service center we can just drop our RV off when we're done for the weekend.
Using the internet to search for your RV issues is a huge boon to finding out what tools may be needed. Pro Tip: Learn more about RV internet here.
2. Multimeter
As with most modern devices, even a 10-year-old RV can have complex electrical systems. Being able to start troubleshooting what's draining your battery while boondocking, why the lights flicker when you flush the toilet, or why your refrigerator may not be cooling properly can save you time and sanity if you're able to check the RV's electrical system.
A multimeter is a must have in your RV toolkit. When our RV refrigerator started going through cycles of cooling and not cooling, we were able to test various inputs to the refrigerator. We checked the electrical with our multimeter to confirm that our issue was not with the power, it was with the cooling unit.
This was done because the components of an RV refrigerator are few: a thermocouple or thermistor attached to the fins in the lower box detects how cool the fins are and sends a signal to the control board to either heat the cooling unit to lower the temperature, or not heat it.
In our case, the thermistor was working. This was confirmed by testing the ohms with the voltmeter. You see, the AC power outlet was delivering current, the heat sensor was working, and the control board was working, which just left the cooling unit.
This was confirmed and ultimately replaced, at the RV service center we took it to.
3. Air Compressor or Tire Inflator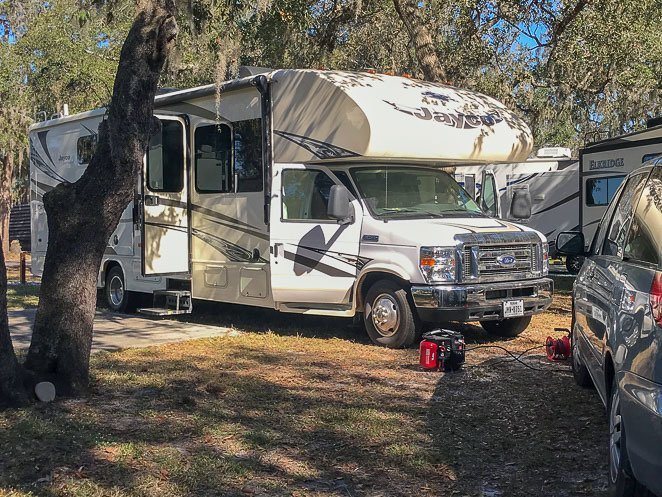 With oh-so-many tires in our lifestyle of RV travelers, you need to be prepared to maintain upwards of a dozen spare tire or more tires!
That's not counting bikes, motorcycles, tow dollies, or golf carts. Being able to check your tire pressure and inflate your tires at anytime requires the right air compressor. Click here to check out our top pick of a portable air compressor.
While many truck stops and gas stations have air compressors, they're not always easy to get to, may not work, or may require quarters—which is another tool to carry at all times too!
Trailer tires, truck tires, Class C tires, Class A bus tires all require different pressures.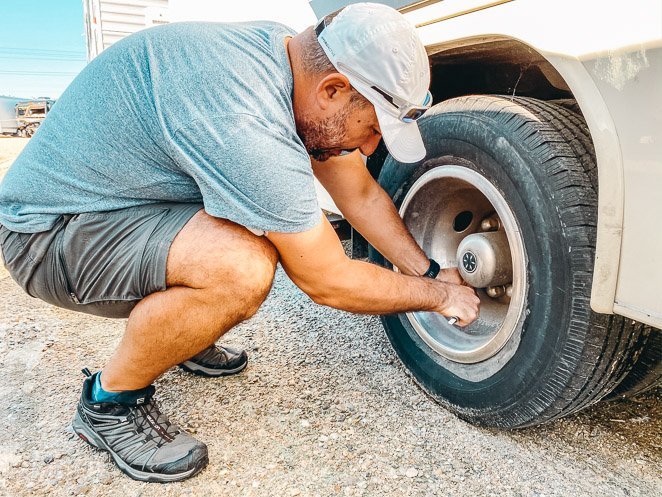 You'll want to make sure when purchasing your air compressor that it's strong enough to inflate your highest pressured tires, and can run on any available power. From battery powered, to AC powered, to DC powered, maybe even solar, you'll need to make sure you can inflate your tires and add the correct tire pressure at any time. Oh, and don't forget the pressure gauge!
4. Tire Pressure Gauge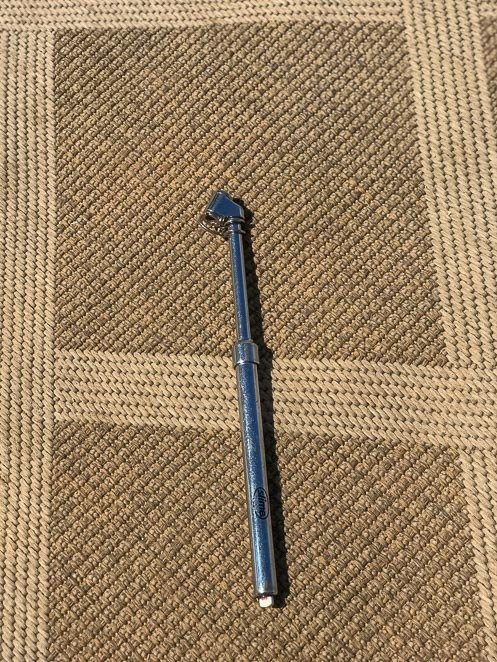 Since a good majority of RVers will have some sort of dual-tire setup, you'll need to make sure that you can reach your inside tire stems. Even though the compressor may have an included gauge, it may not help you reach those funny angled stems.
We've found that this tire pressure gauge works well for our Class C duely. Or, this digital tire gauge is also a great one that friends of ours have and love.
5. Socket Set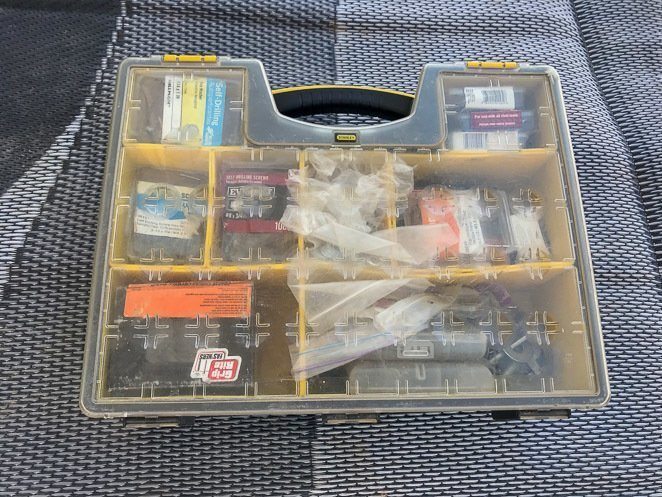 Having a diverse socket set will save you time and hair loss. Oh, and a great way to organize it as well.
While we'd hope that RV manufacturers would standardize on SAE (or standard) vs Metric, the combination of so many suppliers in the building of an RV prevents that.
The lug nuts on your tires may be standard, but the nuts holding your wheel cover on could be metric.
Talk about a head scratcher.
Fear not, because if you have the necessary sizes and configurations, there shouldn't be any component of your RV that you can't at least take apart to begin fixing, or finding those videos on what to do next. Check out this socket set that has worked great for us.
6. Driver Bit Set
Just like with the socket sizes of standard or metric, the head types of hardware in an RV vary wildly. From slotted to crosshead—or Philips—to square drive or cheesehead, the array of combinations is endless.
Having a driver bit set that is as diverse as gelato flavors will help you get those RV systems back in working order.
7. Cordless Impact Driver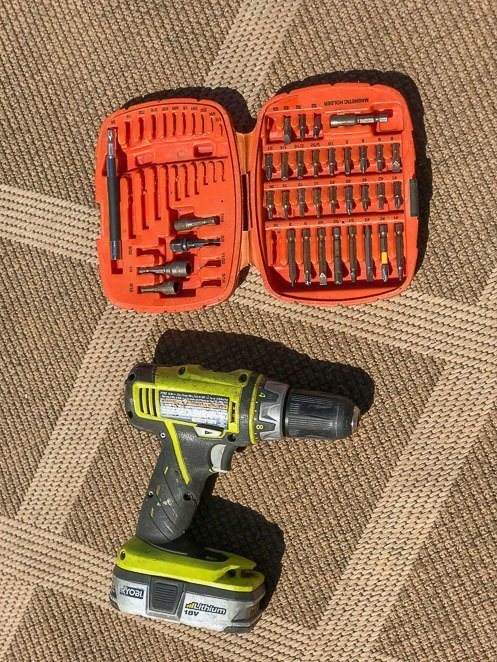 What good is a driver bit or socket set without something to drive it with? This is where a cordless impact driver will save the day!
Rusted on or seized lug nuts? Fear not, for the driving force of today's cordless impact drivers rivals the power of those tools found in yesterday's diesel mechanic shops.
Hopefully, you won't need them that often, and you could probably get by with a basic cordless power drill to lower your stabilizers. However, that won't help with seized nuts and bolts.
Trying to pry off a lug nut from a wheel with a small crowbar or a socket wrench may prove futile until you unleash the raw power of an impact driver. Just watch out as the speed and power may spin those nuts off and send them flying down the road!
8. Tool Wrap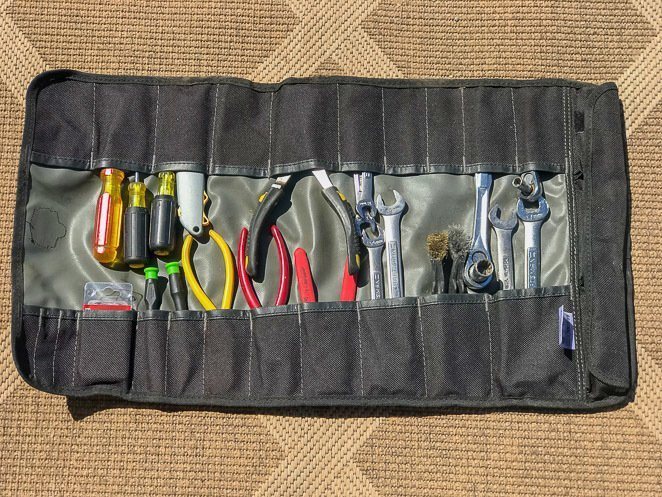 Having a convenient and space-saving RV tool storage unit is important to make sure your most frequently used tools are easily accessible.
A tool wrap allows you to store those tools you use each week, or every day depending on how much you enjoy maintaining your RV. This can work better than a typical tool box for RV. In my tool wrap I have:
¼" and ⅜" socket sets with my most used sizes
various screwdrivers
pliers of various sorts
a spirit level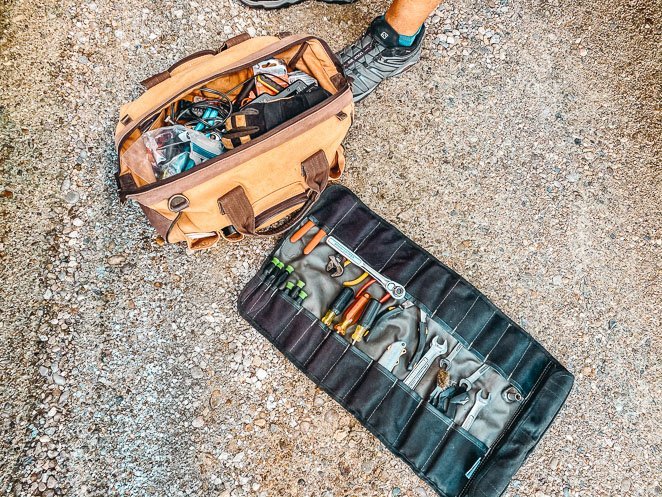 Your RV and travel style will determine how you load your tool wrap and where it's stored, but I thought it was vital to have on this list so those essential tools you need are always close-at-hand.
If you really like tool wraps or don't have space for toolboxes, you could make specific wraps for items such as driving tools, air tools, electrical tools, and so on!
9. Multitool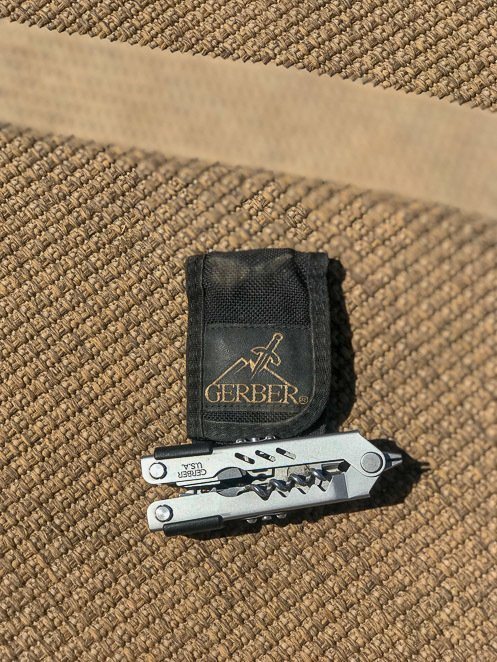 Hands-down my favorite multitool to carry is this one. If you're looking for a great gift to give an RVer, this is the one.
It's handy for all kinds of quick uses and has a great pocket utility knife. With a pocket clip built-in, it doesn't require a sheath to stay attached. And the carabiner attachment allows you to hook it anywhere else the pocket clip doesn't work.
Of course, if you need something a little more, there's the Swiss Army Evogrip.
With its 80+ features including a built-in altimeter, you'll surely know what temperature your water will boil while boondocking in the Rockies!
10 Bonus RV Tool Kit Ideas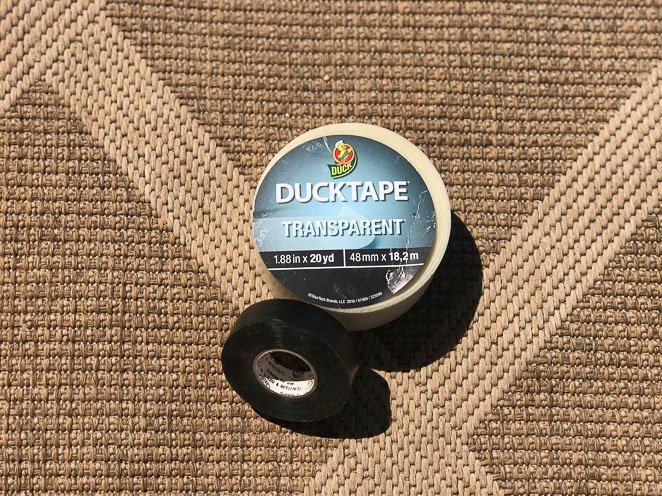 There are a few additional tools that most RVers have in their RV tool kits.
Duct tape or electrical tape for those quick fixes.
Blocks or levelers to use to help your RV stay in place.
A simple hammer and screwdriver.
Needle nose pliers, zip ties, wire cutters, and a tape measure to name a few more to add to your camping tool set.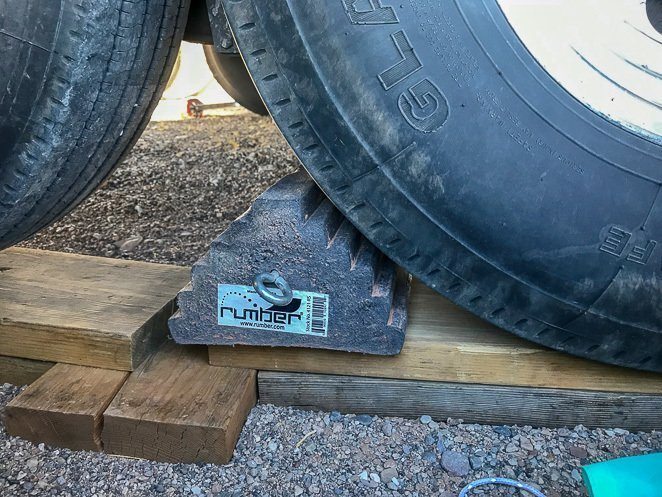 Think about how heavy tools can be, and if you think you'll actually use a tool once in the next 6 months. If not, then it's not worth loading into your RV or motorhome. The weight and space it will take up just isn't worth it to add to your campervan tool kit.
Related RV Accessory Ideas
If you're looking for specific RV accessories….ones that will help you understand what you actually NEED for an RV or motorhome beyond tools, then check out this post.
Or, if you plan to do a lot of boondocking, then this list of RV dry camping accessories should help you.
You especially should not be without one of these to keep your electrical system safe and working well.
Another RV must have is finding a great generator. So, if you don't have an onboard generator, then you'll want to look into a portable inverter generator. Check out our review of the best generators for camping and RVing here.
Or, if you want tips on advice what to have in your RV kitchen click here.