Visiting national parks is always so fun for a traveling family like us. Camping in national parks is a whole other part of the experience!
If you want the full Great Sand Dunes National Park experience, we suggest that you camp for a few nights. Camping in National Parks can be such a fun experience. It's nice to hear the other campers' small chatters as you fall asleep and to be woken up by the view of the sunrise.
We're going to share with your our Great Sand Dunes Camping tips and ideas for things to do in the area. So keep on reading.
Where Is The Great Sand Dunes National Park and Preserve?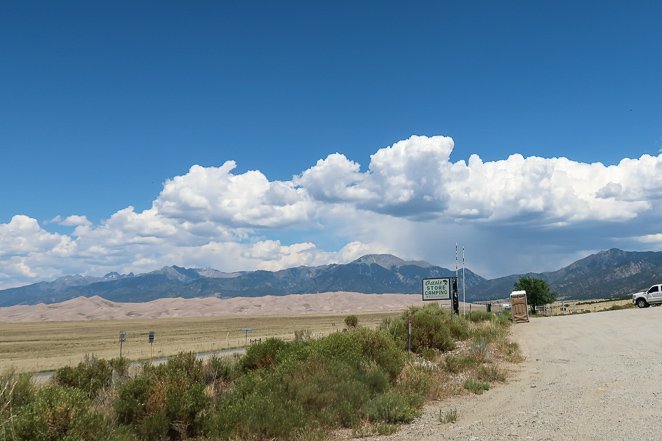 Featuring the towering dunes of North America, the Great Sand Dunes National Park stretches from the eastern edge of San Luis Valley to the Sangre De Cristo Range, in south-central Colorado.
Alamosa is the nearest city to the park and the best route to take is through Highway 150 or County Road 6.
Visiting Great Sand Dunes NP might be a great stop on your next Colorado Road trip.
What Is The Great Sand Dunes' Weather Like?
The National Weather Service in Sand Dunes National Park provides pinpoint forecasts for three parts of the park, the Visitor Center/ Campground/ Dunefield, Medano Pass, and Sand Creek Lakes.
For a summary of their monthly average temperatures, click here.
Any weather condition can happen during Spring, may it be high winds, snow, and warm days!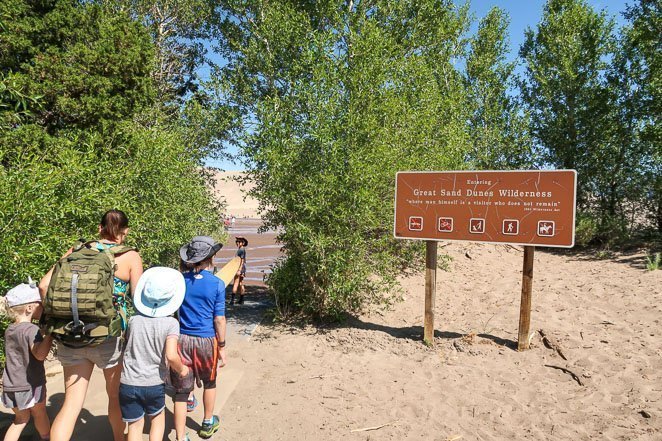 The Great Sand Dunes National Park weather barely varies every season. Summer daytime brings high temperatures but lows can reach the 40s. Thundershowers are also common in July to August afternoons.
Fall is described as mild on the park's official website but fall storms can still bring about rains and snow.
Sunshine is abundant during winter but it is relatively cold. It is still advised to wear layered footwear and clothing when visiting during winter
For your visit, refer to the official website to check on the current highs and lows of whichever parts of the day you're planning to stay in the Sand Dunes Colorado.
Things To Do In Great Sand Dunes National Park
We spent one day visiting Great Sand Dunes National Park with our friends, the Logsdons. It was a great place to share about on Instagram and write some camping captions that are sure to help others. Here are the fun activities we chose to partake in and some more that we wish we had done!
1. Sandboarding and Sledding
Since snowboards and sleds can't slide on sand, you may have to rent one from the Oasis Store outside the park entrance from Spring to early Fall, or Kristi Mountain Sports in Alamosa, Sand Dunes Swimming Pool near Hopper, or Mountain View Motor Inn in Fort Garland which are open all year round.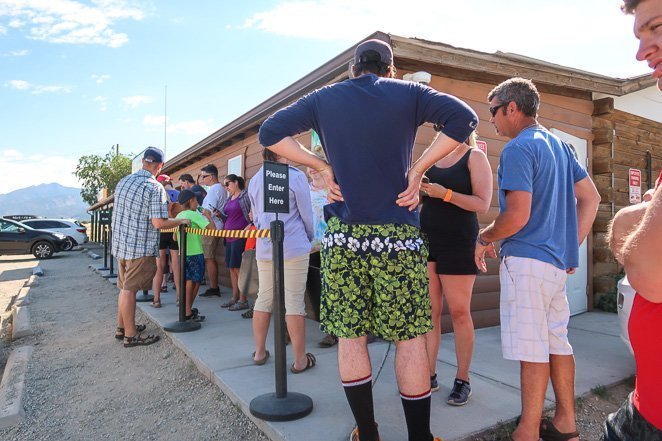 We rented ours from the Great Sand Dunes Oasis for $20 each for the day. Then we went into the park to try out our first chance of sandboarding!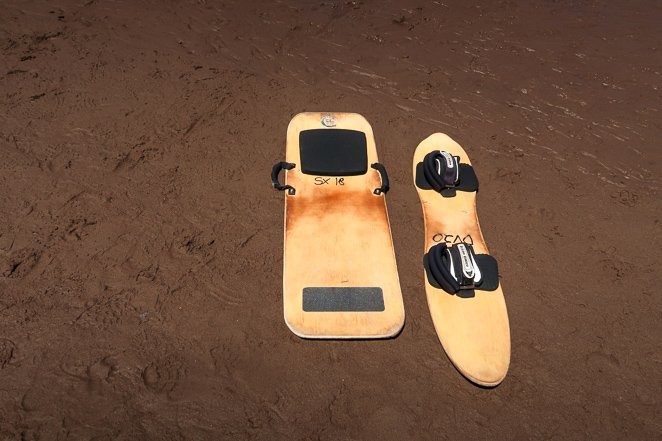 Tony and I took our older two with Ashley's older two kids up the dunes and did some sandboarding by about 10:30 am and it was HOT on our feet.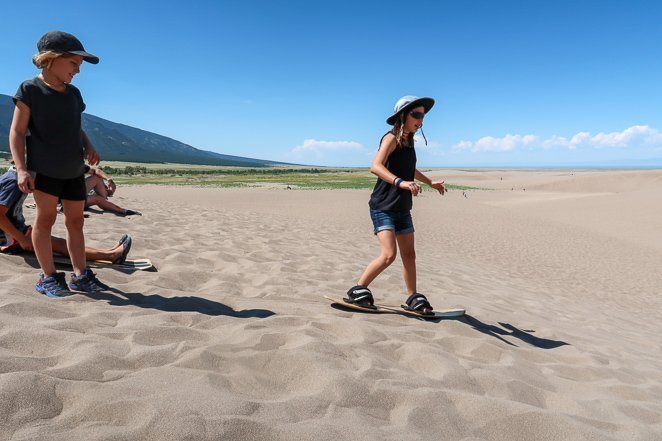 Nathan stayed in the stream of water at the bottom of the dunes with our two youngest and his youngest kiddo. We all met back in the water, which you have to walk through in order to climb up the dunes. So be ready for wet feet before sandboarding.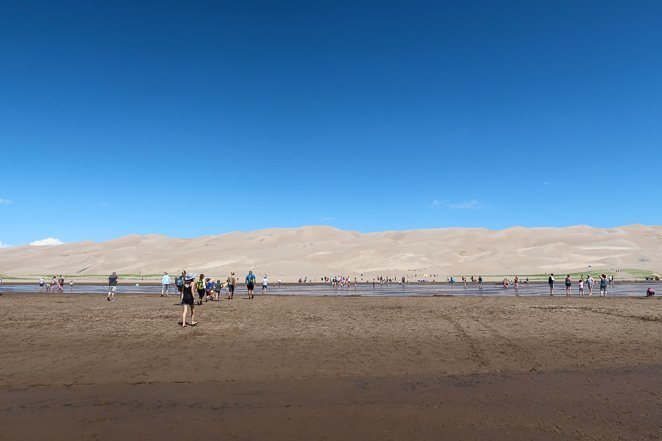 We went to cool off in the water, yet we were desperate for shade. Once we found shade though, the mosquitoes found us! It was crazy how many mosquitoes there were!
We quickly went back to the sunny water to cool off and lasted about 20 more minutes.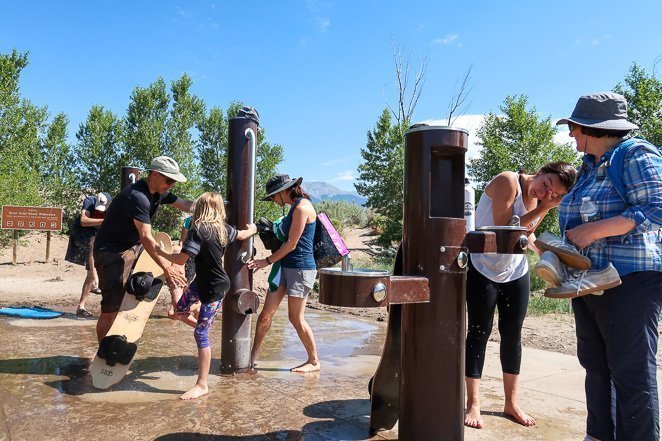 I was happy to see there was freshwater rinse off stations just before the parking lot. So we were able to rinse the kids in the cool water before loading back into the van.
2. Enjoy The Creek
Medano Creek offers a fun filled day for all ages with its seasonal flow that allows tourists to splash and build sandcastles. This season goes from April through June with its peak flow nearing the end of May.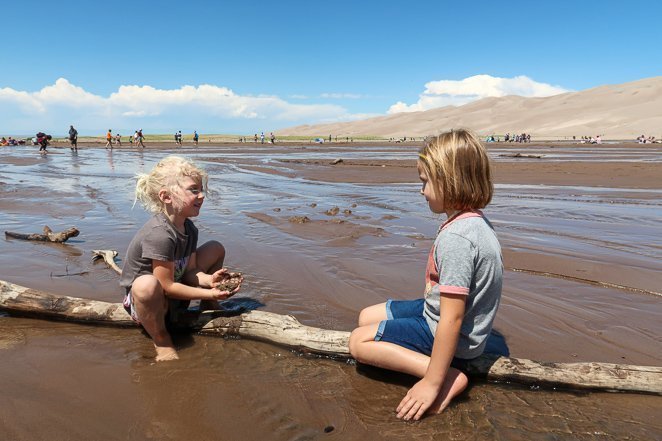 Sad news, after its peak last June 9th, the water continues to decrease and floating is not possible anymore.
Also, take note of the mosquito season from mid-June to July.
3. Take Some Photo
The Sand Dunes can give you several majestic view from people splashing in Medano Creek, kids building their own sand castles, to panoramic views of the dunes.
See examples of great photography in Sand Dunes here.
4. Stop By The Visitor Center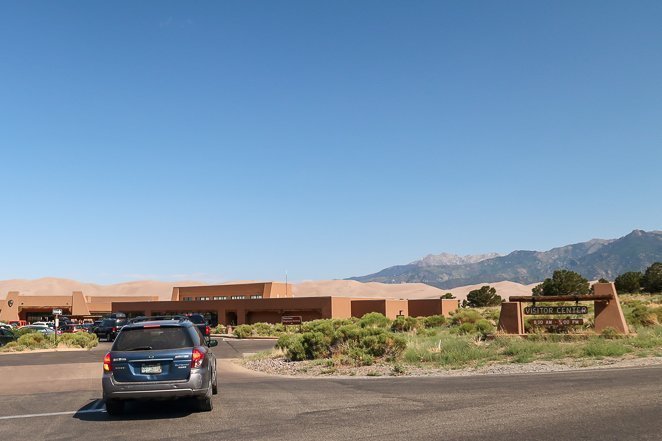 This may have been our first national park visit where we didn't stop in Visitor Center, and I wish we had. National Parks across the US have great Junior Ranger programs for the kids and often videos to watch to learn more about the park you're visiting. I especially loved the Junior Ranger and Science Explorer programs in Yellowstone National Park.
Sand Dunes Camping
For a great Sand Dunes Colorado camping experience, read on for our suggested campgrounds in or near Sand Dunes National Park that can make your trip so much better!
1. Piñon Flats Campground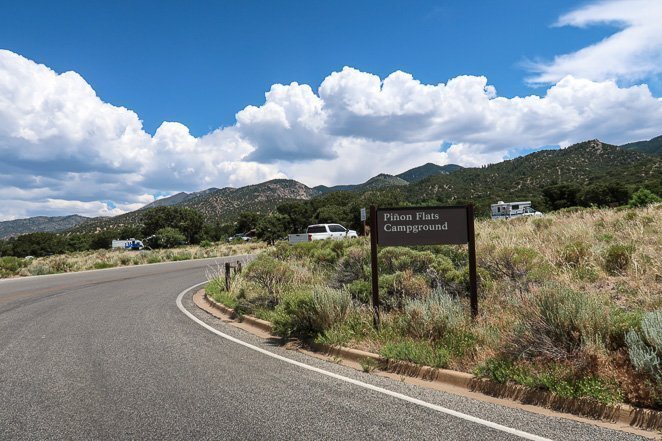 If it's camping near Great Sand Dunes National Park that you want, Piñon Flats Campground is a National Park Service one mile away from the Visitor Center and IN the park. Do note that it's only open from April 1 to October 30 every year.
For Medano Creek's Peak Flow in late May and early June, expect all the areas to be reserved already. If you want to visit within this time frame, make sure to reserve your campsites EARLY.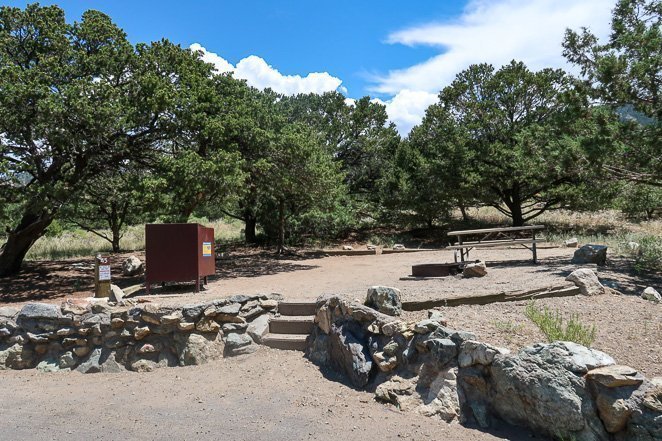 For the group campsites, only tents are allowed. You also have to reserve at least four days earlier than your planned date of visit.
We drove through the campground during our visit and we saw some pretty big rigs there too, so don't shy away from this campground if your RV is over 30 feet. Check their website for more details.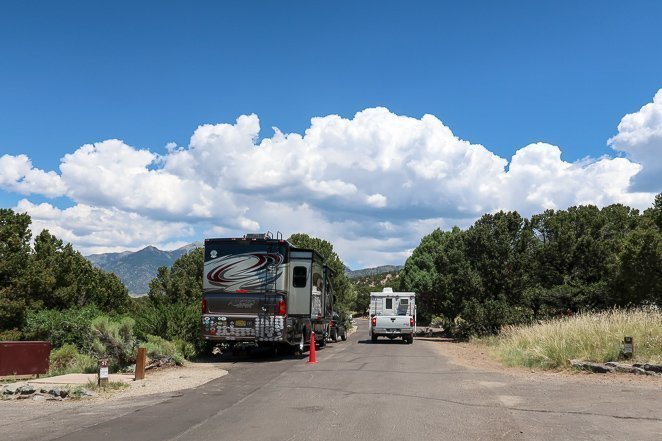 If you are concerned about cell signal, this is one of the only National Park Campgrounds that we've visited where there WAS cell signal for both AT&T and Verizon.
2. San Luis Wildlife Area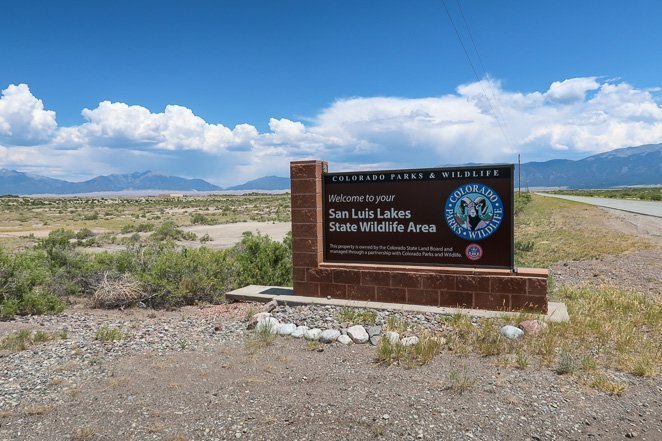 Tony and I stayed in San Luis Wildlife Area about 15 minutes outside the park where we paid $36 per adult for a Colorado Wildlife Management pass for the year (that you need to purchase from the gas station 8 miles away beforehand) and we could camp for up to 14 days there! No reservations were needed and we had access to free electric! Crazy!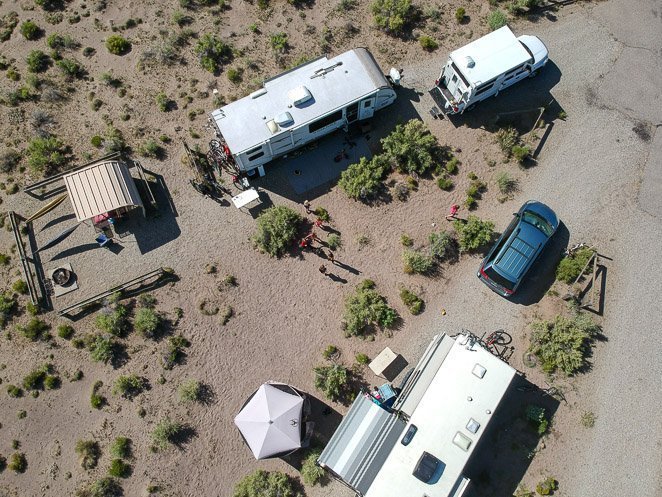 There was a shaded picnic table at each campsite and a fire ring as well. With a dump on site and great cell signal we were almost set.
The downside was that there was no fresh water nearby. Oh, and there were SO many tiny biting flies. By the time we left, we all looked like we had chickenpox!
3. Zapata Falls Campground
For some primitive camping experience, Zapata Falls Campground is the best! 11 miles away from the Visitor Center, staying here can give you the best views of the whole dunefield and valley.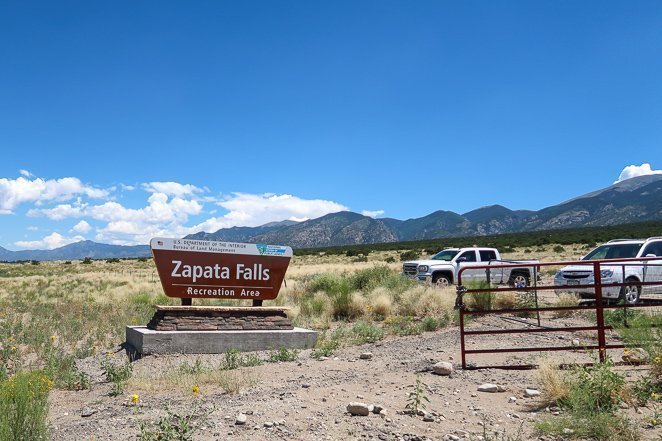 It's only $11/ night but there's no water, pit toilets, and fire rings at each site. Just like Piñon Flats Campground, you have to make even earlier reservations during Medano Creek's peak seasons.
The downside to this campground is it's up a very bumpy and steep road, so you may want to have 4-wheel drive to climb it.
Best Time To Visit The Great Sand Dunes
The sand was HOT and we, of course, made the mistake of going on a Saturday. I learned from the woman who rented us the sand boards that Saturday is the busiest day of the week too. So it may be best to visit during the week and earlier in the summer.
Tony and I took our older two with Ashley's older two kids up the dunes and did some sandboarding by about 10:30 am and it was HOT on our feet.
So if you've got kids with you like we did, plan to visit before 10am if you plan to walk among the dunes. Also avoid Saturdays because it might be stressful for the kids to explore around the area when there are so many people in combination with the heat.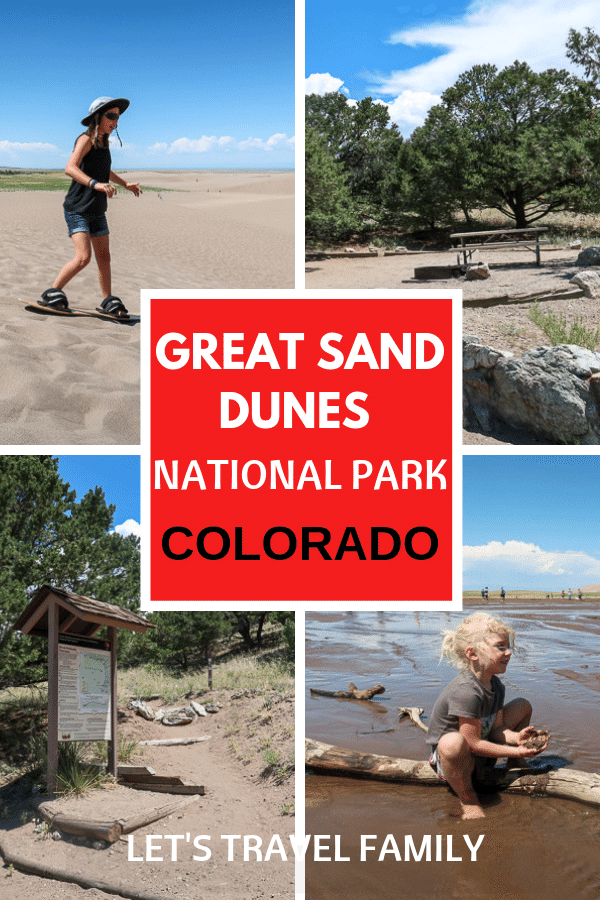 What To Bring On Your Sand Dunes Visit
For your visit, the trick is to wear socks! Really, just socks, not even shoes on your feet because you'll get tons of sand in your shoes. The kids had fun but it was a long hike up the dunes, and their feet were burning hot, so we didn't last long.
Bring bug spray, snacks, and water. There was no potable water beyond the parking lot near the dunes, so be sure to bring your Camelbak or water bottles from camp.
If you're visiting the park as a part of a road trip, you can check out what we bring for our road trips here.
Places To Visit Near Sand Dunes
Sand Dunes Co is near several entertaining places that you may enjoy with your family. Here are three of the best places to go to before or after your Sand Dunes visit!
1. Zapata Falls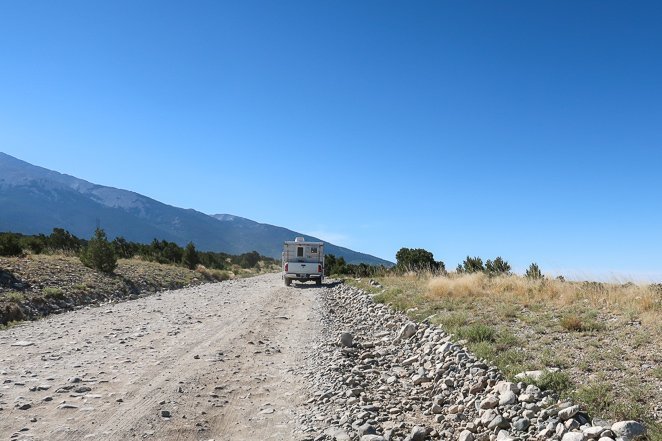 On a separate day, we decided to hike to Zapata Falls just outside the National Park. Once we got on the 3-mile long VERY bumpy road, it took us well over 25 minutes to drive up it to the parking lot.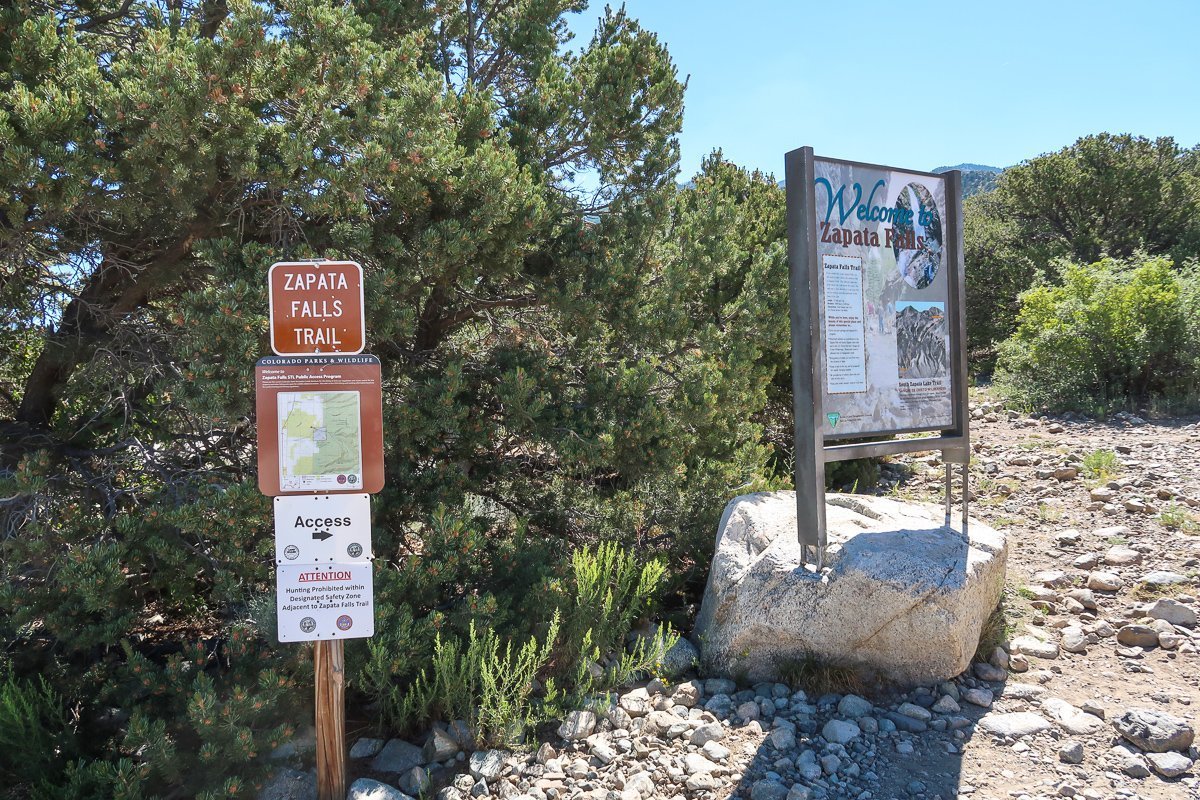 There we found pit toilets and the trailhead for a 1/2 mile hike to the water. This is also where the Zapata Falls Campground was located that we talked about earlier.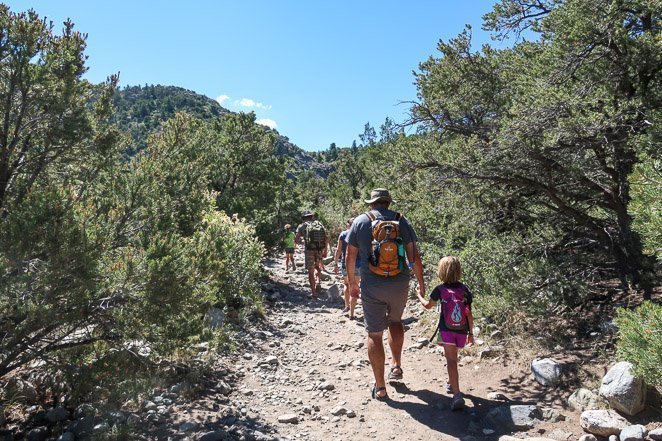 Once we arrived to the river, the water was ice cold and felt amazing after the mosquitoes found us once again.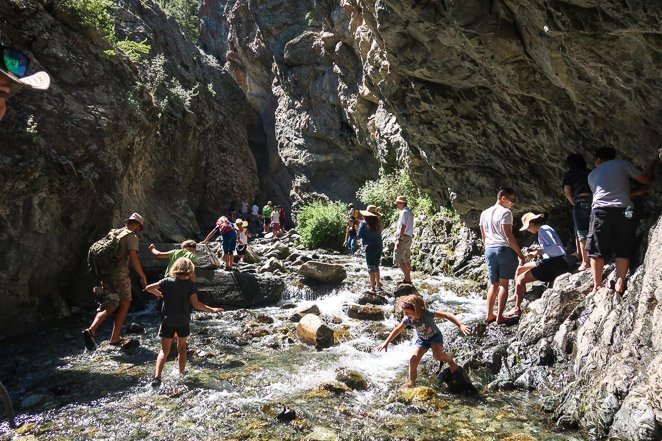 We wore our Keens and hiked IN the water so that we could make it up to see the falls. We had such a great time and what a huge change from the previous day when our feet felt like they were on fire from the hot sand dunes.
2. Sand Dunes Swimming Pool & RV Park
About 35 minutes away from the National Park we visited the Sand Dunes Swimming Pool & RV Park which has hot springs filling their pools. This was our family's first experience visiting a hot springs and it did not disappoint.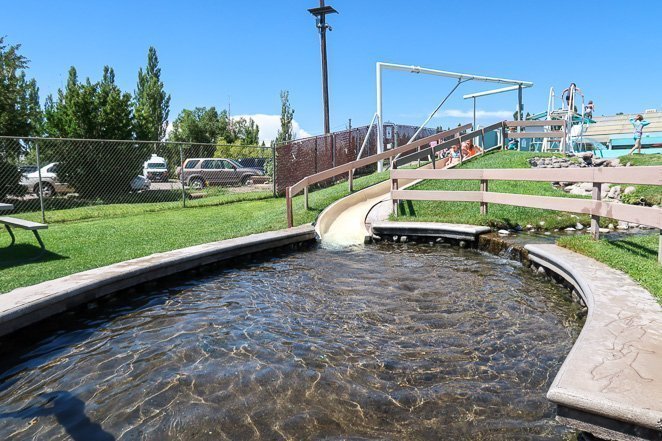 The kids loved their slide into a small hot springs bath, along with their two diving boards!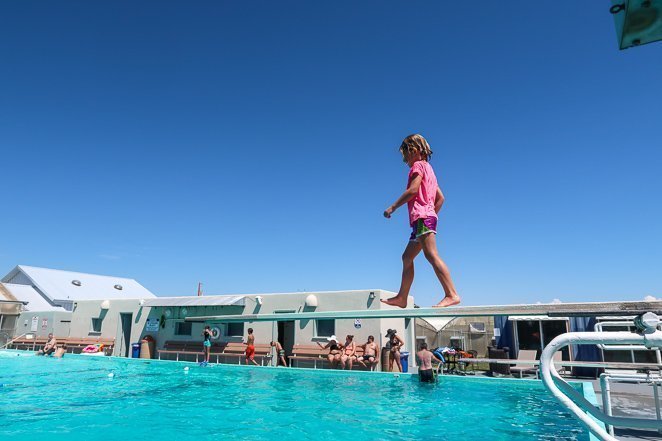 We spent most of the day there relaxing in warm water, eating lunch, and Tony was able to access great cellular signal and worked from the small air-conditioned restaurant.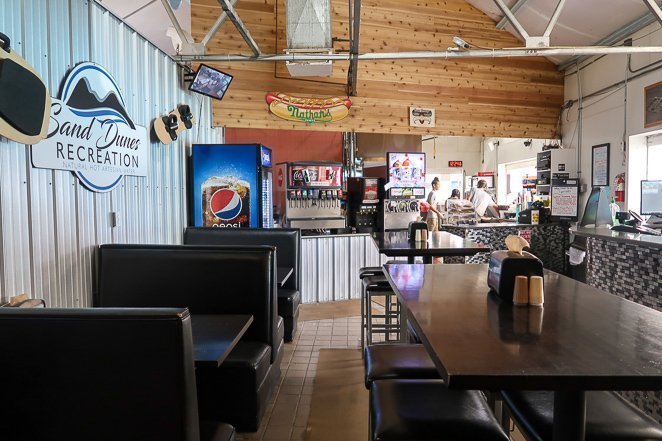 Oh, and we were able to get in a great shower there as well! Bonus for us as we had been boondocking for so long.
3. Fort Garland Museum and Cultural Center
Museums are the best spots for quick visits especially if you're traveling with your family. This relaxing but educational activity is good for kids.
This significant historical site features dioramas, exhibits, and scheduled living history events. Its restored 19th century appearance is a huge plus as well!
For other reasons on why you should definitely bring your kids with you in your travels, click here.
What's stopping you from taking a family road trip? Camping is a great opportunity for family bonding, and Colorado has some amazing places to check out.
When we left Great Sand Dunes, we worked our way North in Colorado to Rocky Mountain National Park and also found some fun things to do in Estes Park just outside of it.
Colorado is such an amazing place to visit!
What do you think of camping in Sand Dunes National Park? Have you visited Colorado yet? If you're looking for other great things to see and do in Colorado check out our tips on visiting Rocky Mountain National Park and the fun city of Estes Park in Northern Colorado.