Camping and RVing can be so much fun, especially if you want to get out into nature and camp in the woods. Yet, having a dead battery and no power can make for a rough experience. Avoid this problem by buying the best generator for camping.
With the best portable generator for RV camping, you can have more freedom to camp wherever you want.
You can go boondocking in a National Forest and enjoy being miles away from anyone! We included a generator as the first thing on our dry camping essentials list.
With the best camping generator, you don't have to worry about dead batteries or having minimal lighting. Your camper generator can solve those problems for you.
As one of our RV must-haves, our generator plays a huge role in our full-time RVing lifestyle. But really, what makes a good generator for camping? Find out in this ultimate guide to buying the best generator for camping and RVing.
THIS ARTICLE MAY CONTAIN COMPENSATED LINKS. PLEASE READ OUR DISCLAIMER FOR MORE INFO.
Introduction To The Best Generator For Camping And RVing
Whether you're going camping or driving on an RV trip, you'll need more than a solar panels setup for a battery system. We recommend getting a generator to avoid the constant worrying about running out of battery life when there's no sun for the day.
The best generator for camping is pretty subjective. Do you prefer a quiet generator or do you not mind the noise as long as it gets the job done? Are you looking for the best small RV generator fors camping?
Our Top Pick for the BEST Generator for Camping: Click here to see our top pick for the best generator if you don't want to read to the end of the post.
See, it all boils down to your OWN taste.
Still can't decide what you want for a camping generator? Don't worry, we'll help you through your selection process with this guide where we look at portable generator reviews for you and come up with the top portable generators.
PIN THIS FOR LATER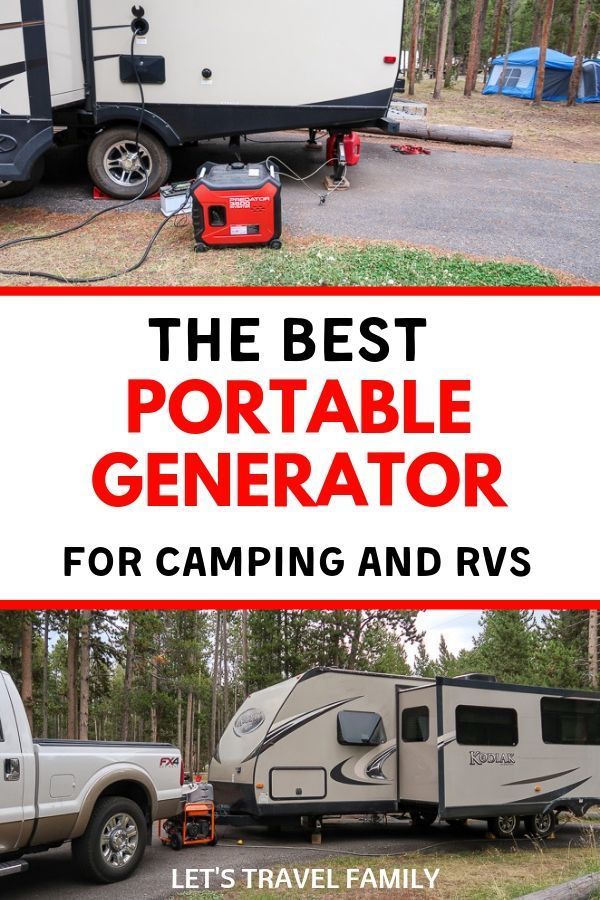 Comparison Guide
Not yet sure which of the top rated camping generators to buy? Take your time checking our generator reviews below to find the best portable generators and find which generator works best for you.
To choose a generator, we need to set some standards.
In this comparison guide, we will consider the generator price, durability, power, size, noise, and some minor qualities.
Comparison Chart – Best Generator For Camping
There are many available options when it comes to the best rated generators. Check the comparison chart below and see the generator reviews with different types and features.
| Brand | Image | Cost | Weight | Power | Rating | Noise |
| --- | --- | --- | --- | --- | --- | --- |
| | | | | | | |
| | Popular | $$$$ | 47 lbs | 2000, 1800 | **** | 57 DBI |
| | Best Small | $$$$ | 55 lbs | 2200, 1600 | **** | ?? |
| | Cheap | $ | 105 lbs | 4000, 3300 | *** | 69 DBI |
| | Quiet | $$ | 48 lbs | 2000, 1600 | **** | 51 DBI |
| | Best Gas | $$$ | 94 lbs | 3700, 4500 | **** | 52 DBI |
| | RV Ready | $$ | 82 lbs | 4000, 3500 | **** | 64 DBI |
Best Generator Brands
And it's okay even if you're not entirely sure if buying the Yamaha inverter generator or the WEN generator we mentioned is right for you. You still have several options left and many other highly rated portable generators for camping.
If you want to start out by picking a brand that suits your taste, here's our list of the top 10 best generator brands to look out for.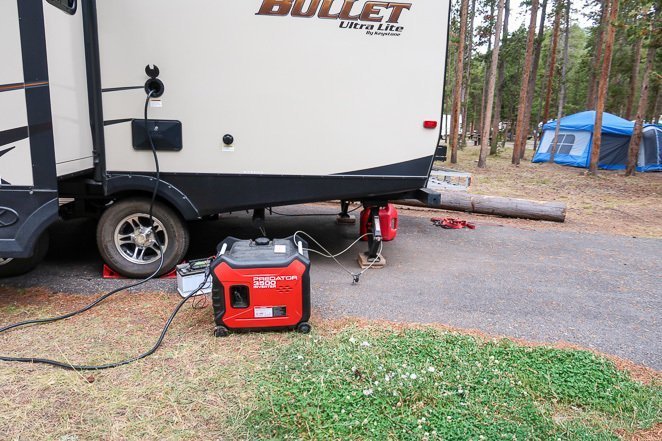 1. Honda
Always one of the top options when it comes to generators, Honda has established its name as a source of reliable generators, whether it be for camping or for full-time RV living. Some may even say that Honda provides the best generator for full-time RV living. But that's for you to decide.
They have released super quiet generators like the Honda EU2000i and have made most of its generators portable and easy to transport.
The brand has come a long way to improve their frontrunner portable generator EU1000i and later released the Honda EU2200i.
The number one downside for most of us is that a Honda portable camping generator can be very expensive, but every dollar you spend on these generators will be WORTH IT.
With Honda Inverter Generator EU2200I being the BEST Honda generator for camping as of date, the brand has shown that they can input a lot of features, including internal cooling system, while maintaining the lightweight feature.
Click here to grab a Honda Parallel cable so that you can connect two similar Honda generators for more power.
2. Yamaha
Yamaha stepped up their game with their Yamaha inverter generator, the Yamaha EF2200iS which is our pick for the best small generator.
Yamaha's smart technology is one of its best features. They have an oil watch warning system, Smart Throttle, and warm-up system. Another plus is their three-year warranty!
They offer a wide range of generators that will likely fit any need.
3. WestingHouse
WestingHouse has been going up the list with their continuous efforts on innovations to make a wider range of options for their customers. Just in 2018, they released two new models — iGen4500 and WGen6000 (which is a bit too much power and too much weight for a camping generator).
The brand has been making generators that are EPA and CARB compliant, RV and camper-ready, and with LED displays to show the generators' current statistics.
In comparison to other generators with the same size, WestingHouse generators are said to be quieter and can last longer.
So if you're looking for a brand that can offer you choices with different key features and functionalities, WestingHouse is the place to visit!
4. WEN
WEN has been in the field since 1951 and has been improving their technology. WEN prides itself for designing generators that can be useful as a backup power supply and perfect for use during recreational activities. Their best products are among their portable generators.
Just like WestingHouse, WEN has taken it upon themselves to offer a wide range of powerful generators, from 1,250 to 13,000 watts.
Another plus side is that WEN generators are generally affordable. If you can't afford a Honda, you can go for a WEN that can basically do the job. Their products can be heavy, but most of these come with wheels so you won't have to worry about carrying and moving it around too much.
5. Champion
Unlike WEN, Champion has not been in the field for very long. But with their outstanding customer service, Champion Power Equipment has been satisfying their customers since 2003.
Through their excellent customer service, they get ideas on what customers love and what they have to do to make their current products even more beneficial and enhanced.
They have their Dual Fuel technology and remote functions for their portable generators, Champion is a great choice if you want a generator that's easy to start and operate.
They have the Champion generator which is powerful for an affordable price. Their generators are fuel efficient and even the spare parts are cheap. This brand is the best choice for you if you're looking for a short 2 to 3-year investment.
What Is The Best Generator For Camping And RVing?
Camping and RVing are fun outdoor activities, and for some people, a way to live full-time. The best generator for RV camping can make you forget about your worries about running out of power when you want to boondock or dry camp.
Yamaha EF4500ISE is one of the best-rated portable generators there is and for a good reason. For RV owners, this is the best generator on the market with its high power output and Smart Throttle feature.
PROS
CARB compliant
Low Noise
High fuel efficiency
Smart Technology
A very close second place for the best generator for camping is the Honda EU2200i.
Best Quiet Portable Generator
The least appealing feature of a generator is the noise it makes. We don't want to hear whirring from our neighbors when trying to enjoy dinner outside our RV with our family. For this reason, a quiet generator for camping has become quite the standard and often sought after.
Now if you're looking for the quietest generator for camping, your number one choice should be the WEN 56200i.
According to the US Department of Health and Human Services, this portable silent generator is even quieter than a normal human conversation! It's almost always described as the best quiet portable generator there is.
PROS
Lightweight
Durability
Affordable
Safe Operation
Eco-mode
CONS
Oil Refill
Lacking power for large appliances
Best Cheap Generator
Generators can be expensive and maybe that is what's stopping you from buying one. But here's the thing, there are numerous cheap generators around that can still get the job done. Maybe this cheap portable generator is what you need.
Introducing the best cheap generator, DuroStar DS4000S. With it's 4000 starting watts and 3300 running watts you'd think it's expensive, but no!
Designed for light duty, this generator is perfect for emergency uses, but can be used for intermittent camping needs. It can last up to 8 hours in use with a full tank and complies with the emission standards and approved by EPA (Environmental Protection Agency) and CARB (California Air Resources Board).
PROS
Affordable
Easy-start
Powerful
Eco-friendly
Has Fuel Gauge
CONS
Quite Loud
Heavy
High Fuel Consumption
Not a recognizable brand
Best Small Generator
Do you dislike taking huge things on your trips with you? If so, a small portable generator for camping might be just what you need.
The Yamaha EF2200iSv2 is a small gas generators packed with features including a fuel gauge, electrical overload breaker, oil watch warning system, a Smart Throttle system, and TwinTech which allows you to connect another Yamaha EF2200iS if you need more power all the while weighing less than 45 lbs. It's lightweight AND compact!
PROS
Lightweight
Smart Technology
Fuel Efficient
Quiet
Easy Controls
CONS
Expensive
Pull-rope Start
Top 10 Generators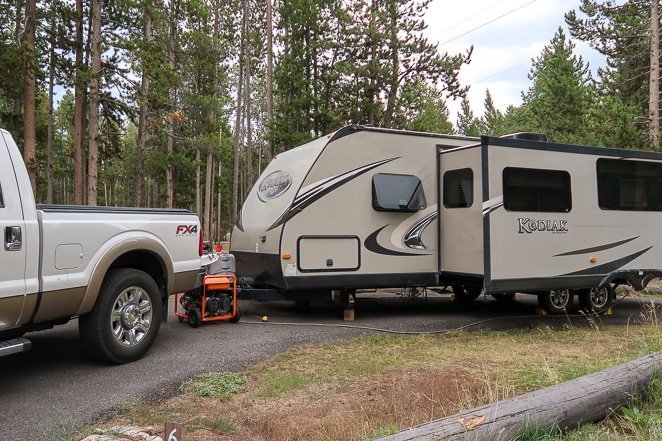 Among the many generators available in the market, it's hard to narrow down choices on your own. What could be a good portable RV generator? What about the best travel trailer generator?
We can help you with our list of the 10 best generators for camping. Find which portable generator works best for you below.
1. WestingHouse iGen4500
Maximum run time of 18 hours, iGen 4500 is highly recommended if you want an easy start up generator. Its remote start and push button start are user-friendly.
The WestingHouse iGen4500 is quiet for its size and customer reviews show that it's easy to use, but some are having difficulties in the assembly stage. Also, it is pretty large for a camping generator.
PROS
Remote Start
Easy to run
Heavy Duty (up to 18 hours)
Quiet
2. WEN 56200i
WEN is an affordable option when it comes to portable inverter generators. The WEN 56200i is a compact generator that has 1600 running watts is perfect for appliances and electronic items like laptops.
The new feature in this product is the Eco-mode, but it can only be used if there is less than 1000 watts load.
We even listed this generator as one of our RV must-haves!
PROS
Lightweight
Quiet
Affordable
Steady Output
CARB Compliant
CONS
Hard to Refill Oil
Low Maximum Wattage
Tank may leak
3. Honda EU2200i
Several of our RV friends have this Honda and love it! If you don't mind the price and are looking for a reliable generator, the Honda EU2200i has a lot to offer including a great long-term investment.
It's best feature is the lack of noise it produces, making it ideal for camping. It's also lightweight and easy to carry around without the help of wheels.
Its three-year warranty sounds good, too!
PROS
Quiet
Durability
Easy To Use
Large Oil Filter opening
Has Safety Features
CONS
Expensive
Low Fuel Efficiency
Lack 240V Capacity
4. Briggs & Stratton P2200
The Briggs & Stratton gas powered portable generator has an impressive 6.5 hour continuous run time and affordable.
However, this results in a heavy product that's harder to transport than most portable generators. It's also quite loud.
PROS
Easy Assembly
Electric Start
Power-packed
Low Oil Shutdown Protected
5. Champion 2500 Gas Powered Generator
Small, lightweight, and quiet, the Champion 2500 perfect for short trips. Its 1 gallon gas tank can run up to 11 hours at half load. So if you want a practical reliable generator, this one's for you.
PROS
Affordable
Lightweight
CONS
Only 2 Power Outlets
Pull-rope Start
6. Champion 3100 Portable Inverter Generator
This Champion generator is power-packed and can run up to 12 hours at half load. The Champion generator design is also customer friendly and we love how it's RV ready, is a best inverter generator for camping with a good value.
The size, however, makes it hard to carry around and produces quite the noise.
PROS
Wireless Remote Start
RV Ready
Power-packed
Long Run Time
CONS
No Gas Drain
Lack 240V Outlet
Quite Loud
7. Yamaha EF2000iSV2
The Yamaha EF2000iSV2 is the best in terms of fuel efficiency thanks to its Smart Throttle system, this generator functions based on its current load. Yamaha continues to add smart technology to its products and this generator is one of those.
The smart technology makes it easier to operate for the customers and reduces the noise it produces. Get this power-packed portable generator now!
PROS
Power-packed
Smart Technology
Compact
Quiet
Fuel Efficient
8. WEN 56200i
As a family that loves visiting national parks and camping, we love the key feature of this generator that reduces sparks in operation, making it safe to use in NPs and forests. Now you can enjoy Zion National Park or Grand Teton National Park without worry!
The Wen 56200i also has safety features that are good for you especially if this is your first generator to handle. The downside is that it does not have an electric start and instead has a pull start. And it's very large.
PROS
Safety Features
Affordable
Low Oil Shutdown
National Park and Forest Safe
Lightweight
9

. DuroStar DS4000S
Power-packed with 4000 starting watts and 3300 running watts, DuroStar DS4000S is known for its great performance while being affordable. Key features are fuel gauge, low oil shut-off, steel frame, and a cooling system.
But what makes this generator a little low in this list is the several downsides it has. It is not CARB compliant unlike most of the generators nowadays, it's generally loud, there are unnecessary oil spillages, and it lacks a watt or amp meter.
PROS
Power-packed
Easy Start
Fuel Gauge
Affordable
Low Oil Shut-off Feature
CONS
Not CARB Compliant
Loud
Oil Spillage
No Watt or Amp Meter
You see, there are several options when it comes to generators. The number of up and coming brands and new designs has been increasing to keep up with the trends.
For our family who loves camping and as a full time RVing family, generators are ESSENTIAL for dry camping. We have to be critical on picking one so we hope that our reviews helped you.
If you have suggestions on which generators to consider or if you have questions, don't hesitate to comment below!