As RV travelers, we are often on the look out for finding the best RV dry camping essentials. You see, dry camping allows us to camp for free in many places and to get out into nature more.
What is dry camping?
Dry camping, also known as boondocking, wild camping, and sometimes moochdocking, is a form of camping where you camp without electricity or water hookups. Many times you are camping in your RV in very remote locations.
If you want to take your RV down a dirt road to sit quietly among nature, then dry camping might be fore you.
Previously, we created an ultimate guide to boondocking to help you better understand the basics of dry camping so that you can have a successful RV camping trip. We've also created an ultimate list of the best camping accessories to understand what you'd need for tent camping.
In this post, we want to dive into our list of the top RV dry camping essentials to have on board to make your experience go smoothly.
Camping in the wild and without hook-ups doesn't have to be as challenging as you might think. We've listed the boondocking essentials you'll need below for a successful dry camping experience.
THIS ARTICLE MAY CONTAIN COMPENSATED LINKS. PLEASE READ OUR DISCLAIMER FOR MORE INFO. THIS POST WAS WRITTEN BY JILL GREISING-MURSCHEL, A FAMILY TRAVEL AND RV LIVING EXPERT.
Top RV Dry Camping Essentials
1. Generator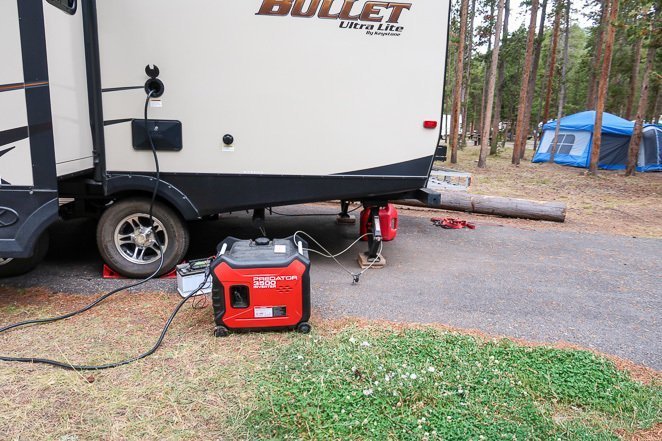 Most campers who plan to do any boondocking have a generator that they can use for situations where they need electricity working in their RV. For example, on days when it's too cloudy for your solar panel (if you have one) to help you run your lights and kitchen appliances, you can turn to a good generator. We recommend this generator as our top pick.
Read our complete review on the best generators for camping and RVing here.
Reminder: If you're going boondocking with a generator, you'll also have to bring gasoline along.
2. Solar Panel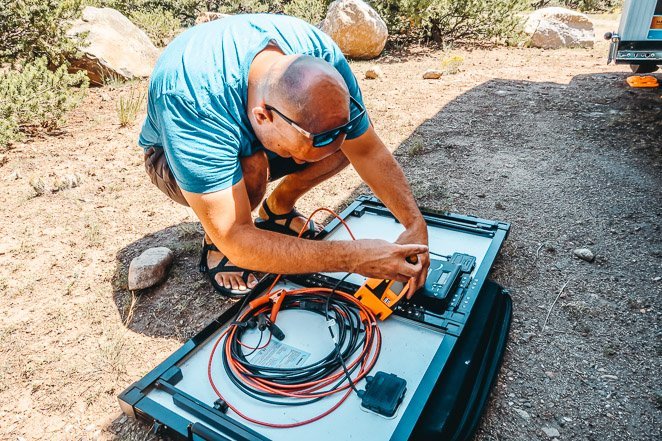 Another power source to help you cook, turn on a light, and charge your important camper gadgets is a good solar panel. We strongly recommend getting a solar panel, especially if you are a full-time RVer and want to stock up on your boondocking must haves.
Solar panels will work, as long as there's sunshine. In situations when there ISN'T sun, you may need to depend on the first thing on this list, a generator.
For beginners, we don't recommend getting a full solar setup right away. First, try and see if boondocking is something that you and your family can enjoy. The solar panel kit we listed here is the one we have and it's nice because it comes in a carrying case and you can set it up in the direction the sun is shining.
3. WeBoost
If you plan to RV full-time and need to work online while in your RV, then I highly recommend investing in a WeBoost to help you get a better cell signal and internet.
Many of the great boondocking locations are out in nature, away from major cities and interstates where the cell signal is the strongest. This is when having a booster is very beneficial.
As a family who has RVed full-time for over 2 years, we have found a proven RV internet set-up that allowed us to boondock for many months.
When boondocking, we often use our Weboost as a cell booster. Just a reminder that a booster won't work if there's no signal at all, because there'll be nothing to boost. If you're confused about what I'm saying here, be sure to read our RV internet post here.
4. Grill & Grill Kit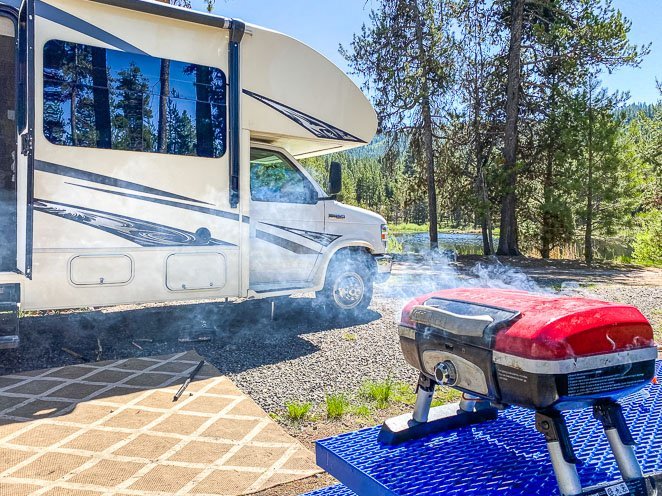 Don't forget the camping basics — including a portable grill like this one and a grill kit.
We listed it in our list of the best camping gifts, that's how essential this is.
Trust me, boondocking is much more fun and easy when you can cook your food outside. So be sure to add a camping grill to your boondocking supplies.
5. Berkey Water Filter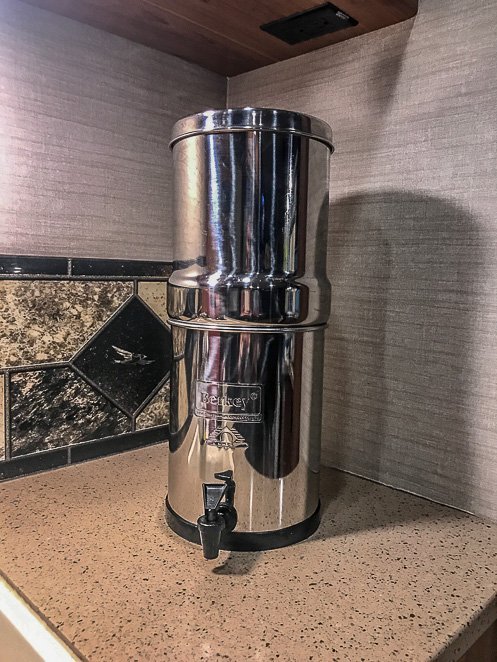 Number 1 on our list of RV kitchen accessories and RV must haves is a Berkey Water Filter.
Filtered and clean water is a necessity when camping. You can't really trust the water supply wherever you go, and we are all trying to reduce our use of plastic water bottles.
That's why we highly recommend buying a Berkey Water Filter like this one for your own camper.
We use it every day and we've saved a lot of money by using this rather than buying bottled water.
Learn more about why we pick Berkey as the best counter water filter for RV life in our deep review here.
6. Mr. Buddy Heater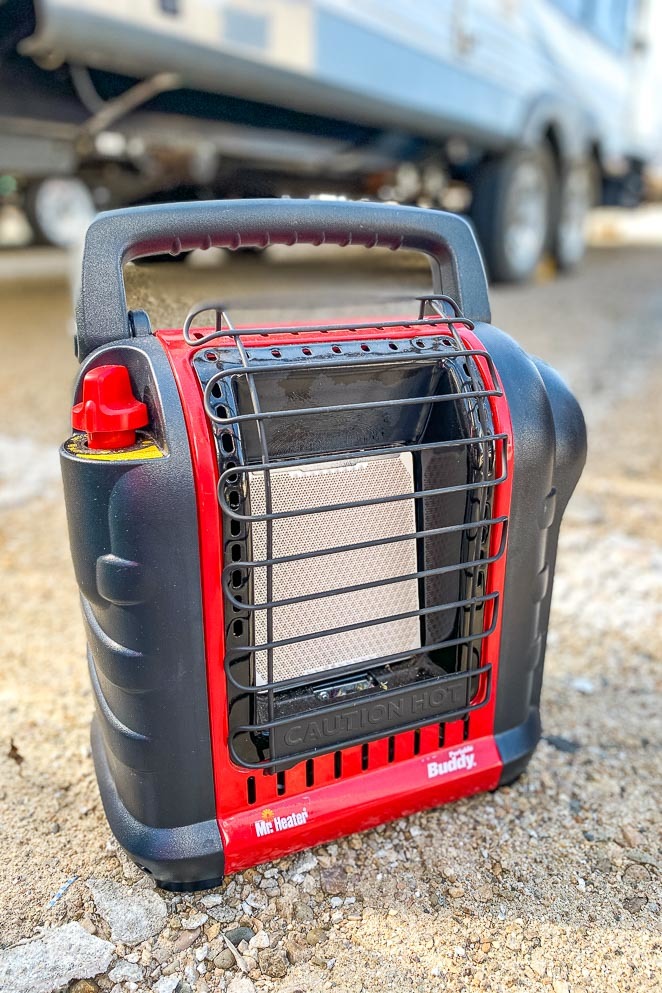 Some RVers still boondock in the winter or early Spring when a cold front comes in unexpectedly and it ends up snowing instead of raining! It can be really cold in an RV on days like that.
To help you be prepared for these cold moments when dry camping, you might want to pick up a portable Mr. Buddy Heater that's beloved by many campers.
It's affordable and very fuel-efficient, perfect for camping even in remote areas.
We have one that is stored under our RV bed, and we've used it several times.
Dive into our complete guide to finding the best space heater for RV life.
7. Outdoor Lights or Lantern
Since boondocking usually means staying out in the wilderness, you'll need your own source of light.
There won't be light posts or campground lights wherever you camp, and if there are fire restrictions where you are due to forest fire concerns, you may not be able to have a campfire either. So having your own outdoor lights can be a big help.
Now, many RVs and campers have lights on the outside of their RV, but keep in mind that it can drain your battery if you use it often. So be sure to bring a lantern like this one that is battery-powered, or you could pick up a solar-chargeable lantern and charge it up each day.
8. Flashlights
For you and especially for the kids, it will come in really handy to have a few flashlights on hand.
As we've said, light sources are few when you're out boondocking. Make it a point to give everyone flashlights as part of their camping gear. It can give them a sense of security and less anxiety about moving around the camp you've set up.
9. Camping Table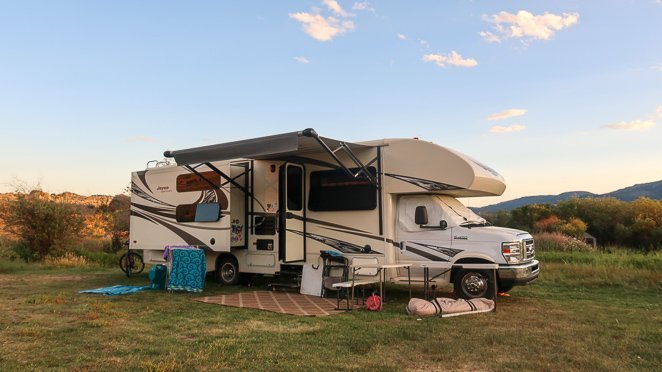 When you are boondocking, you most likely won't have access to a campsite with a camping table. Or, even if you do, it can be really helpful to have an extra folding table to help set up your grill on.
This is our favorite camping table as it cleans down easily, folds up nice, and is very durable.
Click here to read a detailed guide on finding the best camping table.
10. Fresh Water Bladder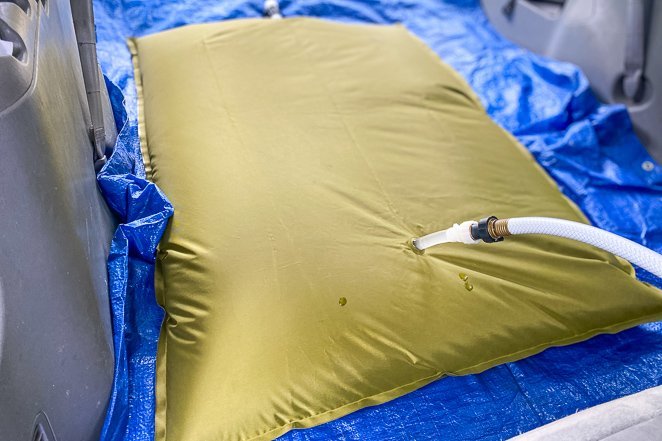 If you are planning to full-time RV and boondock often, then a freshwater bladder might be worth your investment.
When dry camping, the first thing that you'll run out of is freshwater. This will usually happen before you fill your grey tank, as you'll be drinking your freshwater (filtered through your Berkey) and washing dishes outside to help conserve your grey tank capacity.
If this happens, don't feel like you need to tear down camp and move your entire RV to go fill.
If you have an extra vehicle, then you can bring a freshwater bladder and transfer pump to a freshwater supply such as a nearby campground or dump station (with potable water) and fill your bladder.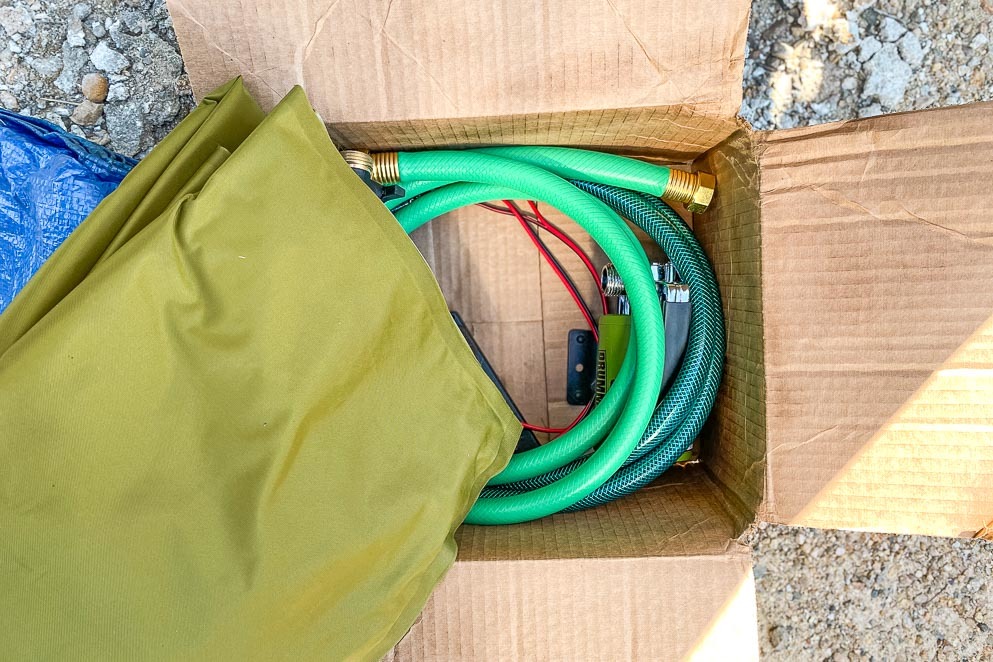 Then, come back to the RV and pump the freshwater into your freshwater tank.
Or, if you are looking for a simple way to bring back fresh water you may want to pick up a jerry can like this one.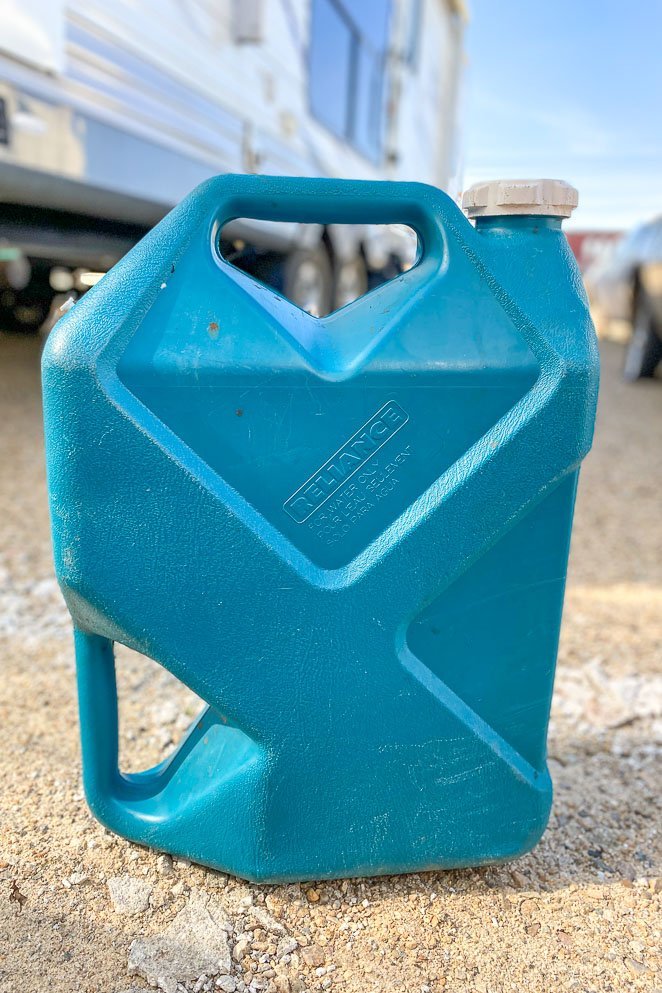 11. Dish Basin For Dishwashing
This collapsible dish basin can be really handy for outdoor dishwashing while you're camping.
One of the best ways to save room in your grey tank (wastewater) is to do your dishes outside. I'll usually boil some water on our RV stove and then use it to fill the dishpan with some biodegradable soap and do all the dishes at the table outside.
12. Outdoor Portable Solar Shower
If you don't have an outdoor shower in your RV as we do, then a camping shower bag might be helpful for you. This portable solar shower holds 5 gallons of water and warms up in the sun in just 3 hours.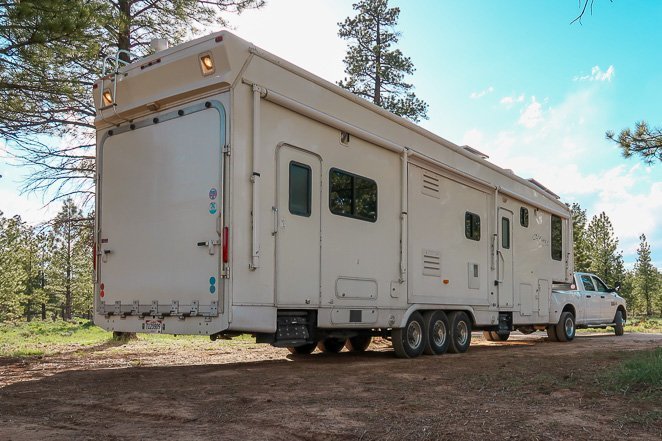 13. Composting Toilet (or Portable toilet)
You may want to consider purchasing a composting toilet if you plan to do a lot of boondocking or dry camping. This toilet is our top pick after doing a bit of digging into the best composting toilets.
14. Leveling Blocks and Jacks
When you go to set up your RV in a remote location, you are more than likely not going to be level. You'll need to be sure to bring some leveling blocks and jacks for your type of RV or camper. These are our favorite leveling blocks.
If you want to know more about which leveling block is the best for your RV, check out our Best RV Leveling Blocks blog post!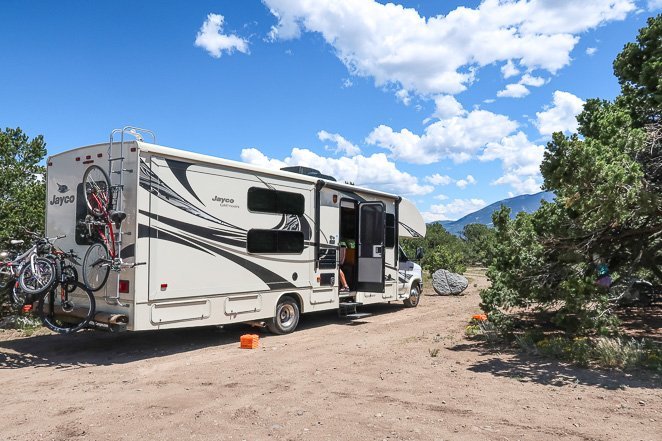 Bonus Idea – Dutch Oven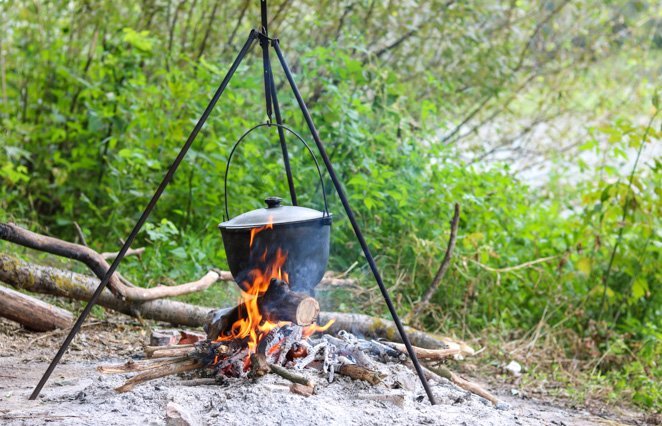 A great way to cut down on the use of propane for cooking is to cook over a campfire while you're wild camping. Click here to check out our guide on finding the best dutch oven for camping.
Boondocking can be such a great way to 'get away from it all' and connect with nature. It doesn't have to be hard and it gets easier once you know what you need to bring with to be prepared.
We have our ultimate list of RV must-haves here to check out if you'd like some more ideas or our RV tool kit here. Or, check out our list of some unique camping gadgets.
These days, more and more campers have been getting into boondocking. And we're so glad to see that this type of camping is being appreciated more.
What's not to like, right? It's a real adventure AND it's usually free.
If you're looking for some suggestions on great places to camp check out this post. Consider grabbing a dehumidifier for RV camping if you plan to spend much time in Florida or other humid areas.
So if you're still wary, this is your sign. Go out there and try boondocking now. Who knows, it might become your favorite type of camping.