Are you planning to buy the best RV surge protector for your RV, camper, or motorhome? Then keep reading our ultimate guide to learn which is the best RV power surge protector that you should get.
Having electricity while traveling in an RV makes your every day life convenient. When RVing, we use a power pedestal while staying at campgrounds to power up our appliances, lights, and even laptops in the motorhome. But we also have to make sure that the appliances are not damaged in any way when there's a power surge or 'brown-out'.
There's NO WAY I'm letting our beloved kitchen accessories and appliances get damaged!
This is where the RV power surge protector comes in. It protects your appliances from overloading when power surges occur. It also protects your whole place from any RV electrical system problems.
As vital equipment for full-time RVers ….and 'anytime RVers', you have to find the best RV protector surge for you!
But what makes a great travel trailer surge protector? Or the best motorhome surge protector?
Do I need a 50 amp RV surge protector or a 30 amp RV surge protector or both? Find out the answers to these questions through our guide below.
THIS ARTICLE MAY CONTAIN COMPENSATED LINKS. PLEASE READ OUR DISCLAIMER FOR MORE INFO. THIS POST WAS WRITTEN BY JILL GREISING-MURSCHEL, A FAMILY TRAVEL AND RV LIVING EXPERT.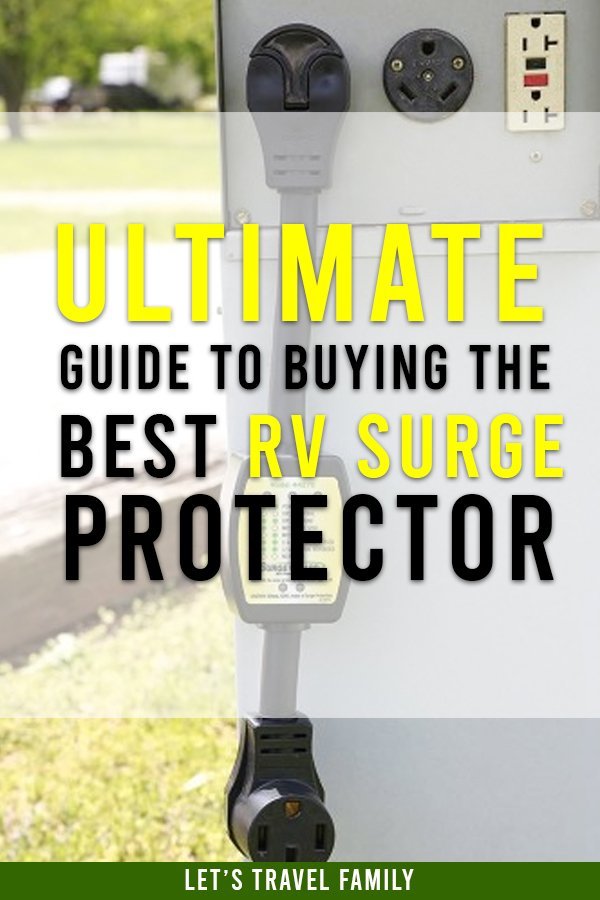 Comparison Guide –
Best RV Surge Protector
There are many choices when it comes to top-rated surge protectors, but what exactly will YOU need? From our RV surge protector reviews below, find which RV power protection will fit your RV the best.
To choose the best surge protector, we need to set some standards.
You'll first want to determine if your RV comes with a 30 amp or 50 amp electrical system. Then purchase the surge protector for that specific amp.
In this comparison guide, we will consider the number of ports, energy absorption rating, clamping voltage, warranty terms, and some minor qualities.
​Comparison Chart
| Brand | Ratings | ​Energy Rating | Clamping Voltage | Warranty | Reverse Polarity |
| --- | --- | --- | --- | --- | --- |
| | ****Budget Pick | 2800 J | 132 V | Return Policy Only | Detection |
| Progressive Industries EMS Protector 30AMP or 50AM | ****Top Pick | 1,790 J | 120 V | Lifetime | Detection |
| | ****Cheap | 1,050 J | Not Specified | Return Policy Only | Detection |
| | ****Boosts | 4,800 J | Boosts up to 10% | 2 years | Not Specified |
What is the best RV Surge Protector?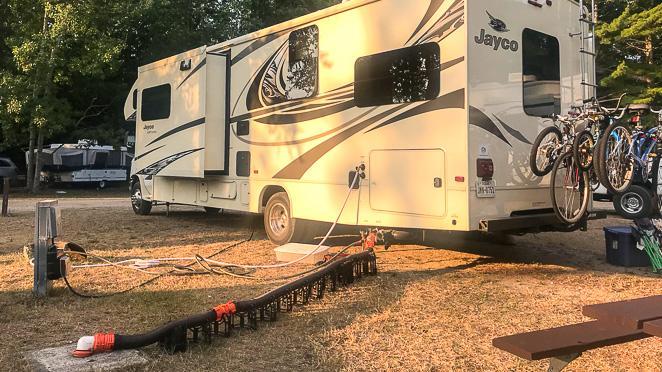 Best 50 amp RV surge protector
Progressive Industries SSP-50XL Surge Protector is not only portable, it also has a built-in polarity tester to assure that all the connections are of the same polarity windings. Another benefit is that you can use it to check the power source before usage.
This Progressive Industries EMS is highly rated in reviews as well.
Advertised as a sleek, portable surge protector, you can't go wrong with this one. It's one of the best RV surge protectors available.
​Key Features:​
​

Open Ground, Open Neutral & Reverse Polarity Detection

​

Miswired Pedestal and Surge Failure Indication

​

​Thermally Protected

​

​Weather Resistant

​

​Brighter 3-color LED indicators

​

​Tough Housing

​

​UL Certified and Canadian Approved

​

​Lifetime Warranty
Best 30 amp RV surge protector
Camco 55301 30 Amp RV Power Defender assures that your RV doesn't get damaged from dangerous high and low voltage levels. It's best feature is the Auto-connect/disconnect which automatically disconnects when the condition is risky and connects again when it is safe.
It mainly functions as a voltage protector and the surge protector is just integrated so the only downside is that it's a bit pricey. But hey, not bad for a multi-purpose tool!
​Key Features:​
​

​RV Electrical Protection

​

​Wiring issues LED indicator

​

​Integrated Surge Protection

​

​Weather Resistant
Best ​
Portable RV Surge Protector
Another progressive surge protector takes the spot as the best portable RV surge protector, Progressive Industries 313.1168 SSP30X Smart Surge Protector is similar to the SSP-50XL except for the fact that it can only handle 30 amps instead of 50.
If you want to go for a high-quality RV electrical surge protector at a cheaper price, AND you only need 30 amps, then this one's perfect for you.
​Key Features:​
​

​Open Ground, Open Neutral, & Reverse Polarity Detection

​

​​Miswired Pedestal and Surge Failure Indication

​Thermally Protected
​

​Weather Resistant

​

​Brighter 3-color LED indicator

​

​Lifetime Warranty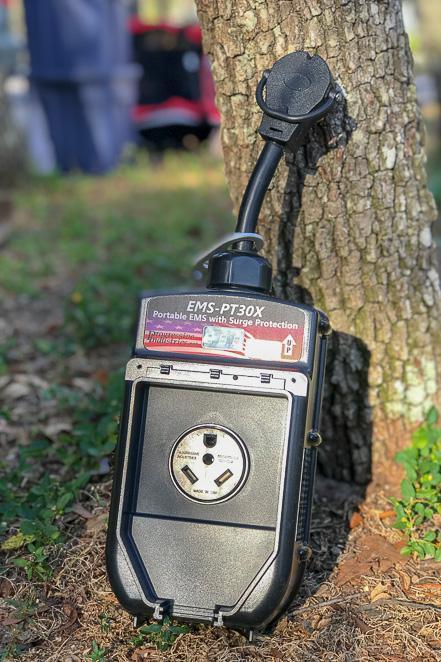 ​How does a surge protector work for an RV?
Right now you might be asking "what does a surge protector do?"
Surge protectors are basically used for your RV electrical protection. Power surges do happen and these may damage the appliances you have onboard or your entire electrical system. To solve these common RV electrical problems, it's best to have a surge protector with you.
Do surge protectors work?
Definitely! It is a must-have for every RVer! You'll never know when power surges happen so to prevent any electrical problems, especially for us full-timers who rely a lot on the limited appliances we have in our RVs, we should have our trusted surge protectors!
We have our Progressive 30amp at every campground and it's cut the power off to our RV several times during surges and has saved our appliances and electrical system several times over!
Best RV Surge Protector Brands
Which RV surge protector is best for your camper?
Not many brands focus on supplying surge protectors but a lot of companies produce it as one of their many products. Among these companies, 4 have caught our eye with their high-quality surge protectors.
Read on to see which of them made it to our list!
1. Progressive Industries
True to its name, Progressive Industries is TRULY progressive and has been a top brand when it comes to surge protectors for years now. Not only that, they continue to make innovative upgrades while maintaining good prices for their customers!
What makes them appeal to consumers aside from the price is the lifetime warranty that comes with their products. Maybe it's because the owners are fellow RVers so they know exactly what we want and need.
Almost every Progressive RV surge protector is worth buying!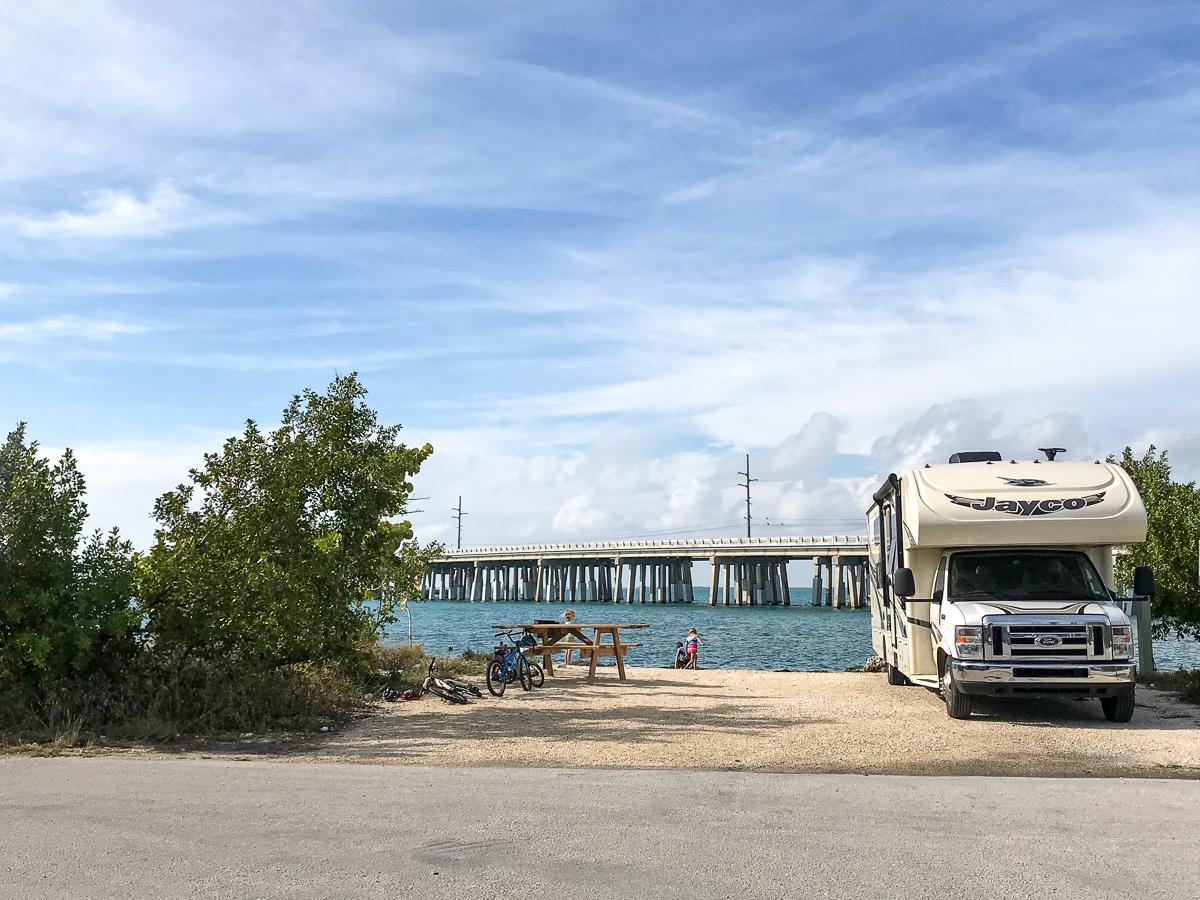 2. Technology Research (TRC Electronics)
As a company that specializes in power supply products, TRC Electronics is able to easily integrate new features to its products. They have been in the field since 1982, so that's proof that they can be trusted. However, surge protectors do not seem to be the brand's main product.
Despite this, you'll see their company name once you search for lists of the best surge protectors EVERY year. They've got some fans!
3. Hughes Autoformers
Hughes Autoformers focus on only two types of products, voltage boosters and surge protectors. And that's a smart combination because who's willing to buy and use voltage boosters if they don't have a surge protector to assure safety?
The company also made a great product by integrating both functions in their Hughes Performance RV22050 Autoformer. This product can boost voltage while keeping it safe with its surge protection.
We can't wait for more innovations like this from Hughes!
​​

4. Camco
Looking for a portable surge protector for RV? Camco's got it!
With their focus on camping essentials, Camco also benefits RVers like us with their products! They may not necessarily focus on innovating their surge protectors but the ones they offer have good quality at affordable prices.
If you're starting out and want to try cheaper tools that may work for you first, we recommend getting a Camco camper surge protector. Yet, if anyone asks which brand to go with if they want the best we always recommend Progressive!
Beyond RV Surge Protectors
I hope this post helps you in choosing the right RV surge protector for your camper or RV.
Be sure to check out our ultimate posts on our top RV must haves here, our top RV kitchen accessories here, or our RV tool kit here.
We have a guide on buying the best generator as well. So, as you outfit your RV and plan to travel to some of the best RV campsites in the US, be safe and reassured that your electrical system is safe too.