Two years of traveling as a full time RV family really has its perks. We've been to countless wonderful destinations and also had our fair share of locations we didn't enjoy as much.
Now, if you're looking for some of the most epic RV spots to camp, we want to help you. Sometimes you'll want to think about camping in the National Parks you want to visit, while other times you might want to go to a wide open space and camp on your own.
Or, you might be looking ahead to finding great camping spots for your RV during the winter months so that you can avoid the snow.
We made a list of the best campgrounds, or boondocking spots, that we think you'd love!
1. Glacier National Park – Apgar Campground
Head out on an ultimate road trip west and visit Glacier National Park.
Our family of 6 visited this national park our first year of RVing full-time and had so much fun!
Glacier NP is filled with a wide range of activities that visitors of any age can enjoy. They have Junior Ranger Programs which are targeted to the younger audiences and kayaking for the adults.
Other notable things to do in Glacier include family bike rides, hiking trails, road trips on popular drives, eating in Aspar Village, swimming, and rafting.
The best time to visit depends on what you want out of your time there.
For example, if you want to enjoy rafting in fast moving water, you may want to be sure to visit in the Spring.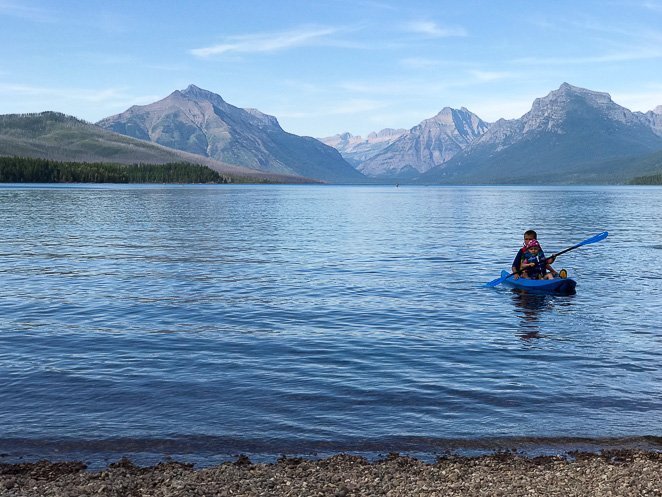 If you visit during the summer months, be aware that you are so far north the sun does not set until 10pm and rises at 5am and it's the very busy time for others to visit as well.
Wildfire season picks up in August and September so I'd advise staying far away from the area or you may have to deal with a lot of smoke.
Glacier National Park is a fantastic place to spend a family vacation!
Plan to purchase bear spray and have it on your hip, always. Bring snacks everywhere to keep the kids happy and teach them how to pee in the woods.
Bring your swimsuits and hiking shoes and be ready to make some fantastic family memories!
Things to note about the campground:
Apgar Campground is located inside Glacier National Park and is a first-come-first-serve campground. Arrive around 7am and plan to wait for a campsite to open up. You will not have functional cell signal inside the park so if you're a digital nomad, this may be a weekend stay.
2. Grand Teton National Park – Gros Ventre Campground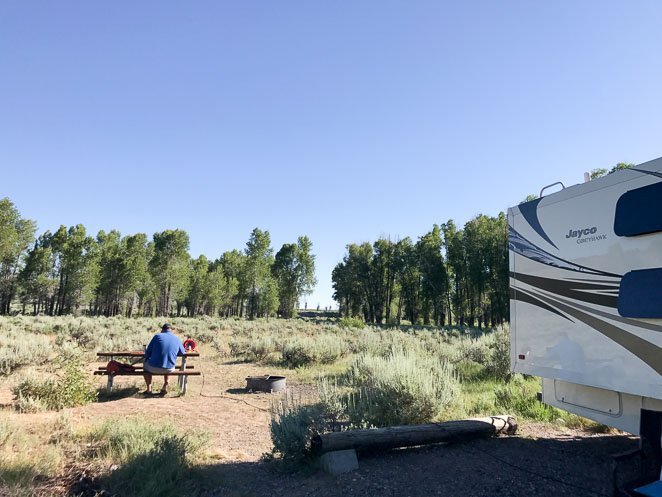 When planning your trip out to Grand Teton National Park, be ready for some great experiences. From visiting waterfalls and hiking to swimming and camping, they have it all.
Just driving around this national park will give you wonderful views. Remember to spend more time admiring the Teton Glacier, it's the key point when we did our own road trip!
And another activity you can't miss is hiking their trails! We recommend hiking the Hidden Falls trail and the String Lake Loop for some adventurous great experience.
Other Grand Teton activities you can enjoy include swimming in String Lake, biking, kayaking and paddle-boarding, and boat riding.
Once you get tired of all these physical activities, you can go and have a picnic near Signal Mountain Lodge.
Things to note about the campground:
Gros Ventre campground is located a little out of the way but also only a 20 minute drive to Jackson, Wyoming. It's flat, offers electric hook ups or dry camping, tent camping, and group camping. You can even find cell signal if you work online!
3. Twin Lakes, Colorado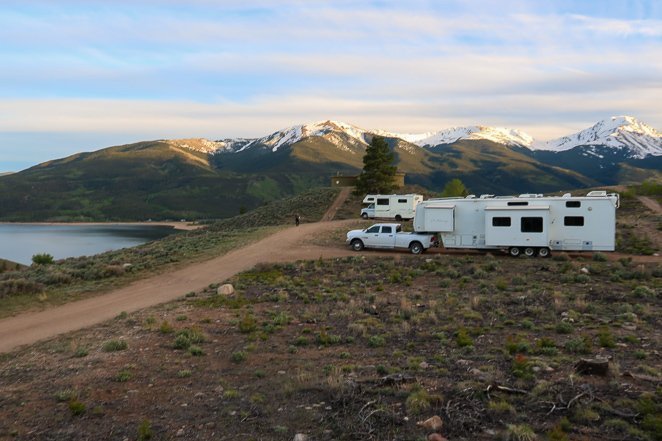 Looking for a great RV boondocking site in Colorado? Then you should check out Twin Lakes, Colorado.
There are many options for boondocking in Twin Lakes that provide a great view, clear air, and excellent internet.
However, the campsite you do get will depend a lot on the size of your camper. These spots are also surrounded by hiking trails you may enjoy.
No facility is given when you go boondocking around here but the experience is totally worth it!
Things to note about the campground:
We stayed at what is called Twin Lakes North on Campendium. Be prepared for some steep climbs and you may have to scout out your spot first.
4. Bahia Honda State Park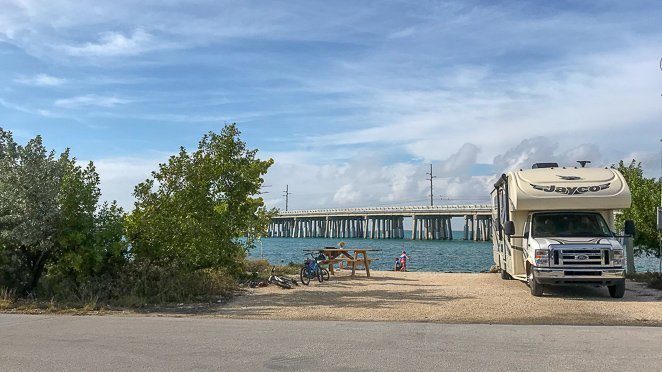 A must visit destination in the Florida Keys is Bahia Honda State Park. The Keys are filled with beaches that if you stay for a week, you can visit a different one every day. The state park has a a few great beaches and available camping if you book months ahead of time.
If you're visiting Florida Keys with kids, this is an even better destination. The beach water is clear enough to make it easy for the kids to try snorkeling AND the sand is perfect for building sand castles.
Being able to park our RV with the ocean behind us was pretty amazing.
Things to note about the campground:
There are a few campgrounds to choose from at Bahia Honda State Park, however, when hurricanes come in and do damage it can limit availability. Be sure to book 6 months or more in advance, or you may not get a spot. We had great cell signal and took day trips to Key West and to Marathon from our campsite.
5. Zion National Park – Watchman Campground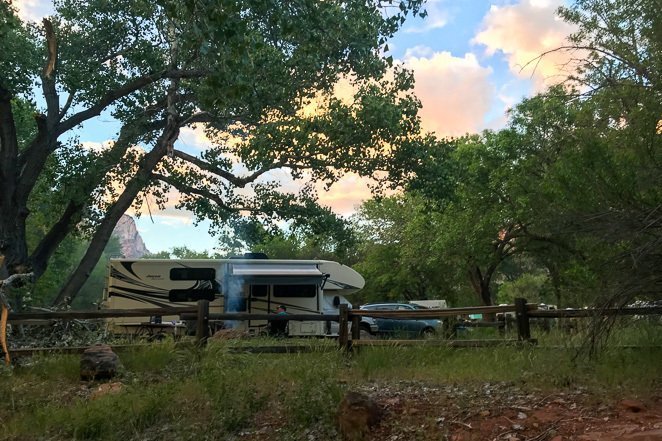 A quarter mile inside Zion National Park's West entrance is the Watchman Campground. After a day of taking on Zion's best hikes like the Angel's Landing hike, we LOVED having our campsite at Watchman.
Watchman Campground has both tent and electric campsites available all year round and reservations are allowed from March to October, This campground has 176 regular sites, 2 wheelchair accessible sites, and 6 group sites.
Things to note about the campground:
Like most National Park campgrounds, bathrooms are available with toilets, but no showers at Watchman campground. Unlike most National park campgrounds Watchman actually has many electrical campsites.
So we actually stayed our full 14-day allowance. There was great cell signal for working online and our campground was walking distance to the town of Springdale just across the river. Be sure to book early!
6. Acadia National Park – near Bar Harbor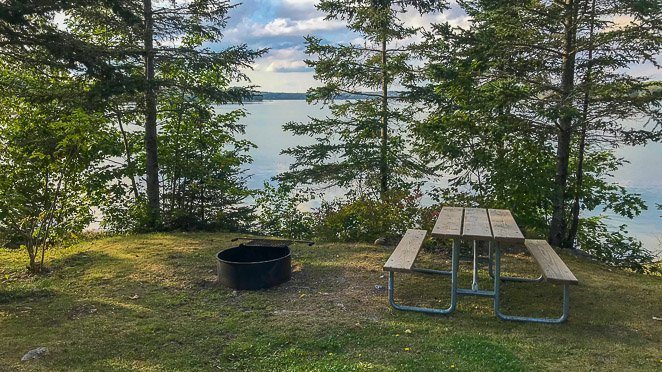 As a full-time RVing family, we always remember the best campgrounds we've stayed in. One of those is Mount Desert Narrows Camping Resort just outside of Acadia National Park.
With its strategic location, this campground is close to the town of Bar Harbor and Acadia National Park in Maine. Be sure to eat some lobster and take time to visit one of the most popular National Parks.
Things to note about the campground:
Mount Desert Narrows Camping Resort offered full hook-ups for RVs, tent campsites, a playground, a pool and had a bus stop for the free shuttle buses to bring you into the park.
7. KOA at Avila Beach California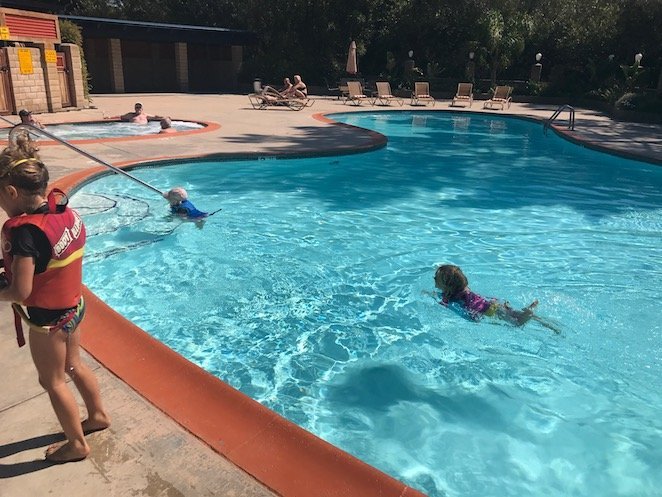 Located in a beachside town in California called Avila Beach, this KOA will give you one of the best leisure time experiences in Central California.
We love how the location and the weather let us enjoy the 2 mile bike trail to Avila beach where we saw dolphins! No need to drive our van and pay to park. They also had complete amenities that, as a traveling family, we surely missed.
Things to note about the campground:
Avila Beach KOA has a laundry facility, showers, swimming pool, a play area for the kids, and a gaming room. You can choose from an RV spot or renting a cabin.
Be ready to pay California camping prices (expensive), but honestly we have fond memories of the great location and amenities.
8. Kathryn Abbey Hanna County Park in Florida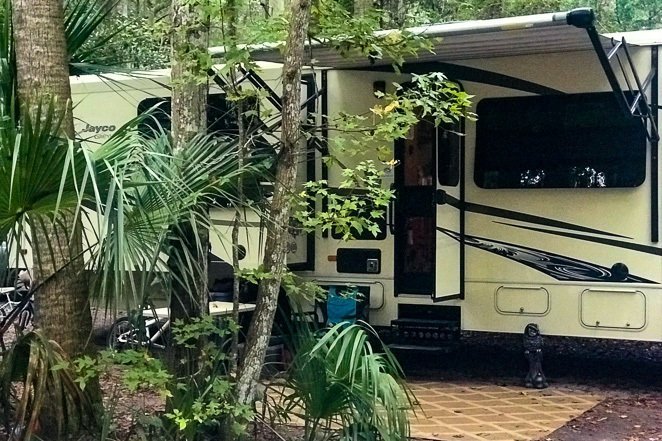 Have you been waiting for an opportunity to introduce your kids to mountain biking? You can finally do that during your stay in Kathryn Abbey Hanna Park. If you are planning a Florida road trip down the Atlantic coast then you could start here first it's located in Northeastern Florida.
The park can accommodate tent camping, RV camping, and cabin rentals. The fee varies depending on what kind of camping you're there for and how long your stay will be, but it's totally worth it.
When you arrive you'll feel like you found paradise. Maybe that's why we've been back so many times. You have access to several playgrounds for the kids, walking or biking distance to the well maintained beach, and full-hook ups with shade!
Oh, and the best part is all the amazing biking trails!
Things to note about the campground:
You need to book online through their website. There is good cell signal in the park and you're only a 30 minute drive to Jacksonville, FL or St. Augustine, FL.
9. Bryce Canyon NP Boondocking Spot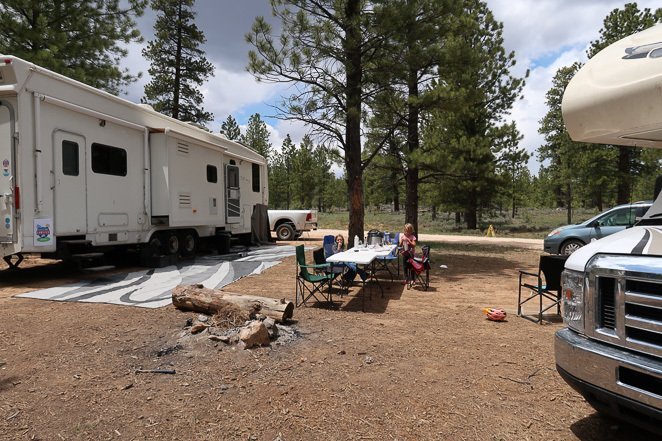 After a day of fun hiking in Bryce Canyon National Park, plan to spend some time boondocking just outside the park.
Utah is a beautiful place to visit and there's so many options of places to stay. Bryce Canyon National Park is a bucket list destination for many. We loved spending two weeks camping next to friends at this location.
Things to note about the campground:
This boondocking spot has great cell signal and is surrounded by pine trees. It's located just a mile from the national park's entrance which makes it an even better campsite if you're coming from the NP, or planning to visit the day after. We had to drive over a cattle guard but had no issues.
It's a quiet location and gives a great feeling of tranquility.
Other Great Camping Locations
Above I listed our favorite camping spot, but I also wanted to share some other ideas that friends of mine recommended and I hope to check out this next year.
Planning a trip to Oregon, then check out these great recommendations of some great camping in Oregon.
Another great camping recommendation is to visit some of the best National Parks for families and plan to camp inside the park. Even for just a weekend, if you have to have cell signal to work during the week, and enjoy the full feel of the National Park.
Traveling in an RV full-time for more than two years allowed us to have some amazing experiences and create some great memories. Every new trip or destination also gives us additional tips for this lifestyle and we love to share them with you.
Do you have a favorite campsite location?