There are so many things to do in Northern Idaho, that it's hard to list the top one. Yet, I'm going to do my best.
Our family found some of our favorite things to see in Northern Idaho during our recent Idaho road trip. So if you're planning an Idaho vacation, then keep on reading.
First of all, did you know that Northern Idaho is also called the Idaho Panhandle? Oh, and locals call it North Idaho (not Northern).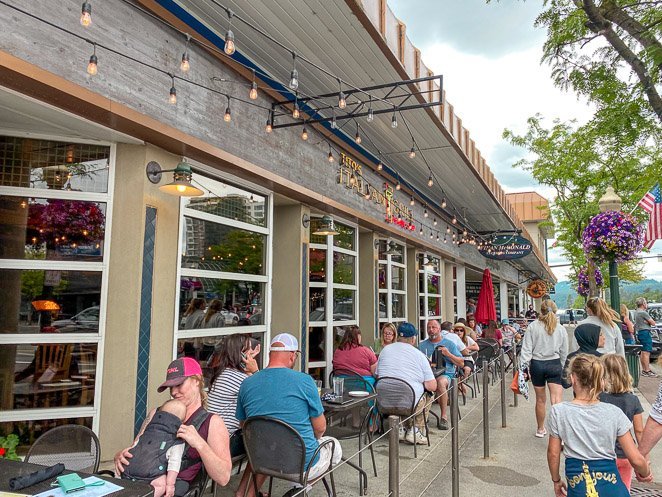 The beautiful city of Coeur d'Alene is the largest city in North Idaho and is located only 30 minutes away from Spokane, Washington. This is where you'll find the nearest international airport if you plan is to fly in.
Another thing to know before visiting Northern Idaho is that they observe Pacific Time due to Spokane being the transportation and commercial center for the region.
This is different from the Boise area where we drove from, being in the Mountain Timezone.
When it comes to things to do in North Idaho, there are several places to visit and activities to enjoy. Coeur d'Alene is a great starting point, with great tourist attractions such as Coeur d'Alene National Forest, Farragut State Park, North Idaho Centennial Trail, and more!
From city fun and boating on the lake to hiking and camping, we are now going to dive into sharing some fun things to do in Northern Idaho.
THIS ARTICLE MAY CONTAIN COMPENSATED LINKS. PLEASE READ OUR DISCLAIMER FOR MORE INFO.
Visit Silverwood Theme Park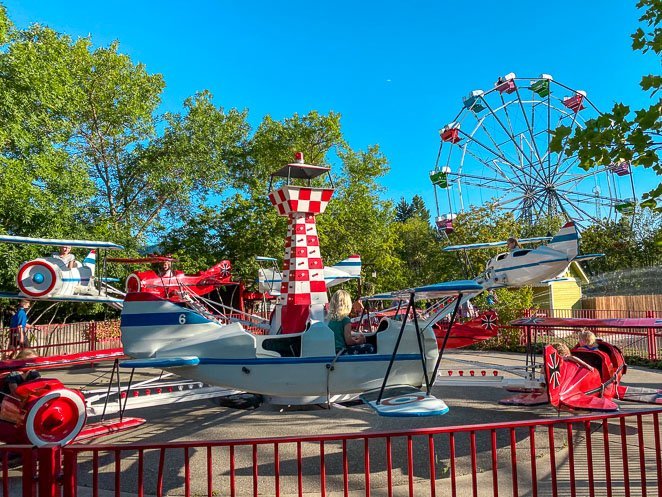 Silverwood Theme Park, located about 20 minutes north of Coeur d'Alene, Idaho, is the largest theme park in the region.
It's a popular place to visit as a family, and such a great value for your dollar. You receive entry to both the theme park and Boulder Beach Water Park with your entrance ticket.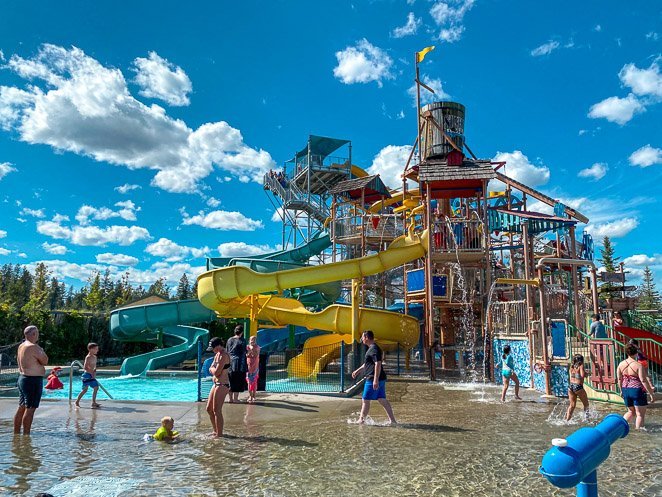 Our family spent all day going on thrill rides and visiting Boulder Beach Water Park.
We took the kids on the Tremor's roller coaster and it was one of the most thrilling roller coasters we've ever been on! Jasmine, our 5-year-old, also really appreciated the short lines for the younger kid rides in the Garfield Summer Camp area of the park and Grandma and Grandpa even went on a ride with her!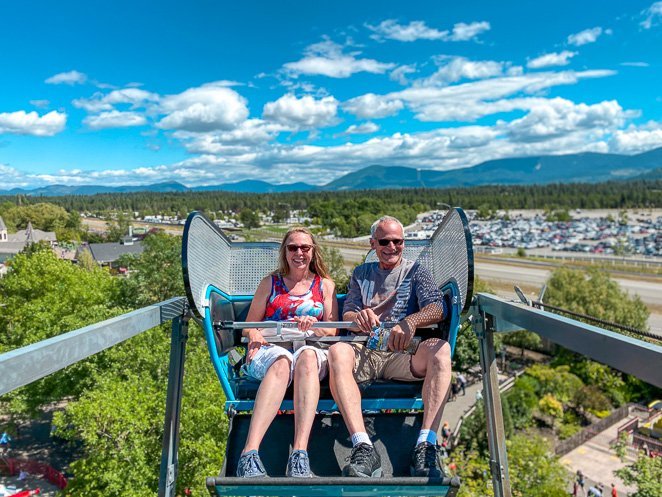 Be sure to bring your swimsuits to spend the afternoon at Boulder Beach Water Park. With two wave pools, a large lazy river, and many other fun attractions.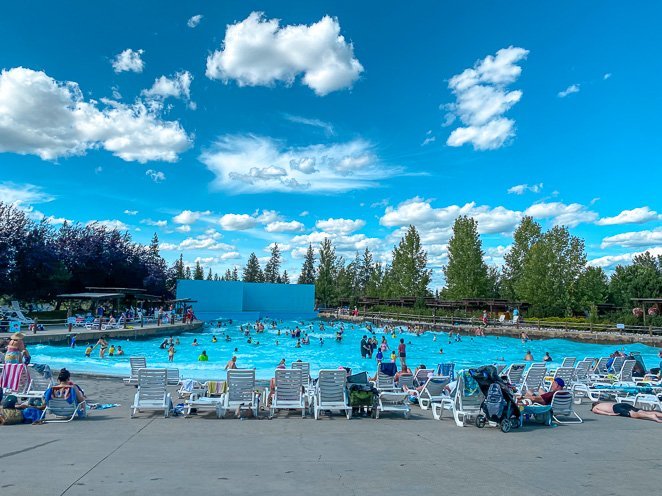 We appreciated the RV parking and hope that maybe next year we can plan further in advance and grab a few nights in their RV Park right on sight. This year, it was booked up for the days we were visiting. Good thing we were able to stay a few nights at Wolf Lodge Campground.
Quick Note: We worked with Silverwood Theme Park to give you a review of their theme park in exchange for admission to the park. We pride ourselves in always being honest and all opinions are our own.
Camp At Wolf Lodge Campground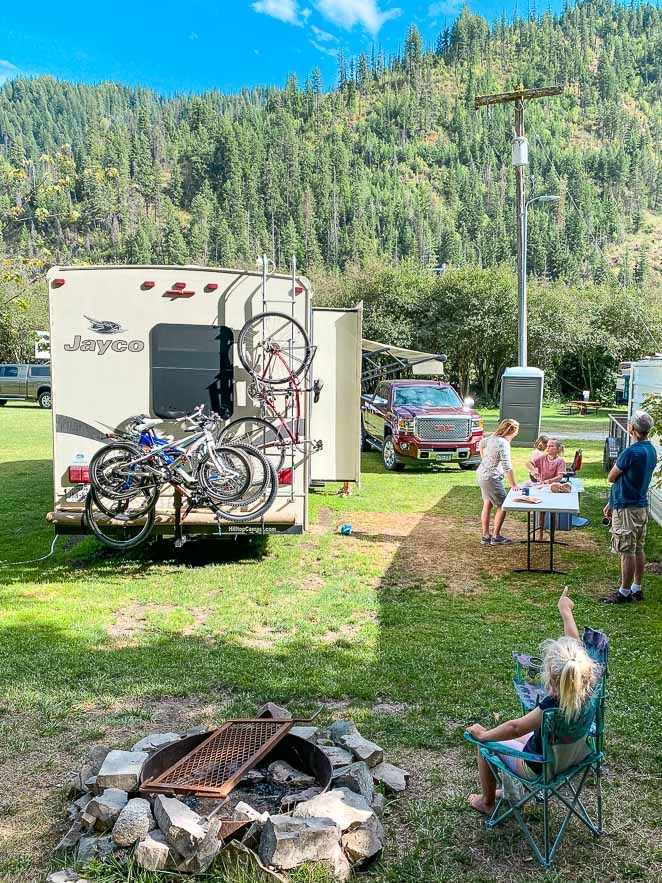 That satisfying feeling when you slid into a campground that checks all the 'must haves' off of your list. ⁠That's what felt so great about staying at Wolf Lodge Campground just outside of Coeur d'Alene, Idaho.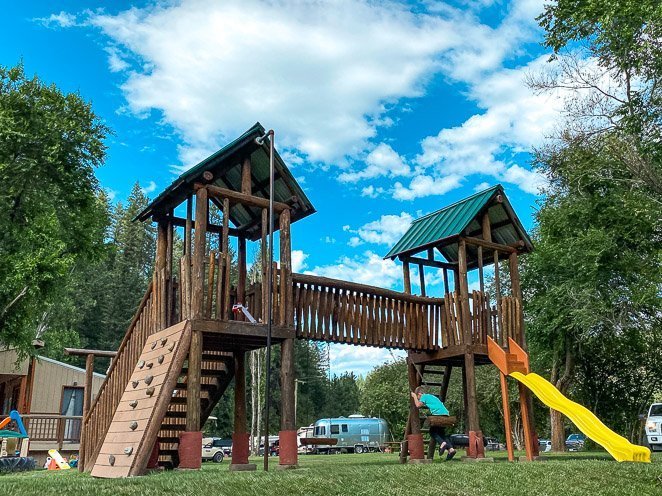 When we are looking for a campground, we look for a few specific things:⁠
– Easy access in our route⁠
– Close to the destination we want to visit⁠
– Hook-ups for our RV and a dump station⁠
– A playground or activities for the kids⁠
– Referrals or great reviews⁠
Wolf Lodge Campground met all of those and then some in Coeur d'Alene, Idaho!⁠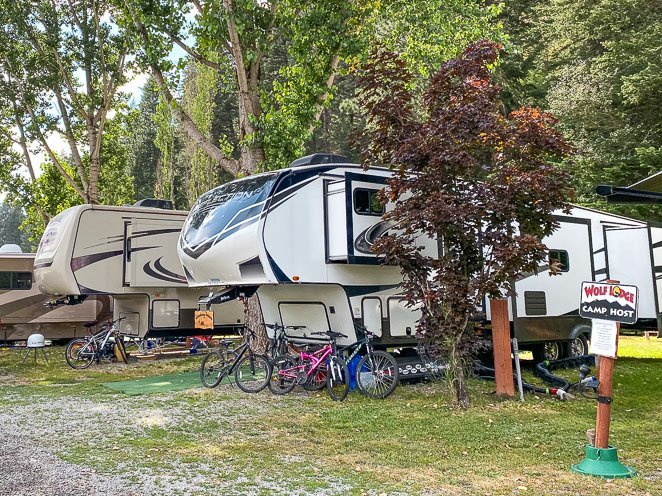 So, if you're planning on any camping trips to Coeur d'Alene, check out ⁠Wolf Lodge Campground.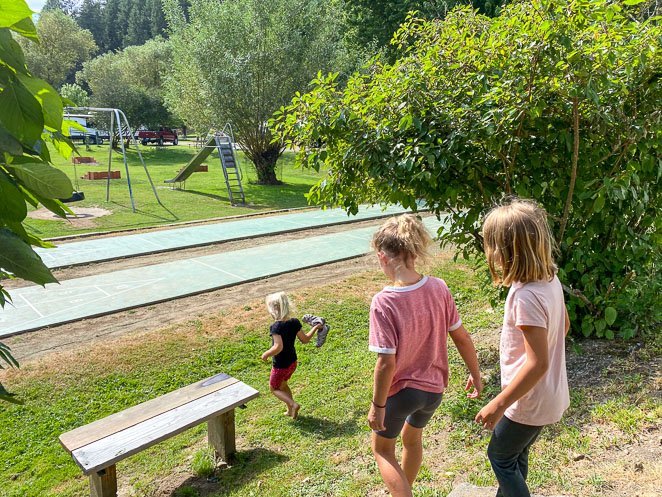 They had some of the most kind and helpful staff we've ever met who were eager to tell us about a few things to do in the area. The kids loved the playground and toys available, and I appreciated that the bathrooms where recently updated and extremely clean.⁠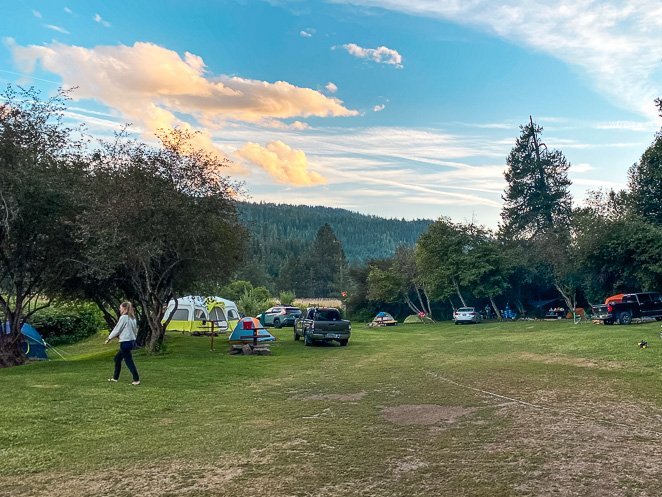 There was also a cute dog park, a great laundry room, a huge field to play in, and the small marina on the stream that allowed our family to cool off and enjoy an afternoon in the water. ⁠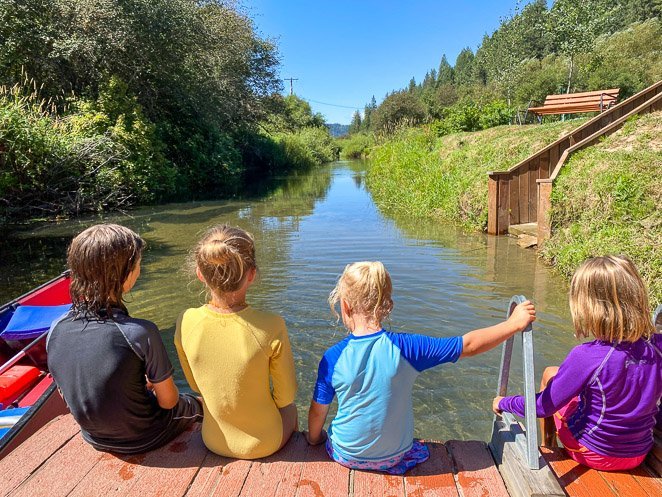 The memories we made at Wolf Lodge Campground having s'mores around the fire with Papa and Grandma will last for years to come.
Click here to check out Wolf Lodge Campground and book a few days during your trip up North.
Quick Note: We worked with Wolf Lodge Campground to give you a review of their campground in exchange for a few night's stay. We pride ourselves in always being honest and all opinions are our own.
Hike Tubbs Hill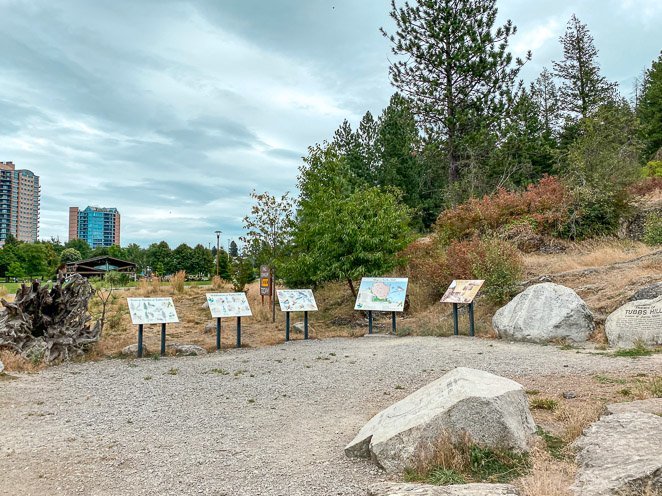 If you're planning to spend some time near CDA, then plan to hike Tubbs Hill in downtown Coeur d'Alene. There are not many cities that provide a 2-mile hike in nature along a huge lake within the city limits!
Coeur d'Alene does with Tubbs Hill.
Dogs are allowed if kept on a leash, but no bikes or motorized vehicles are allowed on the trails.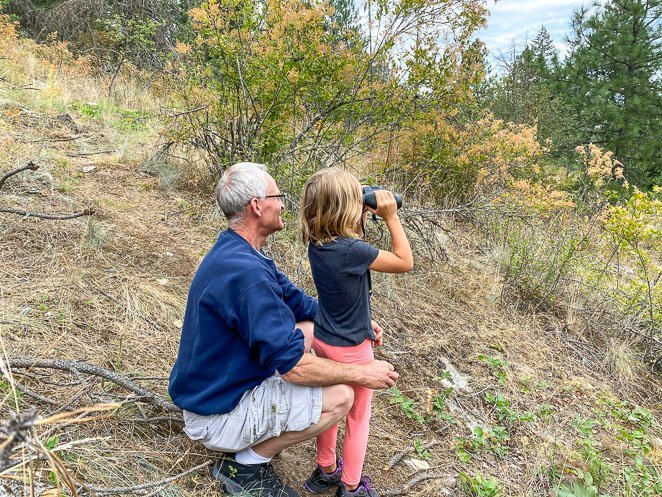 We hiked part of the trail high enough to see the 3 Ospreys in their nests that were sitting on top of man-made-posts in the middle of the city park and playground below.
Where To Stay In Coeur d'Alene?
If you're not planning to camp then here are some great ideas of places to stay in or near Coeur d'Alene. Be sure to book early if you plan to visit during the high season (summer months).
Visit McEuen Park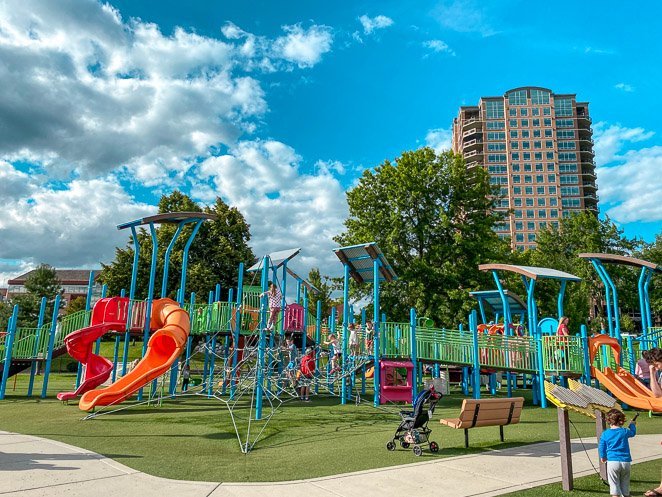 If you have kids, plan to spend several hours at Coeur d'Alene's largest playground and city park, McEuen Park. It's next to Tubbs Hill and offers a splash pad and lots of green space to layout and have a picnic.
We were excited to see 3 tall polls in the park holding Osprey nests!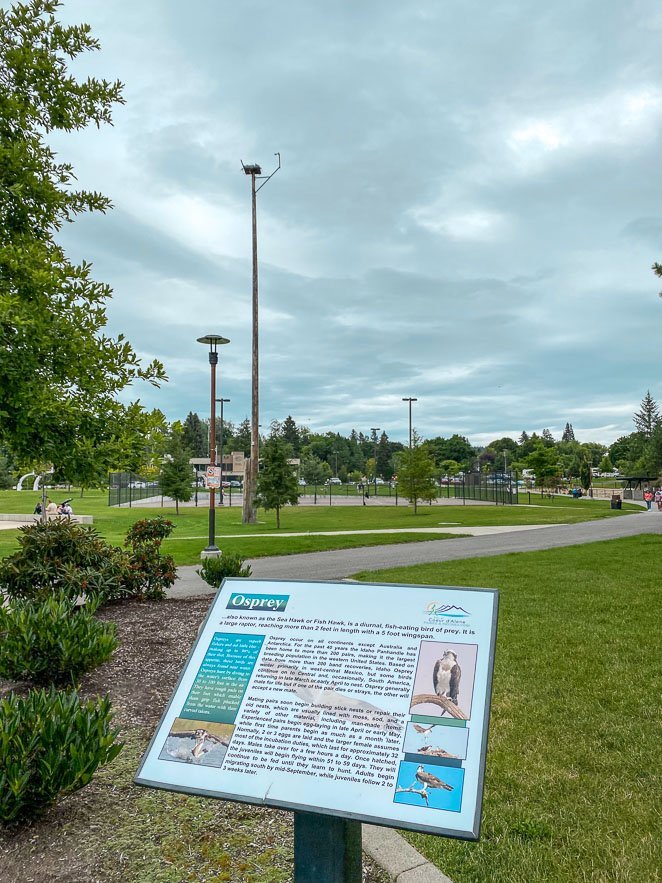 I learned that these polls used to function as baseball field lights and the city chose to build the updated playground around the polls to allow the Ospreys to continue to nest each year. You can see the nests on webcam if you want to check them out!
Eat At Bakery By The Lake At Parkside in Coeur d'Alene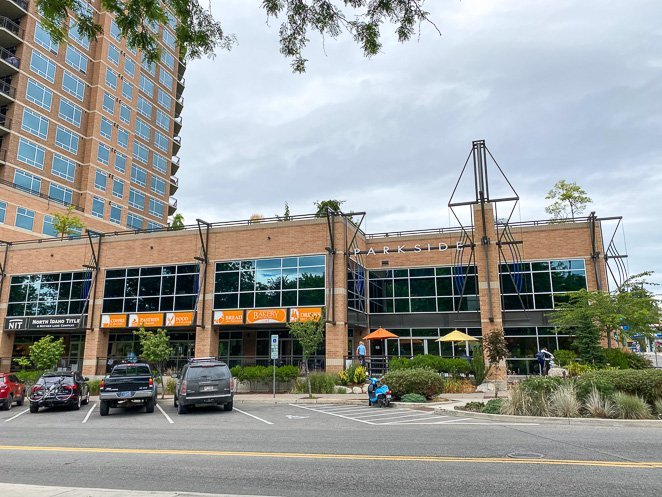 We always look for great coffee everywhere we go. I was happy to find that Bakery By the Lake at Parkside was within walking distance to Tubbs Hill and McEuen Park in downtown CDA.
They had great service, excellent coffee, tasty sourdough pizza, and it's located just across the street from McEuen Park.
Go Kayaking or Paddleboarding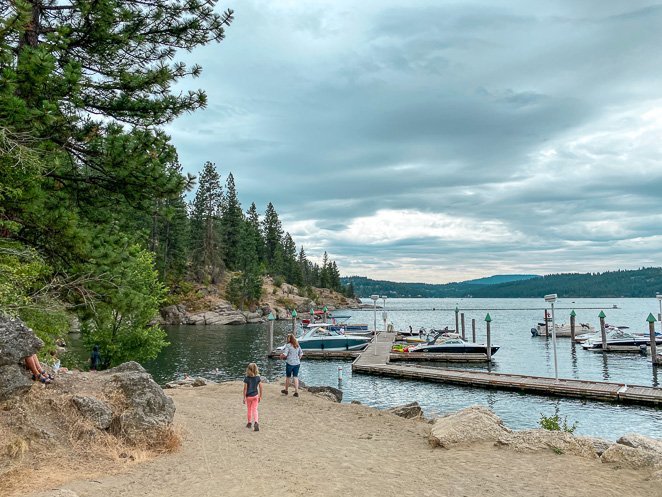 There are many lakes and rivers in Northern Idaho just waiting for you. If you own your own SUP or kayak, then your options will be wide open. Find a parking spot near Lake Coeur d'Alene or Sandpoint Lake and get on the water early in the morning and watch the sunrise.
Rent a Boat on Coeur d'Alene Lake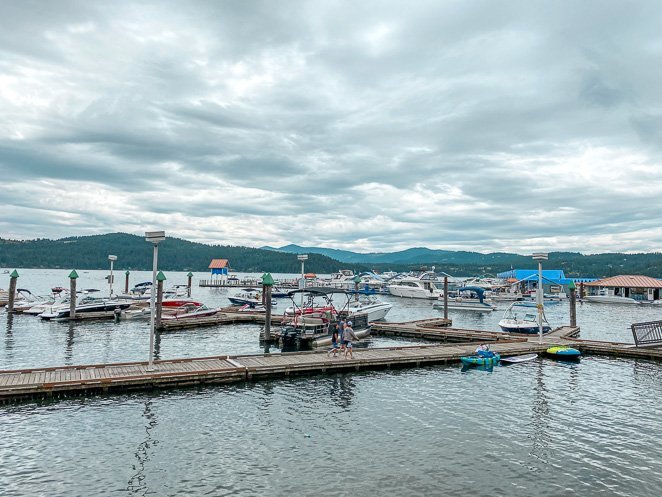 One way to spend a day in Coeur d'Alene is to rent a boat. There are SO many boat rental companies in the city of Coeur d'Alene, you won't have a hard time finding a boat to rent for the day so that you can get out on the water.
Swim or Go Rock Climbing At Q'emiln Park in Post Falls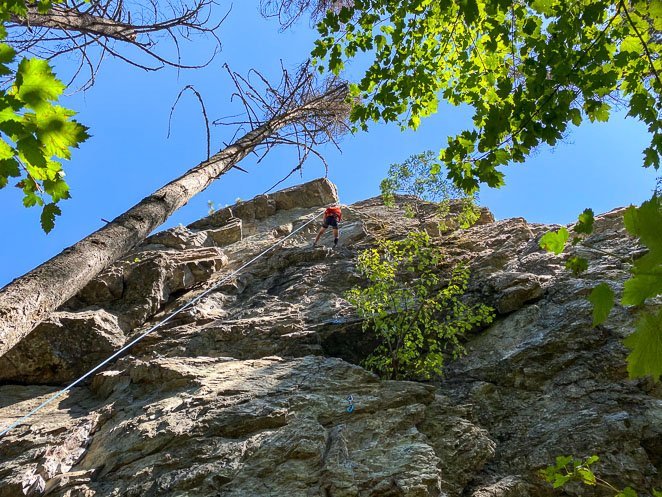 Spend an afternoon in Post Falls, Idaho at Q'emiln Park. There's a great beach right on the Spokane River.
Now, if you're a rock-climbing family like our friend's Nomads With A Purpose, then Post Falls might be one of your favorite stops in Northern Idaho.
This is when we had our very first experience of rock climbing! Robyn and her family were kind enough to take our newbie-family on a wall at Q'emiln Park.
All four of our kids climbed and they each liked it. Yet, our son Riley, seemed to really love it and even climbed a second wall at a more difficult level!
I think our family needs to learn more about rock climbing and get into better shape so we can go out and do more. Because we are hooked!
Update (2021) – Once we made it back home after this fun Idaho road trip, we started to look for fun things to do in Meridian Idaho and found Vertical View Climbing gym. We became members and have been climbing weekly!
Visit Sandpoint City Beach Park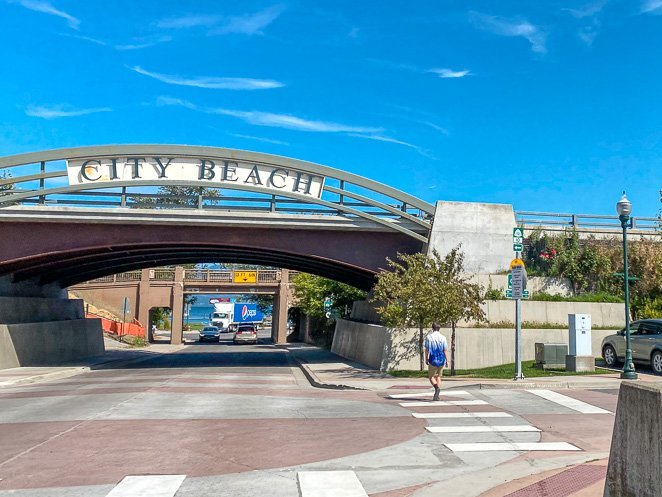 If you're planning a road trip to Coeur d'Alene then I'd suggest adding a stop in Standpoint, Idaho too. It's just a 1 hour's drive north of CDA.
One of the things to do in Sandpoint is to visit Sandpoint City Beach Park located on Lake Pend Oreille.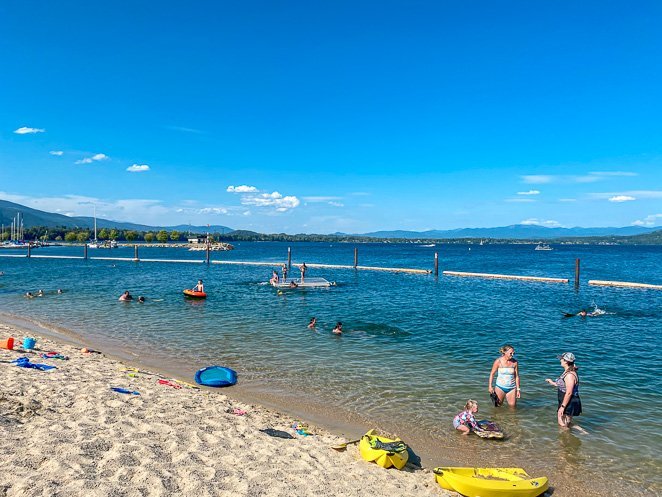 There's a beautiful beach with lifeguards, free parking, playgrounds for the kids, and lots of green space to spread out and spend the afternoon. Our kids enjoyed swimming out to the floating dock while the adults hung out on the shady grass.
I also like that we could park our RV for free in the City Beach parking lot and we were able to walk into town easily.
Grab Ice Cream at Panhandle Cone and Coffee in Sandpoint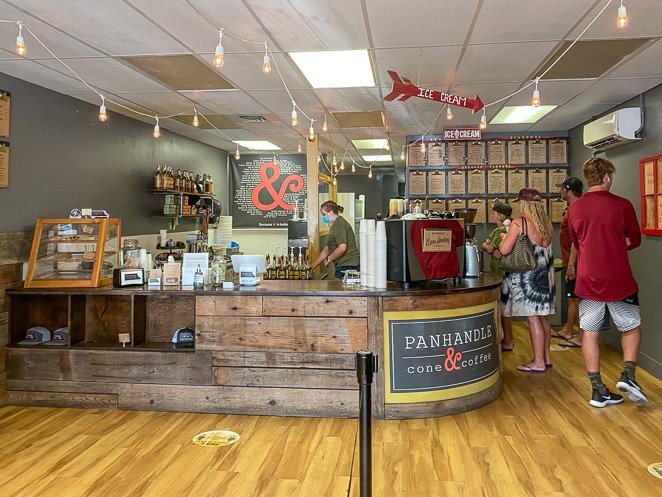 Take a break from the beach in Sandpoint and walk into town for a bite to eat, or to grab an espresso and ice cream at Panhandle Cone and Coffee.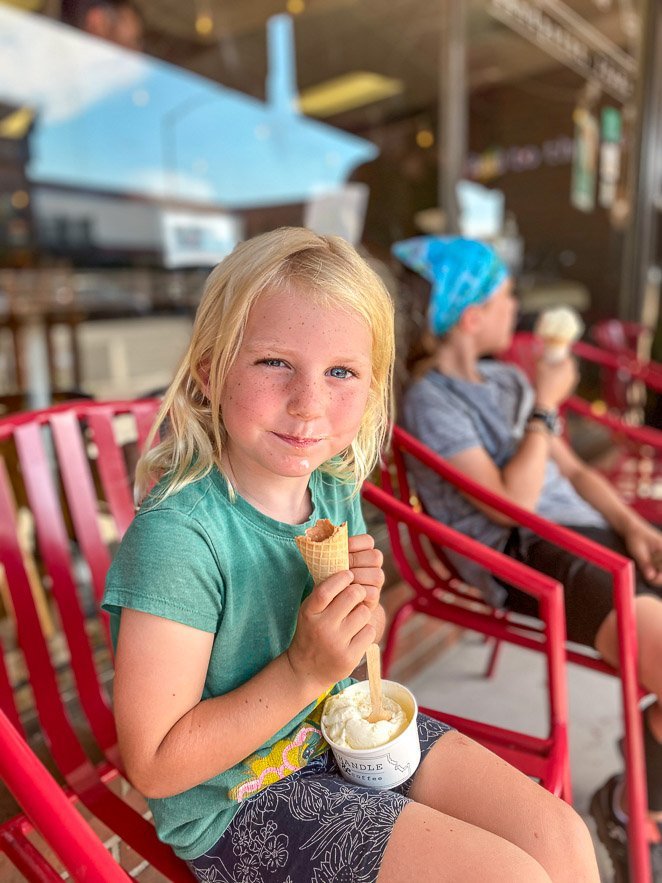 We visited twice because the ice cream was that good, and so was the espresso!
Pick Huckleberries on a Hike at Schweitzer Mountain Resort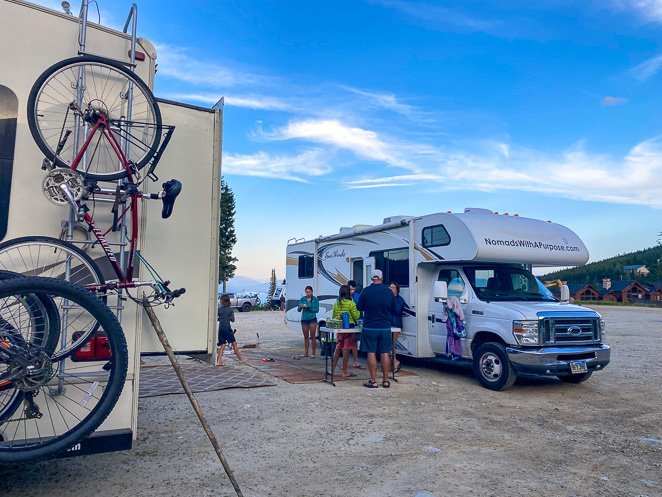 Mountain resorts are not only fun to visit in the winter months but also in the summer months, for biking and hiking. If you're taking an RV, Schweitzer Mountain Resort allows you to park your RV for free for a night in their parking lot so that you can enjoy their summer activities.
Or, you can book a place to stay and treat yourself at Schweitzer by clicking here.
We did just this as it was only a 20-minute drive from Standpoint, and we wanted to check out their Nature Trail.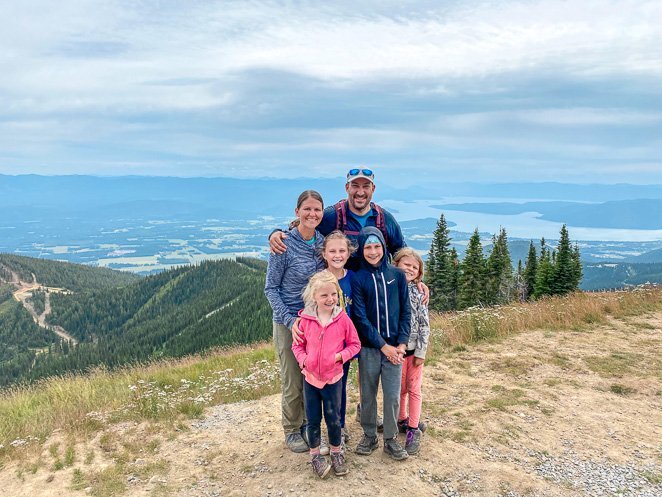 We hiked the 2 ½ mile Schweitzer Nature Trail up to the top of the resort and picked huckleberries along the way! They're a bit like blueberries, but a little different. We loved them.
Then we took the ski lift back down for free.
Camp at Priest Lake State Park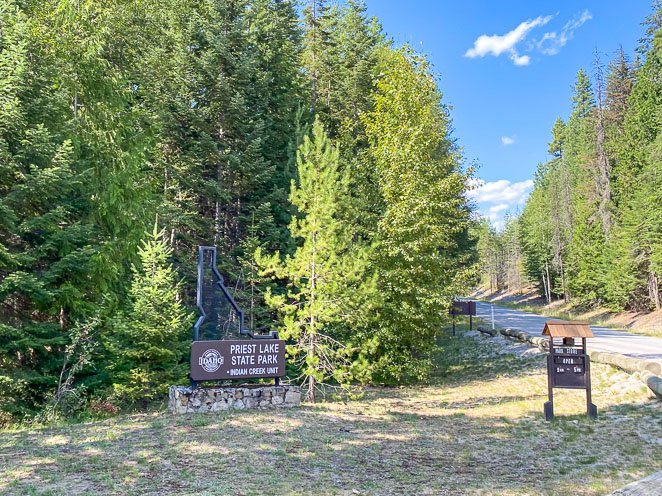 Idaho has some amazing state parks. Priest Lake State Park is another gem of a place to visit in Northern Idaho. It's about a 1 hour and 15-minute drive Northwest of Sandpoint to get to the beautiful state park.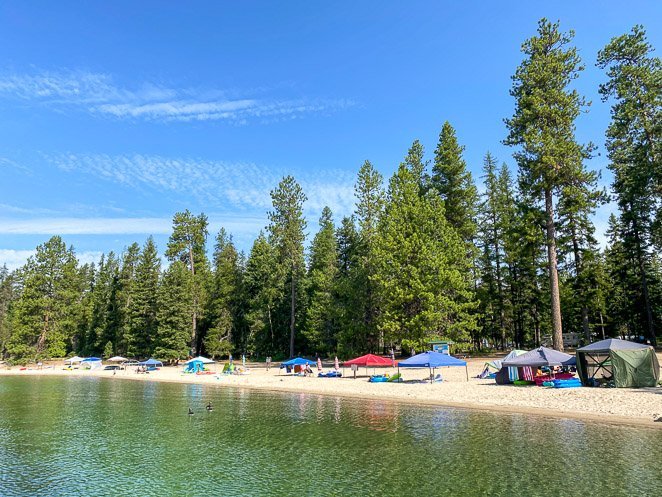 Even though there wasn't any cell signal, so if we needed to work on the road as a digital nomad this campground wouldn't work for us, we still plan to go back for a visit. The campsites are spacious and come with hook-ups and are so close to the beach, docks, and volleyball net.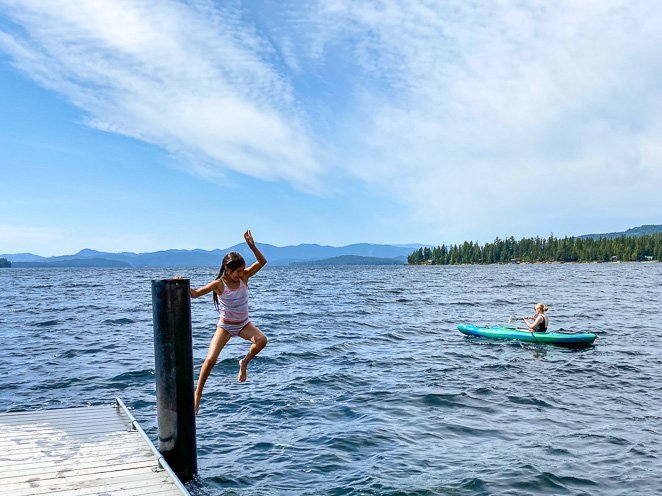 We had a great afternoon doing flips off of the dock and playing with friends. It's such a beautiful area that our friends said it reminds them of Canada.
Hike to the top of Scotchman's Peak!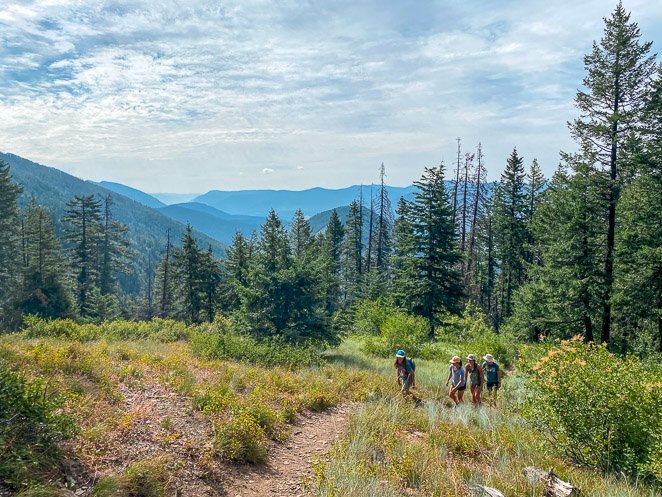 Scotchman Peak Trail is a 5 star rated trail on All Trails, one of our favorite apps. It's labeled as a difficult trail, and I would have to agree.
With 3,600 feet of elevation gain in the 4 miles up to the peak, it was a trail that I'm glad that I hiked with friends while leaving Tony back at the RV with the kids. I just don't think that our kids would have done well on this hike.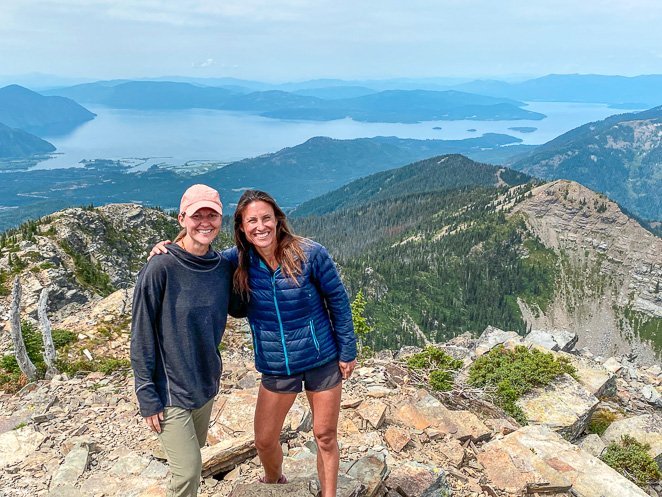 Yet, we did see a few families on the hike with young kids, and the teens I was hiking with did awesome!
I loved seeing the mountain goats up close when we reached the top of the peak. Those views were just incredible.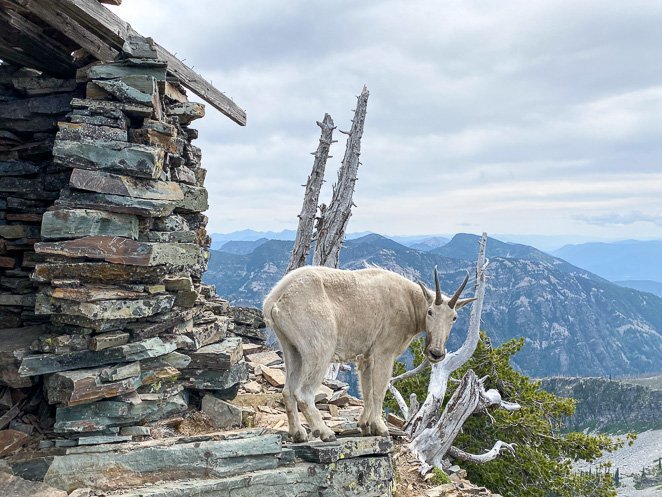 Not Ready To Leave Idaho?
Check out some of our other Idaho posts.
Discover a few natural Idaho hot springs near the Boise area. Plan a trip to Cascade, Idaho just 2 hours north of Boise.
Or create an Idaho vacation near Boise and enjoy some great hikes in Boise or find some great things to do in Meridian Idaho with your family.