As an adventure family newer to Idaho, we were excited to learn that there are several Idaho hot springs near Boise! Not only are many of these hot springs FREE, but some may not be the popular Boise hot springs people talk about, so you could have a chance to visit one or two that aren't very crowded.
The thing is, these natural hot springs in Idaho are located at least 1-hour's drive from Boise, Idaho. Yet, they're worth the drive and making a short road trip from Boise.
You could rent an RV for a week and make this a fun Idaho road trip. Or, you could consider renting a house in Boise for a week and exploring all the hot springs.
We recently took a 3-day road trip from Boise and hit up 5 of the closest hot springs to Boise. After spending months hanging out in our new city learning about fun things to do in Meridian Idaho and discovering some local Boise coffee shops, I was ready to get into the mountains and back into nature.
I can't wait to share with you what we learned, including some photos to give you an idea of what to expect while exploring hot springs in Boise (well near Boise, really).
If you're planning a visit to Idaho sometime in the future, then be sure to save this post or PIN it on Pinterest so that you can come back to it later. I'll be updating this post as we adventure out to discover even more Idaho hot springs this fall, which could make for some fun fall vacation destinations.
Scroll to the bottom of the post to check out our Idaho Hot Springs Map.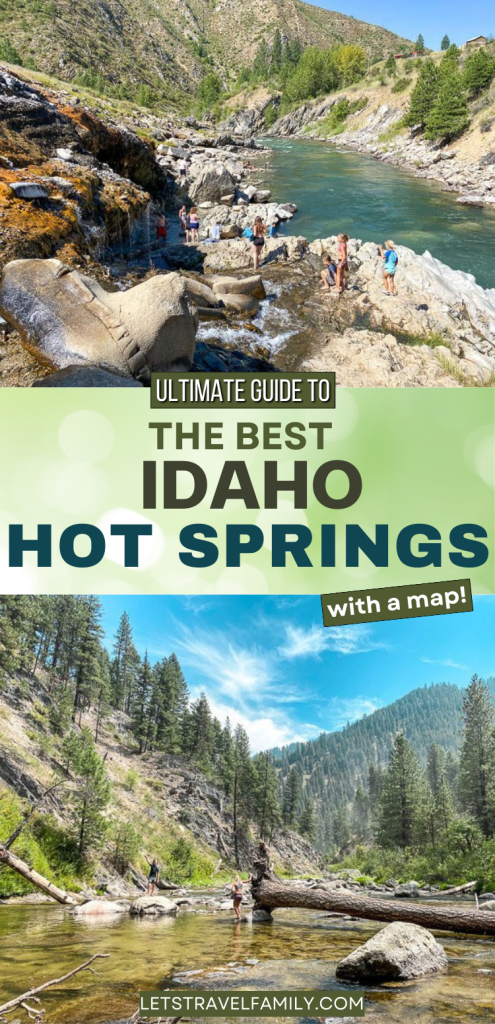 THIS ARTICLE MAY CONTAIN COMPENSATED LINKS. PLEASE READ OUR DISCLAIMER FOR MORE INFO.
Tips For Visiting Hot Springs Near Boise, ID
1. Download a Google Map offline before you leave Boise, there's no cell signal at any of these natural Hot Springs!
2. Bring food, drinkable water, and water shoes.
3. Don't be surprised if you see someone nude.
4. Keep the hot springs clean and pack out your trash.
5. Don't crowd into a small pool with strangers, give space.
Rocky Canyon Hot Springs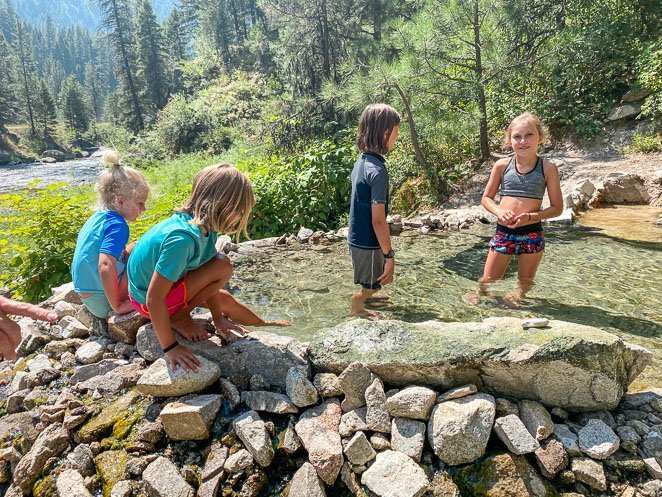 Rocky Canyon Hot Springs was one of our favorite hot springs near Boise Idaho. There was only one other couple once we arrived, several pools, and some beautiful views.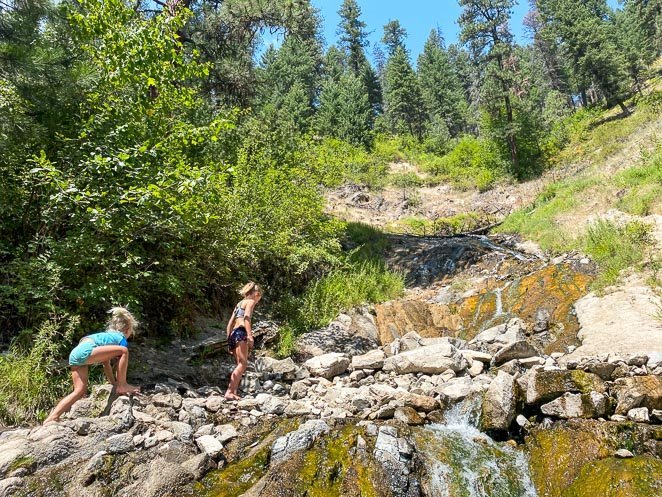 Rocky Canyon Hot Springs is made up of 5 to 6 pools at different levels. The bottom pool, which felt the most 'mixed' between hot and cool water from the river, had what I would call the perfect temperature for the kids. It was large enough for 8-10 people too!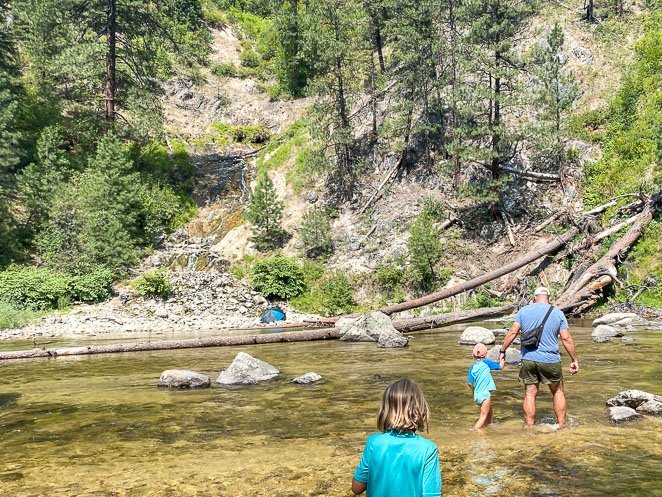 Since you'll be hiking or walking across the rocky river, be sure to wear shoes. We made the mistake of taking our sandals off to walk into the cold and rocky river and we came out with a few cuts on our feet.
How to Get To Rocky Canyon Hot Springs
When you leave Boise in search of natural hot springs to visit, start by driving North on HWY 55. You'll turn right at the small town of Banks onto Banks Lowman Road/County Rd 17. Then turn left onto Middle Fork Road and drive through the cute town of Crouch and continue for another 8 miles before you drive into the Boise National Forest.
This is when it turns into a gravel road. Drive for 4.7 miles on the gravel road and park on the side of the road. You'll now see the natural hot springs across the Payette River on the left!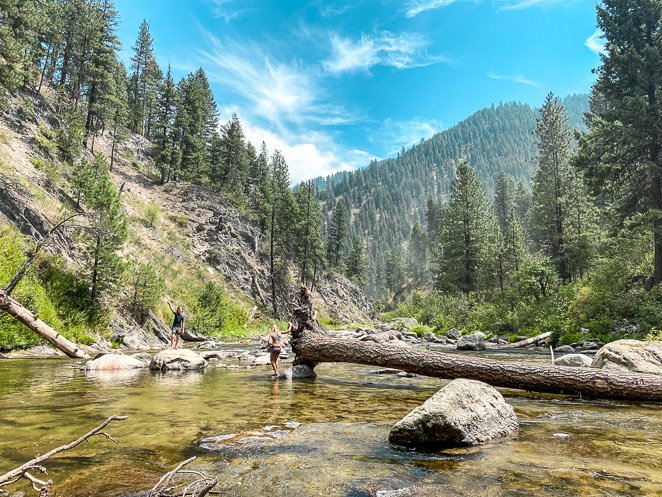 Driving tip: Rocky Canyon Hot Springs is 1.5 miles beyond the bridge that you'll drive across near Hardscrabble Campground.
Park on the side of the road and be prepared to walk down a steep slope to the river and then you'll have to walk through the cold river to the other side by foot. In July, the current was calm and the water level was up to our mid-thighs.
There is nowhere nearby with toilets or fresh drinking water, so be prepared.
Pine Flats Hot Springs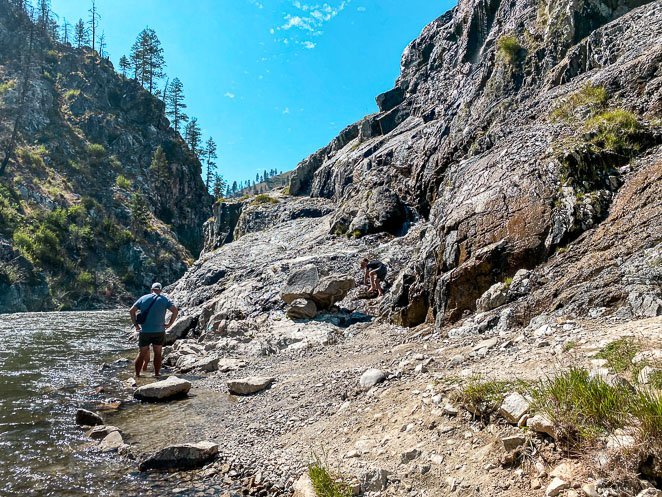 Pine Flats Hot Springs is about a ½ mile hike from the Pine Flats Campground and made up of 3 to 4 small pools. One pool, near the top, is semi-private and feels great to sit in with a hot temperature.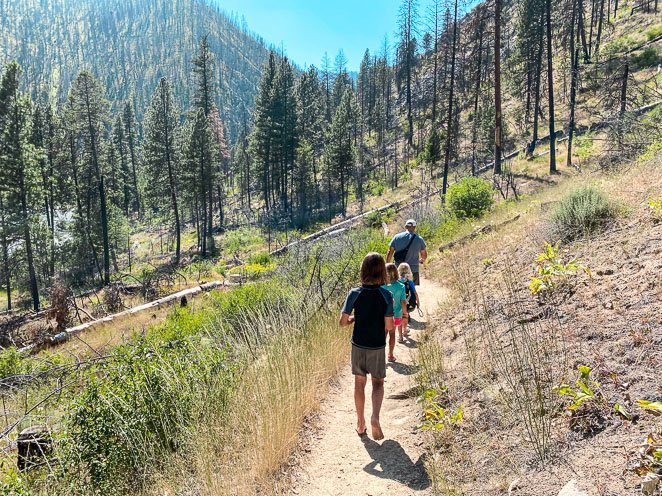 A second pool near the bottom was still deep enough to sit in with the water going about chest high, while the other pools looked to be recently built up into small 'kiddie' pools right on the edge of the river and only a few inches deep.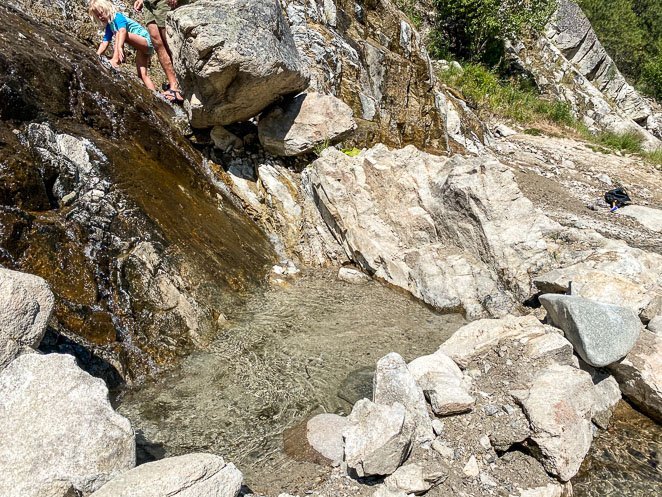 The kids loved to climb, or what we call rock scramble, among the hot springs here. I was a bit nervous if they became too close to the river at Pine Flats as the current was fast and made this mama feel a bit uneasy.
In July, we spent over 1 hour here and only saw one other couple visiting the hot springs. It's not as popular as many other hot springs but it's still easy to get to.
How To Get To Pine Flats Hot Springs
Pine Flats Hot Springs is located off Banks Lowman Road/County Rd 17 about 28 miles East of Banks. You can park in the day-use area of the campground for a small fee of $5 and then hike the ½ mile trail down to the hot springs on the river.
The campground has vault toilets and fresh well water to drink once you come back up.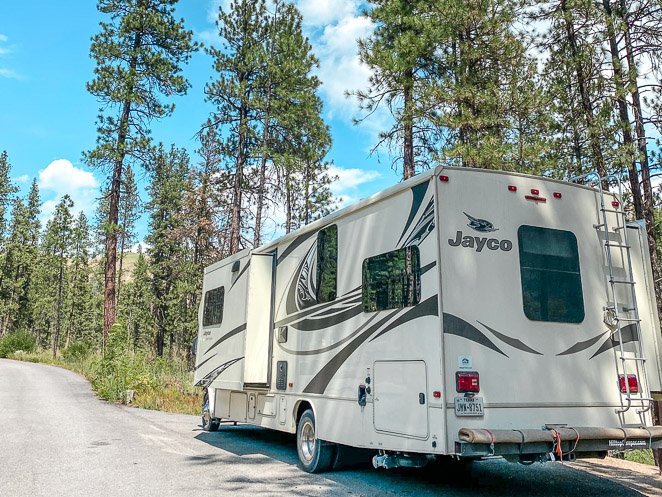 If you plan to camp at Pine Flats, you can reserve a campsite ahead of time or chance it and grab one of the first come first serve campsites for $15 per night. This is dry camping, so no electricity or water, and there is no dump station for RVs at the campground.
Kirkham Hot Springs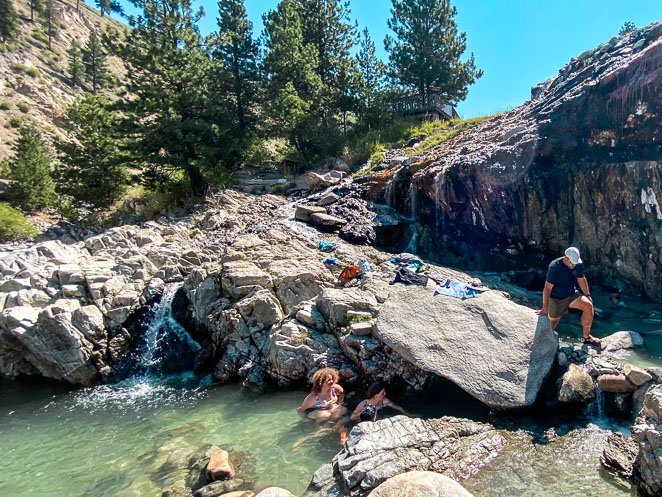 One of the most popular hot springs in Idaho near Boise is Kirkham Hot Springs. This popular hot spring is made up of several pools, waterfalls, and rocks to climb around on. In the prime summer season, I was told by the National Forest Service Ranger that they can see up to 100 different cars visit each day!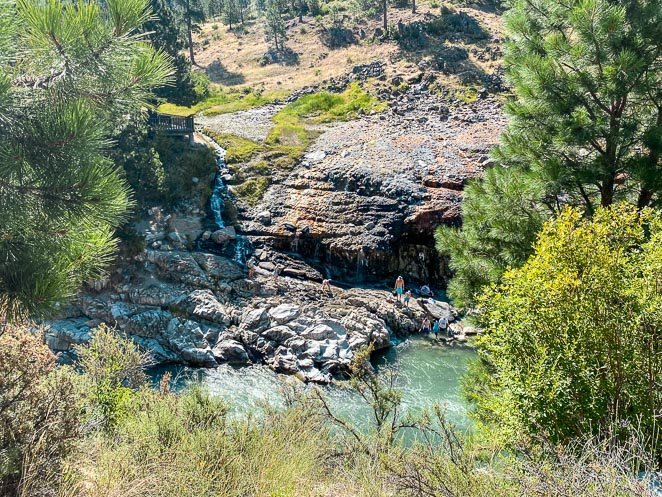 That's why in 2020, the National Forest shut down Kirkham Hot Springs campground and turned the campsites into day-use parking.
This worked out well for us as we were traveling in our motorhome during this Idaho hot springs road trip. When we arrived around 10:00 am, we paid $5 and parked our RV at a campsite! Then we walked to the trail and down the stairs to the hot springs, which were very close.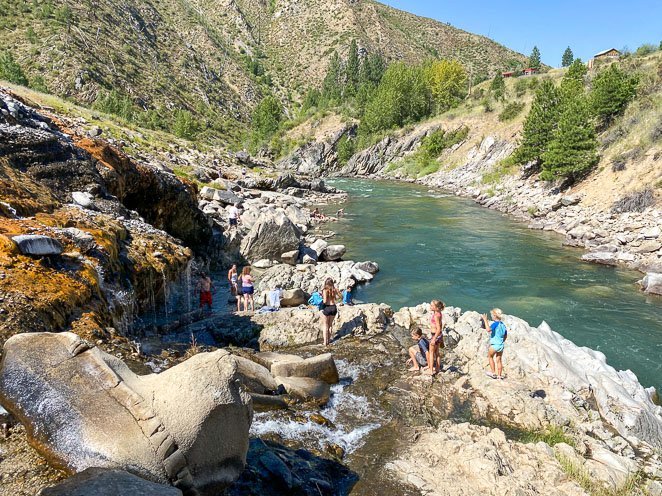 Kirkham Hot Springs is made up of many pools and waterfalls. When we arrived there were probably 15 people in and around the springs and we could still find a pool to sit in alone, or a hot waterfall to stand under.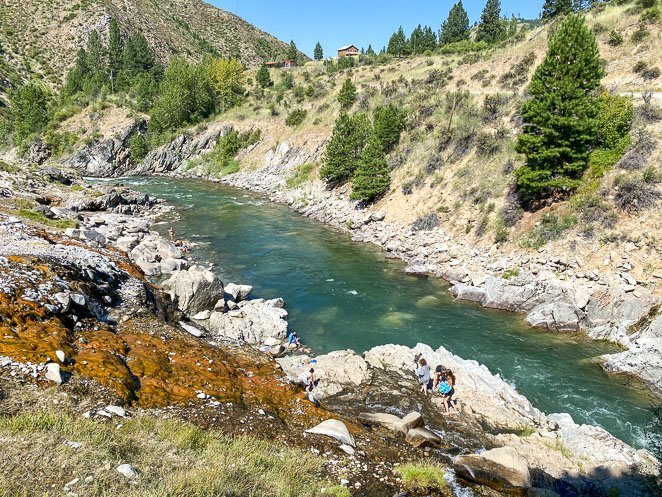 If you arrive in the morning, you'll find shade too!
How To Get To Kirkham Hot Springs
Kirkham Hot Springs is open from 7 am – 9 pm and run by the Boise National Forest. It's located off HWY 21 with $5 day-use parking for RVs and cars.
Kirkham Hot Springs is only 10 miles East of Pine Flats Campground. Take Banks Lowman Road East and then it will turn into HWY 21 in the city of Lowman. Drive a few miles and Kirkham will be on your right.
You can park on the side of the road or drive across the one-lane bridge to find parking in the day-use campground or parking spots if it doesn't look too busy yet.
Considering moving to Boise, Idaho or the Treasure Valley? Download this FREE 50-page Relocation Guide to Boise that will help answer many of your questions.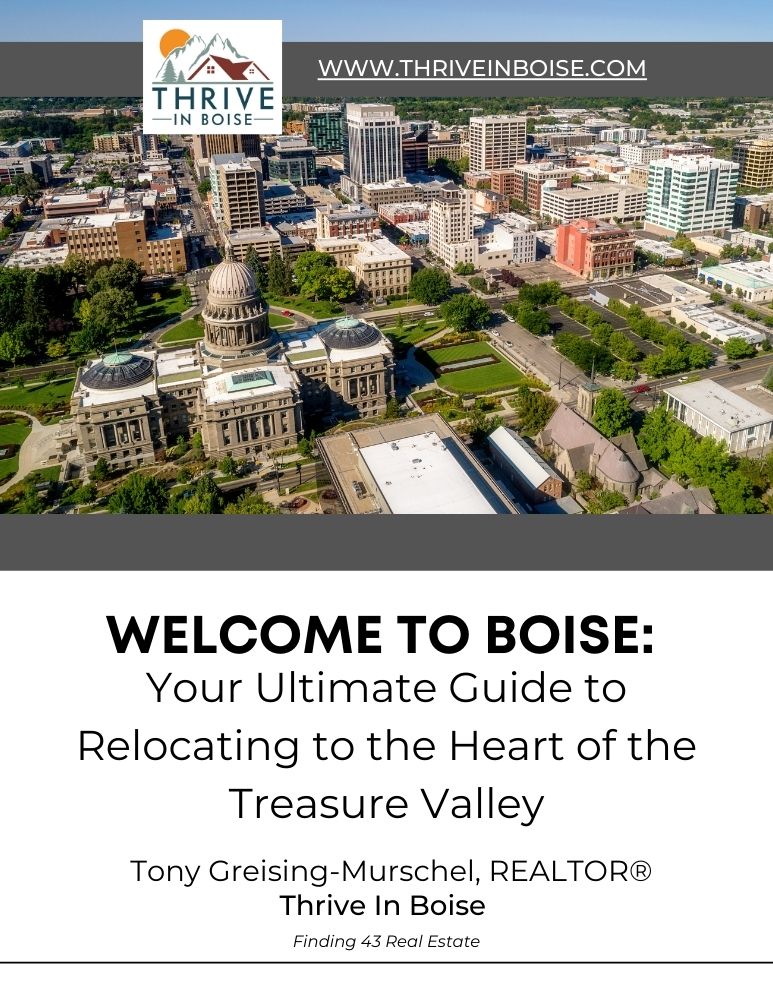 Click here to download it now!
Bonneville Hot Springs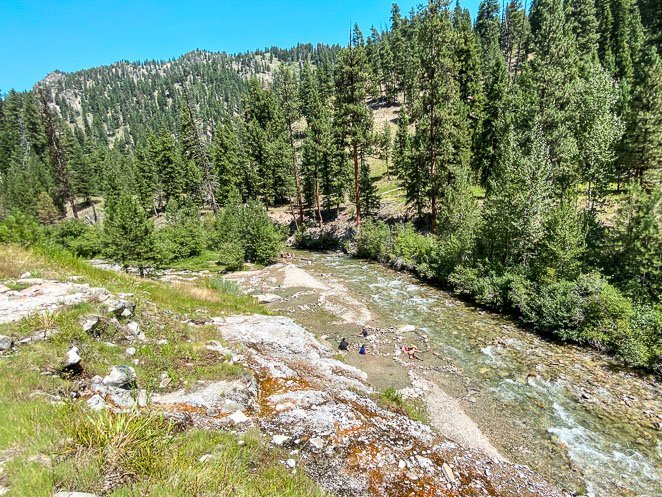 Bonneville Hot Springs is another natural hot springs that are not too far from Boise, but still a bit of a drive.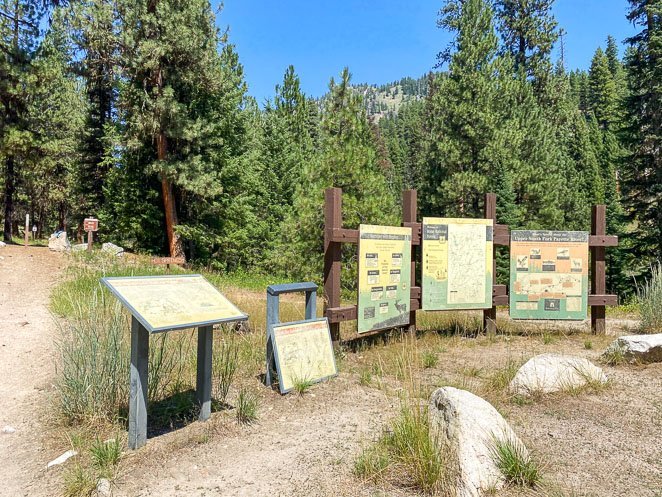 Made up of several shallow pools, and after a ½ mile hike from Boise National Forest's Bonneville Campground, these hot springs are not as popular as many others.
The hike was easy enough but once you arrive at the springs, you'll need to hike down a steep slope to make it to the river. Here, the river moves slower than in other areas so it's great for families with small children.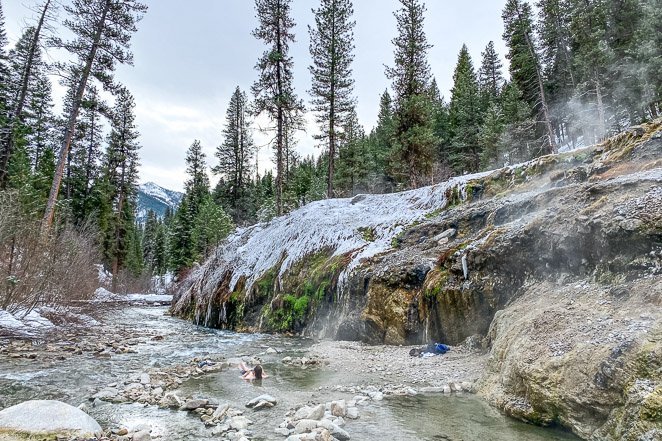 We even took a drive to visit Bonneville over the winter. It's worth it if you're up for a 1 1/2 mile hike out to the hot springs from the road where you need to park.
Just be sure to wear the right gear for cold weather hiking. Check out our list of some great cold weather hiking pants here if you need ideas.
How To Get To Bonneville Hot Springs
From Kirkham Hot Springs, take Hwy 21 East 14 miles. Then turn left at Forest Rd 25 toward Bonneville Campground. You will drive down a dirt road for 0.7 miles before you arrive at the day-use parking area where you'll need to pay a $5 fee.
From the day-use area, you'll hike ¼ of a mile to the hot springs and then down a steep and wet slope to get down to the hot springs.
If you'd like to camp, there are both RV and tent camping available at Bonneville Campground.
Sunbeam Hot Springs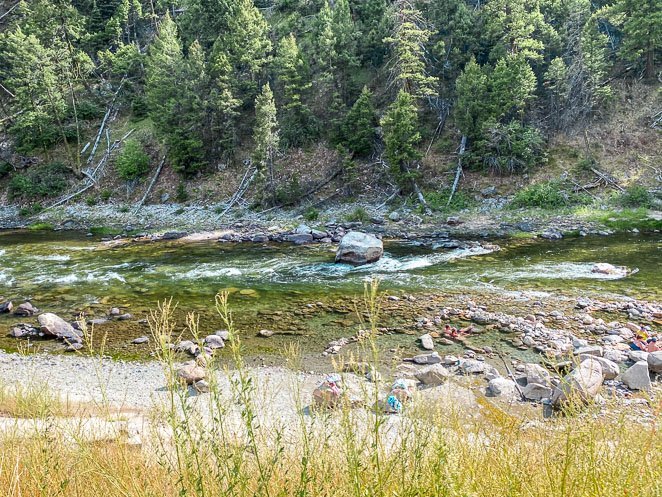 Sunbeam Hot Springs is a very popular hot springs made up of many pools on the Salmon River. It's located on the side of Hwy 75 about 12 miles East of Stanley, Idaho.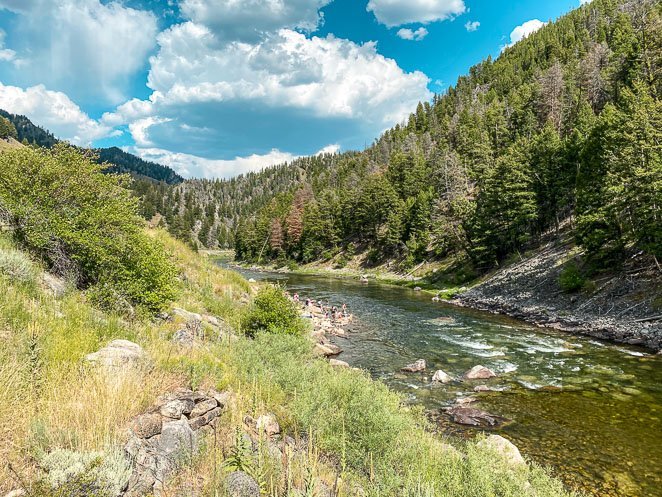 What I loved about these hot springs is that the parking is free, there were vault toilets, it's easy to get to, and there is a paved path that takes you almost all the way down to the springs making it accessible for more people.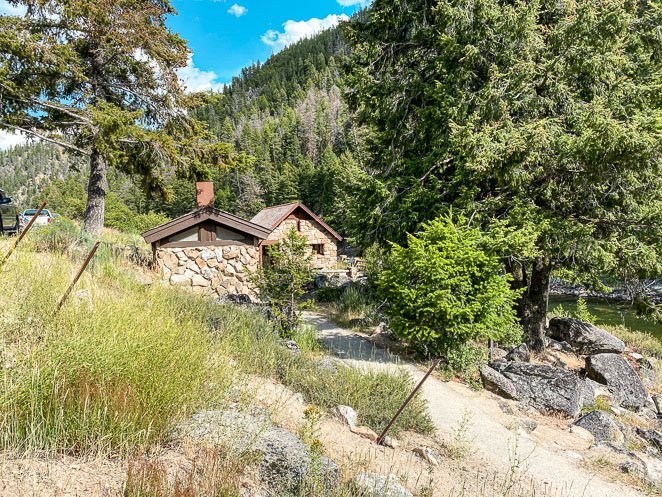 When my mom comes back to Idaho to visit, this is a hot spring that I know I can take her to and she'll be able to get to it without having to hike down a steep slippery slope.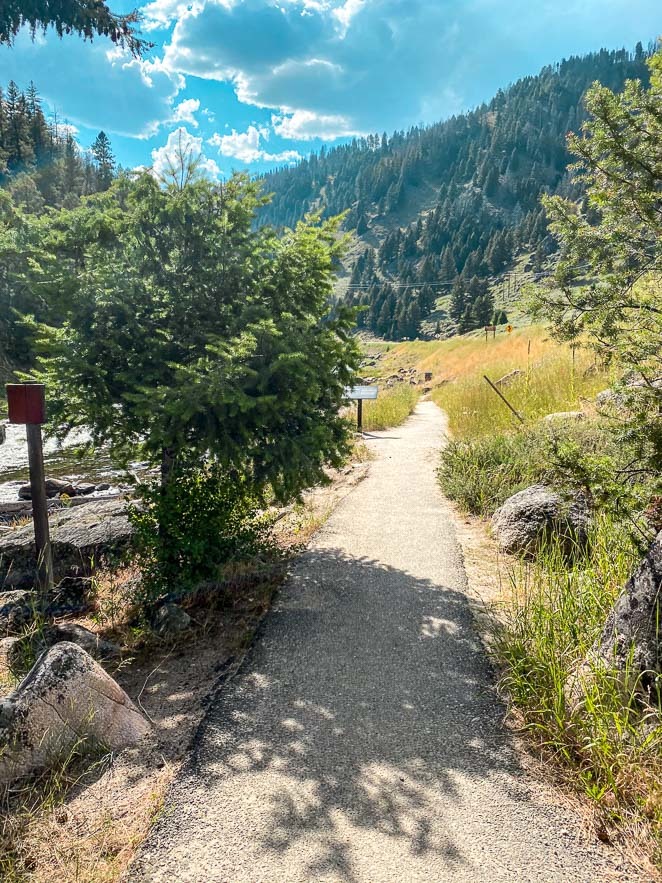 When you arrive at Sunbeam Hot Springs, you may notice that there are springs on both sides of the historical building and vault toilet area. One side is paved while the other has a steep slope.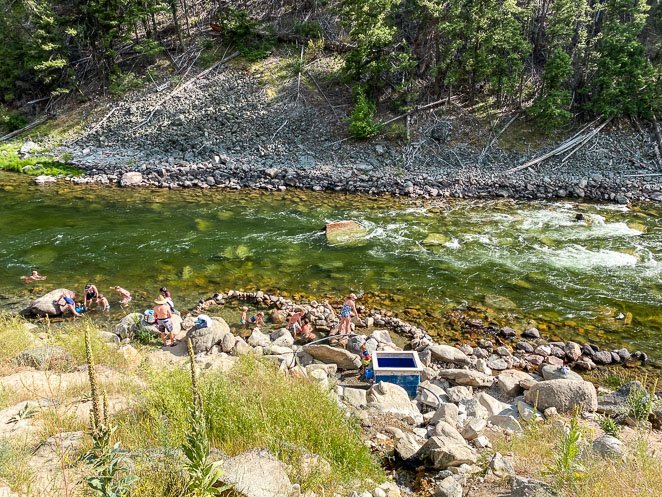 This allows there to be many people visiting without it feeling too crowded.
I loved to see many families here as it was on a calm part of the Salmon river with many people on paddleboards going by in July.
How To Get To Sunbeam Hot Springs
Sunbeam hot springs is easy to get to if you are driving out of Stanley, as it's only 12 miles East on Hwy 75. It's located right on the side of the highway with no hiking involved.
However, from Boise, Sunbeam Hot Springs is about a 3-hour drive. The Mountain Village Resort is also within Standley. Honestly, if you follow our Idaho Hot Springs map, you'll see that you can visit all 5 natural springs within 3 hours of Boise, and Sunbeam is the furthest. Not bad!
Plan to spend the night in the area and discover other fun things to do in Stanley Idaho.
Idaho Hot Springs Map
Listed on this Idaho hot springs map are the hot springs that we've visited. I will be adding to this map as we add to this post, with tips on what to expect and how to get to each hot springs area. So be sure to check back!
Other Hot Springs In Idaho
As our family has now been living in Idaho for over 2 years, we've discovered a few public Idaho hot spring retreat locations with hot spring water pumped into a pool setting.
The Springs Idaho City Retreat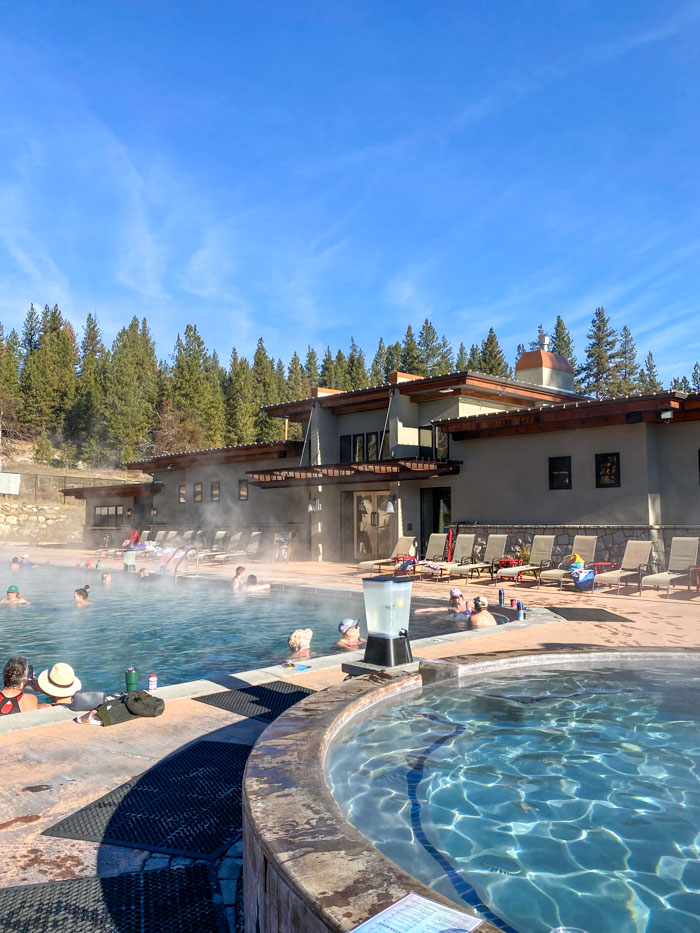 The Springs ID is a hot springs retreat in Idaho City. From downtown Boise, it's about a 45-minute drive to this luxury experience. I have visited The Springs several times during the winter months of 2021-2022 with friends, while my kids were in school. It was such a huge part of my winter self-care routine because the place is amazing.
There is a fee and you will need to make reservations online weeks in advance to make this Boise Idaho hot springs trip. So be sure to book ahead. Some days are adults-only, and others kids are welcome.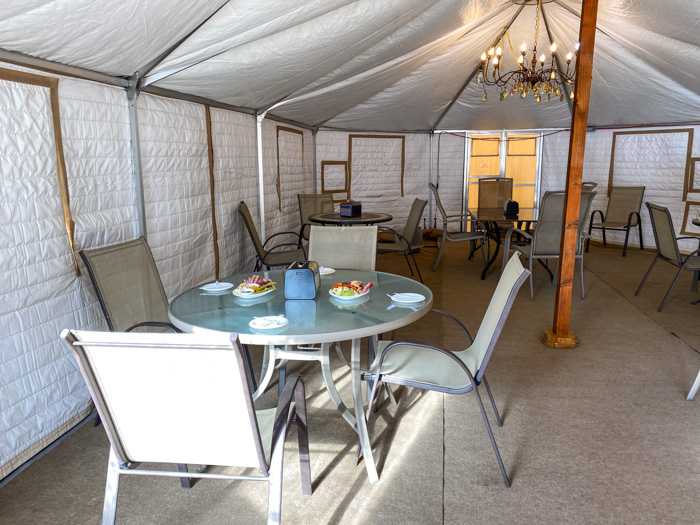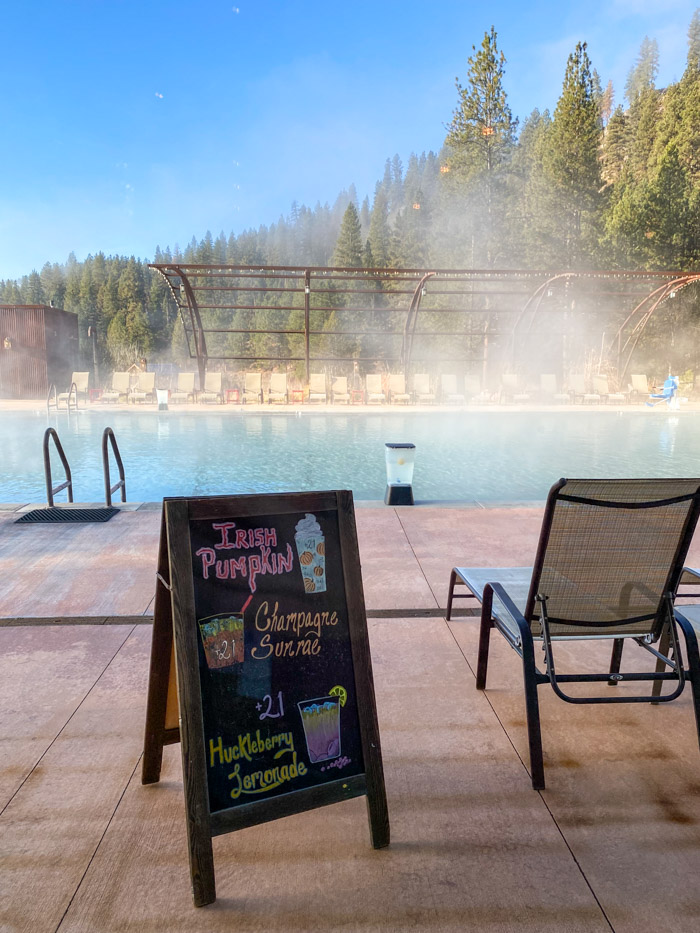 I can't say enough good things about The Springs, ID.
Their staff is so kind, they offer clean and warm locker rooms, lemon and cucumber-infused ice water at the pools, food to order and eat inside their warming tent, wine or mimosas, and even a plastic bag to bring your wet swimsuit home in.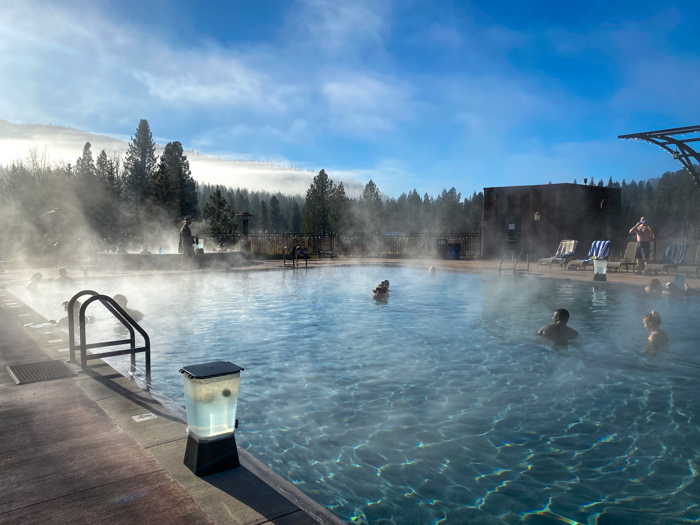 ---
Be sure to check back to this blog post often as I update it with more Idaho Hot Springs information. In the meantime, if you are looking for some other great ideas when it comes to visiting Idaho, check out our post where we share some great things to do in Cascade, Idaho like going to Trail Creek hot springs, or driving a little further north to discover what to do in McCall Idaho with your family. The Burgdorf Hot Springs is a popular hot spring resort in McCall, ID.
We wouldn't want to forget one of the unique hot springs located in Standley, Idaho, which is the Boat Box Hot Springs. It's located along the Salmon River and it consists of a wooden tub platform with a view of the river and the surrounding mountains.
It's always best to consider planning a road trip to explore Northern Idaho for a few weeks. Or, go on some excellent hikes near Boise, Idaho while you're camping in one of the many Boise RV Parks.