Finding the best Boise hikes doesn't have to be hard. Hiking in Boise is very popular, and the Boise trails are well maintained with friendly people everywhere. In all honesty, Idaho is full of kind people ready to help you find a trailhead or a great place to grab a bite to eat.
Whether you're a local, or you're just visiting, Boise Idaho hiking is something you have to add to your bucket list. It's on our list of the best things to do in Boise.
The sun is often shining in the Treasure Valley (in and around Boise) and the view of the local mountains is incredible.
Beyond Boise, I also want to share some of the best hiking trails near Boise. As not every hike listed below will be in the city of Bosie. Such as a great hike in Eagle Island State Park near Boise, and the nearby Boise National Forest. Or a beautiful hike out to waterfalls just a 40-minute drive from Boise.
So be sure to look below to find the best hikes in Boise Idaho and what I rank as some of the best hikes in Idaho that are close by.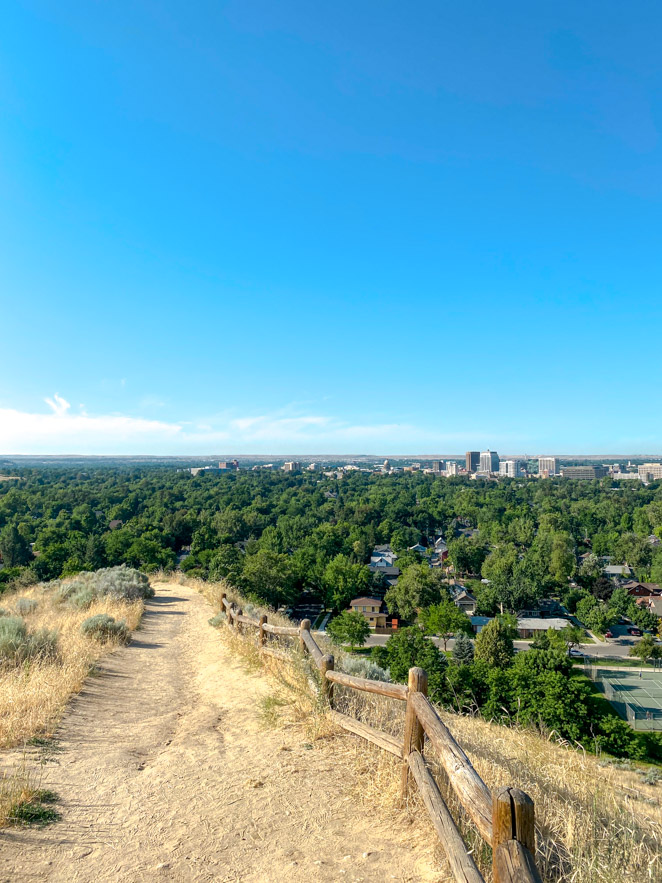 How To Prepare For Hiking In Boise
Before you set off on even just a 2-mile hike, you need to know a few things about the Boise area. Boise is located in a high desert dry climate area.
During the summer months, the sun can get very hot in the afternoon, making it a bit extreme for a long hike. Be sure to bring your day hike packing items so that you're well prepared.
Watch out for mountain bikers, as many of the Boise trails allow both hiking and mountain biking.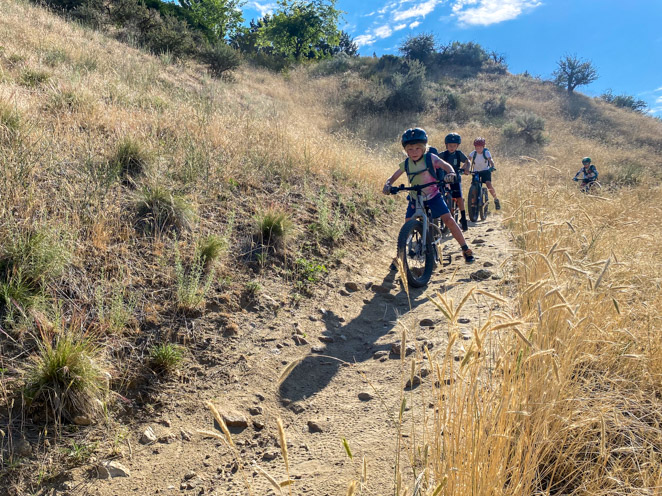 Early mornings are cool and perfect for summer hiking in Boise, while midday sun is warm enough to go on a late fall or early spring hike. The Treasure Valley area doesn't get much snow in the winter, but there is rain and sometimes the trails can be a bit muddy. Check out our list of the best winter hiking gear if you plan to visit during the coldest months of the year.
Best Boise Hikes For All Ages
Table Rock Hike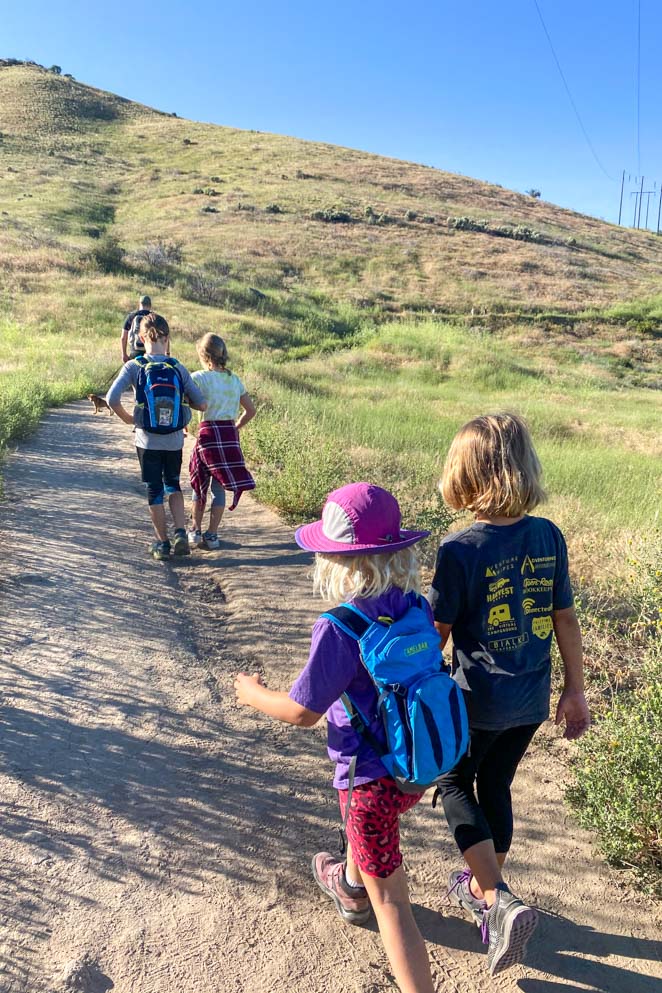 Table Rock Trail is one of the very popular trail in Boise ID. It's a 3.7 mile heavily trafficked loop hike with little shade. It does feature some beautiful wildflowers in the spring and will bring you to a large 'cross' at the top of the hike. Expect a bit of a workout at the beginning with some steep trails. This trail is open to dogs but not mountain bikers. Be sure to bring a lot of water as there is no shade.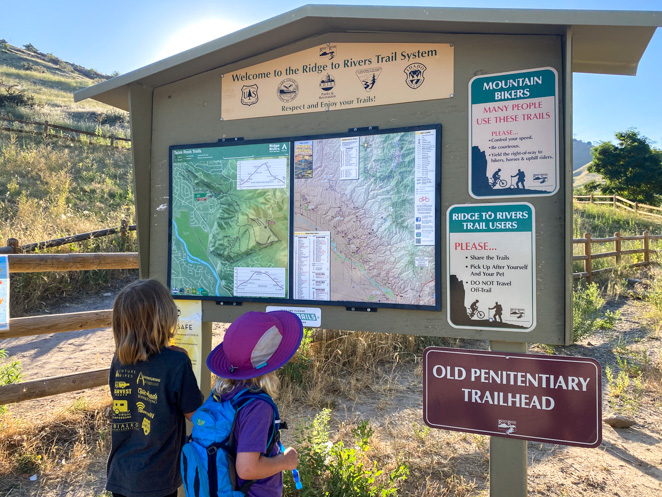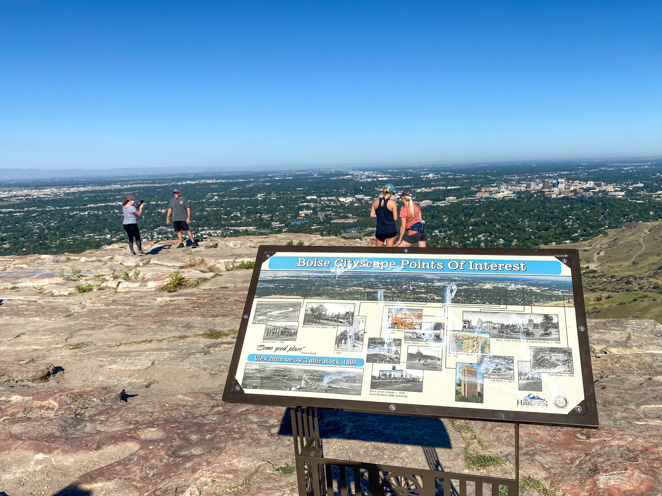 Our kids were pretty tired by the time we made it to the top. They were pretty happy that the way down would be much easier. Park behind the 'Old Penitentiary' where you can also find pit toilets.
Harrison Hollow Trail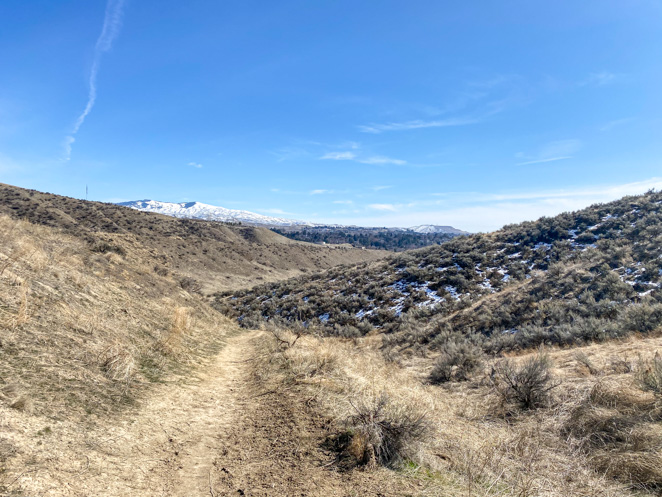 The Hillside to the Hollow Reserve has several great Boise Idaho hikes. It's located at the base of Bogus Basin Road, on the way up to the popular Boise Ski Resort. The trails here are narrower than many others around the Boise area, making it more popular for hikers and less popular for mountain bikers. If you have a dog, this is a very popular hike to take your pup on.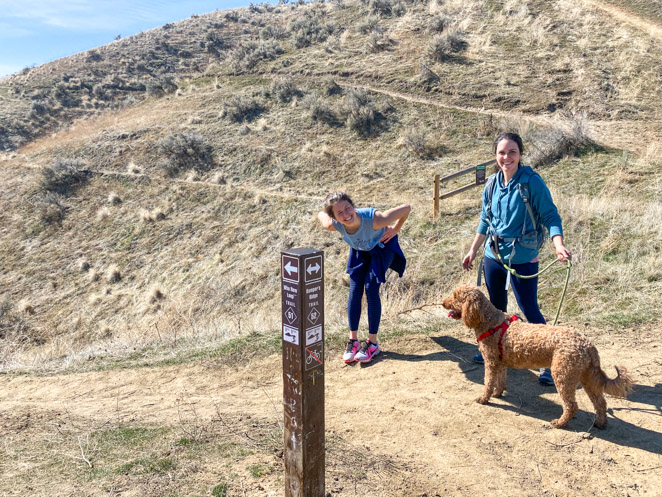 The Quail- Harrison Hollows Loop is a popular 4.1-mile figure-eight loop through the reserve. Depending on the time of year you are hiking, be prepared for a bit of mud or the hot sun with no shade.
Considering moving to Boise, Idaho or the Treasure Valley? Download this FREE 50-page Relocation Guide to Boise that will help answer many of your questions.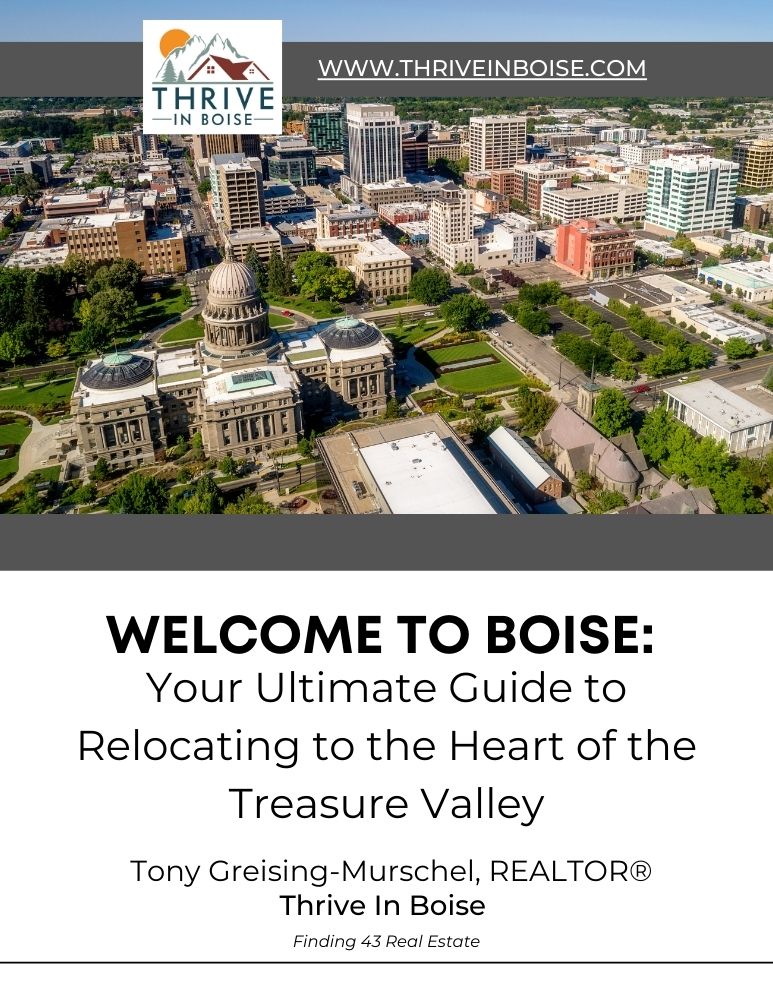 Click here to download it now!
Boise Cascade Lake Loop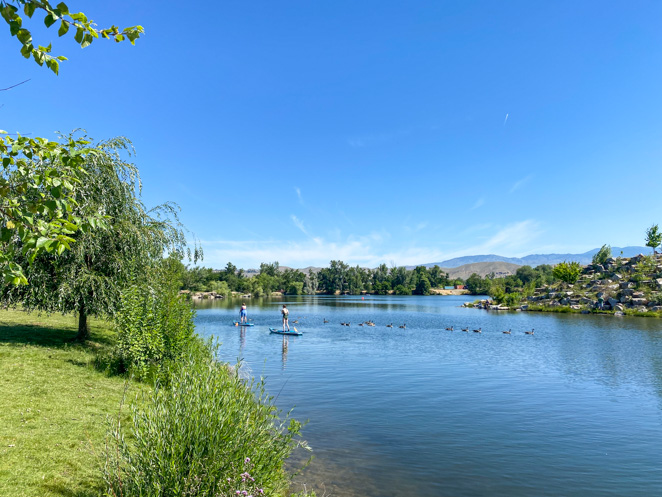 This 1.3-mile loop is located near Ester Simpleplot, Quinns Pond, and shares the Greenbelt for part of the paved hike. You begin at Veterans Memorial Park and hike south toward Quinns Pond. You can easily extend this hike a bit further to check out the Greenbelt area and look for the Whitewater Wave where you can often see kayakers and actual surfers on their boards surfing the wave of the Boise River.

Boise River GreenBelt Trail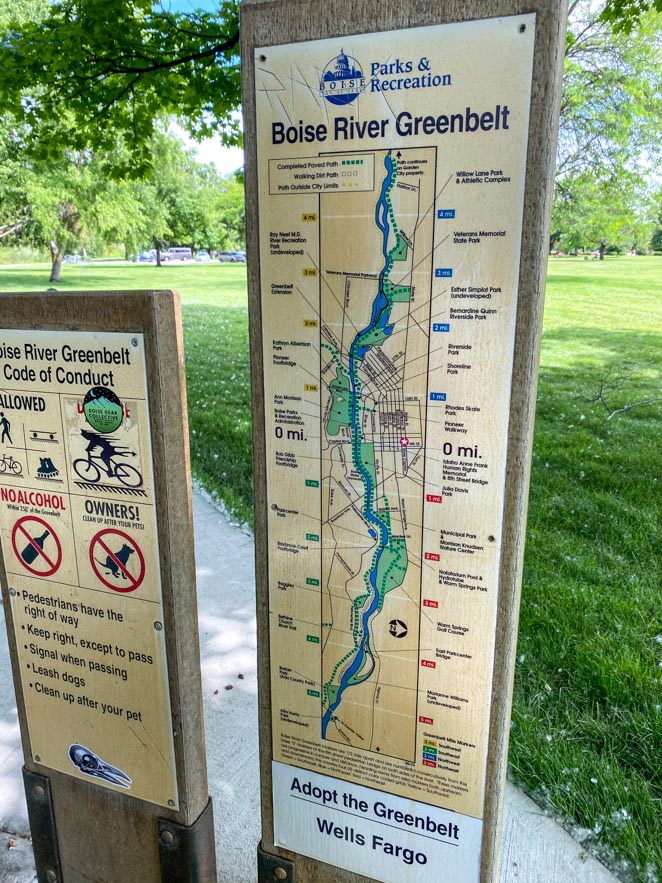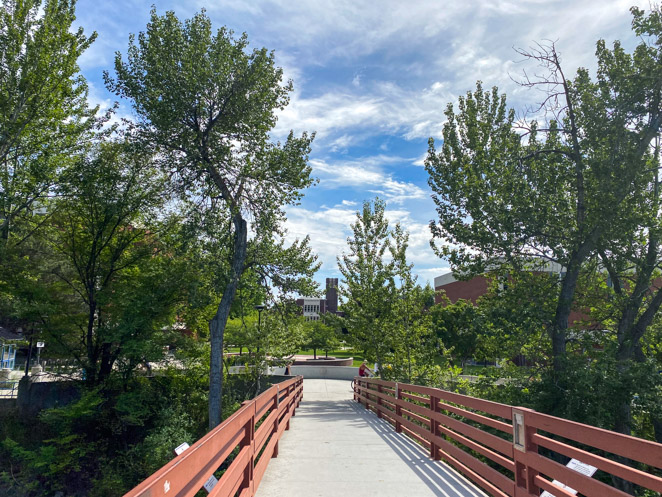 This 25-mile paved trail follows the Boise River connecting many parks and beautiful spaces. It's a shared biking and hiking trail. It connects many famous parks such as Veterans Memorial Park, Quinn Riverside Park, Ann Morrison Park, and Julia Davis Park.
Camels Back Trails Loop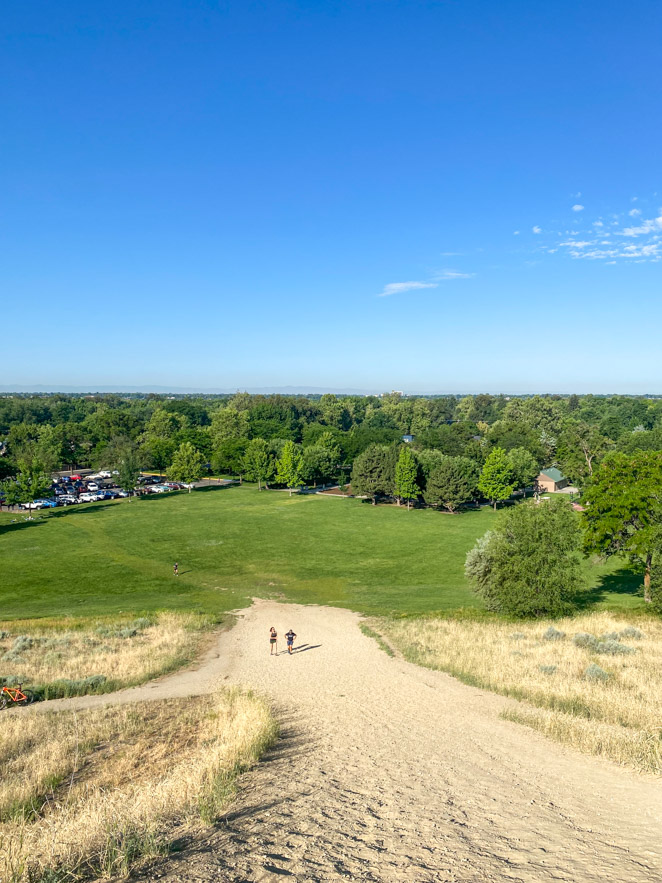 Camels Back Trails Loop is a 1.6-mile loop near Boise, Idaho that's ranked as moderate in skill level. Park at Camels Back Park where there is a playground, bathrooms, and a large green space. Then climb the steep stairs to begin your hike up in order to see a beautiful view of downtown Boise.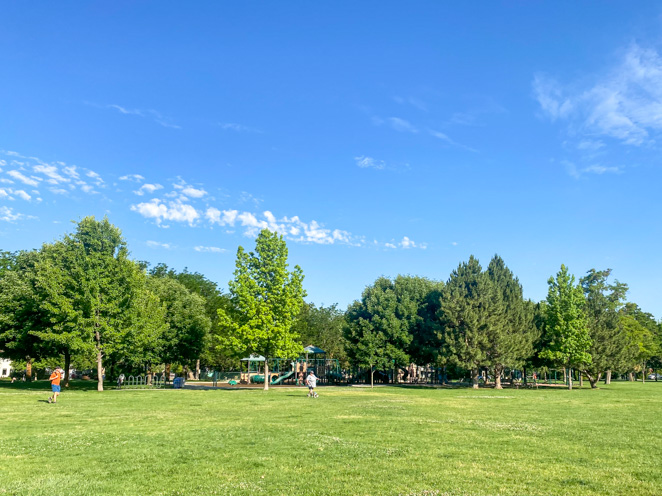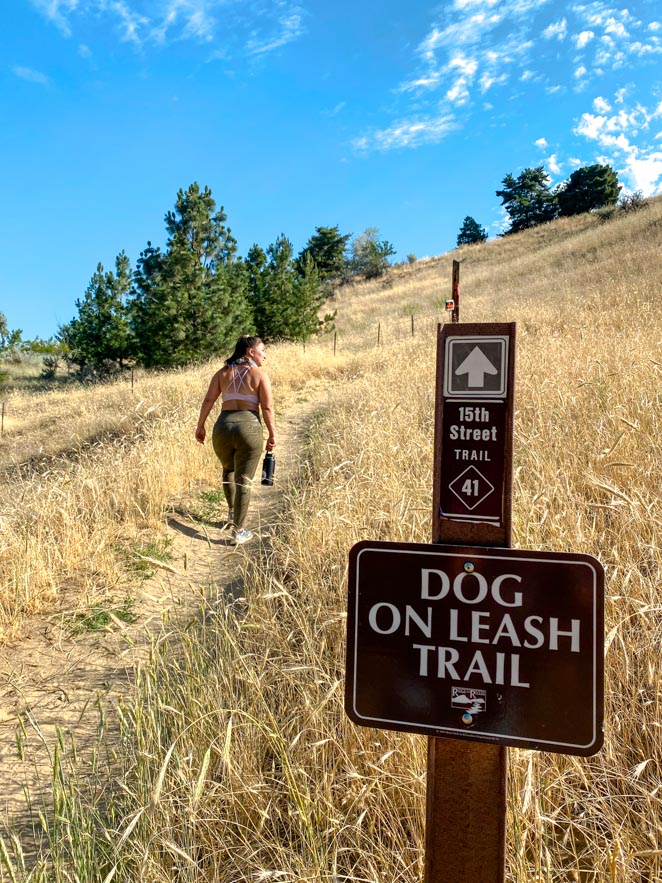 This hike is best completed in the early mornings during the summertime to help beat the heat, as there is no shade. Dogs are welcome and mountain bikes also share this trail.
Pro Tip: Swing by the neighborhood called Hyde Park when you're done hiking near Camels Back Park for a quick bite to eat or a great espresso from one of the best Boise Coffee shops.
Crane Creek Corrals Loop
Craine Creek Corrals Loop also begins at Camels Back Park in North Boise, yet it's a much longer hike at 12.7 miles and rated as moderate as well. Be ready to share the trail with mountain bikers and dogs. If you hike this in May or June you'll love all the wildflowers.
Owl's Roost Trail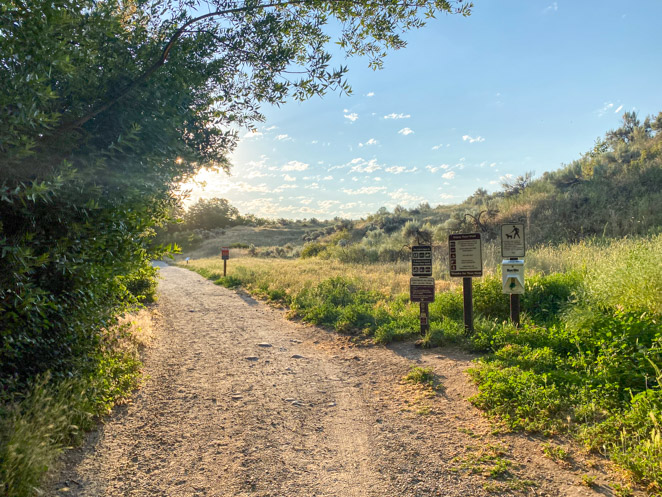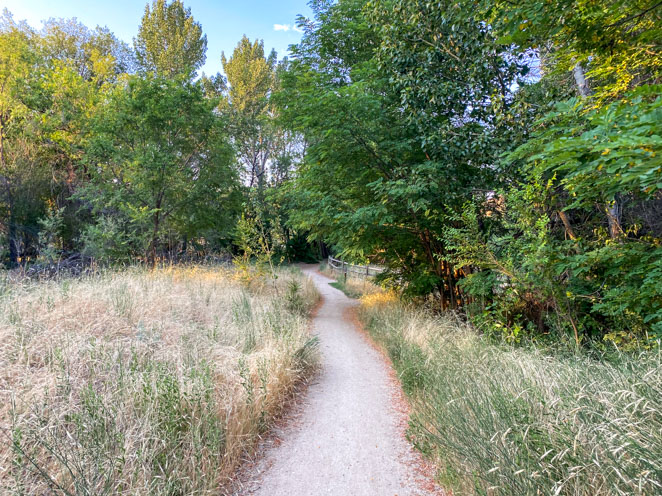 Owl's Roost Trail begins just north on 8th street from Camels Back Park. The road turns into Sunset Peak road. Drive until it turns dirt and you'll find a parking lot on the right with a pit toilet.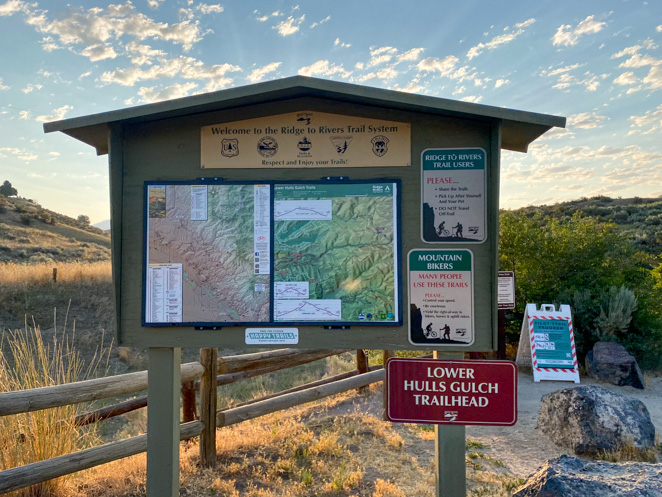 There are several trailheads here including the famous Lower Hulls Gulch that's often used for mountain biking. The favorite hiking trail is Owl's Roost Trail that connects with Gold Finch and Red Fox Loop. You'll end up on the nature trail and in some welcoming shade for a bit of the hike along the Gulch.
Red Cliffs Nature Center Trail
Red Cliffs Nature Center Trail is a 3-mile loop that is very popular and full of wildflowers. There is a fairly steep climb, so be prepared. It's also shared with dogs and bikers.
Hulls Gulch Nature Trail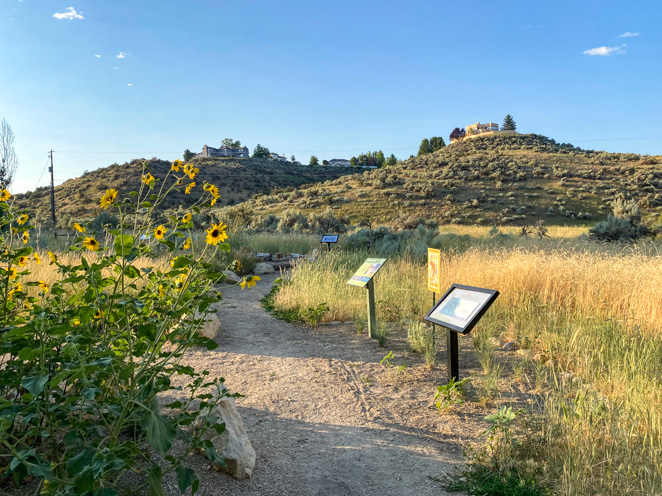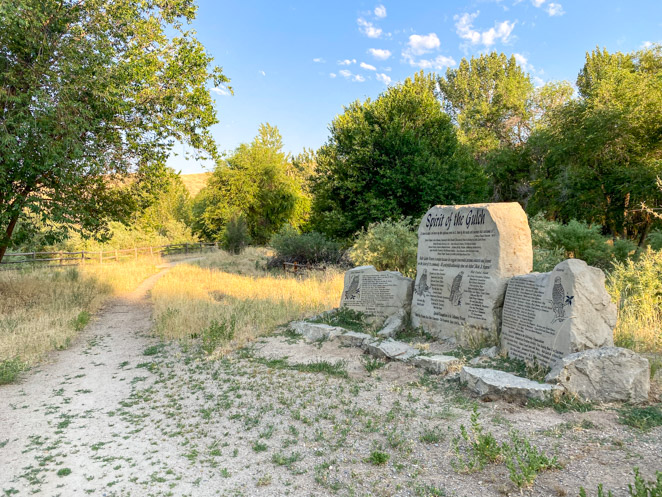 This popular Boise hiking trail is also very popular among mountain bikers in the Boise area. It begins just a quarter-mile north of the Owl's Roost Trailhead and is a moderately ranked 6.3 mile out and back hike.
West Highland Valley Trail To Lucky Peak
One of the easier hikes in Lucky Peak State Park area, West Highland Valley Trail is a 3.4 mile out and back hike. Without any shade, you'll need to bring a lot of water. You can find the trailhead off E. Highland Valley Road off of Warm Springs Ave in Southeast Boise. This trail has 902 feet of elevation gain.
Shaw Mountain (Lucky Peak) Hike
This 10.4-mile hike up to the famous Lucky Peak (actually named Shaw Mountain) is actually on an old access road. Full sun until you get near the peak and then you'll find trees and shade to rest in. If you want a bit of a detour on the way down, stop by Adelmann Mine and check it out.
Aside from these amazing hiking mountains stated, there are a lot more such as Oregon Trail, which is located in the southeast, and Dry Creek Trail, located in the north of Boise.
Best Hikes Near Boise Idaho
If you're traveling to Idaho then be sure to check out the best RV parks near Boise so that you can get out on the trails. Also, discover some unique hikes nearby that may not be directly in the city of Boise.
Eagle Island State Park Loop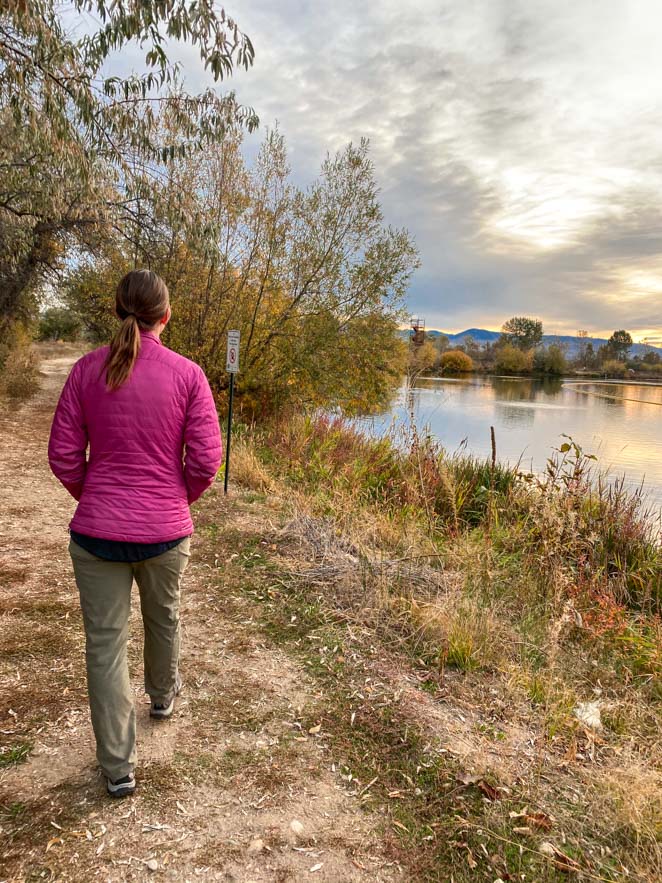 Eagle Island State Park offers a partially shaded hiking trail near the lake. Dogs are welcome but you won't often see mountain bikers on this trail, which might be nice for a change. The full loop is 4.8 miles long but you can cut it in half if you'd like and stay near the lake with the playground, flush toilets, and the large parking lot. If you don't have an annual pass then be prepared to pay for a day pass as it's an Idaho State Park.
Jump Creek Falls Trail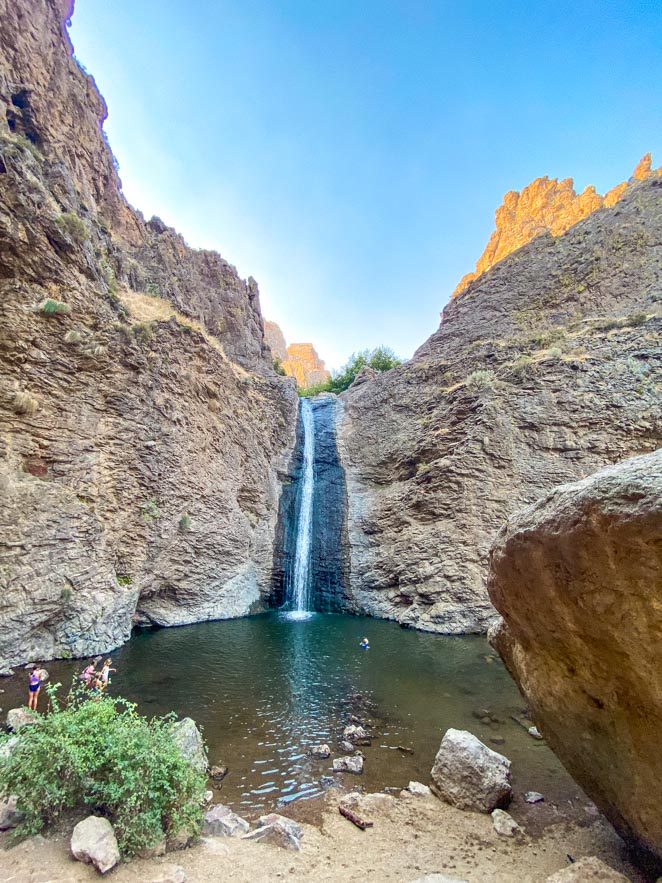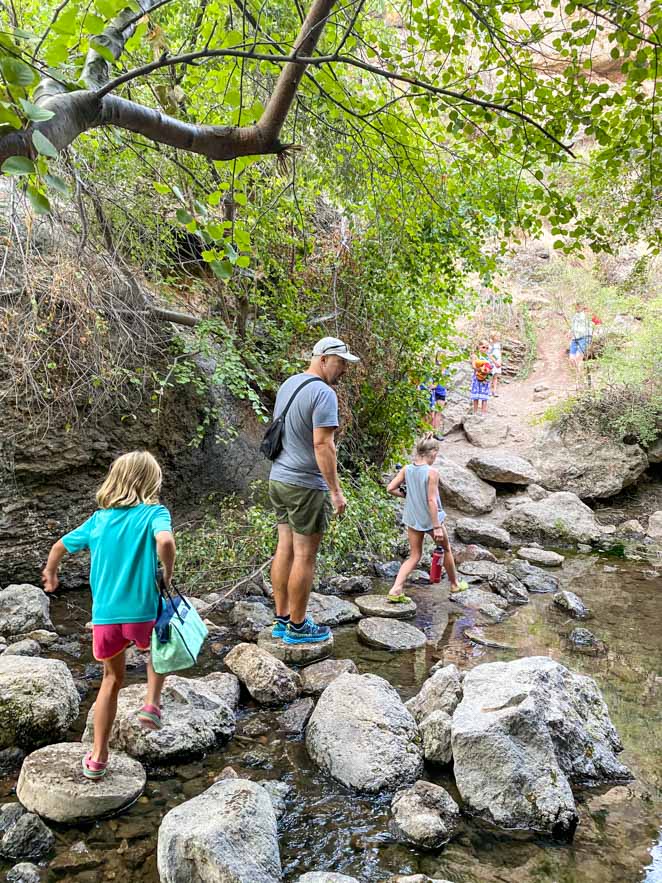 Jump Creek Falls Trail brings you to a beautiful waterfall! However, it's a 45-minute drive from the Boise area, so it may not be as convenient for you to add to your list. The hike is only 0.6 miles to the falls, but be prepared to walk through some water to reach the falls. Pack a lunch and bottled water and spend the afternoon swimming at the foot of the falls. At the parking lot, there are picnic tables and a pit toilet.
To add to our best hikes near Boise list, we also have Stack Rock Trail near Bogus Basin Road and Central Ridge trail found in the Military Reserve area.
Other Hiking Tips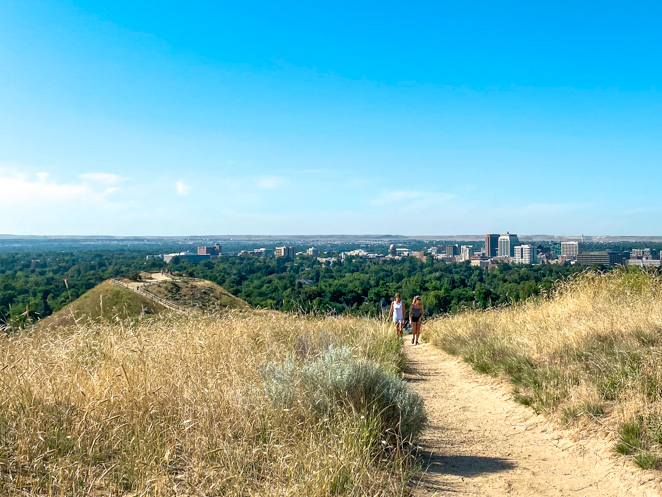 Check out our list of the best hiking gadgets for hikers or fun hiking gifts if you're looking for great gift ideas. You might also want to look through our list of the top hiking clothes to be prepared for some outdoor adventures.
A great app to download on your phone before hiking is the All Trails app. You can look up the All Trails Boise hikes and read some recent reviews. Most of the Boise hikes listed above provide cell service, but it's always a good idea to download the map from All Trails before you begin. That way if you lose cell signal you can still find your way.