In early June, we spent time exploring and learning about some fun things to do in Cascade Idaho.
You see, we recently decided to stop traveling full-time and move to Idaho. We had been full-time RVing for over 2 years, then world traveling for 5 months before we landed in Meridian, Idaho in February of 2020.
Yet, we hadn't adventured very far from exploring all the things to do in the Boise area of Treasure Valley until early June of 2021.
Our RV friends came into town to visit and invited us to head north a few hours to go camping.
Yup, Tony and I actually called taking our RV out with the kids for a week 'camping'….not 'RVing' or 'living'. Because that's just it, we now live in a 3 bedroom condo instead of our Class C Motorhome.
But, that's a story I already shared in a previous post. If you're interested in learning more about our story on how in the 'world' (literally) we ended up in Idaho after traveling full-time with our 4 kids for almost 3 years you can click here to read all about it.
Okay, back to the purpose of this post.
Idaho is beautiful in so many ways with SO many places to explore. Many we have yet to even add to our Idaho bucket list.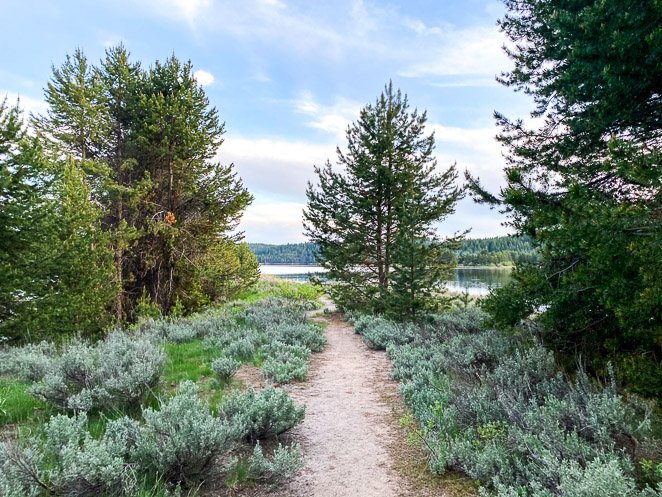 Visiting Cascade, ID just a 2-hour drive north of the Boise area, will honestly take your breath away.
This is coming from the woman who has visited 45 states and 7 countries in the last 3 years.
The Payette River flows along HWY 55 as you travel up north (and up a bit in elevation so if you're towing an RV be prepared for some grade changes).
I will continue to share more with you about what we discover while living in and exploring this amazing state of Idaho. Such as finding great Idaho hot springs near Boise. Or finding some fun things to do in Northern Idaho. Or staying close to home in the Treasure Valley while finding fun things to do in Meridian Idaho.
Yet today, I want to share our experience to help give you a few ideas of things to do in Cascade, Idaho.
Things To Do In Cascade, Idaho
The small city of Cascade sits right on Cascade Lake within the beautiful mountains. The area allows for so many outdoor activities such as kayaking, swimming, hiking, fishing, rafting, ATV trails, and mountain biking.
During our week-long vacation, we spent time kayaking, fishing, and doing a little hiking. Yet, I know since we have this beautiful area practically in our backyard we'll be going back again soon.
Whitewater Rafting
Update 2022: I was able to finally experience whitewater rafting in Idaho! My sister and I experienced the family-friendly 3-hour ride down the Payette River just south of Cascade. We had so much fun and stayed warm in the full-body wet suits and wind jackets that Cascade Raft provided for us.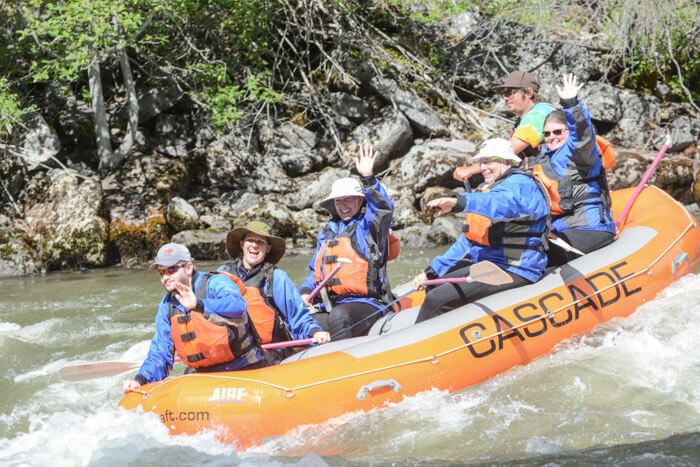 Derek, our incredible guide, made the experience on the class II and III rapids so much fun. I cannot wait to do it again, but this time try the more adventurous half-day 'Rush' with class IV rapids.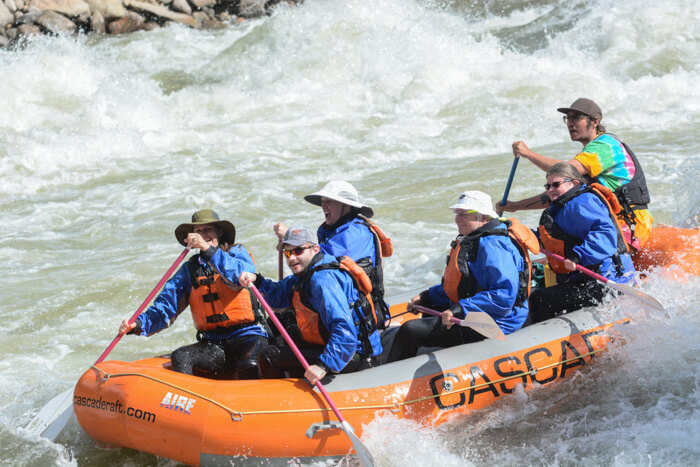 While visiting the city of Cascade itself, I wanted to take some time to explore and share with you what we learned.
Tackle Tom's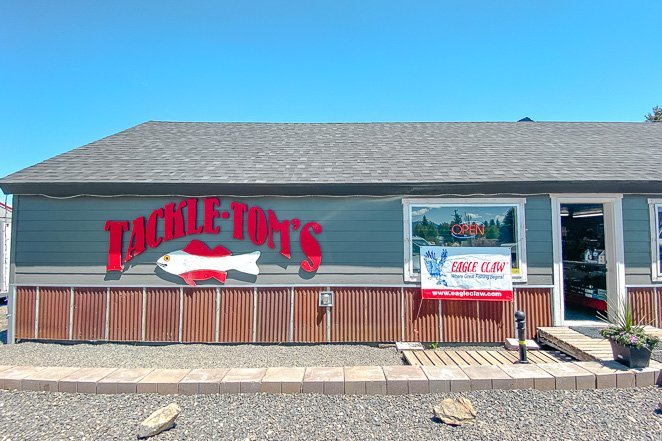 The first place we visited in Cascade was Tackle Tom's. We wanted to take the kids fishing and we needed to gear up and buy ourselves fishing licenses.
This was our first impression of the area, and the people were incredibly kind.
Tony appreciated how helpful and non-salesy the worker was who helped him understand what we needed. From which fishing pole to buy, what type of bait, and how to set his line in order to catch the rainbow trout that were in the lake near our campground.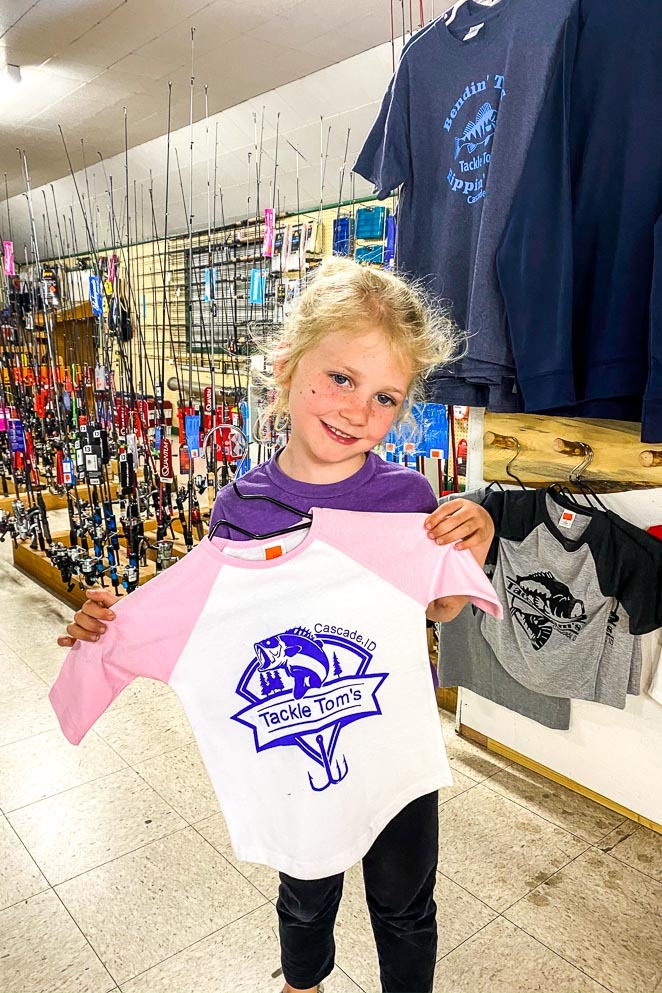 We met the new owner John during our second visit to Tackle Tom's, and learned a bit more about Cascade. He gave us a great suggestion to grab excellent coffee at the coffee stand in Watkins Pharmacy, which didn't disappoint.
Watkins Pharmacy – Dawson Taylor Coffee Roaster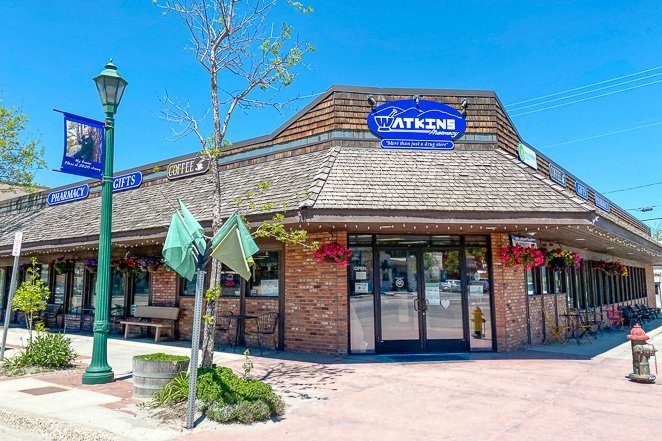 We drove a few blocks down to find Watkins Pharmacy and grabbed Coffee at the Watkins's Pharmacy 'more than just a drug store'. There was a coffee stand inside called Dawson Taylor Coffee Roaster, that made me a great Americano, and Tony had an excellent cold brew.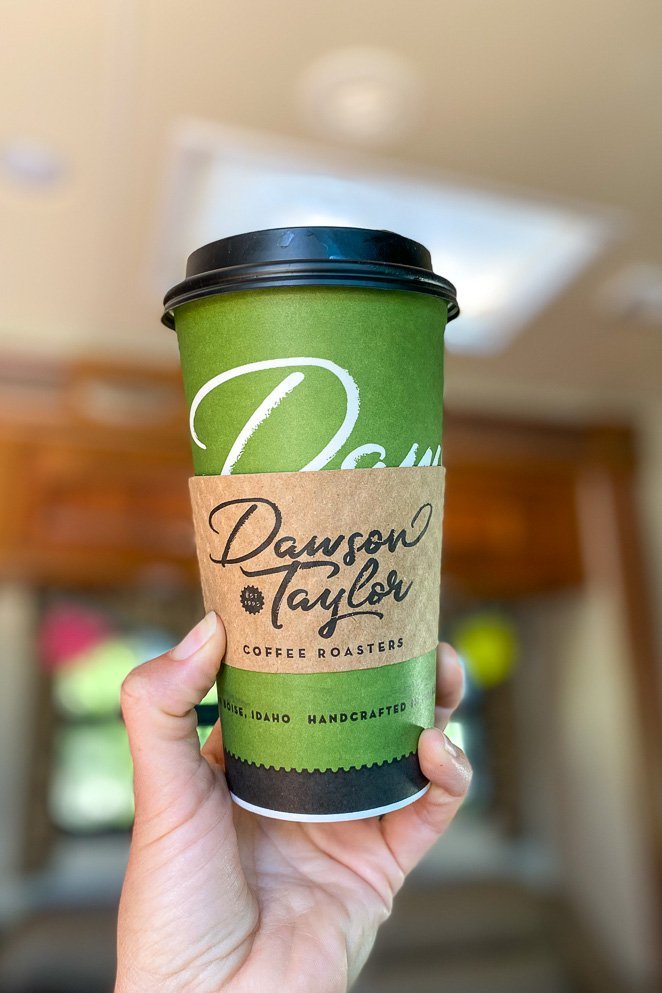 As my coffee was being made, I walked around and found this drug store to have many of the essentials most visitors would need. From souvenirs to band-aids and treats, they had a good assortment of things.
Armstrong Park and Playground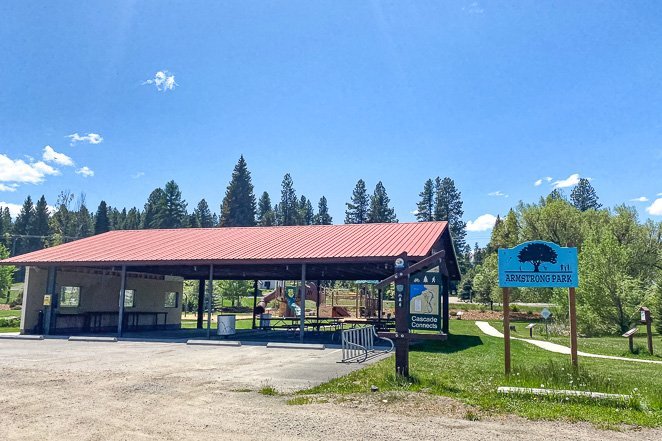 From Watkins Pharmacy we left and decided to drive around the small town of Cascade, Idaho to see if we could find a playground for the girls. We came across Armstrong Park and we were surprised to see a modern playground, picnic shelter, and bathrooms.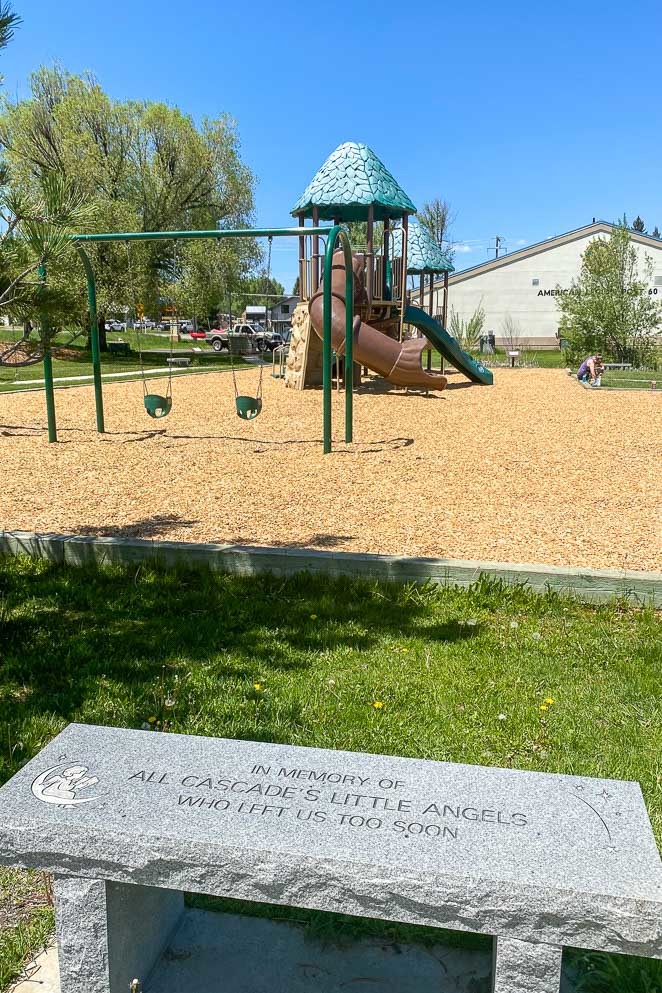 Jasmine got out to play for a bit while we took a few minutes to check it out.
D9 Grocery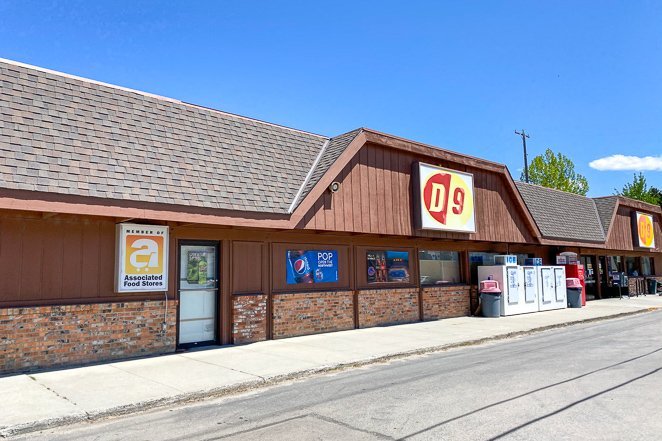 As we left the playground, we found the main grocery store in Cascade, Idaho. It's called D9 Grocery. It's a small-town grocery store but seemed to have all the essentials. We grabbed a few snacks, eggs, and even found firewood here.
The employees were kind, and overall it just felt so welcoming.
Lake Cascade State Park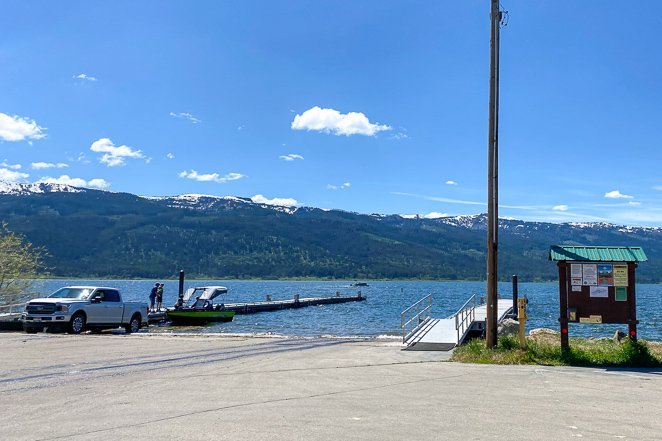 Once we left the grocery store, I asked Tony to drive to Lake Cascade, just a few miles away. We arrived at Lake Cascade State Park's campground Van Wyck Campground and boat launch area. The lake was beautiful!
We found a beach, camping, a boat ramp, and a beautiful view of Lake Cascade.
During our next visit to Cascade, Idaho we'll be sure to stop at the visitor center for Lake Cascade State Park and learn more.
Where To Stay In Cascade Idaho
If you want to go camping, there are many options for you in and around Cascade, Idaho. We love taking the kids camping.
On a quick glance through the city, we found a few options.
Water's Edge RV Resort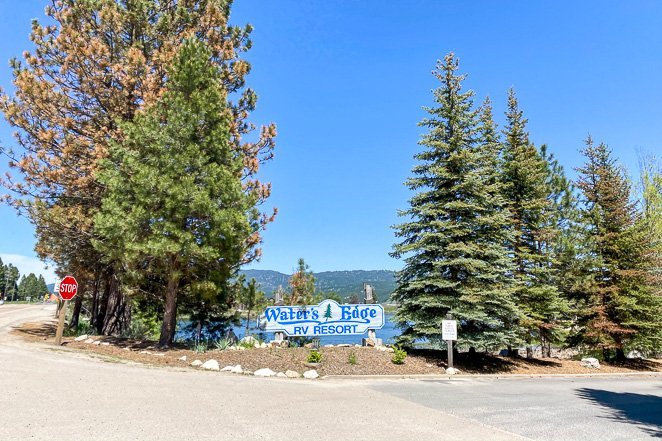 On the edge of the town, Water's Edge RV Resort is right off HWY 55. They have many full-hookup RV campsites to rent and offer SUPs, kayaks, a volleyball court, and a few cabins.
We hope to try staying here in the future to get a better feel of the place.
The Ashley Inn
I did a quick search online and found that the Ashley Inn is a 66 room Inn and boutique hotel in Cascade, ID. We drove by but didn't take the time to check it out.
Lake Cascade State Park – Van Wyck Campground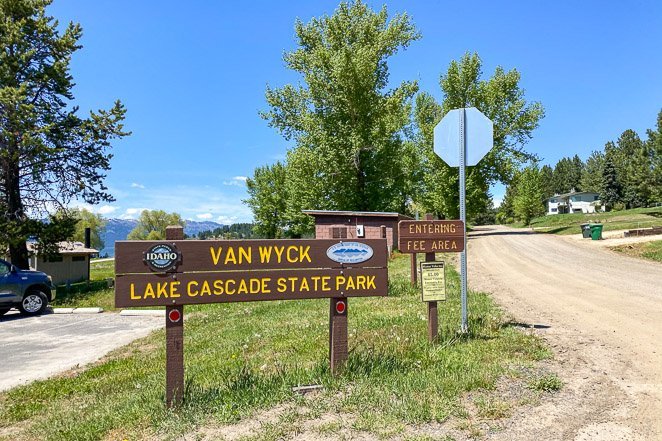 When we stopped at Van Wyck Campground, one of the many Lake Cascade State Park Campgrounds, I got out and spoke with the campground host. Larry was kind enough to give me some great information about the state park and the area of Cascade.
Van Wyck Campground is just on the edge of the town of Cascade and right on Lake Cascade. It is a first come first serve campground, and as we visited it was not near full. The sites were not very level, and I believe are all dry camping, but they do have fresh water and dump station on site.
I was excited to see families playing on the small beach at the campground and to see other families launching their boats off the dock.
A note to our full-time RV traveling friends. If you need cell signal to work online while you're staying in Cascade, you are covered. We had good cell signal with both ATT and Verizon when we stopped by Van Wyck Campground.
Additional Cascade Idaho Places To Check Out
A few places we saw from the van and would like to check out next time we visit are:
Lakefront Steakhouse and Grill
Cascade Golf Course
Cascade Aquatic And Rec Center
Kelly's Whitewater Park
We hope to go back and visit again next summer and plan check out some of these extras we didn't get to last year.
Additional Things To Do In Cascade Idaho (or near)
For simple, yet perfect ideas of extra things to do near Cascade, ID keep reading.
Look for Wildlife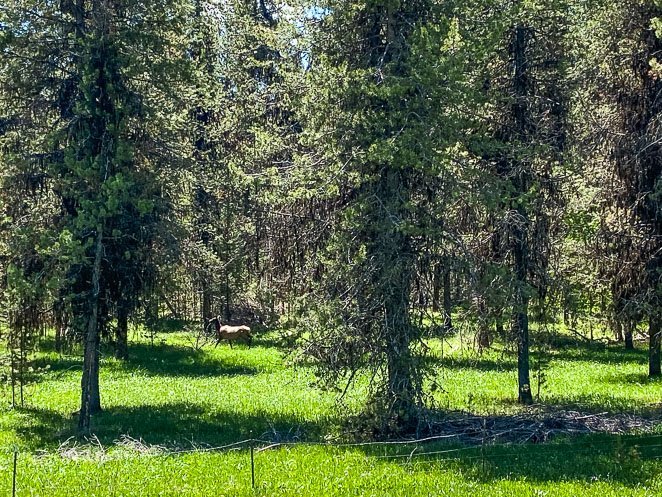 When we drove outside of the city of Cascade, we saw a beautiful Elk along the side of the road, Mule deer, many squirrels, and a few bald eagles.
Go Fishing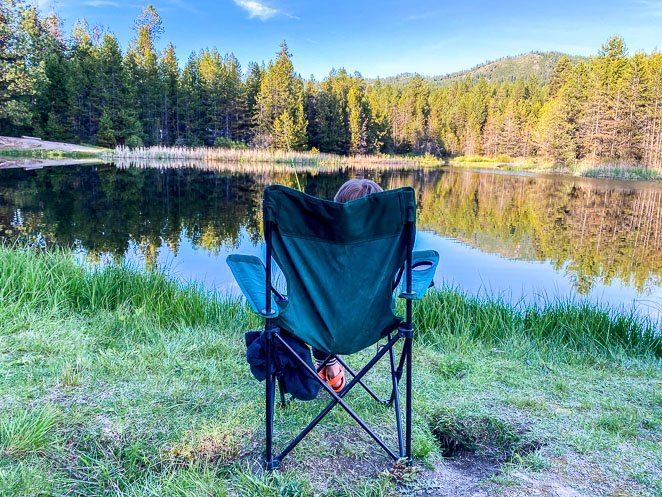 Lake Cascade, the Payette River, and many other areas nearby are great for fishing. Just stop at Tackle Tom's to ask for tips and advice and they'll take care of you.
Go Camping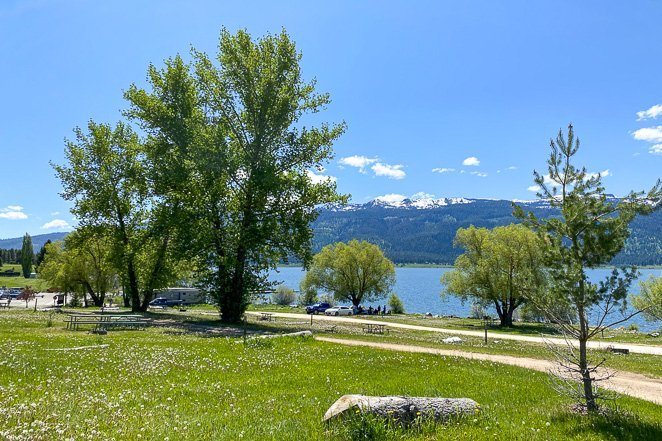 As I've mentioned earlier, Idaho is a great place to go camping. The Cascade area is perfect for tent camping or RV camping with many options to choose from.
Things To Do Near Cascade, Idaho
If you're planning an Idaho road trip from Boise, then once you've spent a few days in Cascade, you can drive just 45 minutes north on ID-55 to discover some fun things to do in McCall, Idaho.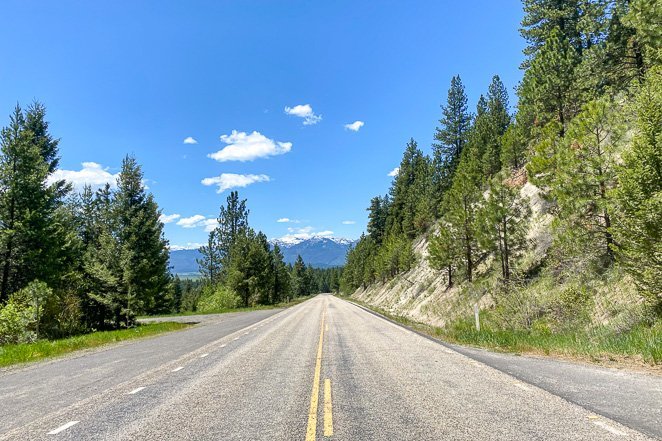 Or, plan to stay in or near Cascade and take a day trip to McCall, Idaho as we did.
We learned from Larry, the campground host at Van Wyck Campground that the best place to grab a good ice cream is Ice Cream Alley in McCall, Idaho.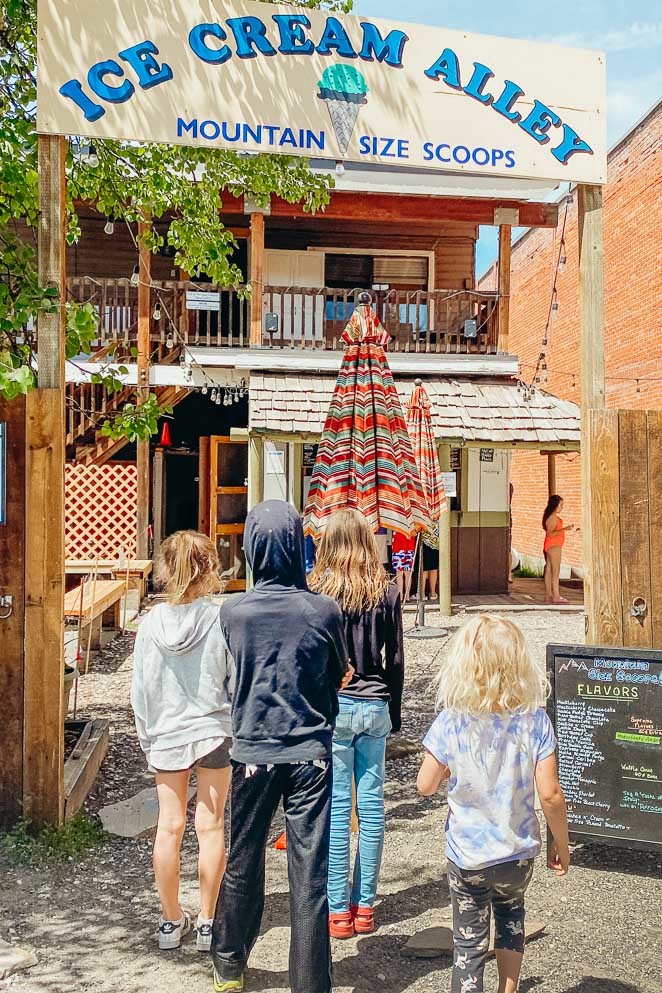 The ice cream portions are HUGE and you are just a quick walk to Legacy park and beach right on the shores of Payette Lake.
I can't wait to plan another trip up north so that we can stay in or near McCall and see more of what it has to offer.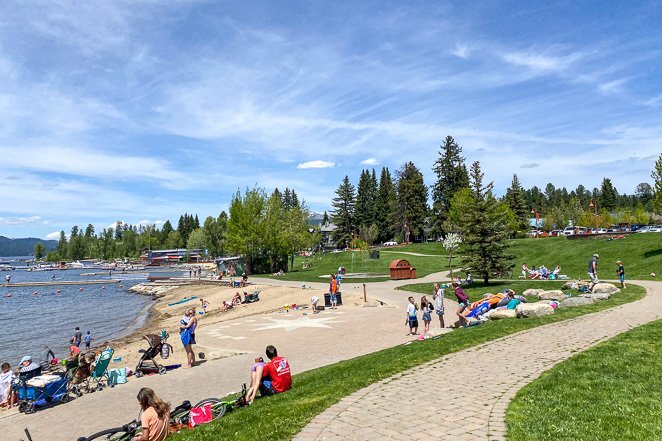 Our Take On Cascade, Idaho
I love that Cascade, Idaho is only a 2-hour drive from our home in Meridian, Idaho. The people are so kind, the views are incredible, and there are just enough amenities and things to do to plan a long weekend in Cascade. Our family will definitely be going back again soon.
Related Posts for planning a trip out West: