If there's something that keeps our group entertained, outdoors, and off of screens, it's playing one of the family games for outdoors listed below. Whether we're RV camping for the weekend, having a family dinner at home, or hosting friends over at our place, playing one of the outdoor games for families keeps everyone smiling.
The games listed below are different than toy RV campers or camping gifts for kids. Those are specific to children and not necessarily getting the entire family playing together like the backyard family games in this post. Instead, these are great outdoor games to play with the entire family.
Bonus! I've also added links to where you can purchase these games online.
If you want to know about these fantastic outdoor games for families, continue reading.
THIS ARTICLE MAY CONTAIN COMPENSATED LINKS. PLEASE READ OUR DISCLAIMER FOR MORE INFO.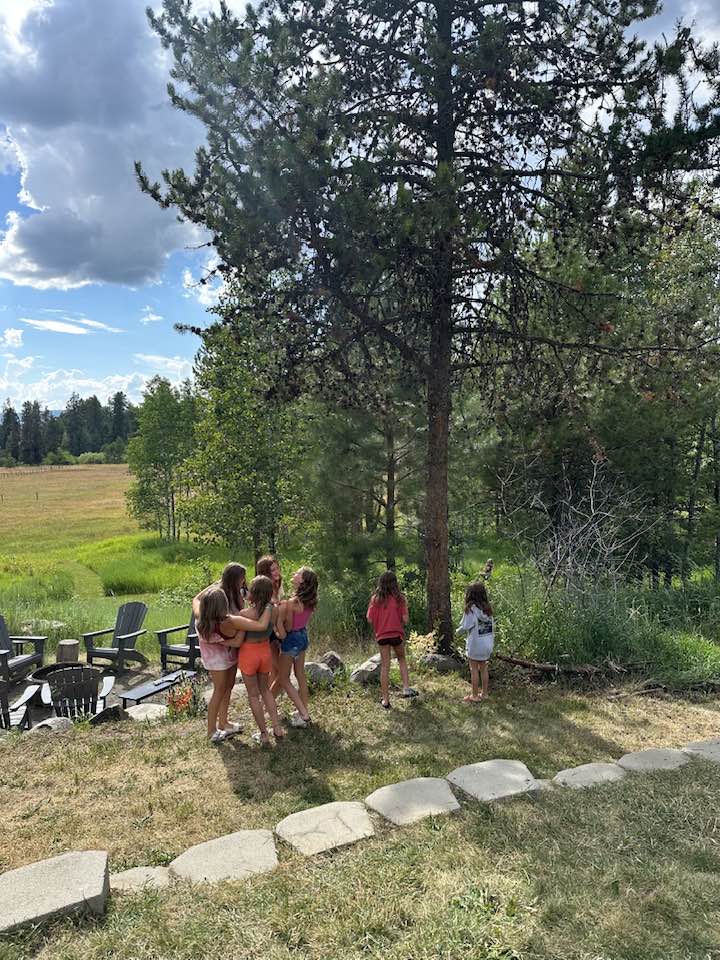 15 Fun Outdoor Games For Families
Disc Toss Game
One of the classic outdoor family games is the disc toss game. It's a game of throwing a Frisbee or disc back and forth. You can play the game with any number of people, but it works best with four players in two teams.
Using a beach ball instead of the Frisbee can make it easier for your younger kiddos. Plus, many other variations of this game make it even more fun.
Water Balloon Game
During the hot summer days, playing a water balloon game is the perfect way to cool off and an easy yard games for family. Buy these reusable water balloons to save on mess and make it quick and easy to fill them and reuse them!
To make it really fun, divide your family into two teams and set boundaries so the other team does not get wet. Then, have each team toss as many balloons as possible onto their opponent's side without crossing the boundary line.
Note, when filling up the balloons, fill each equally. Also, the less water in the balloons, the more difficult it is to pop!
Corn Hole – Bean Bag Toss Game
Bean bag toss is one of the most popular outdoor games for families. It's often called 'corn hole' and found at many Airbnbs, hotels, and people's backyards.
It's an easy game that everyone can play, and it gets even more exciting as the adults and kids become more competitive. All you need is this bean bag toss game set from Amazon!
Capture the Flag Game
Capture the Flag has been around for ages and is still exciting to play! It's an old-fashioned, fun family outdoor game that's great for any family gathering or just to play with your kids in the backyard or at a campground when trying to find some fun camping activities for kids. You only need to bring these flags.
To play, divide your family into two teams and place a flag on each side of the field or even forest. The objective is for each team to try to capture the other's flag without getting caught by members of the opposite team. You can also set up boundaries or obstacles if needed!
You can get this set of flags on Amazon, or you can DIY your own!
Giant Inflatable Bowling
A not-so-traditional yet fun outdoor family game is giant inflatable bowling. This game is perfect for all ages and a great way to get everyone together in the summertime. Think about a typical bowling setup, but this time with a giant inflatable bowling ball and pins.
It's easy to set up, and you can even purchase the set from Amazon! It's also portable enough to bring along when camping or on vacation.
Giant Jenga
Giant jenga is another classic game that's always been a hit in our family. This is one of the outdoor games for family time on our backyard patio while hanging out around our fire pit. Usually, Tony and I use our campfire accessories to stoke the fire while the kids play Jenga, but we've play with time a few times as well.
It is so much fun and will keep even the teens entertained. You can add extra twists, like guessing which color block would be pulled out or placing certain items on top of the stack as you build.
Tug of War
I know what you're thinking: this could be a dangerous game. But it doesn't have to be!
Before teaming up with a good rope, make sure there will be a balance of strength. You can also put a limit on the number of people who are allowed to join in.
If it's summer, you could play tug-of-war in a lake or pool! It'll be an epic battle of strength and strategies that'll keep everyone laughing.
Giant Tic Tac Toe
Who doesn't like tic tac toe? This is another one of the family yard games that can be adapted to a larger scale. This easy-to-store large Tic Tac Toe game is perfect to bring to a backyard BBQ or potluck.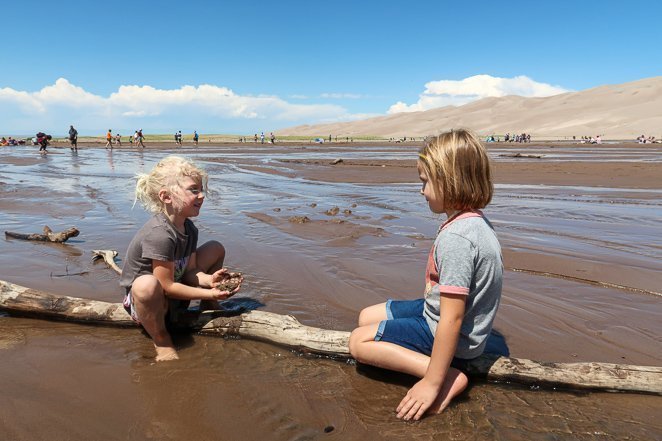 Water Slide Races
I recently found this slip and splash slide with 3 bodyboards, perfect for summer backyard family games ideas. Hook it up to your garden hose, and get ready to get wet.
Your kids will have lots of fun with this game as they race each other down the slide.
Portable Pickleball
Pickleball is becoming such a popular game to play not only for retired friends but for kids and families too. If you have a flat driveway, boardwalk, or access to an unused tennis court, then this portable pickleball net and set would be a perfect fame for your outdoor family.
It's becoming one of the more popular family outdoor games because it's competitive, yet easier to do than tennis.
Hula Hoop or Ring Toss Game
This is one of my favorite outdoor games for family time, as everyone can play. The ring toss game is simple for the littles and still keeps the older ones entertained.
You can make it more challenging by creating different levels of difficulty. For example, each level could be from a further distance away or include additional obstacles such as hurdles or walls.
Obstacle Course
Set up an obstacle course for the whole family in the backyard. All you need are some objects around the house, yard, or campground such as boxes, camping chairs, hula hoops, etc.
Or, if you want to go all out and have some trees in your backyard, you can get this ultimate ninja warrior course to set up and hang from your trees. Even your teens will love this!
Sack Race
Sack races are old-fashioned traditional games that everyone will enjoy. It's also an excellent way to get the whole family moving.
You'll need burlap bags or these fun reusable sacks made just for this game. Have everyone line up at the starting line and race towards a finish line! Adding obstacles along the way can make it even more fun.
Spike Ball
Have you heard of the popular Spike Ball game? It's a fun game that can be played with 4 people around the circular net on the ground. You spike the ball back and forth, a bit like volleyball, but downward. Many families and teens play it at the beach, but it's a great backyard game.
Scavenger Hunt Game
When our kids were young, they loved going on scavenger hunts! I've written this Disney Scavenger Hunt Clues blog post because it was so much fun to surprise them about our upcoming Disney trip using a scavenger hunt.
This outdoor fun family games is perfect for any age and can be played outdoors and indoors. What's great is that you can customize it however you like! All you need is a list of items and a time limit. Then, your kids will be off running around to find all the items on the list within the given time.
As parents, be creative with it and make it educational, too. You can even get crafty by making a list of items that have certain shapes or colors.
If you're looking for more outdoor game ideas, consider checking out our list of outdoor camping activities for kids blog post. We've included a whole selection of fun activities for all ages, so you're sure to find something for family!
Let us know your favorite game to play with your family outdoors! We'd love to hear from you. Have fun playing, and stay safe, everyone!