Are you ready to pack up your car or RV and go on a fun camping trip with the family? Here are our best camping activities for kids so they actually have a good time outdoors!
My family loves to go camping, and it is one of the reasons why my kids love the outdoors so much! Our camping trips are never dull and boring.
We don't stay in the tent or sit on our camping chairs all the time. Instead, we create new and fun experiences so that the kids will enjoy and gather unforgettable memories they can always look back on.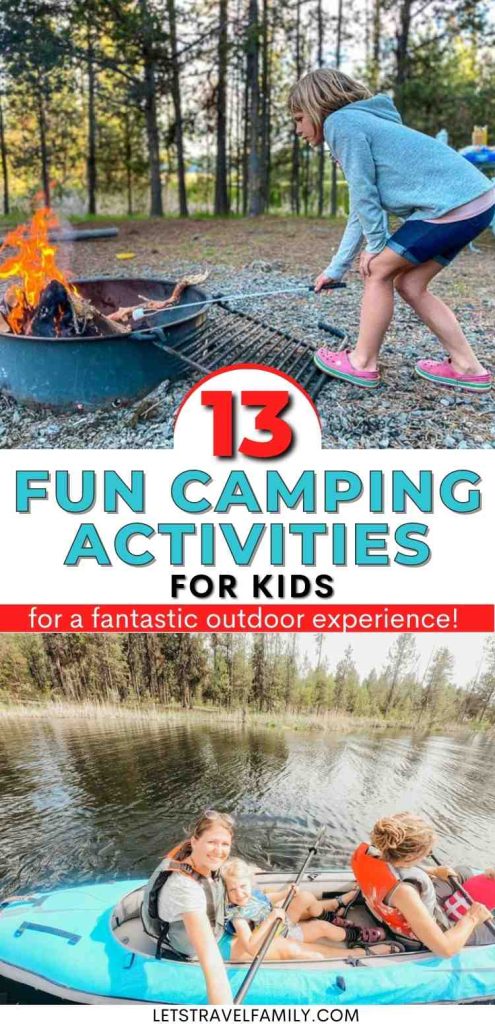 So what are the best things to do while camping with kids?
There are tons of them! Depending on your kids' ages and interests, I have listed down below proven and tested kids' camping activities that are sure to keep them busy and happy.
THIS ARTICLE MAY CONTAIN COMPENSATED LINKS. PLEASE READ OUR DISCLAIMER FOR MORE INFO. THIS POST WAS WRITTEN BY JILL GREISING-MURSCHEL, A FAMILY TRAVEL AND RV LIVING EXPERT.
Fun Camping Activities for Tweens and Teens
Teens and tweens are often glued to their phones, so having a fun day outdoors should help them unplug and live in the moment. Here are some of the fun activities for your tweens and kids to enjoy on your next camping trip:
1. Make them cook at least one meal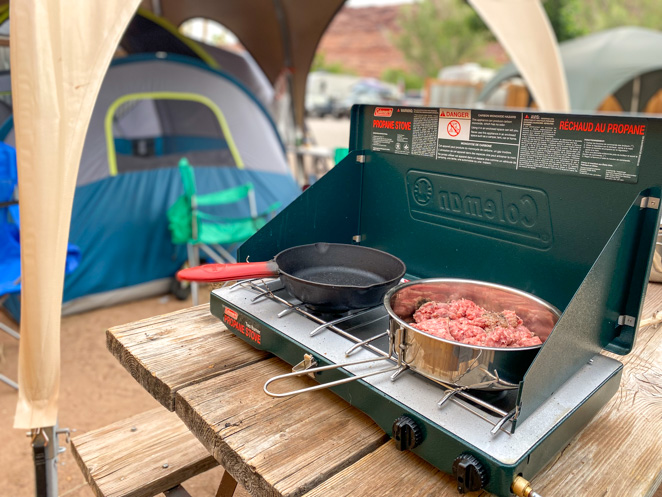 Cooking at home is so different than when cooking while camping. It is a great learning experience for tweens to actually learn how to cook over a real fire, even if it's just a simple dish. I love that this task gives them a sense of responsibility and involvement, and cooking is a life skill that I want kids to learn at an early age.
This can be so much fun for both teens and parents as there are many camping recipes that you can cook over an open fire. There are camping dessert recipes, breakfast, dinner, lunch, and even snack recipes that you can try out. Of course, it is best to do a little bit of research beforehand so you know which recipes the whole family will enjoy.
2. Organize a scavenger hunt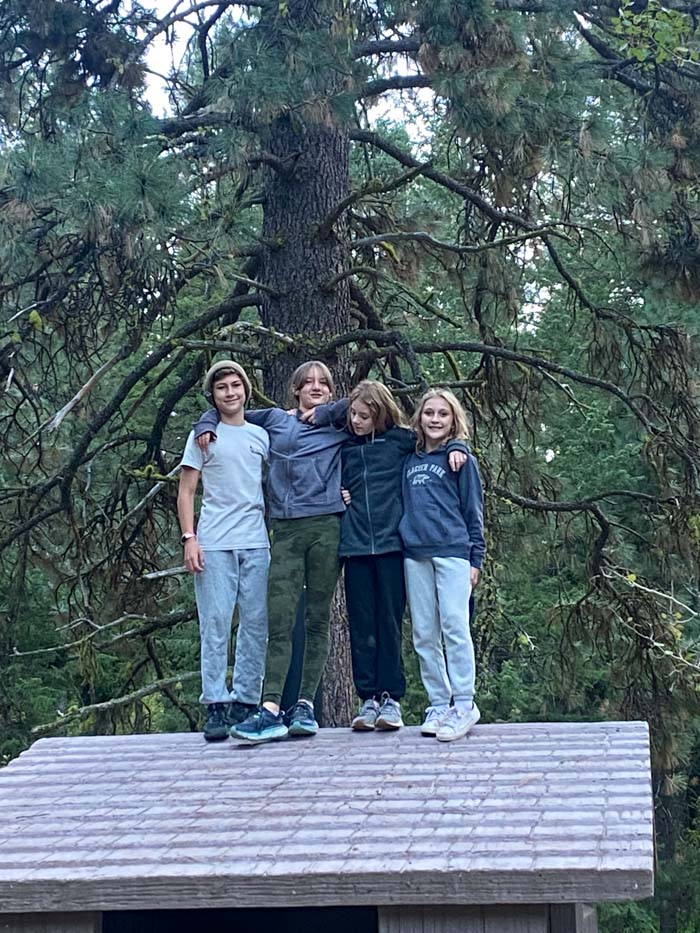 Tweens and teens love exciting adventures, and a camping scavenger hunt is a great way to engage them. You just need to look around your campsite and create a list of things they need to hunt.
You can even make this a team activity and have them divide up into pairs so that they can share their observations and ideas. Also, a lot of fun camping games can be done while doing a nature scavenger hunt! To make things a little bit more thrilling and competitive, we'd set out nature gifts as rewards to the winners.
Related post: Family Games For Outdoors Everyone Will Love
3. Enjoy water activities.
If you are camping near a body of water, say a lake or river, then your tweens would love getting on some wet adventure. There are many camping water activities that they will love, such as paddle boarding or kayaking. Honestly, some of the best kids camping gear are those that keep them active and smiling, so bring a paddleboard along. If not, going for a swim is always a good idea!
Not only that this activity is fun for your tweens and teens, but this can also be great exercise for them. Plus, camping near a lake or river is always perfect if you are looking to cool off on a hot summer day!
If you haven't done camping before, you can definitely add this to your next family camping trip!
Best Things to Do While Camping With Kids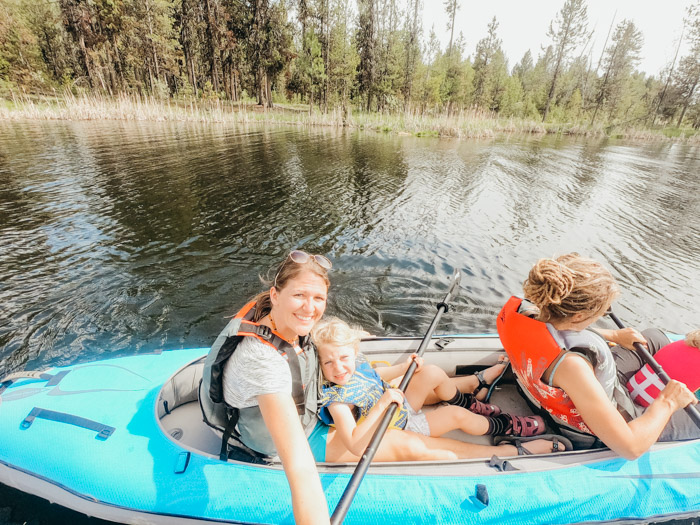 There are plenty of camp activities for kids that are fun, engaging, and appropriate for all ages. If your kids are between five and twelve, these kids camping ideas will surely keep them busy and happy:
4. Go on a short hike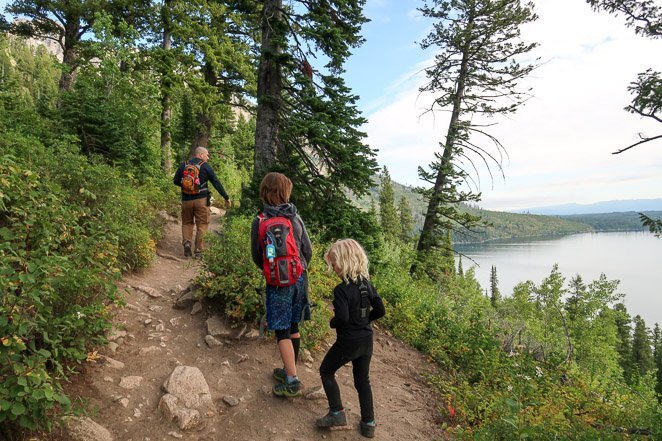 The best way to immerse young kids in nature is to have them truly experience it. Going on a hike is definitely an amazing experience, allowing them to savor all the sights and sounds around them. Kids at this age are naturally curious, so they'll be delighted to discover something new, whether it's a critter or plant they've never seen before.
Along with your nature walk, you can also teach them about camping safety, especially if you are going camping for the first time. Be sure to point out some potentially dangerous camping hazards, like low-hanging branches or poisonous plants, that they need to be aware of.
5. Build a campfire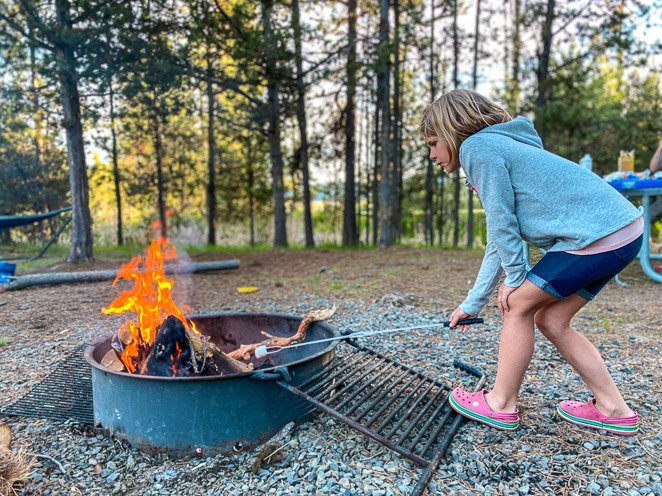 Kids like to feel involved, so letting them help build a campfire can be one of the best kids camping activities. For one, you could ask them to collect branches and twigs that you'd use to build the fire.
If you bring the best camping gear for families, then you'll be all set to cook over the fire.
You could challenge older kids to light up the fire, which is an essential survival skill they need to learn. You can even let them borrow one of your cool camping gadgets to help get the fire going such as this electric fire starter. Just make sure to have adult supervision for any fire-related activity kids would get involved with.
6. Make s'mores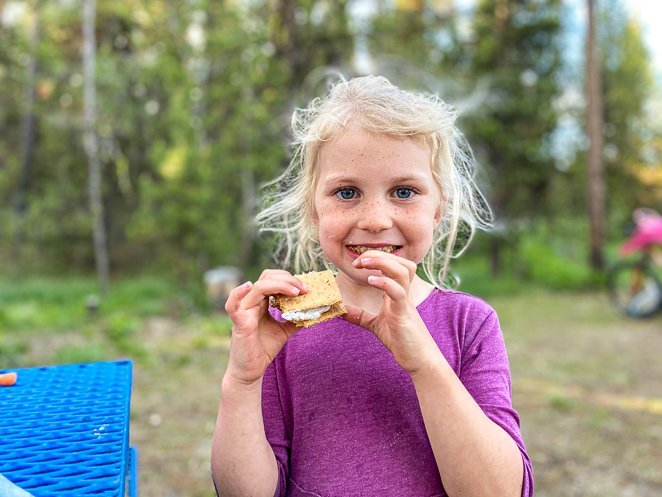 A kid's camping experience is never complete without him making s'mores at one point or another. With that said, don't forget to pack up marshmallows to bring to the campsite. After building a campfire, this is the next obvious activity, but they could also do this over a grill or fire pit.
7. Kid's camping games
Camping games for kids definitely elevate their outdoor experience. With the right tools and some creativity, these games will exhaust your kids' energy and entertain them for hours!
Our top-recommended kids' camping games that are easy to set up and require zero to little supplies are:
Water bucket relay
The Flashlight game
Top Camping Activities for Toddlers
Toddlers feel excited about the outdoors. Suddenly, they have this massive space they can walk, run and play around. But they get bored doing a single activity for a long time, so it's important to pack up your arsenal with these fun camping activities for toddlers.
8. Rock painting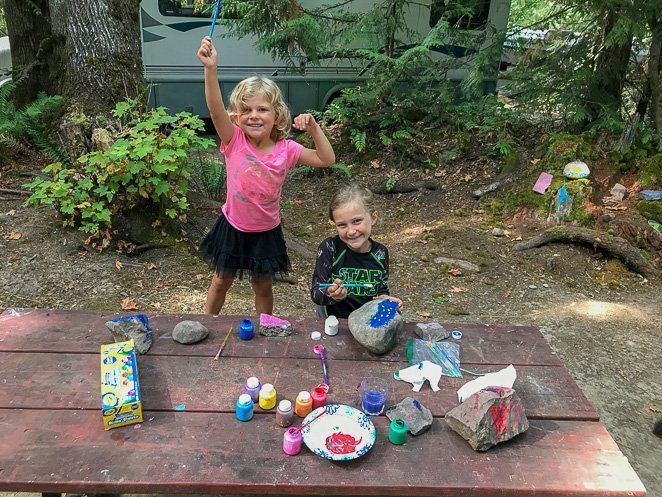 Painting rocks is one of the best toddler camping activities. You can add fun camping crafts to this activity with the help of crafty camping essentials or a rock painting kit. You can turn rocks into camping-themed face paints, or your toddler could paint camping landscapes.
This camping activity is also a great way to encourage their artistic side. All you need to do is bring some paintbrushes and washable paint and let your toddlers paint to their heart's content.
9. Make a nature collage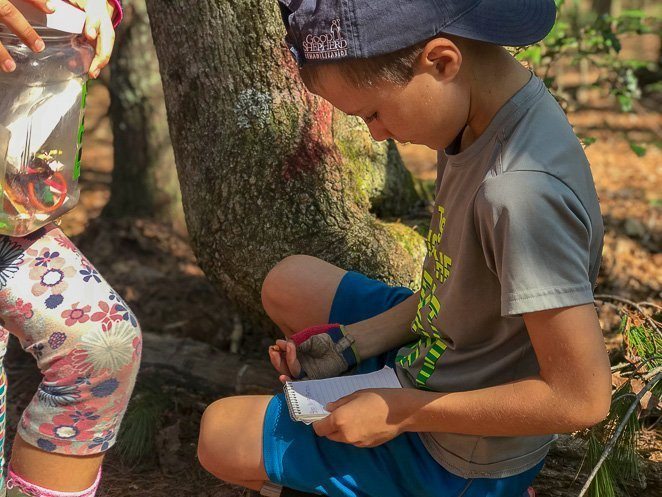 Encourage your toddlers to explore their surroundings more by challenging them to pick up bits and pieces of objects they're most interested in. These could be a few pieces of twigs, fallen leaves, a colorful flower, etc. Help your toddler put those objects on contact paper to form a collage. You can bring the collage back home and have it framed as a keepsake.
10. I Spy game
The I Spy game is a fun idea to play during camping, as it encourages your toddlers to explore their surroundings. It is fun, educational, and doesn't require anything. All you need to do is spot an object around you, describe it to your toddler, and he guesses what it is. This simple game helps improve your toddler's analytical, social, and language skills.
Best Camping Ideas for Families
Camping is a family affair for us. It's one of the things that keeps our strong bond with each other. We brainstorm various family camping ideas and switch things up a bit on each camping trip to gain new family experiences.
11. Start a bonfire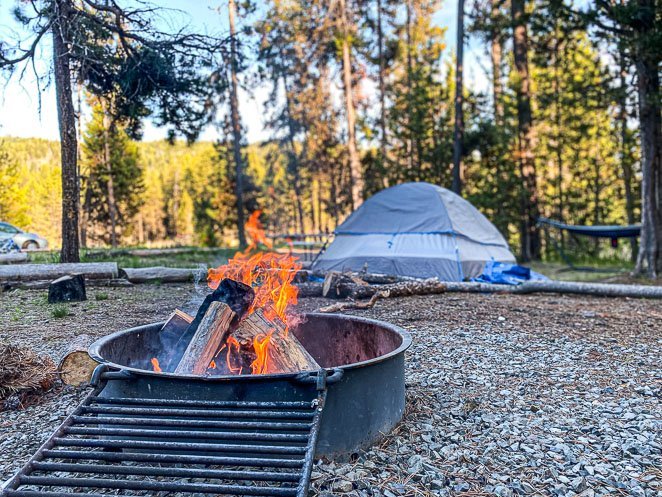 One of the best ways to chill and relax after a full day of camping games and activities is to gather around a bonfire. You could play camping games for families while you're all sitting down, like the Name Game or the Telephone Game. If you're in the mood for some music, bring out the guitar or harmonica and sing your family's favorite campfire songs!
12. Stargazing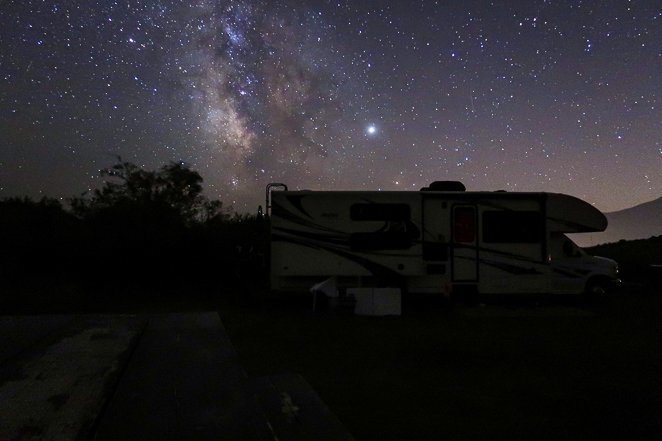 We like to stay up on a clear night and go stargazing. It's a relaxing way to spend time in each other's company after all the camping activities we've had during the day. This is also an excellent time to educate kids about the stars and constellations.
13. Play Cards
We never forget to pack our cards on all of our camping trips. Playing cards is a fun and easy way to pass the time, especially when you're all cooped in the tent while it rains outside.
Honestly, one of the simplest camping activities for kids is playing a game of cards.
Additional Camping Activities
There are a lot of great ideas that you can do with the whole family, depending on the facilities you have at your campground and the ages of your kids. You could compete on an obstacle course or play a game of tug of war if you want to release some pent-up energy.
But if you want it to be more chill and relaxed, consider reading a book in a hammock or playing some board games.
Either way, don't be afraid to explore new things. Even if it's your first time camping, find a way to relax and enjoy the time together. Each camping trip offers a new experience and is best spent with the people you love.
Inspiration On Where To Go Camping
Need some suggestions on great destinations to take your kids camping? Check out these top destinations in the USA.
Camping In Glacier National Park With Kids
Camping in Grand Teton With Kids
Visit McCall Idaho and Go Camping
Camping Near Rocky Mountain National Park
Camping Gear You'll Want
Be sure to have the right camping gear along for your trip. What you bring all depends on if you will be RV camping or tent camping. Here are few helpful posts to make sure you have the right camping gear.
Best Portable Propane Fire Pit for Camping
Best Camping Utensils
30 Must Haves For Camping
Best Dutch Oven for Camping