Looking for the best fire pit accessories? Whether you're camping, fishing, or just hanging out in the backyard, nothing beats gathering around a crackling fire and sharing stories with friends and family.
To get the most out of your campfire, you need the right campfire accessories for the job. I always think of a good fire pit as the centerpiece of outdoor gatherings. The right fire pit accessories can add ambiance and convenience, boost safety, and make your overall campfire experience so much fun!
With that, I've rounded up my favorite outdoor fire pit accessories that are sure to be a hit and help you make the most of your next night by the campfire. Keep reading to discover the best fire pit accessories for any campfire enthusiast!
THIS ARTICLE MAY CONTAIN COMPENSATED LINKS. PLEASE READ OUR DISCLAIMER FOR MORE INFO.
Best Fire Pit Accessories for Your Backyard
Not everyone goes camping, and I totally get it. It takes extra work to pack up a car to go tent camping or hitch up your RV and tow it to a campground before you set up a fun campfire.
That's why I love having a fire pit in my backyard. It makes it easy for me to enjoy an evening around the fire without having to leave home. Adding in some fire pits accessories is a great way to customize it and make it your own.
For backyard fire pits, here are some of my favorite accessories for outdoor fire pits.
Outdoor Wood Patio Chair
Your backyard fire pit is the perfect place to relax and enjoy the warmth of a crackling fire. Having an outdoor wood patio chair or two around the fire can make it even more enjoyable.
Make sure you choose chairs that are specifically designed for outdoor use, as they are usually more weather-resistant than indoor ones.
Outdoor Solar Pathway Lights
Ensure you light up your backyard fire pit area; outdoor solar pathway lights are an excellent way to do it. You can install them around the perimeter of your fire pit area, illuminating the space and allowing you to stay safe at night.
Solar Outdoor Wall Mounted Lights
If you want something more decorative, go for this type of outdoor lighting. Solar outdoor wall mounted lights come in many shapes, sizes, and styles. This one from Amazon is a great pick for your fire pit area.
Adjustable Folding Utility Table
This Lifetime Foldable Utility table is a favorite of mine and is listed as the best camping table in our detailed post. It's just so useful! This table can be adjusted to different heights and angles, making it easy for you to prepare food and drinks right next to the fire. It's made of high-quality plastic, so it's lightweight and can withstand wet conditions.
Fun Campfire Accessories for RVing or Camping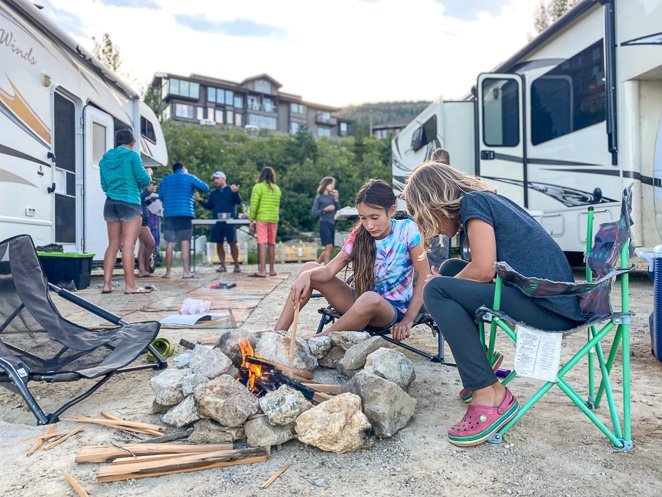 Planning to go tent camping or RVing and building an awesome bonfire? If you plan to camp where there isn't a firepit provided for you, then consider grabbing the best portable fire pit for camping and bringing your firepit with you!
Campfirefire Starter
If you want to make your fire-starting process a lot easier, then this Campfire fire starter is just what you need. These handy firepit tools will help you light your fire quickly and safely, so you can enjoy your campfire faster.
Portable Folding Camping Chair
If you love camping or RVing, then having a comfortable seat is essential. This hammock camping chair swings and still folds up nice and small for ease of storage. Grab two of these to have around the fire.
Insulated Portable Cooler
If you're heading outdoors, then you'll need a good cooler to keep your drinks and food cold. This Insulated Portable Cooler from Coleman is perfect for camping, as it's heavy-duty, leakproof, and well-insulated to keep your drinks cold all night.
Camping Hammock
What better way to end the night around the fire than with a nice camping hammock. This Covacure Camping Hammock is your perfect companion for camping and outdoor adventures, as it is lightweight, easy to set up, plus it has a net to keep the bugs away.
Top Fire Pit Cooking Accessories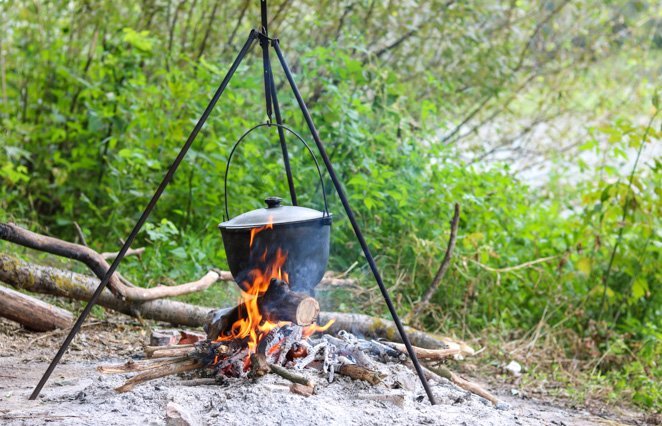 If you plan to do any cooking while camping, you'll want to have a few of these fire pit cooking accessories below. Even if you plan to do some RV cooking in your motorhome on a trip and create a few easy RV meals, you may still enjoy cooking dessert over the campfire. That's why these campfire cooking utensils and accessories could come in handy.
Foldable Campfire Grill or Grate
One really tiring part of fire pit cooking is holding your food over the heat. I'm guilty on that part and would rather have my hands free. That's why I always recommend having a foldable campfire grill for your campfire cooking gear. This one from Amazon is perfect for that, as it's lightweight and collapsible for easy storage.
Or, consider grabbing this unique campfire cooking grate that is perfect for grilling chicken or roasting potatoes over the fire.
Stainless Steel Smores Sticks
A favorite part of cooking over the fire pit is roasting smores. You'll need this campfire cooking tools set of marshmallow smores sticks! Our kids love using these, and they help us keep a safe distance from the fire.
BBQ Grill Gloves
If there's something that can make me nervous about fire pit cooking, it's getting burned by hot pans, flames, or coals. That's why when I found out there was such a thing as BBQ grill gloves, I had to have them. Now I can worry less about safety and enjoy the delicious food.
Cast Iron Camping Dutch Oven
Who says you can't make soups, stews, and even bake bread in your fire pit? Well, you can! You just need one of the best dutch ovens for camping to do it. This dutch oven is my top pick! It's one of the perfect fire pit accessories for cooking if you want to cook your food in the fire, and it's made of durable cast iron for long-lasting use.
Must-Have Outdoor Fire Pit Tools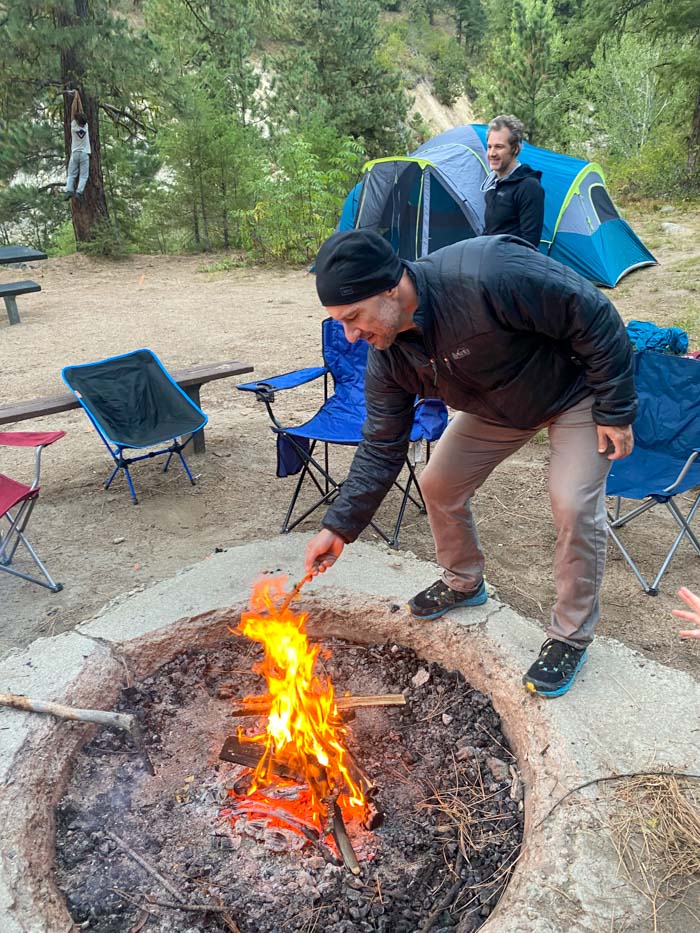 When building a campfire, you'll need more than just the best camping accessories. So let's jump into some outdoor fire pit tools that can help you keep the pit clean and organized.
Outdoor Campfire Fireplace Tongs
To avoid accidents, a pair of outdoor fireplace tongs can help you safely move logs around your fire pit. These are made of stainless steel and are designed to be heat resistant.
Fireplace Log Holder Folding Firewood Rack
If you have a lot of logs to store near your outdoor fire pit in your backyard, then a log holder is an absolute must. This folding firewood rack holds your wood neatly and safely, so you don't have to worry about them rolling away.
Butane Long Lighter Torch
To easily light your fire use this butane long lighter torch. This is one of the bonfire tools that are great to have on hand for backyard pits or camping firepits.
Long Fire Poker Stick
Another great fire pit accessory is a fire poker stick. This is long enough to keep your hand away from the fire while still allowing you to move your logs around.
Fire Pit Gifts For The Outdoor Lover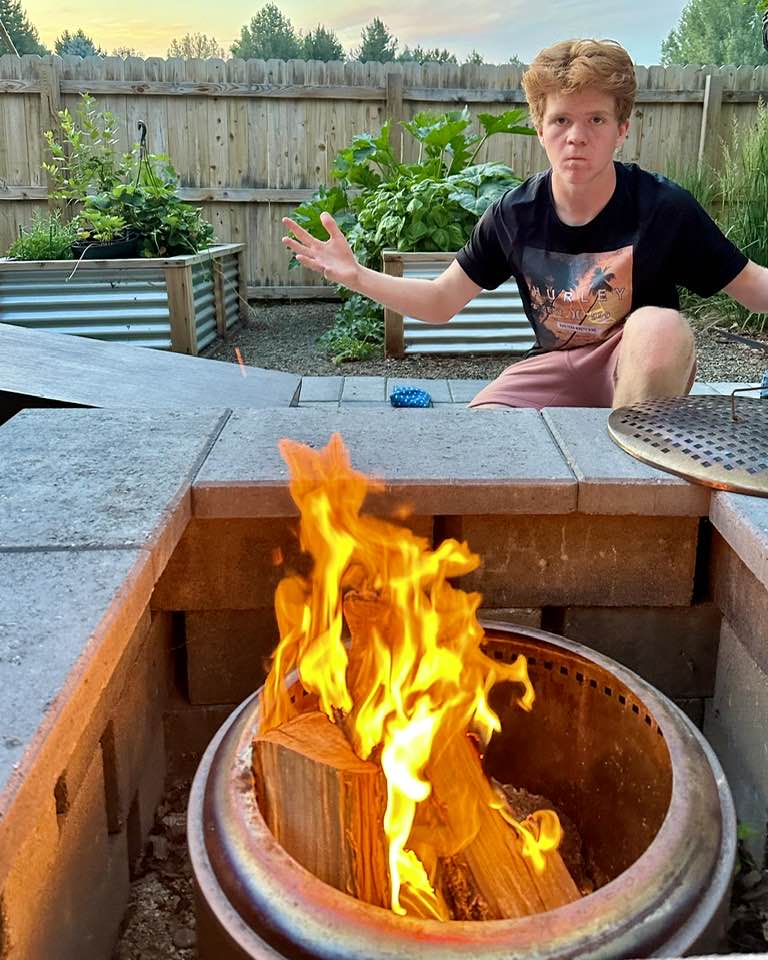 What makes great fire pit gifts for the outdoor enthusiast in your life? Besides checking out the best camping gifts for couples, here are a few great fire pit gift ideas!
Fire Pit Pullover Hoodie
This Fire Pit Pullover Hoodie is a cute and thoughtful gift idea that will keep them warm and cozy around all their future fire pits.
Fire Pit Accessories Gift Set
If you are looking for unique fire pit gift ideas that are sure to please any outdoor lover, then this fire pit accessories gift set is perfect. It comes with some of the essential tools for a fire pit, such as fire tender tongs, a log poker stick, and more! It's the perfect set of gifts for fire pit lovers.
That's it for fire pit accessories! I hope you find these ideas and tips helpful when planning for your own outdoor fire pit area or camping bonfire. Now, if you need some more inspiration to get outdoors with a bit of luxury, check out our list of the best glamping accessories.