Kids like to play make-believe games that involve what the adults in their lives are doing. In RVing families, this means there are lots of pretend camping trips where toy RV campers are used. The perfect gift idea for such games? An actual toy RV, of course!
In this article, we will take a look at some of the best toy RV campers on the market, as well as some other toys that work well for RV families. Take a look through this list, and by the end of it you should have some awesome ideas for birthdays, the holidays, or any other event that calls for gifts for your RVing kiddos!
THIS ARTICLE MAY CONTAIN COMPENSATED LINKS. PLEASE READ OUR DISCLAIMER FOR MORE INFO.
Super Fun Toy RVs
We'll start with a list of the best camper toys on the market right now. These RV toys are great for playing with at home, but many of them are also ideal for RV living.
Green Toys RV Camper Set
We love that Green Toys are made from recycled plastic, making them a better option for the eco-conscious parents out there. Besides that, this Green Toys RV camper toy with a truck, boat, and more is beyond adorable for toddlers and preschoolers.
Barbie 3-in-1 DreamCamper
Have a Barbie fanatic in your house? This Barbie 3-in-1 DreamCamper is basically the camper we all dream of owning.
The only problem? This toy RV camper is ironically a bit large for RV living. If you plan to keep the toy in your RV, you might consider the Chelsea Camper Playset instead.
Little Tikes RV Camper
Okay, so this Little Tikes RV camper tent is just too amazing not to include in our list. It's lightweight, folds flat, and pops up quickly for outdoor playtime, meaning you can easily take it on RV trips with you. This is great because it gives your kids their own little spot on your campsite.
KidiRace Remote Control RV
Older kids who like a good remote control vehicle are sure to appreciate this KidiRace Remote Control RV camper toy. The thing even has working headlights to help your tiny driver see to park their rig if they arrive after sundown.
Playmobil Camping Mega Toy Set
Playmobil sets are just too awesome, and this Playmobil Camping Mega Toy Set is no exception. We love that the set can be enjoyed by a broad range of ages, and the attention to detail is just extraordinary. I mean, check out all those super cool accessories!
Fisher Price Little People Light-Up Learning Camper
Another super cute toy camper trailer? The Fisher Price Little People Light-Up Learning Camper. This set is perfect for little ones who like to play camping games. It features lights, music, and fun accessories like a campfire and kayak.
LEGO City Great Vehicles Holiday Camper Van Set
LEGO has a lot of great toy RVs out there. One of our favorites is the LEGO City Great Vehicles Holiday Camper Van. The set allows kids to build a tiny, fully furnished campervan all on their own. It also includes a couple of adult minifigs, a baby minifig (so cute), a camp stove, food items, and even a carrier for the baby so mom and dad can go hiking!
Step2 Adventure Camper Playhouse
Last on our list is the Step2 Adventure Camper Playhouse. No, this isn't a toy you can actually take camping, but it is perfect for those kids who like to pretend they are camping between RV trips.
This RV toy playhouse comes equipped with a sink, a stove, an outdoor grill, and more counter space than many real RVs!
Related post: Family Games For Outdoors Everyone Will Love
More Great RV Toy Ideas for RV Living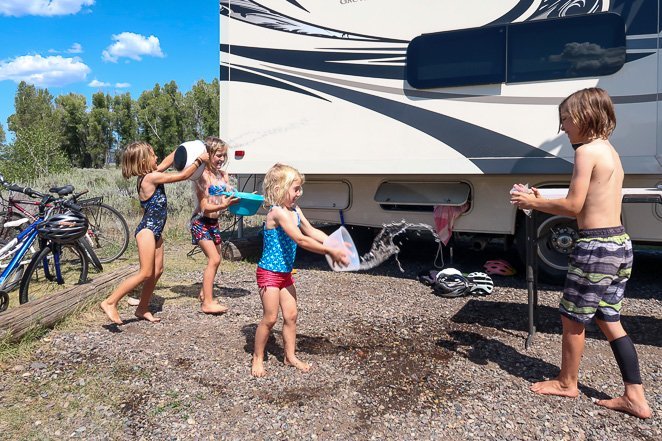 Wondering what other sorts of toys you might take in your RV to keep the kids busy if you're trying to prepare for RV living full time with kids? Obviously, you can't take it all, which means you have to get picky.
We recommend taking 1) toys that are open-ended and versatile, 2) toys that can be used outdoors, and 3) small toys that can provide hours of imaginative play, giving you lots of bang for your buck.
Here are our top picks for RV toys.
Related: 17 Best Nature Gifts for Kids who Love the Outdoors
LEGO Bricks
The perfect open-ended toy, LEGO bricks are small, easy to store, and can be absolutely anything your kids can dream up. Older kids can use traditional bricks, but if you have toddlers or preschoolers, you might want to consider LEGO DUPLO instead.
Playmobil
We love Playmobil! The sets are small enough that they are easy to store, and there are enough sets out there that you can create a whole little world, encouraging imaginative play. We also like that adding to our Playmobil set doesn't take up that much more storage space, so changing things up is easy.
Little People
Of course, a toddler can't play with Playmobil. What do we recommend for them instead? Little People! Like Playmobil, Little People are small and easily portable, and there are tons of different sets out there, meaning lots of opportunities for expansion.
Play Silks
Play silks are quite possibly the most versatile toys on the market. They can be a beautiful dress, a winter coat, a river, or a doll blanket. The possibilities are endless, making play silks an RV play area staple.
NERF Guns
In campgrounds, NERF wars are among the most popular games kids play. For this reason, we highly recommend keeping one NERF gun per kid and plenty of darts on hand. This will ensure your kids can join any NERF game they happen across, helping them make new friends as you travel.
Related: 25 of the Best Camping Gifts for Kids
Travel Games
Board games are always a great thing to have around and are some of the best camping activities for kids. They are perfect for travel days, and family game nights are always a good time. We recommend travel versions of your favorite games for easy storage and less weight.
Outdoor Toys
Finally, you will want to pick up some outdoor toys for the RV. A frisbee, a ball or two, sand toys, jump ropes, sidewalk chalk, and bikes are all great options that will encourage your kids to play outdoors.
Whether you're looking for toys for your RV or literal RV toys, we hope this list helped you find that perfect something for the RVing kids in your life. Now go have some fun!