This guest post was generously contributed by Jessica. She and her family live in the mountains of Utah where they love to explore and adventure together. She is the creator of Kids Camping Tips, a website dedicated to helping families get out and enjoy camping more together.
As a kid, I grew up always camping in a tent. We would load up the family van to the top with all our camping gear and painstakingly find and set up our camp in the "perfect" place. My husband grew up differently. His family owned a camper trailer and they would spend their summers hopping around from place to place with the camper behind them all the way. Both were very different ways to camp, but we both absolutely loved our experiences.
Today, our family of 7 does a combination of both types of camping. We started out tent camping when the kids were little, and recently bought an RV, and we truly love both types of camping. If you're trying to decide if it's better for your family to camp in a tent or in an RV, we've put together a list of things for you to consider.
THIS ARTICLE MAY CONTAIN COMPENSATED LINKS. PLEASE READ OUR DISCLAIMER FOR MORE INFO.
What Does Tent Camping Look Like?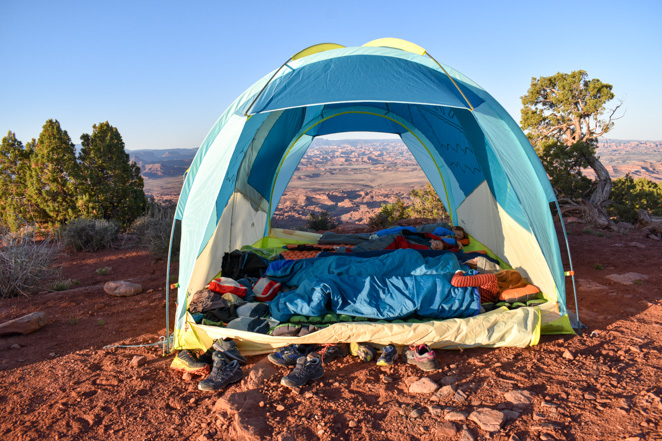 Tent camping is basically what it sounds like – camping with your family in a tent. When you sleep in a tent, you'll likely be in a sleeping bag and sleeping on top of cots or an air mattress.
Most tents have just one room, though large tents sometimes have a divider to create two rooms. Tents don't have electricity, plumbing or heating, so you may feel a lot more like you're roughing it.
When you are tent camping, you'll always be cooking and eating outside, so you'll get a lot of time out in nature. If you need to use the bathroom, you'll need to use what's available at the campground you're staying in or use nature. Showers will only happen if you're staying at a facility that offers them.
What Does RV Camping Look Like?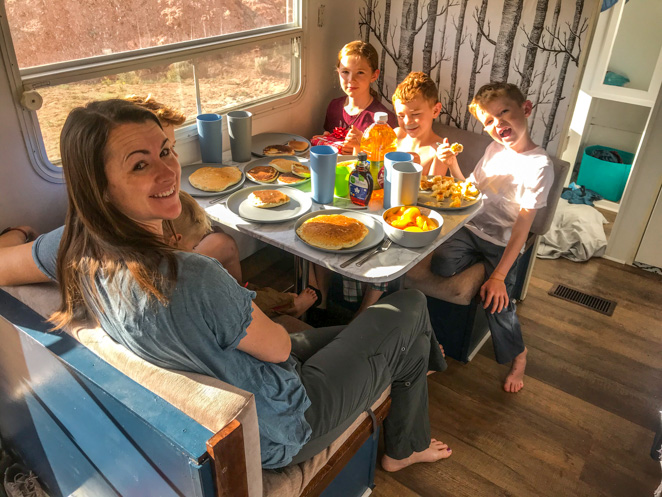 RV's can come in many shapes and sizes from the camper trailer that my husband grew up with all the way to full size bus RV's with every luxury you can imagine. Most RV's have a sleeping space, an eating space, a bathroom, and a cooking area all inside.
RV's can be hooked up to electrical hookups to power onboard appliances, portable electronics and even a television. Or, you can use solar or a generator to power your RV while you're dry camping on free public land.
RV's often stay in regular campgrounds so you can have the option to spend your time inside your RV or outside enjoying more of nature.
Is RV Camping or Tent Camping More Affordable?
It may come as a shock, but in the short term, RV camping can actually be more affordable than tent camping. There are several peer-to-peer RV rental sites where you can rent an RV for as little as $100/day.
Click here to check out the affordable prices on Outdoorsy.com.
These RV's are often fully stocked with kitchen supplies, and some even include bedding. If you're only planning on going camping a couple of times and then never again (though I hope you love it enough to go again and again), then you'll want to rent an RV to go camping.
In the long term, tent camping is much more affordable than RV camping. Tent camping will cost you several hundred dollars, and you want to make sure that you really invest your money well into a good tent and good sleeping bags. A lot of other family camping gear can be found cheap at Walmart or even found at your local thrift store (this is a great place to pick up dishware and even camp stoves).
If you are tent camping, you'll usually experience most of your costs up front, and then everything will be free, or fairly inexpensive after that. Our family bought a tent 13 years ago, and as each of our kids were born, we bought them a sleeping bag. Investing in good camping gear upfront has allowed us to spend money up front and make our camping trips from there on out mostly free!
Check out the average cost of tent camping here.
What Kind Of Weather Are You Camping In?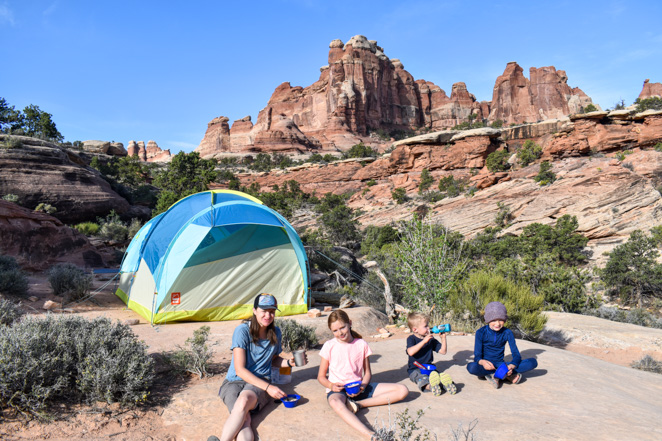 If you're camping in any sort of extreme weather, RV camping will almost always be comfortable. Rain can be especially tricky when tent camping with kids. If you're RV camping, you're much more protected against extreme weather. You can turn the air conditioner on during really hot times, the heater on if it's cold, and if the weather is rainy, you can stay dry inside the camper.
If you're camping in moderate temperatures, tent camping is my personal favorite. We recently took our family on a camping trip to Canyonlands National Park where we knew that the weather would be good and there was no chance of rain. We slept out in the tent with the rainfly off and all fell asleep looking at one of the most spectacular displays of stars and the Milky Way that I've seen in my life. I'm so grateful that we were tent camping so that we could experience this beautiful sky on our family camping trip.
Click here to learn about the top RV travel apps including our favorite weather app.
Are You Camping In Bear Country?
In areas with a lot of bear activity, hard-sided campers and RV's are a requirement for safety reasons. Parts of Glacier National Park and Yellowstone National Park have rules restricting tents at certain times of the year, along with other areas as well. If you live farther north in the Rockies, check to see what the bear activity in the area is like before you decide on the best type of camping for your family.
What Is Easier With A Baby: RV Camping or Tent Camping?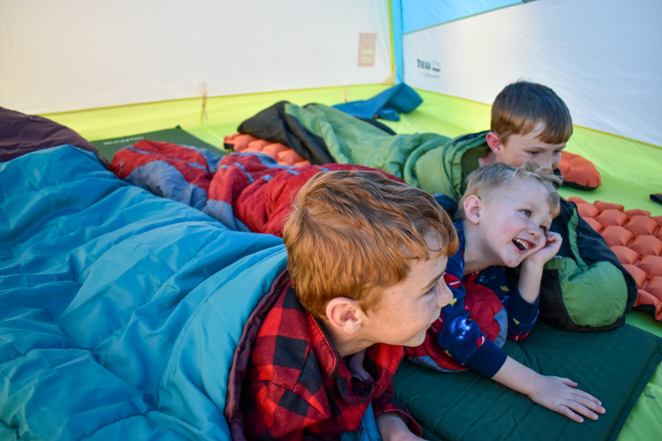 Camping with a baby is always a great new adventure and I get so excited when I see families at the campground who are out camping with their baby. We've done some extensive tent camping with all of our babies and have absolutely LOVED IT!
Camping with a baby does require a lot of advanced planning and a bit more that you need to pack, but it's completely doable.
Tent camping with a baby means that you'll need to bring a specialized baby camping bed for them, as well as a good way to keep the baby warm in the tent. You also need to consider bringing a white noise machine so that other campers don't wake the baby up.
RV camping with a baby or RV camping with toddlers allows you to control more of the environment around you. You can cover windows to make it darker, control the temperature more, and even close the door to block out some of the noise outside.
Whatever way you decide to camp with your baby, give yourself a pat on the back for starting your little one out on adventures from the beginning.
Advantages To Camping In An RV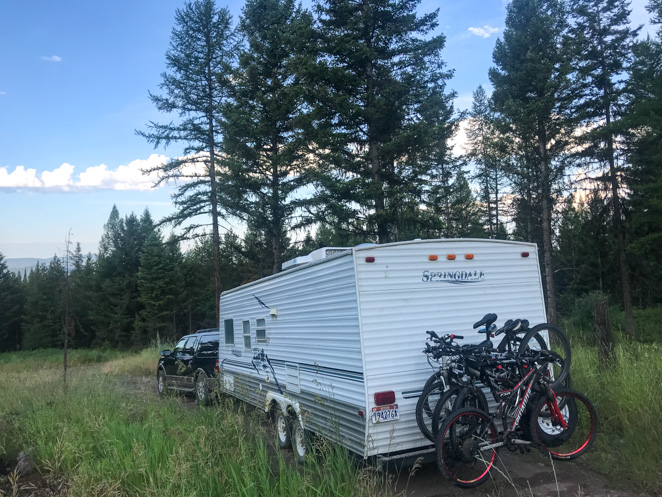 Camping in an RV has lots of wonderful things about it. It simplifies camping in many ways and can help make the outdoors more accessible to everyone. Here are some of the biggest advantages to camping in an RV:
Water: In an RV, your water tanks store water, so you can always have water simply by turning on and off the tap. This makes dishwashing really easy and also cleaning up dirty kids at the end of a long day (in the tent, we mostly just use baby wipes to clean kids). We also love having our own toilet for late night and early morning bathroom needs.
Climate Control: If you're too hot or too cold, it's simple to control the temperature in an RV.
Carrying More Gear: In an RV, you can carry a lot more gear than you can in the trunk of your car for car camping. It's easy to store a variety of pots and pans, games, bedding, and even some toys for the kids.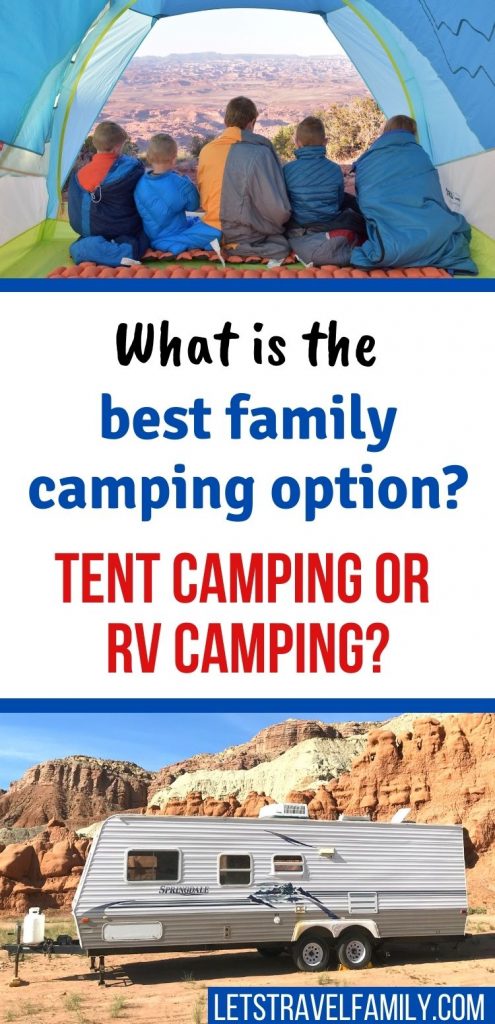 Protection From The Weather: Wind and rain are incredibly difficult to manage when you're tent camping with kids. In an RV, neither of these things will slow you down, though you will find yourself spending more time inside the RV when the weather is bad.
Ease of set up: Setting up an RV for a night of camping can be incredibly easy. Just park on level ground, level your jacks and hook up to the utilities. This sure beats the hassle of setting up a tent, blowing up air mattresses and setting up a camp kitchen.
Advantages to Camping In A Tent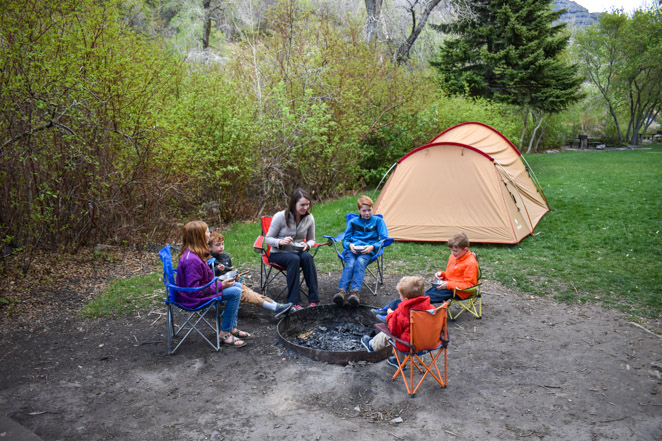 Tent camping really has my heart in so many ways. Even though our family owns both an RV and a tent, there are so many amazing advantages to tent camping. Here are some of the things that we love most about tent camping:
Easier to get off the beaten path: With camping becoming more and more popular, to escape the crowds and really enjoy nature, you may have to venture farther off the beaten path. Tent camping gives you the freedom to camp down rougher or more secluded roads that RV's can't get into.
More time outside: When we camp in a tent, we automatically spend more time outside. Actually, we only go into our tent to sleep or change clothes. This allows us to really connect with nature and be fully immersed in nature.
Cheaper in the long run: If you're planning on camping more than once or twice, tent camping can be incredibly affordable. If you buy good quality gear, or give some camping gift ideas to the grandparents to help you stock up, it can easily last you over a decade of use. Campgrounds also charge less for tent camping than for campsites with full RV hookups.
Easier to unplug: If you're going camping to escape everyday life and the distractions of technology, it's a lot easier to do if plugging in isn't an option. If you have limited access to power while tent camping, you're much less likely to waste your batteries on mindless scrolling!
Easy to Store: Unlike an RV, which needs a designated parking space or storage unit, camping gear can easily be stored in a closet or garage without taking up much space.
Whether you decide to camp in a tent or camp in an RV, remember that the real point of camping is to escape your normal routine and connect as a family. You can do both of those things from a tent or an RV, as long as you are intentional about how you use your time.