What do you buy an outdoorsy kid? If you have kids that love to go camping, then be sure to read our ultimate list of the best camping gifts for kids.
My hope is that these cool camping gifts will inspire your family to get outside more and enjoy what could be a very budget-friendly travel experience.
Or maybe even just enjoy some of these in your own backyard!
Camping with kids can be a great way to make those lasting memories that we talk about on our blog. Living each day to the fullest, whether it be full-time travel, RV living, or just spending time learning with home education resources together.
THIS ARTICLE MAY CONTAIN COMPENSATED LINKS. PLEASE READ OUR DISCLAIMER FOR MORE INFO.
Camping Gear Gift Ideas For Kids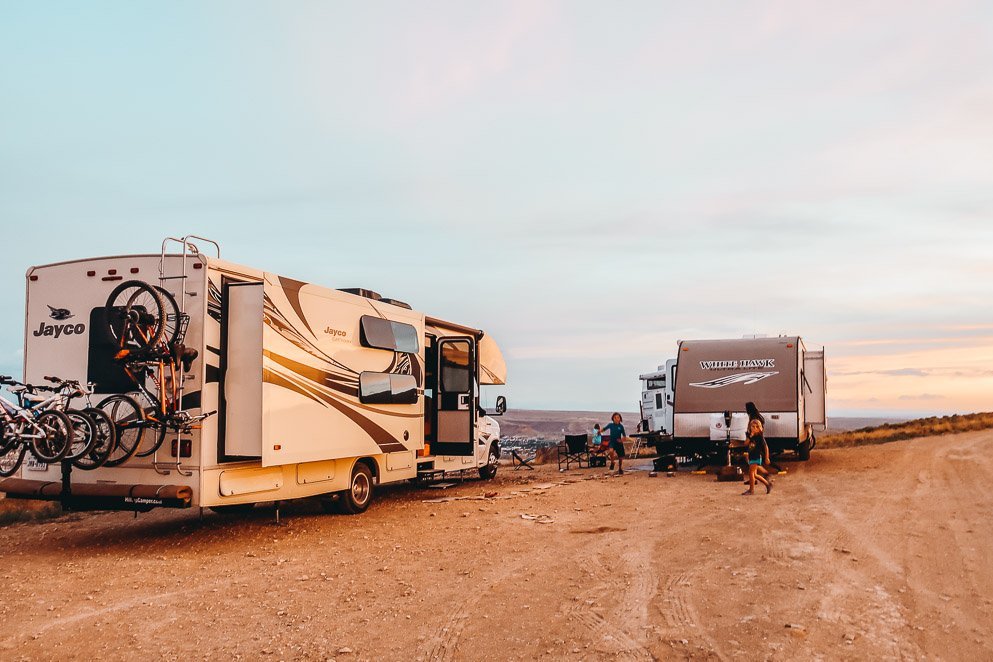 As a full time RVing family, we learned quickly how much kids love camping.
They are allowed to play in the dirt, have a bonfire, and use their imagination in ways they don't usually do indoors. Best of all, we spend some intentional time together outdoors as a family while getting the much-needed fresh air.
I actually listed several ideas of fun things to do while camping here if you need some creative ideas, especially if you're new to camping and want to make the most of it.
Since we travel with kids ourselves, we've learned a few things about what kids need and appreciate in our camping experiences. Or at least, I've spent a lot of time looking for great ideas that I want to share with you.
Start dreaming of visiting and hiking in some of the best National Parks with your kids. Get them excited about taking the camper out later this year, or planning a tent camping excursion into the Rocky Mountains.
Planning on visiting any National Parks this year? Then grab your America The Beautiful National Park pass here.
Here is a list of the best camping gear for kids that you can give them any time of the year.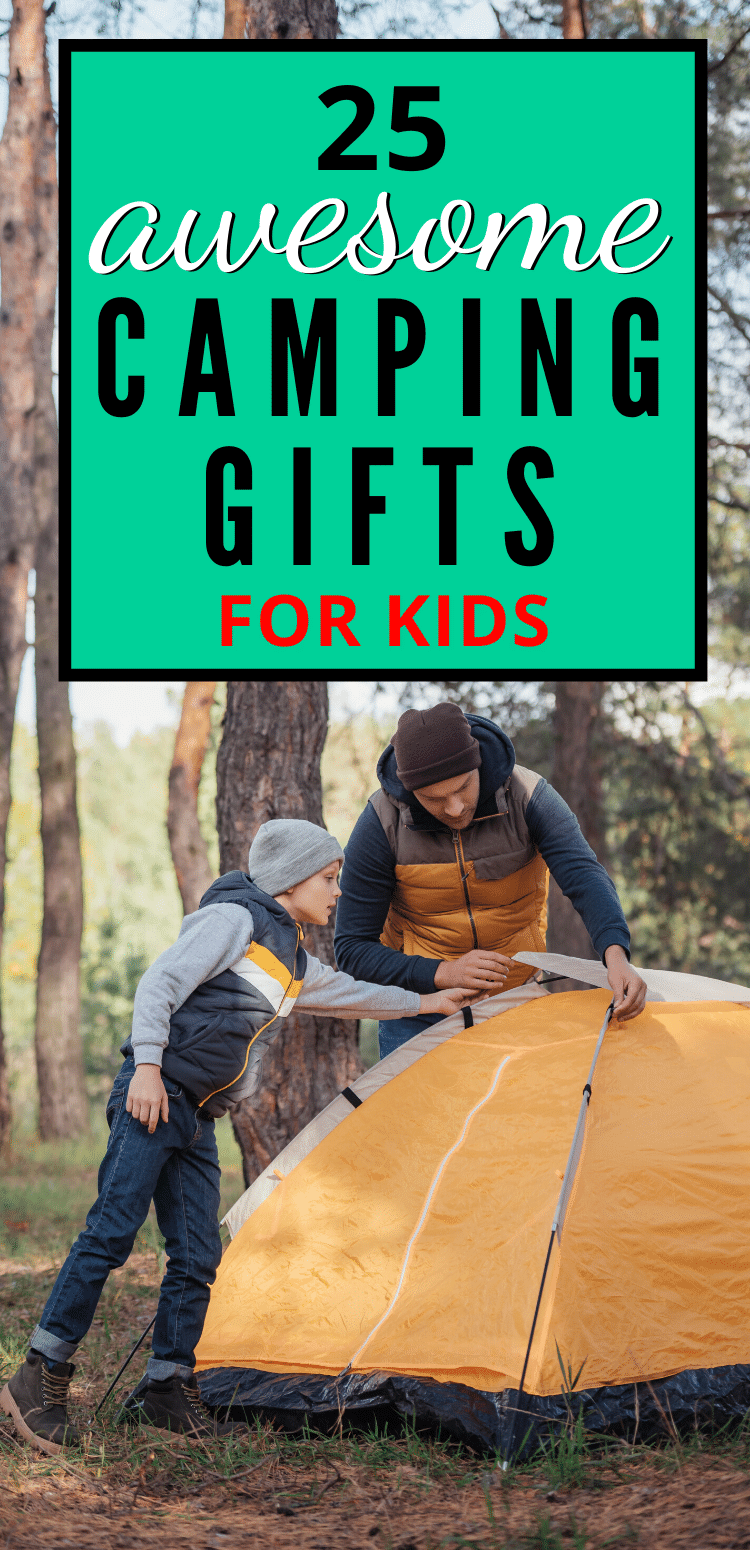 1. Quad Chair
Camping outside means you might be setting out camping chairs around the campfire.
Get a lightweight and portable chair made for kids so that it's easier to move around themselves and for their little bottoms fit well.
2. Sleeping Bag
Did you know that there are child-sized sleeping bags for camping? It gives kids a sense of independence and it's super comfy when they use it outdoors, or even in their own bed at home.
When looking for a sleeping bag for kids, consider getting insulated and roomy ones.
3. Water Bottle
It's important to keep kids hydrated during camping trips. I think letting them each have their own water bottle allows them to feel responsible and grown-up.
Take a look at this insulated and leak-resistant Hydro Flask for kids this trendy Hydro Flask Wide-Mouth Vacuum Water Bottle with Straw Lid.
4. Camelbak for Kids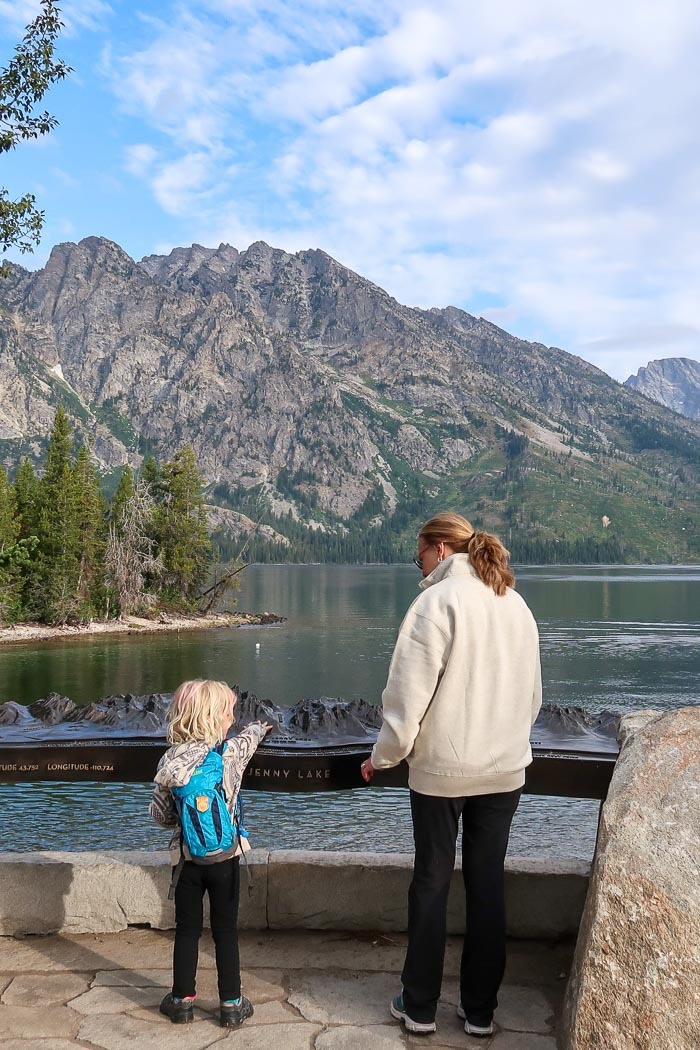 If you plan to do some hiking during your camping trips, then your kids might really love having their own water hydration packs.
Each of our kids has their own child-sized Camelbaks, and because I highly recommend them to so many families, I wrote an entire post and review about Camelbaks for kids here.
5. Hiking Backpack
Hiking is almost always a twin deal with camping, so it's best to be prepared for it. What's a better gift for an outdoorsy child than getting your child their own hiking backpack?
I love Osprey backpacks for kids, they are such a high-quality pack for kids who can be rough on their gear.
Also, check out REI kids backpacks, because let's face it, REI knows hiking and has some of the best kids camping gear.
6. Sun Hat
Camping means more exposure to the sun. Make sure the kids are protected from the heat by gifting them with useful sun hats you can add to your kid's camping gear.
Check this water and stain-resistant sun hat for toddlers or this Baby UPF 50+ sun protection hat.
7. Kid-sized Tent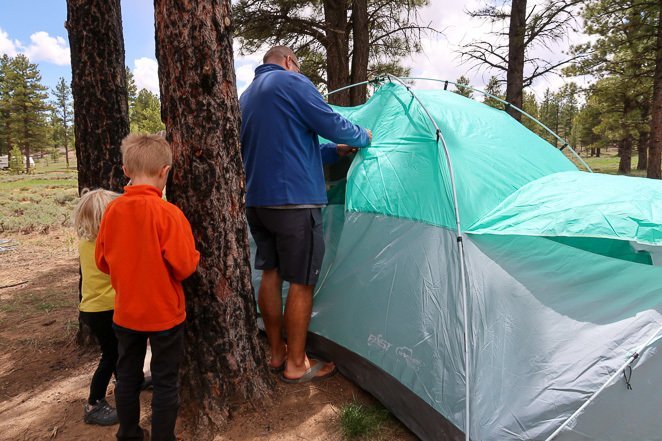 Buying your child their own small tent might get them pretty excited to get out for your next big family camping trip. This highly rated dome tent at REI would be a perfect tent to pitch in the backyard for some at-home exploring. 
8. Camping pad
A camping pad can be a great gift for kids who plan to do some tent camping. This pad is the highest-rated and I love how it self-inflates.
It makes for a much more comfortable sleeping experience.
Or, check out this pad that we bought for our kids and have been really happy with it.
9. Hammock
Many families find that hammocks are a great addition to their camping gear. Kids can swing in one for hours, sit and read, or even sleep in a hammock on your next big camping trip.
This hammock is highly rated and folds up so small that you could bring it with you just about anywhere. 
10. Kid's Camping Clothes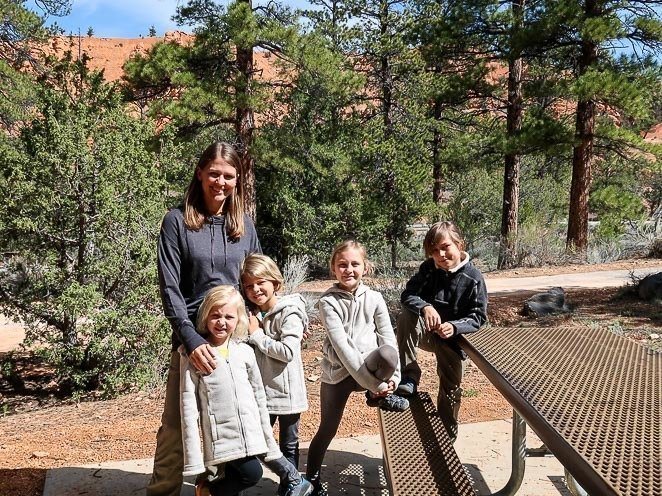 If you want to help your child feel well prepared for the outdoors, yet still get them something they can use even when you're not camping, then I'd suggest investing in some quality outdoor clothes.
You can't go wrong by shopping at REI online, or in their stores. They have a generous return policy and even offer free shipping in the US.
Specifically, we love the KUHL brand for excellent quality clothes. You can buy great hiking pants for kids that have adjustable waists directly from Kuhl, or from REI.com. 
Click here to read our guide to finding the best hiking clothes.
Cool Camping Gifts – Camping Toys
11. Kids' Binoculars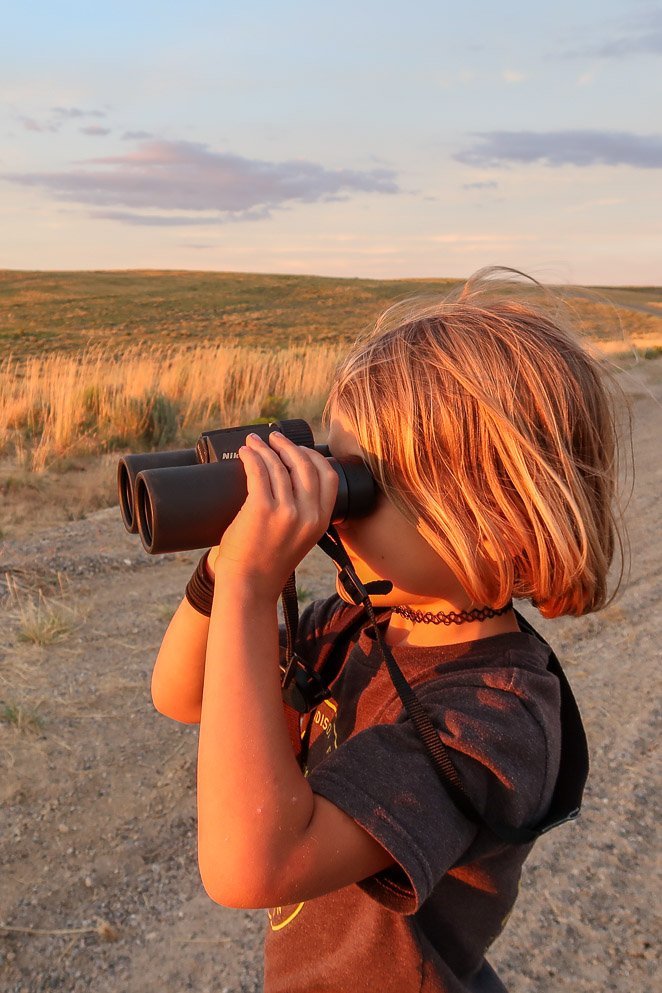 You can add a set of binoculars to your list of camping gifts ideas for kids.
Going camping gives them the best opportunities to look at wildlife or go birdwatching. Not to mention, they are fun additions to your kids camping supplies.
Check out these waterproof kids' binoculars.
12. Walkie-talkies
Gifting kids walkie-talkies will not only help them, but it will also help the parents! Monitoring is easier if you provide kids with a device where the adults can easily talk to them even if they run around, and most kids love having them.
Check this 2-way walkie-talkie for kids with an emergency alarm system and LED light.
13. Whistle
Kids love feeling like they are in charge when having fun outside. Make the experience better for them by giving them a whistle. I can say that this is one of the best camping gifts for boys.
Since it's for kids, it's important to find a whistle with a good safety clip like this one. Or check this whistle with a high decibel (so you're sure the kids can be heard even if they're farther away).
Fun Camping Gifts For Kids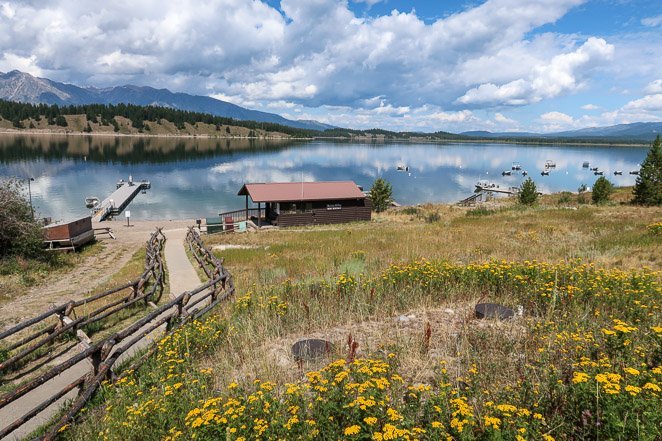 Camping is not complete without GAMES! Here's a list of some fun camping toys for kids that you can take on your next family camping experience. These would be great to play around the campsite. Or, you might find some great ideas for camping toys and activities here.
14. Camping Crafts Gift
Camping crafts are such a great way to get the kids excited about camping. This set of 12 creative kids camping crafts look so fun for projects to start at home or on a camping trip.
15. Camping Spot It
I just love the play the simple game of Spot it with my kids. Now, they have a Camping Spot It that would make a perfect gift for a little camper. 
Or, grab the travel Cornhole game that's super portable GoSports Cornhole Toss Game. 
16. Stack The Scoops Card Game For Kids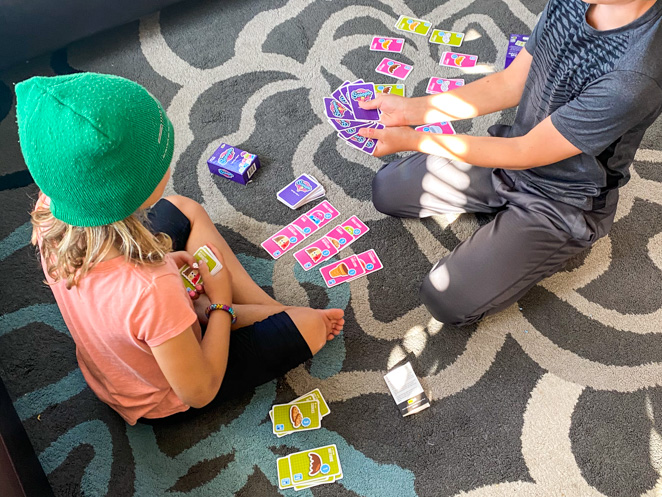 Did you know there's a really fun portable card game created by a full-time traveling family that is so much fun to play? It's called Stack the Scoops and our kids just love playing.
Click here to check it out and learn how a 9-year-old girl and her family created this game while they were waiting out the craziness in the world in an Airbnb overseas in early 2020.
17. Camping Journal or Coloring Book
Some kids love playing, getting dirty, and going exploring when they are camping. Yet, some can really enjoy documenting their adventures.
Gift a kid who loves camping a journal and see how much they'll treasure it. This Family Camping Journal is a great option if you're giving it to a child who's just starting on journaling.
My good friend Jessica created this camping journal using all of her experience in raising 5 kids and camping each summer with them.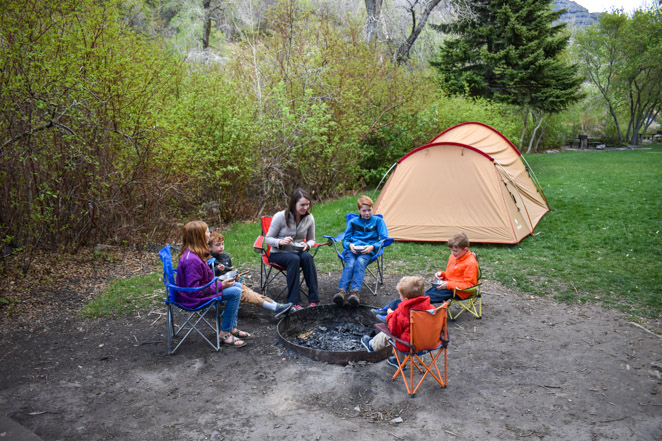 Grab a copy now of the kids camping journal and activity book.
If the child is a little experienced in writing in journals and wants to help your family keep track of your campsite statistics and details about your trip, then check out this journal I mentioned in my ultimate RV logbook post before.
It has designated spaces for camping information, somewhat like a guide. They can even paste some photographs in the spaces provided, isn't that fun?
Or, consider getting your camping child a fun National Parks coloring book.
18. GoPro or Adventure Camera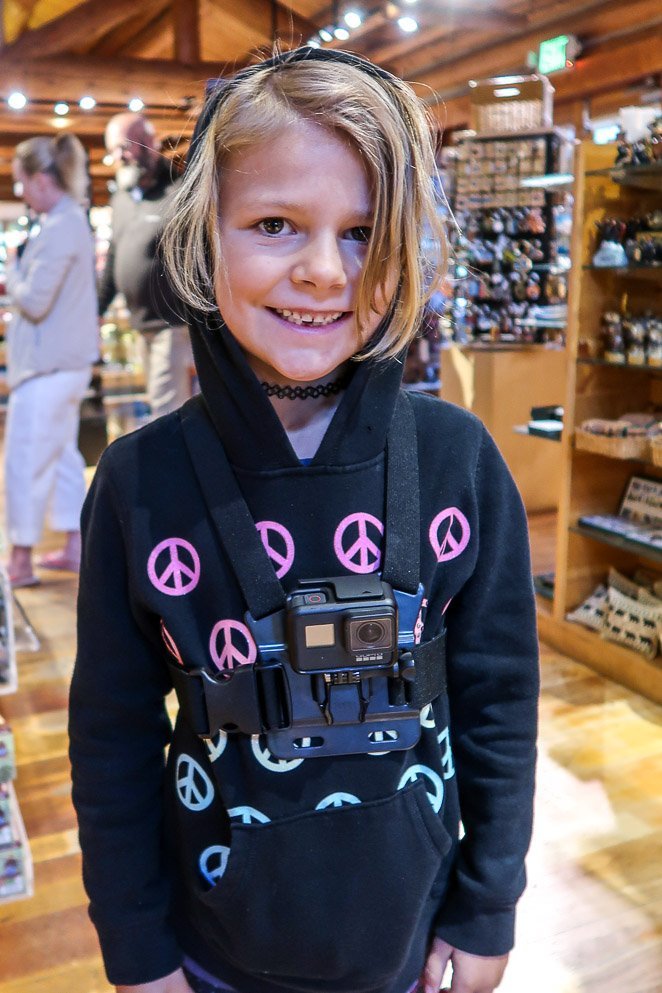 Let's face it, we are living in the digital age. Even if we spend a lot of times outdoors, our kids often see us using our cameras and cell phones to take photos or short videos of our experiences.
If you're looking for a gift idea that will wow your child for your next outdoor adventure, then I'd highly recommend buying a GoPro. 
19. Camp Crafts
I love seeing crafts created by my kiddos. By giving them Camp Crafts, they can enjoy nature and be inspired by it.
This is a great camping gift for girls and boys alike. I love that this can be done at home and would fit well into any worldschooling or homeschooling experience, or just summer activities to keep the kids busy when they are out of school.
20. Scavenger Hunt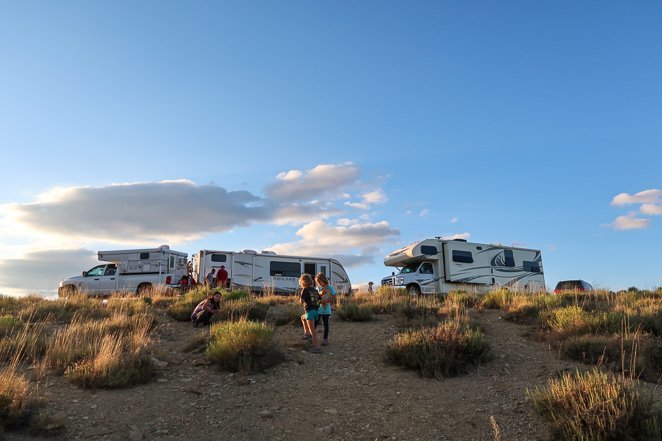 What's the best activity you can do with kids while camping? That's right, a scavenger hunt!
We've done a scavenger hunt with our kids before and they LOVED it. It gives them a sense of excitement for a very long period of time.
You can do this especially if you're camping in a place with many trees. You can hide clues in a lot of spaces without having to move too far from the campsite.
Check out this Scavenger Hunt Board Game that's enjoyable both indoors and outdoors, and see if your kids will like it!
21. Children's Camping Set
A fun gift for young children is a bug catching camping set like this one. They can bring it with you on your camping trip, or use it in your own backyard.
22. At Home Camping Toys
To prepare your kids for an upcoming camping experience, you could give them a set of fun camping toys for kids like this set. They could play with it in your living room or backyard.
23. Camping Cookbook for Kids
Gift your kiddo this easy-to-read and well-layed-out camping cookbook for kids. It was created by a traveling mom and filled with so many easy-to-make recipes.
Gift Ideas For The Adventurer Kid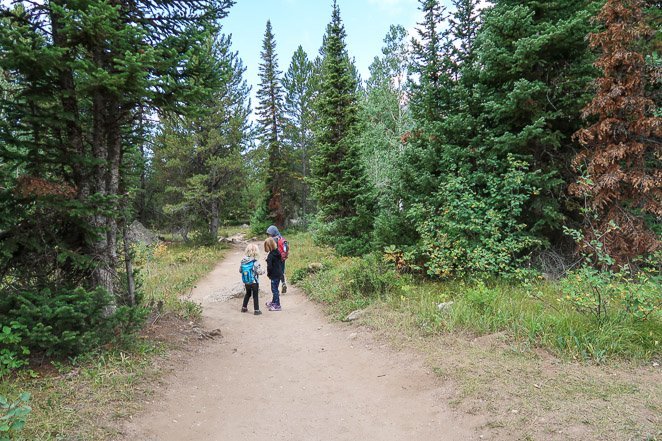 24. Outdoor Explorer Set
A fun birthday or Christmas gift for an adventurer kid is this fun outdoor explorer set. This is one of those outdoor gifts for kids that will keep them busy for hours.
25. Nature Kit for Kids
Another great set of outdoor gifts for kids is this Nature Kit that comes in a very handy case you can bring along with you. I love that it has a compass and whistle too.
26. Paracord Bracelet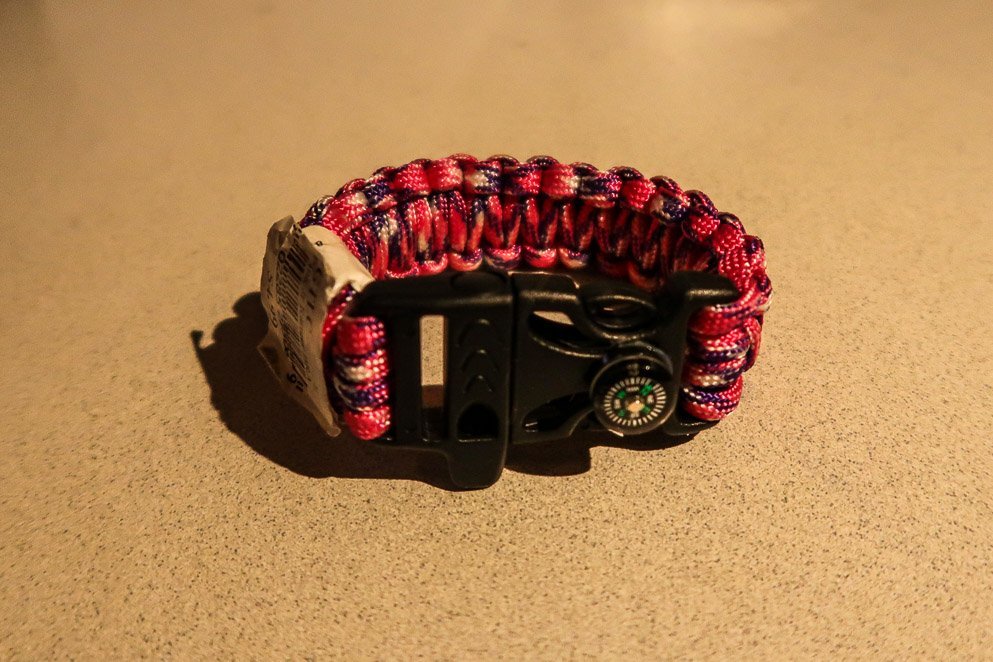 This is a fun gift idea for kids that they can wear anytime. When it comes in most handy is when they are out in nature and may need help. Not only can you unravel the cord in case of an emergency, but it also has a compass and whistle. 
This paracord bracelet made just for kids even has a fire scraper and emergency knife!
Camping Gifts For Kids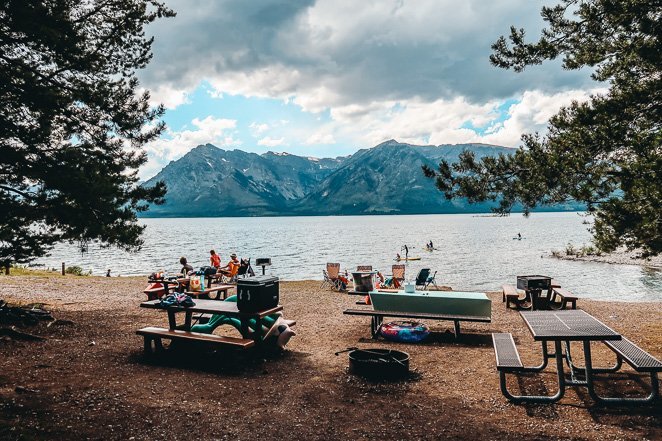 Finding camping gifts for kids doesn't have to be hard. Think about what you would need to camp and then see if it comes in child-size.
REI is our favorite place to find outdoor gear and camping supplies. For a limited time, they are offering FREE shipping anywhere in the USA with a minimum purchase of $50 or more.
Now, if your family is a National Park lover then check this list of some great National Park gifts that might work for your child.
Remember to always consider your child's preferences when looking for camping gifts. Not every kid will pick a board game over a journal. Find the BEST gift considering the kids' personalities, too.
By giving them these camping gifts they will be so excited to get outdoors and explore.
Related posts:
Camping Gift Ideas For The Entire FamilyHow to Boondock (camp for free on public land)Top RV Campsites In The USAGuide To Finding The Best Composting Toilet