Do you ever have a long RV travel day when you can't spend a night in a campground because there are none nearby? Or, are you RVing hope to save a few dollars by finding free places to camp? It may shock you, but the answer can be as simple as experiencing free overnight RV parking in a Walmart parking lot.
You might be thinking, "Camping at Walmart parking lot? Why would we do that?"
Well, because it's convenient AND practical.
Walmart overnight parking is FREE and allowed by most stores (but not all of them). This is a type of RV dry camping with fully inclosed campers, not for tent camping or setting up for a weekend.
Think of RV parking at Walmart locations as a quick overnight stop while you pick up some groceries and leave early the next morning.
Boondocking at Walmart for a quick overnight stop is really worth trying, especially for full-time RVers who are looking to cut some costs on travel days.
We've camped at many Walmarts during our travels over the last 3 years. In particular, I remember stopping overnight at Walmart parking lots on our way to Glacier National Park.
If you're new to the idea, I'll break down the very simple process for you.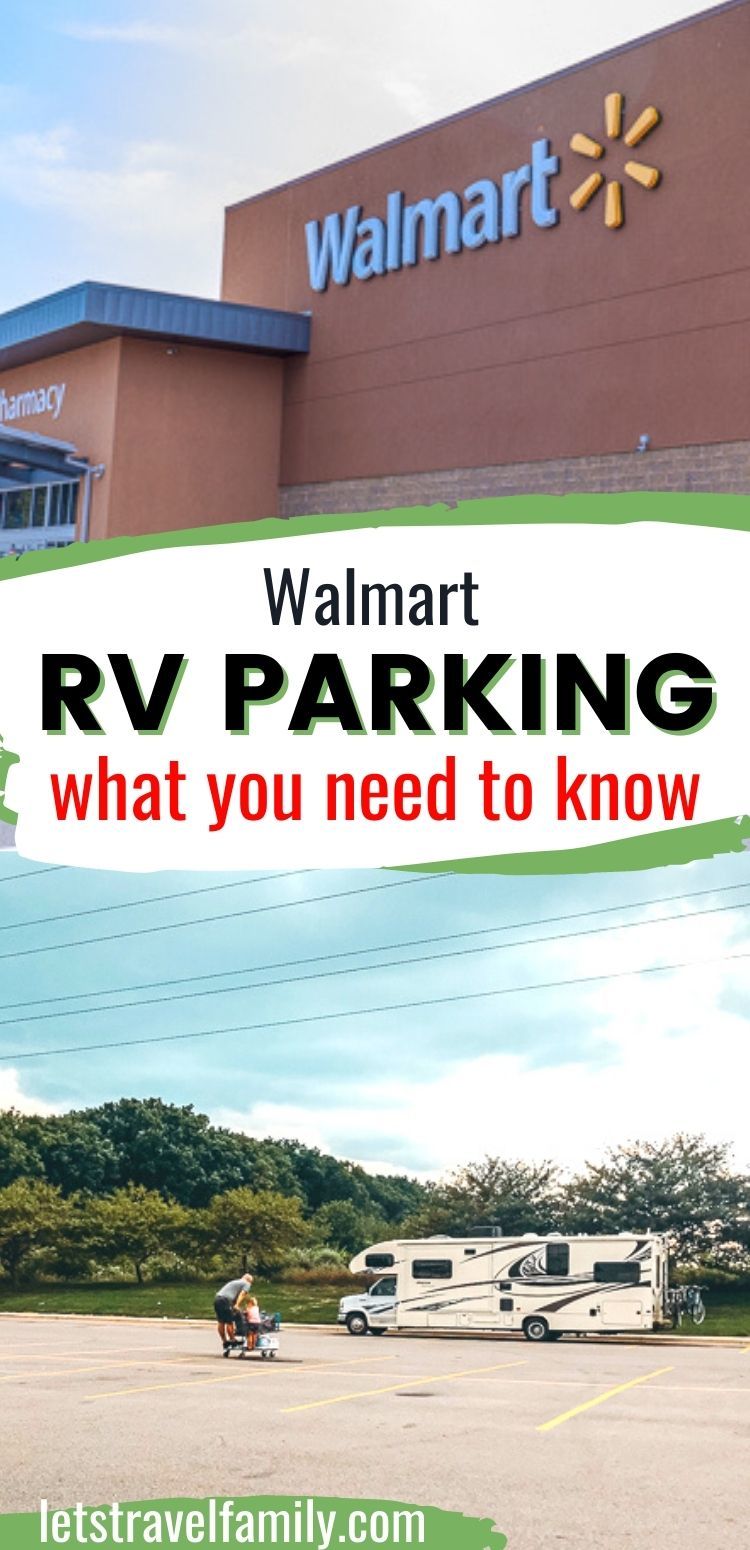 How Do You Experience Walmart Parking Lot Camping?
The process is so simple and you'll only need 3 steps (or two) to take advantage of the free overnight Walmart RV Parking.
1. First, find a Walmart store en route, or at least near the route you're taking.
We use the All Stays apps, Campendium app, or one of the most up-to-date RV trip planner apps to start our search for Walmart boondocking.
RV traveling Facebook groups are another great place to learn where people stay.
Alternative: Search the internet for a list of Walmarts that allow overnight RV Parking so you can just head on to the third step on this list.
2. Ask them if they offer free overnight parking.
Once you reach nearby Walmart stores, go inside and ask their staff if they offer free Walmart overnight RV parking.
Pro Tip:
You can first see if any other RVs are already parked in the back of the parking lot for the night to see if this Walmart values RV travelers.
When asking staff, let them know that it's just for a quick park overnight stop and you'll be on your way in the morning.
If they say no, you can ask them if they know any nearby store that offers it.
3. Survive on dry camping.
Yes, the most challenging part here is dry camping if you're not used to it. Electric and water hookups are not available, so parking overnight at Walmart will give you no choice but to do some parking lot dry camping.
And honestly, it's not bad.
You'll only be staying there for a night, and that can be as short as 5 to 7 hours. You'll be sleeping most of the time, anyway.
With only staying one night, you should be fine on your fresh, grey, and black tanks. But if you need to find a dump on your way out the next day, check out RVdumps.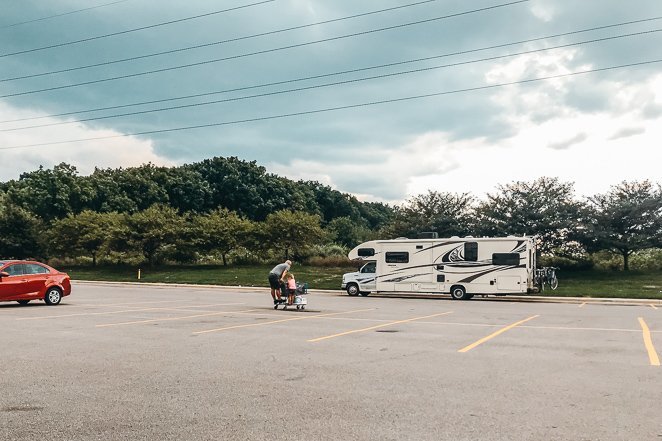 How to Dry Camp In A Parking Lot
Dry camping is camping without any hookups. This is why it's best to understand dry camping if you're staying for a short amount of time in a Walmart parking lot.
It may seem challenging, but it can be much easier if you prepare all the dry camping essentials before setting off and deciding to try the Walmart free RV parking offer.
What we have observed over the years is that some people put out their RV slides so they can walk around to their bathroom and bedroom. Meanwhile, others think you should keep them in when you're boondocking in a business parking lot.
I think as long as you don't set up your rug and chairs, you are still okay to put out your slides if you need to. It all boils down to which set-up can make your stay more comfortable without disrupting the business.
What's the etiquette to camp in a Walmart parking lot?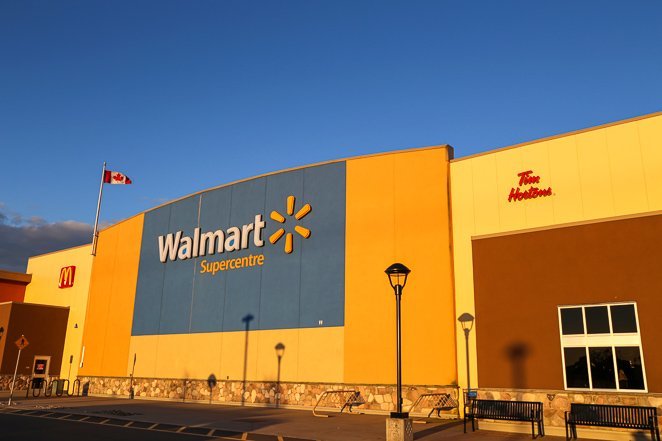 As we all can benefit from Walmart's offer, let's do our best not to cause any inconvenience to them in ANY way during our stay.
Here is a list of some Walmart overnight parking etiquette we've learned after many years of RVing.
1. Don't set up your camp chairs and start grilling. It's just free overnight RV parking at Walmart, not camping.
2. Don't disconnect your Truck from your fifth wheel or your motorhome from your extra vehicle. Stay connected during your overnight stay and plan to pull out the next morning.
3. Arrive close to sunset. Don't arrive at 10 am ready to stay all day and all night, it's intended for a quick overnight stop. And their parking lot is mainly there for their customers' use.
4. Run your generator briefly if you REALLY need it. I think it's okay to run your generator briefly to make a meal, but don't run it all night. Remember, you are dry camping and Walmart is kind enough to let you stay there for free, so don't take advantage
5. Get your grocery shopping in while you're there! Support the business while you're parked there overnight. This set-up also helps you in a way since you will have to shop for groceries anyway.
6. Park near the back of the parking lot away from the customers. Give the regular customers space and plan to walk a bit to get in your shopping that night.
Other Free Overnight Camping Suggestions
If you can't find Walmarts that permit RV parking along the way, then you might have to look for a different way to gain access to free overnight camping. Here are some recommendations:
1. Cracker Barrel
This is a restaurant that has RV and Bus parking spots. Many will allow free overnight RV parking much like Walmart. We have stayed in several Cracker Barrel parking lots.
The only downside is the parking space is small, maybe 40 feet total. So if your RV set-up is a pick-up truck towing a fifth wheel, you might be too long.
Our 33-foot motorhome fits just fine. We drive our minivan separately and park in a regular parking spot. Then, the next morning we'll often go inside and have a delicious breakfast before we hit the road.
2. National Forest Or National Grassland
Though more challenging, you can also stay for free overnight camping in a National Forest or National Grassland. What makes this a little harder is finding the exact RV parking spot. For that, we use Campendium and word-of-mouth to find the exact GPS coordinates as to where a great spot is.
3. Truck Stops
If you're looking for a free overnight camping with some amenities, look for truck stops that cater to RVs. They mainly cater to truckers, but some have special features and amenities for RVs such as a dump station, water fill area, easy in and out gas fill for RV's, and a weighing station to check your RV's weight. In addition, they'll offer RV and truck parking where you can sleep for a few hours.
Experiencing Walmarts RV parking for free can be just what you need to cut some costs in your RV living. Or it could be the more practical choice considering your travel style. Either way, it has helped a lot of RVers all over America and it can help you, too.
So if you're okay with no water or electric hookups and limited generator use for a night, then a quick stay at Walmart might be the way to go.