RVing with dogs is a wonderful thing. It allows you to share your travel adventures with your furry friends, and in some ways it allows you to stay out on trips longer or even live on the road.
All that said, there are some things you should know before jumping into RV camping with dogs. While we've shared plenty of RV living tips in the past, we've never actually touched on the subject of pets. Lucky for you, that's just what we're going to do today!
Below are our top tips for RV travel with dogs!
THIS ARTICLE MAY CONTAIN COMPENSATED LINKS. PLEASE READ OUR DISCLAIMER FOR MORE INFO.
Choose the Right RV
Many dog parents who are looking to buy an RV want to know which is the best camper for dogs. The truth of the matter? There is no single best RV for pets. Even so, you might want to take your dog into consideration when shopping for your rig.
If you have a large dog, a tiny camper is probably not a good idea. Meanwhile, those with tiny dogs will need to consider how the pup will get in and out, especially if the RV is very tall. You might also take a look at the features of each individual RV, as some do come with some pretty great pet-friendly amenities.
Some of the best campers for dogs include the following features:
Built-in crates.
An outdoor leash latch for keeping your pup on your campsite.
Vents that won't catch doggy claws.
Feeding bowl drawers that slide in and out to both contain the mess and get bowls out of the way when feeding time is over.
Vinyl or laminate flooring that is easier to clean than carpet.
Give Your Pup Time to Adjust
Even the best RV for dogs will be a change for your pet. For this reason, you will want to make sure to give your dog plenty of time to adjust to the new home-on-wheels. Give them a bed so they have their own space, and spend some time in the RV with your dog before you ever hit the road.
If you get a motorhome, try driving short stints to get the pup used to the idea of a moving home. If you get a towable, make sure your dog is comfortable riding in your truck.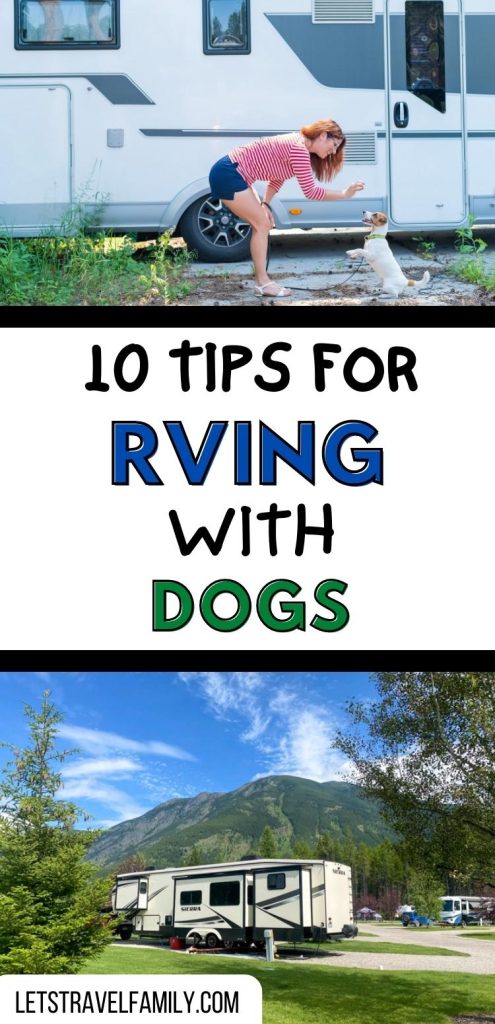 Get Up to Date on Shots
Most campgrounds will ask to see your pets' shot records, and they absolutely must be up to date. For this reason, it's always a good idea to schedule a vet visit and ensure your dog is totally up to date on all shots before heading out on the road.
If you plan to travel in your RV full-time, you will need to plan to return to your vet to get shots when needed or search for vets along your route.
Look for Dog-Friendly Campgrounds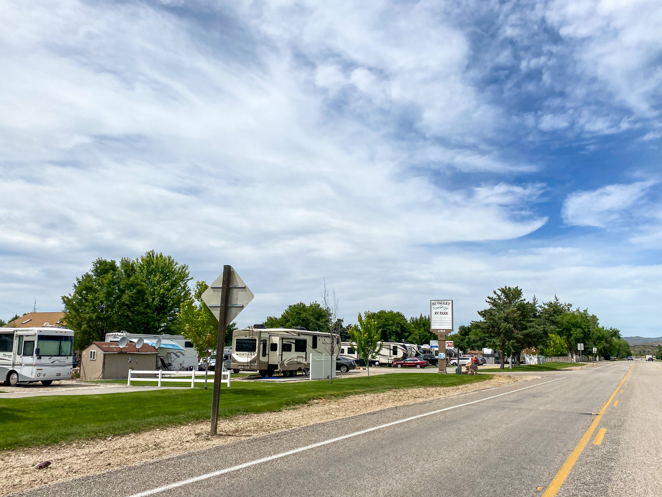 Some campgrounds allow dogs, while others either only allow some breeds or don't allow furry friends at all. It is very important that you know for sure that any campground you book will allow your pets to join you on your campsite. You might also keep your eyes peeled for campgrounds that offer dog-specific amenities such as a dog park.
To find places where you can go RVing with dogs, try using the BringFido website.
Pack Wisely
Of course, you will need to pack for your pup as well. For the most part, camp gear for dogs consists of the same items you'd use at home. However, there are a few extra things you'll probably want to grab when RV camping with dogs.
A good basic packing list for camping with dogs includes:
Consider checking out Camping World and some of their unique gear for dogs.
Travel Safely
Make sure your dog is buckled up in the same vehicle as you are as you travel! That's right, your furry friend should be strapped in just like the rest of the family, and should never ever ride in a trailer. This is an RV safety mistake you do not want to make.
To contain your dog while you travel, you will either need a seatbelt harness, a dog crate, or a pet booster seat like this one. If you go with the crate, be sure it is secure so it won't move during travel.
On a related topic, if you are traveling with a cat you'll also want to be sure to use a cat crate on travel days. Oh, and learn how to stop cats from jumping on counters so that you can have the best RVing with cat experience.
Set Up a Dog-Friendly Site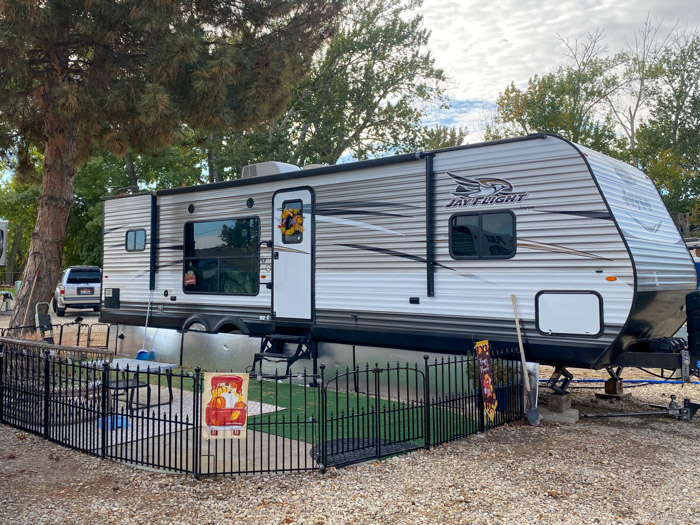 Once you get to your campsite, you will want to ensure it's as dog-friendly as possible. This is where the dog fence for RV—which we mentioned in our list of dog camping gear above—comes into play. Setting up a portable fence in your campsite means your pup can hang out outside with the rest of the family and won't run away.
A dog ramp for RV campers could also help make your site more pet-friendly. These ramps are ideal for those who are RVing with dogs that can't make it up the steps of an RV.
Related Post: Discover These Fun RV Gadgets
Exercise Daily
A portable dog fence for RV is great for letting your dog get some energy out and soak up the sunshine. That said, the little bit of running a dog can do in a pen is not really enough. You'll also have to make sure your dog gets to exercise daily. This means stopping often on travel days for walking and potty breaks, and planning walks into each day while at your campground.
Make sure your dog is always leashed while out walking, and always, always take poop bags to pick up your pet's poop.
Consider Pets when Planning Outings
Most people want to see some sights while out exploring in their RV. This is totally possible, even if you take a pet with you. That said, you will need to take your dog into consideration when planning your outings.
Some attractions might allow you to take Fido along. That said, there are also many attractions that won't allow dogs such as visiting National Parks. Since leaving a dog in the car all day is never a good idea, you will have to leave your pup at the camper when you head out to visit these places.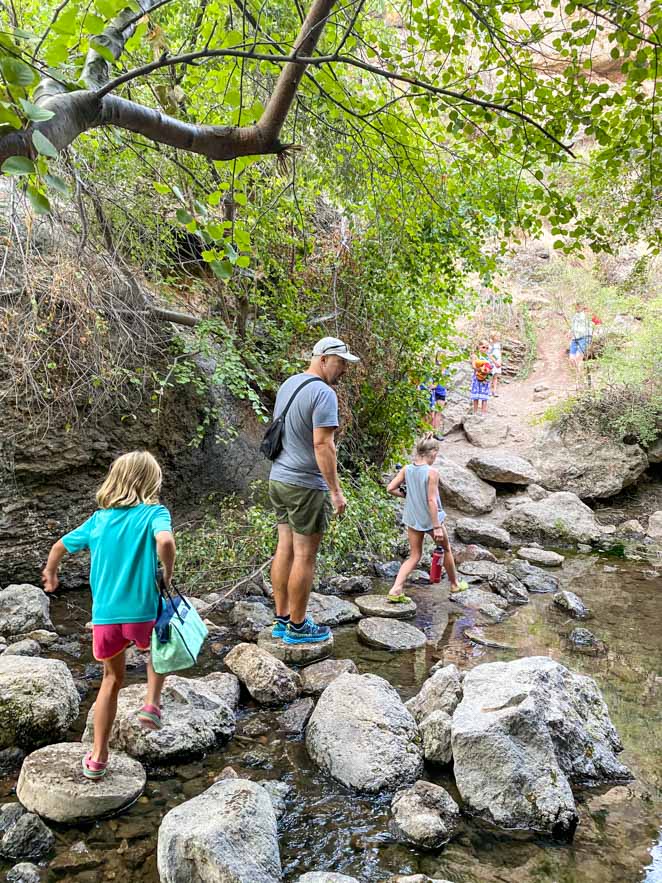 The first thing to keep in mind when leaving your dog in your RV is that pets should never be left outside unattended. Even the best RV fencing for dogs won't change this fact.
This means you will need to put the pup in your RV while you're gone, which means you will also need to be back in a reasonable amount of time in order to take the dog out to potty.
Another thing to consider when leaving a dog in an RV alone? The weather. You'll likely need to leave the A/C or heater running while you're gone, and you might want to get a temperature monitor for your RV in case the power goes out and things get too toasty or too cold for Fido.
Additionally, if you see a storm coming, you might need to head home in order to ensure your dog is safe and not too afraid. Be sure to have a great weather app on your phone so that you can be prepared.
Be Considerate of Neighbors
Always be considerate of your neighbors when RV camping with dogs. When you have a dog in tow, this means keeping barking to a minimum, always keeping your dog on a leash or fenced-in, and picking up all pet poop.
There you have it! 10 tips for RVing with dogs. Now, who's ready to get out there and show Fido the world?