Are you looking for a list of fun RV accessories that might inspire you to pick up the latest camper gadgets for your RV? A list of RV gifts for RV owners or unique RV accessories that you haven't heard of yet?
Or, are you looking to become a full-time RV living family and want to know what the 'cool RV stuff' really is?
Then check out our list of fun RV accessories that our family either has now, or wants to have.
THIS ARTICLE MAY CONTAIN COMPENSATED LINKS. PLEASE READ OUR DISCLAIMER FOR MORE INFO.
Recently updated list!
Fun RV Accessories
These items are fun RV accessories that would make great camping gifts for Christmas, birthdays, or maybe a send-off to a new RV road trip adventure! They are cool camping gadgets that would make great gifts for RV owners of all kinds, and also cool RV gadgets for yourself.
First, I do need to point out that these are the FUN things. The items that could add to your enjoyment, but they may not always be a must have RV item.
If you're looking for the RV accessories that you really might need, then check out our ultimate post of RV must haves here. Or, if you're looking for a list of things you do NOT need for your RV then check out this post.
But hey, the fun camper accessories are totally worth checking out, right?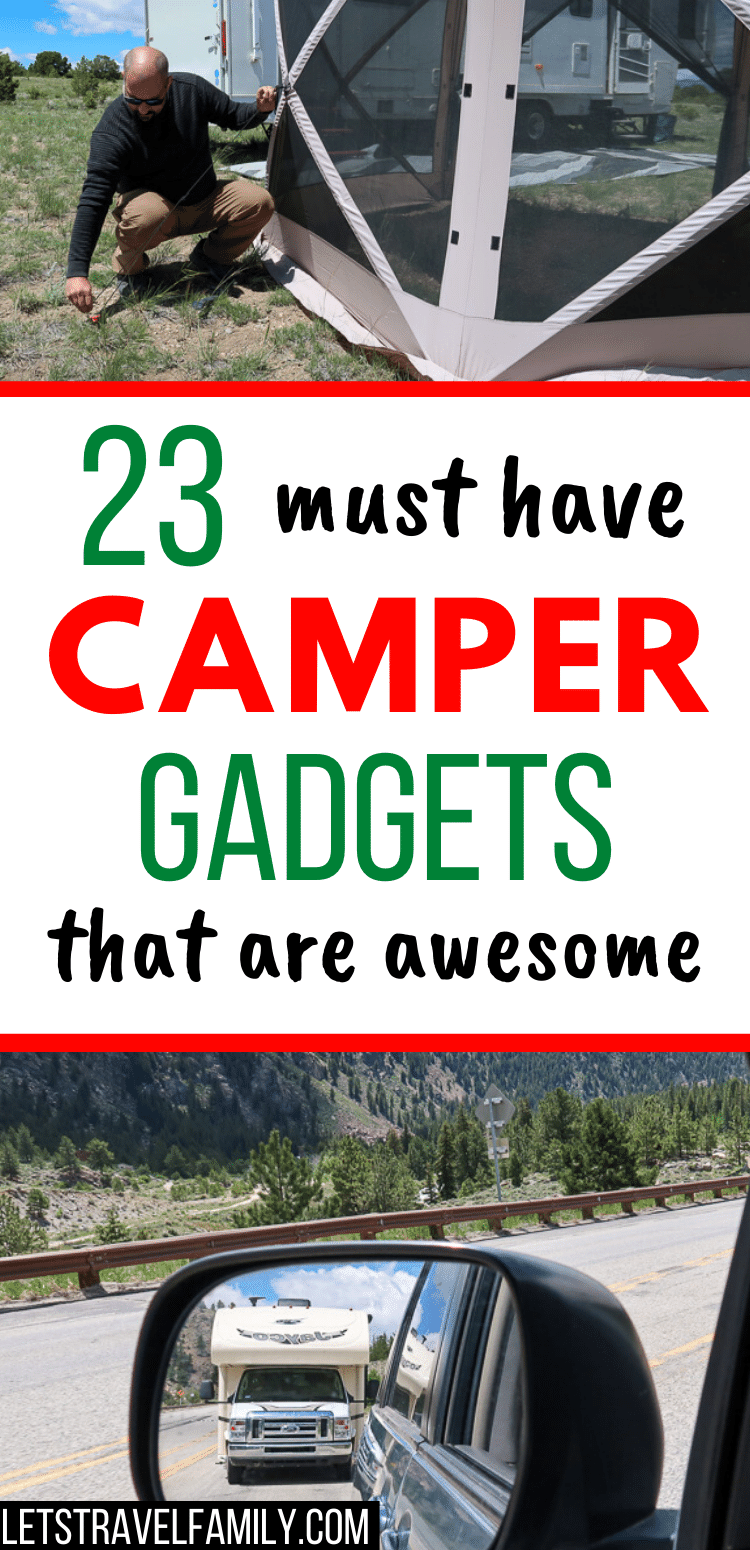 1. Blackstone Tabletop Grill
This Blackstone grill is an awesome addition to your RV camping list. Convenient, portable, and so easy to clean, this is a great RV accessory! We have many RV friends that use theirs almost daily.
I'd recommend grabbing a carrying case for your Blackstone too.
Check out the tailgating Blackstone combination at Campingworld here.
2. Screen Porch Tent
We LOVE our super easy-to-set-up pop-up Gazelle screened in porch gazebo and recommend it to anyone who stops by. After being on the road full-time for over 1 year, we finally bought our screen porch tent and it was the BEST purchase we made that year.
We then used it everywhere we camped because it not only kept the mosquitos out but also the noseeums when we were road tripping in Florida.
We've used our tent many times as an RV office set-up so that we can work on the road.
Click here to check out the price on Amazon for the Gazelle tent.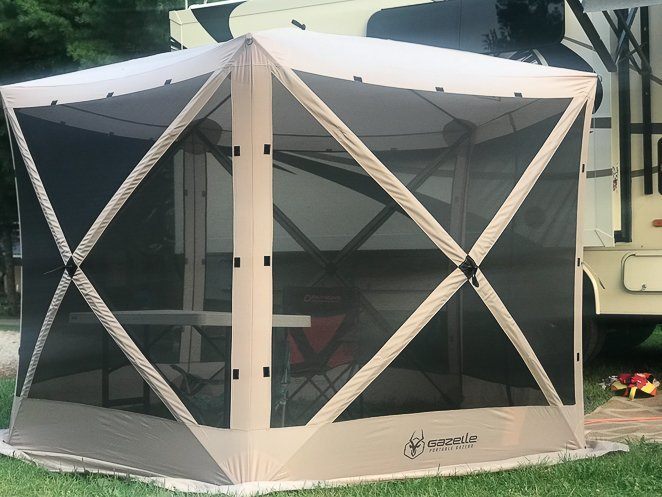 3. Yeti Cooler
One of the best camper gadgets to bring along with you on your next camping trip is a Yeti Cooler. If you plan to drink ice cold drinks, then designating a cooler for your drinks might be your best option, as your RV or campervan refrigerator and freezer will quickly fill up with food for your trip.
4. Zero Gravity Camping Chairs
Comfortable chairs have been on our WISH list for a while. With the dreams of Florida beaches in our future, it would be so nice to have these for the beach as well as around the campfire.
At most campgrounds, we saw SO many campers with the zero gravity chairs that look so comfortable!
5. Espresso Maker or Coffee Maker
We cannot live without coffee or espresso, even in our camper. After being a full-time RV family for over 2 years, we learned about some great coffee options.
This is our RV kitchen counter with our larger Breville espresso maker, and it was a kitchen accessory that Tony and I could not live without.
Then we learned that they have much smaller Breville espresso makers that take up very little space.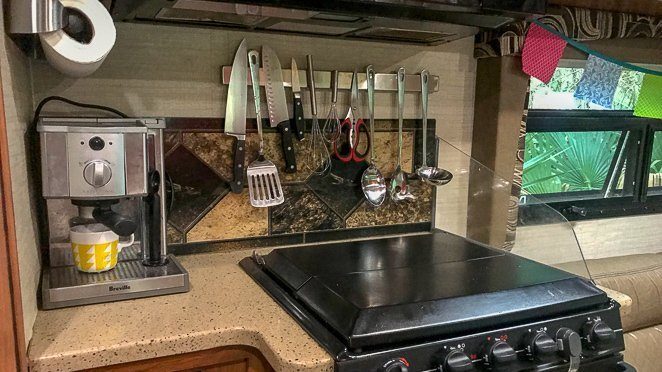 Do you really need a coffee maker? That's up to you and your lifestyle.
If you want to get by with something much smaller and easier to use when you dry camp, then an Aeropress is a great option that we have used many times.
Another great option, and what I consider an upgrade from the Areopress, is something we recently discovered called a Staresso.
When we took 5 months to put the RV into storage to embark on some world traveling experiences, we brought our portable espresso maker (the Staresso) with us and used it multiple times each day for 5 months without any problems!
Click here for more ideas on great RV kitchen appliances for a small kitchen.
6. State Sticker Travel Map
Have some RV fun with a state sticker travel map. It's such a fun addition to your RV. It helps you keep track of where you've visited and brings the entire family into the excitement of camping.
I especially like that ours has the flags on each state. SO many families and couples have a map like this on the side of their RV door or slide, it's a fun gift!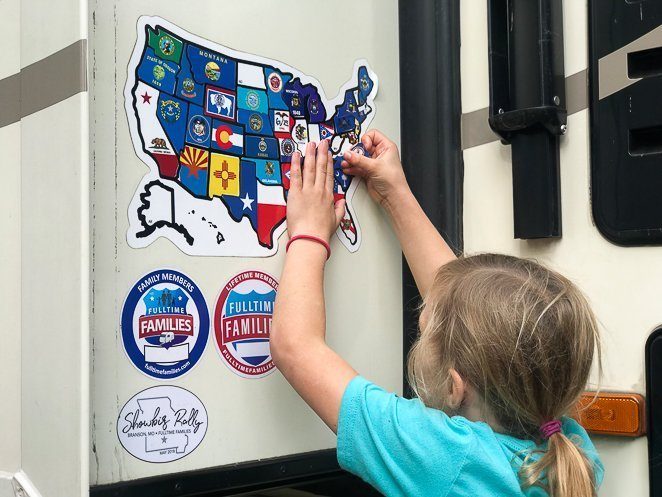 7. Hammock
A portable hammock is still on our wish list! So many RVers have one of these and our kids love climbing in and swinging around on our friends.
It makes for a great place to read a book and helps you to get outside on a relaxing day at camp. Oh, and this travel hammock has its own stand so you don't have to worry about hanging it from a tree.
8. Rope Lights
Extra lighting around your campsite can make it fun and even a bit safer when it gets dark early at night. A string of rope lights is such a fun RV accessory to have and you'll see that many RVers have some.
We actually don't own any, as we have our LED light on the outside of our awning. But we've been to many bonfires where there are rope lights that are laid out around the perimeter of the campsite for some camper fun at night.
9. RV Mats
A fun RV mat is always a great gift idea, but also something you may want to pick up for yourself as one of those camper necessities that will help keep the dirt out. Especially if it comes with a carrying case like this one to make travel days much easier.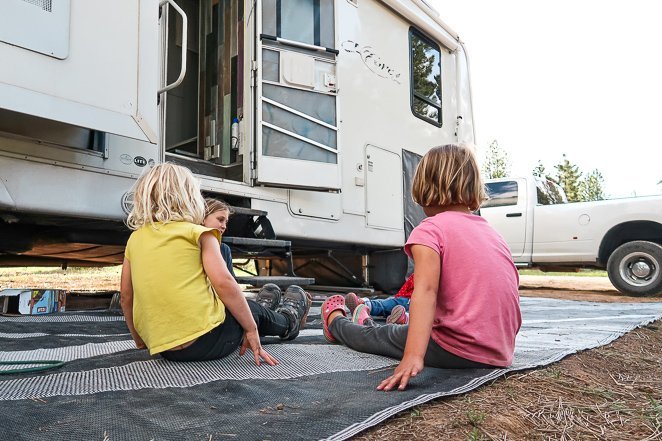 Not many RVing couples or families travel without an RV mat of some sort.
Check out this fun mat at Camping World with LED lights to help light it up at night!
10. Welcome Flag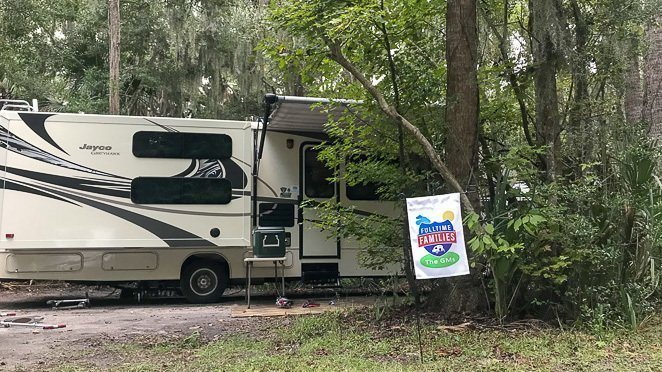 A welcome flag is a really fun RV accessory for any camper. We have one that's specific for full-time families and RV families that travel the US, but there are so many other great ideas for fun camping flags.
11. Fire Pit
Camping can be so much more fun if you have a fire pit. Now, you can do the traditional campfire with wood and sticks….or you can buy a really cool propane fire pit to bring with you and not need to smell like a bonfire.
Click here to read our deep dive review on the best portable propane fire pit for camping.
Or, check out this pop-up fire pit that Camping World has.
Camper Gadgets For Your RV
If you're looking for fun camping gadgets that go beyond the typical accessories for your RV, then check out our list below. These camper gadgets can be fun RV gifts and accessories for the special guy or gal in your life, or you just might want to buy something for yourself.
12. Telescopic Extension Ladder
A portable telescopic extension ladder is a great RV gadget for any RV lover. With a high weight capacity, safe to use, and it doesn't take up much space this is a new camper gadget that many RVers are buying.
13. Infrared Thermometer Gun
This handy RV tool is on Tony's wish list! An infrared thermometer gun reads your tire temperature with the click of a button! Our full-time RV friends had this while we were caravaning across Michigan, and it was so cool (no pun intended) to see the quick results!
This camping gadget told us if the tires were getting too hot on a travel day, which is not a good thing and can cause some major issues. Let's just say that Tony was quick to say 'I have to get me one of these!'
Or, if you're looking for a simple stocking stuffer for an RVing dad or a cheap gift for Father's Day, then a tire pressure gauge is a fun addition to your RV gear that is also very useful.
14. Portable Garbage Can
These simple and easy-to-transport outdoor garbage cans are fun RV accessories that would go great with a lot of outdoor cooking. If you're a weekend camper or a full-time RV living family, these are super helpful to have around.
If you often have large potlucks to connect with other traveling families and couples, then having an outdoor trash can is a must. I also like that they pack up small for storage.
15. Sporks
We LOVE our sporks! We bought a set of these exact sporks as a road-trip gift for our kiddos when we left MN after visiting family. These camping products saved us on space in the RV silverware drawer. They function as a spoon and fork, and the kids love them!
16. Quick Dry Towels
Quick-dry towels are some cool camping accessories to have in your RV.
Our family decided to do away with our old towels and each have our own Youphoria towel. Tony and I really like how quickly they dry, how easy they roll up, and how much space we save.
The kids especially love the bright colors they have! We got rid of our old towels and now use these exclusively.
17. Measuring Cups
One of the top RV kitchen gadgets that we love to suggest are these collapsible measuring cups. They are small, useful, and take up less space to make for a great purchase.
18. Double Fridge Bar
This simple and yet very useful double RV refrigerator bar is a great camping gadget for any RV owner. It holds all of your food in place on travel days so you don't have a mess to clean up later!
19. Brass Elbow Water Connector
One of the must have RV gadgets that are almost too basic to list, is a brass elbow water connector. It helps prevent stress and crimping on the fresh water hose in your RV. 
20. Water Pressure Regulator
Add a water pressure regulator to your list of RV gadgets and gizmos to pick up. We use ours every time that we hook up to fresh water, to prevent the possibility of very high pressured water systems doing any damage on our RV.
21. RV Sewer Support
Another RV gadget that you may not have thought of is an RV sewer support. You can find yourself using this to help gravity work better as you're dumping your tanks.
22. Tire Pressure Monitoring System
A tire pressure monitoring system is one of those camper trailer items that many people think about buying. They can be very helpful! Check this one out and see if it's for you.
23. Weboost – RV Internet Gadget
If you're looking for RV gadget gifts for the full-time RV living friend of yours, then you could make their day by gifting them a Weboost. This will allow them to have a boosted cellular signal in their RV, so that they can work online in their RV from many great places across the USA.
What RV Gift Should I Get?
Traveling and living full-time in an RV required our family to keep our RV gadgets down to a minimum. That often means we couldn't buy too many knickknacks to have hanging around.
That's why I wanted to create this list of the fun camping accessories to help provide you with ideas if you're looking to buy gifts for anyone who lives in an RV, or even camper gadgets for yourself.
These ideas are highly recommended because most are very functional and don't take up too much space. Those that are larger, such as the Gazelle tent, are totally worth the space!
Check out the best air conditioners for pop-up campers as a really unique gift idea for a camping friend or family member.
Related Posts
Looking for other blog posts that can help answer your RV questions? Check out these related posts:
What fun RV accessories do YOU love? Share in the comments!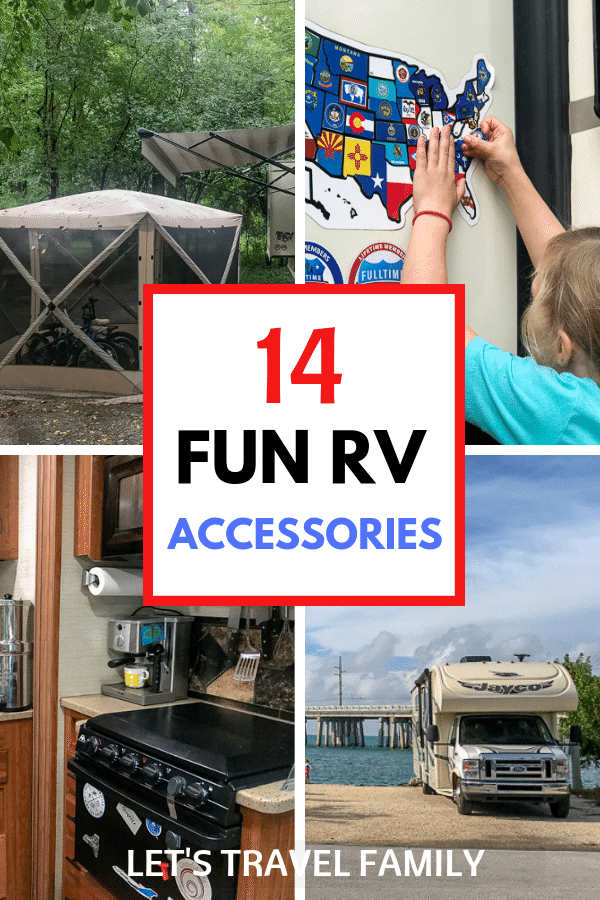 Let's Travel Family is a participant in the Amazon Services LLC Associates Program, an affiliate advertising program designed to provide a means for sites to earn advertising fees by advertising and linking to amazon.com, amazon.co.uk, amazon.ca. Amazon and the Amazon logo are trademarks of Amazon.com, Inc. or its affiliates.