It's totally a 'thing' to look up camper names once you buy a camper of your own. As soon as you tell your family that you bought an RV they're going to ask you if you've thought of any RV names yet.
So, have you?
Back in 2017 we bought a Class C RV motorhome and traveled in it full time with our four kids for 2 ½ years.
We learned quickly that our KIDS wanted us to name our RV and even our mini-van that we drove along with it. Much like you research baby names after places if you're a big traveler like us.
I did a little research online for motorhome names, but it ended up being my husband who suggested the name 'Morph' for our RV since we had two slides that would open up and 'morph' it into our house each time we set up.
But what RV names could possibly fit your camper? Are you living in your RV full time and want to name your home on wheels? Or do you take your camper out on the weekends instead of tent camping?
You'll find ideas with our list of RV names below.
THIS ARTICLE MAY CONTAIN COMPENSATED LINKS. PLEASE READ OUR DISCLAIMER FOR MORE INFO.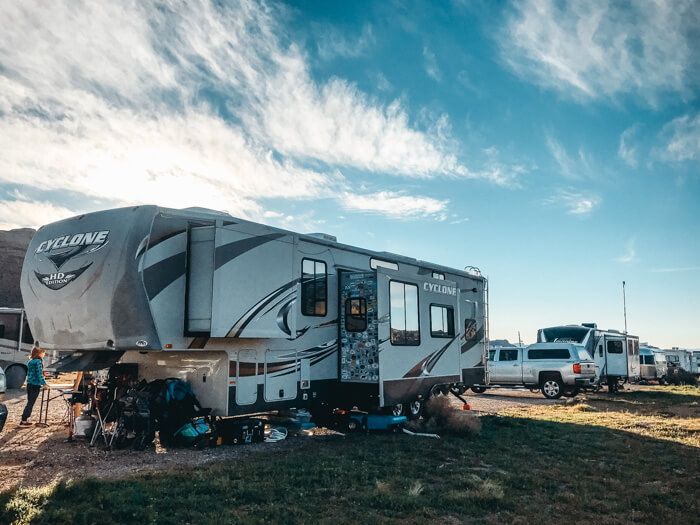 Don't have time to read a bunch of RV travel posts and reviews? Here are some of our top picks for RV living:
Our Favorite RV Resources:
Funny RV Names
Funny camper names can be great conversation starters. Trust me! You can show up at a new campground and easily strike up a conversation with your neighbor by sharing the name of your RV.
"We'll be back in Jon Snow when the day ends."
"You named your RV what?"
They're always so fun to say. So if funny is what you want, check out the names below.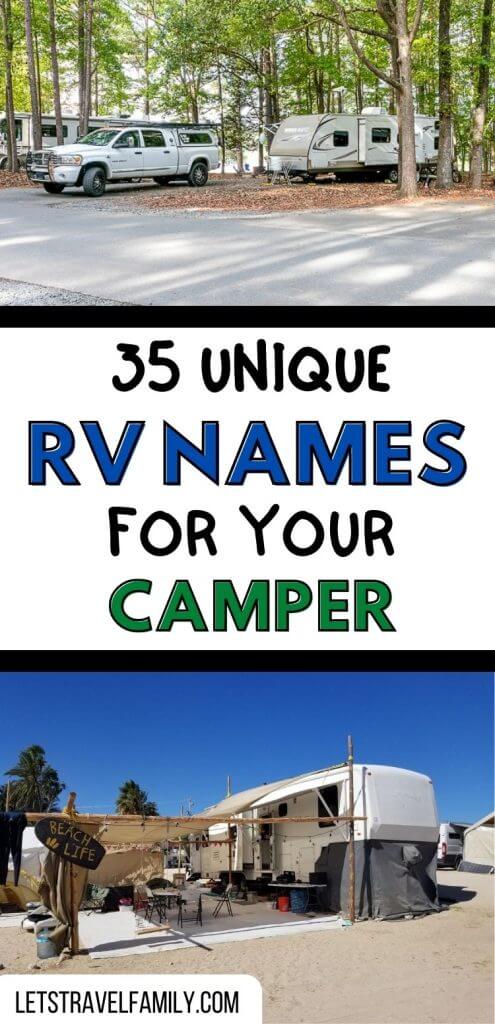 1. Rock n' Road (pun intended)
Make a pun out of this very famous flavor and get a good laugh out of it. Rocky unpaved roads won't stop you from traveling, and it won't stop you from having a creative RV name either!
2. Jon Snow
Not a funny character, but has been the subject of hilarious memes all over the internet. Jon Snow would especially fit a pristine white vehicle.
3. Wander Van
Not that funny… until you realized that it sounds like a superhero name! Does Wonder Woman ring a bell?
Related Post: 34 RV Must Haves That We Cannot Live Without
4. Shaky Shack
Make fun of how the RV moves and shakes around when it comes to challenging roads by naming it the Shaky Shack. Or if your RV shakes for any other reasons!
5. Wild Ride
Why the Wild Ride? Use your imagination but if you plan to have kids in your RV, or not, I think this name could mean many different things.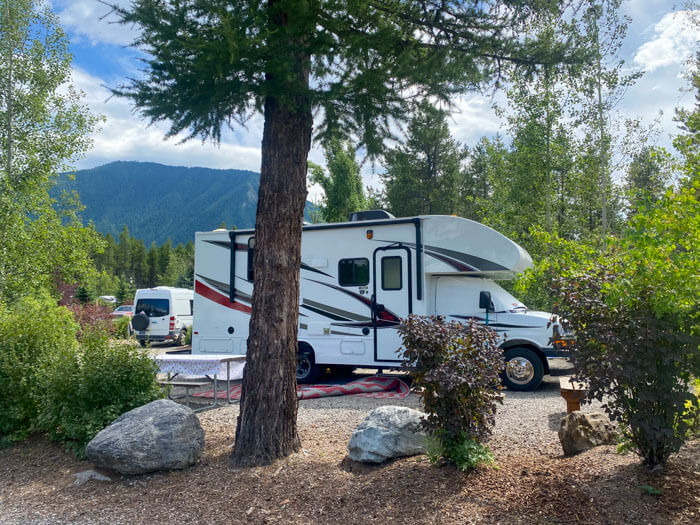 6. Love Machine
A great name for a camper for two newlyweds might be Love Machine. Such a fun name!
7. The Shack
Or maybe The Love Shack might fight for a couple like you!
8. Buster
A fun pet name that would make for a great RV name.
9. Squeaky
You like to keep your camper 'squeaky clean' or maybe it likes to creak and make some squeaky noises.
Learn exactly how to become a master at keeping your RV organized and looking great without feeling overwhelmed when you grab a copy of our 73-page ebook. Click here to grab a copy of Organize Your RV Like A Pro.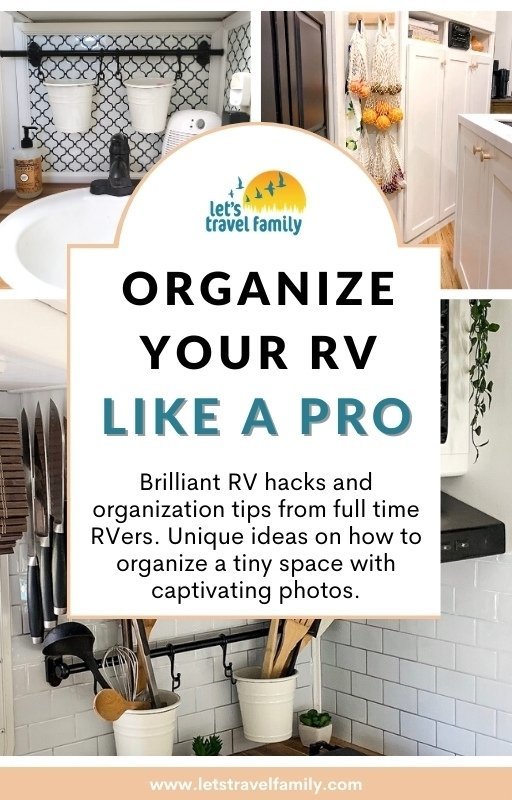 Common RV Names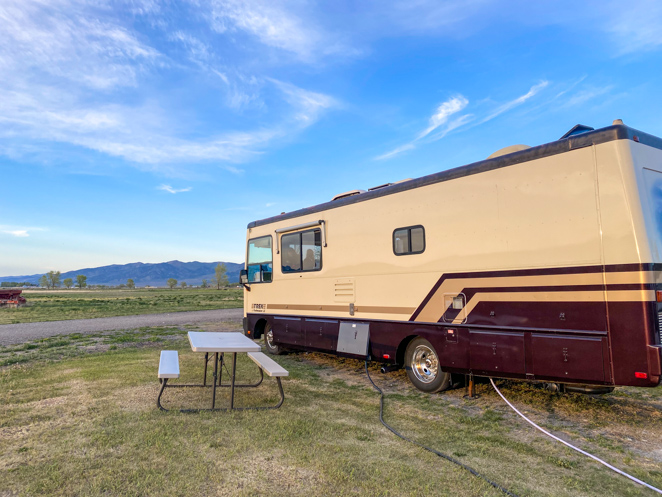 There are certainly some names that stood out from the point of view of RVers. Especially those people who bought an RV to live in full time. And so many of them named their RV the same names. .
Related Post: 8 Things You Do NOT Need While Full-Time RVing
10. Long Haul
Your RV comes with you on your long hauls, so give it this name to appreciate your RV's help!
11. Adventure
Some adventures are only possible because you have an RV, and that's what makes it so special.
12. [Last name] Mobile
Let everyone know that it's your family's beloved RV by incorporating your last name in its name.
13. [State Names]
Be proud of where you came from and use it as a name inspiration for your new home on wheels!
14. Atlas
Atlas is usually used to name small pets, so it especially fits small RVs. Also, Atlas is a word that means a collection of maps — very fitting for an adventure vehicle.
15. Camp
Camp is a simple and straightforward name to call it.
16. The Voyager
A common name if you're searching for happiness or experiences on your trips.
Names For Small RVs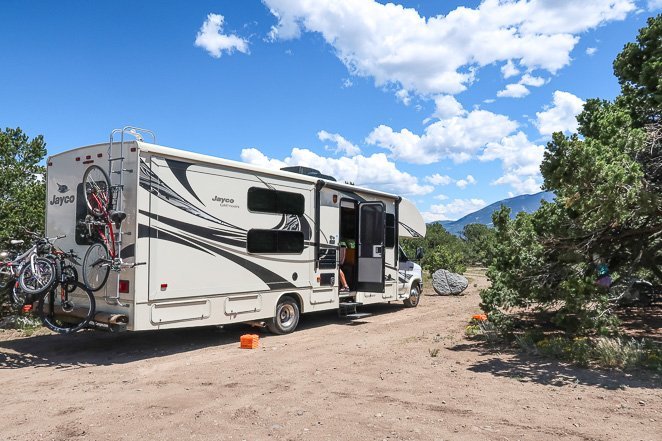 Do you own a small RV or motorhome? Motorhome names can be based on the RV's size. Some names fit small RVs more than they fit big ones. Here's a list of names for small RVs that you may like.
Related Post: RV Kitchen Accessories You Must Have
17. Babe
Usually used as a name for small dogs, Babe is an endearing way to call your RV.
18. Coco
Another popular name for small dogs, Coco is a very cute name that kids will especially love.
19. Lady
Is your RV small and elegant-looking? Then treat it like royalty and call it like one.
20. The Tin Can
If your small RV resembles a silver can, this might be the name for you.
21. Wander Truck
Do you have a large truck pulling your RV? Or a truck camper? Then this one's for you.
Names for Big RVs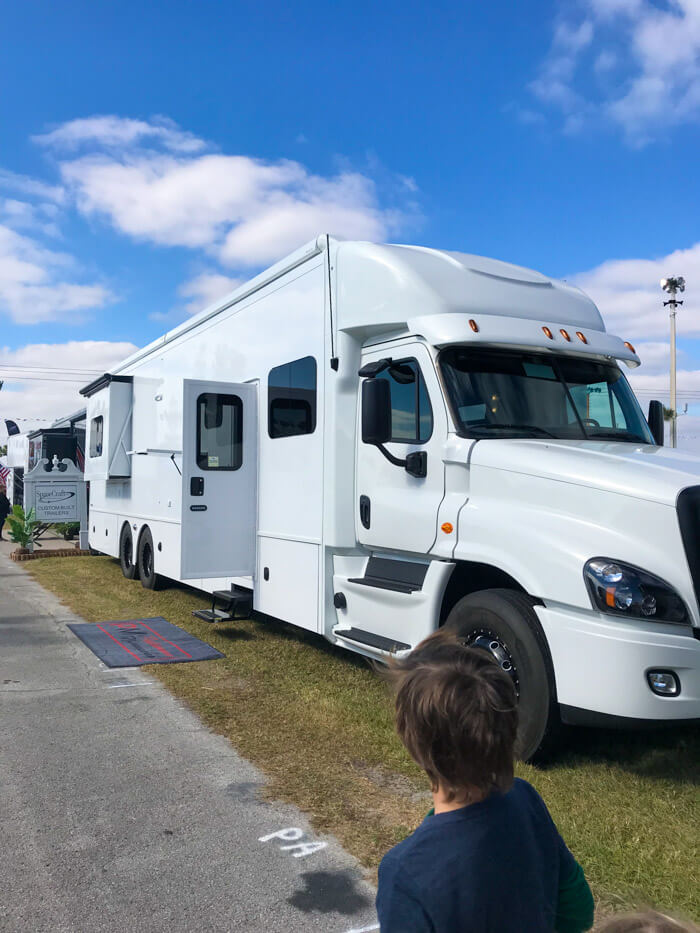 There's no way we'll leave the big RVs out. There are so many larger RVs on the road for full-time RV families or those who go camping on the weekends with their big families. Some are specialized names that work well when looking for RV driving name ideas. Here are some name recommendations for those.
Related Post: Expert Tips On Buying An RV For The First Time
22. Fun Mobile
Bigger vehicles mean more space for some indoor fun!
23. The Big Rig
Use an adjective just to emphasize how big your RV is. And doesn't the rhyme sound cool?
24. The Tank
Your RV guzzles the gas and feels huge to drive, so you can name it 'The Tank' to cover both reasons.
25. Fifth Wheel's A Charm
If you're towing a fifth wheel, this could be a great name for a camper.
26. Big Bertha
Love this name for a big bus!
Names From Shows And Books You Love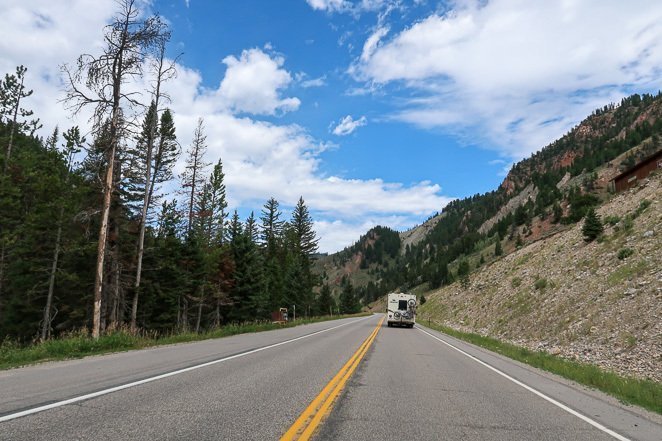 Are you a fan of a particular show or book? Then you can get some name inspiration there! You might think of some as old money names that parents name their children.
Related Post: Top Rated Travel Guides And E-books
27. Hermes
Get the blessings of the Greek God of Travel while RVing with this name.
28. Soteria
Or be specific and hope for safety during trips by naming your RV Soteria, the Greek Goddess of Safety.
29. Thomas
Are you traveling with a little kiddo who's a HUGE fan of trains? If yes, then we suggest naming your RV Thomas, the famous train from the kids show Thomas & Friends!
30. McQueen
If your love for cars, in general, started when you watched the animated film Cars, then McQueen is also a pretty solid name suggestion.
31. The Transformer
Or any iconic name from the movie, like Optimus Prime and Bumblebee!
32. Millennium Falcon
Are you sporting an RV with obvious wear and tear? Well, even the Millennium Falcon in Star Wars was not that presentable but was recognized for being full of surprises. Wear and tear are only signs of how helpful your RV has been!
33. Maverik
You feel like a Maverik from Top-Gun while driving your RV.
34. The Bat Mobile
Are you a Batman fan? Or maybe your camper is black. This could be a great name for you.
35. Elvis
A classic name for a classic RV.
Did you see an interesting name from our list? Or do you have a name in mind that you think everyone should know about? Tell us below!