So you've made the decision to give RV living full time a try. What do you do next? There's a lot that goes into preparing for full time camper living, and figuring out where to begin and what steps to take can feel super overwhelming.
Fortunately, you've come to the right place. Today, we're going to talk about how to prepare for full time RV living. We will break down each step you need to take to begin full time camper living so you can hit the road fully prepared and with confidence.
THIS ARTICLE MAY CONTAIN COMPENSATED LINKS. PLEASE READ OUR DISCLAIMER FOR MORE INFO. THIS POST WAS WRITTEN BY JILL GREISING-MURSCHEL, A FAMILY TRAVEL AND RV LIVING EXPERT.
Find Remote Work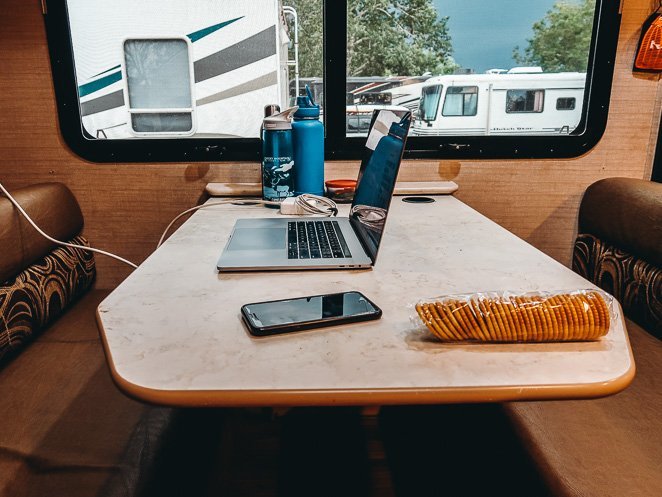 First, you will need to find some way to make money while on the road. Many people skip this step, thinking they can tackle it later, and some of them are actually able to make this work. That said, we highly recommend securing some sort of remote work before taking any other steps.
Not sure how to find remote work? Many RVers have found ways to work for themselves as entrepreneurs, while others find remote jobs on Indeed.com. You might even find that your current employer would be happy to let you telecommute.
Here are some ideas for making money on the road along with a list of jobs for nomads to help you get started.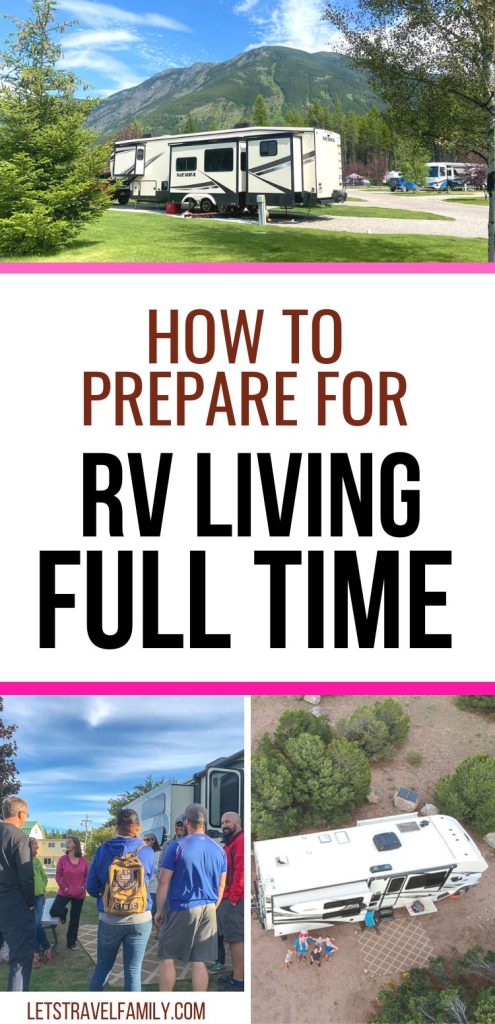 Create a Budget For RV Living Full Time
Once you know about how much you'll be able to bring in each month, you will want to create your full time RV living budget. Write down all of your expenses, including things like the RV payment, any other vehicle payments, insurance, cell service, etc. Be sure to allow for RV repairs and entertainment, and put some money into savings each month.
Have your budget written down, implement it as soon as possible, and stick to it!
Here are some more suggestions for building your budget for living in a camper full time.
Download your Free RV Budget Workbook
11-pages of useful worksheets!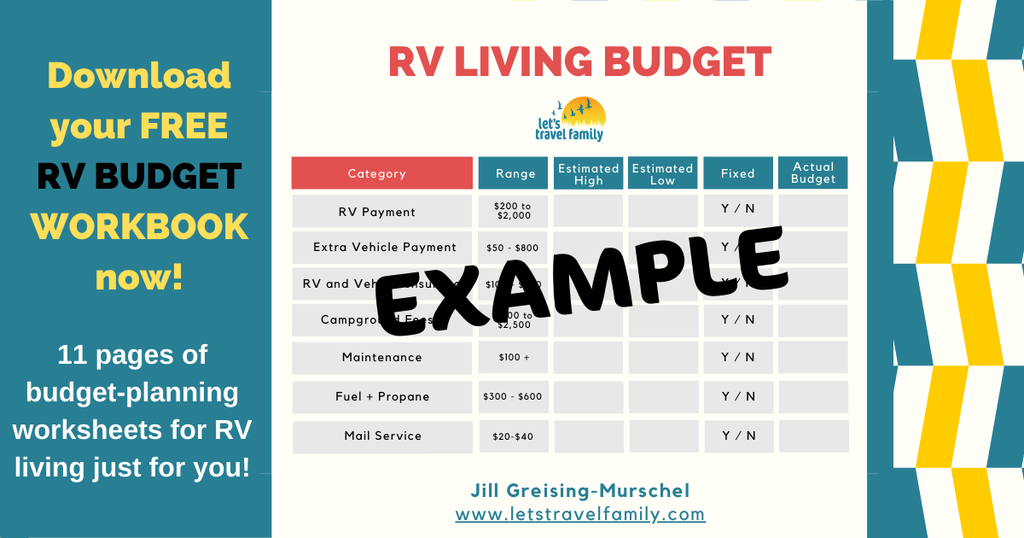 You may also find that there are some RV tax deductions for special situations when planning out your budget.
Choose the Right RV
Of course, it goes without saying that actually owning an RV is key if you're going to try living in a camper. But which one should you buy?
One way to make sure you choose the right RV is to rent a few different models you think you might like, trying each one out for a week or so. This gives you a chance to learn what you love and what doesn't work for you.
It can also help to go to RV shows and tour a huge number of RVs. Imagine you're living in each one, and be sure to try out your day-to-day tasks in the space to get a feel for what it might be like. Lay in the beds, "wash dishes" and "cook" in the kitchen, even sit on the toilet (but don't use it).
If any of your daily tasks don't work in the space, skip it and try another rig. Just be sure whatever you choose fits into that budget you made!
Shop for RV Insurance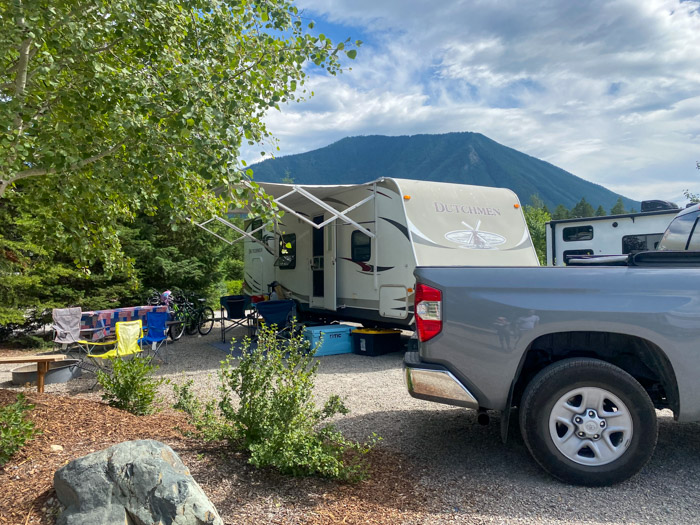 Insurance is a must-have, and you will want to buy RV insurance as soon as your home-on-wheels is in your possession. Our top pick for RV insurance is Roamly. Because when buying RV insurance, you need to make sure you have a full timer's insurance policy that covers the items in the rig as well as the RV itself, and Roamly does just that.
You will also need good vehicle insurance, as well as some sort of health insurance. Many self-employed RVers use the Health Insurance Marketplace for coverage. It's also worth checking out what the RVer Insurance Exchange can do for you.
Purge Everything
You have your income, your budget, your RV, and all the necessary insurance. Next on the list of how to start RV living? Actually moving into the camper!
As you already know, RVs are teeny-tiny living spaces. For this reason, it is important that you purge your belongings as much as you can before you even attempt to move in. Everything should have a purpose and a specific place in the RV.
Check out these fun tips on how to prepare to RV full time.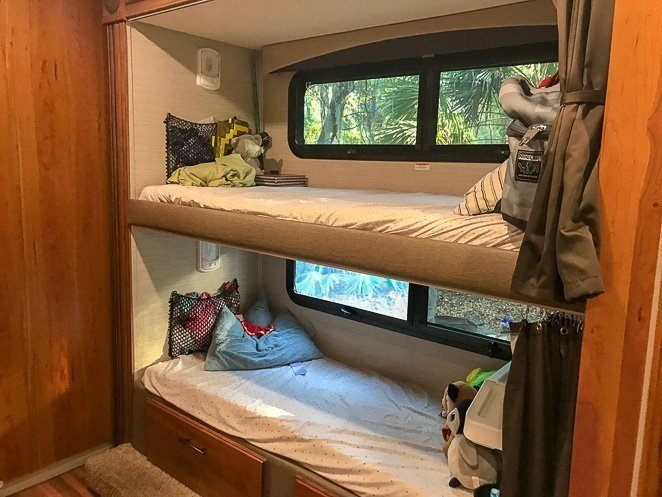 Things like kids' toys should be limited to open-ended items that can be used in a variety of games. Clothing should be versatile (think capsule wardrobes). Keep the kitchen gadgets you absolutely love and routinely use (we'd never leave our espresso machine behind), but get rid of those that only get used once a month or so.
Learn more about how we purged when we launched into full-time RV living with our kids.
Stock up for Full Time RV Life
Once you've moved all of your stuff over to your new home, you'll need to fill in the blanks with important RV-specific gear. This includes things like a freshwater hose, a sewer hose, a surge protector, etc.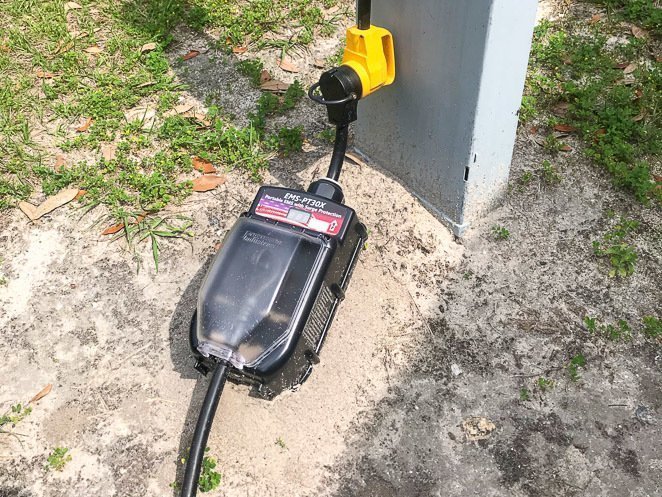 Here is a list of RVing must-haves. Be sure to grab these things and you can rest easy knowing your RV is ready to go.
Establish a Mailing Address and Domicile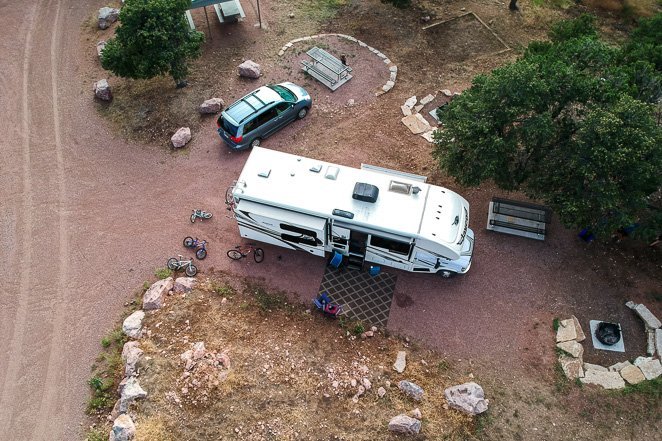 This is one step that can be skipped by some. If you're planning on keeping a house you own as a home base, you might be able to continue to receive mail there. You'll also be able to maintain your domicile in your current state of residence.
That said, those who will be living in a camper full time without any sort of home base will need an address of some sort for receiving mail, filing taxes, and more. Many RVers choose to domicile in Florida, Texas, or South Dakota due to homeschooling laws, taxes, and other factors.
You can find the best mail forwarding service for RVers in our detailed post. Or, if you are curious about the 'quick and easy answer' then here you go.
To establish an address and a new state of domicile, you will want to go through our top mail forwarding service, Escapees.
Find an Internet Solution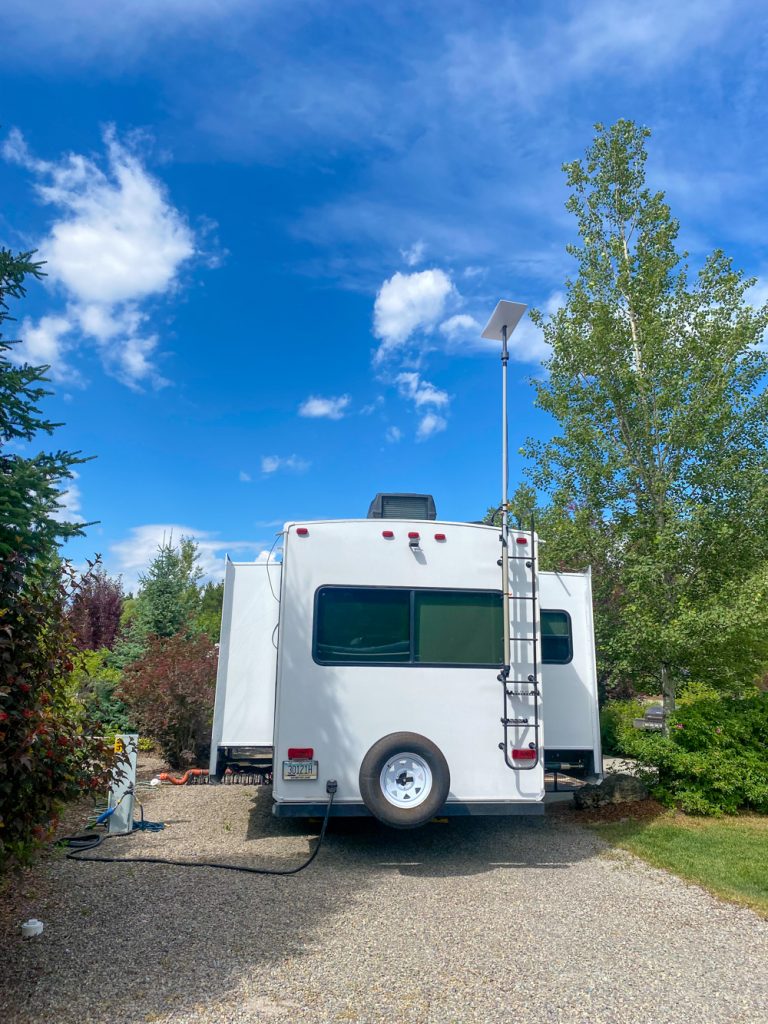 How you will stay connected while full time RV life is something you will want to consider.
Many RVers use a cell service and a mobile hotspot. Some even pay for service through multiple carriers in order to increase their chances of being connected wherever they go. A cell booster is also handy for boosting a weak signal.
Another option is Starlink satellite internet. That said, this option requires a clear view of the sky, which means you can't park under trees. Because of this, we think Starlink is best used in conjunction with a cell hotspot for those times when parking in the shade is a must.
Think About Schooling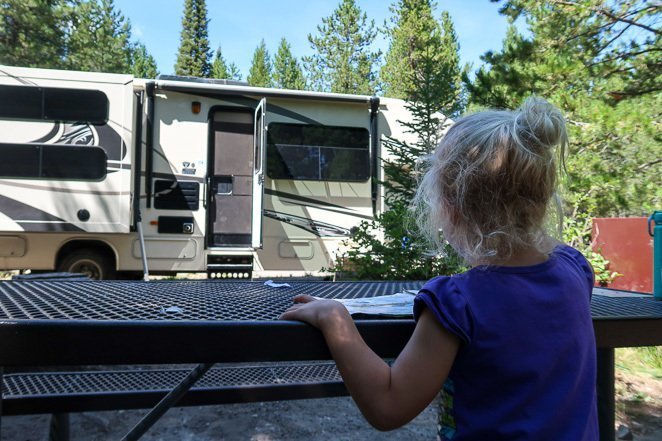 Planning to take kids on your RV adventures? You will almost certainly need to homeschool them. However, this doesn't have to mean doing school at home. There are many different ways to homeschool, and what works for one family may not be what works for the next.
Look at all of your options and decide what might work for you. Go in with an open mind and don't get too caught up in what school "should" look like. Instead, go with the flow and let your homeschooling style morph to fit your family's needs.
Related post: Helpful home education resources.
Purchase Memberships
Camping and RVing memberships can make a world of difference when you're out on the road. A Thousand Trails campground membership can save you thousands on camping fees. Meanwhile, a Fulltime Families membership will help you make connections with other full time RVing families as you travel.
This is a list of all the camping memberships we feel are worth buying for full time camper living.
Download Apps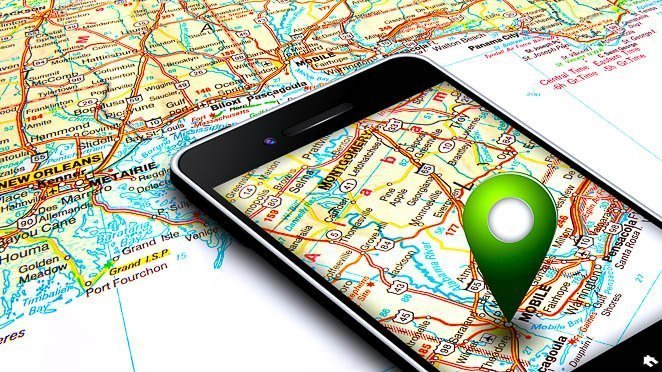 Apps and computer programs can also be super helpful when planning your routes and finding camping options. We especially love apps/services like Campendium, iOverlander, and Road Trippers.
Here's a complete list of RVing apps and tools you might like to have when living in a camper.
Plan a Route For Living In A Camper Full Time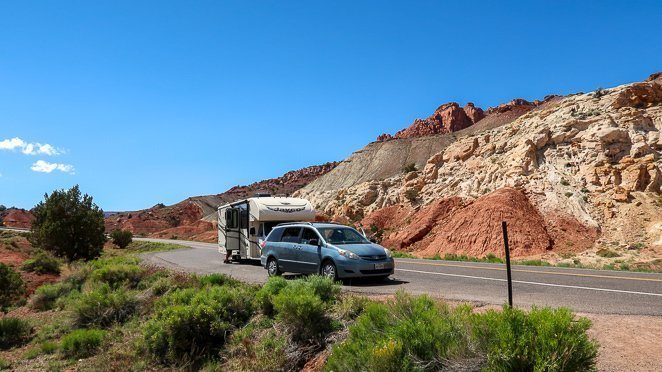 At this point, you're pretty much as prepared as you can get. The next step for how to start RV living? Planning your first route.
Here are our top tips for planning a route:
Take it slow if you can, staying in one spot for a bit.
Keep travel days under 300 miles.
Plan travels around an RV event.
Meet up with friends made at said event.
Let the whole family contribute ideas.
Bonus route/trip: Once you've been on the road for a bit, consider planning to go RV camping in Baja Mexico!
Plan to Organize Your RV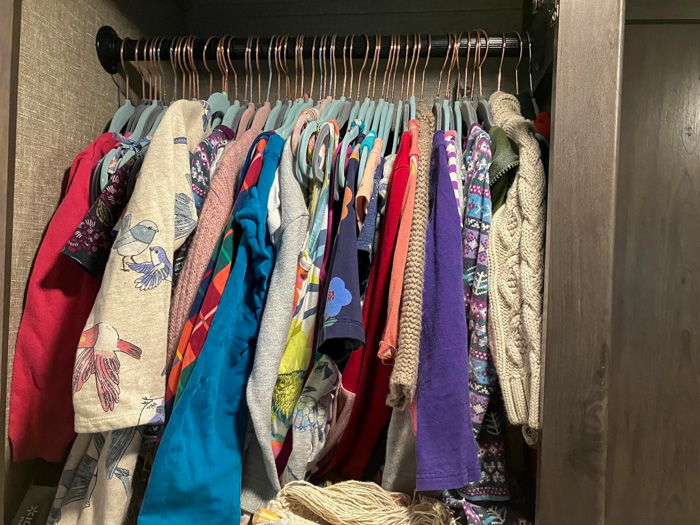 Once you have all the RV accessories that you need to get started, and you've purged all the unnecessary things, you can begin to organize your RV. Plan to use every open space to store items, including RV clothes storage ideas, camper bedroom organization hacks, storage space for your food and small RV kitchen appliances, and even bathroom storage ideas.
Learn to Go with the Flow
There you have it, everything you need to know about how to prepare for full time RV living. Well, almost.
Our last bit of advice? Pin all those plans you made in jello. Learn to relax and go with the flow. Things will go wrong at times, and other times you'll just find you need more time in a certain spot than you anticipated. Being flexible and allowing yourself freedom to change plans is part of the fun!