Looking for the best Boise Breweries? Boise has many places to visit, activities to explore, and delicious food to enjoy. But one thing that stands out among the rest is the great selection of breweries in Boise, Idaho. Craft beer has become a popular choice among locals and tourists alike, and the breweries Boise has to offer are perfect to get your beer fix.
After a long day trip from Boise or enjoying one of the popular Boise hiking trails, a cold beer from one of these breweries is the perfect way to end your day.
Many people moving to Idaho wonder if there's a good beer scene. Well, I'm here to tell you that there absolutely is!
From small local breweries to big-name breweries, there's something for everyone. If you're in town visiting Boise, then be sure to stay at one of the best Boise hotels in downtown Boise. That way, you can easily walk to some of the best breweries in Boise from your hotel.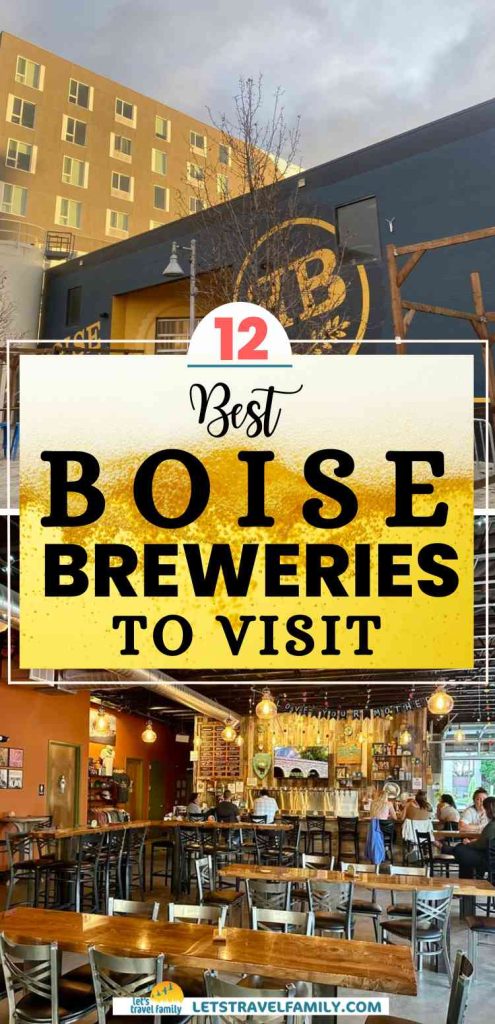 Here are 12 Boise breweries that you should definitely check out when you're in town.
THIS ARTICLE MAY CONTAIN COMPENSATED LINKS. PLEASE READ OUR DISCLAIMER FOR MORE INFO.
Best Boise Breweries in Idaho
Boise Brewing Company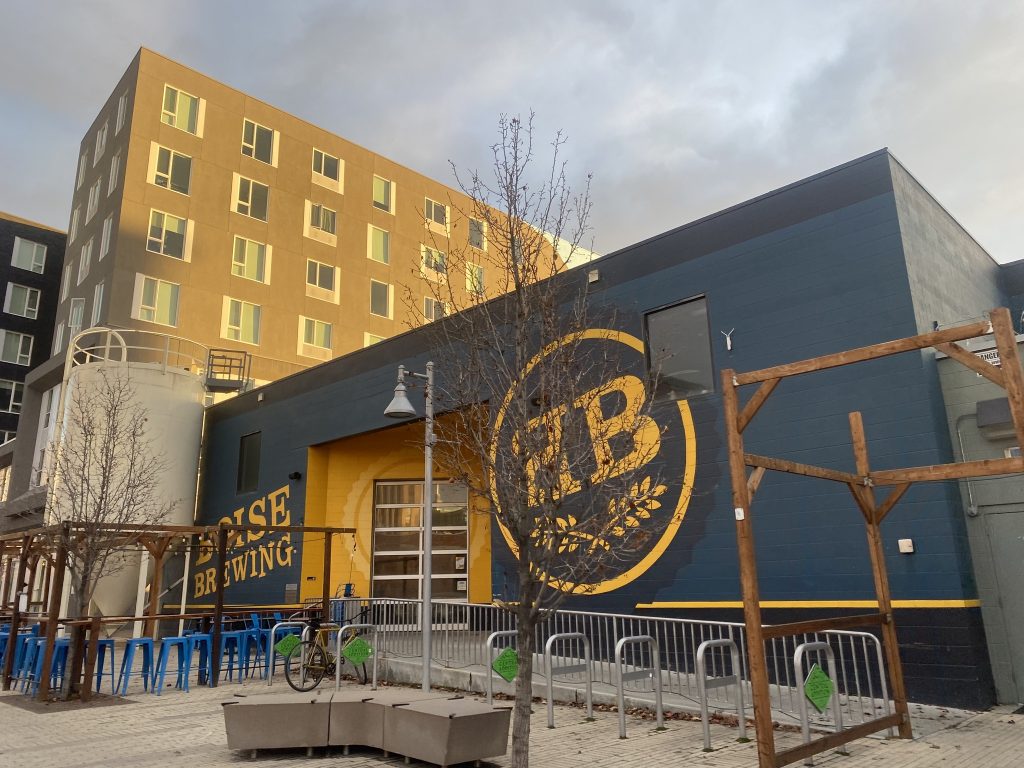 Opened in 2014, Boise Brewing Company has been crafting high-quality beers in Boise. They have a wide selection of beers, from lagers and ales to IPAs, stouts, and sour beers. Located in Downtown Boise, it's a must-visit for your local craft beer cravings! Although they don't offer food items, there are food trucks parked nearby.
The Boise Brewery also offers growler fills and kegs for those who are looking to take home some of their favorite brews. The place started as a Kickstarter and now is a community-supported beer company in Boise. Make sure you order some of their seasonal beers, such as their Chocolate Milk Stout, as it can be are a real treat.
Payette Brewing Company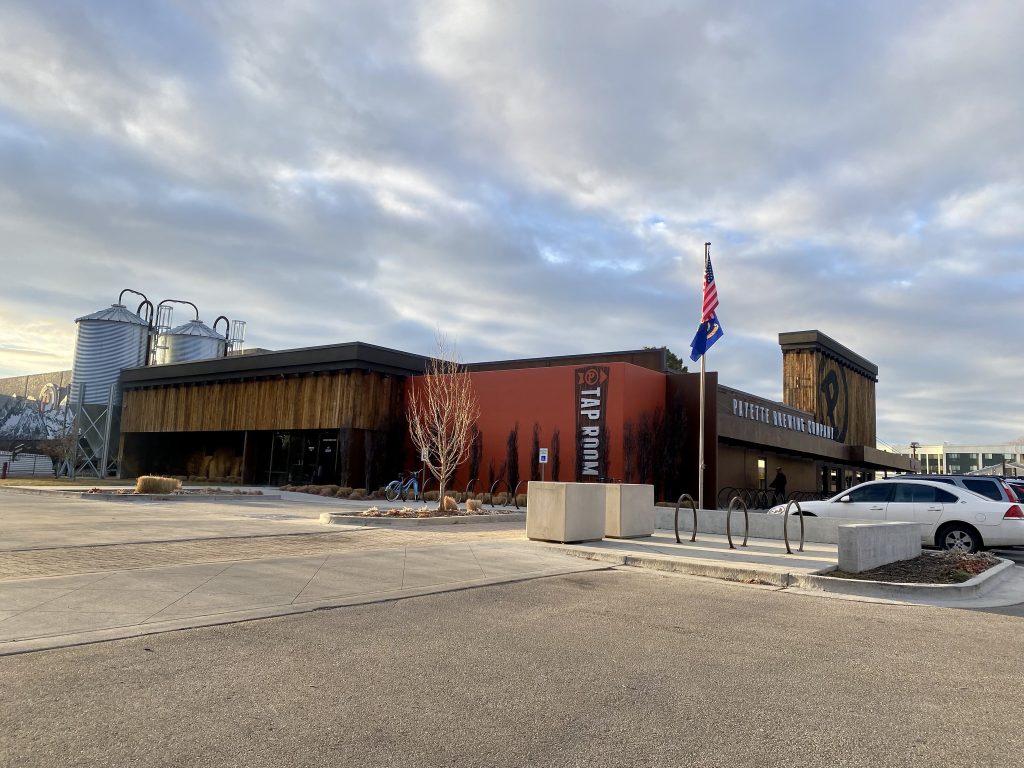 Head over to the Payette Brewing Company for a casual and laid-back atmosphere right on the Boise River. This brewery offers various craft beers ranging from hoppy IPAs to dark stouts. Same as Boise Brewing, Payette doesn't offer foo, but they have a beer garden with a food truck outside the place daily.
The Payette Brewery has been a very well-known Boise Brewery since they opened in 2011. Boise Weekly has recognized them as one of the "Best Breweries" since 2012. They have a great outdoor space to enjoy and are dog friendly, providing a unique spigot to fill a watering bowl to welcome your pup.
Woodland Empire Ale Craft
Woodland Empire Ale Craft is the place to be if you're looking for an exceptional craft beer scene experience. They craft unique beers with a strong focus on local beers. Their small-scale brewing process allows them to experiment and create some amazingly delicious brews that you won't find anywhere else.
The Woodland Empire Ale Craft was founded in 2014, and here you'll find beers made with local ingredients and is known to be the third-largest craft brewery in Idaho. If you're visiting this pub, be sure to try their best seller, Peach Party, which is made of 100% Idaho peaches.
Sockeye Brewing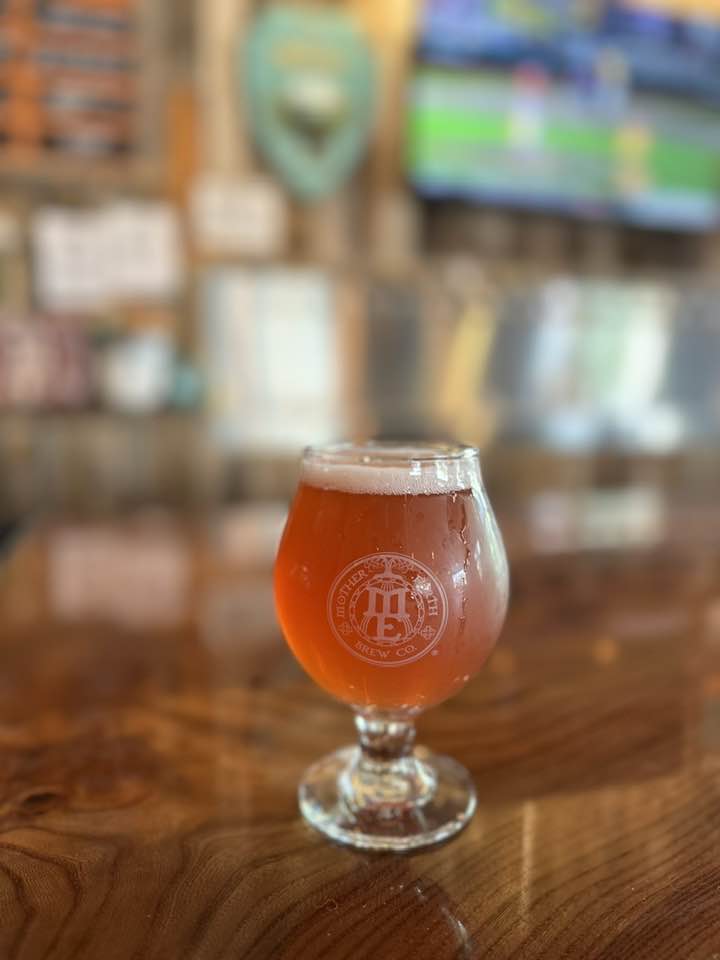 Sockeye Brewing is a local favorite in the Boise area. Located in West Boise, very close to the Village at Meridian, this is a favorite hotspot. They have year-round beers to seasonal and limited-release series. Some of their beers have won awards and recognition both locally and nationally.
What's impressive about their beers is that they catch a few of Idaho's cities and culture made with natural ingredients. When you visit, try their American lager, hazy IPA, pilsner, or porter beer.
Barbarian Brewing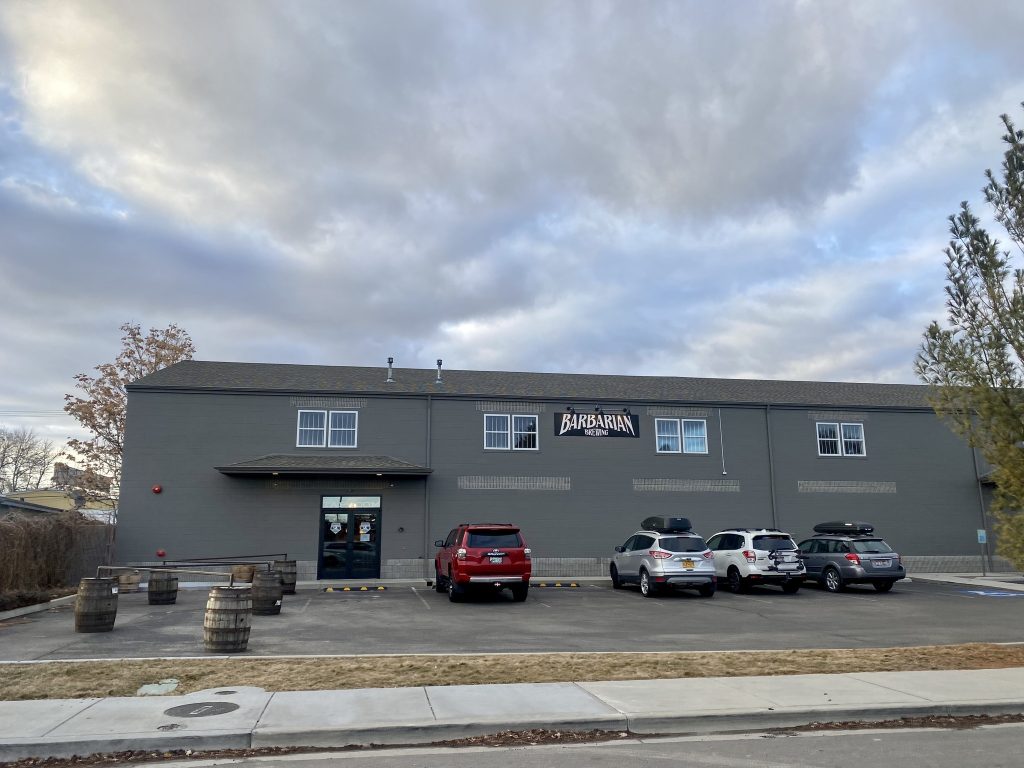 Located at 1022 W Main St Boise, ID 83702, Barbarian Brewing is a great place to get your beer fix. They specialize in barrel-aged beers, Belgian ales, and sour beers. It's a local favorite with its unique beers and friendly atmosphere.
The Barbarian Brewing is known for its barrel-aged beers with flavors such as their German Chocolate Cake 2022 Stout or Thor's Might 2022 Barleywine. If you're not into barrel-aged beers, they also have the more traditional styles like pale ales and pilsners. They also have a place in Garden City.
Cloud 9 Brewery
Renowned as the only certified organic brewery in Idaho, Cloud 9 Brewery is a must-visit brewery. The team behind the brewery focuses on creating craft beers made with organic ingredients to ensure the best flavor and quality.
They limit their selections to just six beers you can choose from at a time, finishing up one brew before offering another variety. What sets this brewery apart is that it constantly changes its beer selection.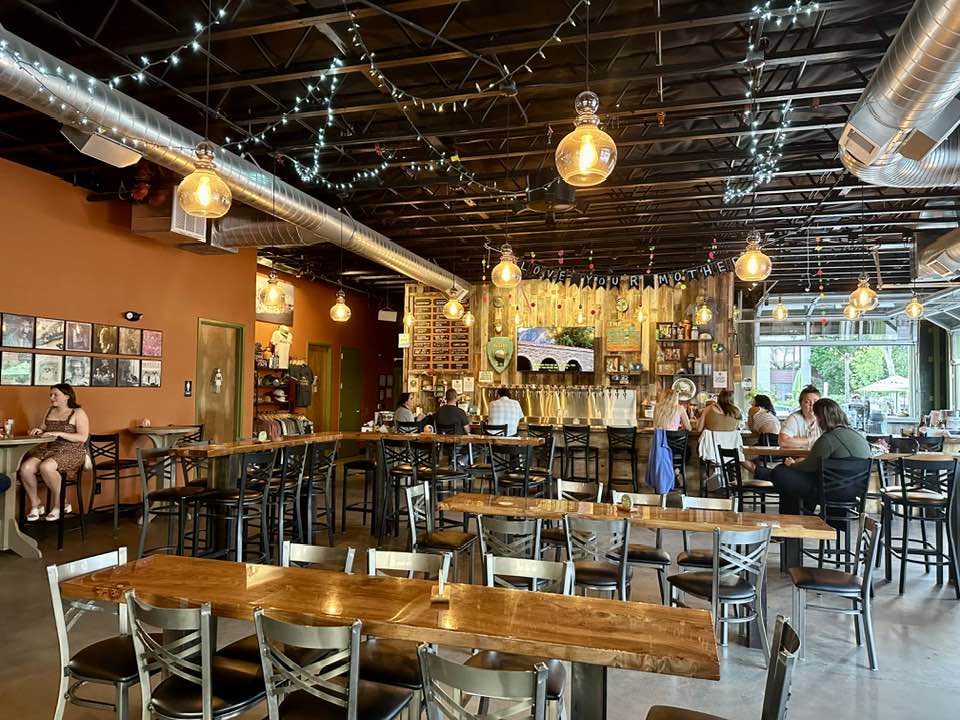 White Dog Brewery Boise
Recently opened in 2017, White Dog Brewing in Boise is one of the newest breweries in Boise ID. Located in Downtown Boise, this brewery has a great atmosphere great craft beer. Some of their popular beers include Vanilla Cream Ale, Blackberry Sour, and Hazy IPA.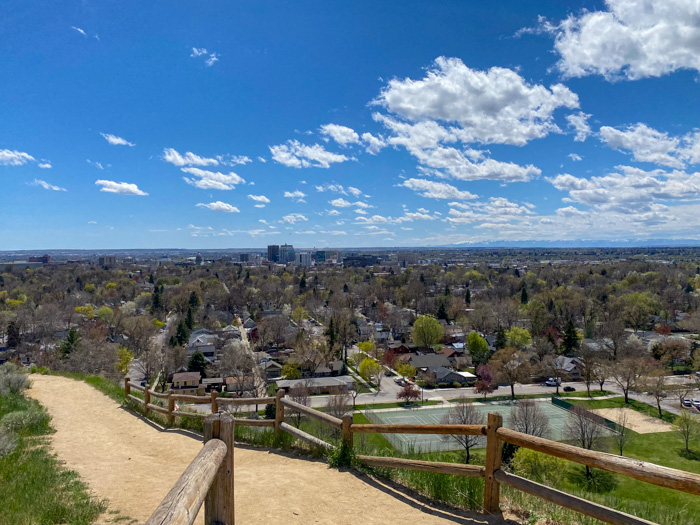 Mad Swede Brewing Company
One of the best breweries in Boise, Idaho, is the Mad Swede Brewing Company. Mad Swede Brewing was founded 30 years ago by Jerry. However, it didn't open up as a brewery until 2016. The brewery serves both beer and pizza from its resident food truck, all made with quality ingredients.
If you're staying within Boise, this brewery in downtown Boise features an ever-changing lineup of craft beers and ciders. They serve Himiglaeva Hazy Pale Ale, as well as wine, hard cider, non-alcoholic choices, and even gluten-free beers. This brewery also has a tasting room for adventurous beer lovers.
Clairvoyant Brewing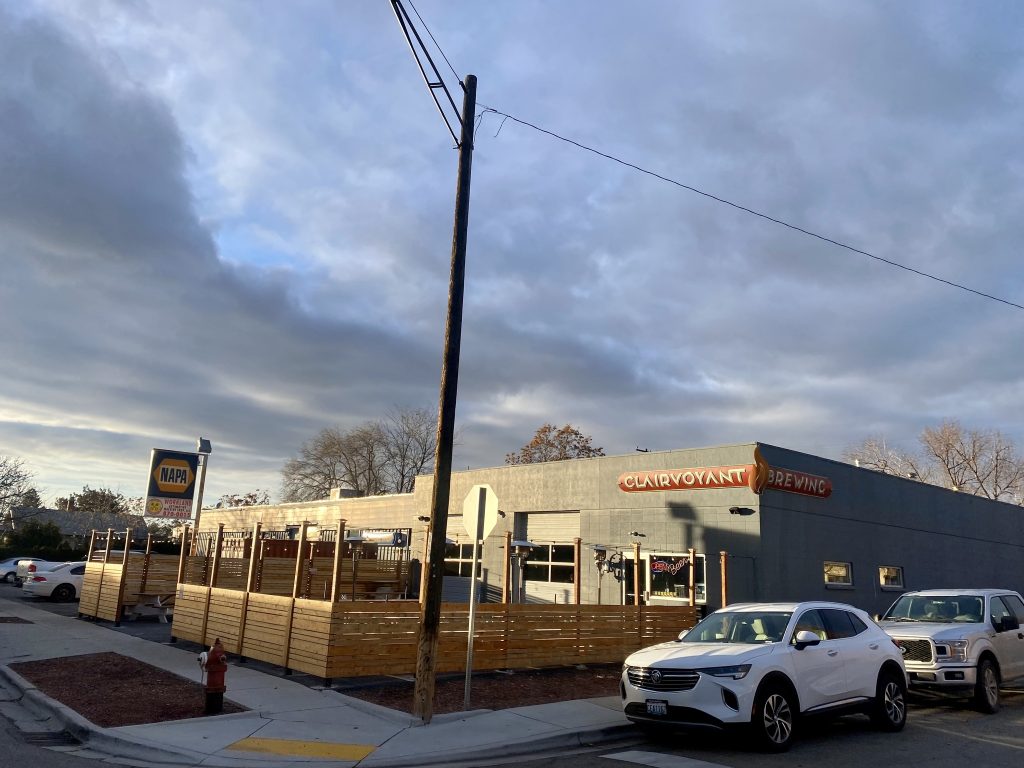 Some consider this the best brewery in Boise. Clairvoyant Brewing. Here you will find a selection of IPAs, lagers such as Mexican lager, amber ale, English Pale Ale, and dark Belgian Dubbel. They also offer a few wine selections here as well. The place has an outside patio that welcomes dogs and kids to sit and enjoy the nice weather.
Powderhaus Brewing Co.
Another top choice for breweries in Boise, ID is Powderhaus Brewing Co. Located in West Boise, Powderhaus Brewing Co. has been serving beers since 2015. Their beers are inspired by the classic German beer styles and the American craft beer touch.
You can find beers like the German-style pale lager, a Hot Haus Beer, an eagle stout, and so many other craft beers. Sit around the large outdoor fire pit along a tiny creek, and let the kids play a bit while you enjoy a pint.
Edge Brewing Company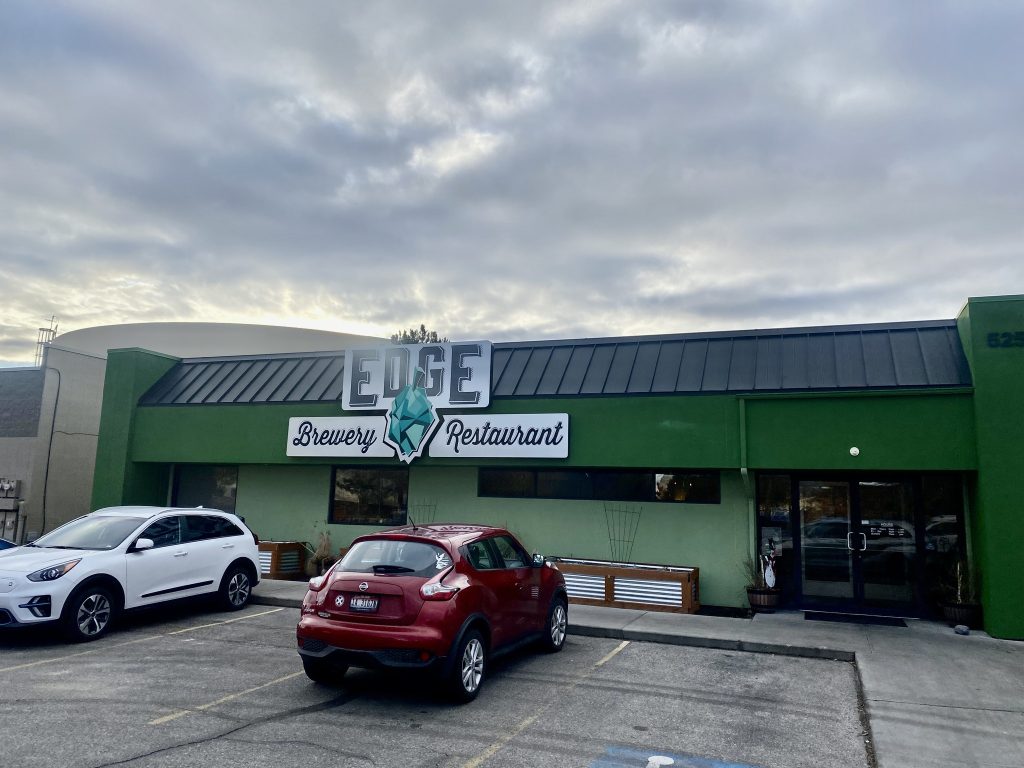 Another one of the best Boise breweries with food is Edge Brewing Company. This brewery in Downtown Boise offers a wide selection of craft beers, such as citrusy ale, a traditional Czech pilsner, or a Pacific Northwest-style IPA. Like the coffee shops in Boise, the Edge Brewing Co. has local food favorites, including fries, nachos, chicken wings, sandwiches, burgers, and more. It's an excellent place to hang out with your family if you're looking for a chill or date night.
Ten Barrel Brewing Co
The 10 Barrel Brewery has more of an exciting atmosphere in downtown Boise than some other breweries. This brewery offers a modern twist on classic American pub fare, so come with an appetite. Ten Barrel Brewery has beers such as an American pale ale, a West Coast IPA, and some seasonal beers.
They also serve non-alcoholic drinks, and what's great about them is that they come in fun flavors and colorful cans. This is one of the well-known Downtown Boise Breweries, so make sure you check them out when you're in town!
Mother Earth Brewery Boise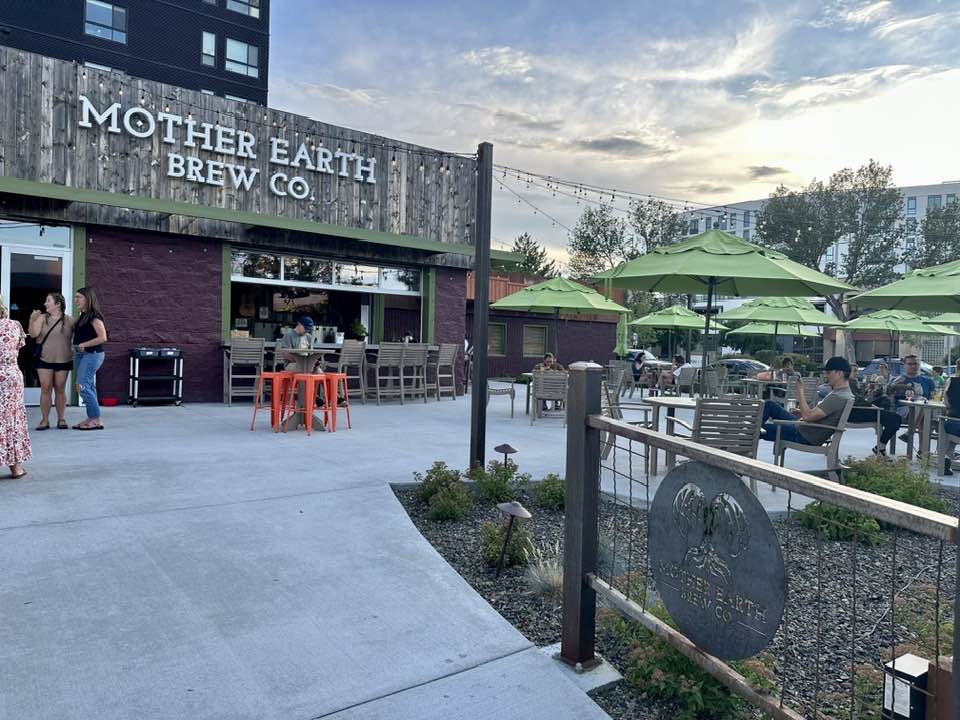 Finally, last but not least is Mother Earth Brewery Boise. Located in the heart of Downtown Boise, this is one of the newest Boise breweries offering hand-crafted beers. They serve year-round beers, seasonal beers, and limited-release series.
Mother Earth opened its Boise, Idaho Tap House in December 2021, which is an excellent spot to come and try some of its delicious beers nearby the Boise State University and Boise River Greenbelt.
Other Boise Idaho Things To Do
If you've picked out a few great Breweries in Boise to check out, you might be wondering what else you can do in Boise. Here are a few related posts that are sure to help you with your travel planning!
Plan A Winter Getaway to Go Skiing Near Boise Idaho
Camp in one of the top Boise RV Parks
Discover 35 Unique Things To Do In Boise Idaho