Are you looking for the best RV parks near Boise Idaho? You're in luck! We've compiled a list of all the best places to stay while camping in your RV in or near Boise. Whether you are looking for an affordable place or one with more amenities, we have it here.
With so many options available, there is no reason not to find what you need right now.
There are plenty of fun things to do in Boise, ID that will make your trip even better than expected. If you want some ideas on where to go, check out our guides here:
Things to do in Meridian Idaho
Enjoy some great hikes near Boise
Find the best Hot Springs near Boise
Visit the Best Breweries in Boise
Discover some excellent Boise Coffee Shops
Stay in a Vacation Rental Home in Boise For A Night

Once you get back from your adventure-filled day, relax at one of these great Boise RV parks.
Best RV Parks in Boise
The best RV parks Boise Idaho has, are just a short drive from some of the most popular attractions in the Treasure Valley area. The region is known for the kind people and sunshine, as well as the nearby mountains and fun small town city life.
We listed 8 of our best picks among Boise Idaho RV Parks and RV campground near Boise ID in no particular order.
1. Boise Riverside RV Park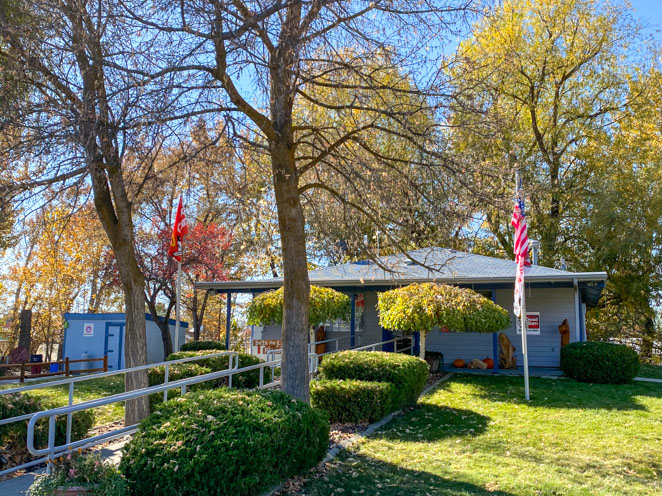 Boise Riverside RV Park is one of the few Boise ID RV parks that offer a wide variety of sites beyond just RV campsites. They also offer tent sites and cabins. Not to mention is some of the best camping near Boise, Idaho.
The biggest pro of staying in Boise Riverside is its perfect location if you're out for a short vacation! It's on the Greenbelt bike trail and Boise river and is located just a few miles away from downtown Boise.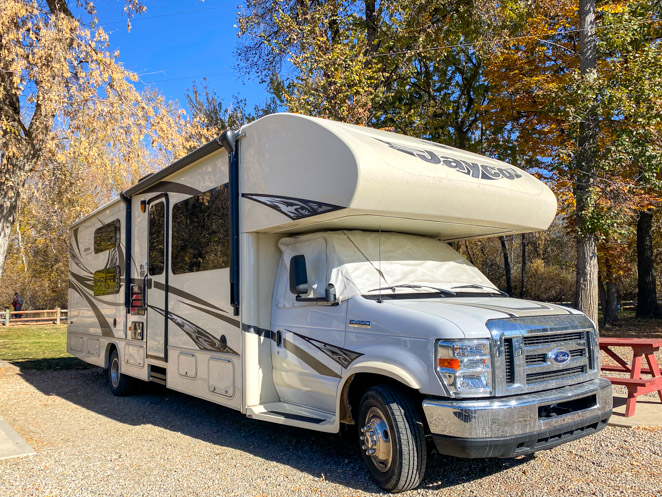 Summary:
Address: 6000 N Glenwood St, Garden City, ID 83714
Landmark: Treasure Valley on Boise River
Official Website: Boise Riverside RV Park
Rates: flat rate for four people. Additional fee per extra people aged 13+
Sites: RV, Tent, Cabins
Others: Bike rentals are available
2. High Valley RV Park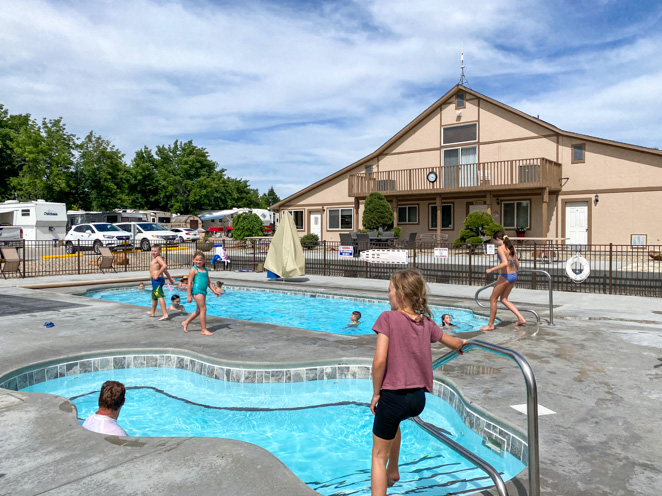 High Valley RV Park is another clean and friendly RV park with a strategic location plus more amenities for the whole family. The only con would be the absence of tent sites here for friends with tents. High Valley is located just north of the Eagle Bike Park and has an outdoor pool and hot tub.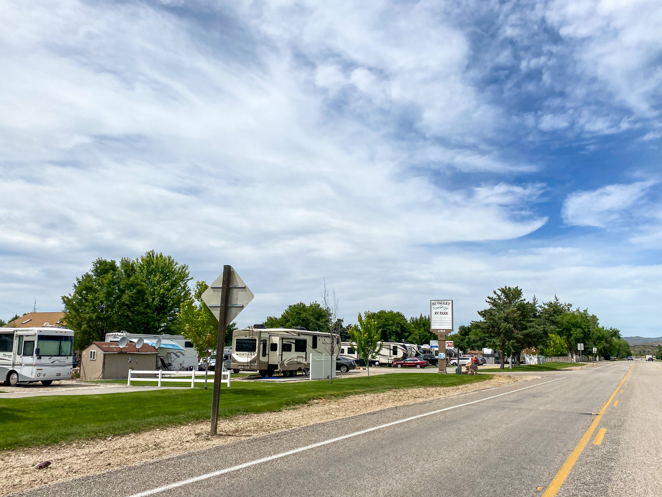 Summary:
Address: 10555 N Horseshoe Bend Rd, Garden City, ID 83714
Landmark: Eagle Bike Park
Official Website: High Valley RV Park
Rates: flat rate for 4 people. Additional fee per excess person aged 13+
Site: RV only (tents not allowed in their RV sites)
Others: Pool & Spa, Library, Exercise Room, Off Leash Dog Park
Related post: 10 Tips For RVing with Dogs
3. Meridian KOA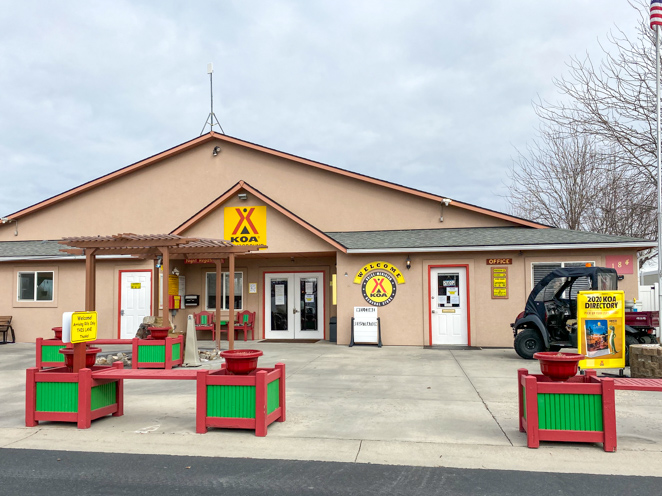 We haven't given Meridian KOA a try, but we're excited to stay here when given the chance. I did take a drive-through to check it out and it looks like a great place for families.
It's located in Meridian and has an indoor pool and hot tub along with a small playground outside for the kids.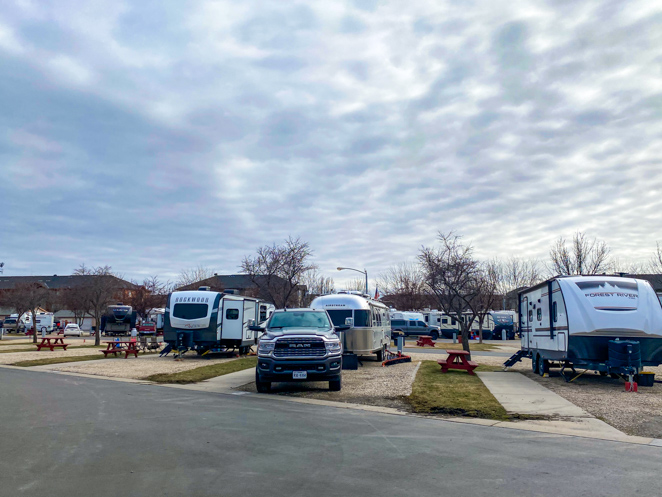 Summary:
Address: 184 Pennwood Street, Meridian, ID 83642
Landmark: Children's Museum of Idaho
Official Website: Meridian KOA
Rates: Price based on several factors (no. of pax, equipment type, length of the vehicle, slideouts, etc. More information here: https://koa.com/campgrounds/boise/)
Site: RV sites (Both back-in and pull through RV sites and all with full hookups)
Others: Picnic tables, Pavilion, Cable TV
Considering moving to Boise, Idaho or the Treasure Valley? Download this FREE 50-page Relocation Guide to Boise that will help answer many of your questions.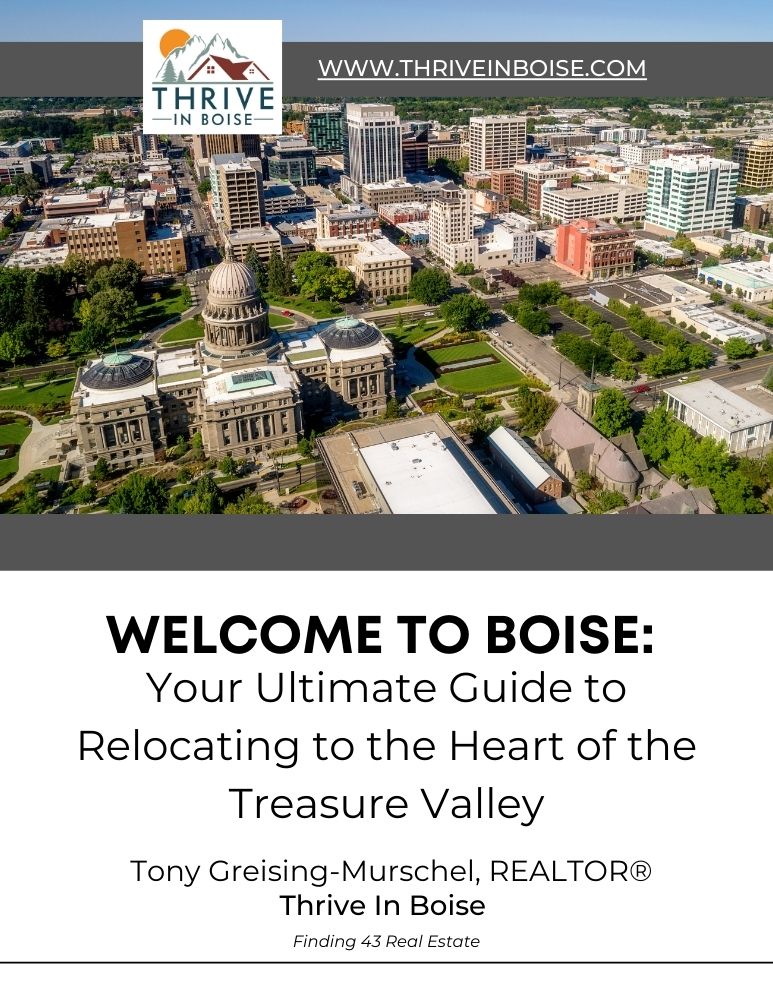 Click here to download it now!
4. Mountain View RV Park
If you're coming from the airport and renting an RV, Mountain View RV Park is the closest Boise RV to you.
The location is great if you're going for the distance to the airport, but it's not the best for a short vacation and unwinding. Since it's surrounded by other homes, businesses and the interstate in the city of Boise, it doesn't look like a quiet place to stay.
Summary:
Address: 2040 W Airport Way, Boise, ID 83705
Landmark: Boise Airport
Official Website: Mountain View RV Park
Rates: flat rates for 2 people, additional fee per extra person aged 12+ (discounted rates for AAA and GoodSam members)
Site: RV only (Pull through, full hookups) *no tent camping
Others: lawns for each site, laundry facilities
What to do: Eat at great restaurants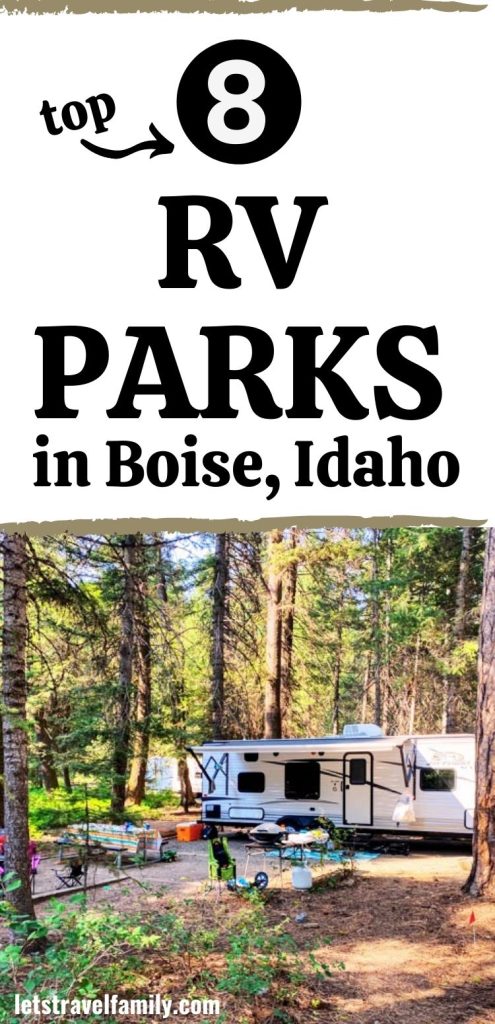 5. Ambassador RV Resort
Ambassador RV Resort is very accessible since it's right next to a highway in Caldwell, Idaho. Our good friends stayed here a few times in their very large Fifth Wheel RV and loved out spacious the campsites were. Their kids also enjoyed the pool during their stay. They also have a spa and sauna which families will love.
Summary:
Address: 615 Smeed Pkwy, Caldwell, ID 83605
Landmark: DaVita Caldwell Dialysis Center
Official Website: Ambassador RV Resort
Rates: Daily, Weekly, and monthly flat rates plus tax and electric (monthly only)
Site: RV sites (pull thrus and back-ins) and concrete patios (no tents)
Others: Exercise Room, Library, Laundry, seasonal pool, spa, and sauna
What to do: Roaring Springs, Walk around the village, Visit the Snake River Wine Region
6. Canyon Springs RV Resort
Canyon Springs RV Resort is another Boise Idaho RV Park with a unique system. They currently only offer monthly rates for full-time RVers or families wanting to take a long vacation.
This newer and very modern RV resort offers a fishing pond, a pool, gazebos, and more.
Summary:
Address: 21965 Chicago St, Caldwell, ID 83607
Landmark: Rocky Mountain Fur & Fireworks
Official Website: Canyon Springs RV Resort
Rates: flat monthly rates for two pax (exclusive of electricity), additional fees for extra people.
Site: Full hookup pull-through sites, paved RV sites (no tent sites)
Others: Gazebos, Pool, Volleyball and basketball areas, fishing pond, Community Lodge
7. Country Corners RV Park
Country Corners RV Park is a small RV park that's well-reviewed for its nice facilities and service. Visitors particularly love how pet-friendly the park is.
From here, you can get to nearby farms, or get a short road trip to Boise or Ontario!
Summary:
Address: 17671 Oasis Rd, Caldwell, ID 83607
Landmark: Sand Hollow Baptist Church
Official Website: Country Corners RV Park
Rates: flat nightly, weekly, and monthly rates for 2 pax, an additional fee per additional person. Discount rates: Good Sam, FMCA, AAA, AARP, Shriner's, and Military
Site: All pull-thru sites for RV and tent camping
Others: Fire Pits, Seasonal Garden, Laundromat
8. Snake River RV Resort
Snake River RV Resort is your number one candidate if you're looking to find a campground for some relaxation. It's not in Boise, but about a one-hour drive from downtown Boise.
The place is surrounded by nature and is peacefully quiet, which past visitors loved. Some things you can enjoy here are seeing the scenic view of Snake River, mostly nature appreciation, perfect for quiet vacations.
Summary:
Address: 4030 River Resort Drive, Homedale, ID 83628
Landmark: Snow Bird stop between Winnemucca and Coeur D'Alene
Official Website: Snake River RV Resort
Rates: flat nightly, weekly, and monthly rates for 2 pax, an additional fee per additional person, group rates for 10+ pax
Discount rates: Military, AAA, First Responders, Good Sam, 60 years olds+
Site: Grassy Pull-thru RV sites, Tent sites
Others: Fishing Dock, BBq, and community areas
Camping Near Boise Idaho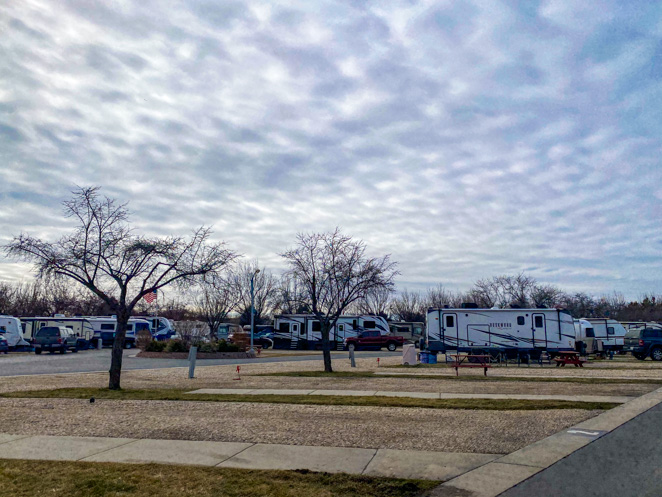 The RV parks on this list are all within Boise City limits. So you'll have no problem finding one that suits your needs.
We recommend calling each park and checking for updates before booking a site at any specific campground—just like with hotel prices nowadays. The parks book up for the popular summer travel months but may have more availability the rest of the year.
If you're just looking for a place to stop over for a night, you might also want to consider the overnight parking in Walmart which we discussed in detail in this post. It's a cost-effective choice especially if you just need to stop for a night.
The Boise National Forest is also a great option for RV camping. There are many campgrounds within the forest and it's close to the Boise metro area.

Looking for more ideas on great places to visit in Idaho? Check out our tips on planning a road trip to North Idaho. Or, consider traveling just a few hours north of Boise to discover some fun things to do in Cascade Idaho.