Enjoy some of the best coffee shops Boise Idaho has to offer. With a population of over 200,000, there has been a huge boom of Boise coffee shops popping up over the last several years.
With so many fun things to do in Boise Idaho during your visit to the City of Trees, you may want to start your day off with a great cup off coffee at a local favorite.
Below you'll find the best coffee shops downtown Boise has. Along with Boise coffee roasters that are popular and local coffee shops in Meridian Idaho, and other nearby cities in the Treasure Valley.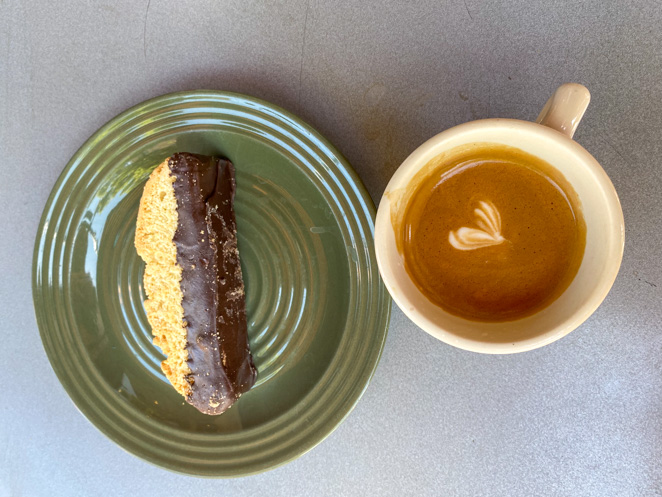 List Of The Best Coffee Shops Boise Idaho Has To Offer
In North Boise, you'll find the Hyde Park neighborhood close to Camel's Back Park, where so many people find great Boise hikes. It's also close to the base of Bogus Basin Road, where the skiers and mountain bikers frequent. Or on your way back from one of Idaho's hot springs.
This is an eclectic neighborhood with many fun restaurants and shops, along with two good coffee shops to choose from.
Hyde Perk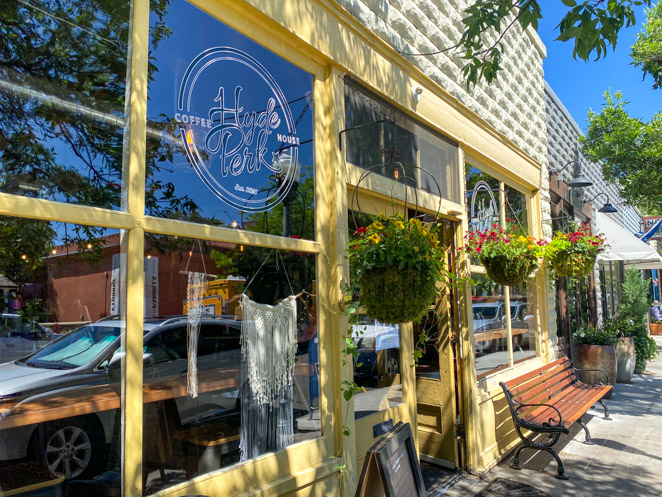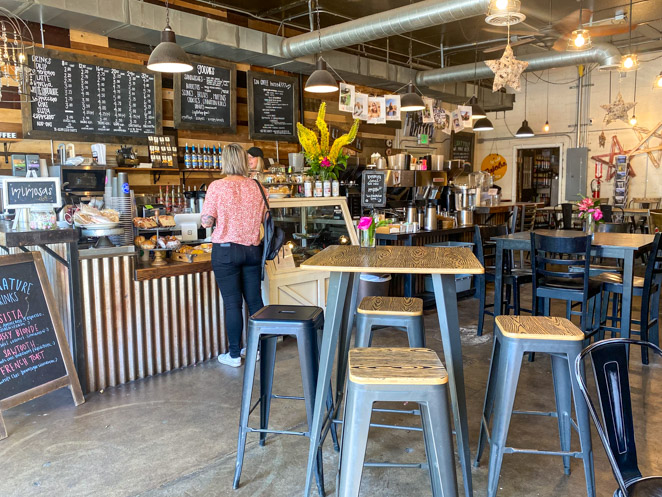 Located in North Boise, Hyde Perk has such a fun local feel to it. Visit during the summer months to experience the breeze with the open door. Taste a delicious baked orange and cranberry bread and an iced Americano while you watch the people walking outside. Then, you can walk across the street to the toy shop when you're done.
With mimosas and wine offered, you can come back to enjoy yourself later in the day too. You'll find free street parking nearby.
Java Hyde Park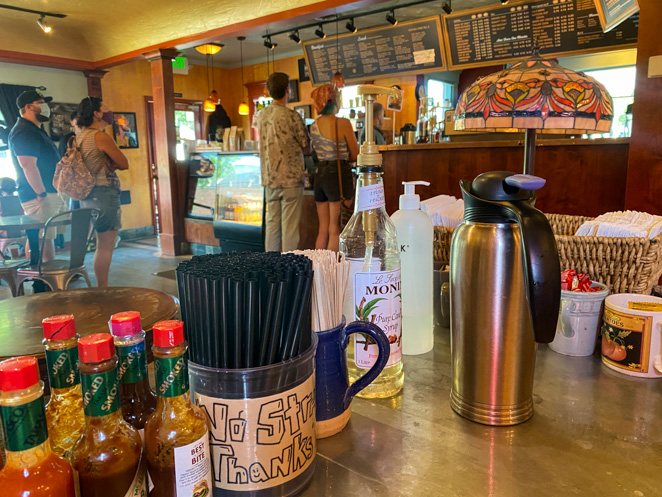 A second choice for a coffee shop near Camel's Back Park is Java Hyde Park. You'll find ice water inside with some comfortable couches and chairs and a deck outdoors with seating as well.
The relaxed atmosphere can be a welcome feeling after a hike nearby. Fill up on pastries and your favorite espresso drink. They also serve some breakfast and lunch items such as sandwiches and soups.
You'll find free street parking nearby.
Related Post: Best RV Coffee Maker
Coffee Shops Downtown Boise
Find great specialty coffee drinks in some of the best coffee shops in Boise. Downtown Boise is the place to find fun coffee bars that serve locally roasted espresso and even a glass of wine later in the day. Check out the best coffee downtown Boise has to offer below.
Big City Coffee and Cafe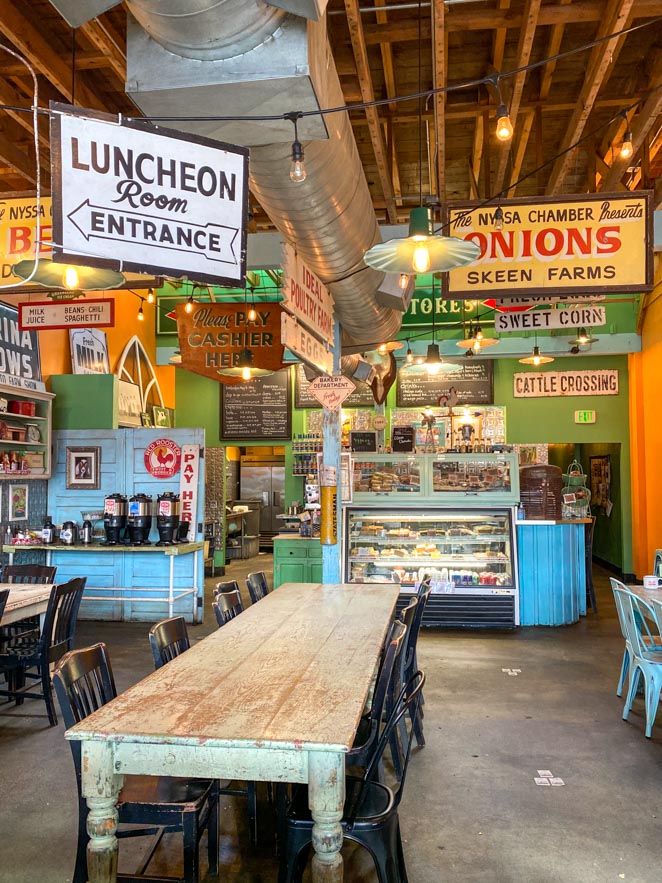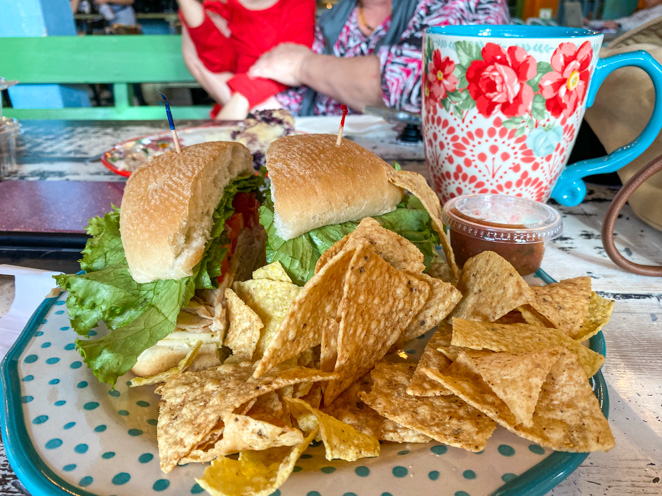 One of our favorite local places to enjoy breakfast in Boise, Big City Coffee and Cafe, has so much to offer. From huge baked treats and excellent espresso coffee drinks served in an oversized mug, to unique breakfast dishes served right to your table. Anytime extended family comes to visit we take them to Big City Coffee for breakfast and love to support locals.
You'll find free street parking out front.
The District Coffee House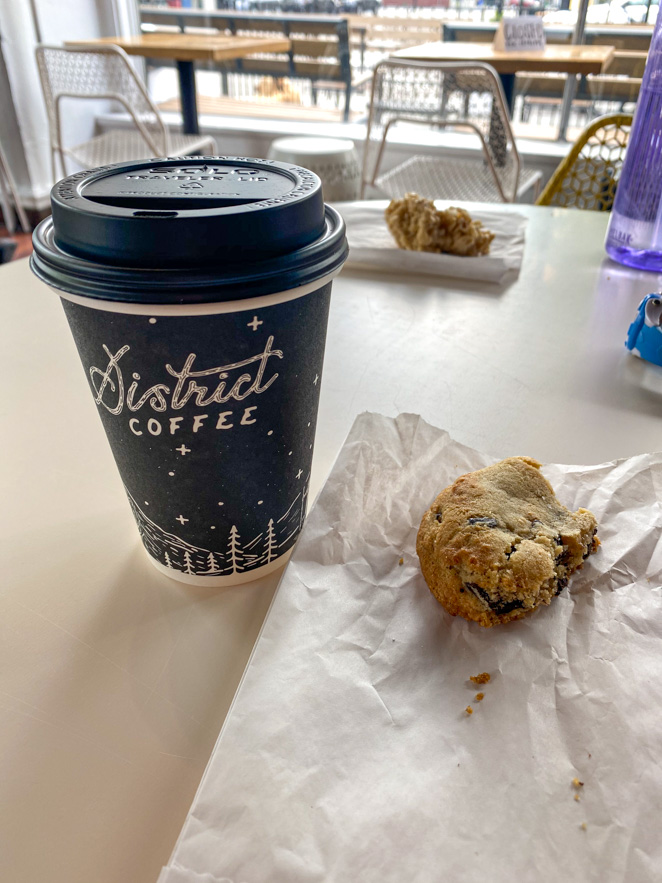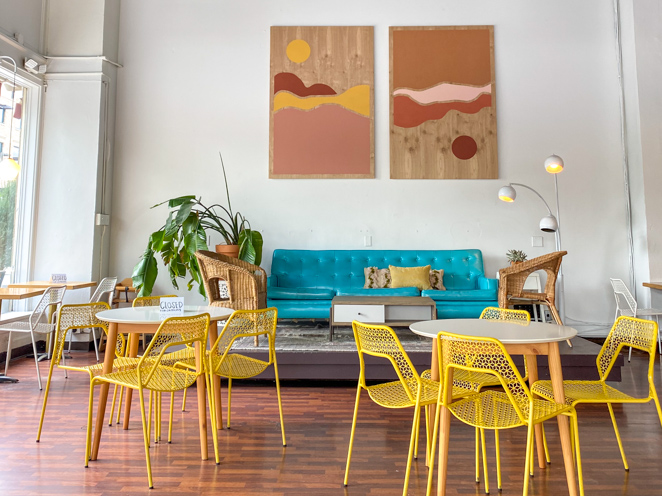 A trendy coffee house in downtown Boise with a very open-air feel, you might find that the District Coffee House might be a good fit. My daughter and I sat on the slick couch while we watched people walk in before work to grab a cup of their favorite caffeinated drink.
You can find paid meter parking out front.
Considering moving to Boise, Idaho or the Treasure Valley? Download this FREE 50-page Relocation Guide to Boise that will help answer many of your questions.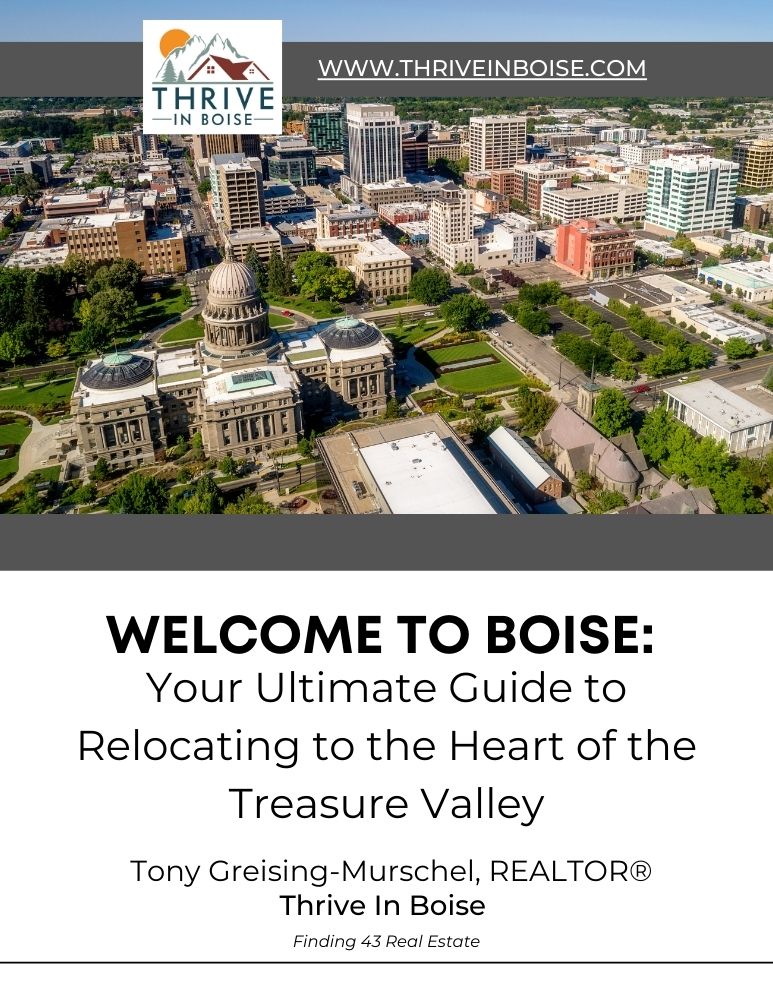 Click here to download it now!
Neckar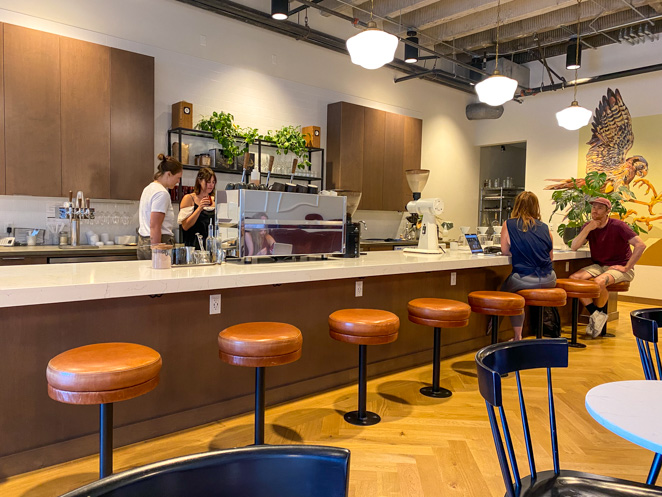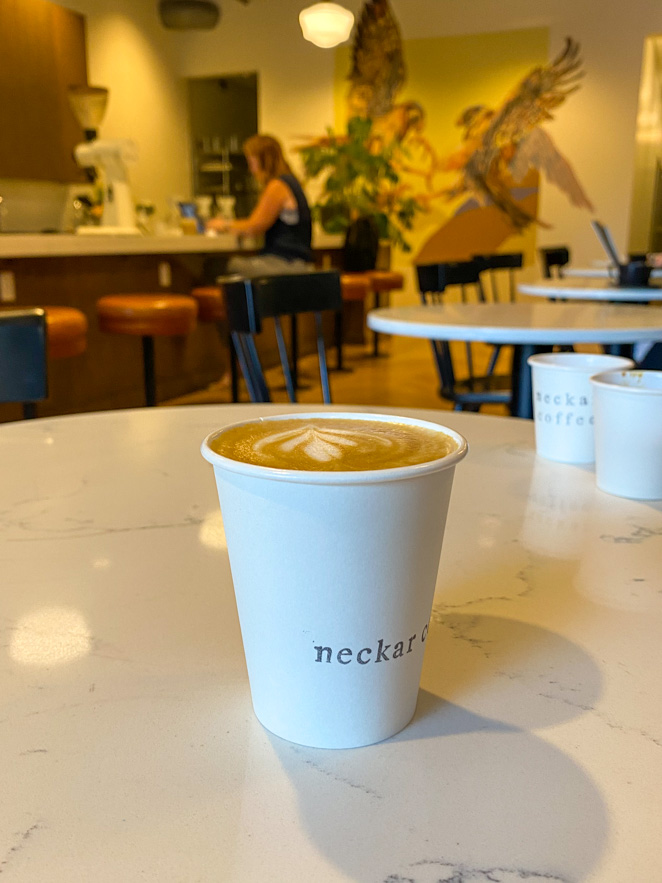 Smaller in size and sleek in looks, Neckar has a clean and crisp feeling about it. With tall ceilings, sour cream coffee cake, and pour-overs set up and ready, it's a great pick for a coffee shop in Boise Idaho.
The customer service was great and we felt welcome. My Cortado was served with organic whole milk while Tony's double shot of espresso was served with sparkling water on the side. We were pretty impressed.
There is paid metered parking out front, too.
Flying M Coffee House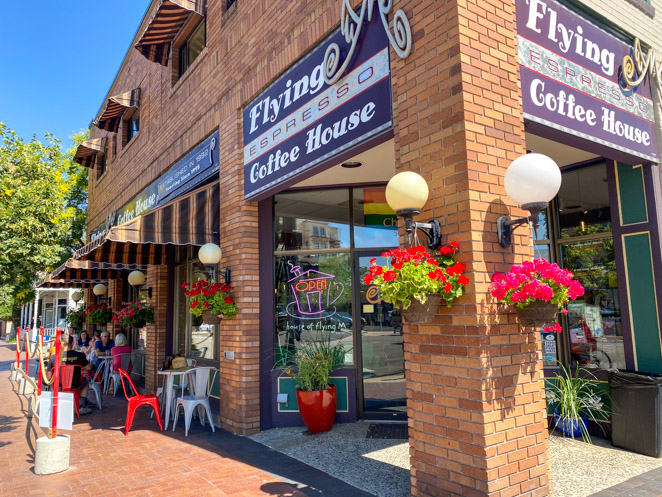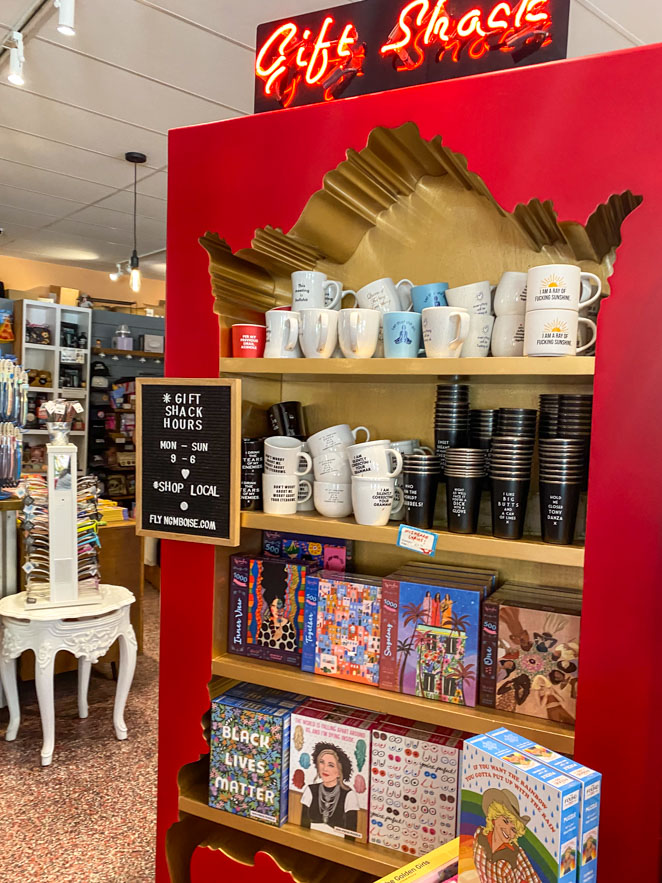 With their own signature blends, homemade baked goods, and now a liquor license, Flying M Coffee House is a great place to hang out day or night. In an excellent location, this fun shop has vintage and comfortable furniture, a gift shop with many locally made items, and a kind staff.
In addition to espresso drinks and kombucha, they also serve beer and wine, making it a great place to consider visiting any time of the day.
There is metered parking in front or 2-hour free off-street parking out back. It's not far from some of the best Boise breweries, too!
Goldy's Corner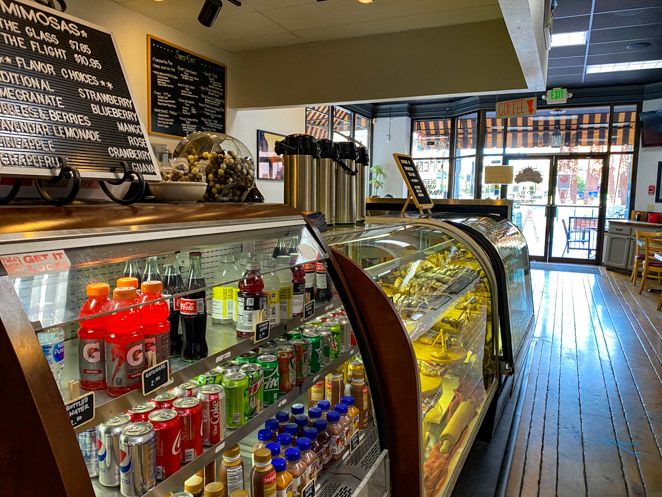 Goldy's Corner Bakery and Cafe is just down the street from the state capital in downtown Boise.
They serve espresso drinks, wine, mimosas, baked goods, and have board games to play inside. They love to promote local artists and vendors and serve breakfast and lunch throughout the day. Grab a quiche or wrap as a healthy meal, and treat yourself to one of their many baked goods. Many are gluten-free and even vegan.
There is metered parking nearby.
Dawson Taylor Coffee Roasters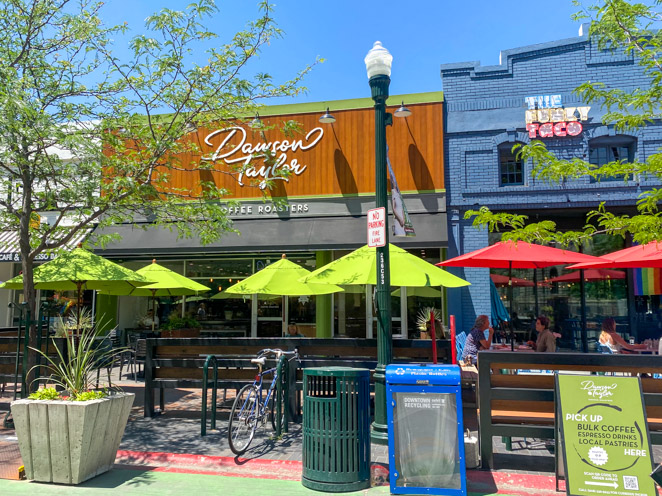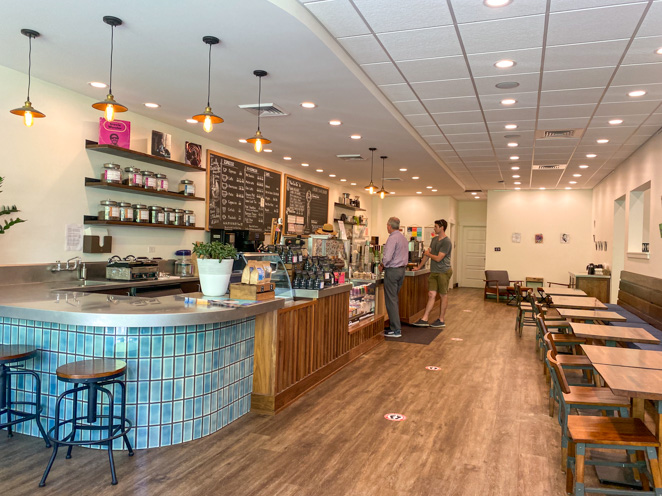 Located on 8th street, a strip in downtown Boise that is filled with local shops and restaurants, Dawson Taylor Coffee is a great coffee shop. Rated the best coffee in Boise by many, Dawson Taylor Coffee beans are sold and distributed all over Idaho. The beans are sold at the local Bose Coop too.
Paid metered parking is nearby.
Coffee Shops In West Boise
If you're adventuring west or southwest of downtown Boise, and you're still looking for a great place to grab an excellent coffee, then keep on reading. These are several of the coffee shops closer to homes that many people moving to Idaho live in.
Coffee Studio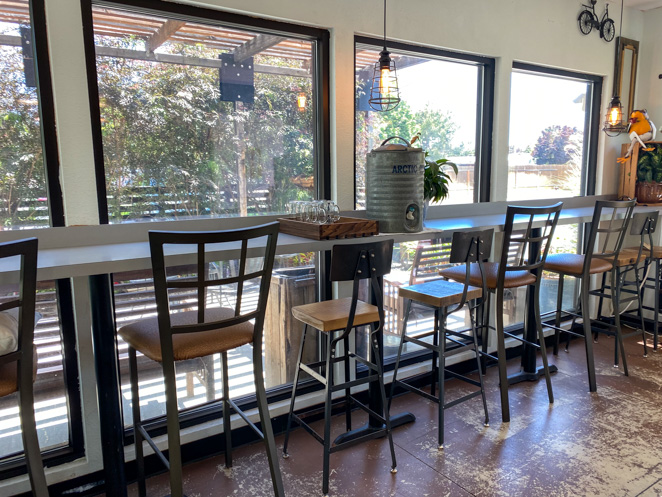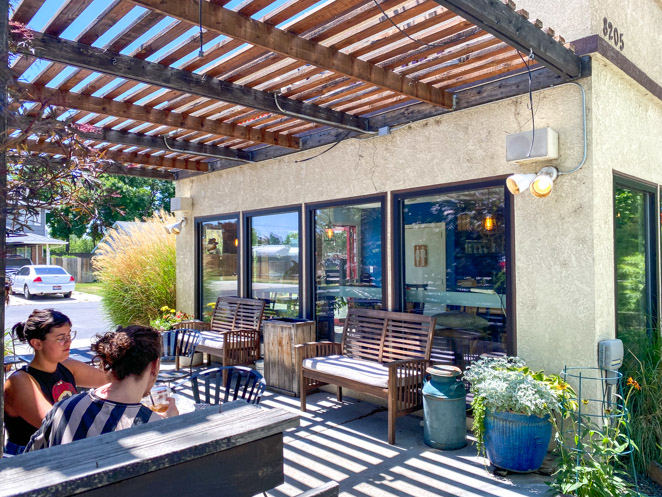 A locally owned and operated coffee shop near the mall in Boise, Coffee Studio is a great place to grab your favorite espresso drink via their drive-through window or to enjoy it on the patio.
The employees were so kind, the coffee was great, and I loved the decor inside the small coffee shop. With several outdoor seating spots, it's a great place to grab a white mocha Frappe as my father-in-law did or an Americano as I did. The drive-through was even busier than inside to order.
The coffee tasted fantastic, not too bitter but still an excellent Americano and cold brew. The customer service was great and the vibe felt perfect for a late-morning snack.
You'll find plenty of free parking in their parking lot.
Alchemist Coffee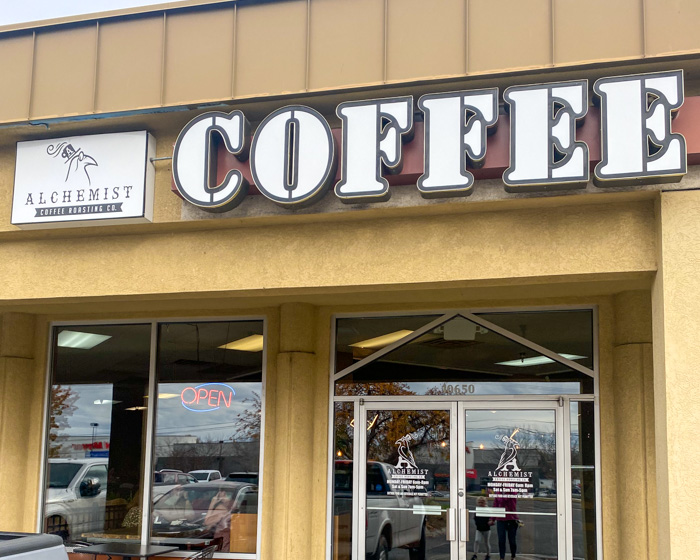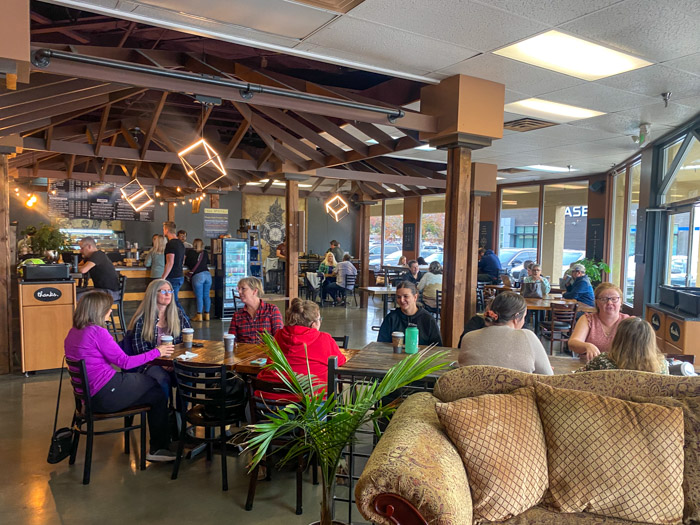 Alchemist Coffee now has two locations in Boise. The newest location is in the West End of Boise on Stewart Ave while the other location is in Southwest Boise off Overland Drive. Both provide a welcoming atmosphere for a nice place to gather, craft coffee, and great food options.
The Overland location often hosts live music in the evenings, making it a great place to connect with friends.
Garden City, Eagle, & Meridian Coffee Shops
Push and Pour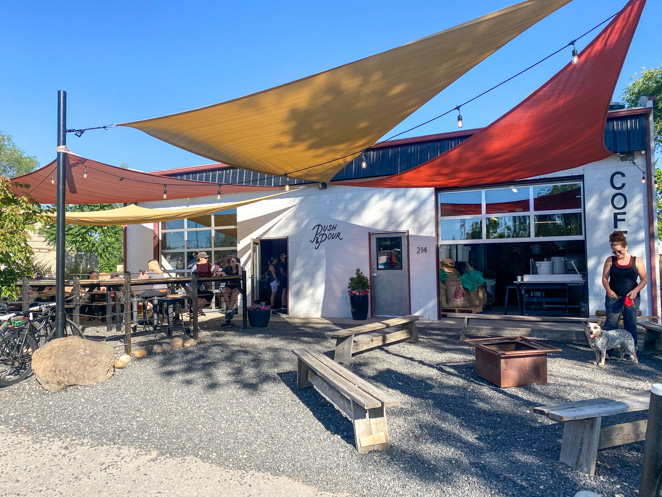 Push and Pour is a coffee shop located in the perfect spot for a premium espresso drink and a bite to eat. Just a block away from the 'the wave' on the Boise River.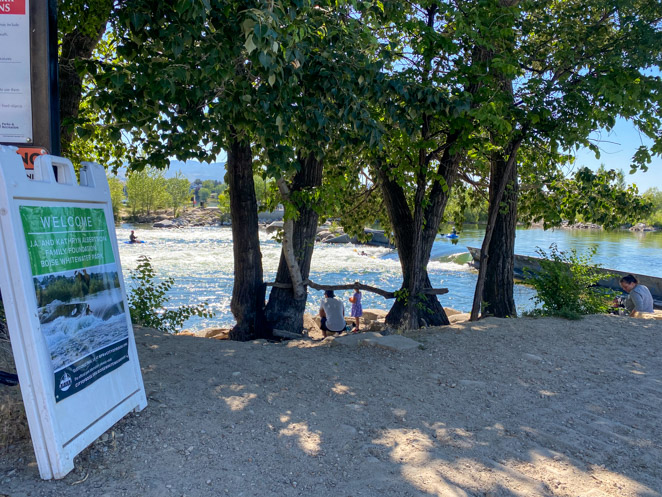 Push and Pour is the perfect place to grab a cup of coffee before you walk across the Boise River to Quinn's Pond to enjoy the outdoor fun that Boise has to offer.
Be prepared to stand in line for a bit to order coffee, as they are often busy.
Moxie Java Bistro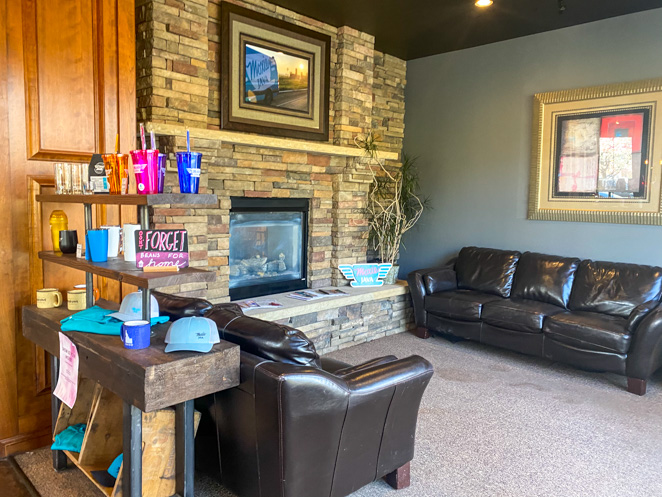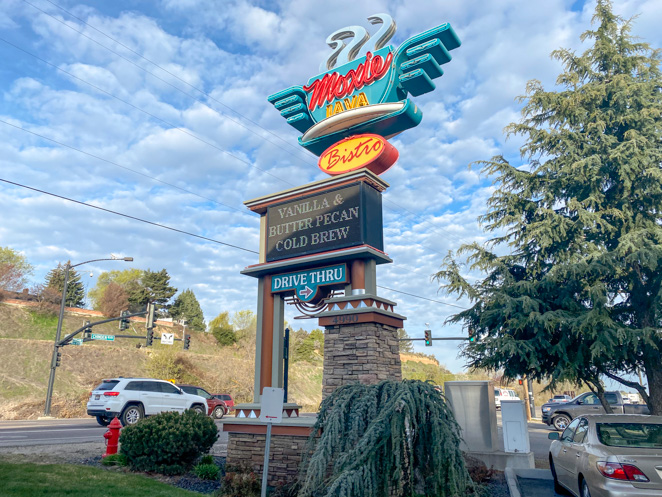 With a large indoor and outdoor seating area, Moxie Java is a great place to bring your laptop to get a little work done while enjoying a nice cup of coffee. It's on Chinden Blvd in Garden City location on your way to Boise from Meridian, it's easy to access and has a drive-through if you need to make it quick.
Perks Of Life – Eagle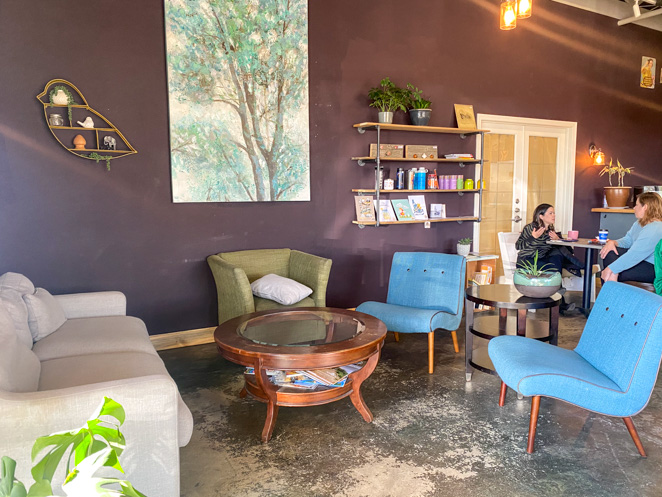 Perks of Life is a great locally-owned coffee shop in Eagle, Idaho. The coffee tastes great, the atmosphere is comfortable, and the scones are delicious. They bake their very own pastries including gluten-free pastries that you can treat yourself to, or grab a breakfast burrito or quiche for a complete breakfast with your cup of coffee.
Bright Eyes Coffee Shop – Meridian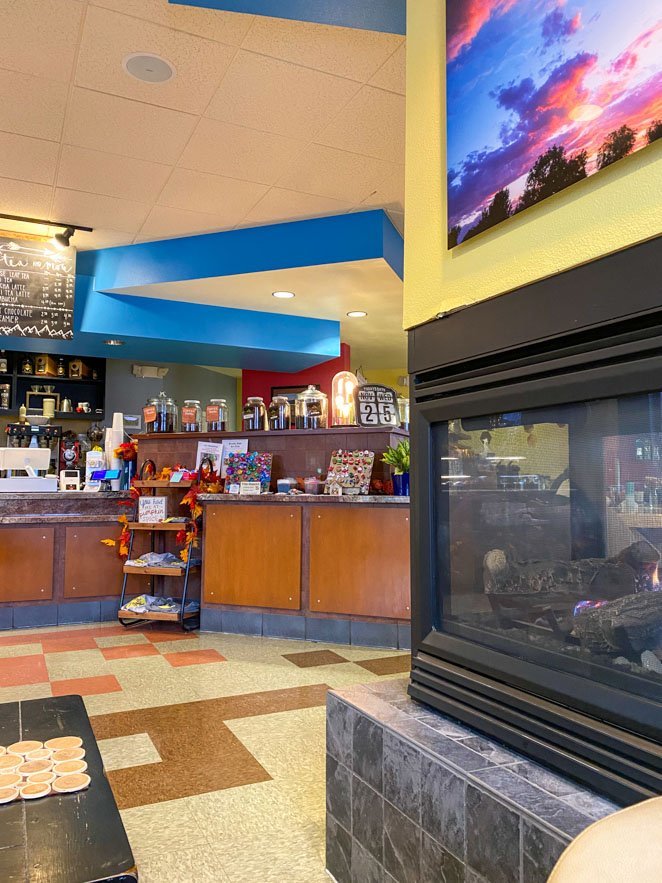 Bright Eyes Coffee Shop in Meridian Idaho is one of our family's favorite places to visit. Sadly, it shut down in the summer of 2022.
Royal Coffee Co. – Meridian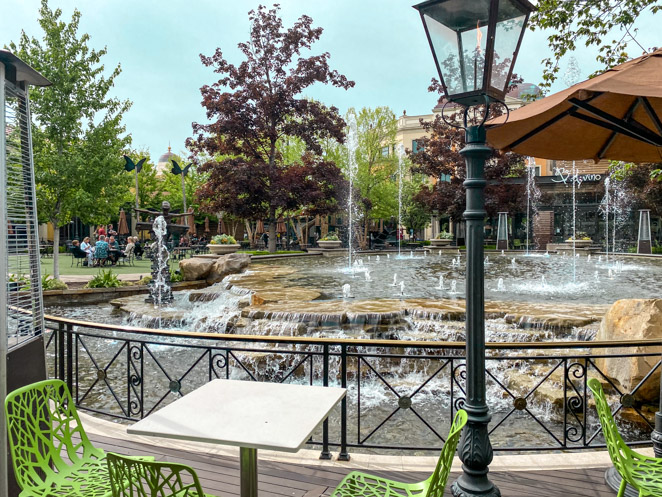 Royal Coffee Co is located in The Village in Meridian, Idaho. This coffee shop is in a fantastic location. With windows on all four sides of the building, you can see the beautiful fountains in The Village while enjoying your cup of coffee from indoors in the winter. Or, enjoy the shaded patio in the summer. Learn about more fun things to do in Meridian Idaho here.
Best Coffee In Boise
Be sure to bookmark this post because I'll be adding to it as I venture out and explore more of the great coffee shops in and around Boise. Supporting small, locally-owned coffee shops is one of my favorite things to do while traveling. Yet, now that we live near Boise I'm excited to explore the area even more.
Related posts:
Fun Things To Do In Boise With Kids
Things To Do In North Idaho
Fun Things To Do In Cascade Idaho
Idaho Hot Springs Near Boise