Do you need the best paper towel holder for your camper? If you're looking for a useful and efficient RV paper towel holder, this blog post is just what you need! You will find 7 of the best RV paper towel holders that work well in any RV camper.
Whether it's a DIY camping paper towel holder or something more simple, we have got you covered below.
THIS ARTICLE MAY CONTAIN COMPENSATED LINKS. PLEASE READ OUR DISCLAIMER FOR MORE INFO.
RV Paper Towel Holder Setups
A great way to think about organizing your RV kitchen is to have a place for everything. You'll want to consider finding a small RV coffee maker that fits under your cabinet to finding the best paper towel holder for your RV.
If your RV kitchen sink has a counter overhang above the faucet, consider using that space for an RV paper towel holder. You can use a wall mount system or hang the paper towels on the rack mounted to the cabinet.
Nervous about pounding nails into your camper walls?
Using a self adhesive paper towel rack like this one is a great way to hang your paper towel rack in your camper without having to make a permanent mark or hole in your RV wall or cabinet.
A paper towel holder with a shelf is another great way to add a camping accessory to your RV with multiple functions.
You may also want to consider buying a suction cup paper towel holder for your RV kitchen countertop or stovetop. This way it can sit on your counter, table, or even RV stove cover and not tip over on travel days.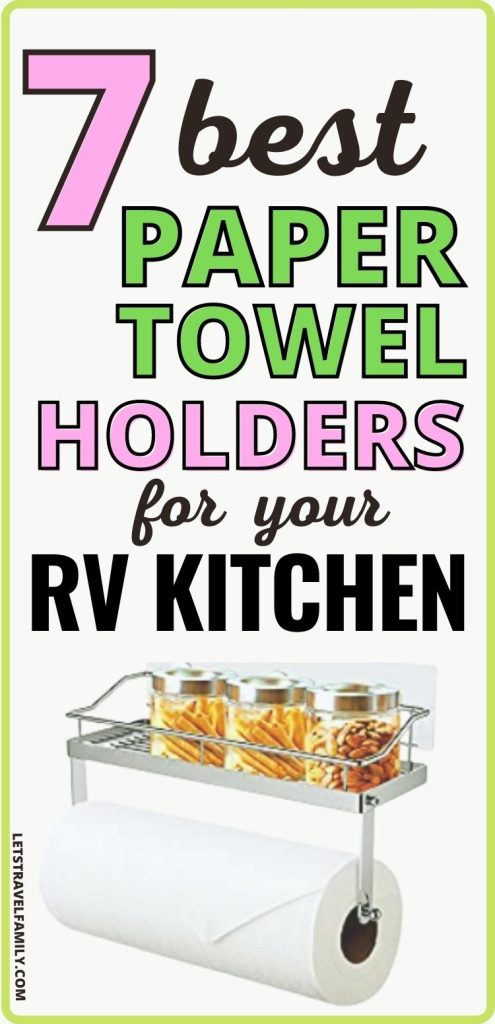 Another RV kitchen accessory that makes a good camping paper towel holder is an under-the-sink cabinet insert designed to hold your kitchen items like rags, sponges, and brushes.
You can use this RV cabinet organizer as an RV paper towel holder, too. It can be really convenient by using a cabinet door when organizing your RV kitchen.
Looking for a paper towel holder that could connect to your camping grill? Consider a magnetic paper towel holder like this one.
DIY Camper Paper Towel Holder Ideas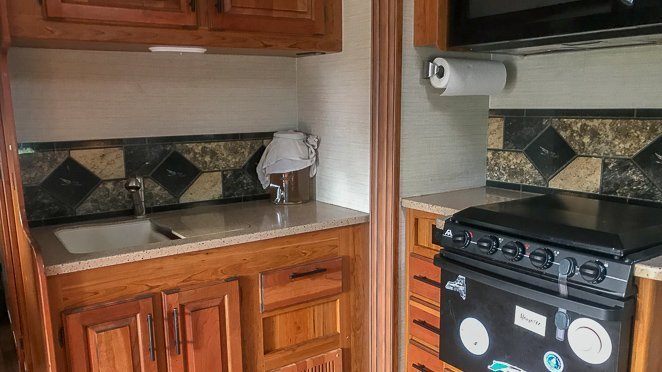 If you're looking for unique ways to create a paper towel holder, then read some of these DIY tips.
Use a simple wooden dowel rod and some rope or twine to make an excellent camper paper towel holder that can be easily removed from your camper when you want to. Or, use a kitchen tension rod like this one.
A simple PVC pipe camping paper towel holder is a great camper accessory because it's easy to install, and you can remove it when not in use.
The last DIY camper idea uses a paper towel holder but hanging it upright next to your kitchen counter. This way it won't continue to roll out on travel days.
RV Kitchen Organization Tips
Some RV paper towel holders like the ones that hang over your RV kitchen sink or RV faucet, can be removed and installed as needed. This is a good option if you're not sure how long you will need to use it.
Consider diving into some of our other RV organization tips in the related posts listed here:
29 RV Kitchen Accessories
RV Bedroom Organization Hacks
17 RV Bathroom Storage Ideas
11 Simple Habits To Keep Your RV Clean
34 RV Must Haves And Accessories