When you think about updating or organizing your RV, do you struggle when you try to come up with RV bedroom ideas?
When we were living in our RV full-time, I would often think of ways to decorate or spice up our kitchen and organize our RV bathroom. I even came up with simple RV desk ideas. Yet, I'd struggle to be creative when it came to thinking of new camper bedroom ideas or hacks.
It took me a while to create our giant RV organization post that I shared here at Let's Travel Family. Yet, I didn't have as much to say about RV bedding, ideas for creating space in a bunk room of an RV, or extra hacks on organizing your RV closets and bedroom overall.
That's why I decided to reach back out to my good friends Ashley and Nathan, who recently moved from their travel trailer camper into a fifth wheel, for some extra tips and camper interior ideas.
I also spent time camping next to our good friends Clementine and Pieter in Cascade, Idaho, and learned about some great RV bedroom makeover ideas. They shared some great tips for RV bedrooms and closets, after spending the last 10 years full-timing in their 5th wheel with their kids.
THIS ARTICLE MAY CONTAIN COMPENSATED LINKS. PLEASE READ OUR DISCLAIMER FOR MORE INFO. THIS POST WAS WRITTEN BY JILL GREISING-MURSCHEL, A FAMILY TRAVEL AND RV LIVING EXPERT.
RV Bedroom Ideas and Organization Hacks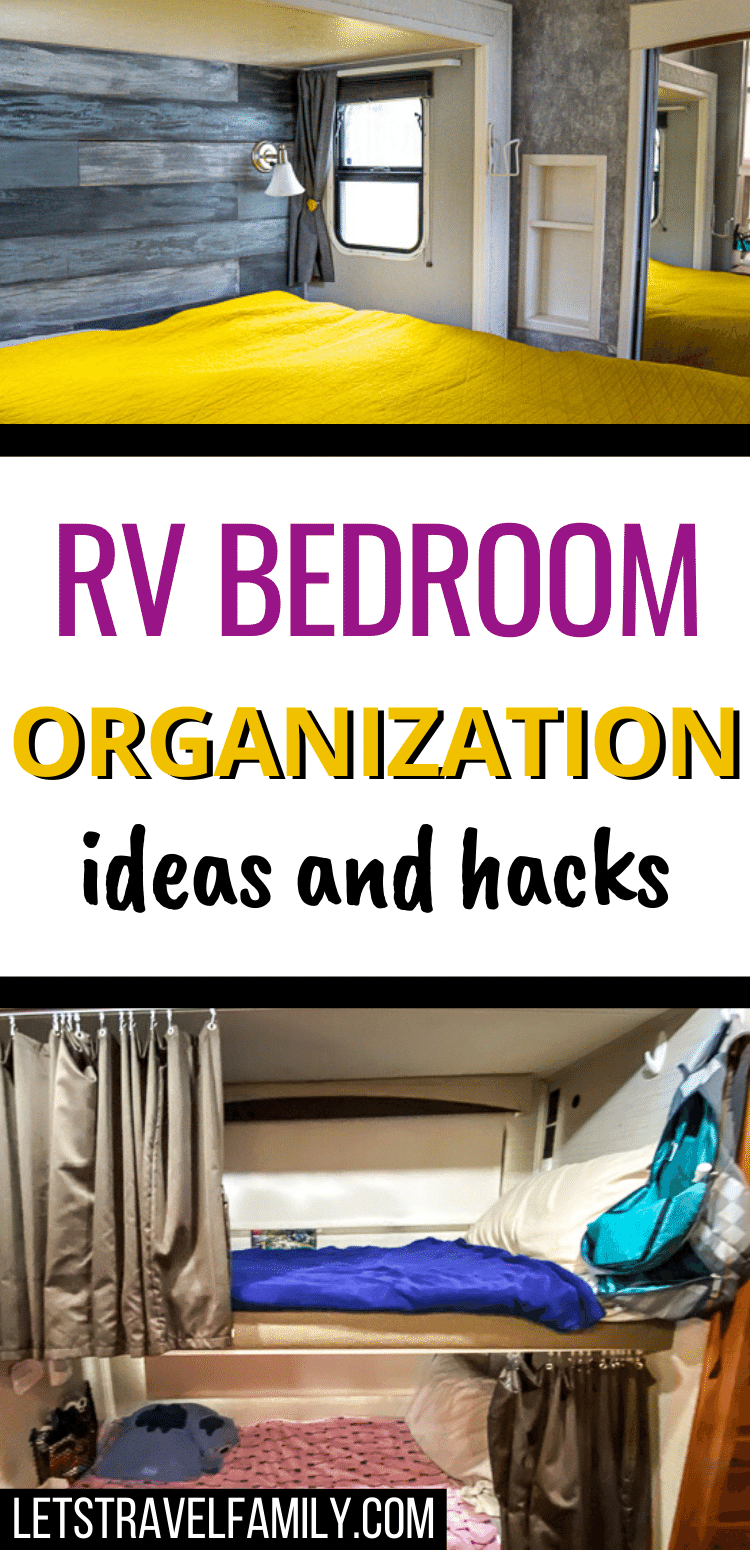 Keep reading as I share some really unique ideas from several different RV bedrooms. There are some great photos, ideas, and tips from our own Class C RV bedroom and bunk slide, along with some of our RV friend's in their travel trailer and fifth wheels.
Holiday Shopping for RV Owners in your life? Here are the top deals and my best picks:
Harvest Hosts is offering 30% off using code: HOLIDAYHH
Aurora Heat Hand Warmers is offering 10% off using code: LETSTRAVELFAMILY
'Organize Your RV Like a Pro' is a digital ebook that I created just for you! Use the code: SaveBig2023 to save 20% for Black Friday now!
A portable propane fire pit is another great RV gift find.
………………………………………………………………..
Want to see more Black Friday RV Deals? Read my dedicated post sharing the latest Black Friday RV Accessory Deals
RV Bedding Ideas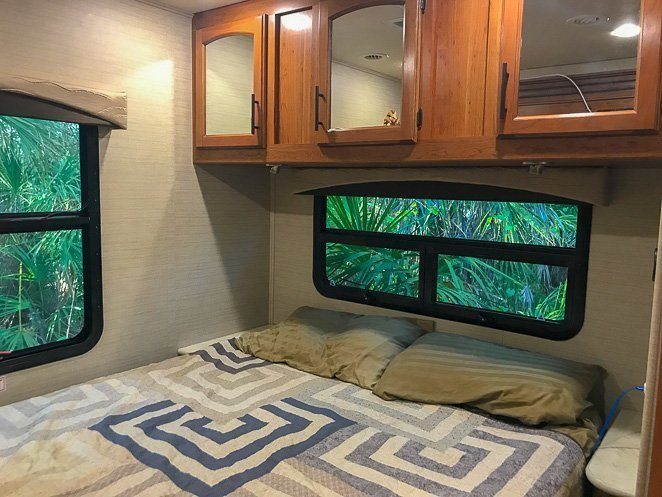 RV beds can come in all shapes and sizes. Honestly, it's hard to know exactly how large your RV mattress will be. Sometimes you have what is called a queen 'short' mattress, or a narrow twin bunk mattress.
RVs generally have smaller spaces for mattresses and require a lower profile than a typical mattress in a house. Not only does this save on space in a small camper, but it also helps save on the weight.
So, finding RV bedding that fits a lower-profile mattress can be a struggle. That's why we love our bed sheet fasteners. We use these handy things to clip the fitted sheets under the mattress to keep them snug, even if they seem bigger than the smaller profile mattress.
Or, you can find great camper bedding ideas from Camping World such as queen short fitted sheets like these. I love some of the fun RV bedding accessories and ideas Camper World has, too.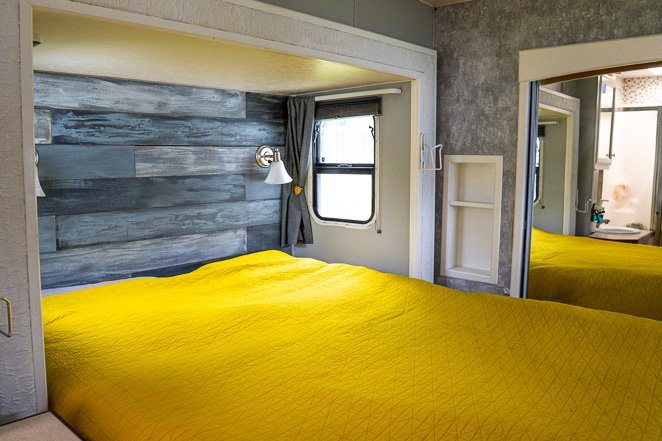 I love what Clementine did with her RV bedroom by adding the bright yellow comforter to her space. It contrasts so greatly with the blue and white on the walls.
When you think about spicing up your RV bedroom, colored blankets, throw pillows, or comforters can really make a huge difference and are simple RV decorating ideas that you can use.
Read the related blog: RV Camper Accessories for Inside
RV Bedroom Walls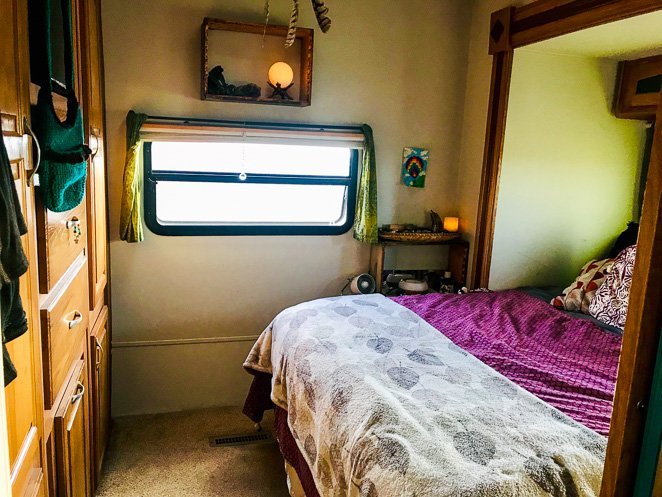 Pictured above, our friend Ashley put her personal touches in her bedroom with colorful blankets and pillows. She also added green curtains and some wall decorations. If you want to hang anything on your RV walls, I recommend using command strips like these.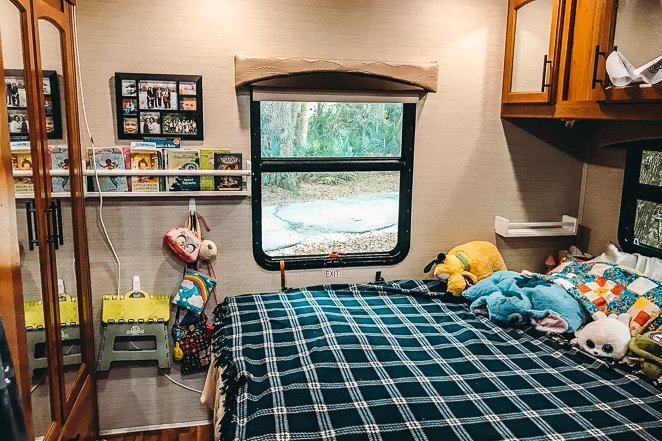 In our Class C RV we used command strips to hold up our bookshelf when we had our kids using the back room. The command hooks worked well for holding up our folding step stool and purses too.
Simple RV bed ideas for brightening up your camper bedroom are to use light-colored bedding as you see above. If you don't want to paint your RV walls, a simple way to decorate your RV is to find some great bedding and throw pillows.
It makes the space look more modern and brightens it up!
RV Bunkroom and Cribs
If your RV has a bunkroom with RV bunk beds, there are so many creative ways to organize and decorate it. Our friends, Ashley and Nathan shared photos of their girls' bunkbeds below.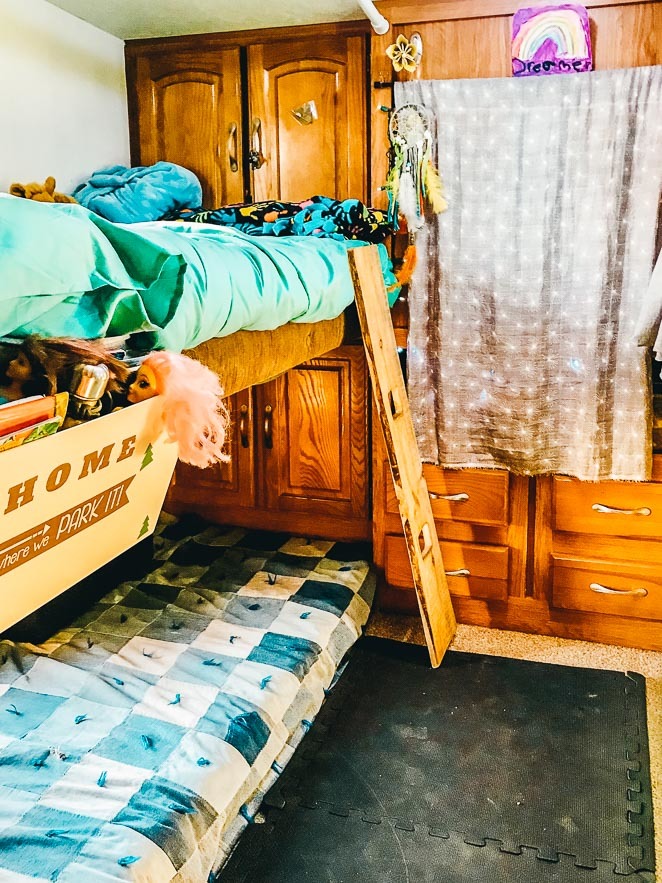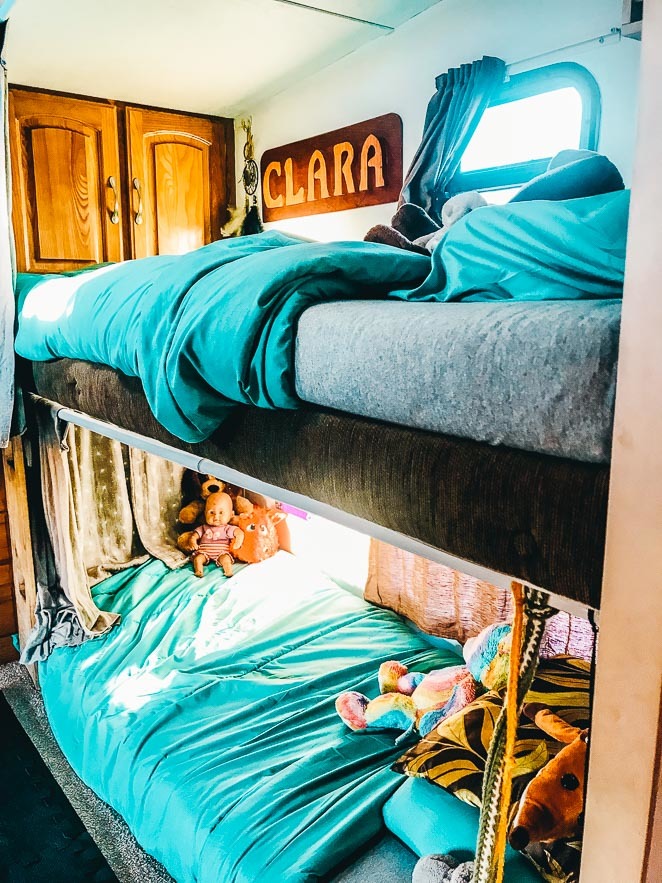 I love how they built their own ladder and used bright colored sheets to spice up the room.
As you can see, each child has personalized their bunk with stuffed animals, and draped curtains, and they even used sleeping bags OVER the mattresses so that they don't fall off the beds. Genius!
Find a place on each of the bunks for your kids to store their favorite toys and personal things. Usually, the foot of the bed works best.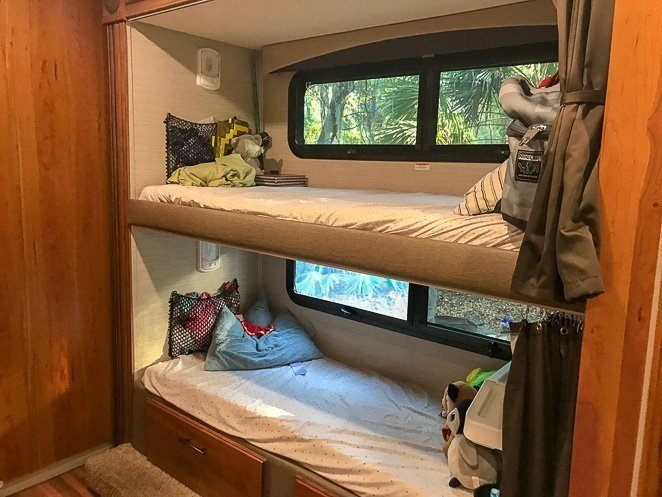 Class C RV bunk beds can often be found in more modern motorhome slides, like our Jayco Class C motorhome. We call it the bunk slide.
Our youngest sleeps on the bottom bunk and because she's so short, we can fit a bin of toys at the foot of her bed. This makes for simple RV under bed storage ideas, keeping toys at the foot of the bed in a bin or bag.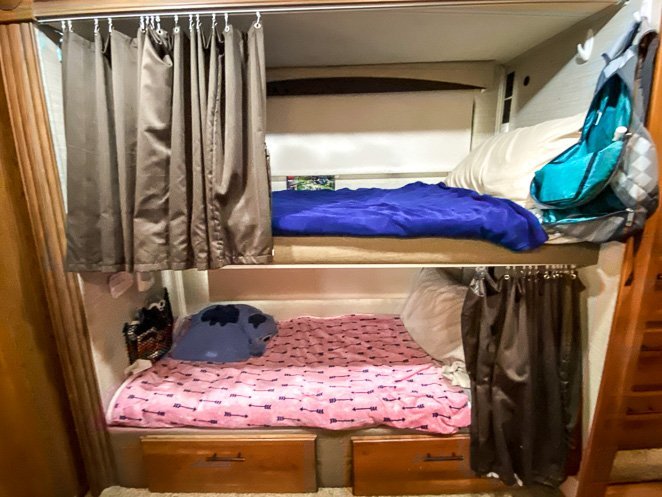 Command hooks are used again to hold bags, purses, and even sweatshirts next to the beds. While curtains can be used to give each child some privacy and even a darker space to take a nap.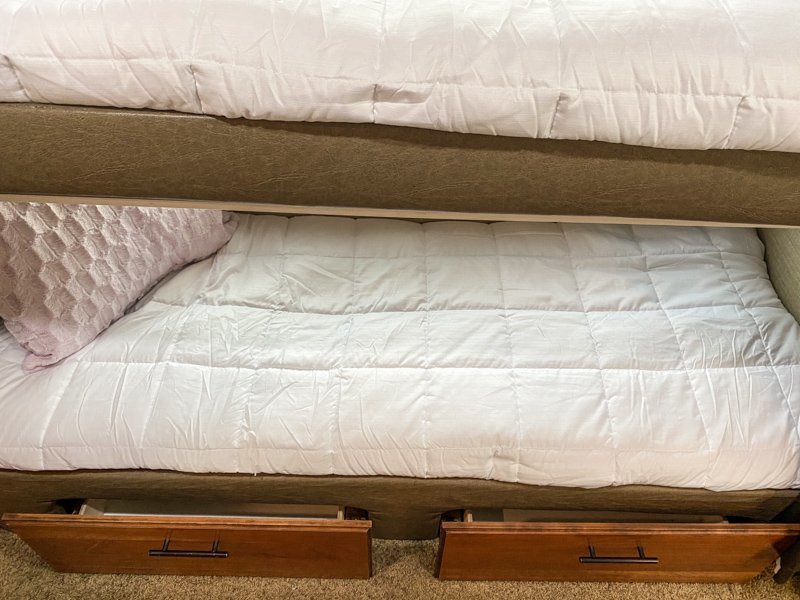 Drawers under the bunks can give some extra storage space too. If you don't have drawers, then see how else you can use the space under the bed.
At one point during our 2 1/2 years of full time RV living, we moved two of our kids to sleep on the bunk over the cab of our Class-C motorhome. There was no rail to keep them from falling out, so we turned them to have their heads at the front of the RV and their feet pointing to the kitchen.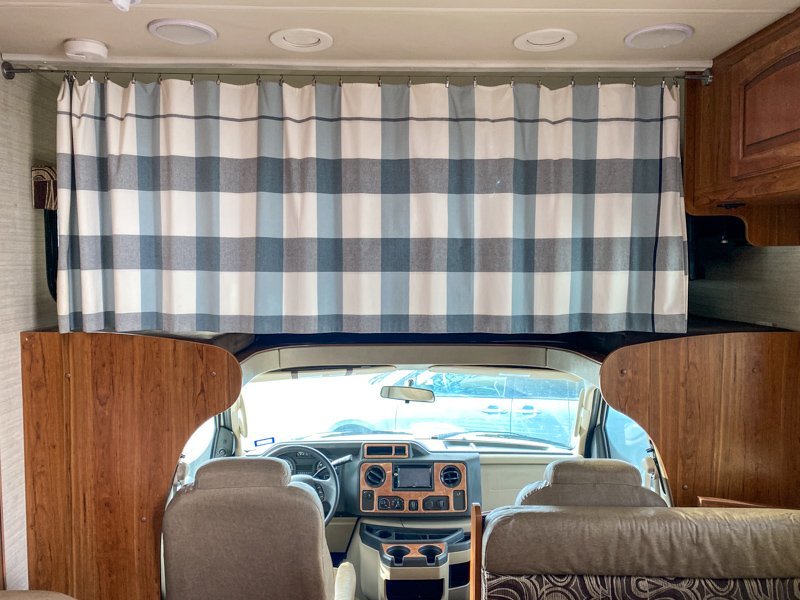 It was the perfect solution, especially because our children were pretty short and their feet didn't hang off the bed.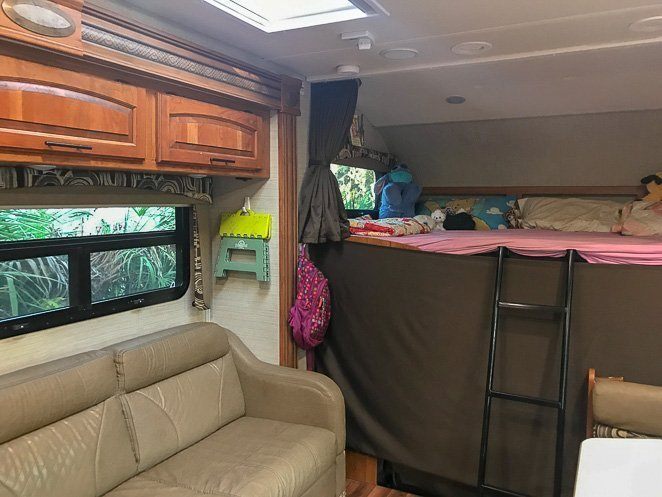 If you have a baby or toddler and want to launch into RV living, then check out the next few pictures to give yourself some ideas on how to have a crib in your RV.
Our friends Clementine and Pieter built a small 'table' for their pack n play to sit on at the foot of their bed in their fifth wheel bedroom. What a smart idea!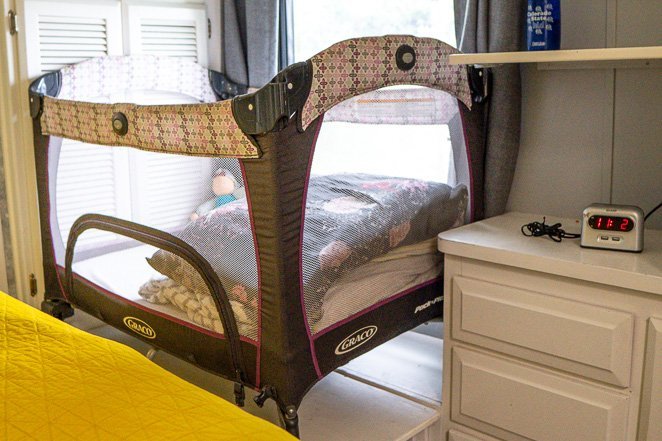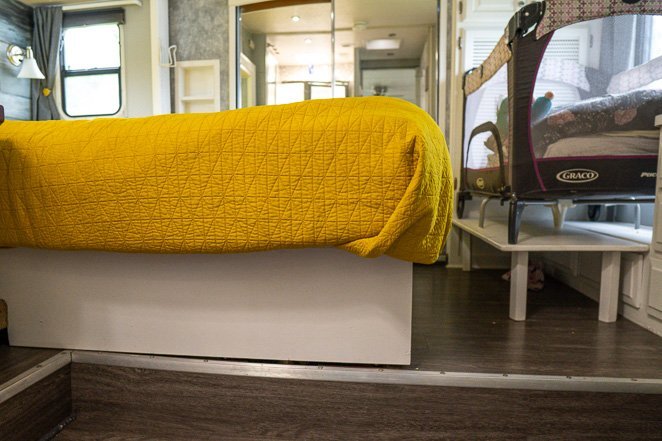 RV Clothes Storage
Finding storage space for your clothes in an RV doesn't have to be as challenging as you might think.
A few things to consider: If you're vacationing in your RV, then you may be happy to use the drawers available to you without making any major changes or additions. Yet, if you're planning to live in your RV full-time, then coming up with creative ways to store your clothes in such a small space can be helpful.
Either way, I recommend that you bring LESS than you think you need and learn to ROLL your clothes….they fit better in drawers and bins that way.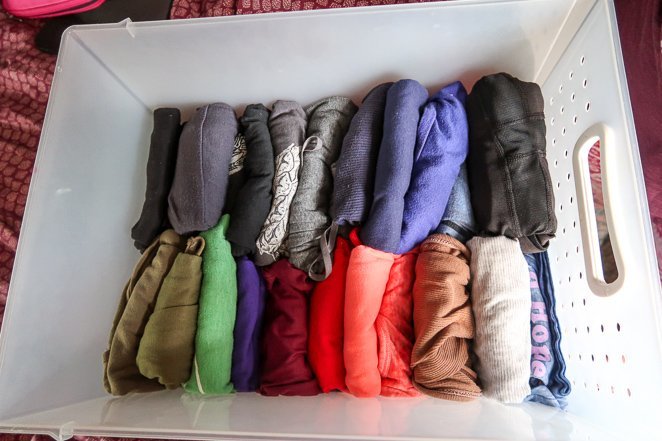 Depending on where you have extra space, you may want to invest in a few of the plastic drawers to put in your RV closet or on an empty bunk bed that's not being used.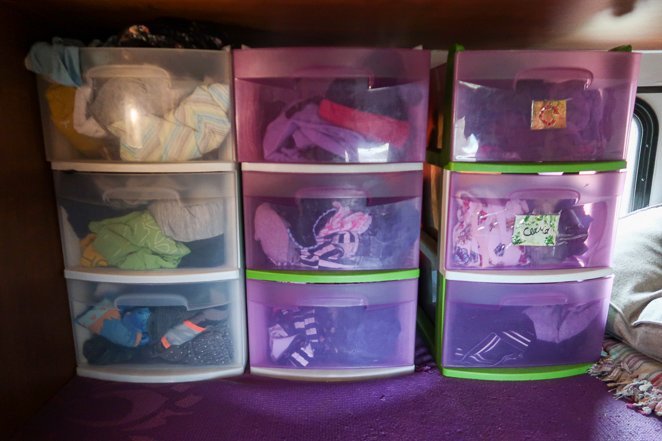 You could even use zip lock backs to compress your kid's clothes and keep the seasonal ones packed away until you need them.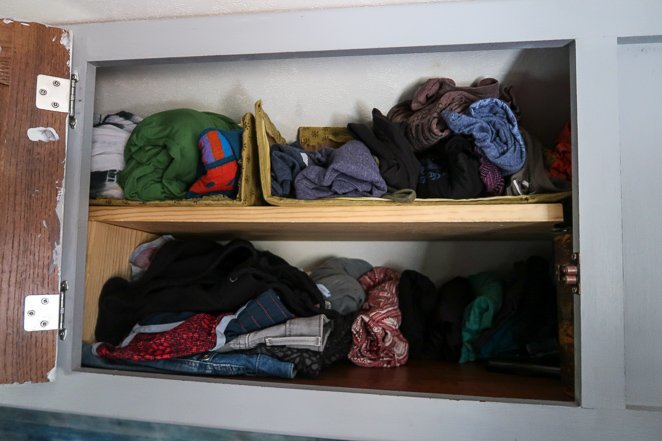 Sometimes, adding simple dividers on your small RV shelves can help from making a huge mess of clothes. Or, you can buy some drawer dividers or drawer containers to keep things organized.
Just remember to roll your clothes and you'll find yourself with more space!
RV Bedroom Closet
Looking for storage ideas for RV closets? Then keep reading and check out the photos below.
Your RV bedroom closest will most likely hold clothes in addition to towels, extra sheets, and other things you can't find room for. You see, most RVs don't come with a linen closet. That's why it's important to keep your bedroom RV closet organized even with a tight space.
You can find what works best for you as an RV closet organizer.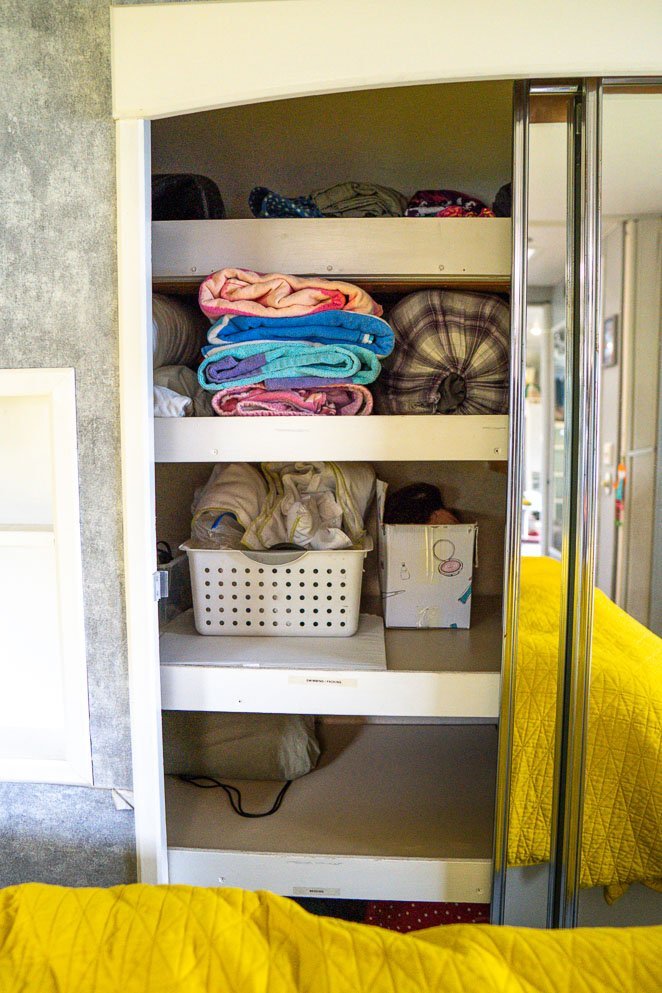 Bins and additional plastic drawers can be helpful. Just make sure that you buy light-weight storage containers or drawers to help keep you within your RV's weight capacity.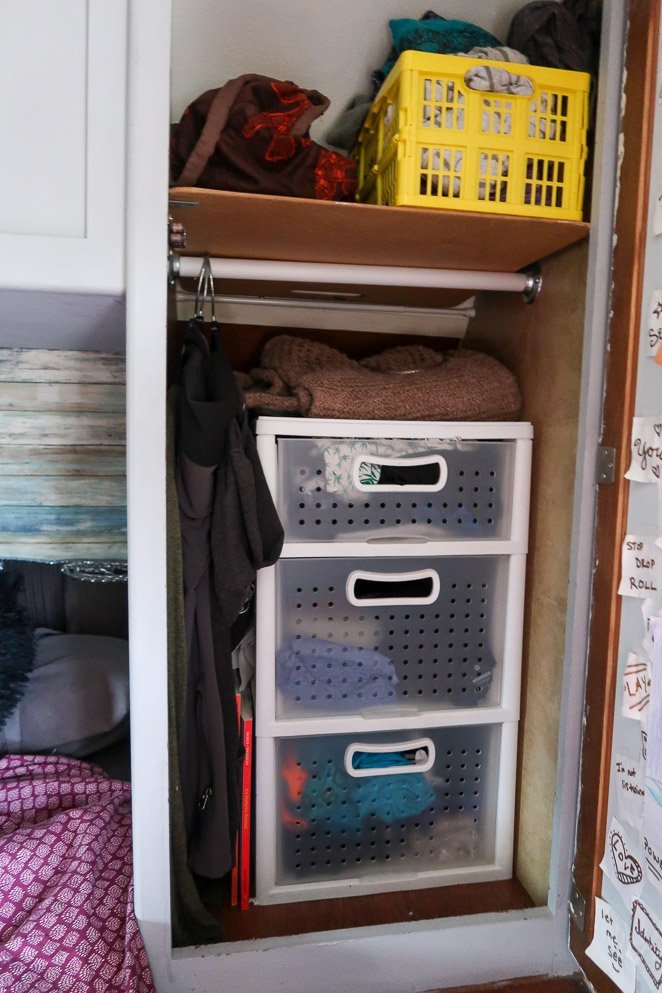 If you do decide to use plastic drawers in your RV closet, then be sure to take the wheels off. You don't need it rolling around your closet.
As a homeschooling family, we used half of our closet for plastic bins holding the homeschooling materials and craft supplies for the kids. We were also able to use clothes hangers to hang our family's sweatshirts and jackets so they didn't take up too much room in our drawers.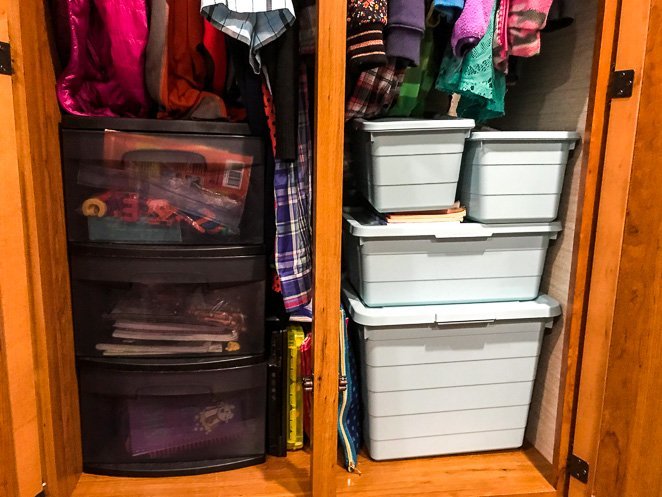 Check out these RV bedroom organization ideas via stories!
RV Bedroom Decorations & Extras
You can spice up your RV bedroom with useful extras such as hooks for your towels to dry, a mirror, or a piece of wall art. This is the time to start some DIY projects to spice up your small space.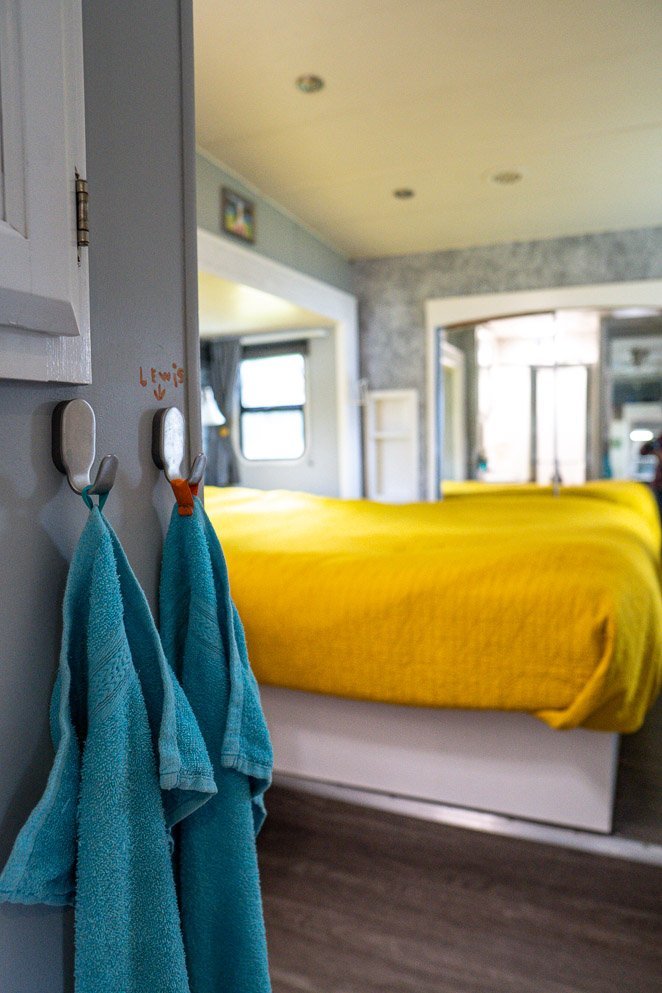 Curtains with simple and lightweight curtain rods can add a lot of color and a great look to your bedroom. Be creative and think about easy ways to make your bedroom feel like home.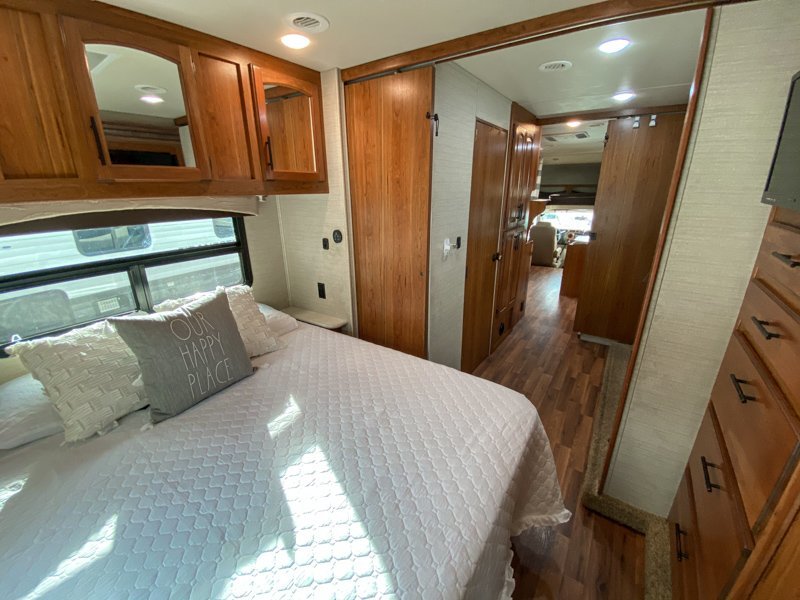 Adding a few mirrors to your cabinets can make your RV decorating easy, while also making your space feel much larger.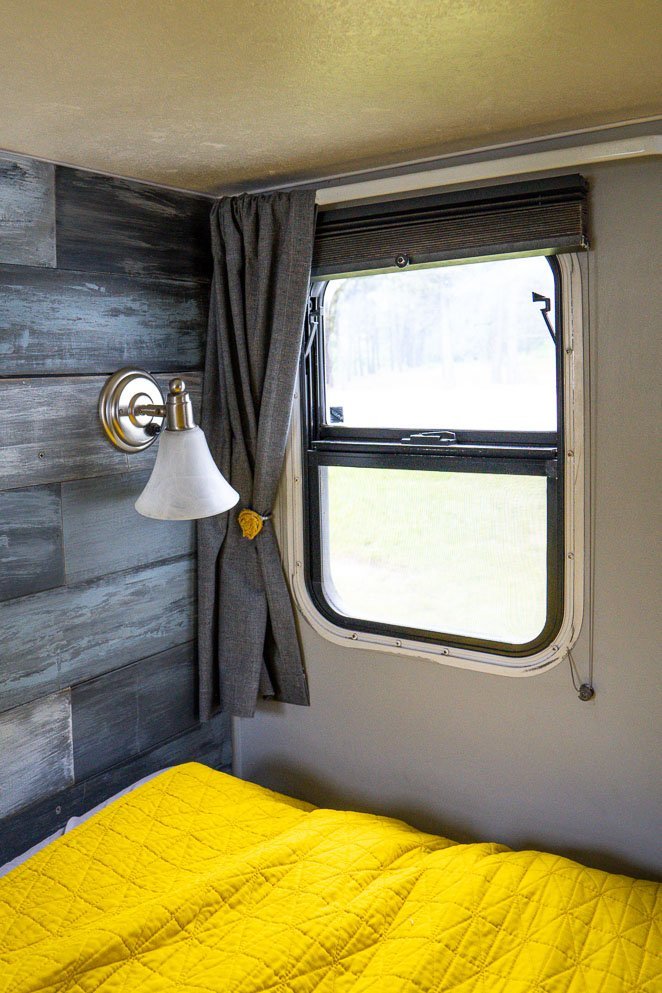 There's more to organizing your RV than just focusing on the bedroom. That's why we put together a few additional posts to help you out. Click the links to below to get some more ideas:
If you're planning on doing an RV bedroom remodel or an RV remodel, make sure to make the most of having more storage. For example, get the most camper under bed storage ideas, like using sliding drawers for underneath the bed, or purchasing a foldable storage system that can be stowed away when not in use.
A tip is always to scale practical features than aesthetics.