Looking for some great RV bathroom storage ideas? Campers are notorious for having small bathrooms. That doesn't mean you can't get creative on how you store your RV bathroom items.
Check out some these great RV bathroom organization ideas.
I'm first going to start with some simple and very commonly used RV bathroom storage ideas. Then, I'll dig into a few unique RV bathroom storage hacks and ideas further into the post, and even add in the RV bathroom accessories that you may not have thought of at the end.
You see, as a mom who has lived in an RV full time for over 2 years with four kids, I've learned a few tips on how to keep our RV bathroom organized for a family of six.
So, let's dive in and see some pictures and ideas for RV bathrooms.
THIS ARTICLE MAY CONTAIN COMPENSATED LINKS. PLEASE READ OUR DISCLAIMER FOR MORE INFO. THIS POST WAS WRITTEN BY JILL GREISING-MURSCHEL, A FAMILY TRAVEL AND RV LIVING EXPERT.
Don't have time to read a bunch of RV travel posts and reviews? Here are some of our top picks for RV living:
Our Favorite RV Resources: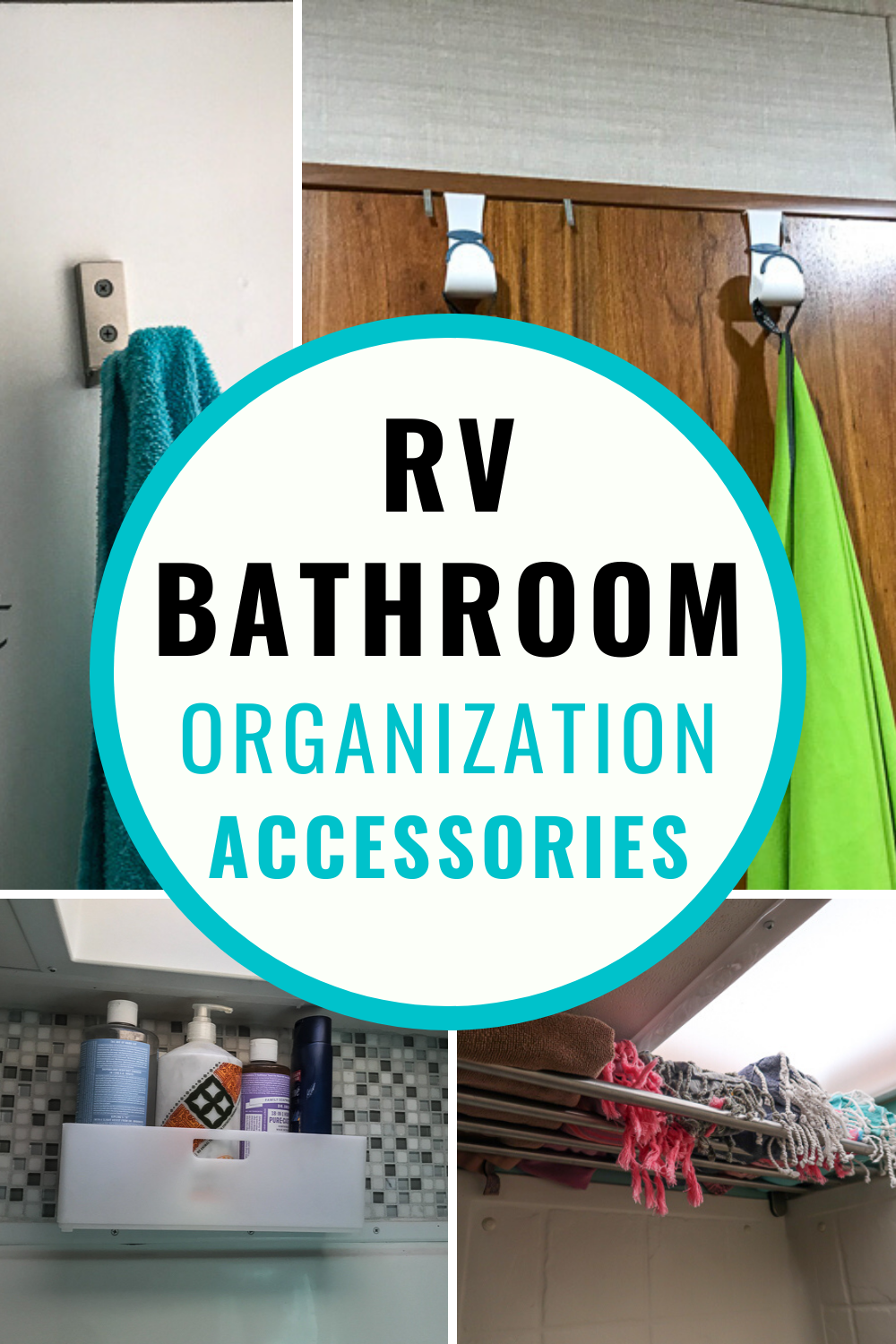 I've reached out to some of our amazing RV friends to share their RV living storage organization hacks and ideas so that we could create several posts of the best RV organization hacks, RV bathroom accessories, RV camper accessories for inside, and RV bedroom hacks with SO many pictures to give you a visual.
If you're looking for a quick download that you can reference back to, then be sure to check out our free guide below!
RV Bathroom Storage Ideas
RV bathroom ideas can be simple, complex, or unique. It all depends on what you're looking to learn.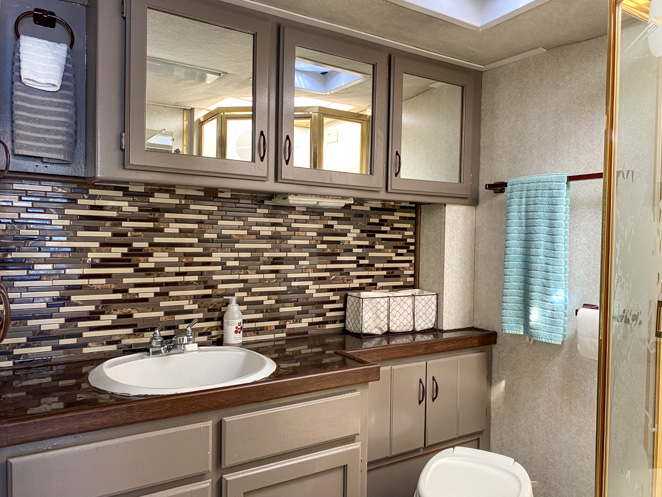 One of the simple small bathroom storage solutions is to use the back of your bathroom door. We love using our shoe organizer in our RV bathroom.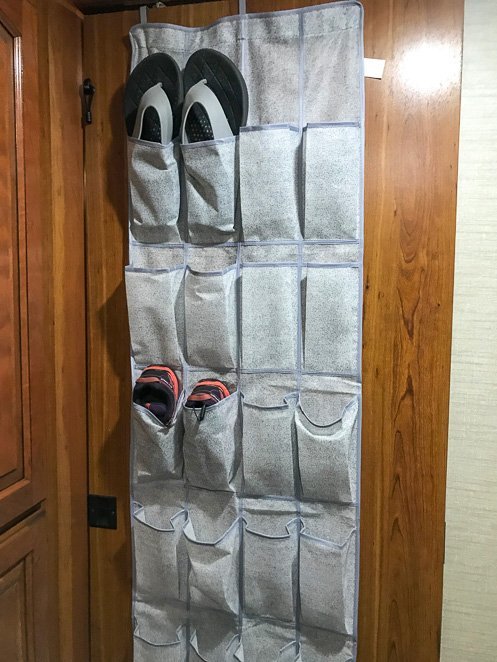 Or, you could check out something like this specialized window pocket organizer for going over the door.
I also like these great camper bathroom ideas for shampoo and shower items to be stored in your shower or even near your sink.
The next few RV shower storage ideas might get you thinking a bit creatively.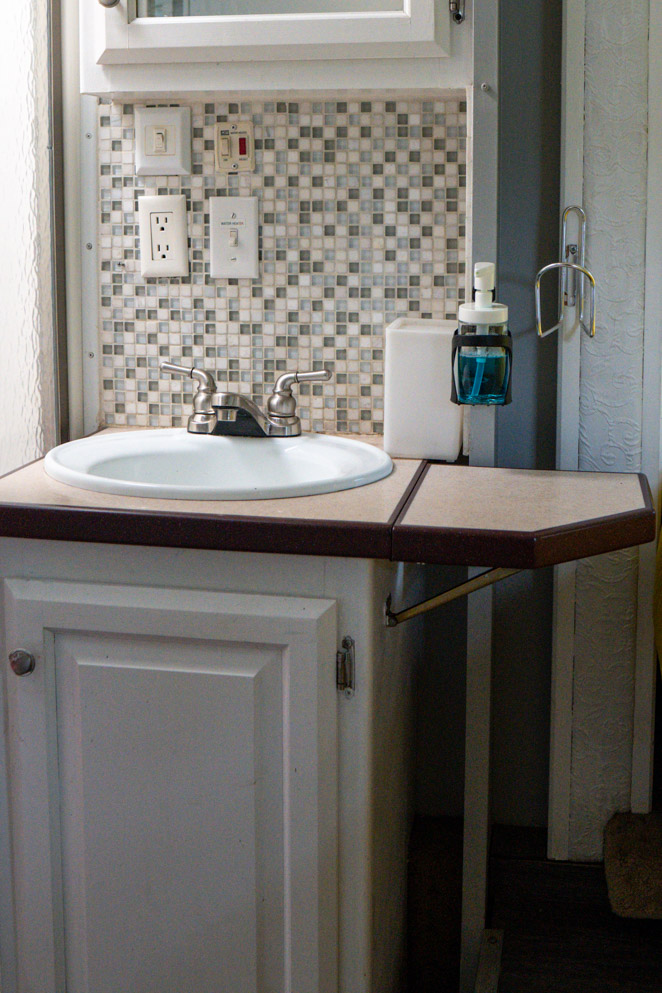 I especially love this RV shower organizer with hooks and space for all of your shower needs.
A tension pole in your shower might work as a great RV shower shelf, as it shouldn't fall or shift on travel days.
Or, if you are willing to use adhesive then this shower holder might work best for you and not shift on travel days as your camper shifts around.
A great RV organization hack that a friend of mine showed me was to hang your bathroom organizer above your shower stall on the wall. (see below). The RV shower caddy organizers are easy to find and can keep all of your shampoo and conditioner bottles up off the floor.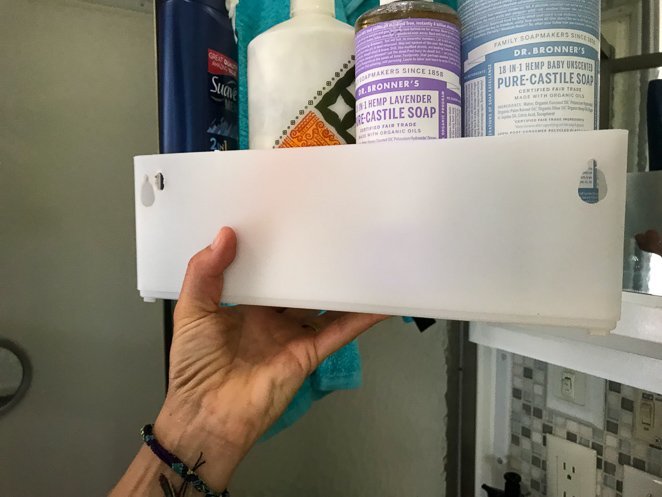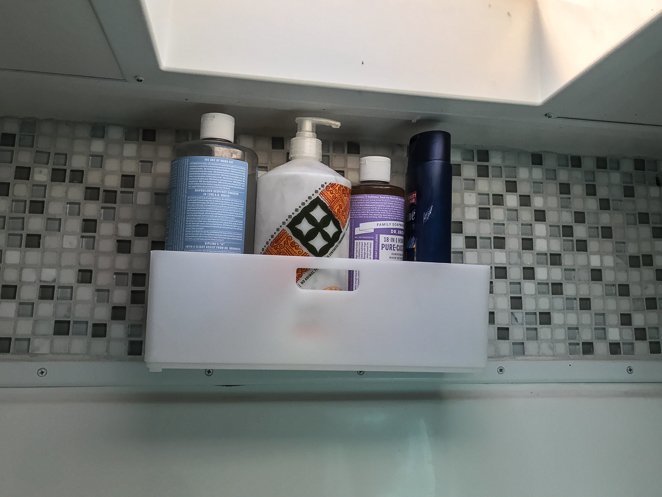 A great way to think 'outside of the box', or maybe to think like a traveler, is to purchase travel toiletries bags like these. You can install hooks in your bathroom to hold your basic items, and then if you choose to use a campground shower house, you have it ready to go with you.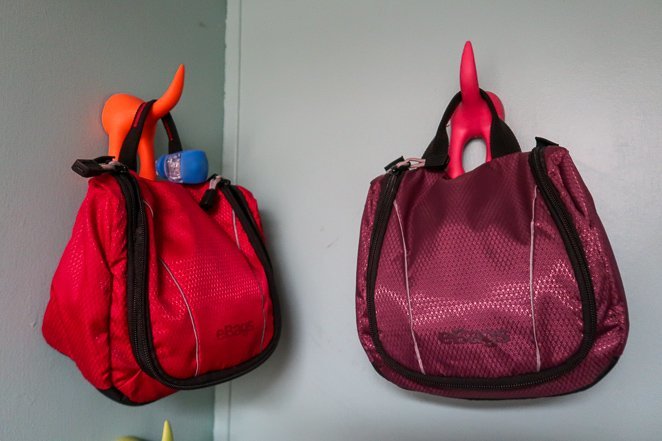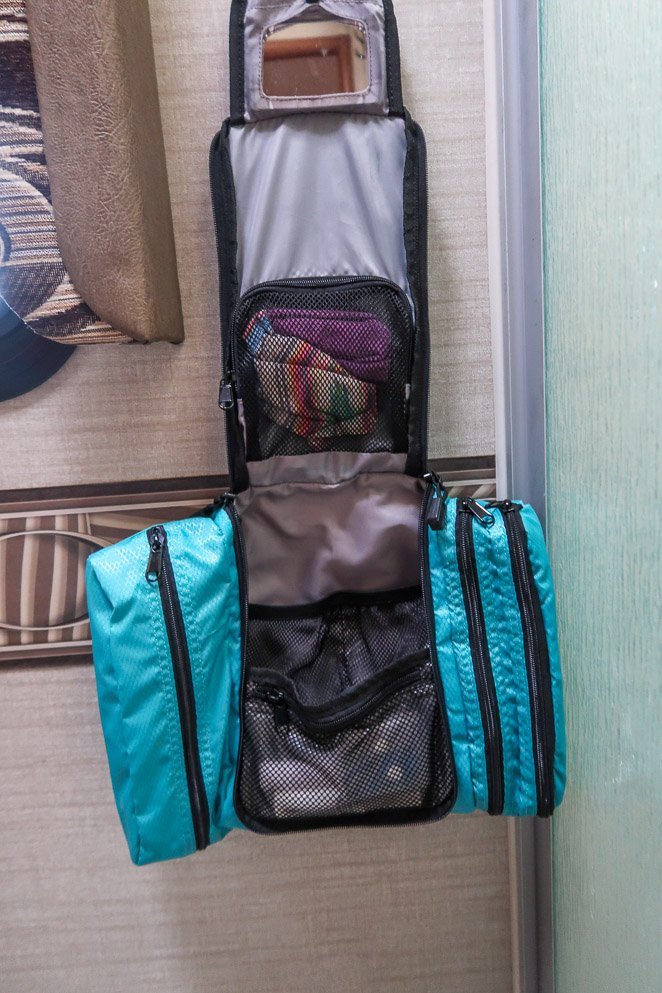 Where do you keep your Q-tips and cotton swabs? Well, one idea might be to store them in your medicine cabinet in containers like these.
Another idea is to keep them in the hanging holder on the back of the bathroom door.
I also like using the soft travel size shampoo and conditioner containers so that we can squeeze the last drops out of them (picture below).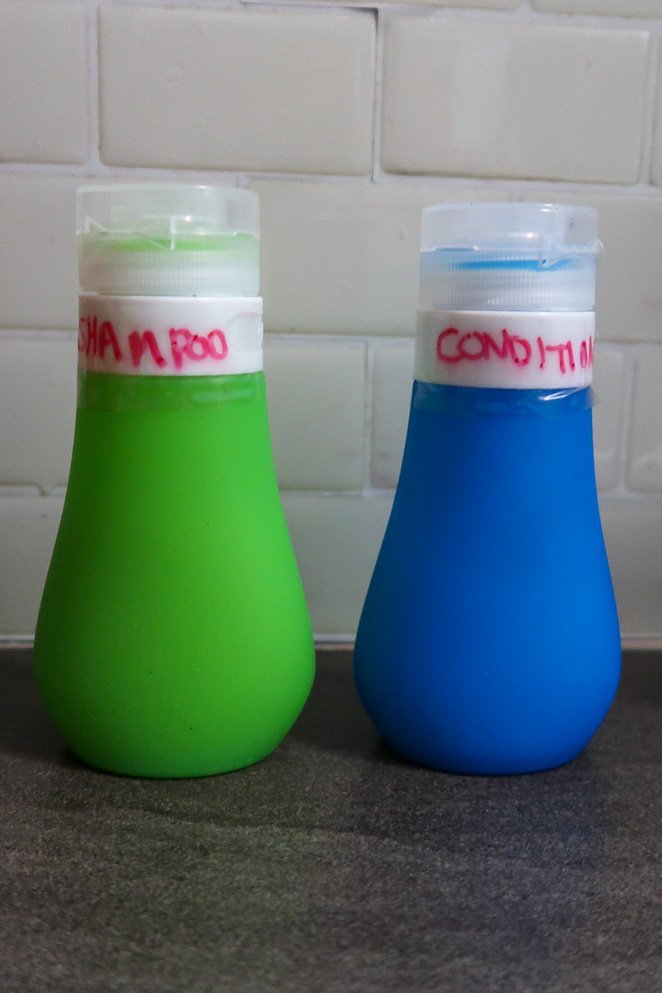 RV Towel Racks
Having RV bathroom towel storage ideas doesn't have to be difficult. Here are a few RV towel storage ideas so that you can learn how to store towels in a camper to make life a bit easier.
If you have a little wall space, or even the back of your bathroom door available, you can use something like this wine rack that works as a towel rack. It could work like a great towel rack for RV bathroom needs.
Or, you could use the stainless steel rack pictured below and install it above your shower.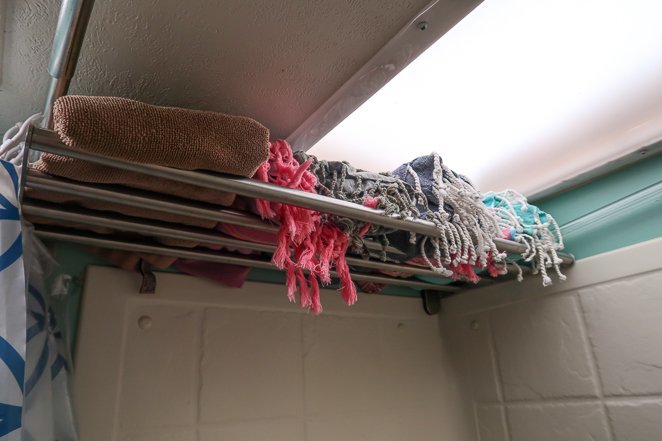 Command hooks or heavy duty plastic hooks are great to put over your bathroom door on the outside of the bathroom. That way, your towels will hand on one side while your shoe/bathroom organizer can hang on the other side.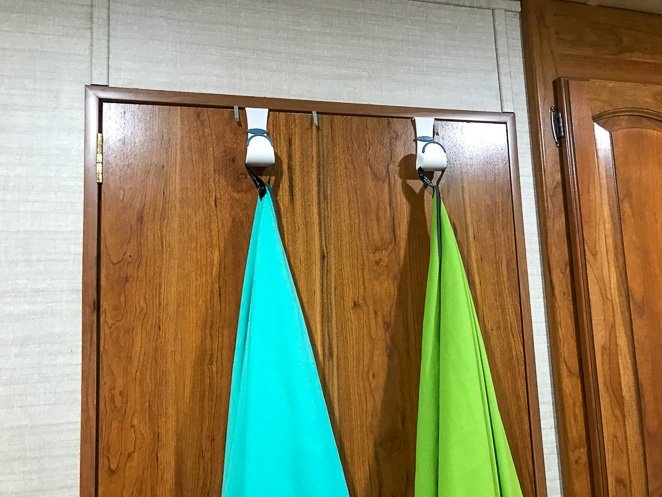 If you want something sturdier then plastic command hooks over the door, then you could screw metal hooks like these into the RV bathroom door.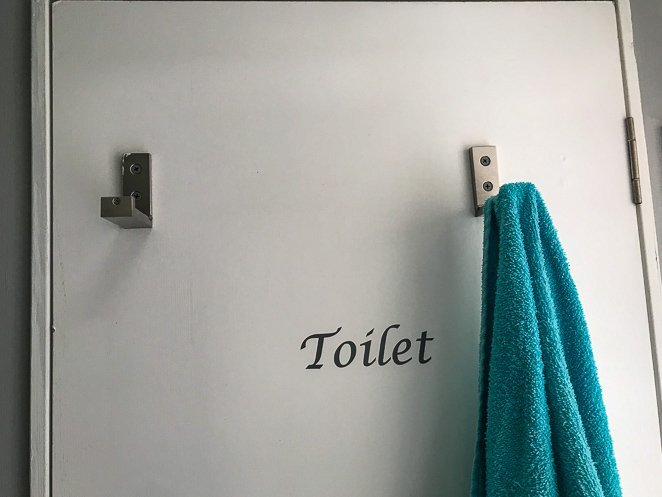 If your RV doesn't come with one, adding a curtain rod over your shower is a great space saving idea. We use ours to hang our towels to dry.
For clean and dry towels, you may want to think creatively about a place in your RV bedroom to store them such as a closet or cupboard.
Jewelry Holder For RV Bathroom
A big tip to anyone with a camper or motorhome and looking for RV bathroom organization is to use all the wall or flat space you can find in your bathroom strategically.
Check out how my friend used the side of her bathroom cupboard to hang her jewelry. Another great way to organize your bathroom is to use a hanging jewelry organizer like this one.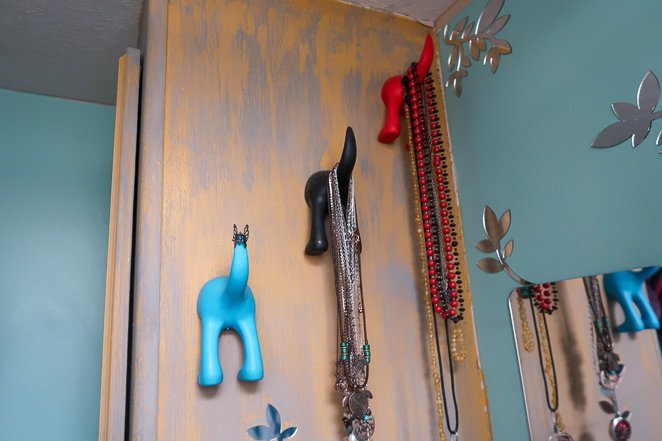 Toothbrush Holder for RV Bathroom
Now, there are several creative ways to organize your family's toothbrushes in your RV bathroom. One way is to mount a toothbrush holder to an available wall like this one.
Another simple storage solution is to purchase plastic toothbrush holders like these and then place the holders in your bathroom hanging organizer on the back of your bathroom door.
I also found this one that you could use a command sticky strip to stick to your vanity sink so it doesn't shift on travel days. I love how it stays closed and you can take out the inserts to wash them!
RV Bathroom Trash Can
You'll want to invest in a small trash can for your camper bathroom, and I highly recommend that you purchase one with a lid like this one.
If you're trying to avoid clogging your black tank (we've done that a few times, it's NOT fun) and you have many women in your RV, then consider using the trash can to throw away your TP instead of putting it down the black tank.
I know, this is NOT fun to talk about (or read about) but it's the reality of RV life. Especially if you want to camp for free and go boondocking. You won't have to dump your tanks as often. This is why I highly recommend you have a lid to your bathroom trash can.
Under The Bathroom Sink Storage
If you have a lot of space under your RV bathroom sink, then you could consider buying a small set of organizer drawers, camper shelf, or storage baskets to keep your rolled up wash clothes, hair dryer, or other bathroom items.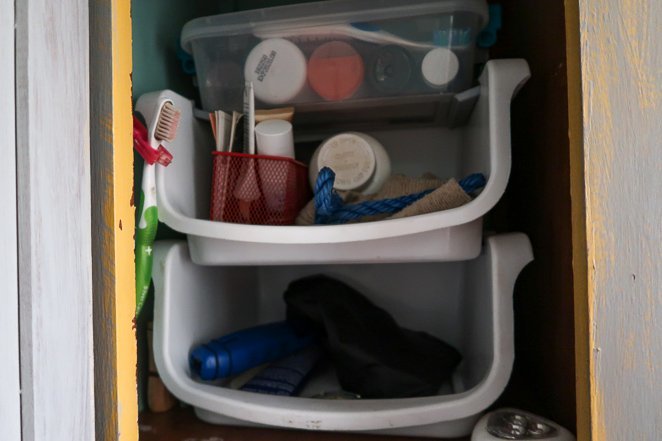 I especially like shelves like these that I found on Amazon below that would work well as an RV medicine cabinet organizer.
Additional RV Bathroom Accessories
In addition to finding the best RV bathroom organization ideas, I also want to give you a few tips about what's helpful to have in your camper bathroom. As a full-time RV living family of 6 who lived and traveled in our Class C RV for over 2 years, we've learned a thing or two.
Soap for your RV bathroom
Buy a brand of foam soap that you like, and plan to re-use the bottle when it's empty. I like this one.
You'll also want to buy a large bottle of Castile soap. To refill your hand soap dispenser, add 1/10th Castile Soap and the rest water and you are all set. It will last you months and is great on the environment!
Oh, and we use our Castile soap in the shower and in a pinch, we have used it to wash dishes and the floor as well.
Laundry Bag for Your RV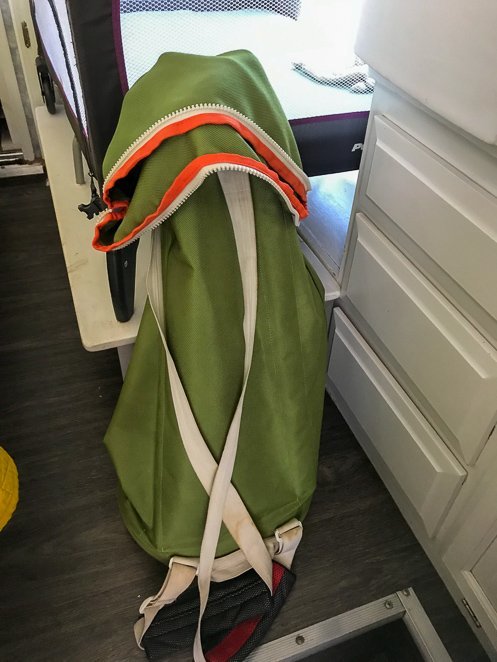 Most RVers will store their dirty clothes in a soft sided laundry bag and often times keep it in their RV shower. I recommend that you purchase one with a strap.
Obviously, you need to take it out when you are showering, but it's a great place to store your dirty clothes. If you have the ability to hang it from a pole in your shower or even on your cabinet door, then I highly recommend it so that the bottom of the laundry bag does not get wet when you set it back inside the shower after your done.
Or you could get a collapsible laundry basket like this one.
Travel Make-up Organizer
If you wear make-up, then you may want to invest in a travel make-up organizer like this one. I love how small and compact it is so that you could even fit it in your mirrored medicine cabinet (if you have one) in your RV.
Medicine Cabinet Organizer
Sometimes things shift and move around in an RV medicine cabinet on travel days. If you're looking for additional storage space in your bathroom cabinet, then this plastic organizer fits well in medicine cabinets.
First Aid Kit
Get a first aid kit in a bag so you can bring it with you on hikes and other outings, but then have a 'home' for it in your small RV bathroom too.
There are many sizes to choose from, so if it's just you in your RV travel experience then you can probably get by with a mini-first aid kit. However, as a family of 6 we also keep a large one on hand and as we go through bandaids we refill the first aid kit.
RV TP and Wipes Or Something Else
You'll want some TP for your RV bathroom or maybe even a sprayer like this instead to save on using toilet paper. If you DO plan to flush your TP then be sure you always buy septic safe TP.
We also keep a set of baby wipes or flushable wipes that we do NOT flush in our RV toilet (they go in our garbage can), on hand to help stay clean. Especially if you're limiting your showers to conserve on water.
RV Bathroom Storage Tips
I really hope that these RV bathroom storage ideas have helped you brainstorm as you think creatively about how to organize your camper bathroom. If you'd like more RV organization ideas then click here or check out the links below for related posts that might help you out. As a family who's lived in a tiny home with 6 people, we are trying our best to share our top RV living and camping tips with you.
Excellent RV Appliances for a Small RV KitchenRV Bedroom Organization IdeasFind the Best Generator For Camping HereGuide To Find the Best RV Surge ProtectorFind the Best Composting Toilet for RV Life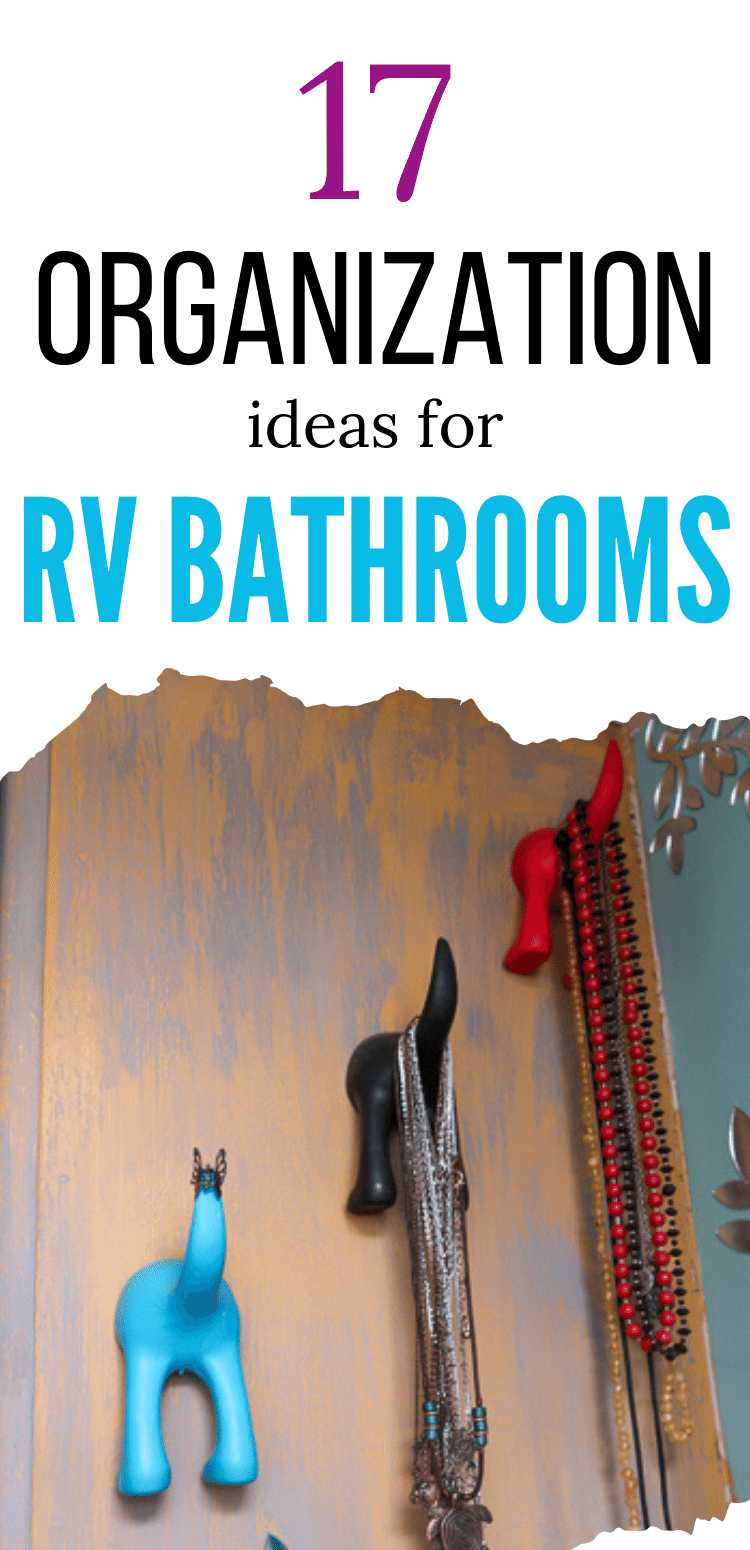 See more about brilliant RV bathroom organization in our stories.