Looking around for the best RV coffee makers? An RV coffee maker that fits well on your small counter and still does a great job is really going to be the best RV coffee maker for you. We did the research for you to make it a simple and easy decision so that you can see which coffee maker for RV life is the right pick.
We'll share the best under cabinet coffee maker for your RV kitchen to the best coffee pot for RV living. These are ideal small RV kitchen appliances. So let's dive in.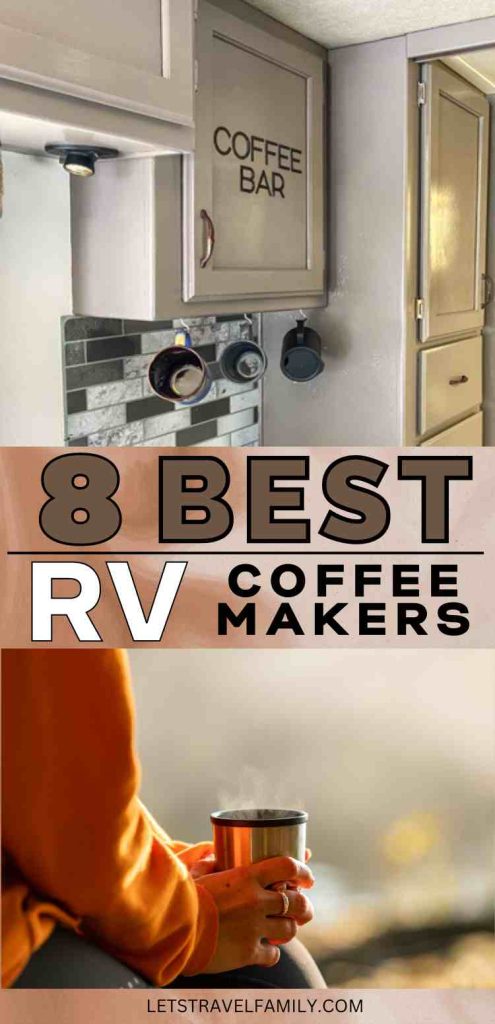 THIS ARTICLE MAY CONTAIN COMPENSATED LINKS. PLEASE READ OUR DISCLAIMER FOR MORE INFO. THIS POST WAS WRITTEN BY JILL GREISING-MURSCHEL, A FAMILY TRAVEL AND RV LIVING EXPERT.
Under Cabinet Coffee Maker RV
Looking for one of the best RV kitchen accessories to get you caffeinated in the morning? This Mueller single-serving coffee maker sits only 10 inches high and 10 inches deep, making it a tiny coffee maker for small spaces.
The popular brand of Keurig also offers a highly-rated small coffee maker for camper life in a small kitchen. It provides cord storage, sits at 12 inches tall and 11.3 inches deep, and can make a 6 or 12-ounce cup of coffee.
RV Coffee Maker as a Coffee Pot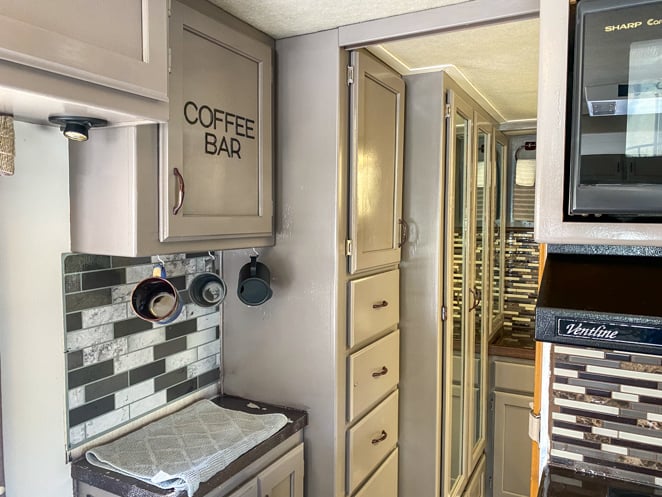 Looking for a tiny coffee pot that will make just a few cups of coffee at a time? Sitting at just 10 inches tall, this 4-cup coffee pot will be sure to fit on most small RV countertops.
When doing our research for a 12-cup coffee pot, we found this highly-rated option that's still compact enough for an RV countertop. This coffee pot is only 12 inches high and 9.4 inches deep while still providing you with 12 cups of coffee.
Espresso Maker for RVs
The high-quality true espresso machine that will fit best on your small RV kitchen countertop is this espresso machine with a milk frother and all things necessary to make an excellent cappuccino. It's only 12.6 inches tall and 12.2 inches deep, keeping it to a similar size of many of the small coffee makers for RVs listed above.
One of the most sought-after espresso maker brands is Breville. They have a small espresso maker that is only 12.2 inches tall and 12 inches wide, which would fit on many RV kitchen counters.
The Nespresso Vertuo coffee maker is great for small spaces while producing some high-quality drinks. This allows you to brew three different cup sizes with just a touch of a button.
Portable RV Coffee Maker – No Electricity Needed!
The Staresso coffee maker is a perfect solution! It's great for a week of dry camping or boondocking in your RV when you don't have access to electricity. It's also great for camping or backpacking when you just need to warm up water by a fire or cookstove to use it and have an amazing cup of coffee.
---
Considering buying an RV to live in it full time? Or, are you looking for the RV must have accessories you need for your next RV vacation? Then be sure to check out some of our most useful blog posts.
What to know about an RV Mattress Replacement
What is the best RV for full time living?
Do you need full time RV insurance?