Some days I wonder how we fit everything we need into our RV! Before we launched into full-time RV living, I was searching the internet for the best RV organization accessories and hacks to help us fit a family of 6 into our Class C Motorhome.
Especially storage ideas for small campers, as we live in only a 33-foot motorhome.
Now, years later, I've learned a few great RV storage hacks while living in an RV full time.
AND I've reached out to some of our amazing RV friends to share their RV living storage organization hacks and ideas so that we could create this ultimate post of the best RV organization accessories and hacks with SO many pictures to give you a visual.
If you're looking for a quick download that you can reference back to, then be sure to check out our free guide below!
RV Organization Accessories And Hacks
In this article, we cover storage ideas for RV interiors, RV kitchen organization, RV bathroom storage ideas, and RV camping hacks that will give you additional living space.
We share our best RV closet organizer ideas, RV under bed storage ideas, and even dive into travel trailer organization ideas from our friends Ashley and Nathan while touching on fifth wheel organization ideas from our friends Clementine and Pieter.
RV organization does not have to stress you out like you might think it should. Organizing a camper can be simple if you have the right RV camper accessories for inside and you're ready to live with less 'stuff', while only keeping the items you plan to use regularly.
Keep reading to learn our best RV hacks and how to keep your camper organized.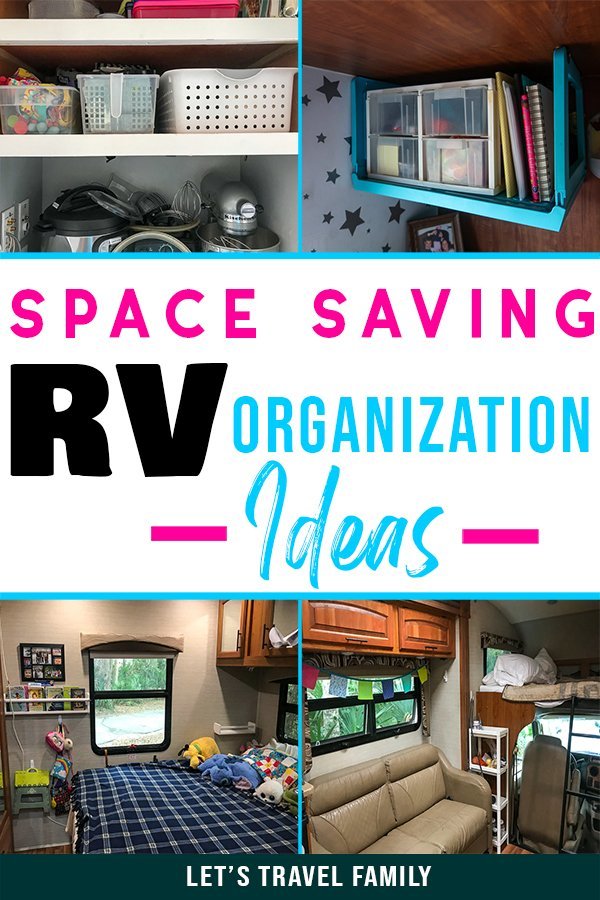 THIS ARTICLE MAY CONTAIN COMPENSATED LINKS. PLEASE READ OUR DISCLAIMER FOR MORE INFO. THIS POST WAS WRITTEN BY JILL GREISING-MURSCHEL, A FAMILY TRAVEL AND RV LIVING EXPERT.
Holiday Shopping for RV Owners in your life? Here are the top deals and my best picks:
Harvest Hosts is offering 30% off using code: HOLIDAYHH
Aurora Heat Hand Warmers is offering 10% off using code: LETSTRAVELFAMILY
'Organize Your RV Like a Pro' is a digital ebook that I created just for you! Use the code: SaveBig2023 to save 20% for Black Friday now!
A portable propane fire pit is another great RV gift find.
………………………………………………………………..
Want to see more Black Friday RV Deals? Read my dedicated post sharing the latest Black Friday RV Accessory Deals
First – 5 Camper Organization Tips
Real quick, before I share with you specific RV storage solutions, I want to give you a few pieces of advice when organizing a camper.
Whether you just bought a new RV or you've owned it for years and you're looking for better camper organization hacks, these camper organization tips will help you get started.
Keep it simple.
Stay lightweight if possible.
Try to find accessories for multiple purposes.
Use ALL of your space.
Keep things secure – your RV moves!
RV Bathroom Storage Ideas
Let's dive into RV bathroom storage ideas so that you can make your camper bathroom organized.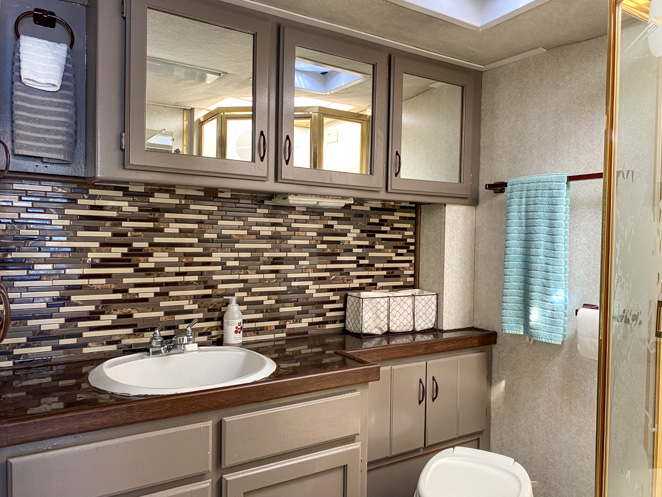 First up is our favorite and simple over the door hangers we found online. There are the simple plastic hooks we show below or even a rack that can hang over your door.
Going back to one of the best camper storage ideas is to use ALL of your space. The back of a door is a great space-saving way to hang and store your towels.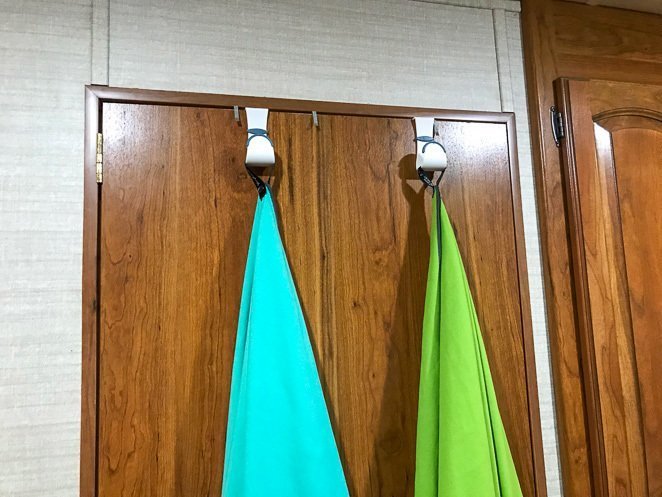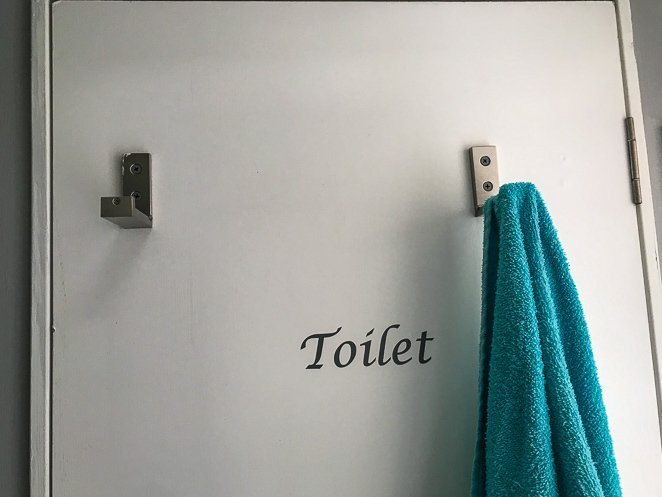 Simple small shampoo and conditioner containers with suction cup sides can be great for use in your RV shower. They won't hang on an RV shower curtain but they will often stick to your shower walls.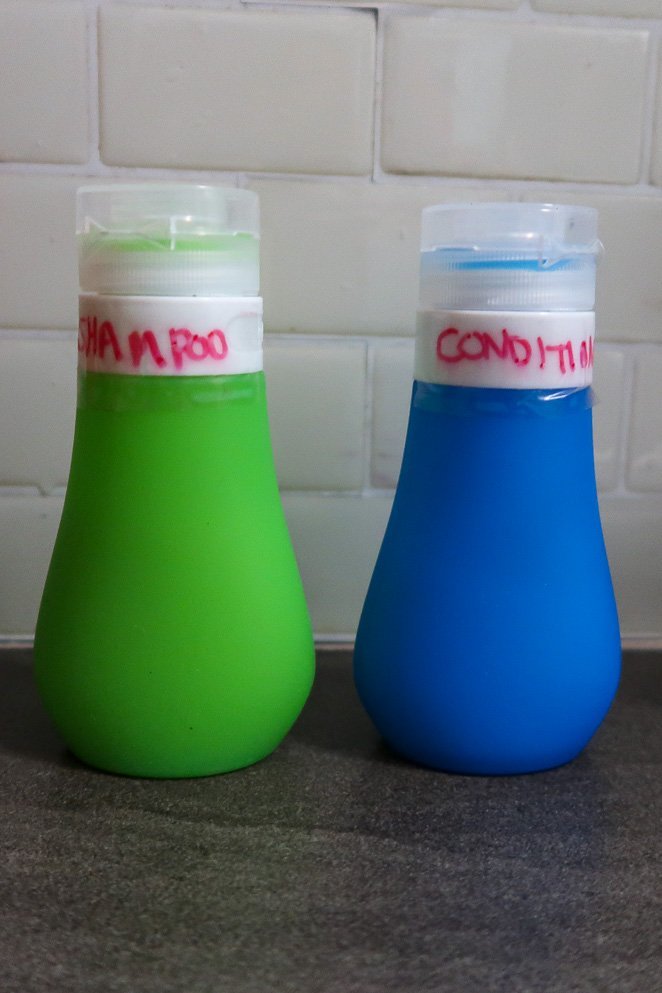 RV organizers for your shower can be especially helpful such as shown below.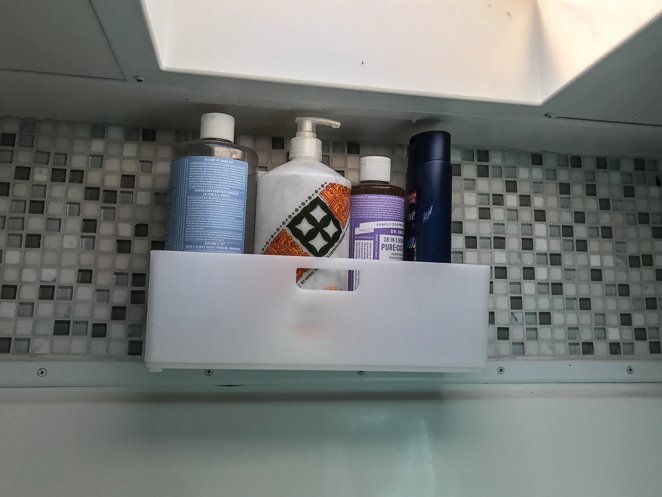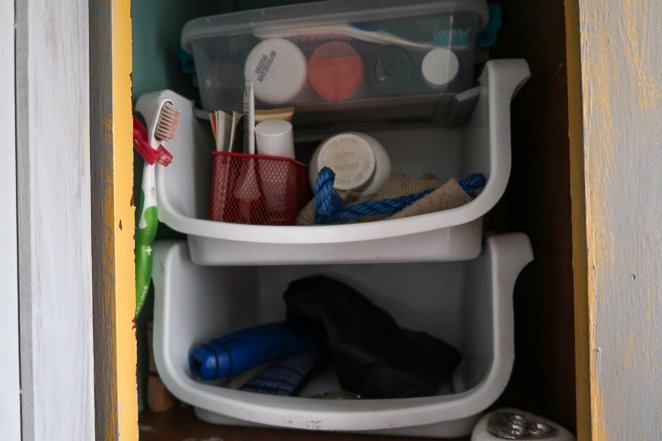 If you're looking for travel trailer organization ideas for your bathroom, check out what our friends Ashley and Nathan did in their bathroom below. They not only invested in some great bathroom shower bags from Ebags, they also found these cute dog tail hooks from IKEA.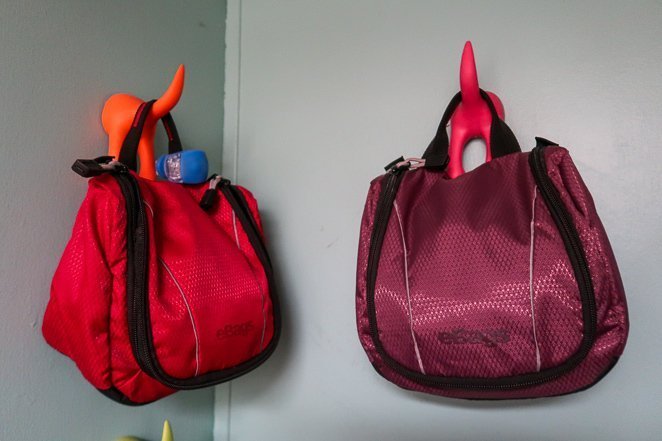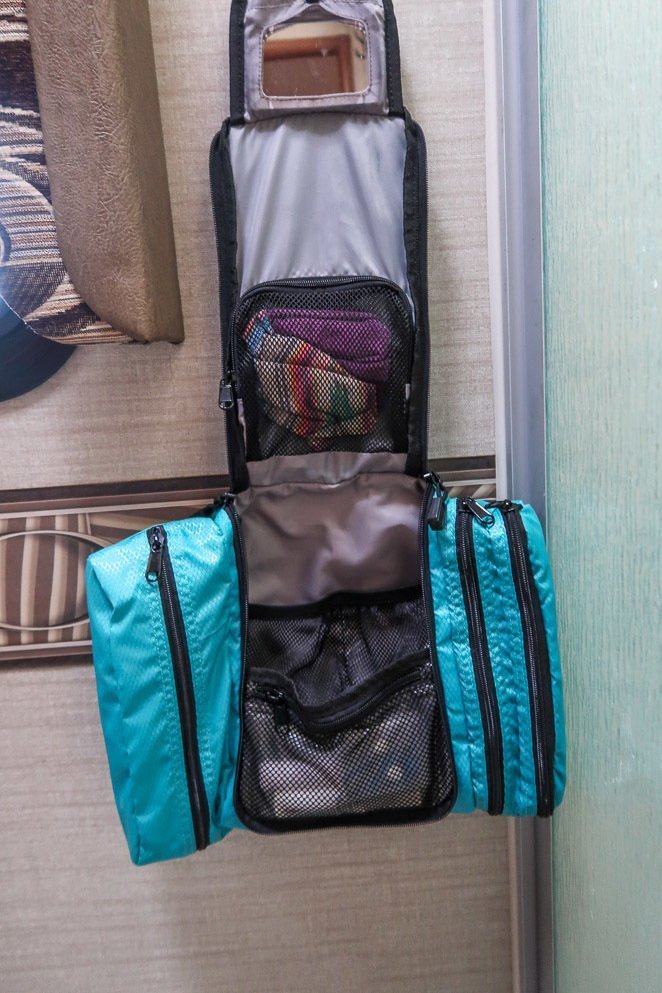 If you don't have enough room on your over-the-bathroom door hangers for your towels, another smart RV organization idea is to buy this towel rack from IKEA and install it high up in your shower so you can place your towels up high when not in use.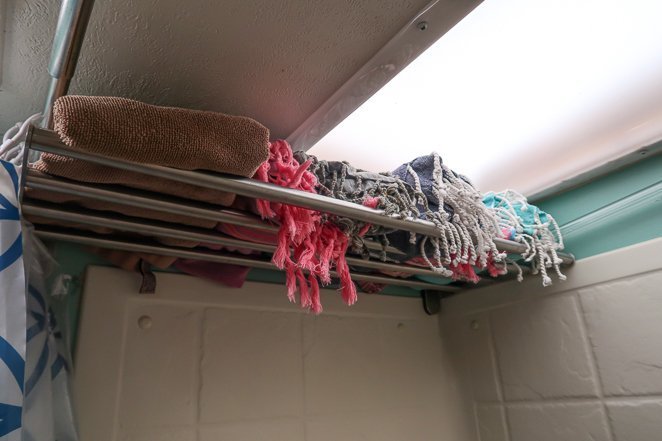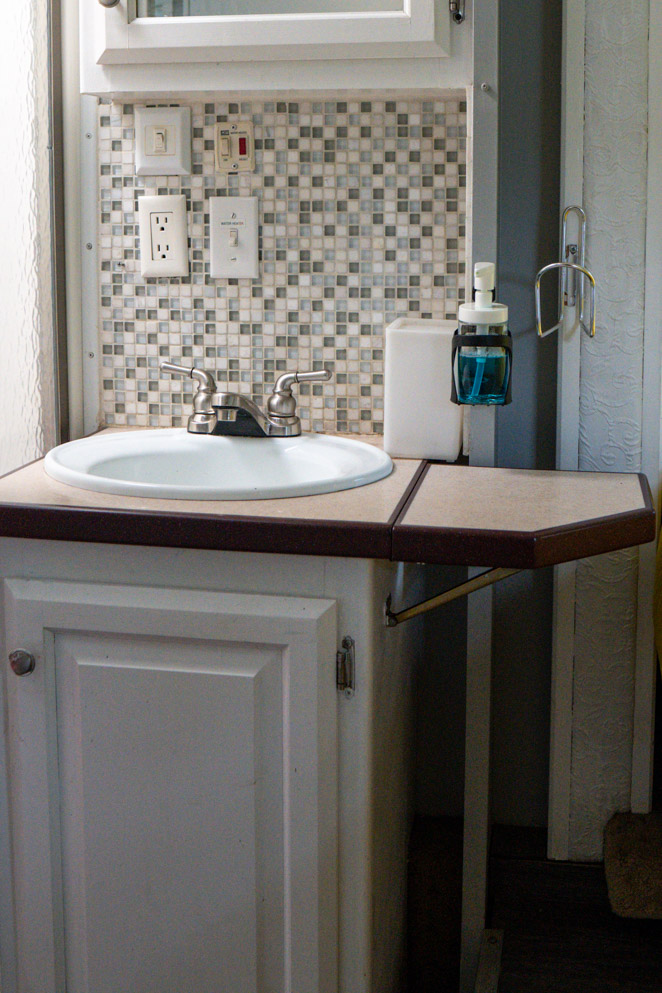 If you're looking for a more detailed post about RV bathroom storage organization ideas and hacks then click here!
Learn more ways to organize your RV like a pro.
RV Kitchen Organization
Looking for RV kitchen storage ideas? Look no further as we have so many camper storage hacks for almost any RV kitchen including shelves, paper towel holders, RV spice rack ideas, and where to store your extra food.
Our first tip is to find shelves for any extra counter space that allows for things to be stacked. They can make great produce shelving on your counter. Click here to check them out.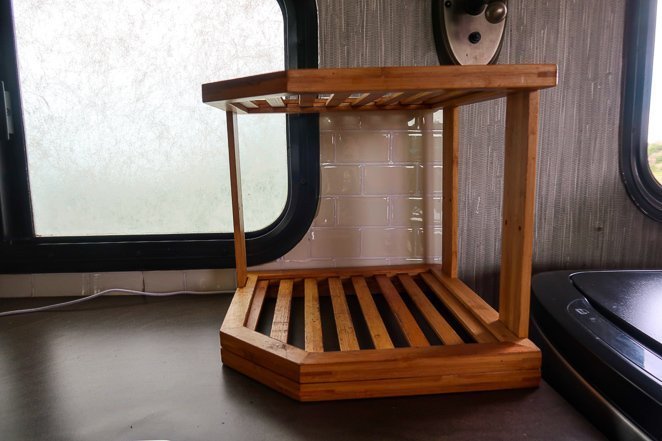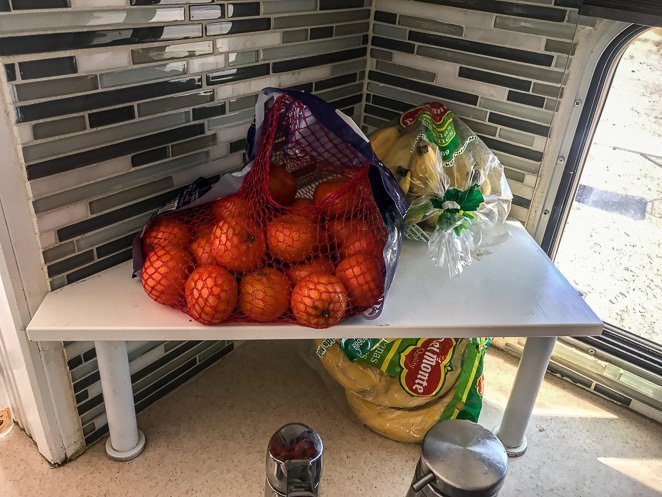 Another great RV kitchen hack is to use reusable spice containers that fit on short shelves to hold your dry goods.
Or, you could even use a 5-gallon pail with a lid to hold your extra flour and dried goods if you have a place for it. It will help keep any critters from coming into your RV to make a home.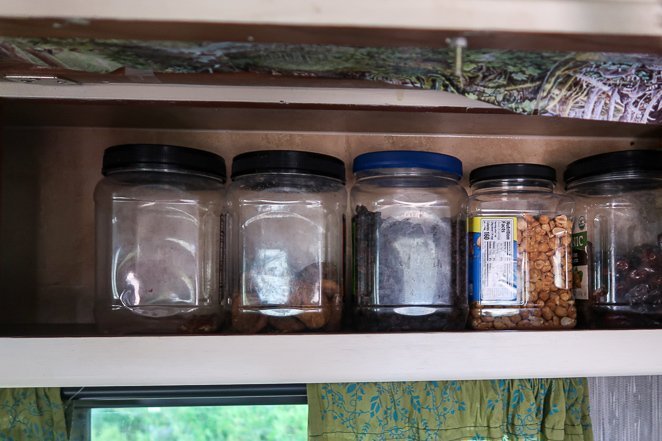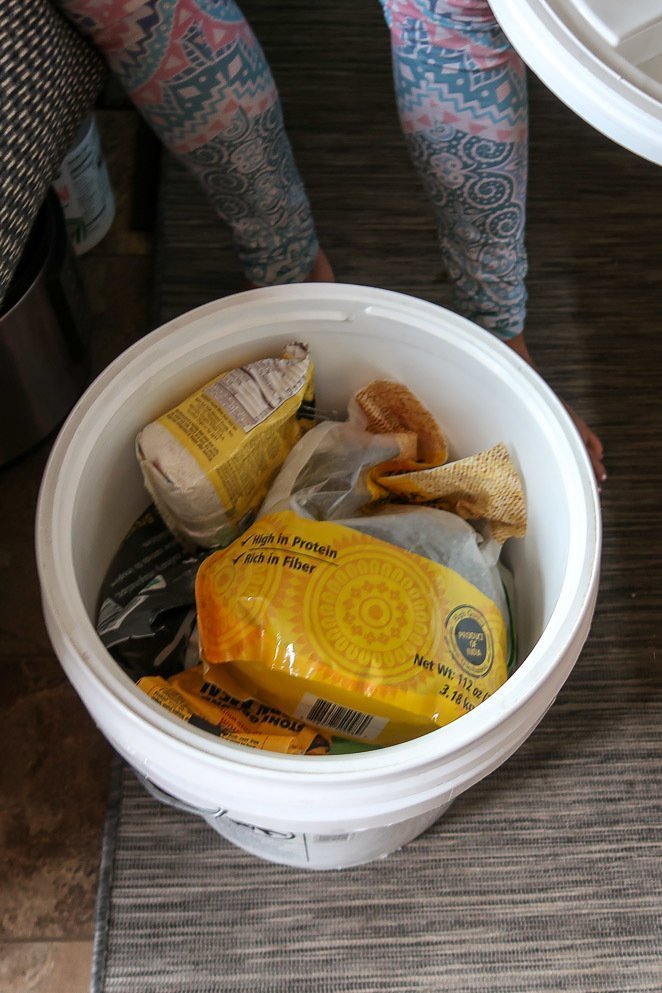 Using simple black clips on an over the door towel holder on the inside of a cupboard makes for a great spot to hang dry your wash cloths and sponges.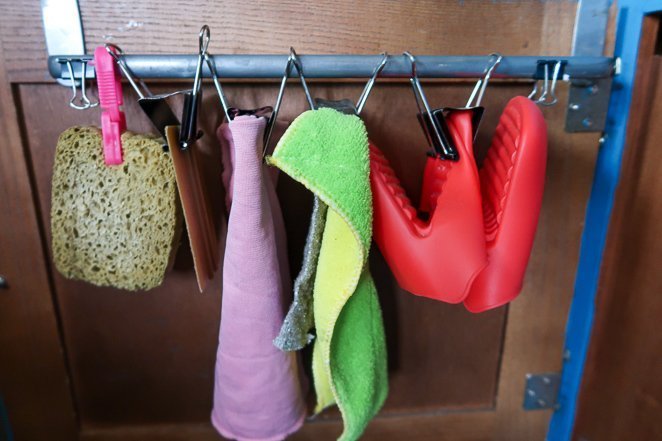 Below, you will see a few great RV kitchen organization hacks.
Use some small command hooks like these to place hooks under countertops so that you can hang your towel to dry. Be sure to use microfiber kitchen towels that don't get smelly easily.
If you look to the left of the counter, you'll see how simple magazine holders are used in the extra floor space for their leftover container lids.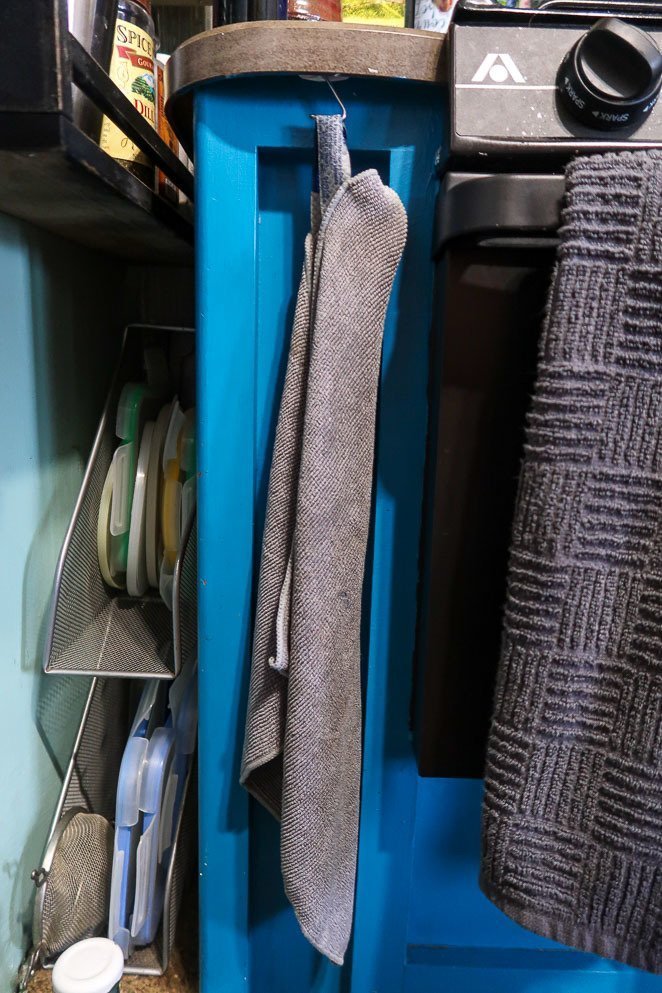 Below, you'll notice that the paper towel holder is hung on the side of the wall instead of under a cabinet. While they used IKEA shelves as spice racks, yet I've seen these spice racks used in RV kitchens as well.
Related Post: 7 Best Paper Towel Holders For Campers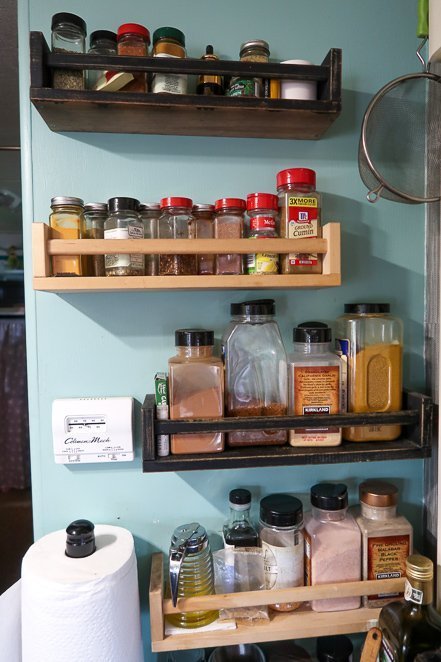 An RV organization tip that I often repeat is to use all of your space, and that includes open vertical space too. Look below to see the self-used to hold fruit. Simple, yet useful!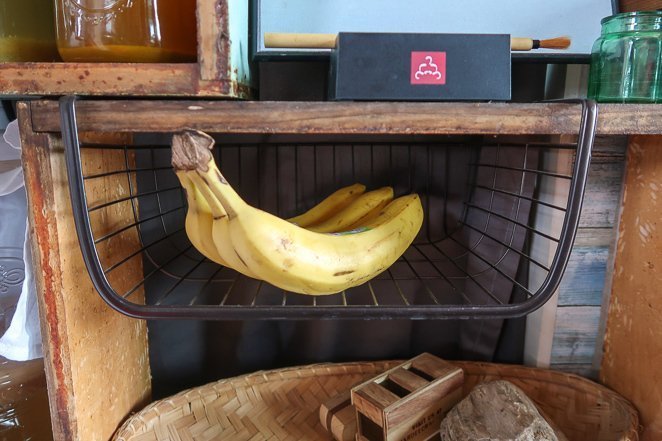 A produce stand could also be a great addition to your RV kitchen if you have space under a cupboard, you could attach it to the underside of a cabinet instead of using the stand it comes on.
Oftentimes using drawers can be helpful for storing your RV kitchen dishes. We especially love investing in glass cups that can also be used as coffee mugs and leftover containers with lids like these.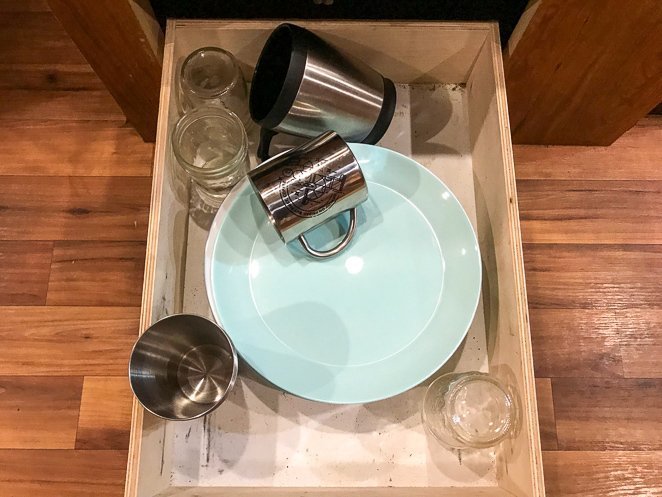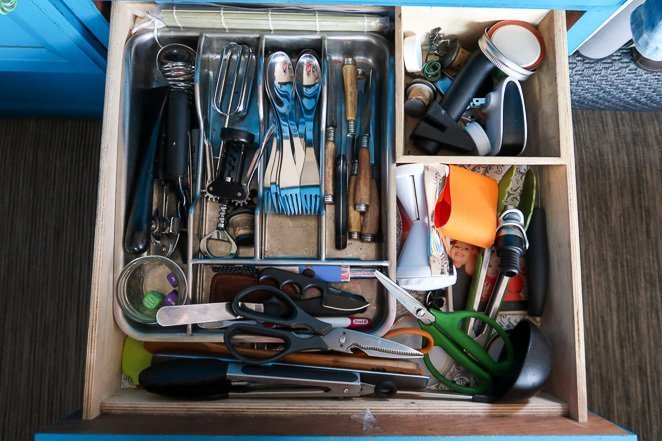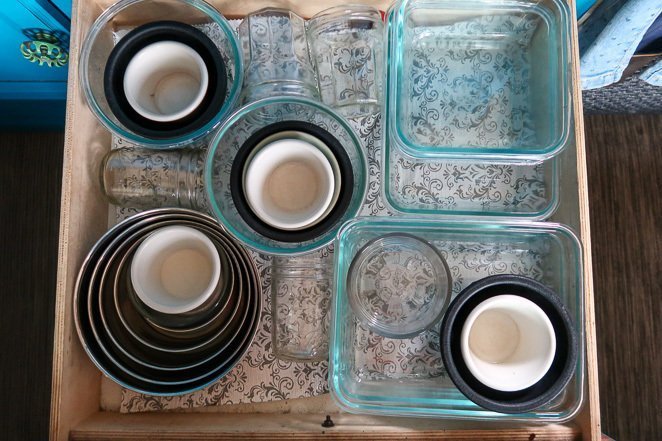 If you have a bit of wall space then you can buy a magnetic strip to hold your knives, scissors, and other kitchenware. Just remember to take them down on travel days.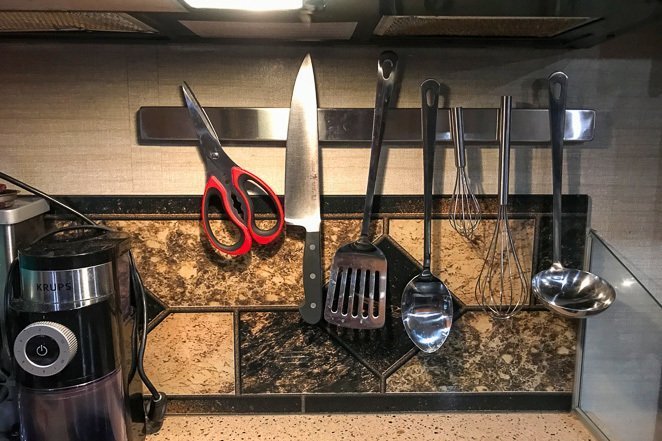 RV fridge organization can be made easy with a few bins that fit your RV refrigerator. First, take measurements before you purchase anything as not all RV fridges are the same size.
If you're still looking for RV kitchen ideas, then this list of RV appliances for small kitchens might help you out.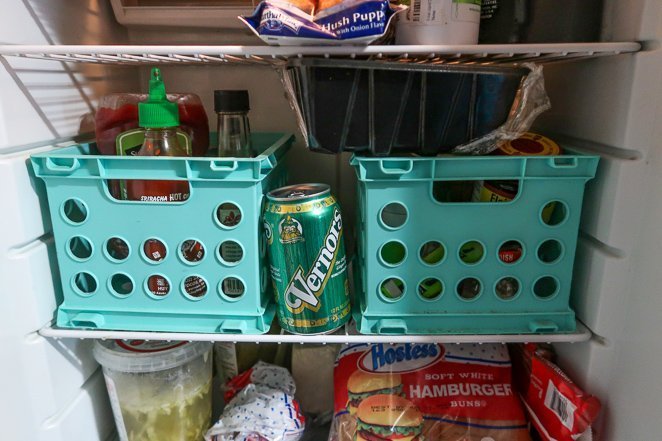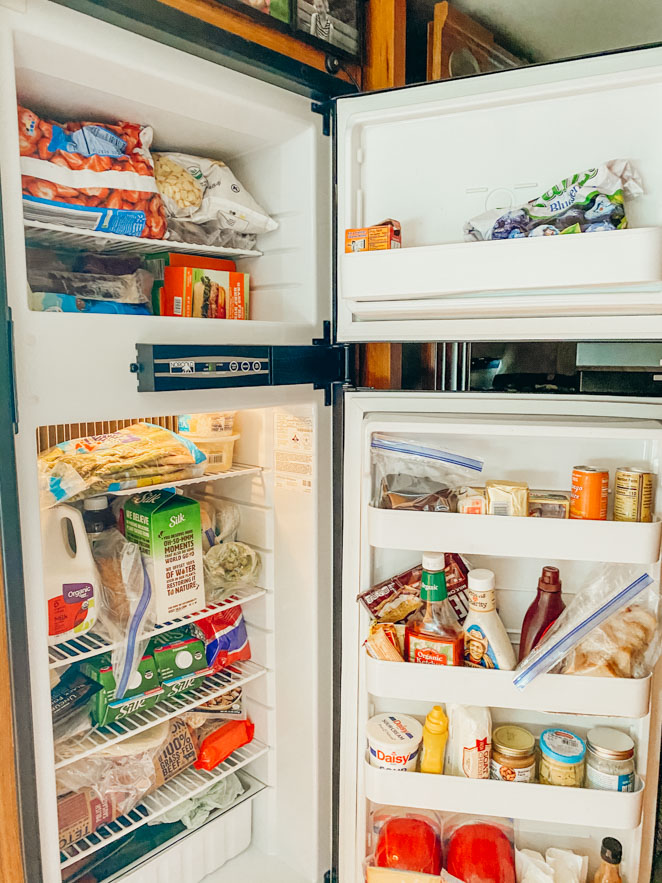 Learn exactly how to become a master at keeping your RV organized and looking great without feeling overwhelmed when you grab a copy of our 73-page ebook. Click here to grab a copy of Organize Your RV Like A Pro.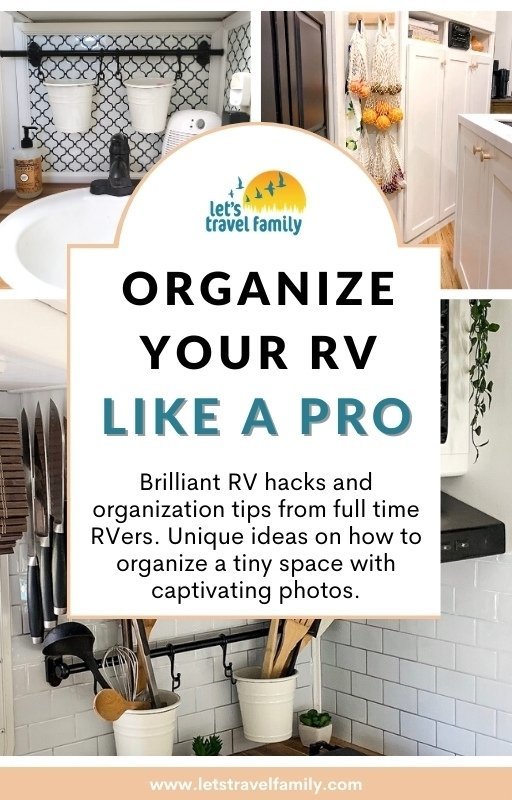 How To Organize Your RV Cabinets And Shelves
Looking for RV shelving ideas? Keep reading to see some pictures of camper cabinets and RV closet organizer ideas.
RV cabinets are often built in all different sizes, so it can be helpful to boost your RV living storage organization with these tips.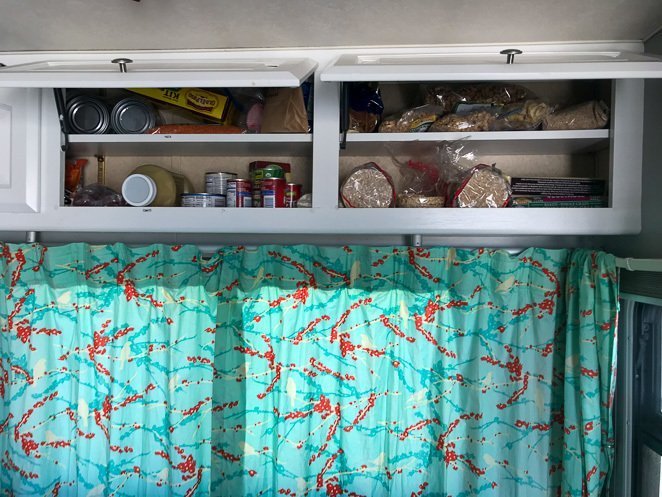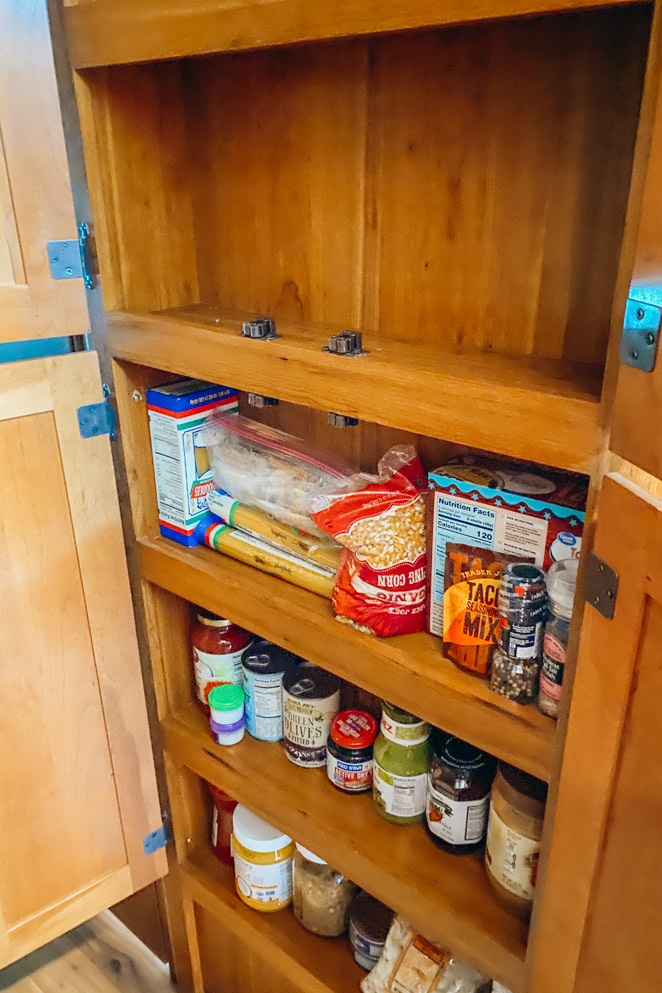 Sometimes you need to add in an extra shelf from IKEA, Amazon, or another store to help you fill up what I like to call 'dead space'.
Other times, you just need to organize your RV shelves and cupboards well. Using wire shelves in a cabinet can help you fit more food in your kitchen cupboards.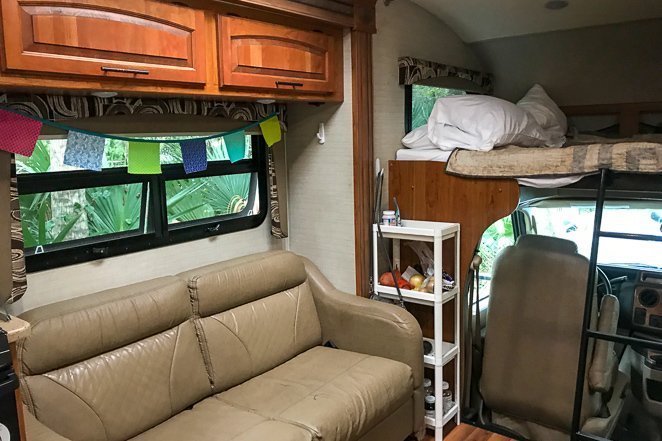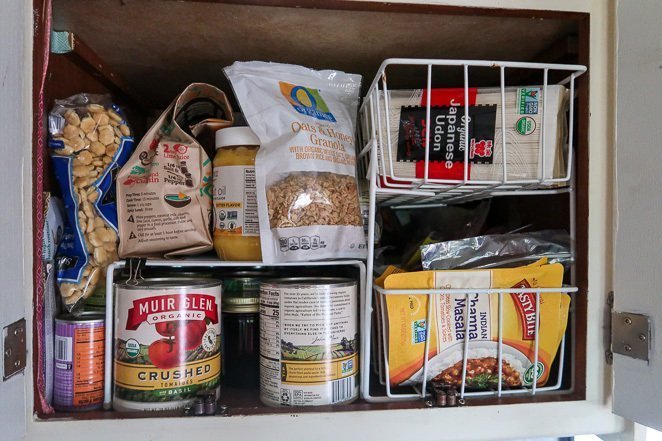 Check out our storage ideas for RV closets in the pictures below. From buying additional plastic drawers and bins to rolling your clothes to fit in tight spaces, you need to often be creative to fill your RV closet shelves.
My favorite RV closet organizer tip is to hang clothes above stacked additional drawers.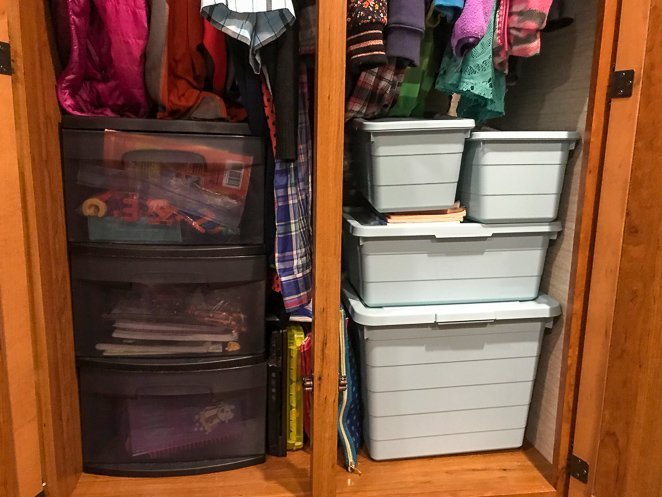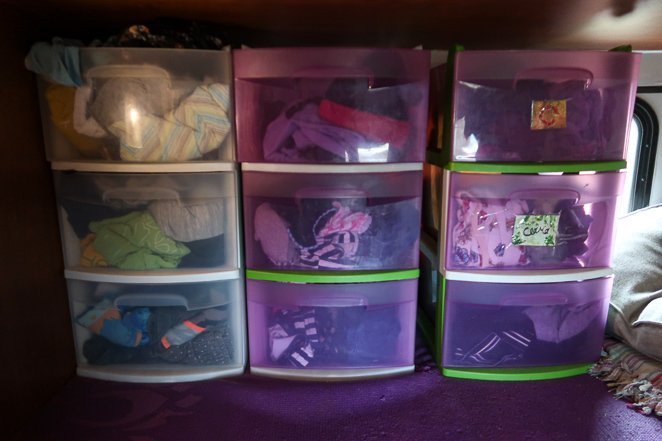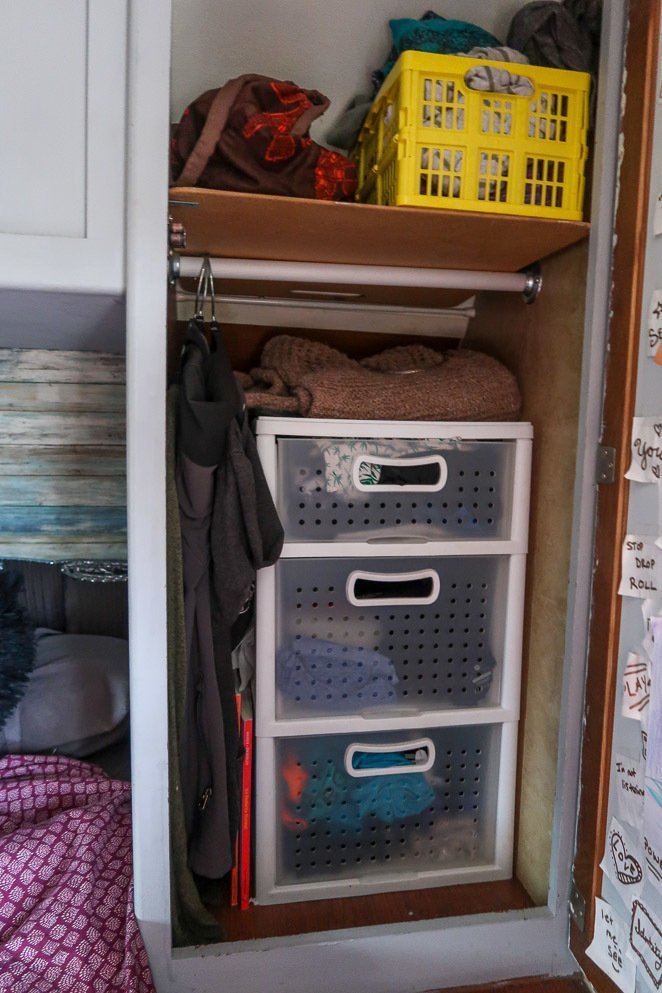 RV Organization Accessories For Shoes
Shoes can be a problem when finding storage in an RV or motorhome. So, how do you store shoes in an RV?
I love how my friend Ashley uses a bin at the foot of her bed to hold her boots and an over-the-door towel hanger to hold her shoes on the back of their bench. Or, you can use a typical behind the door shoe hanger if you have a sliding/pocket door like we do in our Class C Motorhome.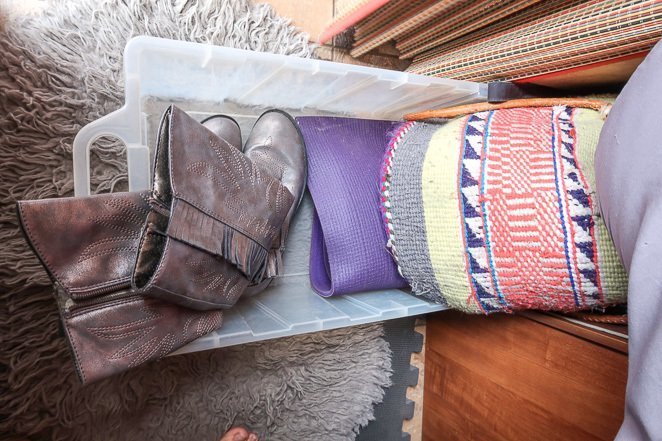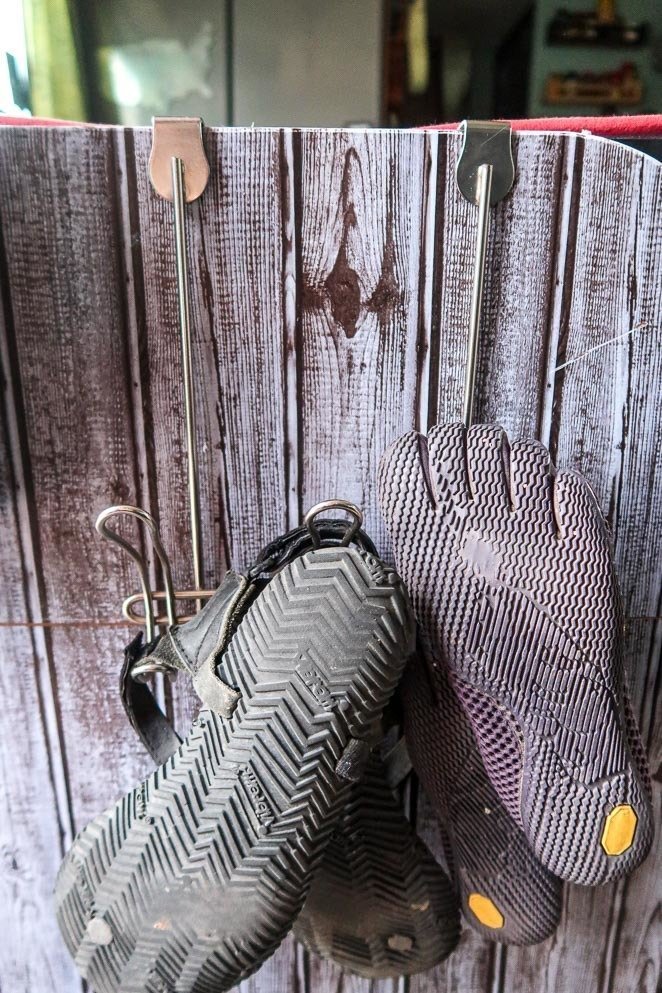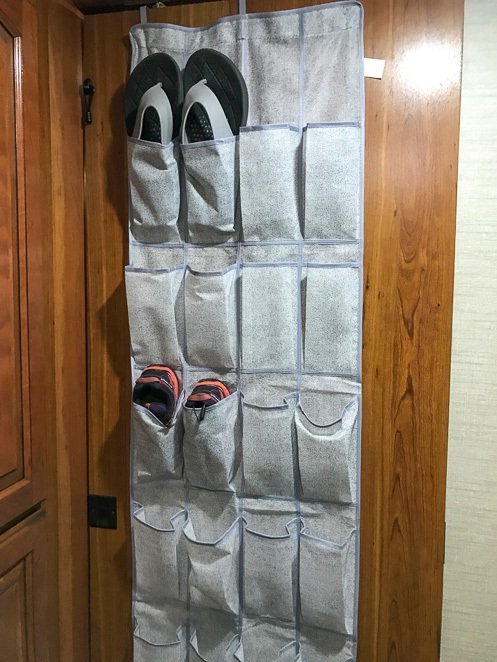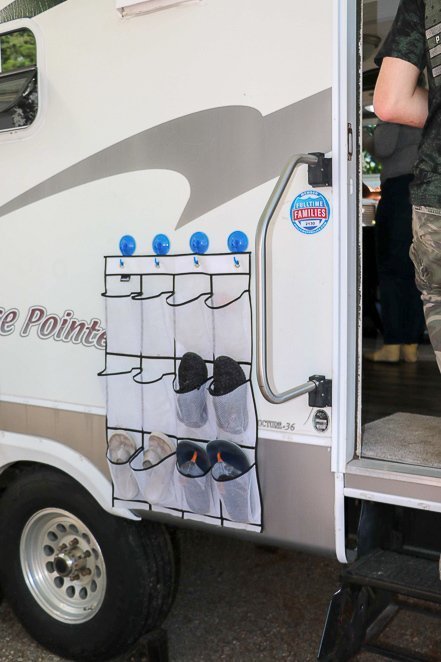 Unique RV Interior Storage Ideas
Last but not least, I want to share with you some unique RV interior storage ideas for things such as jewelry storage in an RV to homeschool supplies storage. So look below for some camper space-saving ideas that you may not have thought of.
Or, check out our detailed post about RV bedroom ideas for some organization hacks specifically for a camper bedroom including bunk rooms and bunk beds.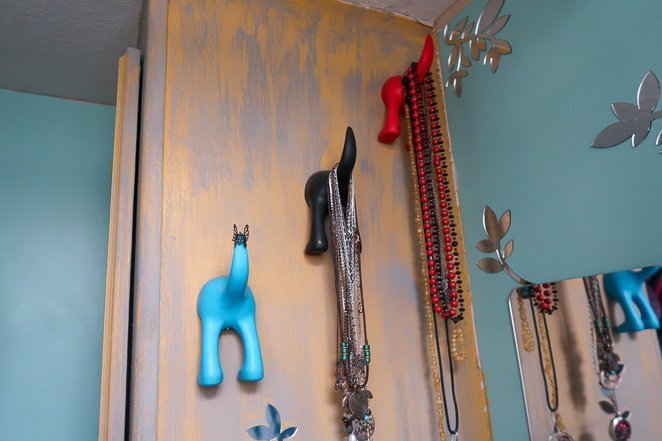 Storing your water bottles on a shelf that hangs on the back of your bench can be super useful. This is just one of the great storage ideas for small campers.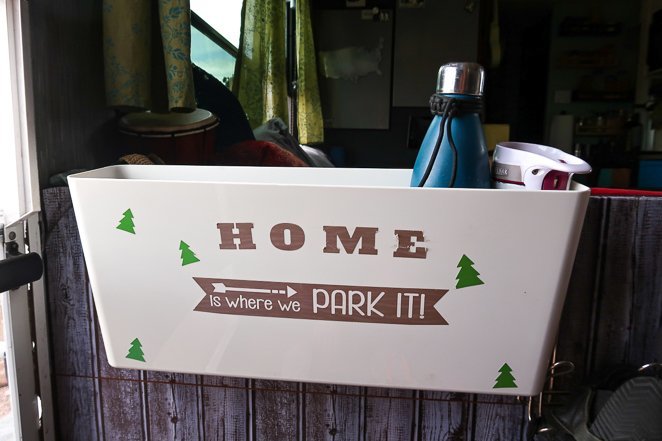 Where do you store your kitchen countertop items on travel days? Well, we store our Berkey and Espresso maker in our RV shower on travel days.
Related Post: Discover The Best Counter Water Filter For RVs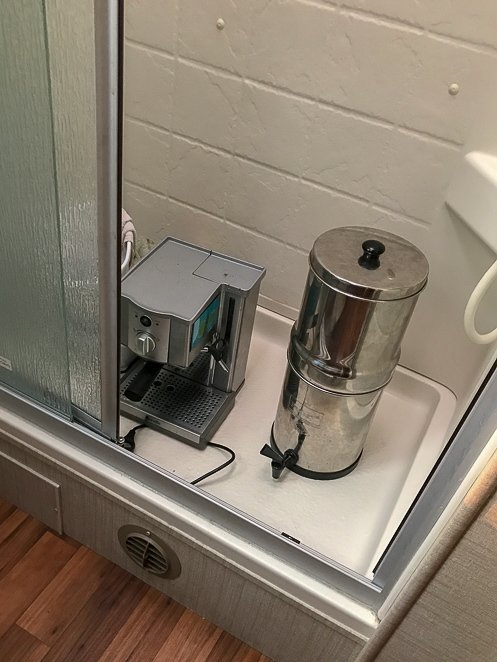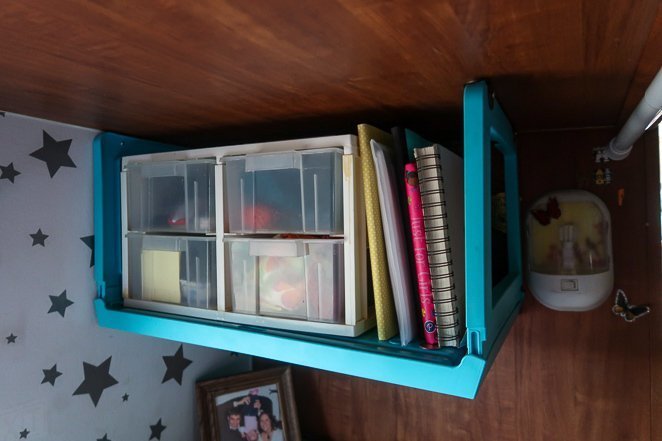 Books can be stored on a forward-facing shelf on a wall or on an inverted shelf under a bunk bed.
Related post: RV Mattress Replacement – What You Need To Know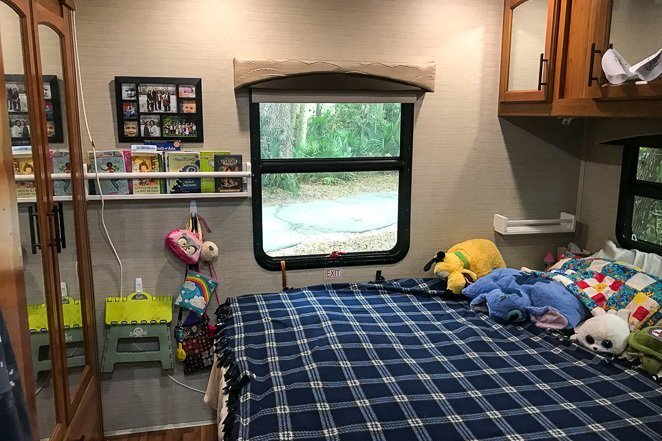 Command hooks of all sizes come in handy when looking for travel trailer storage ideas. Think about using small command hooks inside a cupboard door to hold your reading glasses or keys.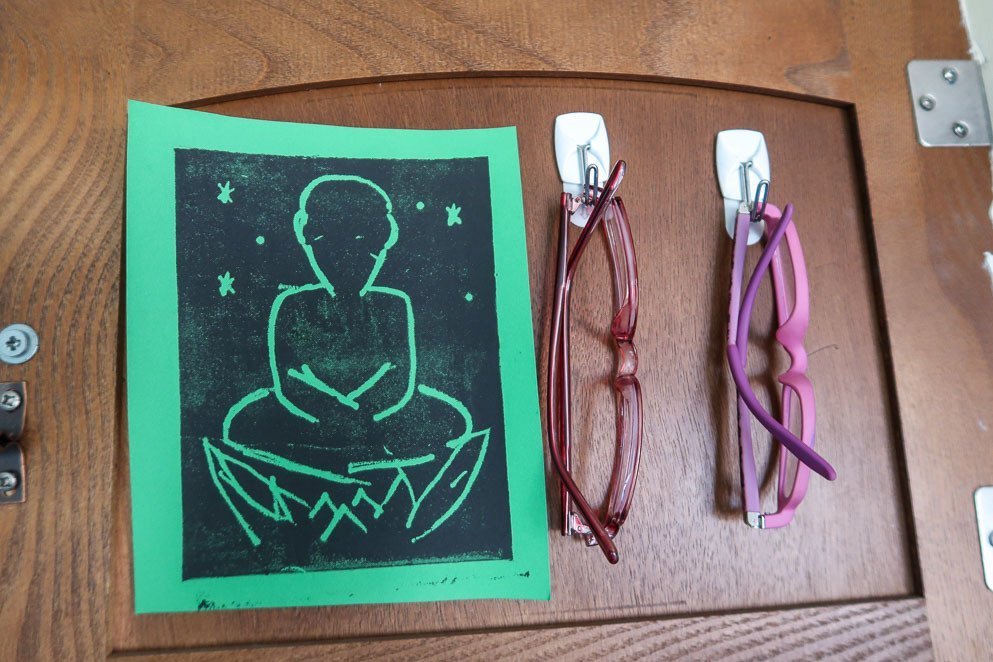 Magazine holders have so many great uses in an RV. Look how you can use them to hold your laptops next to the couch.
If you're looking for more creative ways to set up an RV office then look no further. We share several tips, photos, and ideas on how to organize and create an RV office.
When it comes to organizing your RV, we also recommend starting out by purchasing all of your RV must haves, RV tools, and RV kitchen accessories. Then you'll know what you have to work with and you can use the ideas above to find a home for everything in your RV.
Check out our tips on living in a motorhome if you're looking for more tips on how we arrange and organize our full-time traveling family's Class C RV.
PIN THIS FOR LATER