Do you enjoy camping in National Parks? Or, maybe you haven't stayed in one of the famous US National Parks yet, and you'd like some tips on what to expect when camping in a National Park. Read on to learn some of our top camping tips based on our own national park experiences.
National parks are some of the most sought after destinations for traveling families. They provide so many outdoor experiences that many families book their reservations months ahead of time. From hiking and swimming to fishing and ranger-led activities, there's a lot to do in US National Parks.
Yet one of the best parts is camping in the park.
THIS ARTICLE MAY CONTAIN COMPENSATED LINKS. PLEASE READ OUR DISCLAIMER FOR MORE INFO.
Tips For Camping In National Parks
Camping areas are common in National Parks. Some come with complete hookups, but most offer dry camping with access to a picnic table and fire ring.
You can often decide if you want to bring a tent or a small RV, it depends on what you feel will be the best family camping experience.
First, you will need to purchase a National Park pass to get into the park. You have a few options. If you have a child who is in 4th grade then you can get a National Park pass for FREE!
A second option is to purchase your National Park pass from REI online today, and they will donate 10% pack to the National Park Foundation.
Lastly, for the same price as purchasing from REI, you can purchase your annual National Park pass at the entrance gate in person in most National Parks.
Okay, back to tips for staying at National Park Campgroudnds.
Here are some tips that you should remember when staying in National Park campgrounds.
1. Pick Your Campground Carefully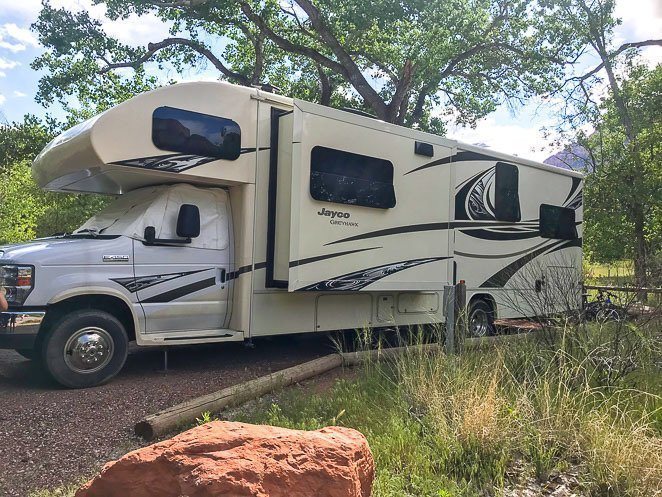 Many National Parks have more than one campground, each with different features. Keep in mind what type of camping you want and then pick the campground that works best for you.
If you plan to tent camp then most National Park campgrounds are available for you, while if you plan to rent an RV and take a road trip to a National Park, you'll have to make sure you have an RV campsite.
In addition, there are many National Parks that offer campgrounds on a first-come-first-service basis. They don't offer reservations. For example, Apgar Campground in Glacier National Park is a very popular first-come-first-serve campground just inside the West Entrance to the park.
2. Check The Campground's Features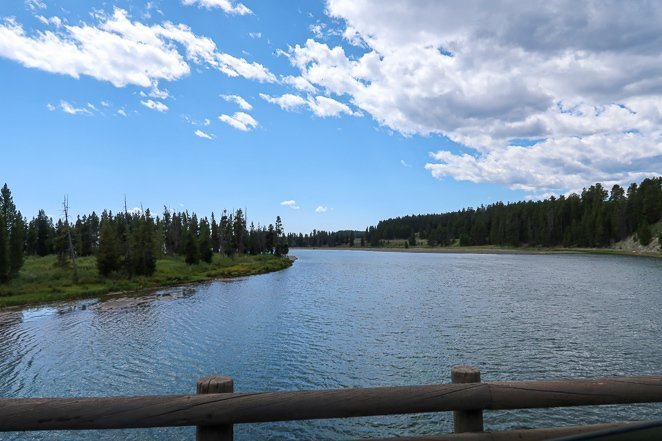 Every campground is different from one another. As I said earlier, some campgrounds have complete hookups like the Fishing Bridge RV Park in Yellowstone while some have few to no hookups like the primitive camping they have in Capitol Reef NP.
It's also important to check the amenities like public bathrooms rooms and campfire areas.
Pro Tip: most national park campgrounds do not offer showers. They may have flush toilets and sinks, but no showers.
By knowing the features of the campground you're staying in, you'll know what you have to prepare before the trip.
Some NPs also have campgrounds that are limited for tent use so make sure to check on that before deciding on where to camp if you are arriving with an RV.
3. Know The Campground's Setting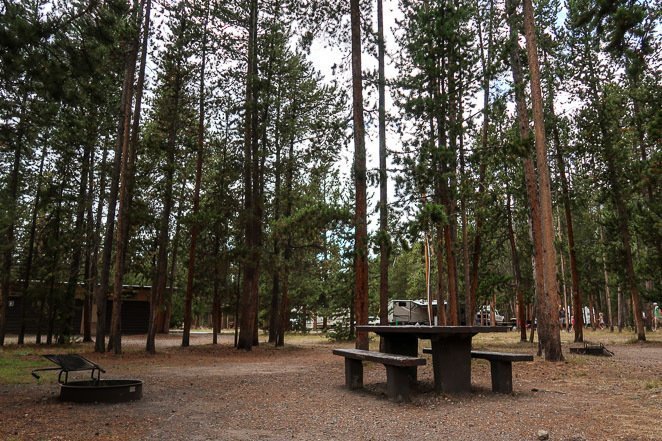 It's important to gather details on the climate and the location of the campground to be fully prepared.
The setting for each National Park can be different, especially depending on the time of year that you plan to visit. There are campgrounds in forest settings like most of the campgrounds in Rocky Mountain NP while some are in desert settings like in Arches National Park.
By knowing the climate and location, you'll know whether you'll have to bring blankets or portable fans. What you need to prepare heavily relies on where you're staying.
4. Mind Your Budget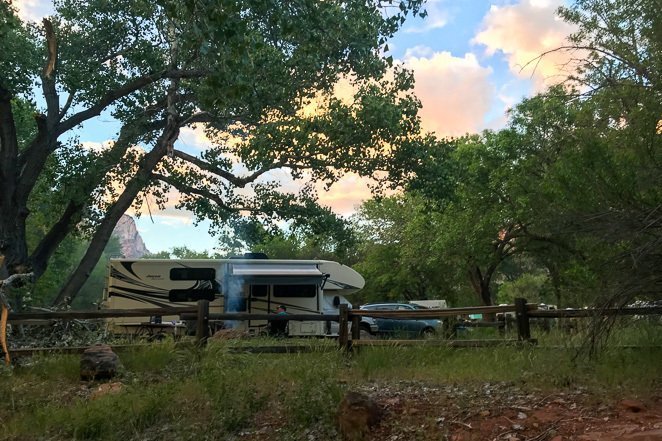 All National Park campgrounds charge a fee and the price varies. It depends on the campsite's features and amenities, so full-hookup sites such as those offered in Zion National Park are a bit more pricey than others.
The good news is that National Park campgrounds are often much cheaper than private RV parks and campgrounds. We dive into costs of camping here if you want to take a look in more detail.
Pro Tip: If someone in your family is considered permanently disabled, then be sure to apply for National Park Access Pass. It's FREE, lasts for life, and allows everyone in that vehicle to enter all National Parks for free. It even offers 50% off National Park campground fees at most parks. With Tony's Type 1 diabetes, he qualified and received his Access Pass a few years ago.
5. Schedules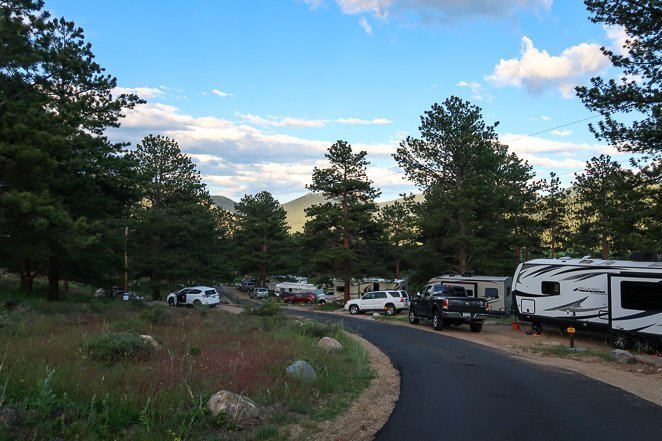 Not every campground is open all year long. Some have to undergo minimal to large restorations, some are much too cold and just not safe during certain seasons.
You can easily know if a campground's open through the official National Park Service site.
6. Make A Reservation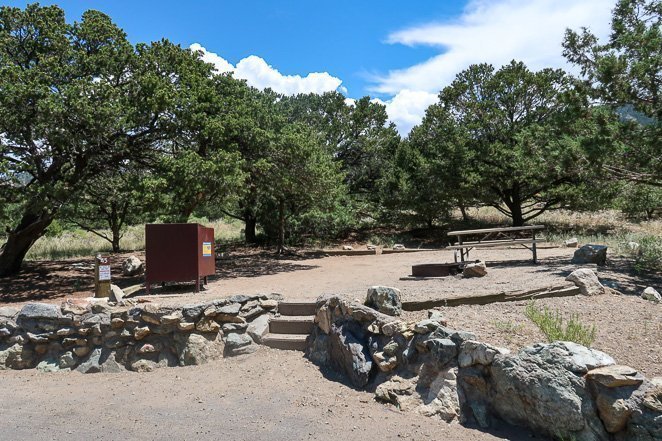 There are two ways to get a camping spot in a national park, through a reservation or on a first-come-first-serve basis.
It's important to know in which category your target campground is in, as you wouldn't want to arrive super early just to find out that you could have just reserved it online.
If you're planning on a first-come-first-serve campground, be sure to arrive early and have a back-up plan in case you can't find a campsite. We like using our RV apps to find options.
7. Book Early
If the campground can be reserved, then I suggest that you reserve 6 months early (that's what we do). The National Park Service uses a program called Reserve America to do your campsite bookings. You are usually able to book and pay in full online with your credit card and have the option to cancel later on if plans change to receive a refund while forfeiting a $10 cancellation fee.
8. Have An Alternative Plan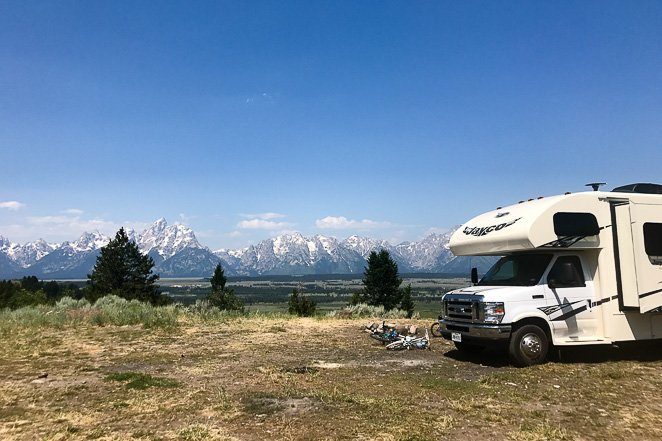 This is very important if you're camping in a first-come-first-serve campground. You can't be 100% sure that you can get a slot so you might as well make an alternative plan early on.
You can check on campgrounds outside the NP or boondocking locations nearby.
9. Make Sure To Know Camp Etiquette
This is important. As much as you want to enjoy your camping experience, you also should be considerate of your fellow campers.
A few things to keep in mind as you camp in National Park:
– Keep the noise down
– Do not bring in alcohol to National Parks (it's not allowed)
– Keep your trash well stored, many bears frequent campgrounds
– Mind your light as it could disturb your neighbors
See the details of camp etiquette based on NPS here.
10. Prioritize Safety
No matter where you're camping, you should always prioritize safety. You never know when bears will frequent your camp (it actually happened to us before in Rocky Mt. NP!)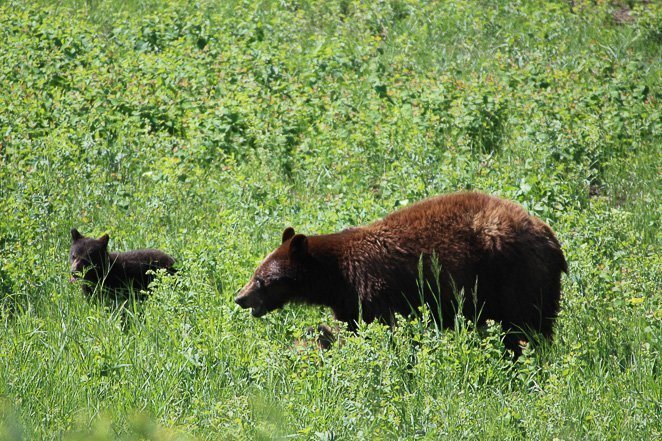 Some campsites are vulnerable to wildlife so you should check what you'll need for everyone's safety including bug repellent for mosquitoes.
Also, not every campground is very developed, some are more 'natural' than others which may be more dangerous especially if you camp with kids. Bring flashlights and be ready to set up some ground rules to stay together and away from fast-moving water if there's a river nearby.
Take these things into consideration when thinking of what safety plans and items you'll bring.
11. Be Courteous To Your Neighbor Campers.
Everyone wants to have fun while camping.
Be nice to your camping neighbors and do your best to allow their camping experience to be as great as yours. In return, you might gain a new friendship. This could be a great time to step outside your comfort zone and invite your neighbors over to your campfire.
12. Be Ready To Have Unstable Cell Signal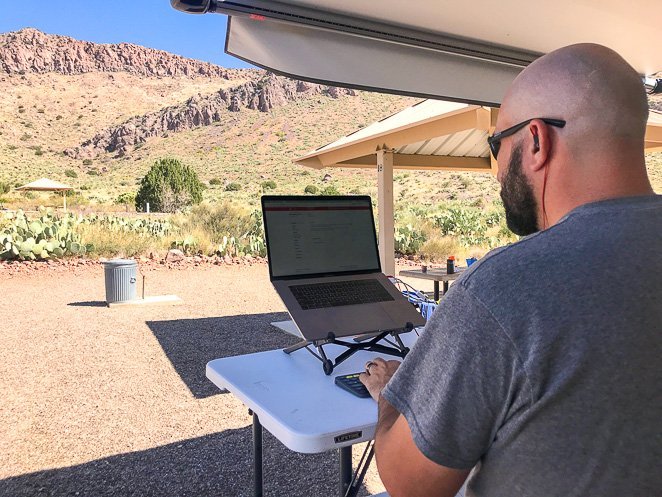 National Parks often have little to no cellular signal. This means you might be disconnecting from the internet for awhile as you enjoy your time in nature.
In a few cases, you may find that your cell phone will work just fine, but don't count on it.
If you're a digital nomad and need the internet to work, then you may want to think of an alternative place to camp. Full-time RV living families and couples often find that staying outside the National Parks and driving in each day they are not working, to be the best for their lifestyle.
If you're camping as a vacation, this won't be a problem for you at all.
13. Have Fun!
Remember why you're out there camping in a famous National Park, to have fun!
Let the kids play with other kids and find some fun things to do while camping. Have some quiet time for you and your partner. Spend the night around a campfire while making s'mores.
You can do a lot of things while camping, so get out into nature and enjoy each moment.
Camping is one of the best ways to unwind and spend some quality time with your family. But it's not something that you can do on a whim.
Camping requires some planning. The more prepared you are the better.
Follow our tips to make your camping trip smooth-flowing and much more fun!
What other camping tips can you think of based on your experience?