Are you looking for things to do in Estes Park Colorado? Check out our ultimate list of things to do and see, places to eat, and where to stay in Estes Park, Colorado.
Our family spent over a week in and around Estes Park, and if you ask them, they'll say it's been their favorite city we've visited all year. That's saying a lot since we are a full-time traveling family of 6 who visits a new destination every week or two!
Estes Park has so many fun activities, great restaurants, beautiful views and unique shopping scene. The city is so much like Jackson Hole in Wyoming, which our family loves, that we fell in love with it! Keep reading to learn what made our list of 31 of the best things to do in Estes Park Colorado.
THIS ARTICLE MAY CONTAIN COMPENSATED LINKS. PLEASE READ OUR DISCLAIMER FOR MORE INFO. THIS POST WAS WRITTEN BY JILL GREISING-MURSCHEL, A FAMILY TRAVEL AND RV LIVING EXPERT.
Are you planning a trip to Estes Park or Rocky Mountain NP last minute?
---
If you're traveling to Estes Park Colorado last minute, you want to be sure you have lodging booked. Below are some of our top picks.
Best hotels in Estes Park Colorado:
Where Is Estes Park?
First, where is Estes Park? There are at least 98 towns in Colorado but there's no place quite like Estes Park. It's located about 60 miles Northwest of Denver Colorado, next to Rocky Mountain National Park.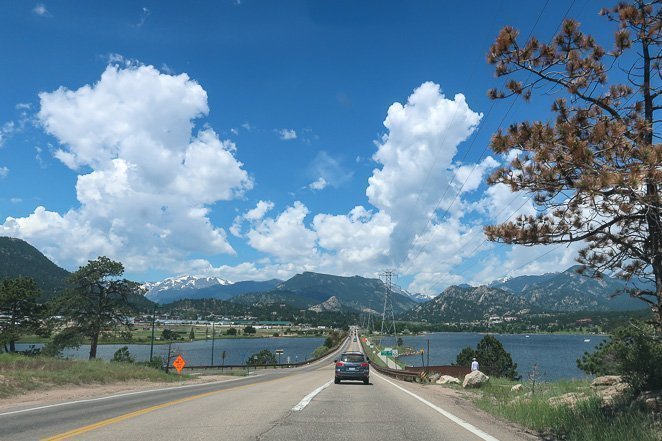 When you visit Estes Park Colorado, you'll find yourself in the best of both worlds. Only a few hour's drive from the Denver International Airport, its location allows you to arrive without much fuss and you'll be able to visit a fun city.
Estes Park is a great city to visit on a Colorado road trip where you can also get into nature with a trip into Rocky Mountain National Park.
What Is Estes Park Weather Like?
Most visitors love Estes Park for its tourist-friendly weather. During summers, when temperatures reach the 70s, it's only a little humid and cool evenings will eventually make up for the day's heat.
Do note that storms usually come in on summer afternoons but they don't last long!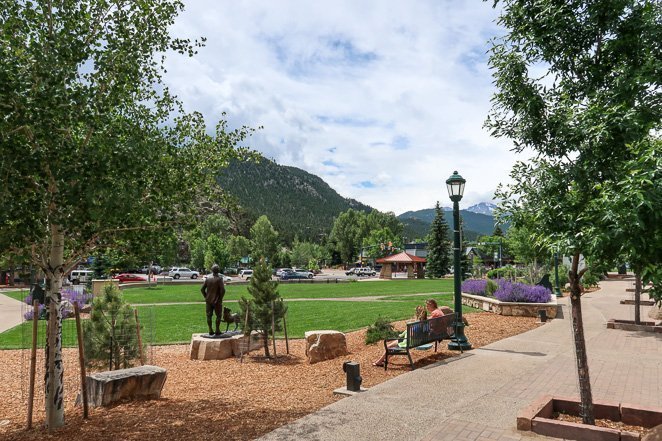 Fall temperatures are pretty moderate and very similar to summers. The morning cold is what reminds people that it's really the season before winter.
Winter has a mild entrance. It snows, but not too much that it becomes hard to move around. Despite the cold, the sun still makes an obvious appearance during the daytime. Check out these great tips for finding winter fun for kids in Estes Park Colorado.
An extreme variation of weather conditions happens during Spring. You have to be ready for both sunny and chilly days if you visit during this time.
For specific updates on Estes Park Colorado weather conditions, you can check their official page.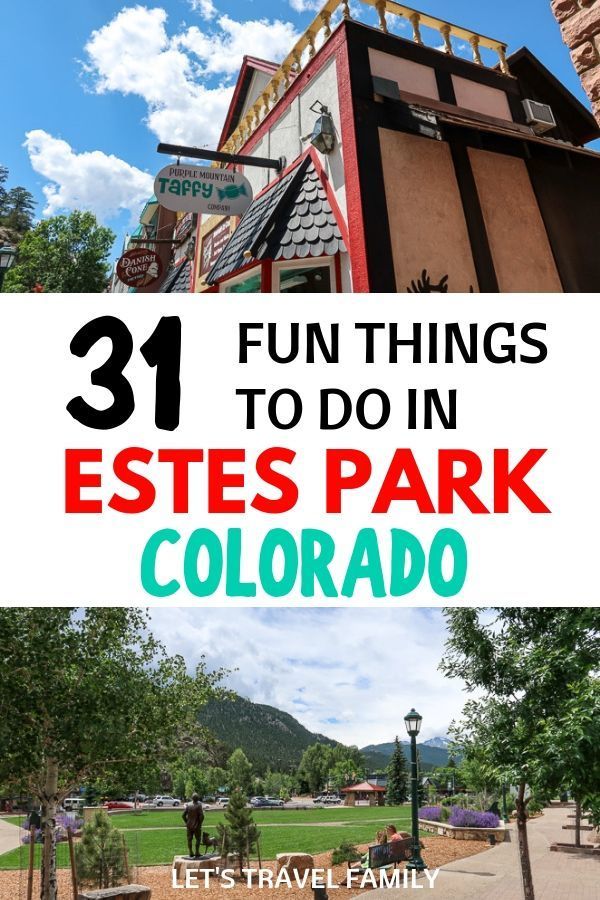 31 Things To Do In Estes Park
There are so many Estes Park attractions to choose from to entertain the whole family. There are enough to fill a week-long itinerary and then some!
If you're not yet decided on what Estes Park activities to plan on, then here's our list of what to do in Estes Park Colorado.
1. Take the FREE Red Trolley Through Downtown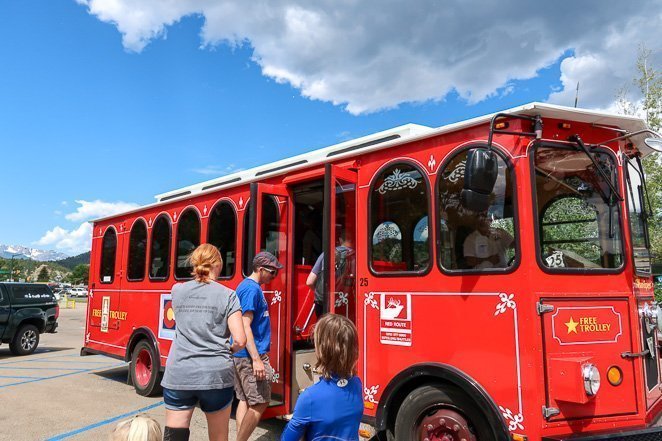 We love all things FREE, and this Red Trolley ride is one of those!
Not only is it enjoyable, but it also helps you take a small break from walking around too much. Just park in the free Estes Park Visitor Center Parking garage and walk over to the front of the building where the trolley will pick you up during the summer months.
2. Go on a Taffy Tasting Tour
There are so many Estes Park restaurants to go around for your meals, but what if you're craving some sweets? Or is that just us?
Take yourself on a taffy tasting tour!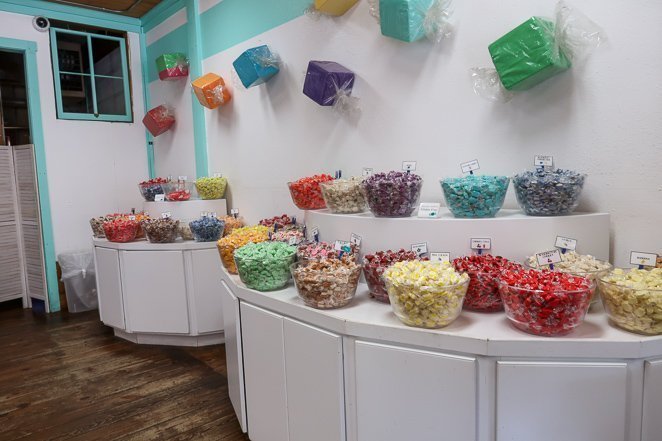 We visited 7 different candy stores during our Estes Park visit and many were taffy stores. Almost all allows us to taste a sample and decide if we wanted to buy any.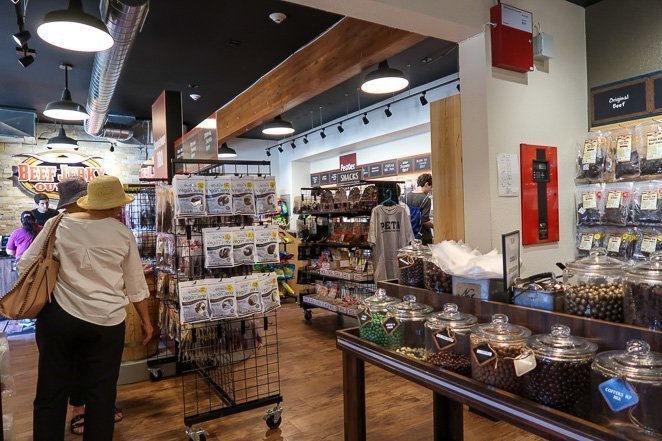 If taffy's not your thing, you can sample some beef jerky at the Beef Jerky store or fudge at Sugar Shack.
3. Walk up and down Fall River on the Paved Path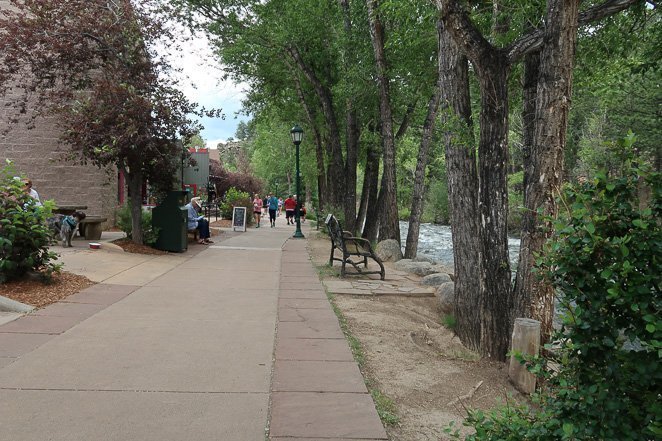 Do you love taking memorable pictures of places you visit? This path is a place you need to walk.
Taking this paved path out the backside of many of the local shops and restaurants provided us with a beautiful view of nature mixed in with fun shops.
4. Go Shopping At The Local Shops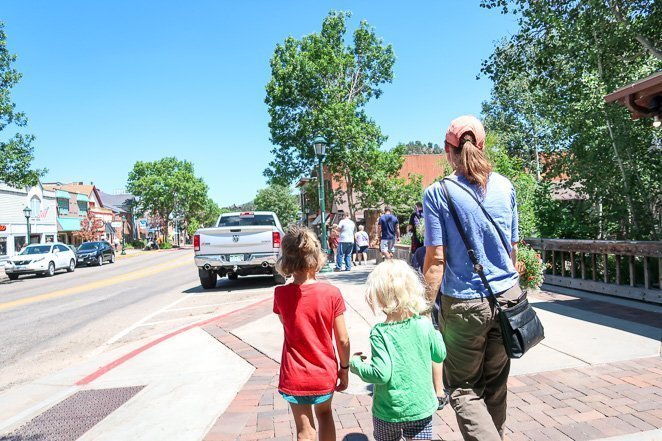 A vacation is not complete without shopping for souvenirs!
Estes Park is a shopping dream come true! With so many locally-owned gift shops, specialty shops, and candy shops, you are bound to find gifts for everyone you know.
5. Avoid Downtown Delays
The streets of Downtown Estes Park are often congested in the summer months with a lot of traffic. Yet, it's SO walkable that it's just not worth driving downtown if you don't have to.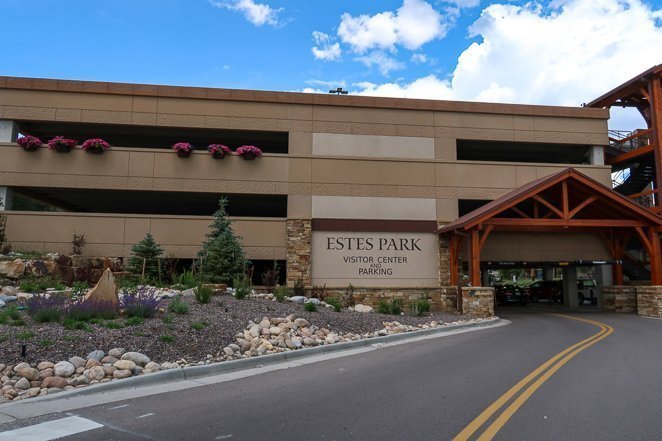 To avoid this hassle, we suggest that you park at one of the many free parking lots or in the free Parking Garage across the river from Estes Visitor Center.
We loved how during the busy July week we were visiting, the Estes Park police were out helping all the pedestrians cross at the crosswalks. It really is a very walkable city.
6. Stop By Estes Park Visitor Center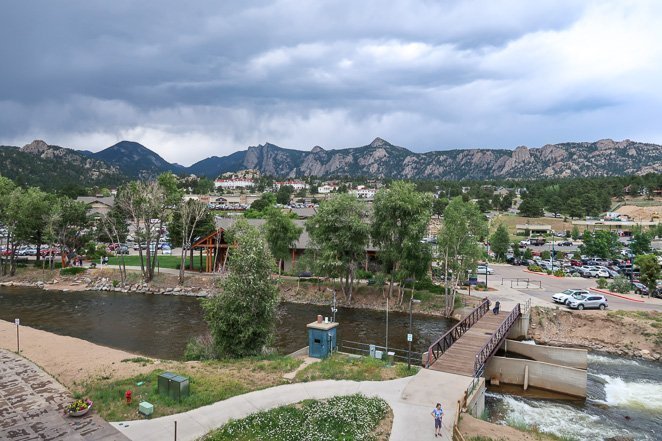 If you want to know more about the place you're visiting, it's essential that you visit the Visitor Center like we did!
Grab a map and learn about any special events as you begin your visit to Estes Park. It's here that you can pick up the shuttle map and learn how you can not only walk most of Estes Park, but you can also hop on many of the free shuttles to help you get around.
Estes Park For Kids
7. Go Rock Climbing at Estes Park Mountain Shop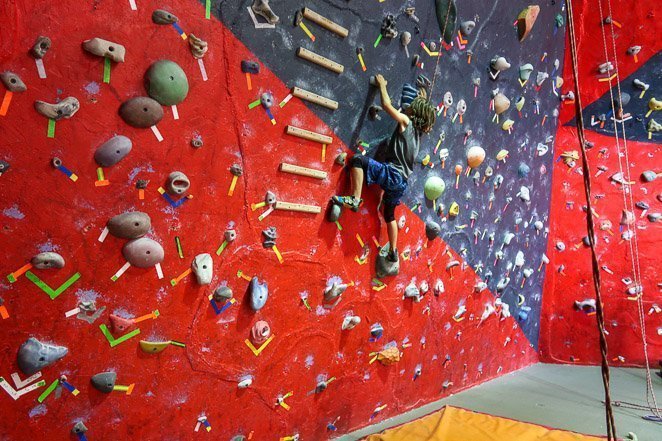 Introduce your kids, as young as 2 years old if you'd like, to indoor rock climbing at the Estes Park Mountain Shop.
We took our 4 kiddos for their first rock climbing experience and had a fantastic experience. The staff were SO kind, helpful, and patient with our kids.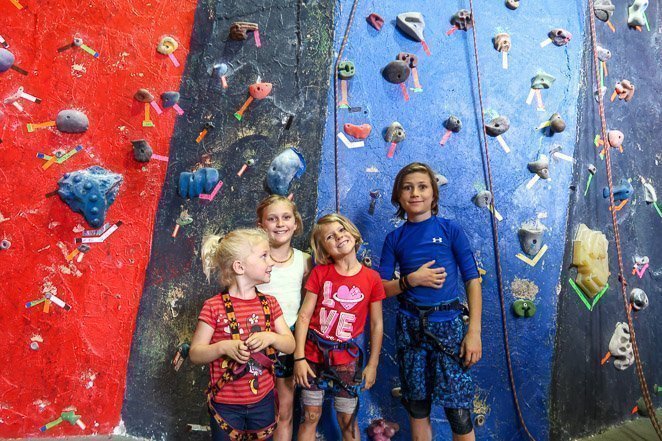 They provided climbing shoes and harnesses for our 4, 6, 8, and 10 year olds and they climbed for hours! I think Tony and I need to learn a bit more about rock climbing, because all 4 of the kids were naturals!
8. Recreation Center
If you've got kids with you, the Recreation Center is definitely one of the Estes Park points of interest during your trip.
If there's a bad weather day and your family is looking for something fun to do indoors, then check out Estes Valley Community Center. They have a huge indoor pool with a slide and a lazy river that could help keep the entire family happy on a rainy day.
9. Visit Stanley Park Playground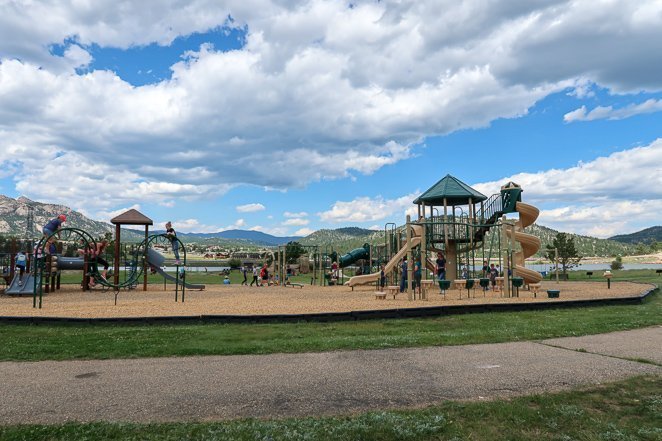 This large playground is located on Lake Estes, and only a block from the Recreation Center. We found picnic tables and bathrooms to be helpful for Tony and I to get a little work done and lay out our picnic dinner while the kids climbed and played for hours.
Not only was it a large and modern playground, but there were also some fun rocks to climb on next to the playground. It's enough to get our kids entertained while we relaxed …or in our case, worked.
10. Bike Park and Pump Track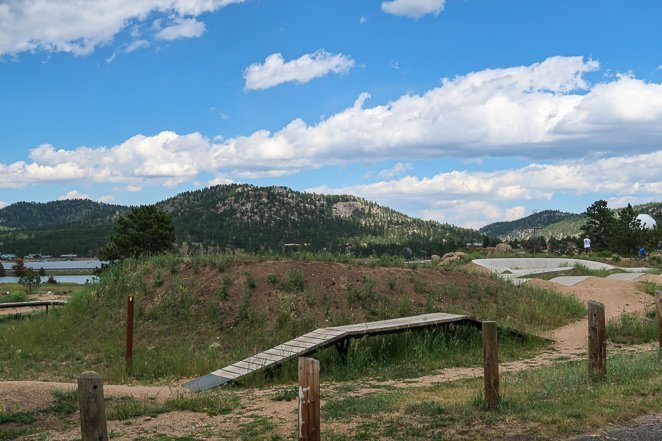 We were surprised to see a brand new looking pump track for anyone to use, just next to Stanley Park playground. There are both man-made and natural riding features making the track look like so much fun for any mountain biker.
We saw several families using it and wished we would have thought to bring our bikes into town.
11. Fun City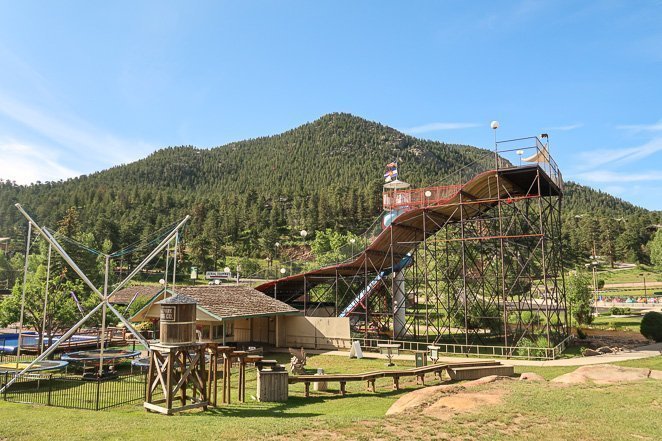 What's the best place to visit for kids? Amusement parks!
Fill your day with arcade games, carnival games and prizes, bungee trampolines, go-karts, and more in this fun-filled amusement park just 2 blocks south of the main downtown intersection of Hwy 36!
For more information, you can visit their official site.
12. High Ropes Course
For a more challenging option, visit Open Air Adventure Park! Not familiar with aerial adventure parks? These parks are basically the next level of the typical ziplines.
Open Air Adventure Park offers a High Ropes Course that makes you face 32 challenges at 10 or 21 feet in the air.
How you get through the course is totally up to you. Now, isn't that exciting?
13. Estes Park Aerial Tramway
One attraction we never got to enjoy was the Estes Park Aerial Tramway.
If you're already tired from walking around or hiking in Rocky Mountain National Park before you got to Estes Park, you can choose an easier way to see the city's amazing aerial view!
The Estes Park tram can get you to the peak of Prospect Mountain where you can take your gorgeous vacation photos.
14. Paddle Around Estes Lake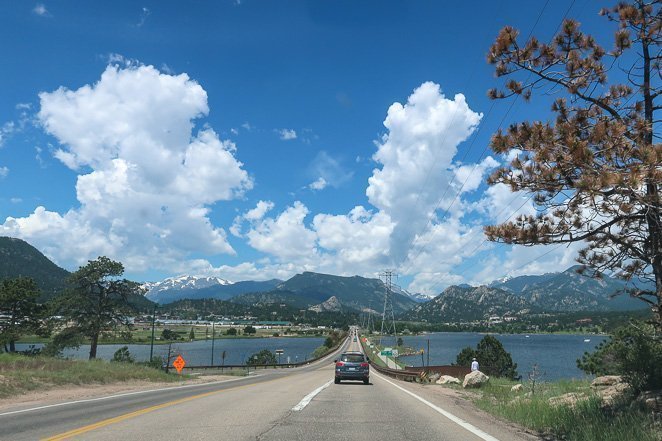 Have a refreshing afternoon at Lake Estes Marina with your rented or own kayak, SUP, canoe, or paddle boat! There's a small beach and picnic tables at the lunch area so bring your lunch and make a day of it.
15. Bike Around The Lake
For a fun family activity, go on a 4 mile paved bike ride around the lake. Oh, and if you didn't bring your own bikes you can also rent them from Lake Estes Marina.
16. Visit Estes Valley Library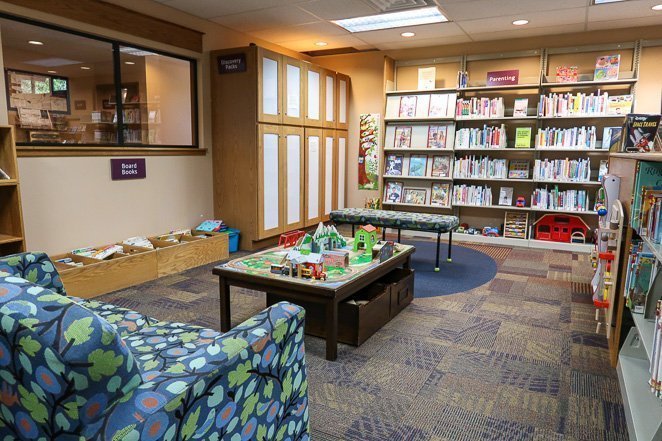 While you're walking around downtown Estes Park, take a break at the library. There's a fantastic children's section with many toys, a checker's table, and even a children's computer lab.
Or, if you work while you're traveling like we do, then go upstairs and see if you can reserve a quiet room to work in as Tony did a few times during our visit. The library also provides free WIFI that has great up and download speeds!
17. Go Horseback Riding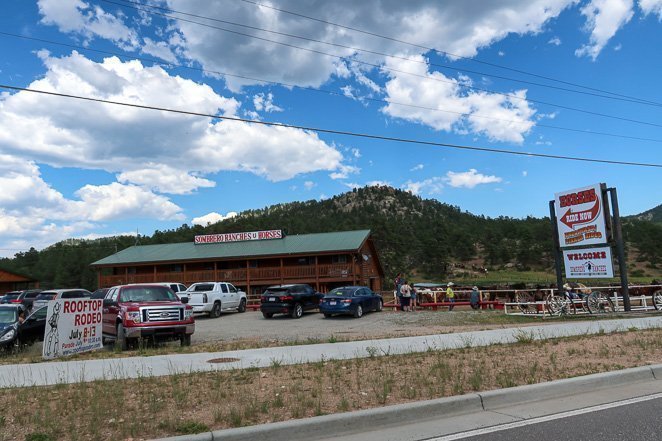 Horseback riding in the West is a bucket list item for many people. Estes Park has many options for beginners to more advanced so don't be afraid to give it a try!
18. Experience Outdoor Live Music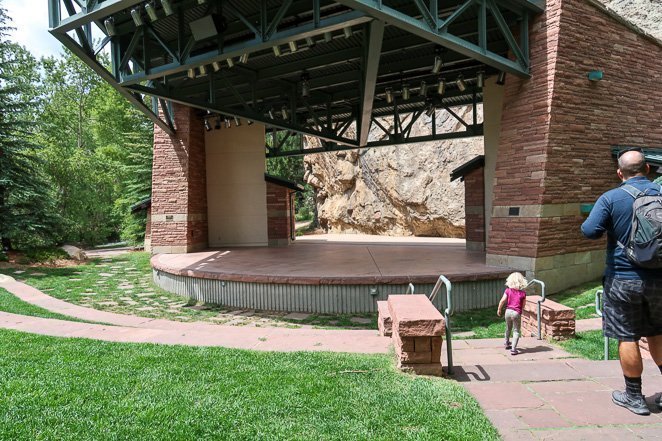 The Performance Park Amphitheater hosts many free live music performances. Check listings ahead of time to find out when the free music nights are.
Our family spent an hour playing a bit of ultimate tag on stage when nobody else was around, while admiring the beautiful space.
19. Try the YMCA of the Rockies
Just outside of Estes Park is the YMCA of the Rockies, a very popular family travel destination. Plan ahead and camp there as a family.
Or, you can purchase a day pass and bring the entire family to experience their 3-sided outdoor rock climbing wall or indoor 2-story climbing wall and pool. They also have activities such as archery, mini golf, crafts and more.
Something you might be interested in is day camp for your kids. Call ahead and see if they have space for your kids to experience even just 1 day at the YMCA Rockies day camp so that you can spend your day pampering yourselves.
You can purchase a day pass to go in and experience all they have to offer at the YMCA page.
Estes Park For Adults
20. The Slab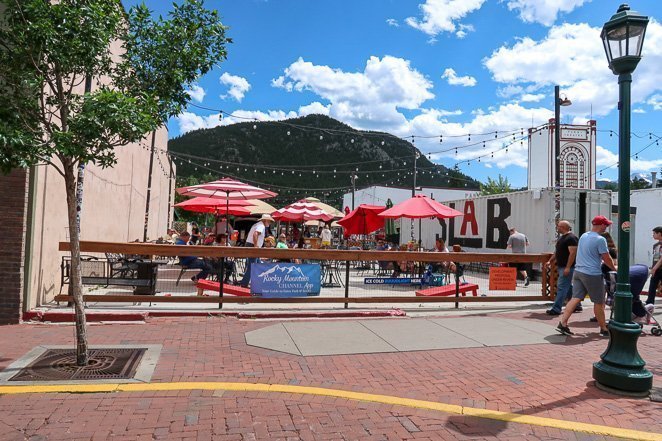 Catch up with the adults in this outdoor pub that serves food, drinks, and great music. They also have an Arcade Game Room.
Are you thirsty after a long hike? Try their wide array of drinks!
21. The Barrel
With their craft beer barrel and craft beer hall, The Barrel is now available all year round to supply your craft beer to wine needs.
Guests are welcome to stay in either the hall or the outside container bar that features a view of Rocky Mountain!
22. Elkins Distilling Co.
Get a bottle of the infamous Elkins Colorado Whisky from the first legal distillery of Estes Park!
Stop in for handcrafted cocktails and an incredible patio view of the Rocky Mountains. When we checked it out, they also had a food truck on site.
23. Estes Park Brewery
Come and get a taste of Estes Park Brewery's over 12 hand-crafted beers.
The brewery boasts of the special process their beer go through to get to the final product and their rich history.
Not sure which beer to choose? They have a tasting area where you can get some samples!
24. Rock Cut Brewing Co.
Another brewery with a wide array of beer choices, this amazing place that we never got to visit has 12 taps and an outdoor patio.
25. Snowy Peaks Winery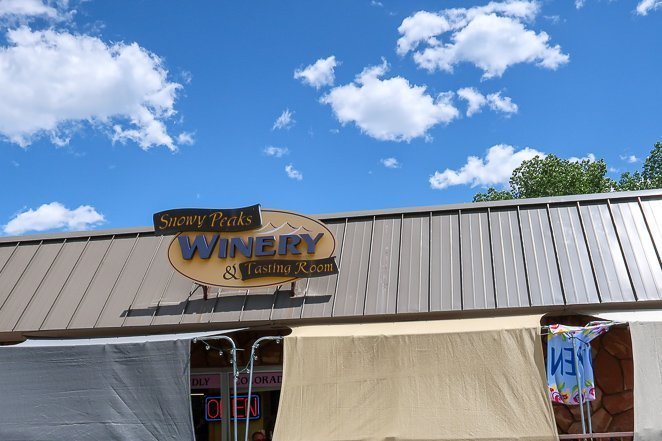 Take a break from beers and switch to wine!
Right on the Fall River, this winery offers wine tastings from locally handcrafted wines. Check out their Red Wine and Dessert Wine and see why this winery is worth your visit.
26. Take a Day on the Golf Course
Whether you have time for a 9-Hole or 18-Hole Golf Course, you have options in Estes Park.
The 9-Hole golf course is a par-31 course with the Big Thompson River running through it. There are carts and clubs for rent, as well as a practice putting green and snack bar.
Also, the 18-Hole golf course is a par-71 course is a great place to spot Elk! The season is mid-April to the end of October, while their driving range is open year round. Be sure to contact Golf Estes for the times.
27. Get a Massage or Spa Treatment
For a relaxing time, there are many options to choose from in Estes Park.
Find a local place when you get there or plan ahead for your visit by browsing their official site for Spas and Fitness Centers.
Estes Park Places To Eat
28. Coffee On The Rocks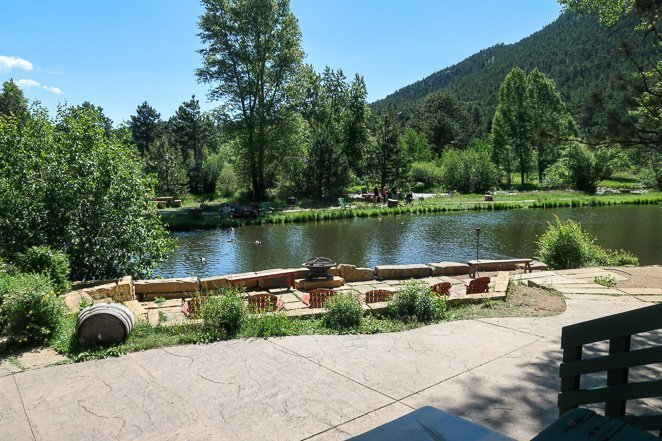 Grab a cup of coffee, a pastry, or a snack and feed the ducks in the duck pond at Coffee On The Rocks. We took our entire family to spend one morning there. The back room had several board games to play, and Tony and I appreciated the great WiFi internet.
Later, we paid a small fee for duck food and went to the pond out back to feed the ducks. The kids and I had a blast watching how close the ducks came to us!
29. Relax at Kind Coffee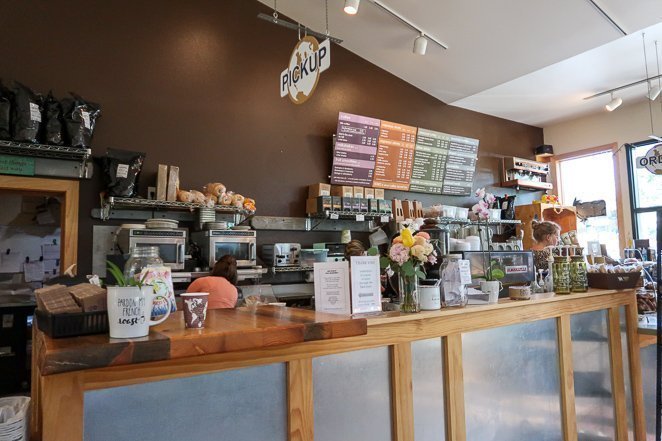 Tony and I grabbed yet another coffee at Kind Coffee, but what we enjoyed the most was the location. It was right on the paved path along Fall River. Oh, and the kids loved using their quarters for jellybeans in the machine here.
30. Eat Lunch and Pie at You Need Pie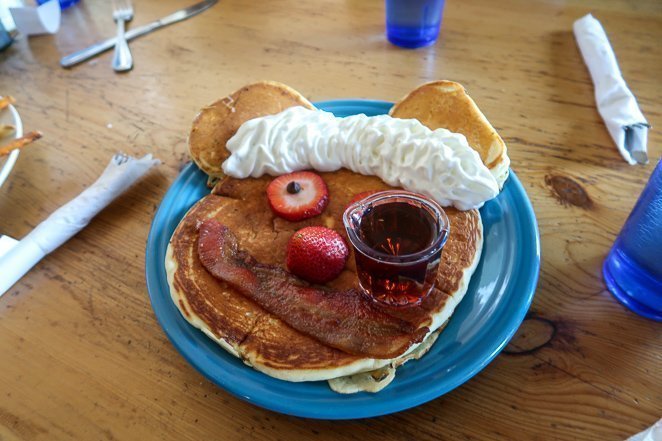 That's what the sign says…'You Need Pie'. Yet, I think the real name of the restaurant is Estes Park Pie Shop and Diner. Tony had an amazing Rubin, and Gwen a fun and HUGE pancake with whipped cream over the top in a smiley face. Of course, we had to have some pie as well!
31. Eat Ribs At Big Horn Restaurant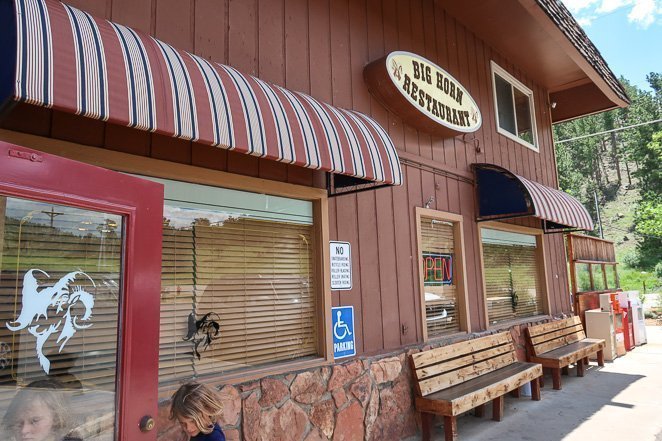 Our son, Riley, said some of the best ribs he's eaten was at Big Horn Restaurant in Estes Park. We were all happy with our meals here and easily found parking nearby as it's on the West side of town.
Where To Stay In Estes Park
There are many places to stay in Estes Park. You can go to Estes Park hotels, inns, B&B's, and even condos.
Click here to find the best rates for hotels in Estes Park.
Or, if you'd like to stay in an Airbnb in Estes Park
If you've never stayed in an Airbnb, then grab this deal for $20 off your first stay.
Or Better Yet, Go Camping!
Have fun with your Estes Park lodging by staying in a comfortable campground that suits your vacation needs!
Estes Park Campground at East Portal
Just beyond the YMCA of the Rockies, Estes Park Campground has 66 campsites with a variety of sites ranging from $35-$55 per night.
Estes Park Campground at Mary Lake
This campground has 128 sites ranging from $35-$55 per night and is located just south of Estes Park.
Estes Park KOA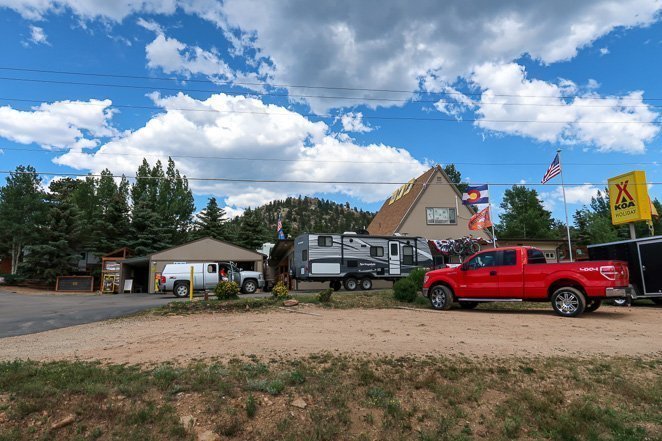 If you want a campground that's near a shop, Estes Park KOA is located just across from the Estes Park Mountain Shop.
Yogi Bear's Jellystone Park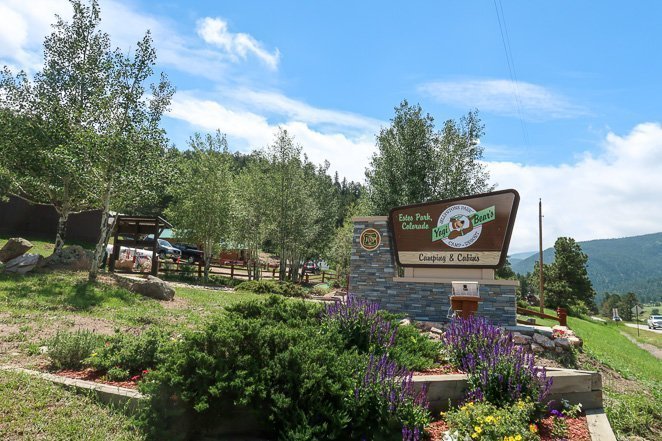 For our fellow RVers, Jellystone Park can accommodate RV camping!
Learn more about their accommodation and special offers from their official site.
Camp In Rocky Mountain National Park
Rocky Mountain National Park camping is an experience you wouldn't want to miss!
Most campgrounds are open mid-May to late September and have no electric or water. They are all dry camping. We also found that none of the campgrounds inside the National Park have any cell service. We have AT&T, Verizon and T-Mobil and we couldn't make a phone call from inside the park at all.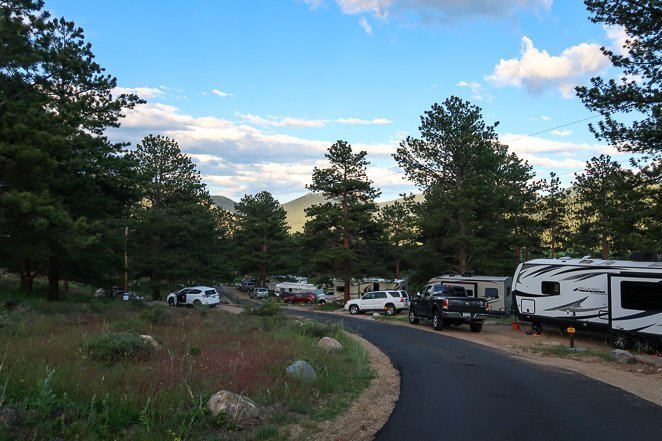 There are five campsites namely Aspenglen, Moraine Park, Glacier Basin, Longs Peak, and Timber Creek Campground. All campsites are $26 per night.
Note that there are no showers at any of the National Park Campgrounds. If you need one, you can visit the Estes Valley Community Center for $3.75 per person to use their showers in town.
What To Do In Estes Park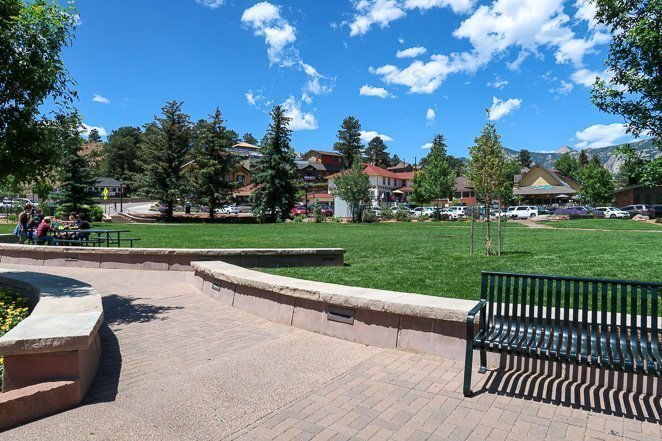 We hope this list helped you decide on some of the fun things to do in Estes Park. It offers a lot of fun for any visitor, but there are TOO MANY choices so make sure to organize an itinerary before visiting!
You can also add some fun road trips during your trip. Plan to explore some Winter Park summer activities just a few hours drive from Estes Park. As long as you know what to pack for a road trip, driving through scenic drives there can be the best part of your trip.
What from our list of activities are you planning to do? Tell us in the comments below!