Famous for its beautiful landscapes, including river canyons, mountains, deserts, and so much more, Colorado is a destination that you won't want to miss. That's why I'm here to help you make the best Colorado road trip itinerary that you could ask for.
Whether you want to visit national parks, cities, or find great places to vacation in Colorado, you won't run out of ideas on where to go.
Read on to see our list of places to visit in Colorado, followed by some exciting road trips to get there. You might just find the best Colorado road trips for you to consider.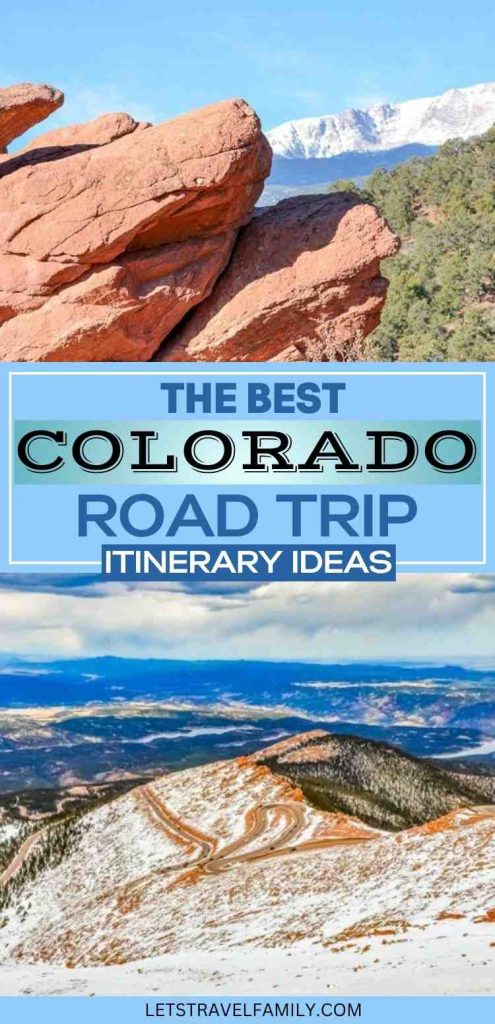 THIS ARTICLE MAY CONTAIN COMPENSATED LINKS. PLEASE READ OUR DISCLAIMER FOR MORE INFO. THIS POST WAS WRITTEN BY JILL GREISING-MURSCHEL, A FAMILY TRAVEL AND RV LIVING EXPERT.
Where To Stay On Your Colorado Road Trip
With so many people taking road trips, be sure to book your accommodations ahead of time. Campgrounds book up fast, especially in the State Parks and National Parks.
The great hotels and bed and breakfasts also book far in advance for summer road trips in Colorado. So plan ahead.
We use Expedia to book our hotel stays when traveling. I love how I can read reviews before booking!
Click here to book your hotels in Colorado.
Best Road Trips In Colorado
If you're itching to get out and take a road trip to explore a new destination here in the USA, then Colorado might be your state.
There are many great places to visit in Colorado, so I'm going to start with listing the destination and why you might want to add it to your Colorado Itinerary. Then, I'll dive into a few Colorado Road trip itinerary ideas to get you thinking about your options.
Here's a list of Colorado destinations that you should consider when creating your Colorado trip itinerary.
Be sure to read further down where we will share with you some Colorado road trip maps and specific Colorado road trip itineraries near the bottom of the post.
1. Denver, Colorado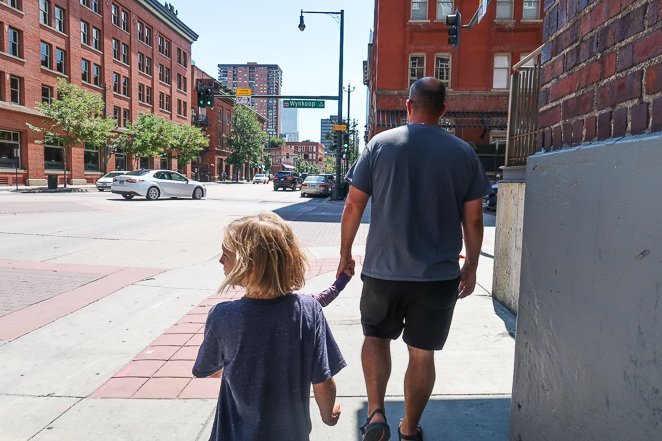 If you don't know where to start, consider Denver. It's the capital and the most populous city in Colorado.
When you're looking for the best places to visit in Colorado, it doesn't hurt by starting with the capital city. Also, some of the best road trips from Denver include driving to Colorado Springs (only 70 miles away) and Rocky Mountain National Park (80 miles away).
One of the best road trips through Colorado that we recommend is a Denver to Rocky Mountain NP road trip which can take up to 4 hours.
If you are flying into Colorado to begin your road trip, you'll most likely start in Denver where Colorado's largest international airport is located.
It's a great place to prepare for your road trip. Buy your road trip essentials like snacks and bottled water, and get a full tank to prepare for the long drive ahead.
2. Boulder, Colorado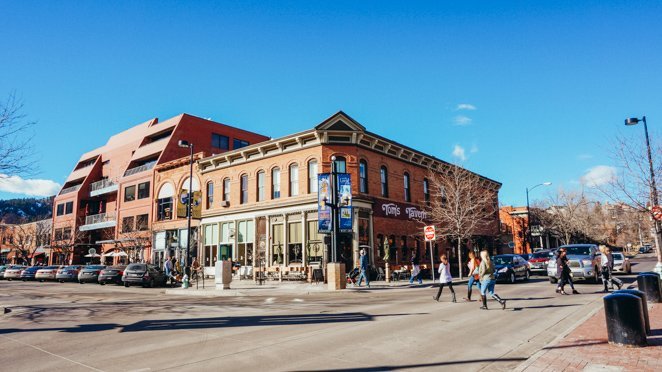 Located at the foothills of the Rocky Mountains, Boulder, Colorado is just outside of Denver, but without the large city feel.
If you plan to spend time in the Denver area, you may enjoy spending a day walking around Boulder to get some shopping in.
3. Colorado Springs
From Denver, you can drive for less than two hours south to get to Colorado Springs. It is yet another city but it's richer in terms of natural environments and outdoor experiences if that's what you're looking for.
Just outside of Colorado Springs you can visit the famous Pikes Peak by driving up to over 14,000 feet! Be sure to bring a jacket as it gets cold that high in elevation.
The Cheyenne Mountain Zoo is another great experience if you want to take some more time in Colorado Springs.
4. Garden Of The Gods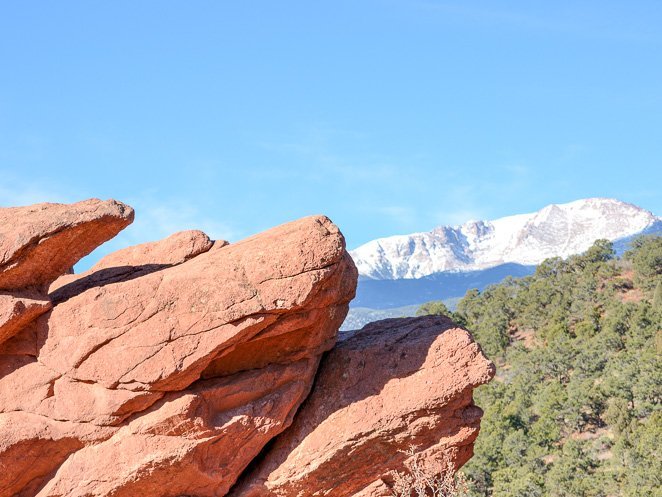 Colorado Springs also hosts the famous Garden of the Gods. This public park is a great place to stop by for any Colorado road trip.
It features rock formations which became the main reason for its large number of visitors every year. Go for a hike and capture its beauty on camera.
5. Pikes Peak, Colorado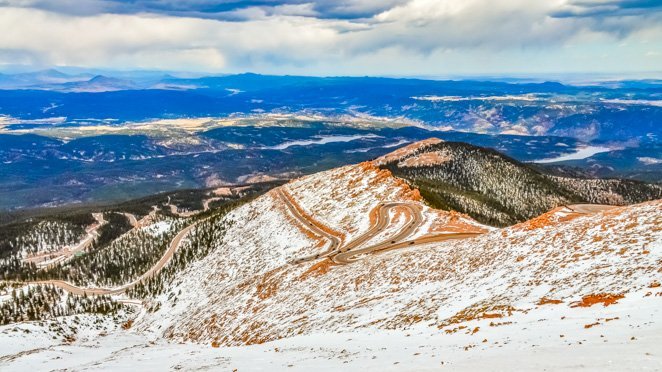 A Colorado road trip is incomplete without driving up to Pikes Peak. True to its name, Pikes Peak is the 'peak' of the southern Front Mountain Range of the Rocky Mountains.
Driving here should be on any Colorado bucket list! A quick google search will show you samples of how beautiful the view can be!
6. Canon City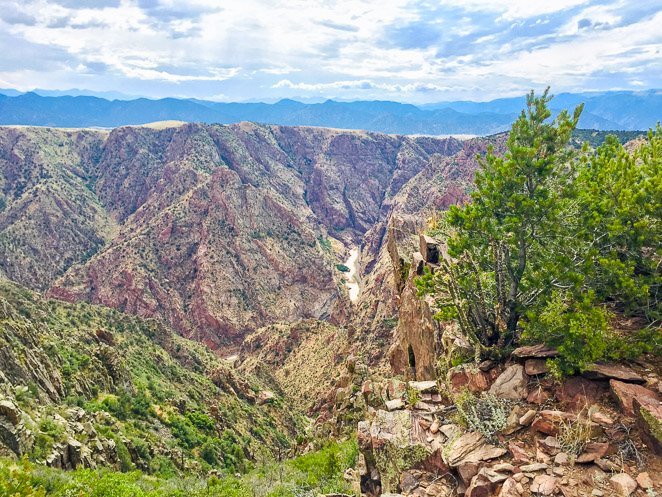 If you drive south beyond Colorado Springs on Interstate 25, you will arrive in Cañon City. It's less than 120 miles away from Denver and another great destination.
The city is full of parks including Centennial Park aka "Duck Park", Denver & Rio Grande Western Park aka as "Depot Park", Mountain View Park, and many more. It's also home to the Cañon City Area Recreation and Park District which is full of activities that anyone can enjoy.
Be sure to visit the Royal Gorge Bridge and Park.
This is a great addition to your Colorado itinerary. What more, you can boondock here like we did for free at the Canon City Area Campground.
7. Rocky Mountain National Park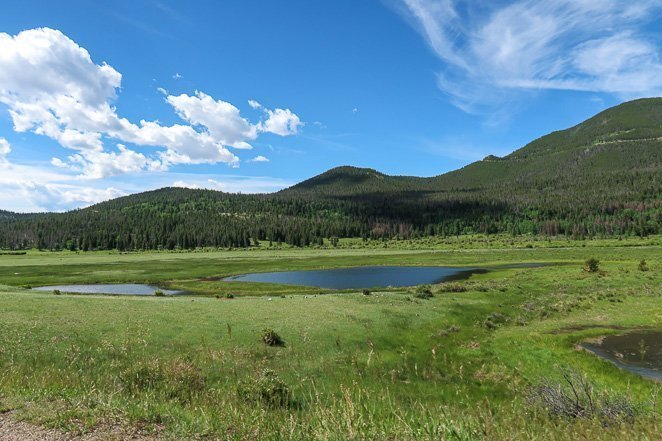 If there's something that you definitely cannot miss, it's visiting the famous Rocky Mountain National Park, just 2 hours north of Denver, Colorado.
Our family spent 1 week camping and hiking in Rocky Mountain National Park and we absolutely LOVED it. We even listed it as one of the best national parks for kids and families. From exploring scenic drives and witnessing the wildlife to staying overnight in campgrounds, the park has a lot to offer.
A Rocky Mountain road trip is a must-do when you visit Colorado!
8. Estes Park, Colorado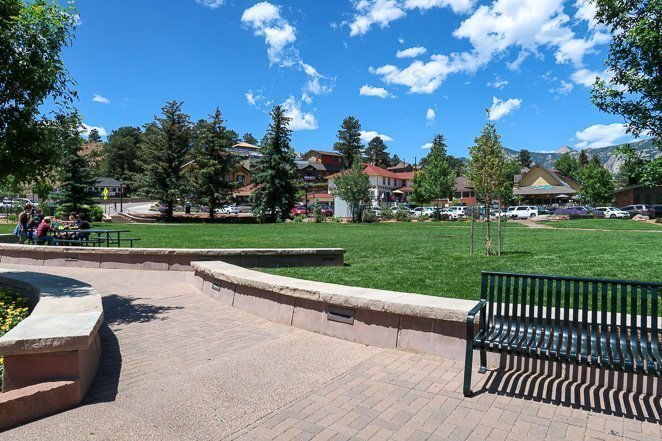 You can head to the city of Estes Park after a fun time in Rocky Mountain National Park, which is just outside the National Park.
Estes Park is a fun Colorado town with so many things to do. I can honestly say that it was one of our favorite cities to visit in 2019.
The kids and I spent time exploring the city each day during our visit while Tony worked from the library or coffee shops. We took the free trolley around town, went on our own taffy tour and visited over 7 taffy shops, walked along the river, played at their large modern playground, and ate out at several great restaurants to just name a few things.
9. Winter Park, Colorado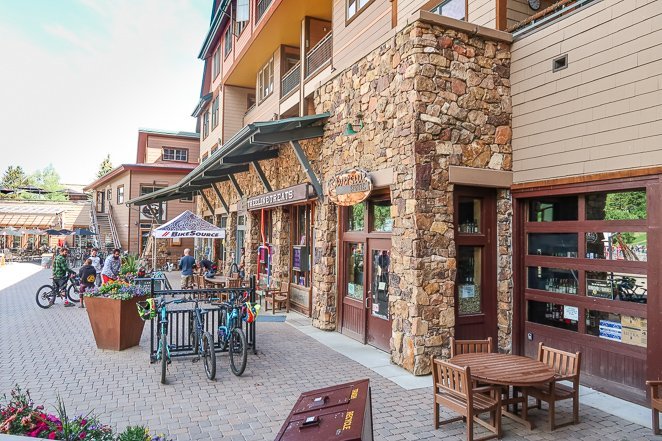 If you're visiting Colorado during Winter, don't forget to add Winter Park to your itinerary. It's only 90 miles from Denver.
As you can see from the name, it's best to visit during the winter season. However, that doesn't mean that the other seasons are not fun! Winter Park's summer activities are great too!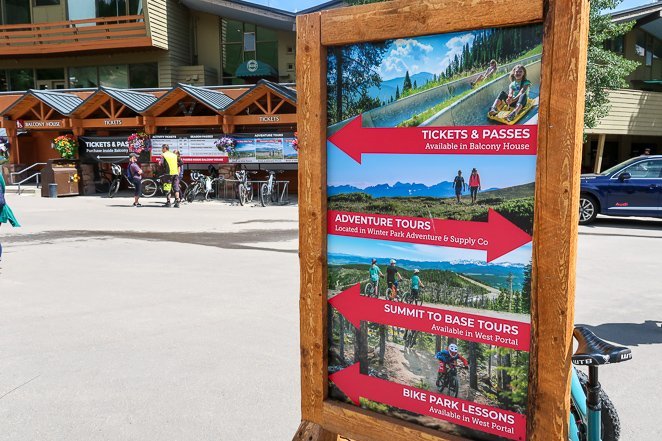 We spent a few days exploring Winter Park in the summer and found ourselves enjoying a large outdoor ropes course.
We visited Winter Park Resort during the summer and camped near Frisco. We hope to visit during winter next time!
10. Mesa Verde National Park
A National Park located in Southwest Colorado is the Mesa Verde National Park. It is known to preserve the heritage of the Ancestral Pueblo people.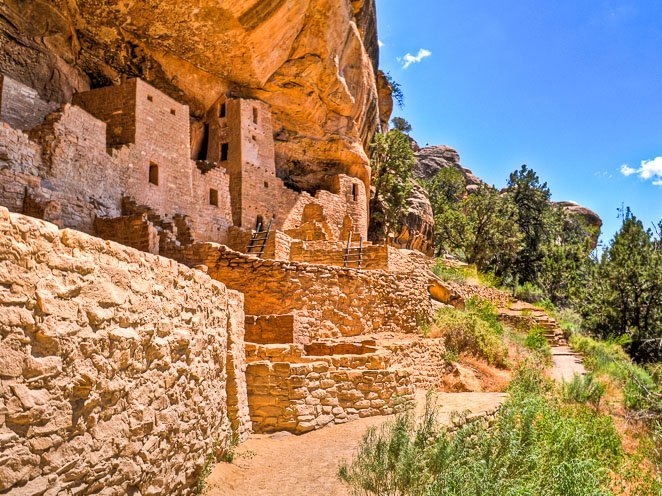 Its very own Mesa Verde National Park Scenic Drive is about 15 miles and is open all year-long, but if you want to go hiking and get out to explore you'll need to visit during the summer months.
We missed the chance to visit Mesa Verde National Park but we hope to visit soon.
Mesa Verde National Park might be a great addition to a Utah Road Trip as it sits in the Southwest corner of Colorado.
Denver to Colorado Springs Road Trip Loop
One of the best road trips in Colorado is from Denver, to Colorado Springs, looping to Canon City and into the mountains before coming back to Denver.
Start in Denver, Colorado and drive South for about 70 miles on Interstate 25 to the Garden of the Gods. Spend a day hiking around, and plan to stay a few nights in Colorado Springs. This way, you can drive up to Pikes Peak the following day and experience being over 14,000 feet above sea level.
Enjoy another night in Colorado Springs where there are many things to do.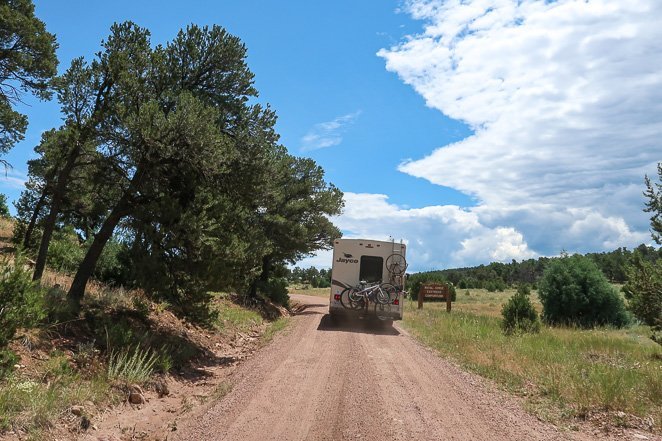 The next day drive 55 miles South on HWY 115 to Canon City. Plan to stay a night or two as you explore the Royal Gorge Bridge Park and everything the Royal Gorge has to offer.
You could even rent an RV for this week long road trip and camp in Canyon City.
Continue your Colorado Vacation by driving Northwest on HWY 50 and then North on HWY 9 to reach Breckenridge, Colorado. This 100 mile journey will be taking you through the mountains and into a beautiful mountain town.
Plan to spend a night or two in Breckenridge doing a little shopping, enjoying their restaurants, and maybe doing some summer hiking or mountain biking at the Breckenridge Ski Resort.
As you leave Breckenridge, you'll drive North on HWY 9 for 10 miles before driving East on Interstate 70 for 72 miles before arriving back in Denver, Colorado.
This road trip will cover about 317 miles.
Denver to Rocky Mountain National Park Road Trip Loop
One of the best road trips from Denver is North to Rocky Mountain National Park.
Start in Denver, Colorado and drive Northwest about 30 miles to Boulder, Colorado. You can spend a night in Boulder and enjoy one of their many restaurants.
The next day, drive 36 miles Northwest of Boulder to arrive in the city of Estes Park, Colorado.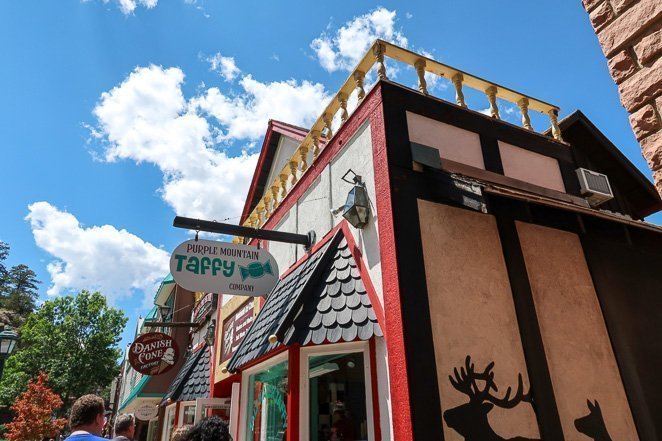 Plan to spend a few days here, as Estes Park has a lot to offer. This is also a great base location to stay in a hotel or campground for your visit to Rocky Mountain National Park.
There are shuttle buses that will take you into the National Park if you'd rather not drive your car around each day.
If you'd like to camp in the National Park, then plan to book your camping ahead of time because they book up quickly in the National Park. Check out our top tips for camping in National Parks here to prepare yourself ahead of time.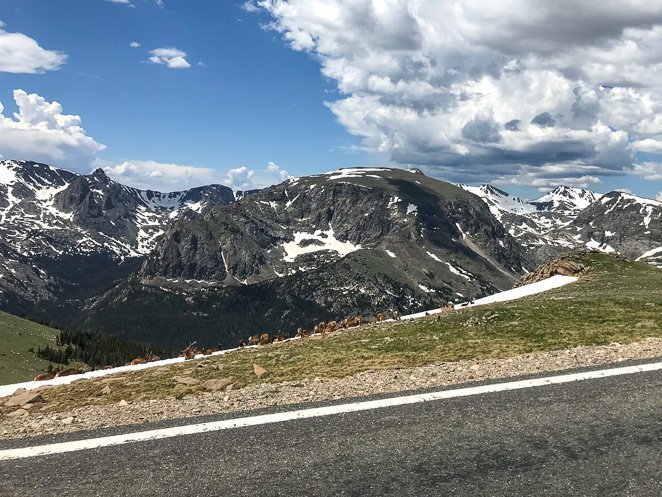 A Herd Of Elk In Rocky Mountain NP
Spend a few days hiking and exploring Rocky Mountain National Park before you drive west over Trail Ridge Road. Once you arrive on the West side of Rocky Mountain National Park you may want to stop at the Kawuneeche Visitor Center to pick up some souvenirs before leaving the National Park.
Drive South on HWY34 to the Fraser and Winter Park area. Spend a night and enjoy the beautiful mountain escapes. If you enjoy mountain biking, check out what Winter Park Resort has to offer you.
From Winter Park, you will drive South on HWY40 and then East on Interstate 70 back to Denver, Colorado.
The entire road trip covers 213 miles.
Tips For Great Colorado Road Trips
Beware of the Mountain Passes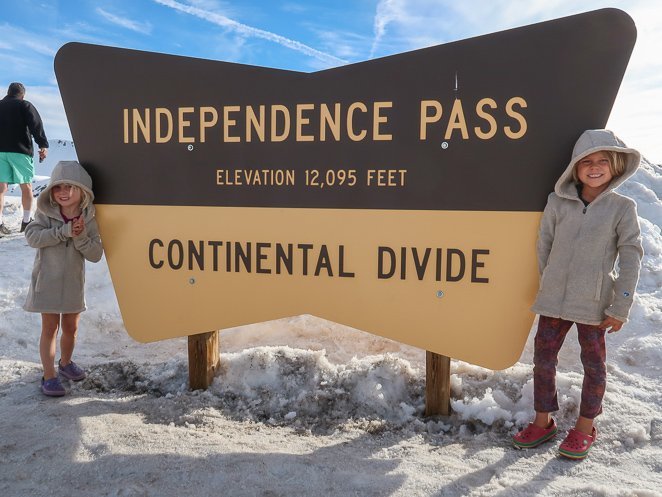 Colorado is a beautiful place to visit. It's a great place to explore by vehicle, but I want to be clear here. There are MANY mountain passes. Even if you stick to the major interstates, you will be climbing for miles and see the 'runaway truck' sand pits on the way down the mountain passes.
If you plan to take your RV or camper on a road trip in Colorado, plan ahead and check out some apps that share where the large 'grades' are.
The two road trips I listed above we took in our Class C RV, and we did fine. However, if you want to travel to the three National Parks in the Western part of Colorado in one road trip, you may want to do so in a regular vehicle, not while towing an RV. Or, be ready to take the long way around.
We loved visiting Great Sand Dunes National Park, but we decided not to go west from there as we'd have to cross over Monarch Pass in our RV and we just didn't want to do that huge pass.
So instead, we drove North.
Pay Attention To The Season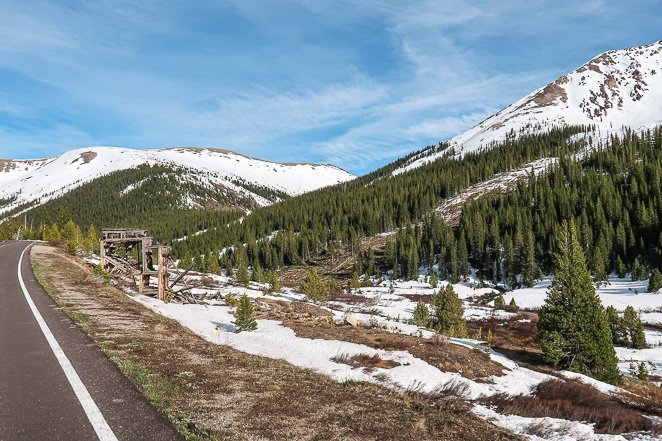 Certain areas of Colorado such as Denver, feel springtime much earlier than other areas such as Rocky Mountain National Park. This is due to the elevation.
As you plan your Colorado Road trip be sure to check to see if the destinations you are visiting will have attractions that are open. Also, will there be snow remaining such as at the top of Pikes Peak?
Keep An Eye On The Weather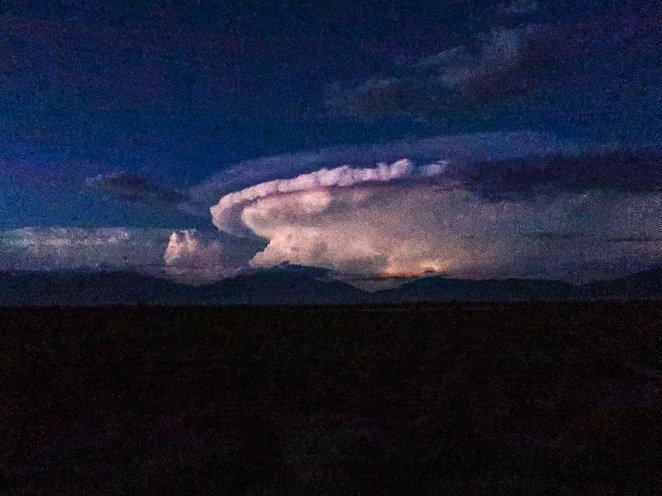 Weather in the mountains can be a bit different than what you're used to. Oftentimes, thunderstorms in the summer will come quickly through the mountains by mid afternoon, and with the storms comes a lot of lightning.
Be aware and stay safe.
Are you ready to hit the Colorado road? Where do you plan to visit?