Are you planning a Colorado family vacation, and you just don't know what to do in Rocky Mountain National Park? Visiting Rocky Mountain National Park is on many people's bucket lists, and if it's also on yours then keep reading.
There are many things to do in Rocky Mountain National Park for all ages. The park has a lot to offer from exploring scenic drives and seeing wild animals to staying overnight in campgrounds.
Here, we've made a list of what to do in Rocky Mountain National Park that will help you make your Rocky Mountain National Park itinerary.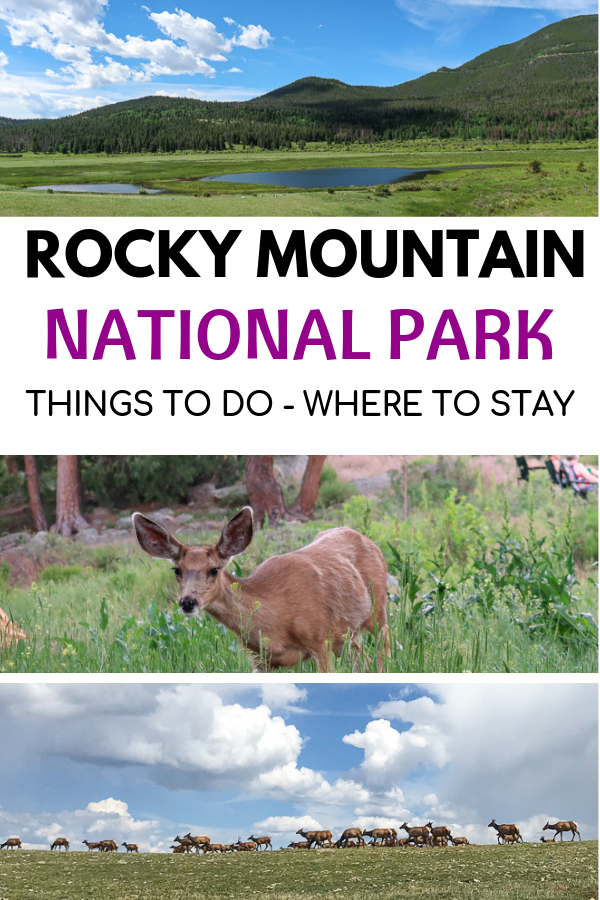 THIS ARTICLE MAY CONTAIN COMPENSATED LINKS. PLEASE READ OUR DISCLAIMER FOR MORE INFO.
Where Is Rocky Mountain National Park?
Rocky Mountain National Park Colorado is located northwest of Denver within the Front Range of the Rocky Mountains.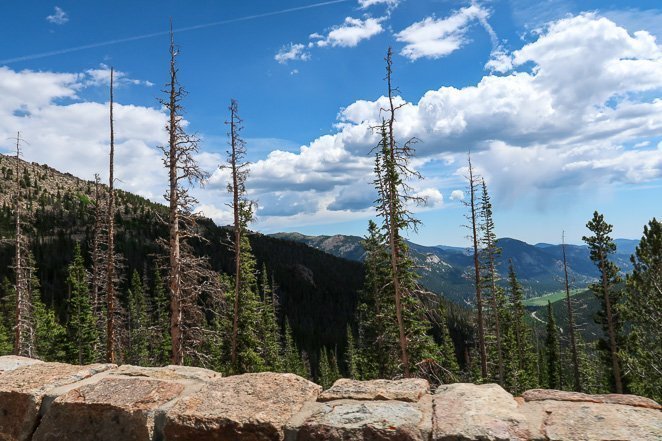 This national park is located between two towns. With Estes Park just to the East and the Grand Lake to the west, it has a lot to offer.
Rocky Mountain National Park is on many Colorado Road trip itineraries because it being only a 90-minute drive from Denver, CO.
Entrance Into Rock Mountain National Park
In order to enter any US National Park, you will need to pay a fee or show your National Park Pass. There are a few options when thinking about purchasing a pass.
First, if you have a 4th grader in your family then you can qualify for a FREE National Park pass! It might sound too good to be true, but you can click here to see how to get the 4th grade National Park Pass for free.
If you have a permanent disability such as Type 1 Diabetes and you are a permanent resident of the USA, then you might qualify for the free Access Pass. This would allow you, and everyone in your vehicle most of the time, to enter National Parks without paying a fee.
The Annual Pass might be the way to go for your family. It costs $80, and you can purchase it in selected federal recreation sites or online through this link at REI. When you purchase it through REI it will cost you the same as if you purchased it directly at the National Park and they will donate 10% of the sale proceeds back to the National Park Foundation.
This pass, though not free, allows for a big discount if you plan to visit many national parks and other federal recreation sites.
Camping At Rocky Mountain National Park
Camping at Rocky Mountain National Park is a wonderful experience as long as you've got all the camping essentials.
You even get to choose from five different campgrounds. If you're looking for places to stay in Rocky Mountain National Park, you should consider the campgrounds as the first of your options. Just be sure to plan months ahead to book your reservations.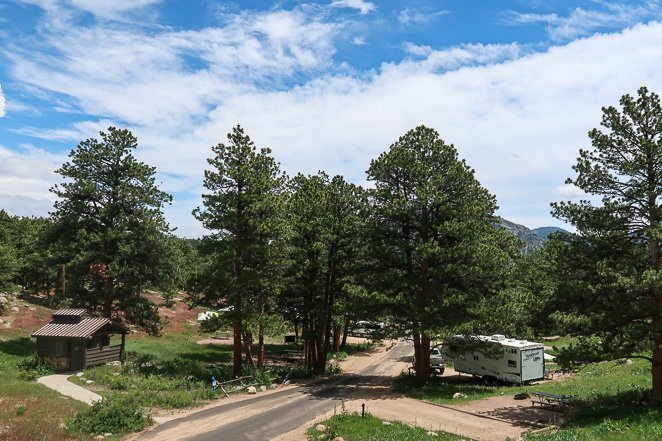 Note that there are no showers inside the park. Each campground has flush toilets, vault toilets and cold water sinks.
Read about each campground below to decide which suits your trip the most.
1. Aspenglen Campground
With a total of 52 sites, Aspenglen Campground gives a mix of sun and shade to whoever decides to stay there. Aspenglen is located near the Fall River Entrance and is rich in the views of pines and spruce forests, perfect for a refreshing overnight stay.
It has several drive-to campsites for tents and RVs with 13 sites exclusive to tents. Some secluded sites are considered walk-to tent sites only.
If you want to stay in this campground, make sure to reserve ahead of time online.
2. Glacier Basin Campground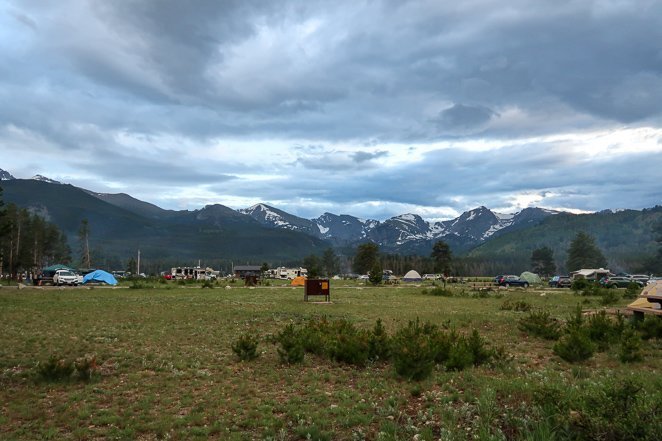 Another campground that requires a reservation is the Glacier Basin. In this campground, Douglas fir is added to the pines and spruce forests mixture that is similar to that of Aspengle's nature.
It has 150 sites in total, 73 of which are for tents only and 13 are group sites, perfect for families who visit with their friends like we do sometimes!
3. Longs Peak Campground
One of the two Rocky Mountain National Park campgrounds which are on a first-come, first-served basis, Long Peaks is just south of Estes Park on Highway 7.
This campground has a total of 26 sites which are all for tents only. Sorry, no RVs at this one.
4. Moraine Park Campground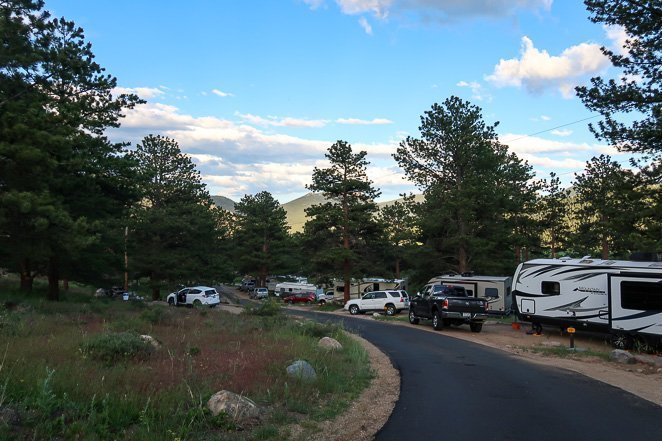 Moraine Park has the highest number of campsites available for reservation, amounting to 244 sites. Of these sites, 101 are for tents only, and 49 are walk-to/ boat-to sites.
It is the best campground in rocky mountain national park for those who love views and a great location. You see, it's located near the Beaver Meadows Entrance so only a 15-minute drive to Estes Park. It also gives a view of the park AND the surrounding mountains while being a short drive to Bear Creek road.
Moraine Park Campground is on a first-come, first-served basis during winter, but it is open!
5. Timber Creek Campground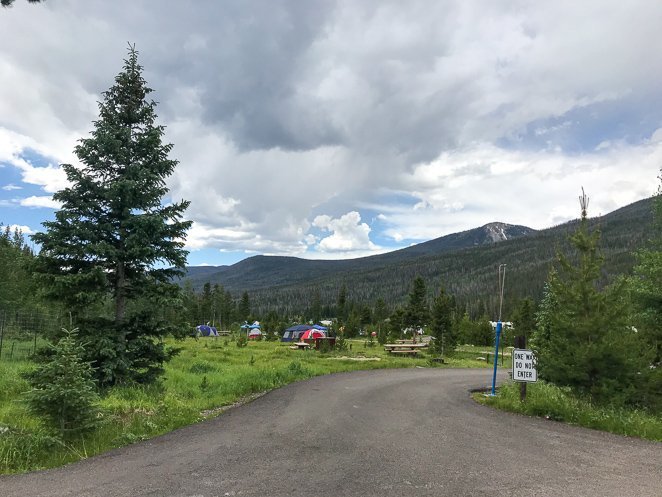 This lone campground on the west side of Rocky Mountain National Park has a mountain pine beetle infestation, causing most trees to be removed and the lack of shade at campsites.
Timber Creek is just north of Grand Lake entrance to Rocky Mountain NP and 8900 feet along the Colorado River. The main benefit is that it's close to one of the park's entrances, but the downside is the lack of shade for campers.
Camping Near Rocky Mountain National Park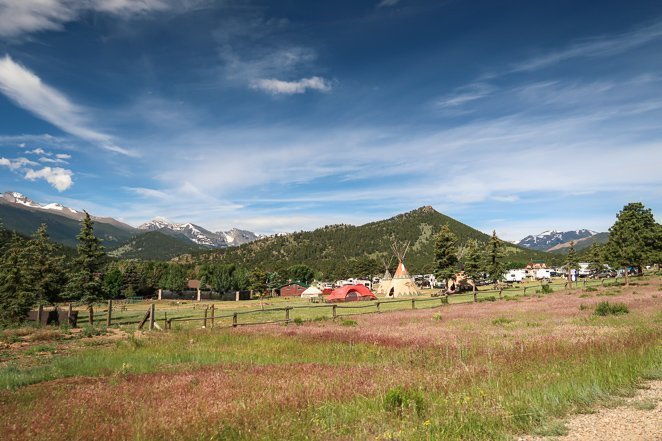 If you didn't book your reservation in advance or you'd like to stay outside the park, then you have several options for RV parks near Rocky Mountain National Park.
Jellystone of Estes Park Colorado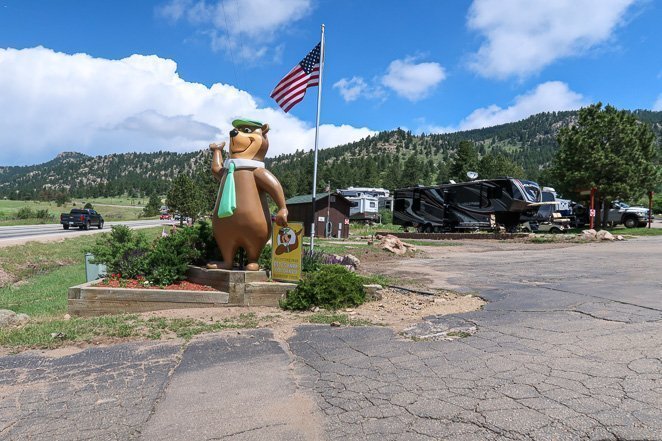 Jellystone of Estes Park Colorado offers RV campsites, tent camping, cabins and even RV rentals. It's located on the East side of Estes Park making it a little drive to get there.
Estes Park KOA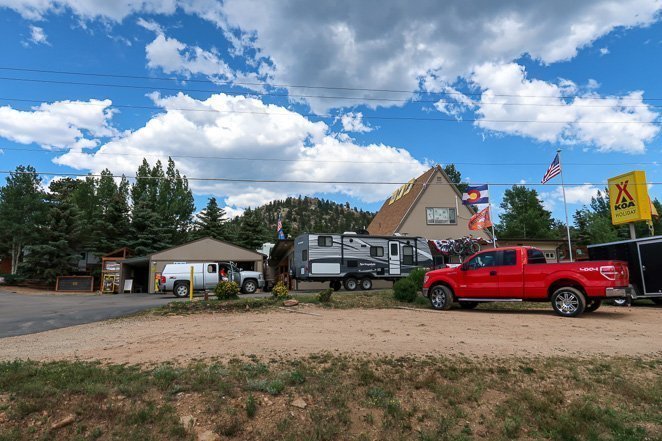 The KOA in Estes Park is just across the highway from Estes Park Mountain shop and if you visit during the summer, you'll have access to a free city shuttle that will bring you into town. They have cabins, RV spots and tent camping available.
Spruce Lake RV Park
This RV park is located just outside the Beaver Meadows entrance to Rocky Mountain National Park. They offer full hookups for RVs and cabin rentals.
Cell Signal While Camping At Rocky Mountain
As of the summer of 2019, there is no cell signal in the national park. We tested with AT&T, Verizon, and T-Mobile, and we could not even send a text message or make a phone call.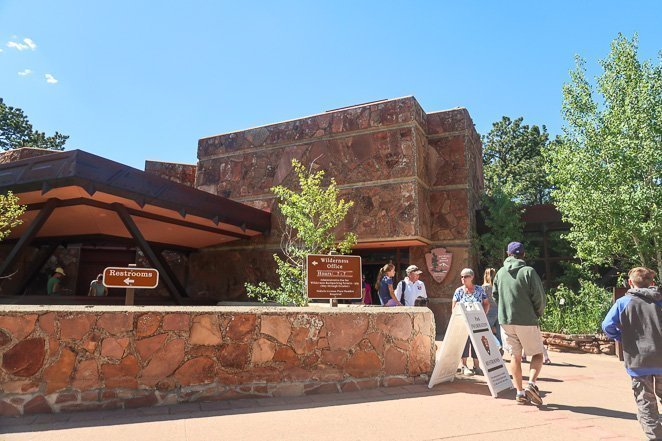 However, if you drive to the Beaver Meadows visitor center they have free WiFi and in Estes Park, there's great cell signal if you need to make a call or if you work as a digital nomad like we do.
You see, we are a full-time traveling family that LOVES to visit these exciting destinations, however, we still needed to work. So we'd often drive into Estes Park for the day to work and then explore Rocky Mountain in the afternoon.
If you're interested in how we usually have internet in our RV then click here.
Hotels Near Rocky Mountain National Park
If you are not a camping kind of person, but you still really want to visit the famous Colorado park, then you have many hotel options in Estes Park.
We dive deep into things to do and where to stay in Estes Park here, so check it out. Or, click here for the best hotels in Estes Park.
Take The Free Shuttle From Estes Park
If you decide camping is not your thing and find a great place to stay in Estes Park, be sure to check out all the fun things to do in Estes Park while you're there too! Our family fell in love with the city!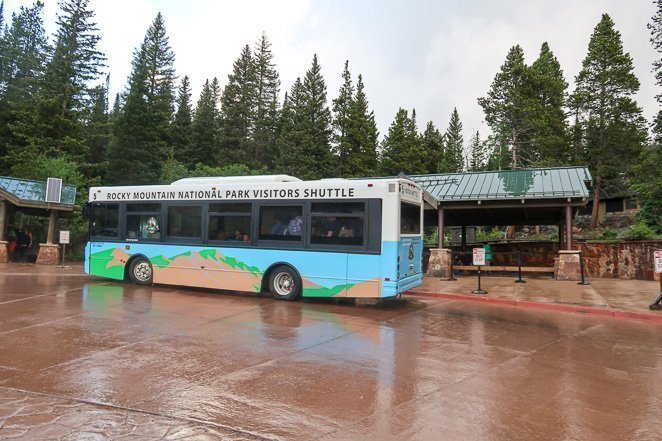 To avoid any parking issues within the National Park, hop on one of the free shuttles offered during the summer months at the Estes Park Visitor Center. They will take you all around Rocky Mountain National Park.
Related post: 12 Fun Things To Do In Winter Park in The Summer
Best Hikes In Rocky Mountain National Park
If you like to hike then I'm sure you'll enjoy yourselves on Rocky Mountain National Park hiking trails! From lakeside strolls to climbs that will make you feel like you're on top of the world, hikes in Rocky Mountain National Park have a wide range that can fit any mood and ability.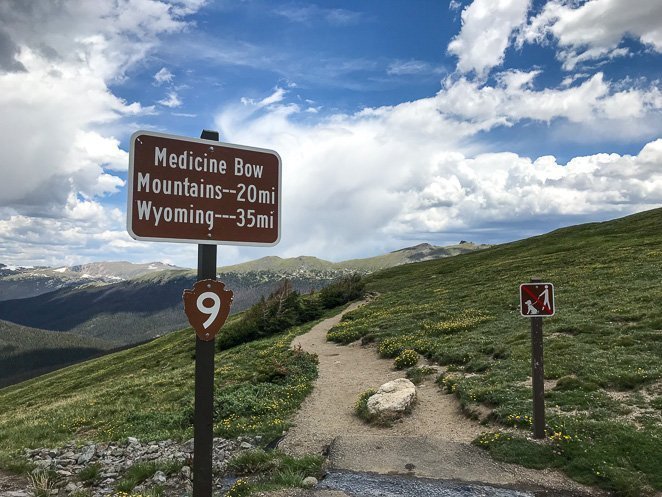 Unfortunately, the 2013 flood in the area damaged several trails. This flood made such an impact that some areas are now closed while some are being repaired. Read more on the flood impacts here.
Despite this, several Rocky Mountain National Park hikes are still available for your trip! Here we made a list of the best hikes in Rocky Mountain National Park.
1. Coyote Valley Trail
For families visiting like us, it's good to start on accessible trails. Coyote Valley Trail is a gentle valley located on the Upper Colorado River.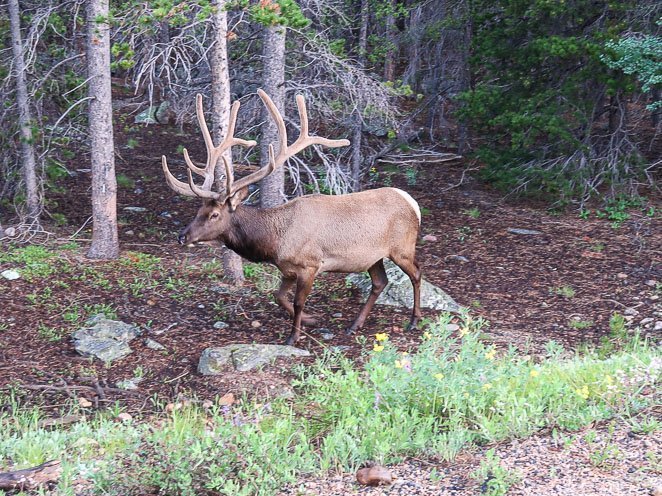 The wildlife sightings can make the experience even better! Take this trail and you just might come across an elk or a moose during the mornings and early evenings.
This destination is five miles north from the Kawuneeche Visitor Center. The trail itself is only one mile and is a good starter hike for kids.
2. Bear Lake Trail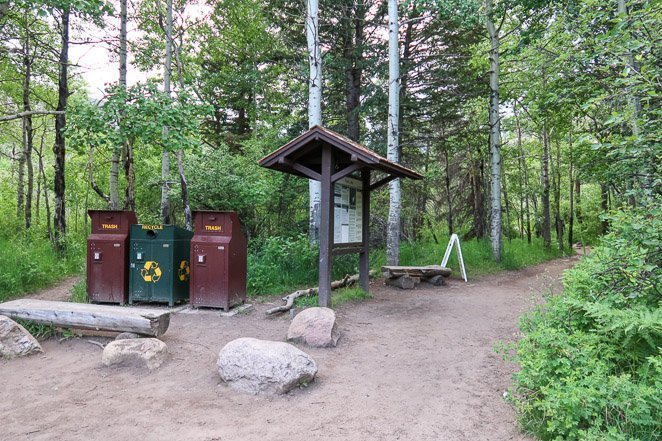 Another accessible trail, Bear Lake Trail is located at the end of Bear Lake Road. This is a popular spot among tourists because the surrounding nature of the lake is superb and it's only a short drive from Estes Park.
Despite being accessible, the place is not entirely flat which makes it a little challenging for some. However, the elevation gain is negligible and it's one of the suggested hikes from the rangers.
3. Alberta Falls
Walk along the Glacier Gorge Jct trail to get to the beautiful Alberta Falls. The 0.6 mile hike is worth it once you get a glimpse of the falls!
This waterfall is also one of the park's most popular destinations, boasting of its Glacier Creek feature. Be sure to keep an eye out for Marmots and other wild animals.
4. Gem Lake
If you opt to take one of the moderate Rocky Mountain National Park trails during the winter, we learned from a ranger that the Gem Lake through the Lumpy Ridge trail is one of the best options!
It's also easy to access if you're visiting Estes Park first. Just drive north from downtown Estes Park through MacGregor Avenue.
The hike to Gem Lake can also give you spectacular views of the Estes Valley and Continental Drive, and a balanced rock known as Paul Bunyan's Boot.
5. Flattop Mountain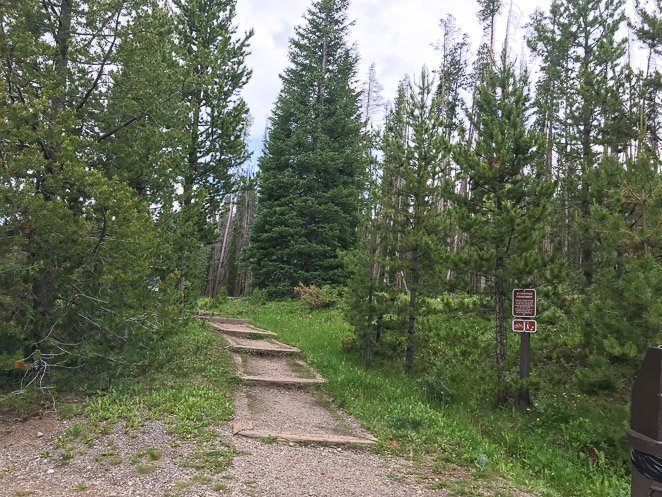 Are you willing to take on the challenge to hike for more than four miles? Why not go and take the Bear Lake trail to Flattop Mountain?
With a total of 4.4 miles and an elevation reaching 2849 ft., getting to Flattop Mountain can be a real challenge. We suggest that you only hike this path if you're not bringing kids with you unless they are great hikers.
Best Things To Do In Rocky Mountain National Park
1. Visit The Visitor Center
If visiting Rocky Mountain National Park with kids, the first thing to do is to visit the Visitor Center and pick up a Junior Ranger booklet. Or, if you don't have kids it's still a great place to start.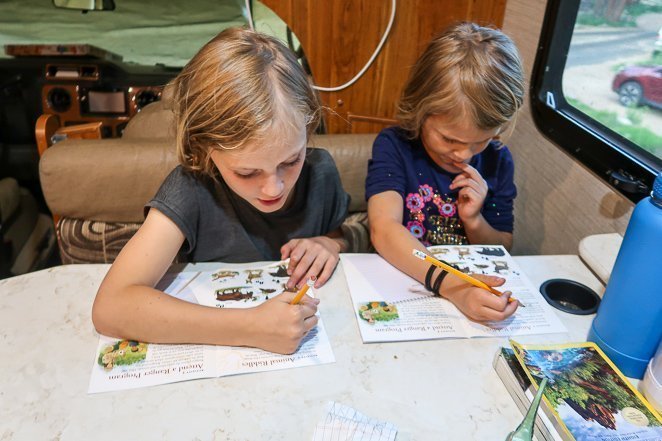 Unlike other national parks, there is more than one Rocky Mountain National Park Visitor Center. There are seven Visitor Centers in total that you can visit to know more about the park!
The Alpine Visitor Center has the highest elevation among the seven and is the place for some alpine tundra ecosystem lessons. Yet, be prepared for limited parking you arrive during the middle of the day in the summer.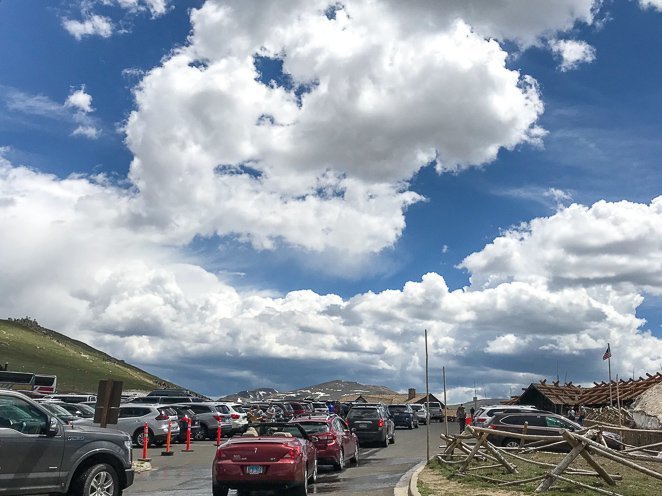 Alpine Visitor Center In Rocky Mountain National Park
Do you want to entertain your kids with a 20-minute educational park film? Visit Beaver Meadows Visitor Center. Our kids liked the film here and we also explored the topographical relief map of the park and accessed free WiFi.
For some ranger-led programs and activities, the Fall River Visitor Center is the perfect destination for you. There are also some exhibits on wildlife survival and management here that will surely be educational for all ages.
Click here to read our post listing our favorite National Parks to visit with kids.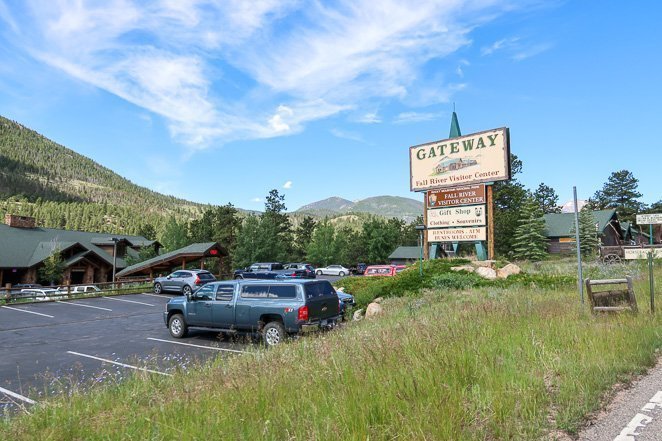 Fall River Visitor Center
There's the Kawuneeche Visitor Center for the west side visitors of Rocky Mountain. Like the others, you can buy books here, join ranger-led programs, and watch park films.
The other three are Holzwarth Historic Site, Moraine Park Discovery Center, and Sheep Lakes Information Station.
2. Spot Rocky Mountain National Park Wildlife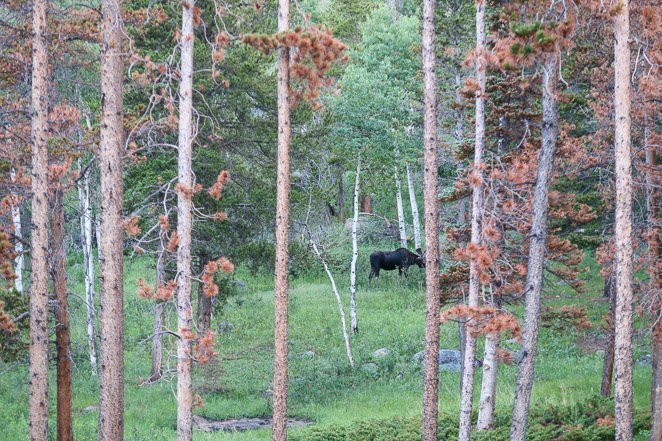 We Saw A Moose On Bear Lake Road
One day in Rocky Mountain National Park is enough for you to spot wildlife in the park if you stay in a certain spot long enough. If you want to make sure to spot one, you can also check on the tips and information from visitor centers and the official page.
For the best animal sighting, drive the Bear Lake Road!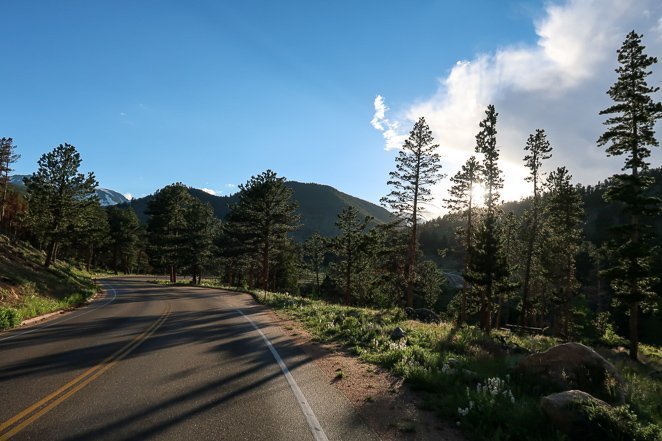 Drive Down Bear Lake Road At Sunset
Moose are often found on the west side of the park, but we saw one off Bear Lake Road. They are HUGE and beautiful creatures. Especially the males with their large antlers.
Rocky Mountain Bighorn Sheep can be spotted throughout the park if you're lucky. They can only be found in the Rockies and have massive curved horns that continue to grow throughout their entire life.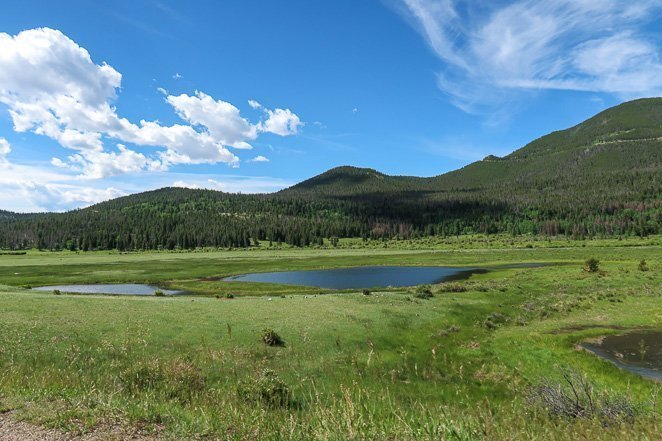 Look for Rocky Mountain Sheep at Sheep's Lake
Mule Deer have big protruding ears that look a bit floppy when you see them. They can be found all over the National Park, especially the campgrounds. Their antlers are 'fuzzy' looking, making them look pretty unique.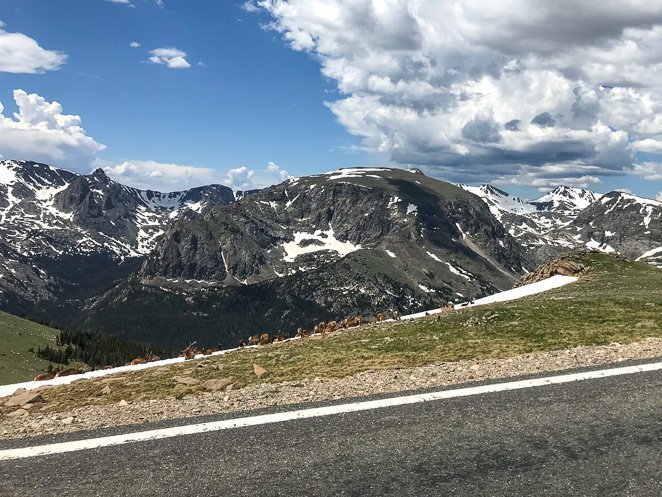 A Herd Of Elk In Rocky Mountain NP
Elk are often found in herds throughout the park, but we spotted several loners on Bear Lake Road during our first night in the park. They are HUGE and absolutely beautiful!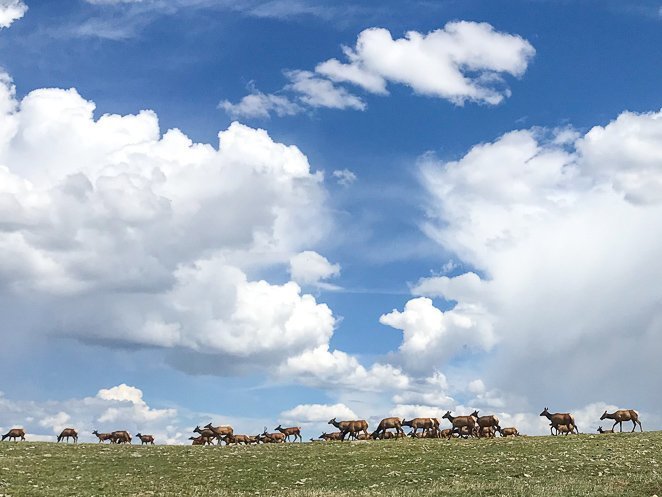 Black bears are found all over the park, so be sure to always use the bear boxes at the campgrounds and even during the day pack your food and trash away. Bears in Rocky Mountain National Park are often spotted in the early mornings if you're lucky to see one.
We had a bear visit our RV one night in the campground. He tore open our bag with our Camelbak hydration packs and left a few paw prints on our van! Our neighbor campers fared worse, as the bear actually broke the passenger side window of his truck trying to find food!
So be bear aware and carry bear spray.
3.

Go White Water Rafting
Go white water rafting in the rivers of Colorado!
Kremmling offers rafting down the Colorado River that starts in Rock Mt. National Park on the west side.
This refreshing water sport may be just what you need for a fun vacation!
You can contact Mountain Whitewater through their number 970-419-0917, or website. Another option is the Rocky Mountain Adventures through 800-858-6808 and website.
4. Take Many Scenic Drives
If you love road trips, you'll surely love the Rocky Mountain Scenic Drives. You can't forget to list this on your Rocky Mountain National Park itinerary!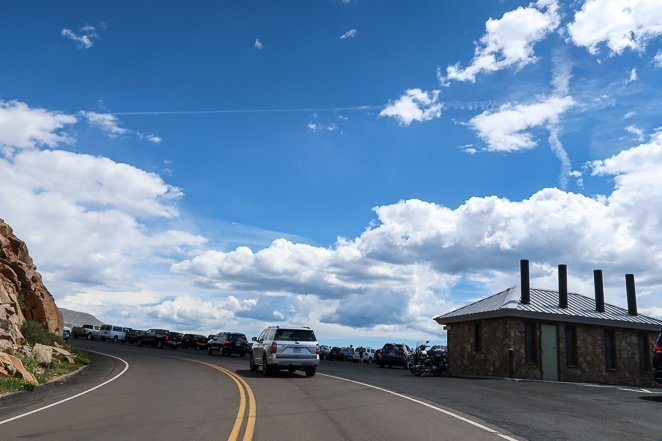 Go for a Rocky Mountain National Park drive and be amazed by the beauty it has to offer. With its diverse ecosystem, you won't have to choose between rivers or aspen groves, you can experience it all in a single drive!
You can choose to drive the Trail Ridge Road or the Old Fall River Road.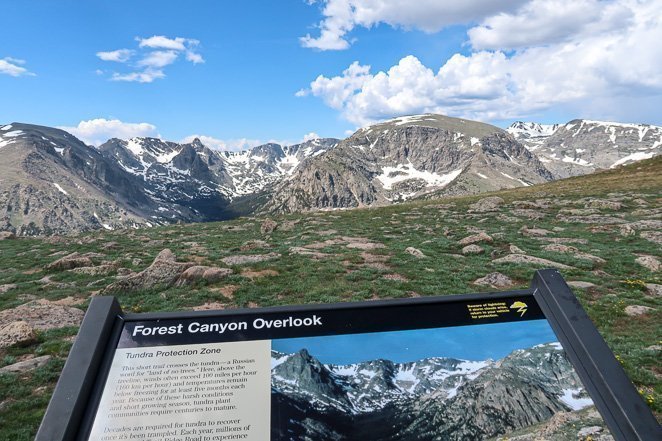 Old Fall River Road is known as the first auto route providing access to the park's high country. You should definitely take your time driving up and enjoying the motor nature trail because the speed limit is 15 miles per hour.
For the popular highway to the sky that is the Trail Ridge Road, you can enjoy spectacular views, rich flora, and Rocky Mountain National Park wildlife sightings!
5. Have A Picnic In Rocky Mountain NP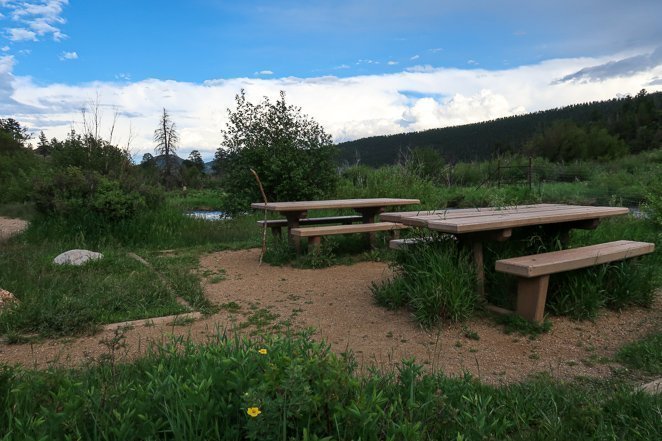 Plan to bring in snacks or a lunch so you can enjoy the many picnic areas the parks has to offer.
6. Go Horseback Riding In or Near The Park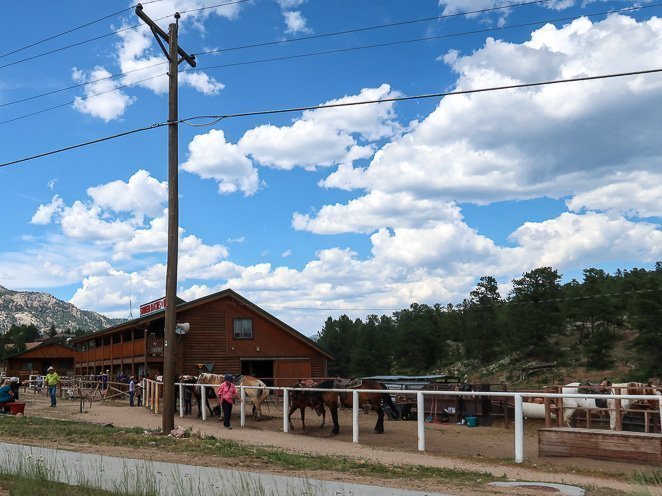 Horseback riding is a popular bucket list activity when you visit 'the West'. Why not check out Sombrero Ranches for trails and pricing.
7. Catch Sight Of Longs Peak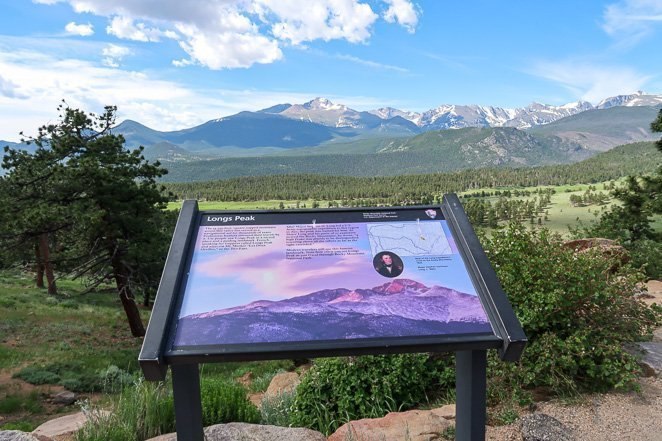 Longs Peak, the highest peak in the park, is a sight to see. You can take in the view after entering the National Park near Estes Park and driving only 20 minutes.
Beyond Rocky Mountain NP
Rocky Mountain National Park is just one of the many National Parks that we've fallen in love with over the last few years of traveling. Another favorite is Zion National Park in Utah and Grand Teton National Park in Wyoming.
If you'd like to know more about road trips with kids, you can read out road trip tips post and our take on what to pack for road trips.
Exploring Rocky Mountain is much better if you bring the whole family with you. This is why we travel with our kids.
Do you think our itinerary lacks something? Tell us in the comments below!
Let's Travel Family is a participant in the Amazon Services LLC Associates Program, an affiliate advertising program designed to provide a means for sites to earn advertising fees by advertising and linking to amazon.com, amazon.co.uk, amazon.ca. Amazon and the Amazon logo are trademarks of Amazon.com, Inc. or its affiliates.