Renowned as America's Living Natural History Museum, Yellowstone National Park is the place to go to if you want to enjoy unique hydrothermal wonders and we want to help you plan out your Yellowstone itinerary.
Whether you have one day or five days to spend in this national treasure, you won't run out of things to do.
Planning a Yellowstone vacation can seem a bit overwhelming, but it doesn't have to be. First, you need to determine how many days you'll have to visit Yellowstone.
If you'll only have 2 days in Yellowstone, there may be a few areas that you are going to have to skip. Whereas, if you have several more days than you may be able to see and do most of what we lay out for you below on your Yellowstone National Park trip.
Read our Yellowstone 3 day itinerary, 4 day itinerary and 5 day itinerary ideas below to help you plan out your time in Yellowstone park.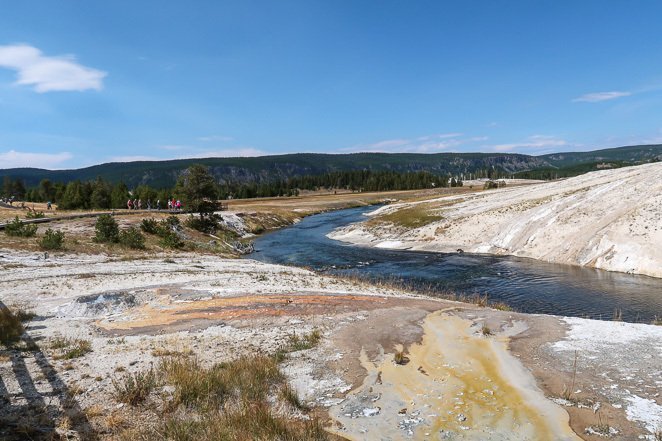 Keep reading to learn about the different visitor centers you can stop by, the best Yellowstone hikes, where to stay in Yellowstone, where to see the best wildlife in Yellowstone National Park, what to pack for Yellowstone, and even our best tips for driving an RV if you are planning a trip to Yellowstone in a camper or motorhome.
Yellowstone is just one of the many National Parks that we've loved visiting and we're excited to help you plan your trip. You can add these itineraries to a large Western Montana road trip or a trip south to see Grand Teton National Park, Jackson Hole Wyoming or even add on a Utah Road trip after this. Your options on are endless.
Coming from Idaho? Check out our tips for taking a Boise to Yellowstone National Park road trip and make the most of it.
To help you plan your Yellowstone trip, we prepared our ultimate Yellowstone Itinerary breakdown below.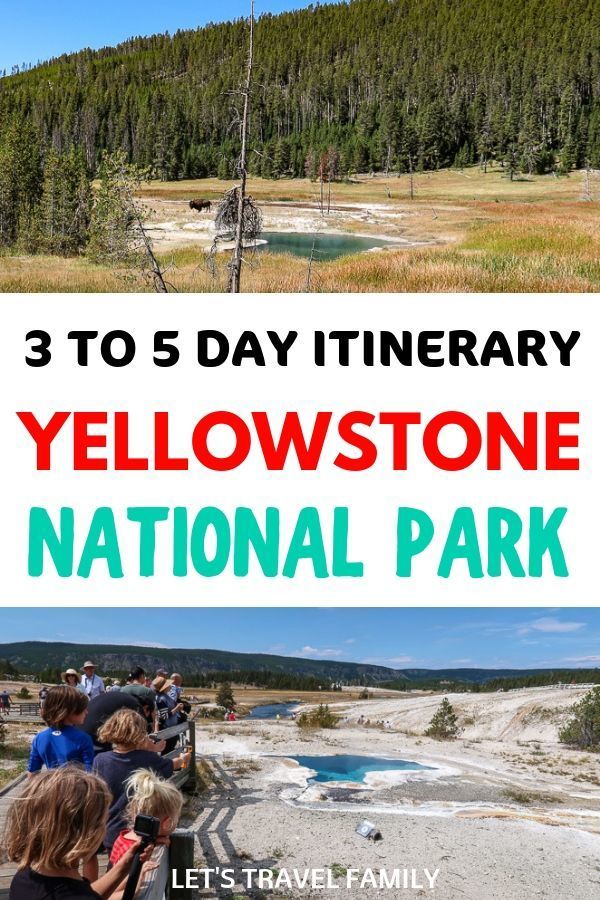 THIS ARTICLE MAY CONTAIN COMPENSATED LINKS. PLEASE READ OUR DISCLAIMER FOR MORE INFO. THIS POST WAS WRITTEN BY JILL GREISING-MURSCHEL, A FAMILY TRAVEL AND RV LIVING EXPERT.
Yellowstone Itinerary 1 Day
Planning to wander around Yellowstone in one day and then on to the next National Park? We've got you covered.
First, you might be interested in reading up on all of our Nation's parks on this printable list of National Parks in the US.
If you only have a day to spend in Yellowstone, you may as well take on the best things to do in Yellowstone.
Visit Old Faithful
Start your day by driving to the Old Faithful Visitor center in the Upper Geyser Basin area and hang around for the once every 90ish minute eruption. It's one of the top things to do in Yellowstone and for good reason.
You see, the Old Faithful Geyser has been erupting consistently about every 90 minutes plus or minus 10 minutes from its last eruption.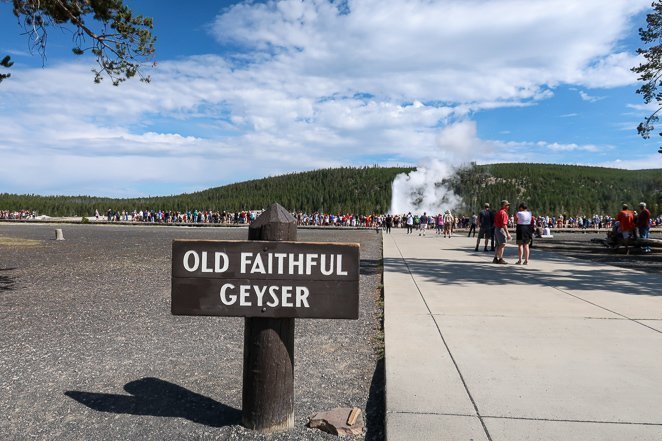 While you're waiting for the exciting eruption, or afterwards, take a short walk behind it on the paved path to Geyser Hill where you can see many different geysers and hot springs. Be sure to give yourself time to explore the great exhibits in The Old Faithful Education and Visitor Center.
The kids and I felt like it was much like an exciting science museum with modern exhibits. Now, if you have a few extra days, you can spend longer here by watching the film, shopping at the general store, and participating in the Junior Ranger program.
Canyon Village Area
If you have just one day, then get back to your road trip around the park and drive North toward Madison and then East to the Canyon Village area. This is where you can go on some of the best Yellowstone hikes.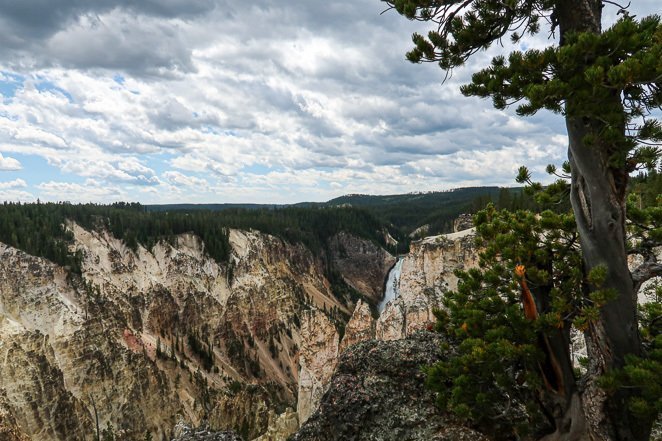 An easy and beautiful hike is anywhere along the North Rim Trail just south of the Canyon Visitor Education Center. If you have time and energy for a challenging hike, then plan to hike down the Brink of the Lower Falls Trail that is a steep trail that drops 600 feet to get a great view of the amazing falls.
Finish out your day by staying at the Canyon Lodge and grabbing a bite to eat at one of the many eateries in the Canyon Village area.
Yellowstone Itinerary

2 Days
Do you have a second-day itinerary that has to be filled? Great, there's just so much to see and do in Yellowstone National Park.
Watch For Wildlife and See The Sunrise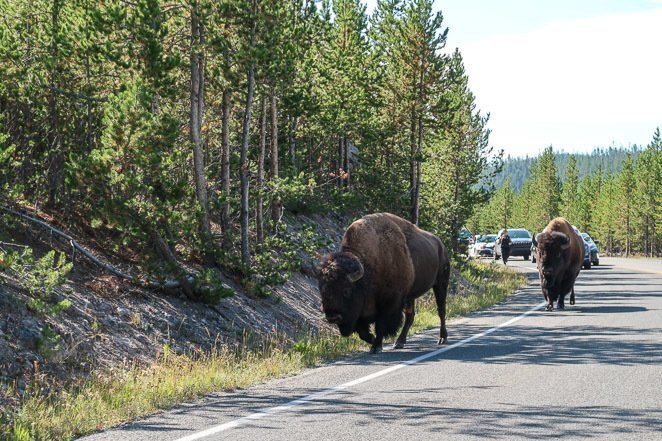 Start your day early and drive along the Madison River to find a spot you'd like to sit for a bit. Then face East and watch the sunrise while also trying to spot some wildlife.
The rangers suggest this being the best time of day to spot a bear and you're very likely to see Elk and maybe a lonely Bison.
Visit Lower And Midway Geyser Basin Areas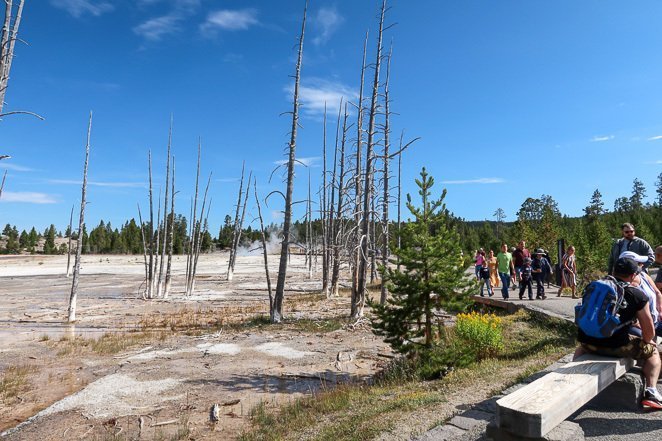 Now that you've already visited Old Faithful, use today to explore the Fountain Paint Pot in the Lower Geyser Basin.
Take the short 0.5 mile hike around the Fountain Paint Pot boardwalk and see all four types of hydrothermal features: geysers, hot springs, mudpots and fumaroles.
From the Fountain Paint Pot area drive just over 1 mile and turn onto Firehole Lake Drive to drive the 2-mile road where you'll pass the Firehole Spring, hot lakes, geysers and a hot cascade. Keep in mind Fire Hole Lake Drive is a one-way road that does not allow RVs or buses.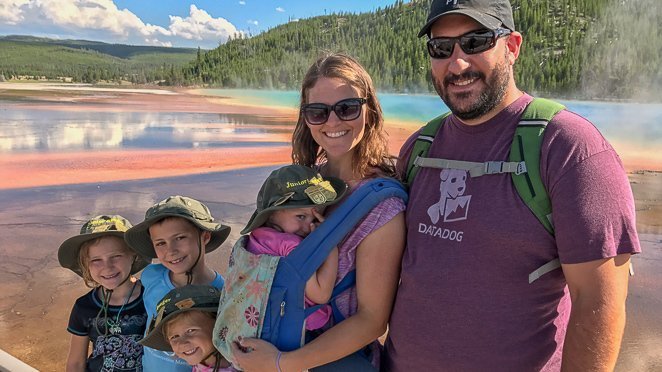 The Grand Prismatic Spring in the Midway Geyser Basin area is one of the most photographed areas of the park and a great place to visit.
Just be prepared, both stops can become very busy and sometimes difficult to find parking but well worth the time, so start early.
Children Complete The Young Scientist Program
If you're looking for Yellowstone for kids ideas, then today you can help your kids join the Junior Ranger or the Young Scientist Program at Old Faithful.
The Junior Ranger booklets can be purchased for $3 at any visitor Center while the Young Scientist Program can be purchased for $5 at the Old Faithful Visitor and Education Center. Then, you can check out the Scientist Backpack and help the kids work on their booklet to earn a patch for completion.
Now, if you are planning on staying for more than 1 or 2 days, you could make your Old Faithful visit a full-day experience and combine the Young Scientist Program with it as well.
This would give you more time on your second day to search for wildlife.
Yellowstone Itinerary

3 Days
For a Yellowstone 3 day itinerary, use your last day to visit Yellowstone Lake on the East side of the park. You could visit the Bridge Bay Marina and go on a boat ride or fish off the shores.
Yellowstone Lake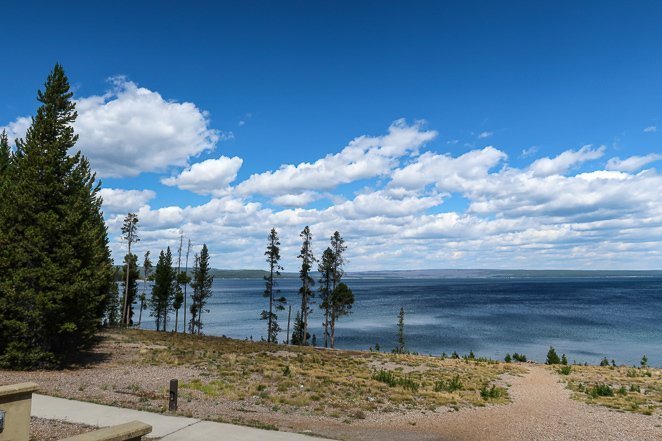 This experience can give you a whole new perspective of the beauty Yellowstone has to offer.
If you choose not to go out on the water, then you should have time to drive to the Lamar Valley East of Tower Junction where it's often said you might see wolves!
Watch The Sunset Over Mammoth Hot Springs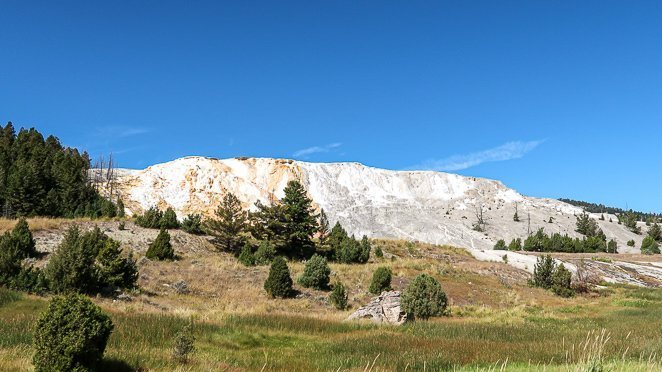 After a day of boating or wildlife viewing, drive North to Mammoth Hot Springs and watch the sunset in one of the best spots of the park to do so.
You can walk up to the top boardwalk from the lower terraces or just drive your car along Upper Terrace Drive and find a place to park. You'll be able to watch the beautiful sunset colors on the hot pools. What a dream!
Yellowstone Itinerary 4 Days
Planning a 4 day Yellowstone Itinerary gives you more of a chance to really explore what Mammoth Hot Springs has to offer. Or, for a more challenging stay in Yellowstone, go backcountry camping!
There are more than 300 backcountry campsites beyond the developed area of this national park. In there, you can see a great landscape that not everyone gets to see during their visit.
Historic Fort Yellowstone
Another great activity for any history buff is to take a Historic Fort Yellowstone self-guiding tour at the Albright Visitor Center in Mammoth Hot Springs area.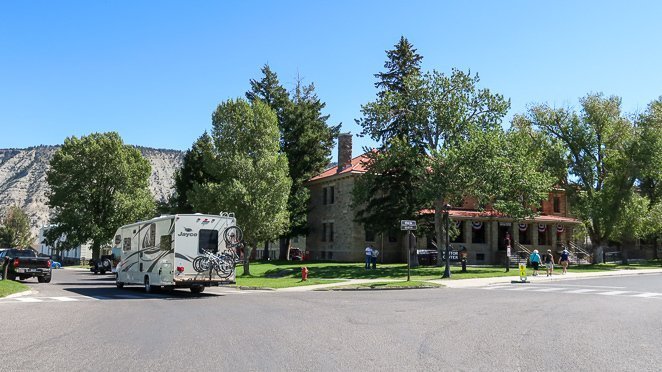 Norris Geyser Basin
Now drive South to Norris Geyser Basin and find a place to park. You are going to want to see the worlds tallest active geyser in person, the Steamboat Geyser.
However, don't expect to see it erupt during your visit…. unless of course you are the lucky one. The Steamboat Geyser is unpredictable and could go days, months or even years between eruptions. Yet, if it does, it will last anywhere from 3-40 minutes long!
Yellowstone Itinerary 5 Days
The last day is reserved for light activities, eating, shopping and getting in any hikes you haven't done yet that you've really wanted to! Be sure to read further to learn about the most popular hikes in the park.
Go On A Picnic
To start your 5th day right, we recommend you to go on a picnic. There are numerous picnicking areas throughout the park with tables and vault toilets.
Additional tip: If you want to go where there is potable water, go to Madison or even into the town of West Yellowstone and grab a bite to eat at one of their many West Yellowstone Restaurants.
Visit Hayden Valley To See Bison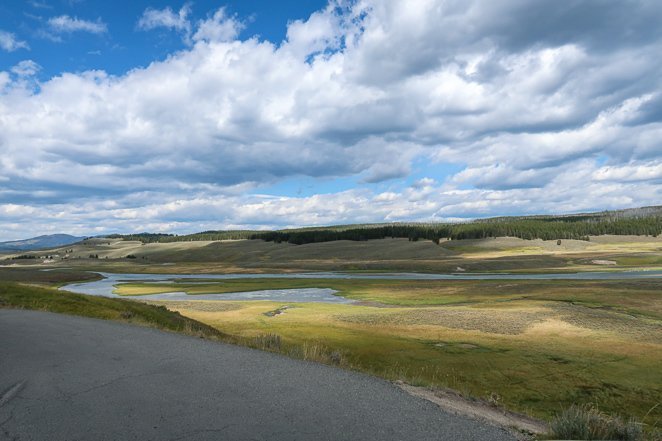 Then spend the rest of your final day taking pictures around the park. If you want to take pictures of Yellowstone wildlife, the park reminds you to "zoom with your lens, not with your feet."
Hayden Valley is located on the East side of the park near the Mud Volcano area between Fishing Bridge and West Thumb. It's one of the best places to view bison and you can then squeeze in a quick stop to see the Mud Volcano area too!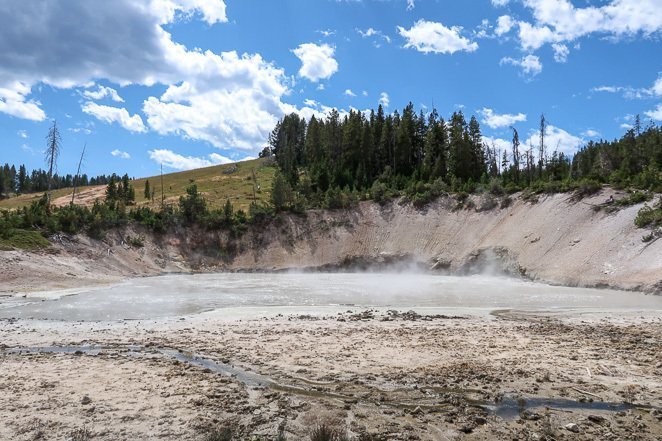 West Thumb Geyser
Drive south to the West Thumb Historic Ranger Station, much like a Visitor Center, and take in the view of Yellowstone Lake and the 'thumb paint pots' near the lake.
Check out West Thumb Geyser and finish your day by driving South just 55 miles to Grand Teton National Park and make it a combined trip!
Things To Do In Yellowstone National Park
Take A Picture In Front Of The Yellowstone Sign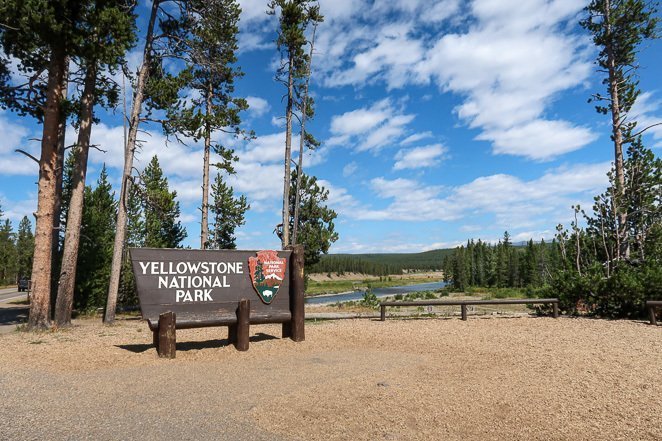 Each entrance to the Park has a Yellowstone sign. It's tradition for visitors to take their photo at one of the signs during their stay.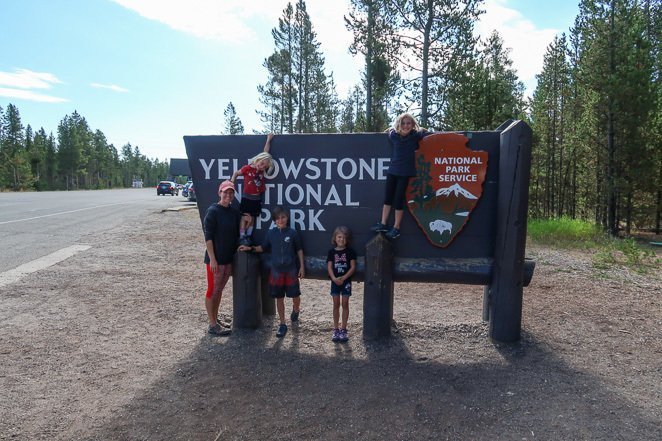 During our first visit to Yellowstone NP, our family visited 8 other national parks before arriving at Yellowstone, including all 5 National Parks in Utah during our Utah road trip. Let's just say they were a bit reluctant to take yet ANOTHER photo in front of a sign, but we made it happen!
Stop By The Visitor Centers
Plan to stop by at least one or two of Yellowstone's Visitor Centers during your visit. They have so many exhibits, displays, stores, films and rangers to help you understand all there is to know about the supervolcano.
Yellowstone has a total of ten visitor centers and information stations combined.
Visitor Centers are where you can get information on the current Yellowstone weather, trail conditions, animal sightings, and Old Faithful eruption prediction times.
You can also get brochures there showing the Yellowstone map, trail guides, and what activities they recommend.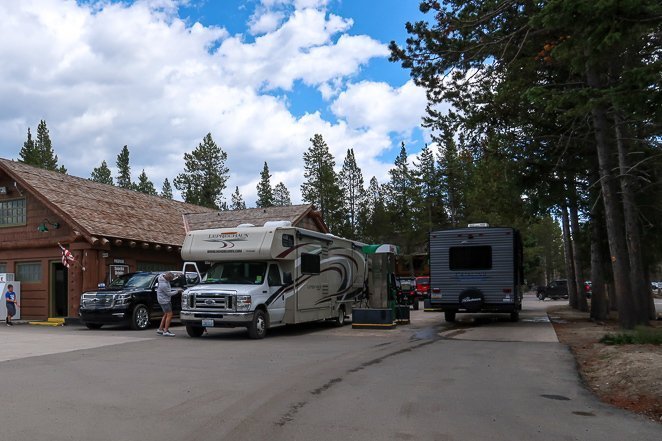 Find out which Visitor Center you'd like to visit from our list below and keep in mind there are several service stations throughout the park as well.
1. Albright Visitor Center
If you're looking to visit Mammoth Hot Springs in the North part of the park, Albright is the nearest Visitor Center you can go to. Like most centers, they provide information on the area.
They also have exhibits and ranger programs you can enjoy and this is where you can go on a historic Fort Yellowstone self-guided tour.
2. Canyon Visitor Education Center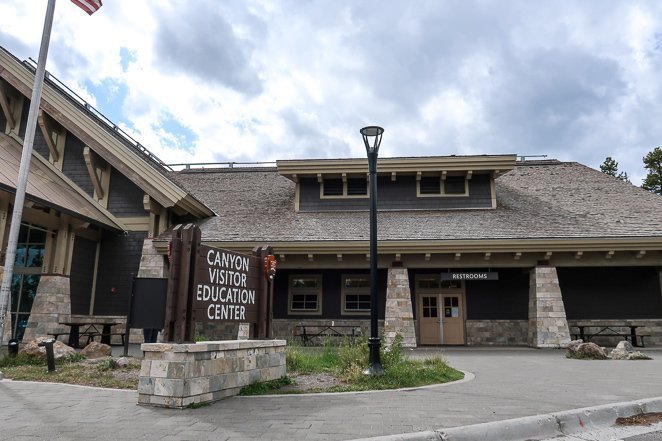 Want to know more about Yellowstone's supervolcano and geology? This one's for you.
Canyon Visitor Education Center showcases this through interactive exhibitions, audio-visual productions, animations, and real-time scientific data. It's like a mini-modern science museum.
3. Fishing Bridge Education Center
If you are arriving from the East Entrance Road, then spare some time to look around the Fishing Bridge Education Center.
You could see Yellowstone Lake through the building. The education center itself was built to look like a natural wonder on top of a rock outcrop.
It is a "Trail Museum" where visitors can get a lot of Yellowstone information.
4. Grant Visitor Center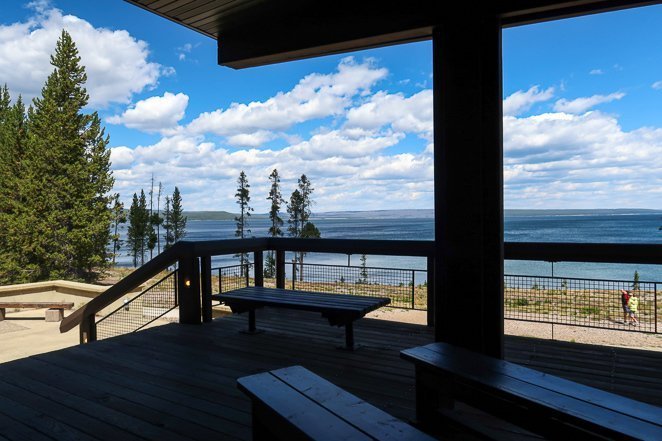 Through the Grant Visitor Center exhibit hall, you can learn more about how fire is important to the ecosystems found in the park. We strongly recommend this to those of you who are visiting with kids.
You can also get trip ideas and shop for souvenirs here.
5. Madison Information Station
Madison was built to focus on the park's history, especially because of their "campfire story." However, due to evidence refuting this story concerning the Washburn Expedition, the references were removed from the museum.
Tip: You can still hear the story from officials during a campfire discussion.
6. Museum of the National Park Ranger
The original building which was taken down and rebuilt, was a station for Rangers before the 1959 earthquake heavily damaged it. But they tried to retain the floor plan after the rebuilding.
Ask retired rangers for park information and look at exhibits and videos inside.
7. Norris Geyser Basin Museum
Like the Fishing Bridge Education Center, this one's in a location where you can overlook the Norris Geyser Basin.
It is also built as a "trailside museum" and now features exhibits explaining geothermal activity and thermal areas.
8. Old Faithful Visitor Education Center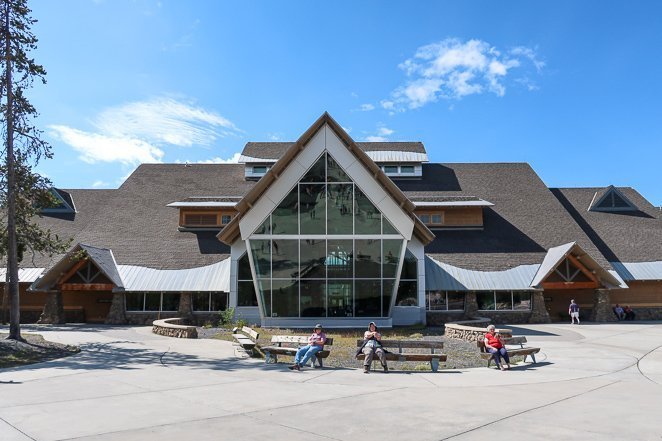 Old Faithful Visitor Education Center is filled with exhibitions showing the national park's hydrothermal features, the extreme environment's mechanisms, ongoing scientific studies concerning the park, and the volcano beneath.
This is also where you can find the Young Scientist Exhibit Room and is the most visited Yellowstone National Park visitor center.
9. West Thumb Information Station
This historic building built in 1925 is one of the centers associated with Yellowstone's ranger stations.
You can find park information, buy souvenirs, and join ranger-led programs here as well.
10. West Yellowstone Visitor Info Center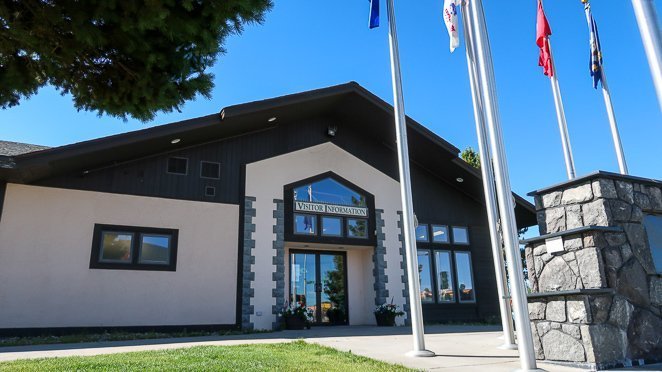 The West Yellowstone Visitor Information Center is located in the city of West Yellowstone, Montana. If you're visiting on a summer or winter day, you can ask for assistance from the desk staffed by National Park Service Rangers.
See The Wildlife In Yellowstone Nati
o
nal Park
It's recommended to arrive early in the morning in the park to spot wildlife such as Elk, Deer and Bear. Some of the best places to spot Bison are the Hayden Valley area and the Sough Creek area.
During our first visit, we spotted a two Bison on the road in the Madison area! The two bulls were walking toward us in our van. I could have reached out and touched them!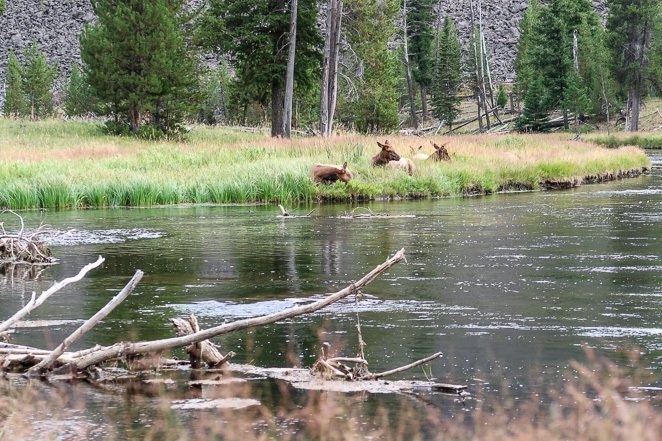 Later, we stopped to see 6 female Elk lying on the banks of the Madison River.
It's safe to say if you spend at least 3 days in the park you are bound to spot Bison and Elk.
Listen To A Ranger Lead Talk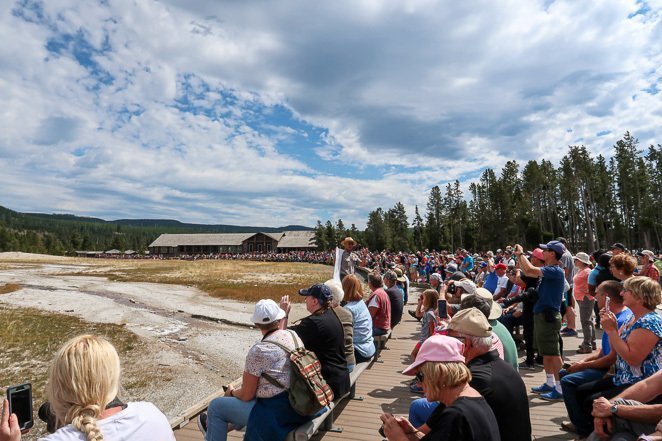 When you stop by a visitor center, find out when the next ranger led talk is. you can often combine this with watching the film about the park. We enjoyed listening and learning about Old Faithful just minutes before it erupted.
Let the kids join the Junior Ranger Program
You can purchase a junior ranger booklet for $3 and let the kids earn their official Yellowstone Patch. In order to earn it at this national park, they need to do the following: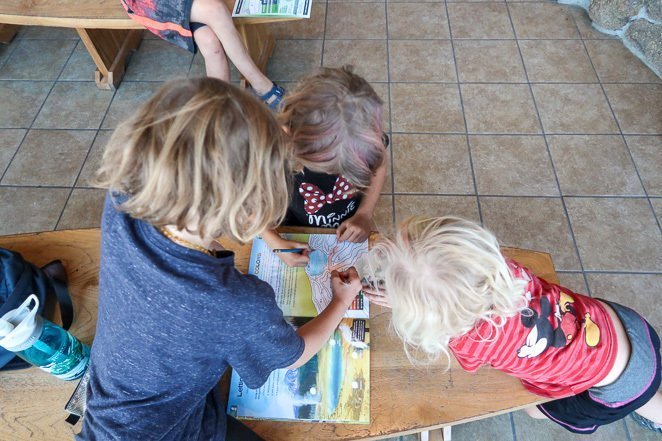 1. Hike a park trail or boardwalk.
2. Complete the age-appropriate activities in the booklet.
3. Attend a ranger-led activity such as a hike or talk.
This is a great way to let your kids explore and learn more about Yellowstone National Park!
The Junior Ranger booklets can be purchased at any of the visitor centers mentioned above.
Young Scientist Program
If the kids enjoyed the Junior Ranger Program, they'll probably love this new program as well. It's one of the new and fun things to do with kids in Yellowstone.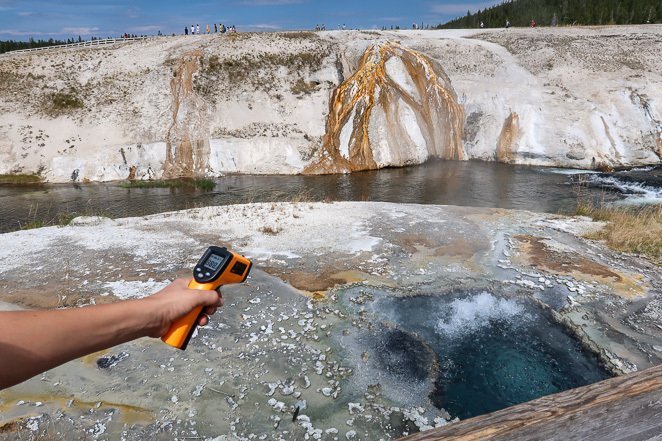 We just learned about the Young Scientist program at Yellowstone National Park. You can buy a self-guided booklet for $5 at the Canyon Visitor Education Center or Old Faithful Visitor Education Center for ages 5 and older.
You can also check out the young scientist toolkit at the Old Faithful Visitor Education Center and investigate the geyser and more. Then return it and receive a patch or key chain!
Go On Day Hikes – Best Hikes In Yellowstone
Many people come to Yellowstone to see the animals, geysers, and other volcanic features. Yet, hiking is often necessary to reach a lot of the best views and can be a lot of fun too.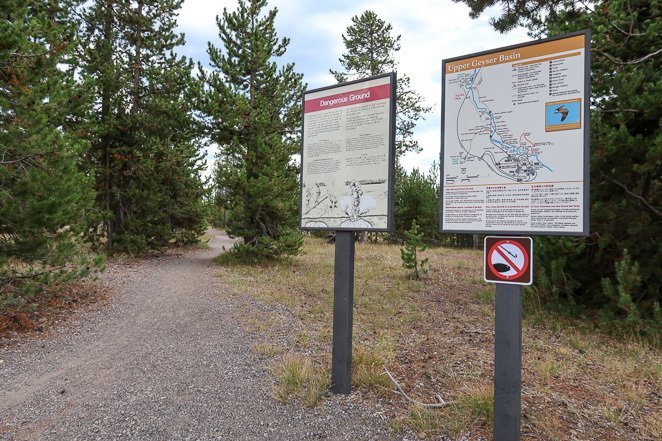 1. Lone Star Geyser – near Old Faithful
Best hiked during Summer, Fall, or Winter, this 2 to 3-hour hike is fairly easy.
The road is partially paved and hiking this trail will give you a view of the Firehole River!
2. Fairy Falls – near Old Faithful
Do you want a view of a majestic waterfall? Then this trail is for you!
This trail opens on the latter days of May and parking is very limited.
3. Storm Point – Near Fishing Bridge
For your safety, this trail is often inaccessible in late spring and early summer due to bear activity. To know more about the conditions of the trail, you can inquire at the Fishing Bridge Visitor Center .
This trail overlooks the Indian Pond and Yellowstone Lake, perfect for calming hikes!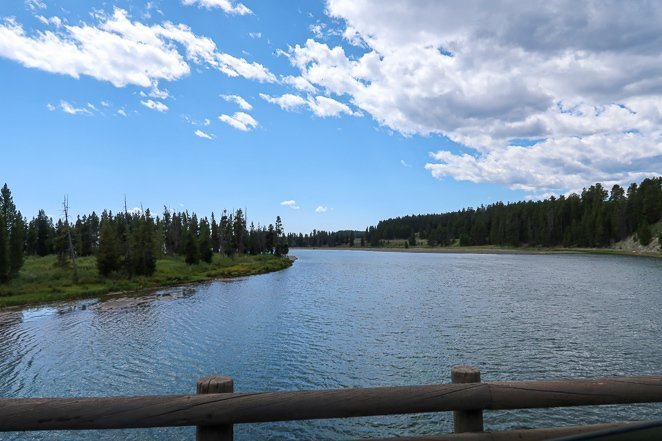 4. Mount Washburn – North of Canyon
Take your hiking games up a notch by challenging this 8 to 10 hour trail!
It starts and ends at the same trailhead and can be started after your visit to the Mount Washburn through Chittenden Road.
Reminder: Bring lots of water because there is no water access for this trail!
5. Beaver Ponds – at Mammoth Hot Springs
Do you love the feeling of being surrounded by greens? Hike this trail!
If you take this path, you'll have to walk around sagebrush meadows and stands of trees. Wildlife sighting here is common as well! You may spot some beavers, muskrats, and water birds along the way.
Go Backcountry Camping
Another challenging feat is not only exploring the backcountry but ALSO staying the night!
All overnight stays and camping require permits which you have to obtain no more than 48 hours before the trip.
There are nightly fees for trips in between Memorial Day and September 10. But other than those days, it's free!
If you're planning to stay for a few more nights, they also offer an Annual Backcountry Pass for $25.
For reservations of backcountry campsites, you have to pay a nonrefundable fee of $25. Download the Backcountry Permit Reservation Application or send an application to their P.O. Box.
For more information on backcountry camping, you can visit their official website.
Driving An RV Through Yellowstone
As a full-time RV living and traveling family, we wanted to share our tips on driving an RV through Yellowstone. As I drove around during our visit, I noticed that there are many options for RV and bus parking, but not at every stop.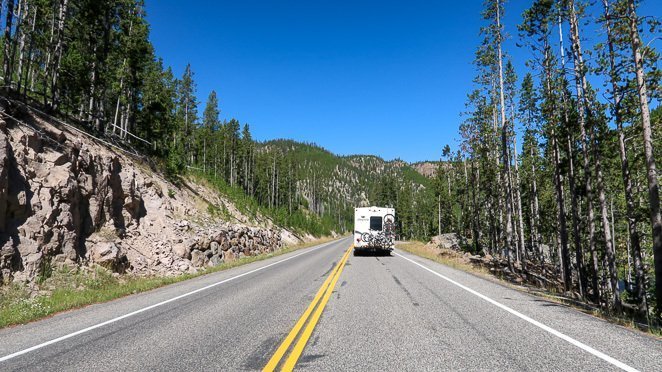 For example, Old Faithful Education and Visitor Center had plenty of RV and Bus parking. A lot of spots were still available until 11 am when we arrived. However, by 2pm the parking lot was full and it was hard for anyone to find parking.
Grand Prismatic a.k.a. the Midway Geyser Basin, has a lot of overflow parking along the road just before the parking lot and we saw several RVs parked there.
Fountain Paint Pot also had RV parking, but it was busy during the afternoon.
If you want a view of the Upper and Lower Falls, remember to strategize your visit because it gets VERY busy on the North Rim Drive just south of Canyon. We had a hard time finding parking for our minivan on a Sunday afternoon.
Favorite Spots To Visit
Brink of the Lower Falls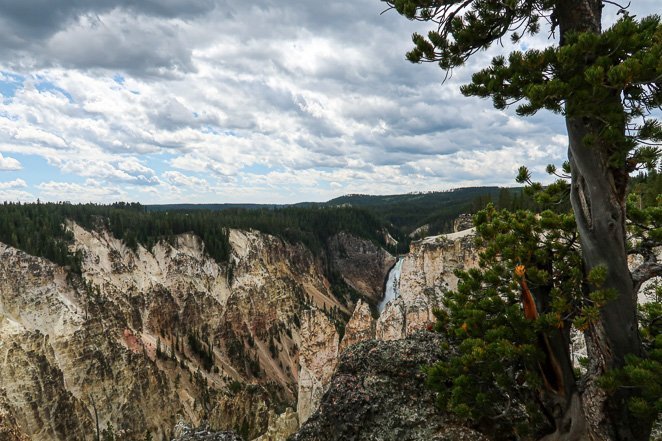 We hiked The Brink Of The Lower Falls during our first visit to Yellowstone National Park. It was a steep and a bit strenuous 400-foot descent to the Brink of the Lower Falls Platform to see Lower Falls. But so worth it!
It's the tallest waterfall in Yellowstone at 308 feet. Aiming for that perfect Instagram photo? Pose in front of these falls and you're all set!
Mud Volcano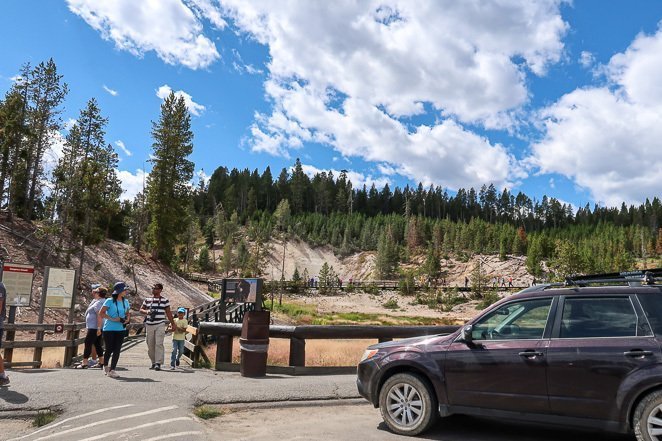 We stopped for a few pictures of this fascinating area of the park. It's located on the southeast side between Fishing Bridge and Canyon.
The smell was intense though, as it's extremely high in sulfur smelling like rotten eggs, but it was fun to see.
Hayden Valley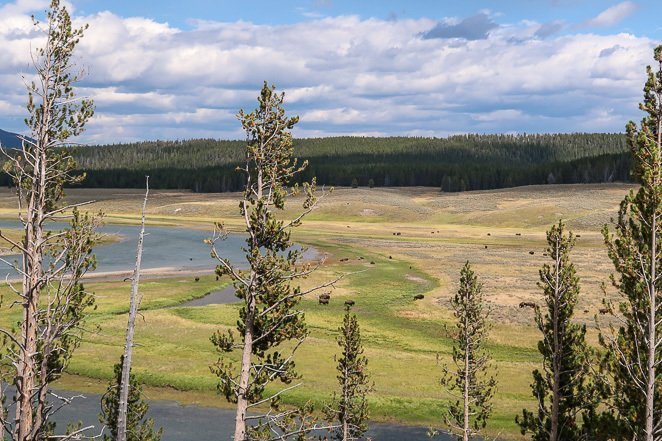 Located just north of the Mud Volcano area, this yellow and green valley is often home to hundreds of Buffalo! We stopped a few times to see the beautiful creatures in their natural habitat.
Old Faithful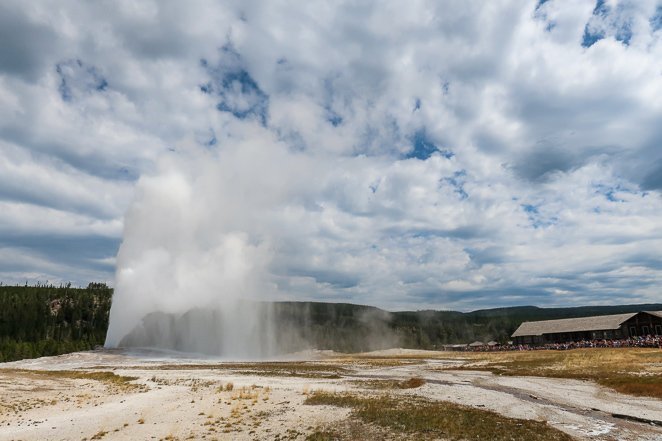 If you want to watch an eruption, this is the best area to visit. Even though it is not the largest or geyser in the park, it's the one that erupts most frequently and regularly. On average, it erupts every 90 minutes give or take 10 minutes on either side of that.
We visited and watched it erupt as we sat out in the sunshine enjoying a snack. Afterward, we hiked behind the geyser to Geyser Hill.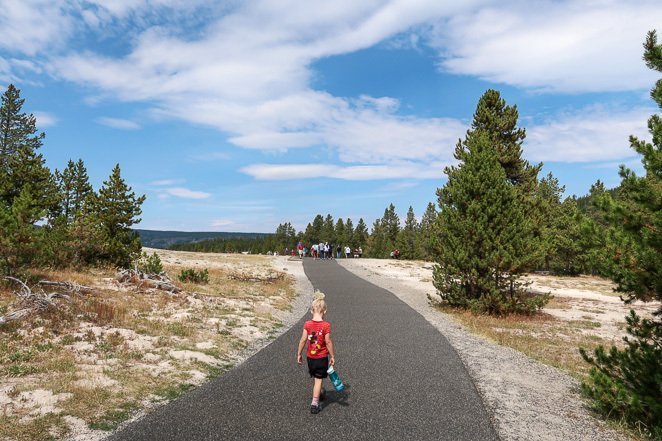 This was an easy trail on a boardwalk where you can see so many other hot springs and small active geysers such as Anemone Geyser, Heart Spring and Beehive Geyser.
Where To Stay Near Or In Yellowstone
One of the most important details when planning your Yellowstone vacation is finding how where you're going to stay. Yellowstone hotels, lodges, and campgrounds fill up fast, so book ahead of time if you can. You may even want to consider glamping in Yellowstone, a bit like camping but with a bed and some pre-set-up accommodations.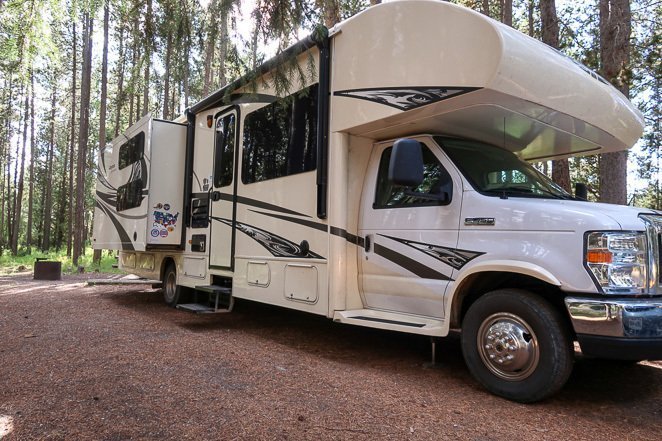 We stayed 3 miles North of West Yellowstone at the National Forest Campground called Baker Hole Campground. We found we were able to get a bit of cell signal to work, and we were only a 5-minute drive to the West Yellowstone Library and a few great coffee shops that allowed us to get some work done.
Click here if you want to learn more about RV internet.
If you don't need cell service, you can find many campgrounds inside the park. If you do, then the city of West Yellowstone will be your best bet.
There are lodges in Yellowstone National Park or hotels in West Yellowstone.
Keep reading to see our suggested accommodations in the park and the city of West Yellowstone.
Camping
There are both reservation and first-come-first serve campgrounds in Yellowstone National Park.
Sites for reservation are at Bridge Bay, Madison, Grant Village and Canyon campgrounds. Fishing Bridge campground is closed for the 2019 season but is expected to open for 2020.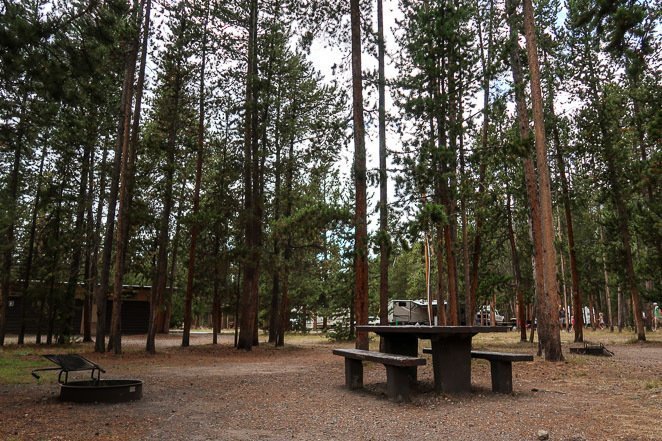 You can book these campsites through the Yellowstone National Park Lodges website, and be sure to do so 6 months in advance.
First-come, first-served campsites book early each day, so plan to arrive early. These sites can be found at: Slough Creek, Tower Fall, Pebble Creek, Lewis Lake, Indian Creek, Norris and Mammoth campgrounds.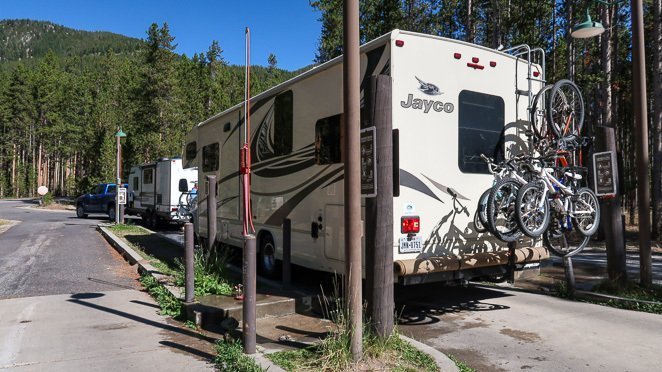 Check-in at these campgrounds between 7am-10am to find a spot.
Length of stay at all campgrounds is 14 days during the summer.
Look for the best Yellowstone campgrounds by browsing on their website!
Lodging in the National Park
Looking for some Yellowstone lodging? This is a National Park that has a lot of lodging options inside the park.
Nine hotel- and cabin-styled lodgings are offered with all being open from spring to fall but only two available during winter.
1. Canyon Lodge and Cabins
400+ guest rooms and 100+ cabin accommodations.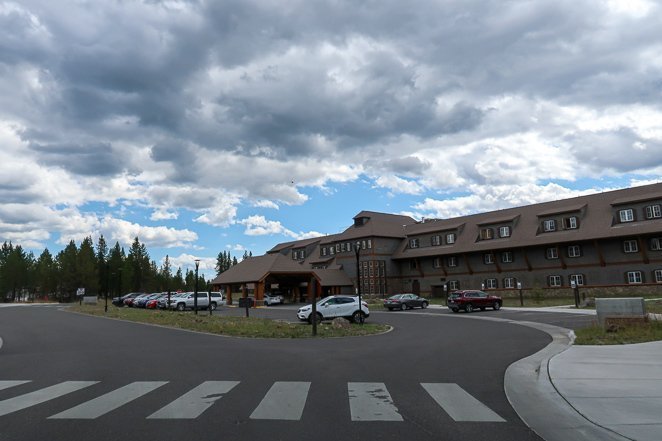 2. Grant Village Lodge
300 guest rooms.
3. Lake Hotel and Cabins
Hotel room-style and cabin accommodations.
4. Lake Lodge Cabins
186 cabin accommodations.
5. Mammoth Hot Springs Hotel and Cabins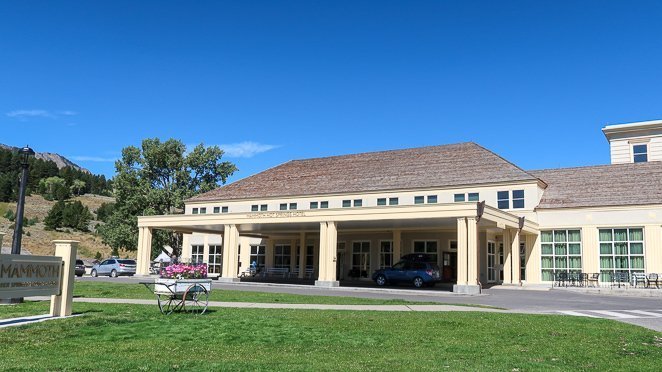 Hotel room-style and cabin accommodations.
6. Old Faithful Inn
Hotel-room-style accommodations.
7. Old Faithful Lodge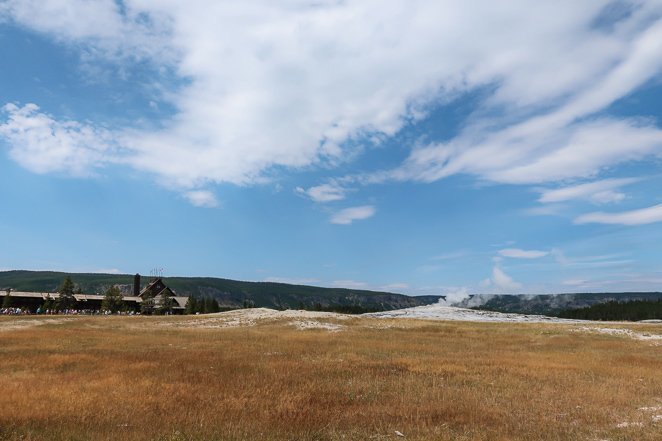 Cabin accommodations.
8. Old Faithful Snow Lodge
Hotel room-style and cabin accommodations.
9. Roosevelt Lodge
Cabin accommodations.
Lodging in West Yellowstone
You can find many RV parks and hotels near Yellowstone in the city of West Yellowstone. They are just a few minutes from the West Yellowstone Entrance. Here, we listed three of the most accessible ones.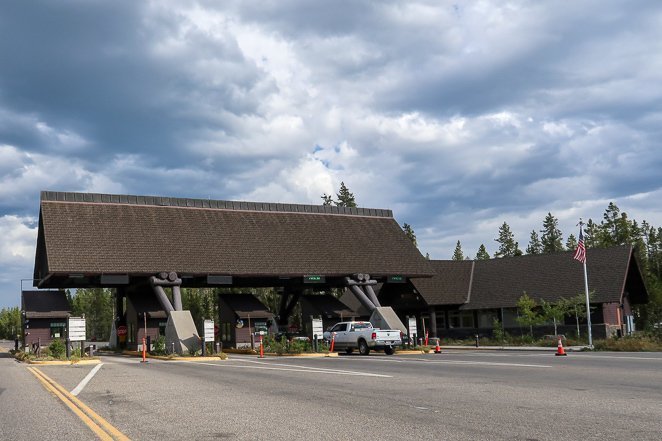 1. Days Inn
Famous for their in-resort services and accommodations, Days Inn is a good place to stay in if you have a family with you.
Every room has a mini fridge and a microwave which also helps for a thriftier visit!
2. Gray Wolf Inn and Suites
This affordable and accessible accommodation is just a few blocks away from Yellowstone National Park. It doesn't matter if you're traveling alone or with your whole family, Gray Wolf Inn and Suites has a spacious room for your needs!
3. Explorer Cabins
Close to the Yellowstone West Entrance, the Explorer Cabins are great for family and friends to stay in. Each cabin is furnished with decor and appliances you'll probably need.
And WiFi is available throughout the place, a huge plus for ​digital nomad families like us!
Click here to see the latest rates at other Hotels in West Yellowstone.
Things To Know Before You Go
Every national park is unique and it's better to know what you're getting yourself into by research. Here are some of the things to know before going to Yellowstone National Park.
1. Do Not Depend on Cell Signal In Yellowstone
The area is magnificent but we had some difficulties concerning cell signal.
I had some Verizon cell signal in the Old Faithful area where I could text and make phone calls but not enough to check Facebook or my email. I was, however, able to text Tony back in West Yellowstone. I was also able to do some texting at the Canyon Visitor Center, but again, not enough cell signal to do much online.
I'd recommend downloading any maps to your phone so that you can use them offline. We do that with Google Maps all the time.
Click here to check out our top 20 apps for road trips.
2. Carry Bear Spray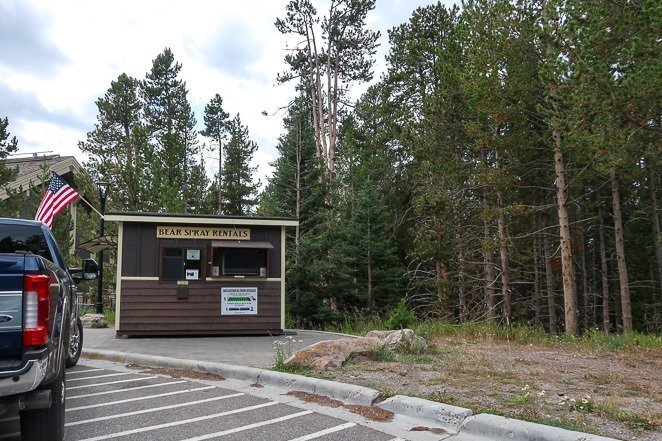 There are many bears in Yellowstone and the signs will remind you to be bear aware. It's highly recommended to carry bear spray at all times.
You can't, however, take bear spray on an airplane. So if you are flying then you can rent a can of bear spray from the Canyon kiosk, Madison campground, park gas stations or the Cooke City Visitor Center.
It will cost you $9.25 per day or $28 for 3-7 days. I believe to purchase a new can of bear spray it will cost about $50 at most stores.
3. You Will Drive A LOT!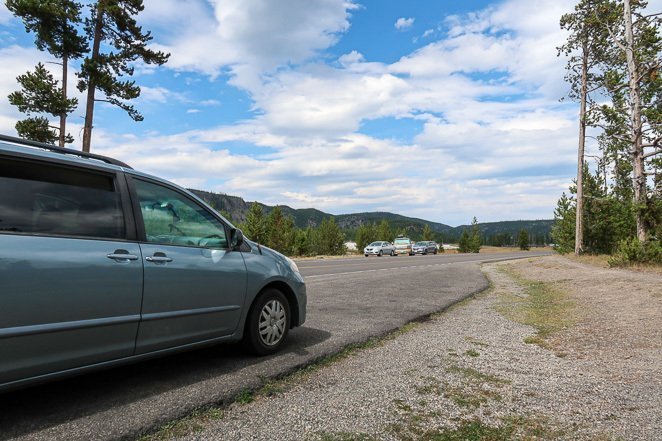 Yellowstone National Park is huge and takes hours to drive from one area to another, especially if there are bison on the road. Everyone slows down to see, take pictures and it will slow your travel time down. So be patient.
4. Watch Wildlife From A Distance
The park is very strict about this rule for your own safety. Keep yourself 100 yards or more away from any wolves or bears, and at least 25 yards away from bison and other wild animals.
5. Do Not Feed The Wildlife And Keep It Stored Away
There are bear boxes at every campground for campers to use day and night. If you are having a picnic, pack it all away right after you are done.
We learned at a ranger talk in Grand Teton National Park this year that bears are awake and exploring during the day, not at night. So we have to be extra careful in daylight as well.
6. When Is The Best Time to Visit Yellowstone National Park?
If you want to take on lots of Yellowstone activities, visit during the summer! They offer daily programs during this season and the weather is nice.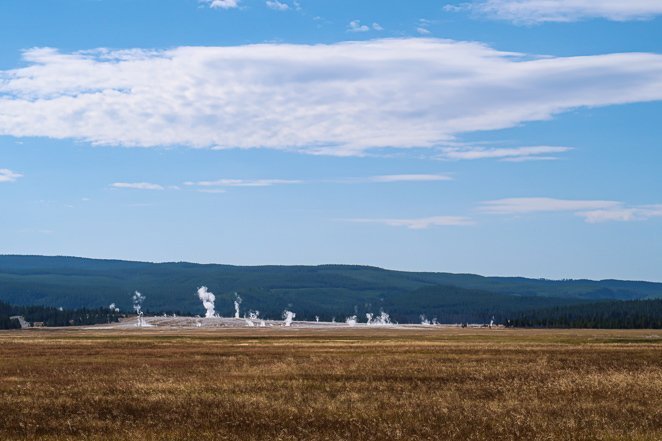 However, it can become very crowded and busy. As I mentioned earlier, parking can become a problem and traffic can become very slow in the park with how many cars are slowing down for pictures.
I'd recommend Spring or Fall as being the best time to visit. Yet, don't rule out Winter if you are happy to visit in the snow. We saw a beautiful photo of bison covered in snow at the Old Faithful Visitor Center. It would be such a sight to see!
Things to Bring To Yellowstone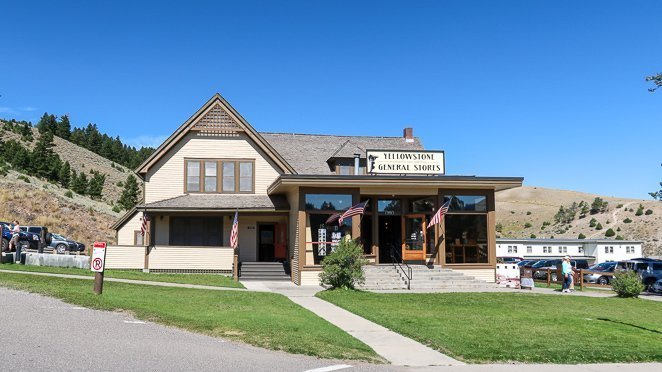 What you need to bring varies depending on what you plan to do and how long you plan to stay.
What activities are you planning to do? Are you flying or driving to Yellowstone?
Determine the supplies you need for how many days in Yellowstone you'll be visiting and if you will be camping or staying in a Yellowstone hotel, Yellowstone cabin, or a Yellowstone lodge.
Another great idea is to plan ahead and order a few National Park gifts online for the entire family to get them excited about the trip!
Now, keep in mind there are several General Stores throughout the park if you do forget something, they are just priced much higher.
We also have a full list of road trip essentials here to check out!
1. Binoculars
If you want clearer views of the landscape and the wildlife, binoculars would come in handy! We saw so many people with binoculars during our visits that I wish we had a pair ourselves.
2. Camera
Bring your best camera on your Yellowstone family vacation. Take some photographs as souvenirs for your Yellowstone trip and you'll be happy that you did. This is the camera we used for all of our Yellowstone photos that we share her on the blog and also on our Instagram account.
3. Hiking Clothes
This is the time to take our your best hiking clothes. It's a National Park and a great place to go on a few awesome hikes. It adds to the comfort and convenience of visiting Yellowstone.
4. Bear Spray
Just for precautionary measures, bring bear spray with you. You can also buy it at Yellowstone.
5. Camelbaks
We recommend that you bring camelbaks for everyone in your party, especially if you're with kids. We bought a camelbak for each of our kids and they loved them! Some day hikes in Yellowstone do not have water access so it's better to have your own hydration packs.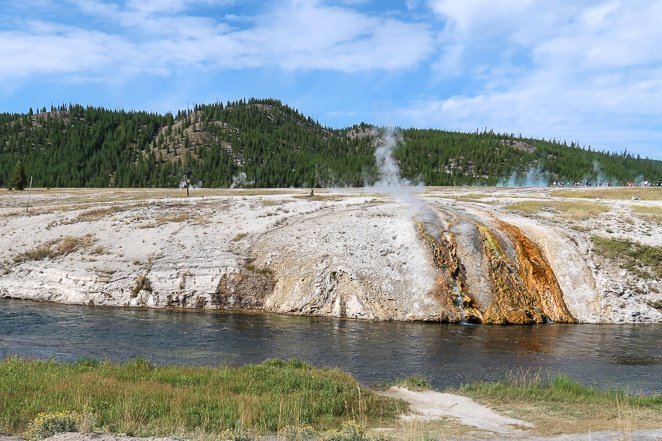 There are so many things to do in Yellowstone and often so little time. So make sure to check out our Yellowstone Itineraries above to help you plan a trip to Yellowstone in 3 days, 4 days, or 5 days. Heck, you could spend 2 weeks here and take it all in slower.
Do you think our Yellowstone National Park itinerary is missing something? Tell us in the comments below, we'd love to learn more about this amazing National Park.