The Miami to Key West drive is one of the most beautiful drives in all of Florida. You might be surprised by how long it can take as there are so many stops on a Key West road trip that you can make. That's what we're going to dive into soon.
First, keep in mind that your Miami to Key West Road trip will take you just 15 miles south of Miami and begin in Homestead, Florida. From there, you'll drive along the Overseas Highway for just over 100 miles where you'll reach Key West.
If you're looking for an opportunity to feel as if you're on some foreign tropical vacation, yet you want to stay right here in the USA, then going on a Key West drive might be a great vacation idea. And you can add it to your South Florida road trip vacation if you have other days to spend in this amazing state.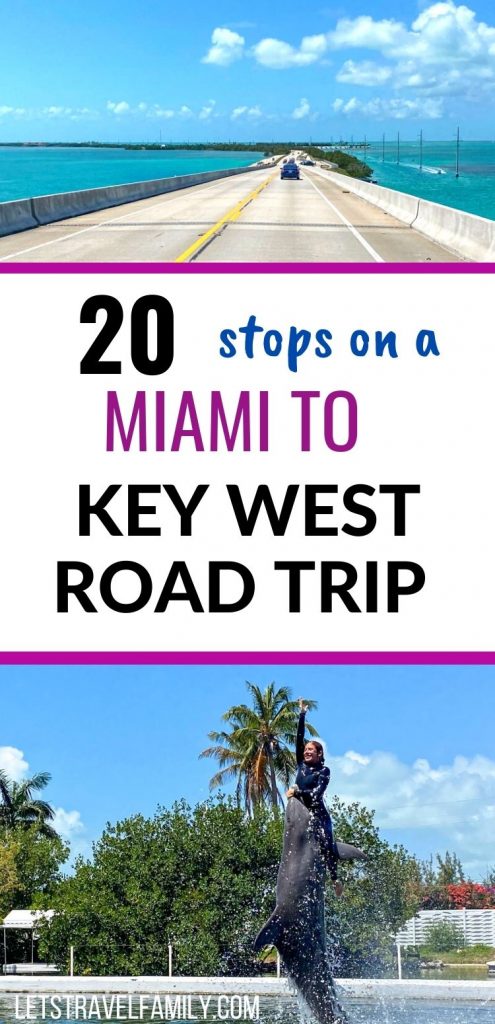 THIS ARTICLE MAY CONTAIN COMPENSATED LINKS. PLEASE READ OUR DISCLAIMER FOR MORE INFO.
Miami To Key West Drive
After several months of not traveling, our family took a 2-week spring break vacation back to Florida. In addition to visiting Venice Florida and finding fun things to do in Fort Lauderdale Florida, we also spent several days on a Florida Keys road trip, reminiscing from our previous visits to the Keys.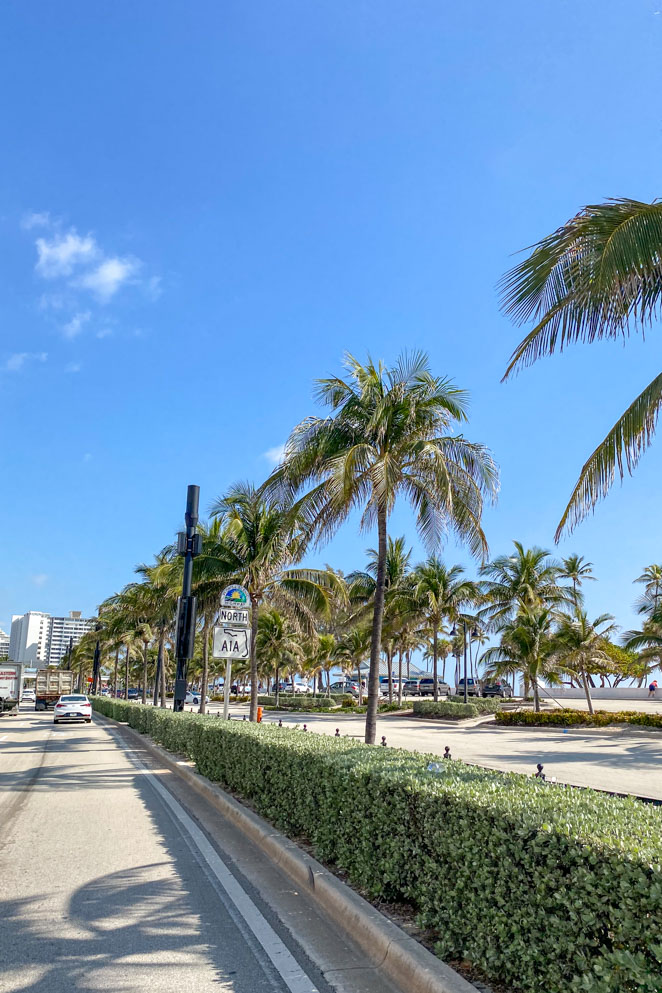 During our previous Florida Keys trips, we found some of the best things to do in the Florida Keys with kids. In addition, we also shared our favorite things to do in Key West with kids specifically. Lastly, we sought out the best Florida Keys beaches and gave our full review here.
In this article, I want to share with you a Florida Keys itinerary with some of the best stops on a Keys West road trip so that you can plan out your fun getaway before making your Key West drive map for your trip.
Keep reading to find some of the best stops along the way, and fun places to visit once you visit Key West, FL.
Florida Keys Road Trip Questions and Tips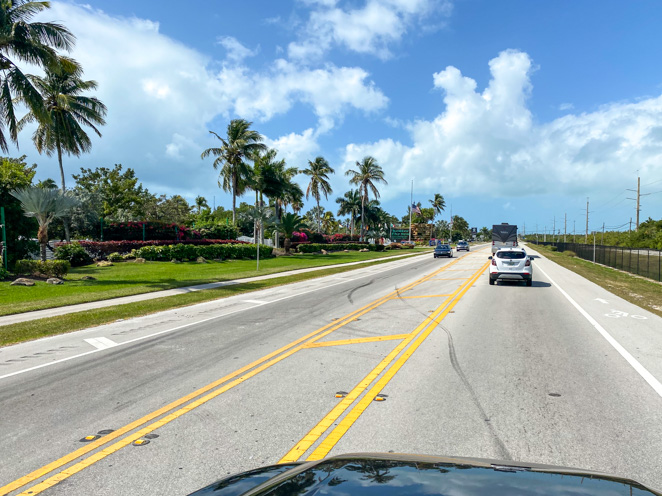 How long is the drive to Key West from Miami?
It's about a 4-hour drive without stopping and with little traffic. In most places, the road is a 2-lane highway with speed limits of around 45 miles per hour, so plan to enjoy the slow and leisure pace.
When is the best time to drive from Miami to Key West?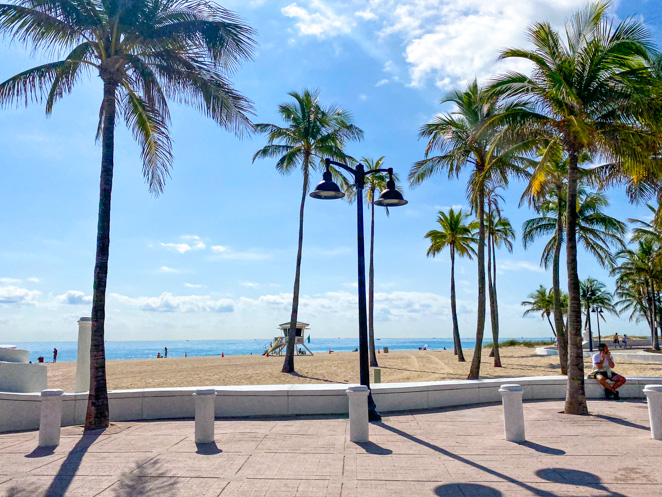 Between the months of December and June is the best Key West drive time if you're coming from Miami. With hurricane season in late Summer and early Fall, it might be best to plan your road trip in the months when you don't have to worry about it.
If you're looking for a vacation during the cold months in the North, then visiting between November and May might be your best option.
Can you plan out a Miami to Keys day trip?
Yes, if you plan to drive down in one day and stay in Key West, you can make it a day trip. Plan ahead and book accommodations online weeks or even months in advance though, as the hotels book up on the small islands and you don't want to arrive without a place to stay.
Where should I stay in Key West Florida?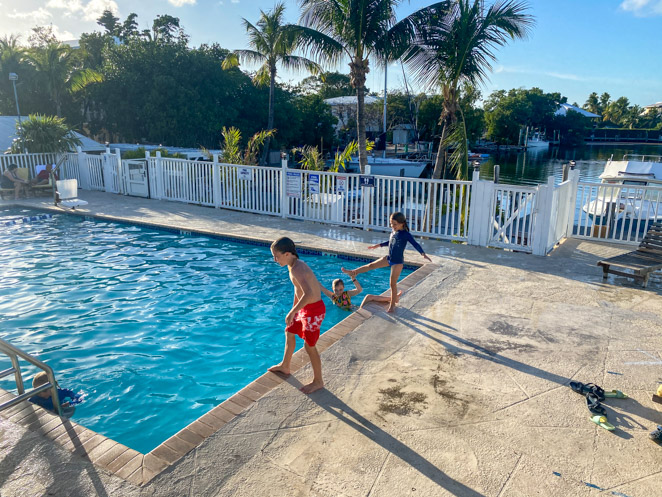 Search for highly rated hotels along your Key West road trip with booking.com. It's how we almost always find the best deals when we're booking a trip.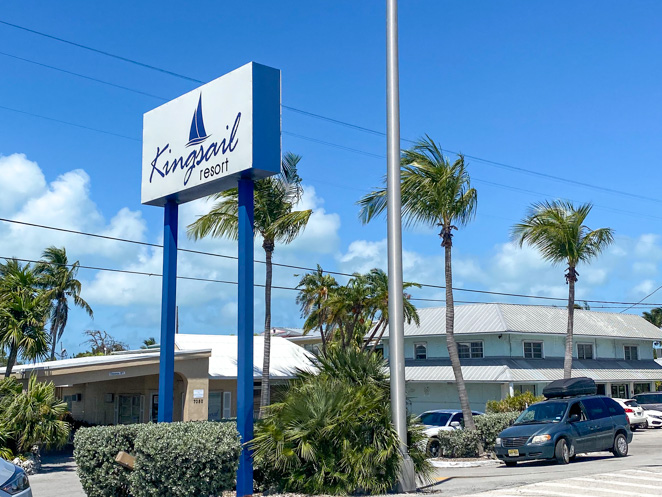 Our family recently stayed at Kingsail Resort in Marathon Key and booked it with Booking.com. I was so happy with our place, not only because it offered a pool on a marina where we looked for manatees, but also because it had an affordable two-room suite for our family of six.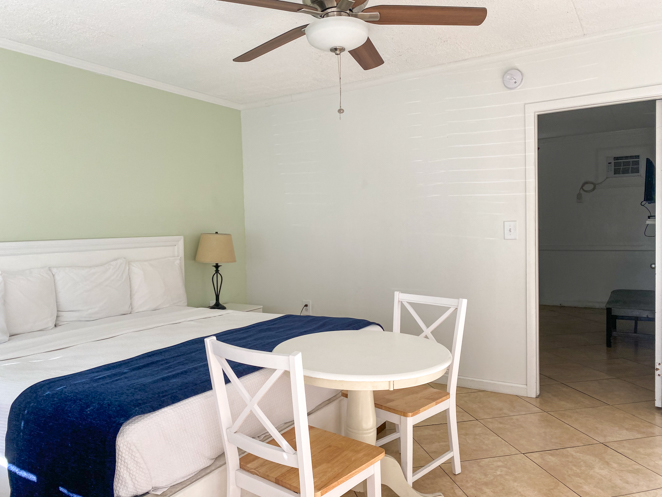 On the other hand, if you're searching for night life, the South Beach is on of the famous one out there.
What Should I bring on a Road trip?
From bottled water and snacks to things for everyone to do in the car, there can be many things you'll want to add to your list of car essentials. This list of the best road trip accessories should help you out!
20 Stops On A Key West Road Trip
Starting in Miami and heading South, your Key West road trip might best be experienced by staying a night or two along the route on Islamorada or Marathon. That way you can explore and visit some of the fun stops I'm about to share with you at a leisurely pace. Feel free to take notes of these stops to build your own Key West map or Key West drive itinerary.
Or, you could plan to make some stops on your return trip from Key West to Miami.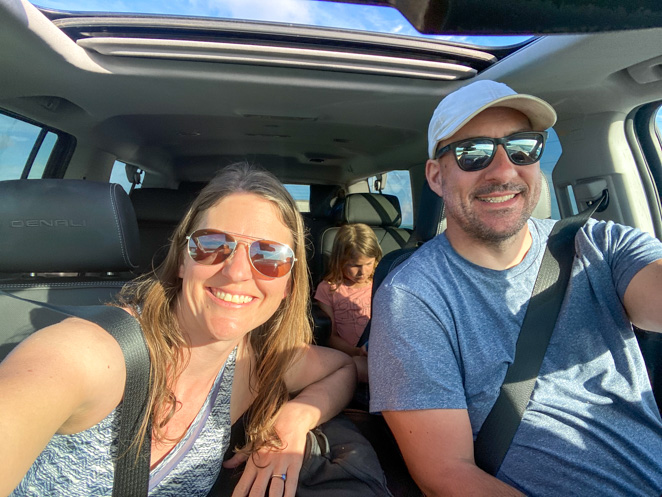 Pick and choose between these great stops and fun things to do in the Florida Keys. Make your trip be one day down and one day back, or plan an entire week vacationing in the Florida Keys and take it all in.
It really depends on what you're looking for.
Simply booking one night in Marathon Key and two nights in Key West might be enough for most people to see and experience most of what they want to experience.
Now, let's dive into some great stops to make on a Key West road trip. We'll start just outside of Miami and work our way South to Key West.
1. Robert Is Here – Florida City/Homestead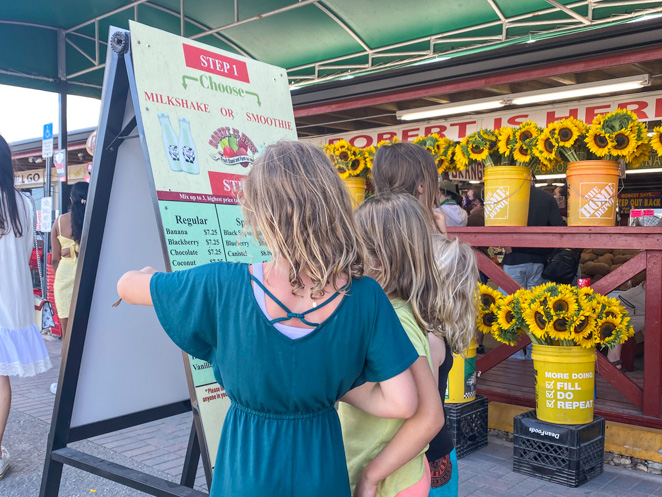 Grab a famous milkshake made with locally grown fresh fruit at the famous road trip stop, Robert Is Here.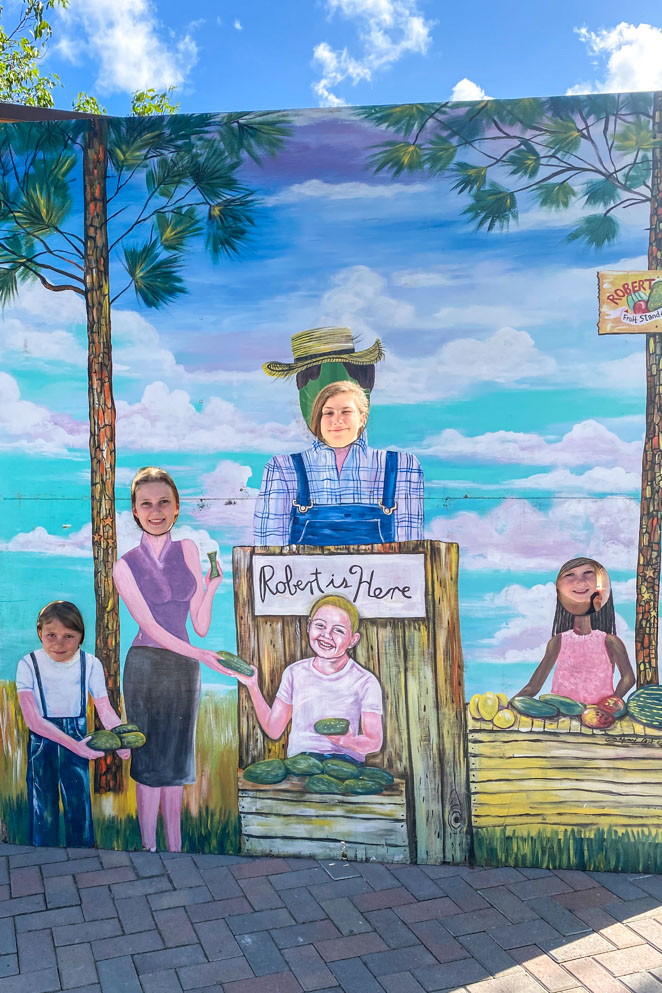 And while you wait for the milkshake to be made, you can visit the small petting zoo or get your photo taken behind their fun sign.
2. John Pennekamp State Park – Key Largo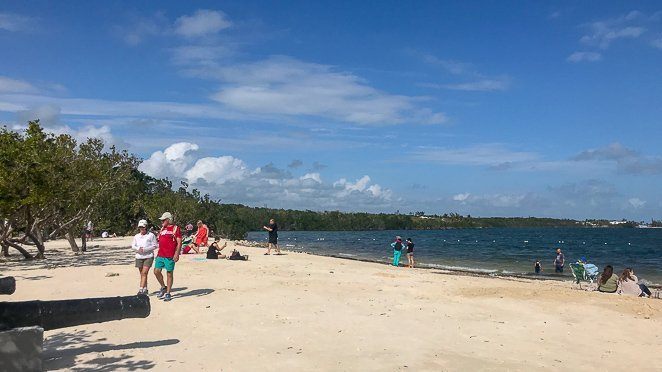 Enjoy a day of swimming, take a hike, go on a glass bottom boat tour, or rent a paddle board or kayak to explore the mangrove trees in this beautiful state park. Bring a picnic lunch and spend the day doing it all if you have the time.
3. Conch House For Fresh Lobster – Key Largo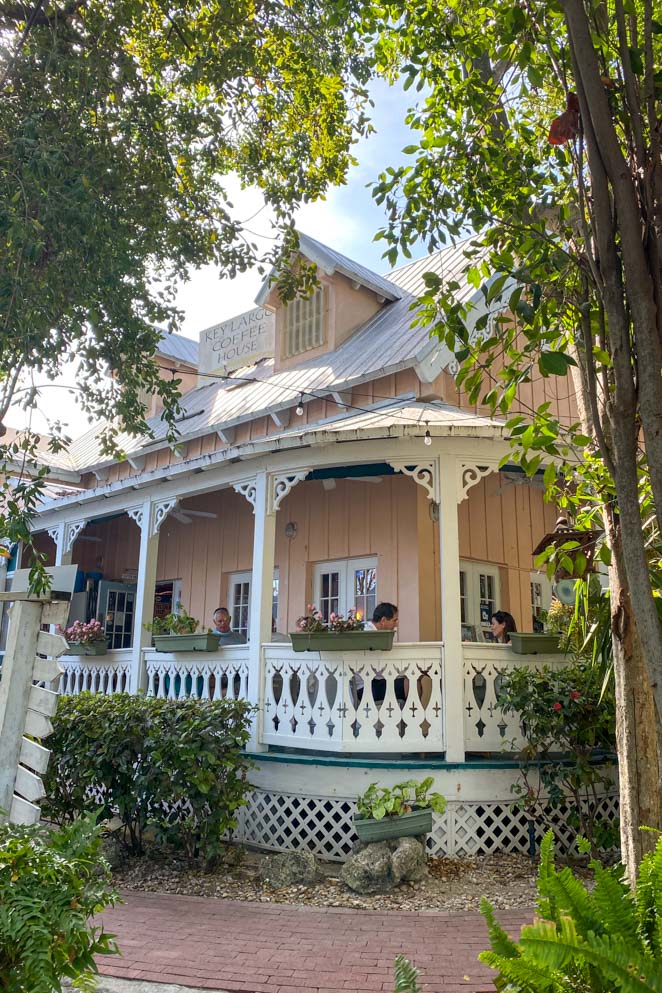 The Conch House is a locally-owned restaurant serving some delicious eats. I loved their fresh lobster eggs benedict and Tony appreciated the strong espresso. It was also refreshing to eat outdoors under a large shaded awning.
4. Rain Barrel Sculpture Garden – Plantation Key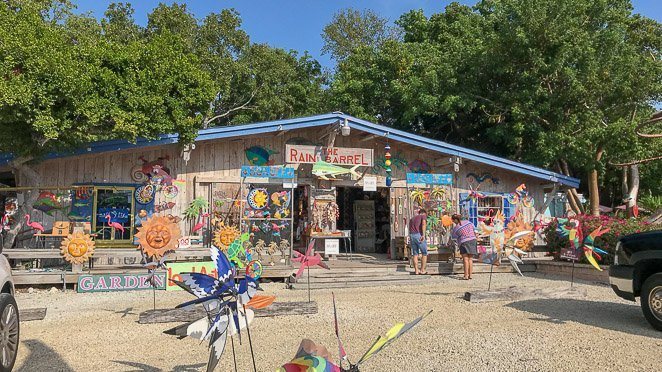 The Rain Barrel Sculpture Garden is a fun place to stop and shop for souvenirs. Honestly, if you're looking for a place to grab gifts for friends back home, you can't go wrong with stopping here.
5. Theatre Of The Sea – Islamorada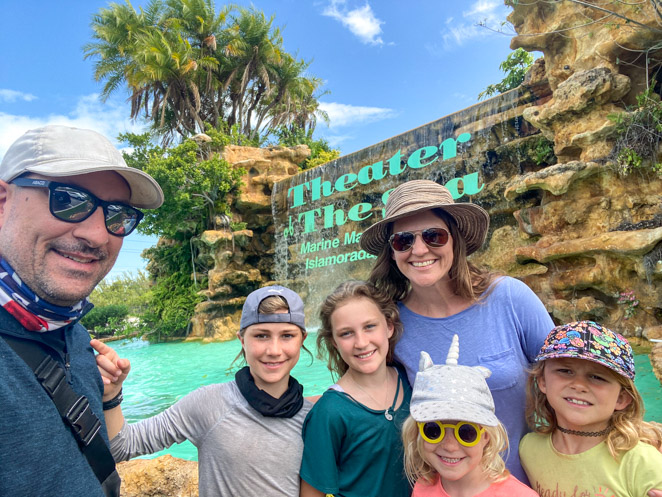 Watch the incredible dolphin show at Theatre Of The Sea where the dolphins are in the ocean playing with their trainer. I was laughing out loud as I saw the look on my daughter's face as she saw how talented the dolphins and their trainer were.
6. Bayside Gourmet For Fresh Pizza – Islamorada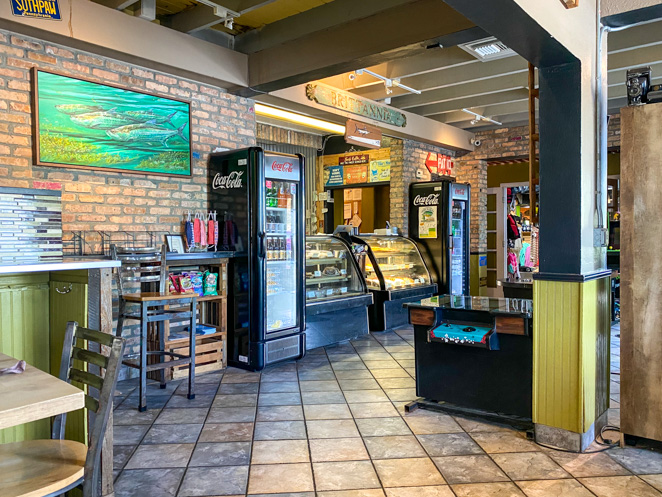 Grab a huge salad or a delicious pizza at Bayside Gourmet. It may be a small restaurant with only indoor seating, but you're sure to find a spot to sit if you arrive a bit early.
7. Robbie's Feeding Of The Tarpons – Islamorada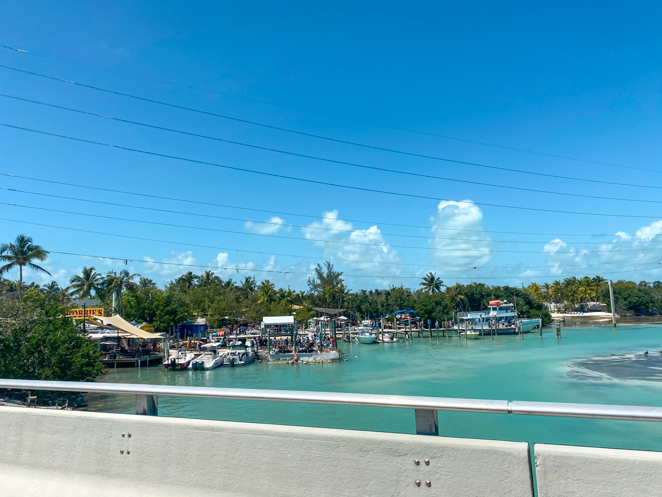 One of the most famous stops along the route to Key West is Robbies. It may sound strange, but at this stop you will find rows and rows of cars parked so that people can walk to the docks to help feed the very large fish called tarpons.
You pay a few dollars per person, buy a small bucket of fish, and walk out on the docks to throw the bait into the water to feed the fish. It's pretty incredible to see the large, dare I say ugly, creatures. Oh, and the pelicans are close by trying to get their fair share, too.
You'll also find a restaurant, kayak rentals, and several little shops near the docks.
8. Sombrero Beach – Marathon Key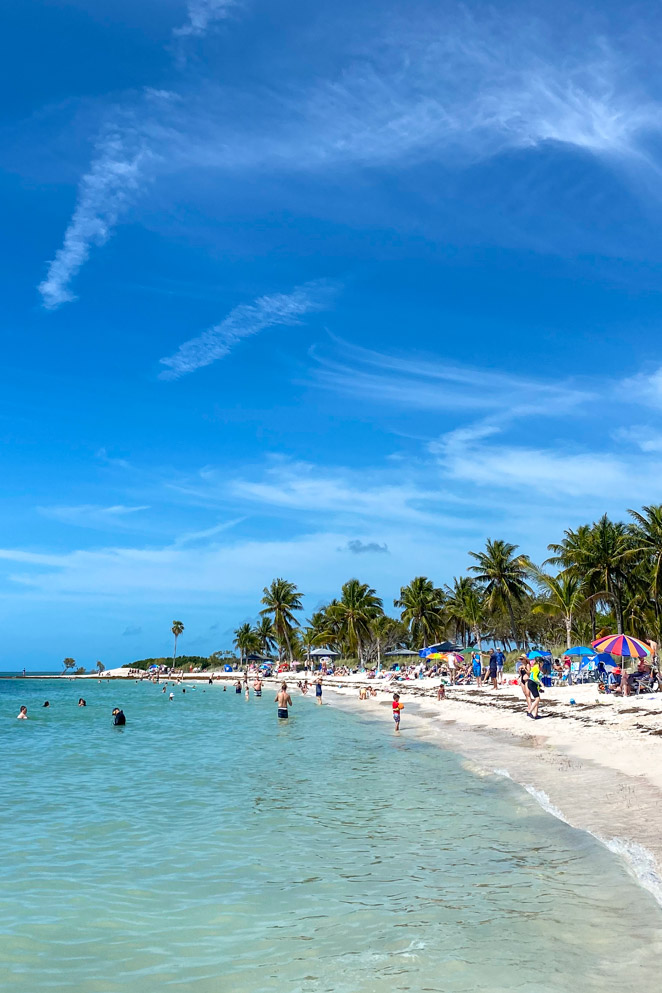 Spend a few hours at the best beach in the Florida Keys, Sombrero Beach. Okay, I may be biased, but this beach is one of my favorites.
The water is usually calm and clear, the sand is soft, the parking is free, and there are shaded picnic tables nearby. If you have kids along on your trip, then you'll appreciate the shaded playground and clean bathrooms at Sombrero Beach.
Read more about the best beaches in the Florida Keys here.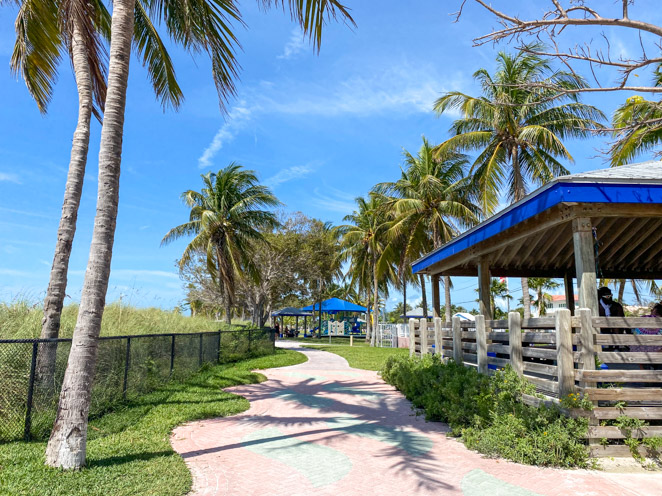 Just be sure to arrive early in the day if you're visiting around Spring Break time. Otherwise, you may not find parking.
9. The Turtle Hospital – Marathon Key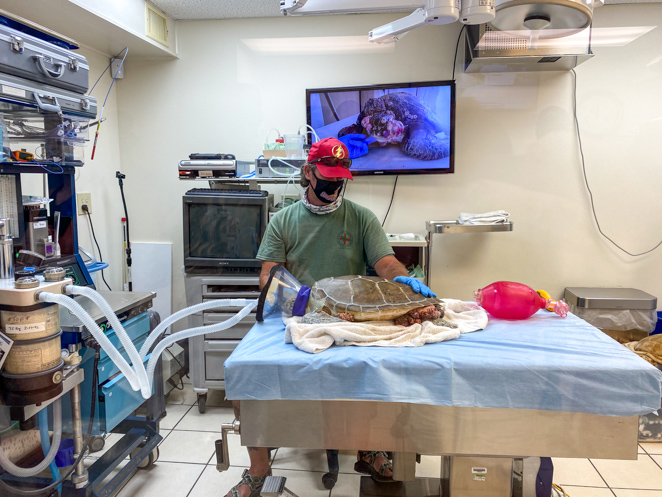 Take a tour of the largest Turtle Hospital in Florida. Book a tour online a few days ahead of time, and get a chance to learn how a sea turtle hospital works. Meet up to 100 sea turtles and leave knowing that the fee paid goes to help those sweet animals.
10. Sunset Grill – Marathon Key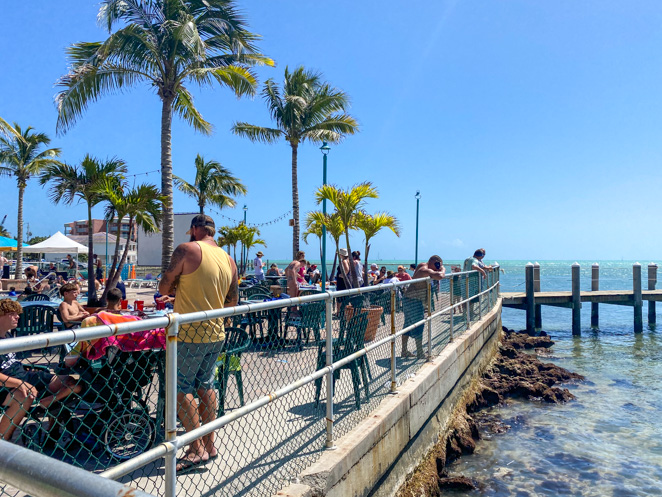 Have you ever visited a restaurant with a family-friendly outdoor pool overlooking the ocean? Well, Sunset Grill is all that and more. With menu choices of big salads, burgers, onion rings, and a large sushi selection, you are sure to find something you'll like. When we were planning our third trip to the Keys, our kids asked that we made a visit to Sunset Grill a priority. So we did!
11. Seven Mile Bridge on The Overseas Highway – Marathon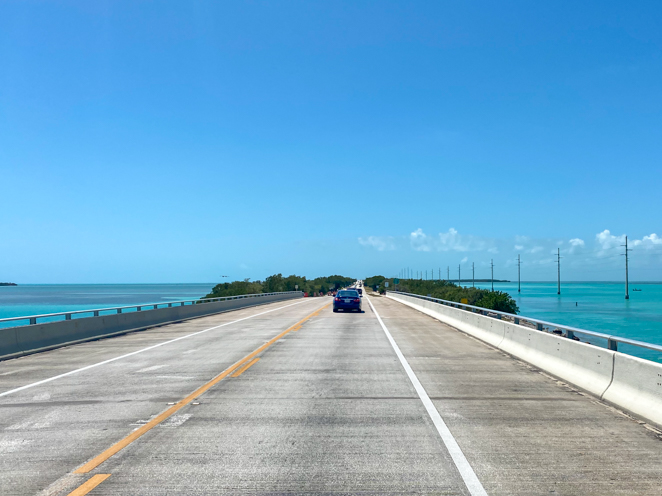 Driving over the famous 7-mile bridge is the only way to make it all the way to Key West. Yet, it's worth noting and planning a quick photo opportunity, as it's a very long bridge with some beautiful views. Especially if you're driving during dawn or dusk. It will take you from Marathon Key over to Bahia Honda State Park.
12. Bahia Honda State Park – Beautiful Beaches and Views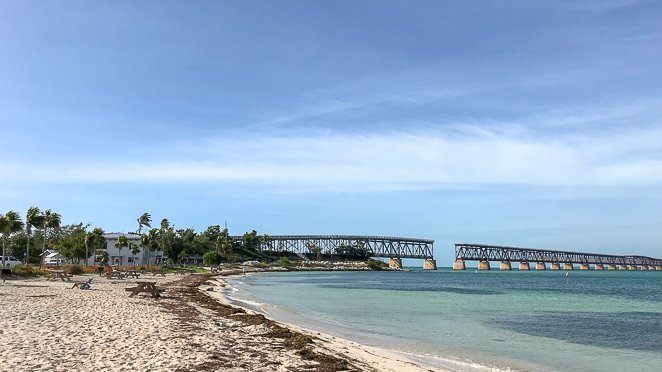 If you visit any Florida State Park in Florida Keys, make it this one. Bahia Honda has two different beaches on either side of the island, and a marina where you might see some sailboats. The water is clear here and you can rent snorkeling gear from the park office and catch a quick swim near the old Bahia Honda Rail Bridge.
13. National Key Deer Refuge – Big Pine Key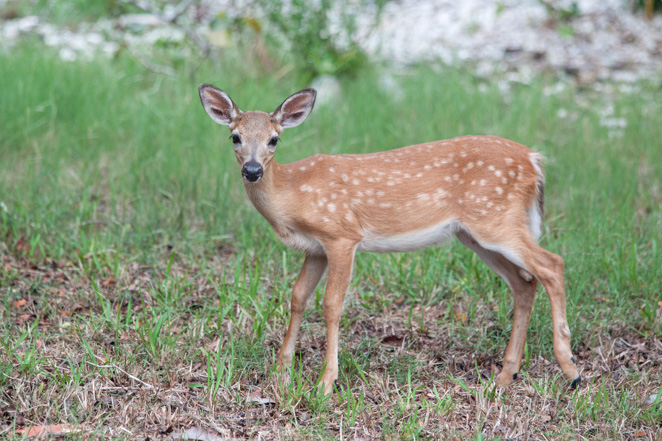 Visit the National Deer Refuge on your way to Key West. The endangered Key deer are only found in the lower Florida Keys. They are tiny, and beautiful to see in person if you're able to make a stop at the National Wildlife Refuge in Florida. Just be careful if you are driving on Big Pine Key at night, you don't want to crash into one of these endangered creatures.
14. Higgs Beach – Key West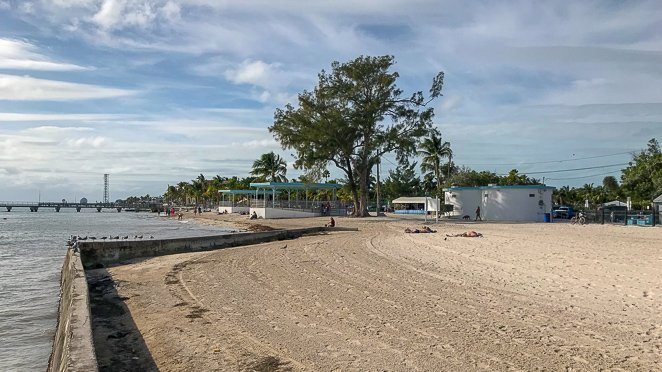 Enjoy some beach time as soon as you arrive on the island of Key West! Higgs Beach is located on the South side of Key West, just beyond the small airport. You'll find paddleboard rentals, free parking, and some picnic tables where you can eat a quick meal if you packed one for the ride.
15. Southernmost Point – Key West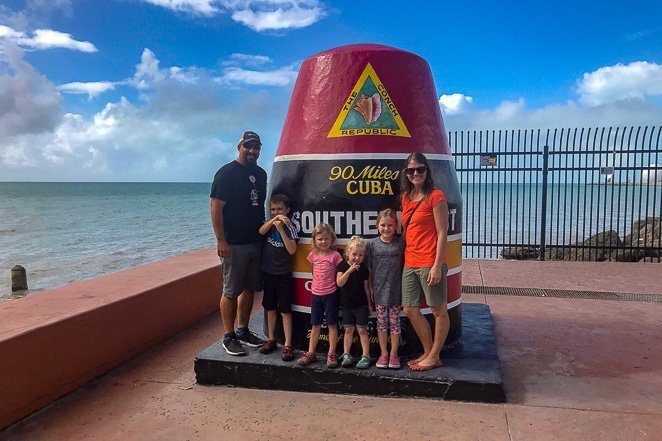 Grab a selfie at the Southernmost point in the USA on Key West. Find some street parking and wait your turn, as there's often many people waiting to take their photo at this famous spot. You might even see a few Key West roosters walking the street as you wait.
Click here to read about 35 fun things to do in Key West with kids.
16. Grab Food On Duval Street – Key West
This popular and busy street in Key West offers many shops and restaurants to check out. This is a great place to people-watch while grabbing some food at Sloppy Joes, a famous restaurant in Key West.
17. Key West Sunset Sail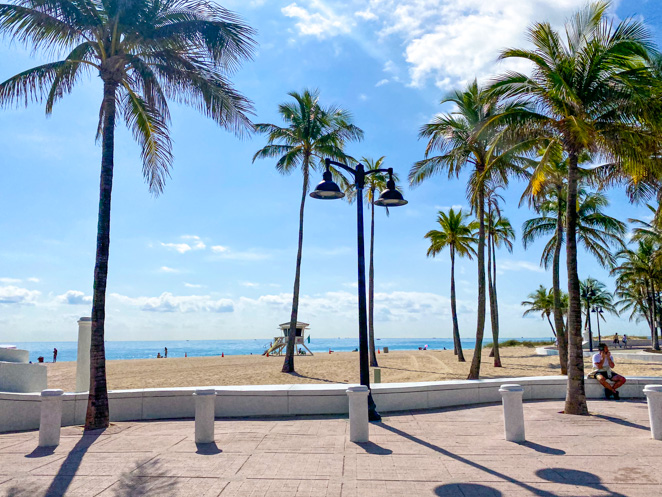 During your first night on Key West, treat yourself to a 2-hour sunset sail. What's a better way to see the island than from the ocean.
18. Key West Old Town Trolly – Key West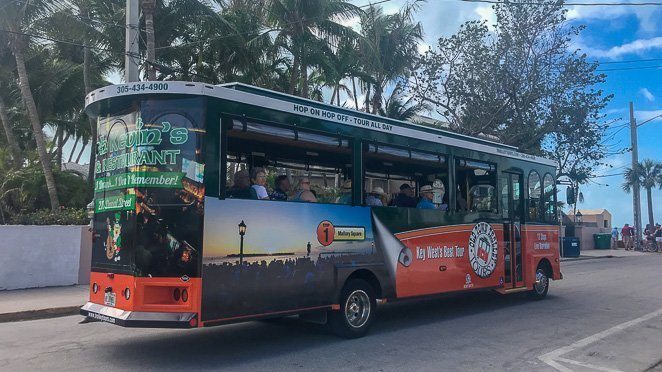 Spend the next day taking a tour of Key West with the Old Town Trolly. With 12 stops where you can hop-on-hop-off, you can park in one area of the island and tour the rest by trolley. Spend less and enjoy more!
19. Kermits's Key Lime Pie Shoppe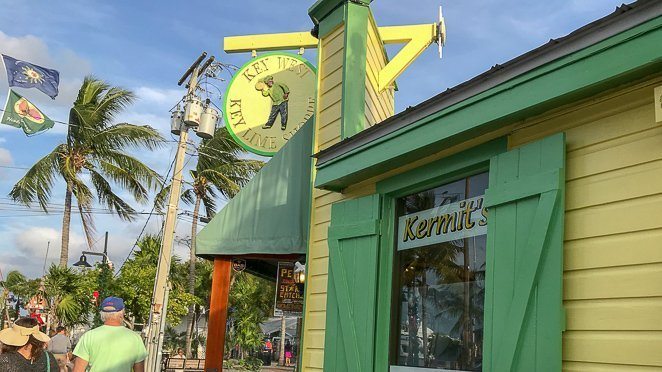 Grab a famous slice of Key West's Key Lime Pie at Kermit's Key Lime Pie Shoppe. The original recipe for key lime pie comes from the Florida Keys. It was said that fishermen who didn't have many ingredients and English sailors who needed to fight off scurvy would key the small key limes from the Keys. You'll see that Key Lime Pie is a must-have treat while you're visiting.
20. Mallory Square For Sunset and Street Performers – Key West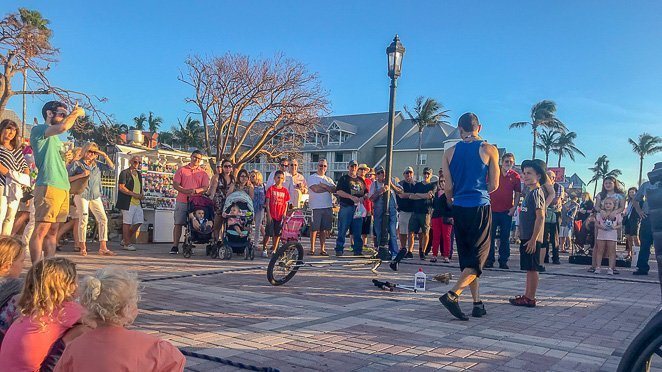 Finish your second day in Key West where many things fun come together at Mallory Square. Arrive about an hour before sunset to see the street performers, grab some street vendor drinks, and you may even have a cruise ship in port to see. There are many shops and restaurants around Mallory Square to choose from as well.
Key West To Miami – Return Trip Bonus Stops
On your way back to Miami from Key West, you could always try to visit some of the places listed above that you missed on the way down. Or, consider a few of these bonus ideas for your Florida road trip.
Take A Quick Trip Out to Dry Tortugas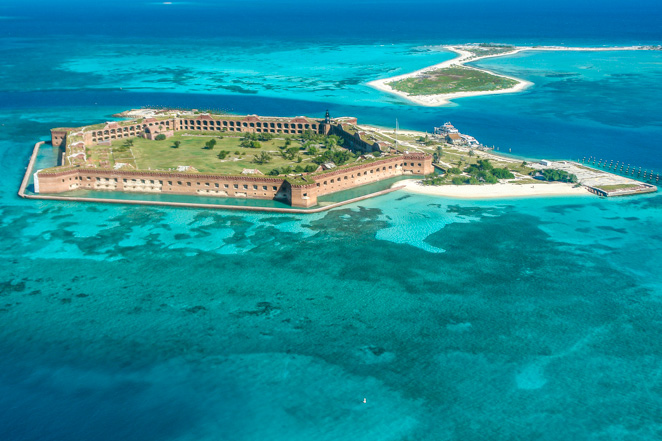 If you have some extra time to spare during your Florida Keys road trip, then park your car and take a boat out to visit Dry Tortugas National Park. This 100-square mile spark is mostly open water with Seven Mile Islands located about 70 miles west of Key West, Florida. It's the home of Fort Jefferson and some of the most beautiful snorkeling and diving areas around Florida. Click here to learn more.
Visit The Dolphin Research Center – Marathon
Stop by the Dolphin Research Center in Marathon to see an unscripted show put on by this nonprofit research center.
Programs and course offerings are available for kids, teens, and adults. Aside from the educational stuff, they've also got some fun & games for visitors. Check out more of their activities here.
Visit Everglades National Park – South Florida
Plan to add a quick detour either from Miami or from Key West to make a stop at Shark Valley in Everglades National Park.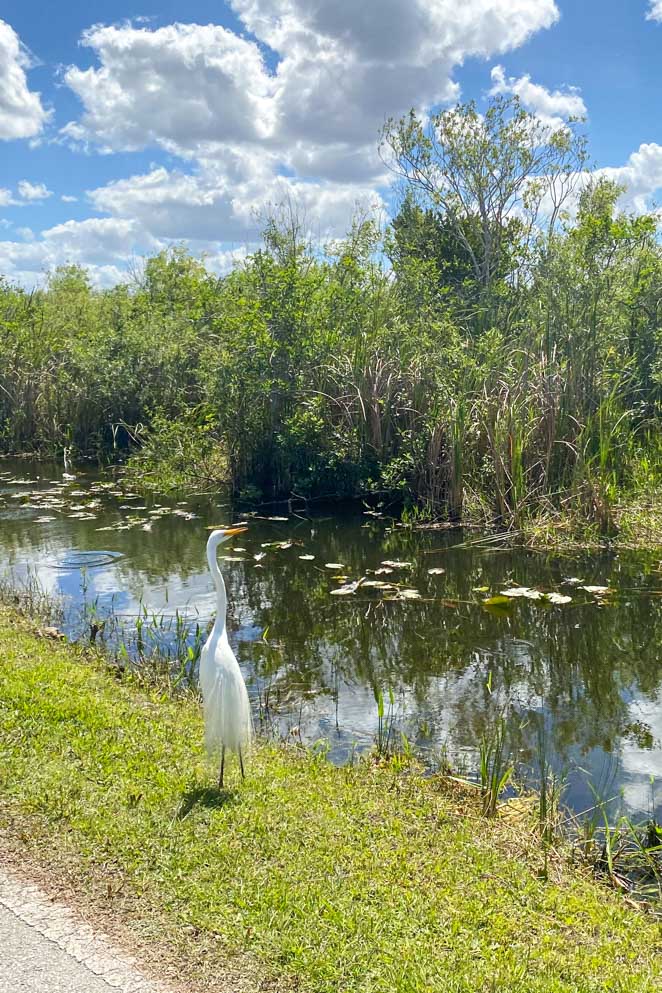 Visit The History Of Diving Museum – Islamorada
If you have some interest in scuba diving, this is a fun museum to check out. With some very unique dive helmets and scuba gear, this unique museum might be worth a visit.
Alternative To Driving To Key West – Take A Ferry Or Bus
For the complete vacation feel, and if you have the means to splurge a bit, consider buying tickets on the Key West Ferry.
There are two possible routes, Key West to Ft. Myers Beach and Key West to Marco Island. You can book your tickets here.
Or, if you're leaving from Miami and you don't want to drive, you can take a Bus tour from Downtown Miami to Key West.
---
A road trip is great for some much-needed relaxation. A road trip from Key West to Miami is even better!
It's amazing how you can visit all these places we listed with just one road trip. I have to say that it's the best route if you want a family road trip for a day or two.
Have you driven a Key West to Miami road trip before? What was your favorite stop? Tell us below!