Finding the best things to do in the Florida Keys with kids was not at all difficult during our family's three trips to the tropical destination. From kayaking and snorkeling to educational discovery tours and parasailing, there were so many family-friendly things to do in the Florida Keys. That's why we put together our ultimate list of 27 things to do in the Florida Keys with kids for you to check out and plan your family's trip to the Florida Keys.
In all honesty, our time in the Florida Keys was pretty magical. With amazing sunsets, fun and exciting experiences, and tropical weather (we're from Minnesota originally before we began to travel full-time as a family) we found some of the best things to do in Florida to be right here in the Keys.
You can consider a short visit to just one island such as Marathon or Key West, or you can plan a Key West road trip from Miami and add in several fun stops along the way.
THIS ARTICLE MAY CONTAIN COMPENSATED LINKS. PLEASE READ OUR DISCLAIMER FOR MORE INFO.
Read through these Florida Keys attractions and see what jumps out at you as you start planning a family vacation to the Florida Keys!
Looking for the best places to stay in the Florida Keys with kids? Check the prices of our top hotels in the FL Keys.
1. Go Kayaking In the Keys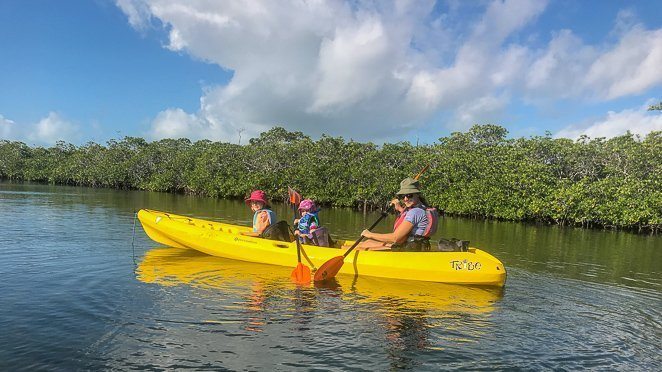 Kayaking is a fun activity to do with kids, especially in the Florida Keys. You can even bring a toddler or preschool-aged child along as the third rider in a double kayak.
We especially enjoyed the affordable kayak rentals at John Pennekamp State Park. Working our way through the Mangrove trees and calm waters was pretty exciting. Our kids talk about it all the time!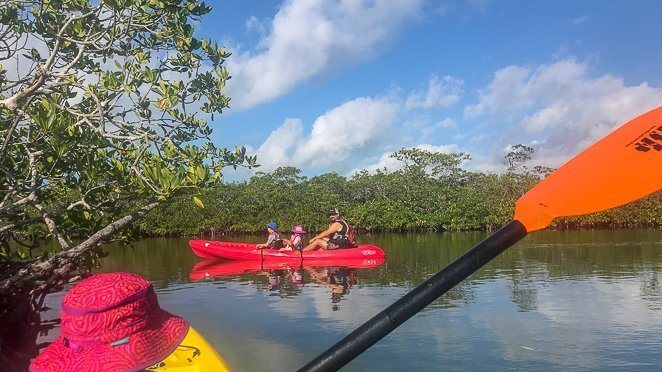 We found very affordable Key Largo kayak rental prices at John Pennekamp State Park.
You can rent by the hour or half day and they have all different sizes of life jackets to choose from. If you want calm waters and a fun family experience, then John Pennekamp is the place to go kayaking in the Keys.
2. Feed The Tarpons at Robbie's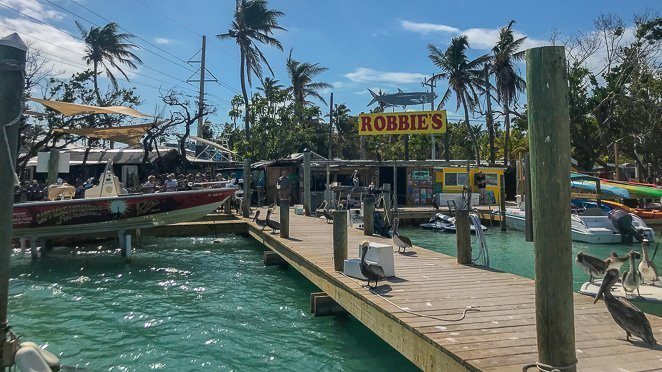 Robbie's Marina of Islamorada is a popular place to stop with the kids in the Florida Keys, located near mile marker 77. You can purchase a small pail of bait-fish to walk out on the docks and feed the very large wild fish, called Tarpons.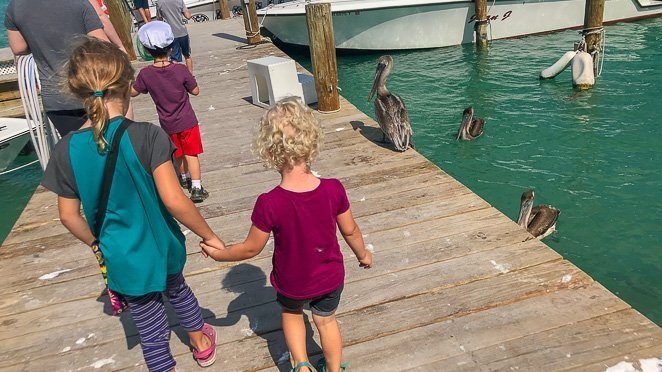 Not only will you get to see some cool Tarpons, but the dock is covered in beautiful pelicans looking for a hand out. You pay $2.25 per person to walk out on the dock, and $4 per bucket of fish to feed the tarpons. We ended up buying 2 buckets of fish and the kids thought it was pretty cool.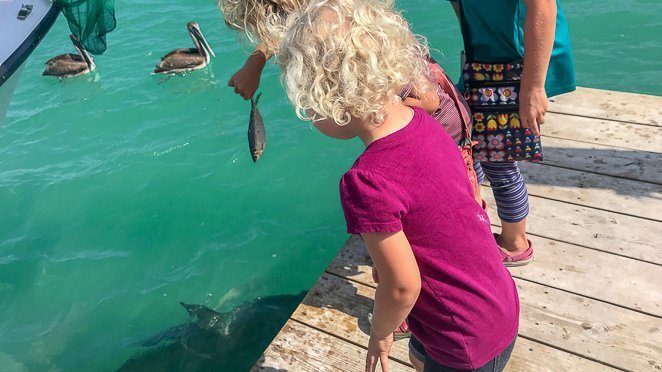 Be sure to give yourselves some time to admire the friendly pelicans too. Just don't feed them your tarpon food….and hold your little one's hand on the dock!
Click here to learn more about Robbies and add it to your list of things to do in the Keys with kids.
Discover the best things to do in the Florida Keys with your kids watching these stories!
3. Get A Glimpse Of The Manatees!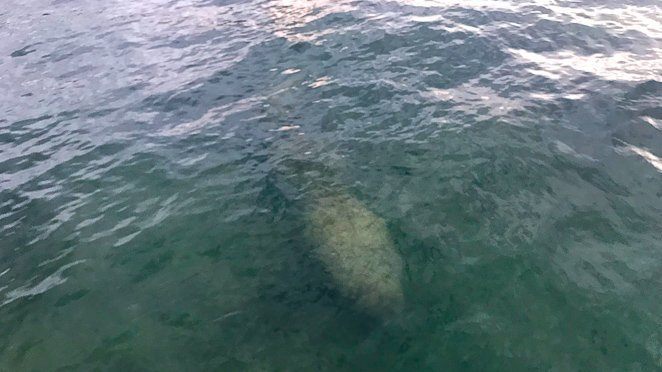 If you're lucky, you might have the chance to see manatees in the Florida Keys! We happened to see 2 manatees while watching the sunset in December at Sunset Grille in Marathon. What an amazing experience!
4. Visit Sunset Grille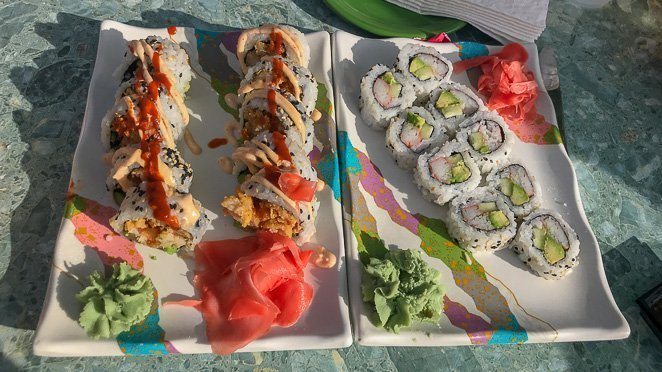 Sunset Grill is located on the Atlantic side in Marathon, on Knights Key, overlooking the 7-mile bridge. It's near mile marker 48. Sunset's is a very affordable restaurant with a wide range of options from great adult drinks and sushi, to french fries and chicken fingers for the kids.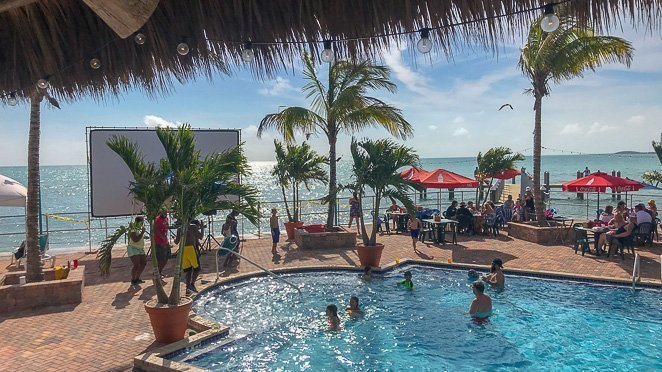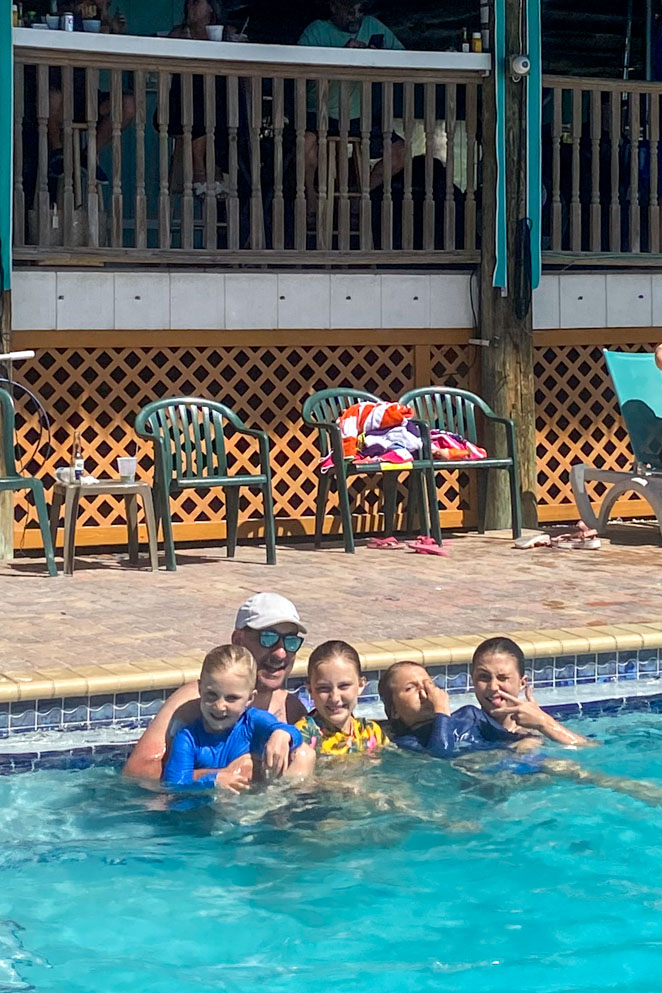 Oh, and did I mention there's an outdoor heated pool that adults and kids can jump in?!
Our kids LOVED this place, so we had to come back again during our second visit to the Florida Keys. It's one of the best Florida Keys for families restaurants! Be sure to arrive with your swimsuits, and even a life jacket for your little ones, so you can enjoy the sunset while they splash in the pool.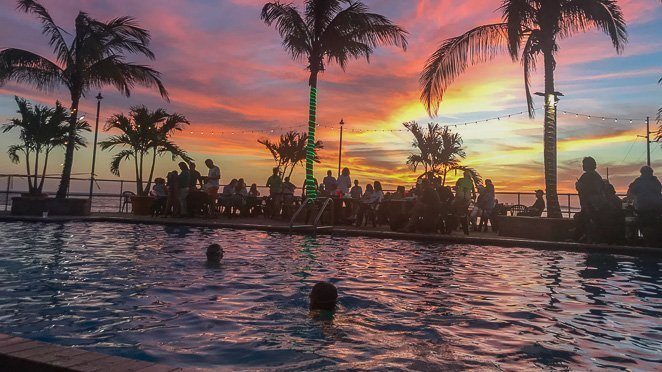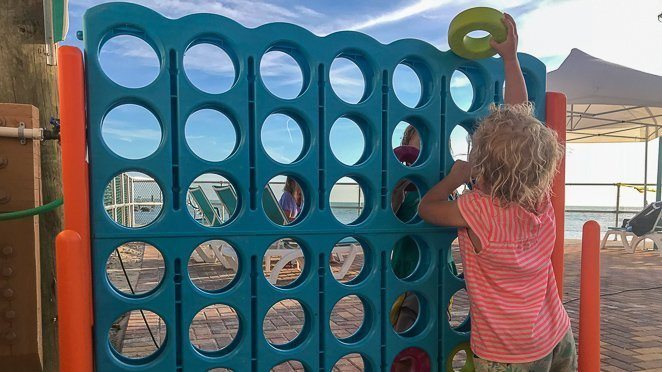 5. Take A Picture of The Seven Mile Bridge
Okay, I know, kids are not always excited about taking photos. Yet, some really enjoy being put behind a camera and capturing some of those amazing shots.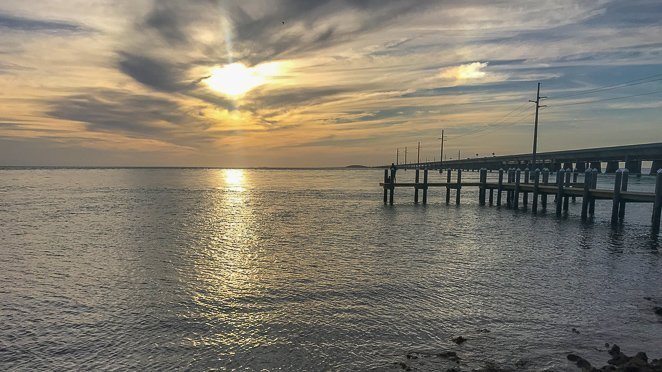 The seven mile bridge connects Knight's Key, part of the city of Marathon to Little Duck Key, just before Bahia Honda State Park.
Crossing the seven mile bridge while driving the Florida Keys feels as if you are entering a tropical paradise on a sunny day.
You can't take a family vacation to Florida Keys without crossing.
If you want to grab a great photo, park at Sunset Grille and grab a photo from the south side of the bridge.
6. Go Parasailing In The Florida Keys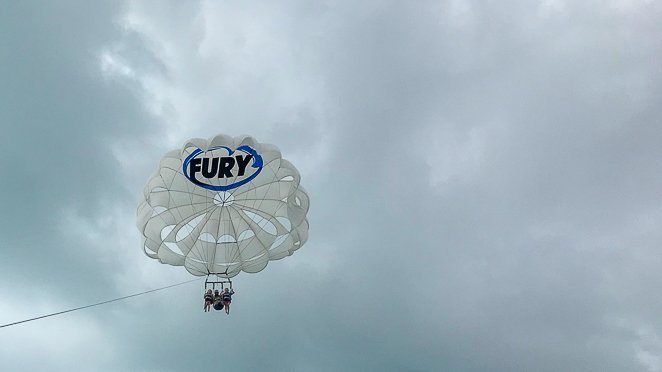 If your kiddos are 6 years or older, they can join you on the fun and peaceful experience of parasailing above the Florida Keys! One of the fun things to do in Florida Keys is to get out on the water, and do something exciting. During our full day on the Fury Ultimate Adventure excursion, we went up with our older kids, 300 feet above Key West!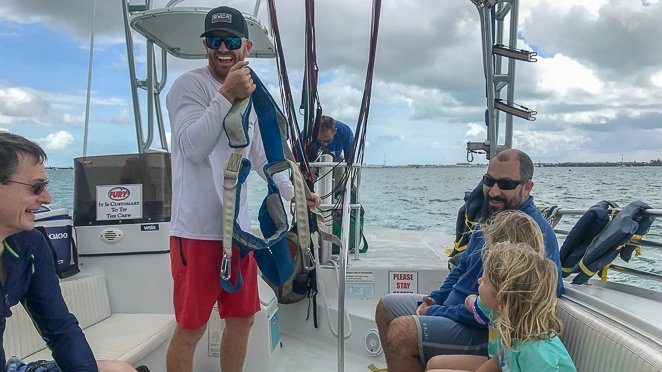 Tony took Lilya and Gwen up first, and then I took Riley up. Jasmine was our little camera lady in the boat and she was a champ about not being able to go up.
It felt almost peaceful and thrilling at the same time when we were up there. Our kids loved it and the guys with Fury were great with our kids!
A special thanks to Fury Key West for providing discounted tickets for our family's Fury Ultimate Experience in Key West.
7. Take Your Kids Jet Skiing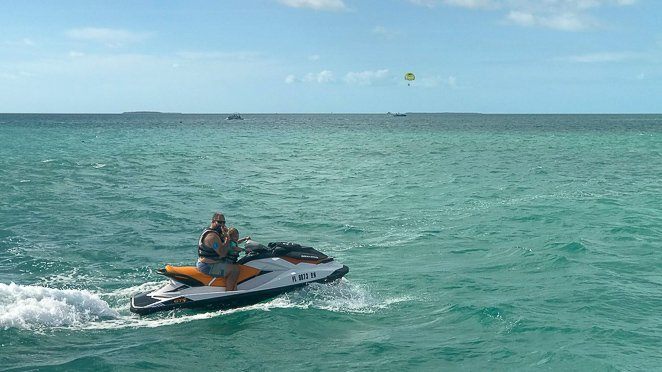 During our exciting day on the water with Fury in Key West, our kids will tell you that their favorite thing they did was go jet skiing with us.
Be prepared though, your children need to be 4 years or older and they WILL get splashed and wet. Our kids didn't mind at all! If you get a chance to go jet skiing in the Florida Keys with your kids, do it!
I highly recommend adding it to your ongoing list of Florida Keys things to do with kids, they love it.
8. Go Snorkeling In The Keys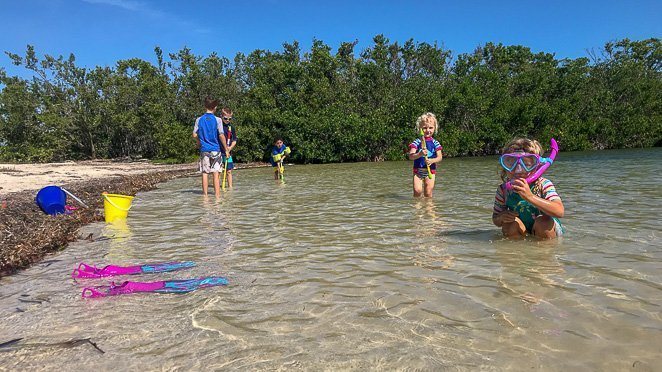 One of the best things to do in the Florida Keys is going snorkeling.
Florida Keys snorkeling is a very popular activity for any local or tourist. The Florida Reef, the only living coral barrier reef in the continental US, is located just off the Florida Keys. You can find great snorkeling all along the Florida Keys. From John Pennekamp State Park's snorkeling tours to tours in Key West. If you have young children, I suggest enjoying a day of snorkeling off the shore in Bahia Honda State Park.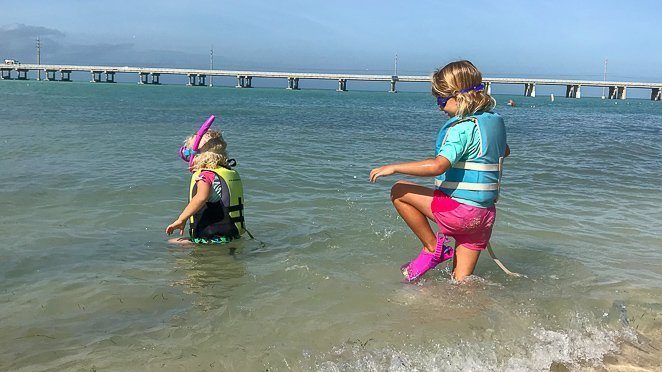 Older kids may really enjoy taking a snorkeling trip out to sea.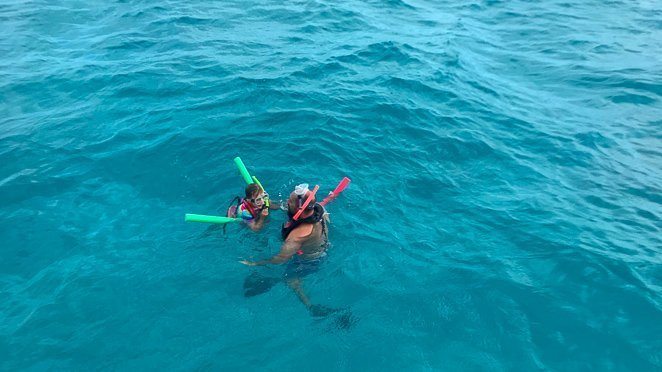 Our older two gave it a try when we went on our Fury Ultimate Adventure in Key West. At ages 8 and 9 they jumped in and swam for a minute or two, but the seas were a bit rough and they wanted to get back on the boat. Luckily, the crew was amazing and offered to watch the kiddos for a few minutes so that Tony and I could snorkel together. I'm so glad that we did!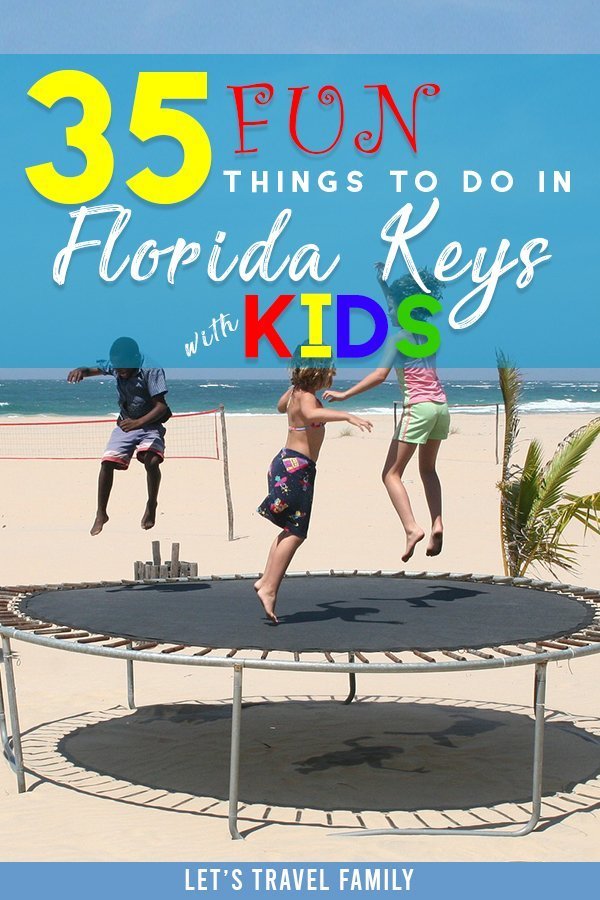 9. Watch The Sunset On The Beach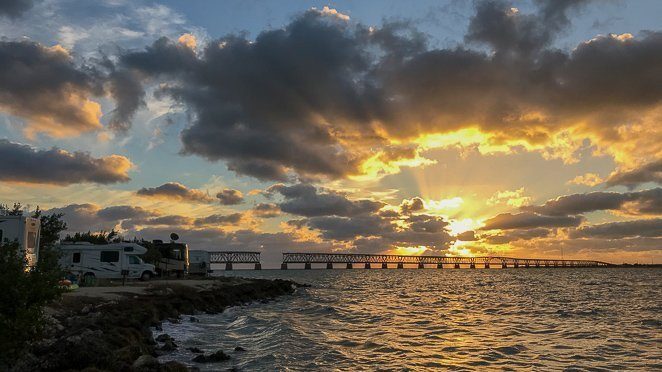 Finding a great beach to watch a beautiful sunset should be on your list of things to do in the Keys with your family. The kids can play in the sand while the adults grab a few photos of the amazing sunset.
Just be sure to bring bug spray as the no-see-ums come out at dusk if there isn't much of a breeze. Which beach do you want to grab a photo at? I'd recommend Bahia Honda State Park's beach. There are bathrooms, soft sand, and one of the most photographic spots in the Keys!
Click here to read our post all about the best beaches in the Florida Keys.
10. Visit Founder's Park in Islamorada
This hidden gem was a great find while we visited the Florida Keys. From a heated Olympic size pool and splash pad, to a beautiful sandy beach and playground, our family spent hours visiting Founder's Park. I would rate it one of the top things to do in Islamorada with kids.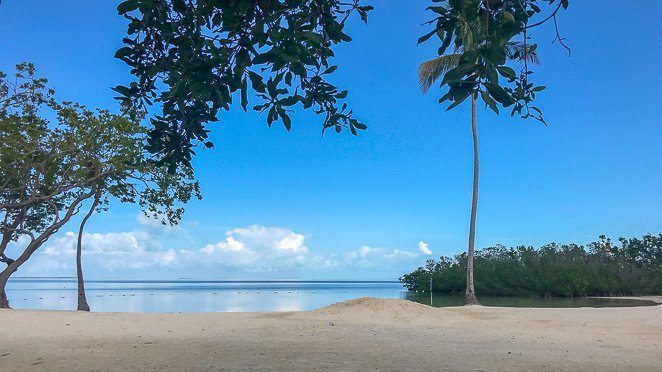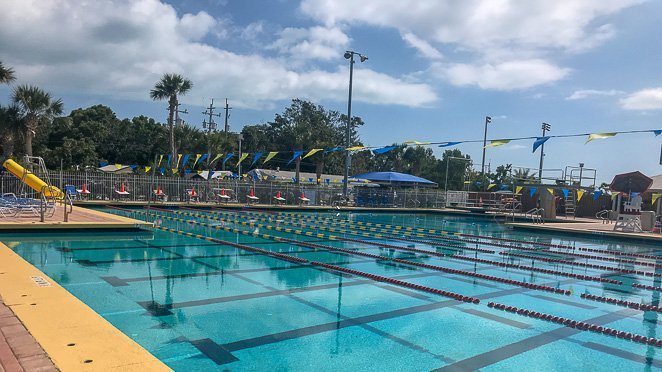 Be sure to bring cash, as that's the only form of payment they take at the entrance. It costs $8 per adult and $6 per child/senior to enter giving you access to the beach and playground. Then there's an additional fee of $3 per adult and $2 per child to use the heated Olympic-sized pool and splash pad.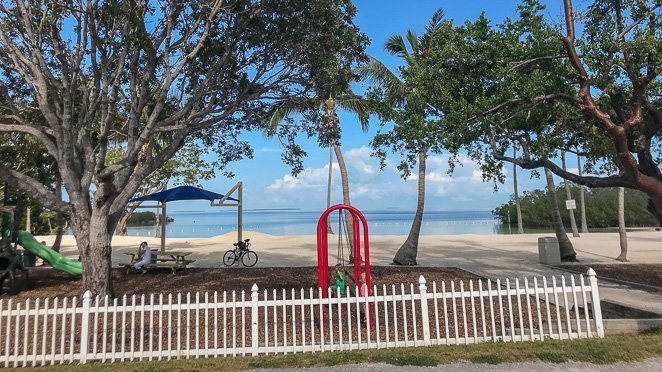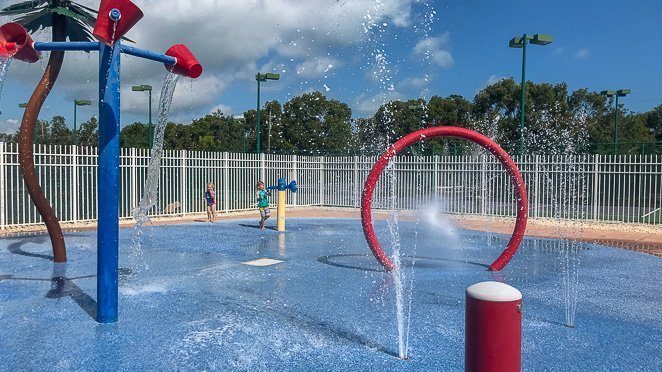 11. Go On A Glass Bottom Boat Tour in Key Largo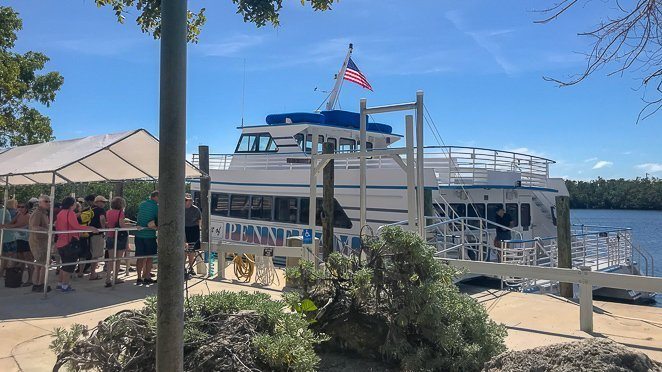 Another family friendly Florida Keys experience is to take a ride on a glass bottom boat while visiting the Keys! It's a great way to view the sea creatures without having to get into the water. This would be especially great if you have really little ones and don't plan to try snorkeling.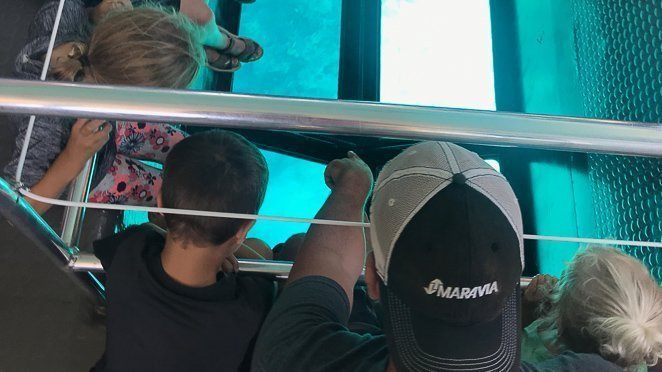 What is there to do in Key Largo with kids? Head over to John Pennekamp State Park and you can book your family excursion.
We enjoyed our time on the Glass Bottom boat at John Pennekamp in Key Largo. As a mom, I appreciated the onboard bathrooms and the option to bring a cooler bag with snacks.
Be warned though, if you go out on the boat on a windy day and are prone to motion sickness, bring seabands and do not plan to look down into the glass bottom of the boat. You can get pretty seasick.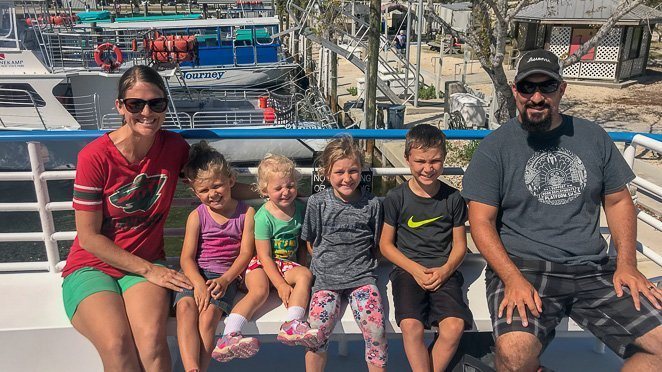 12. Go Camping In The Florida Keys
John Pennekamp State Park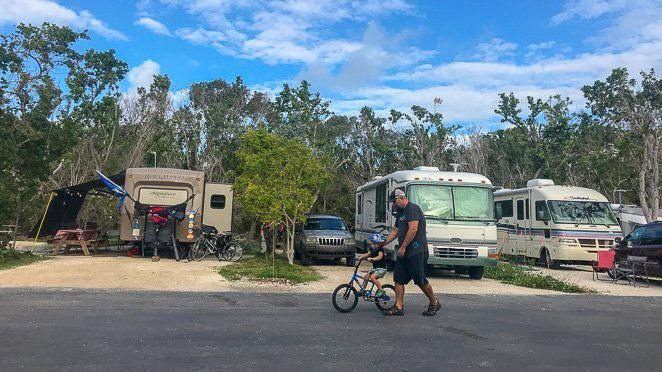 If you're trying to take your family to the Florida Keys on a budget, or full-time RV with kids like we do, then try camping at one of the many Florida Keys State Parks.
We really loved John Pennekamp State Park on Key Largo. It provided level campsites, full hook-ups, clean bathrooms, laundry, and access to so many fun activities. From the Glass Bottom Boat tour and Snorkel rentals to Kayaking and hiking, we were covered.
We also had great cell reception for both Verizon and AT&T that allowed work our digital nomad jobs while traveling and staying at the campground!
Bahia Honda State Park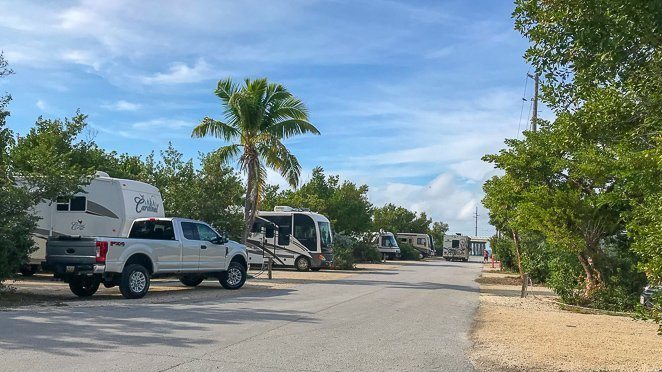 Bahia Honda State Park is also a gem of a campground.
It's located about 35 minutes from Key West, just across the Seven Mile bridge from Marathon. We loved the soft sandy beaches that were made for sand castle building and the beautiful aqua blue color of the waters.
The campground offers water and electric hook-ups for a variety of sizes of RVs on level campsites, tent sights, and even cabin rentals. Oh, and some campsites are even backed up right to the ocean!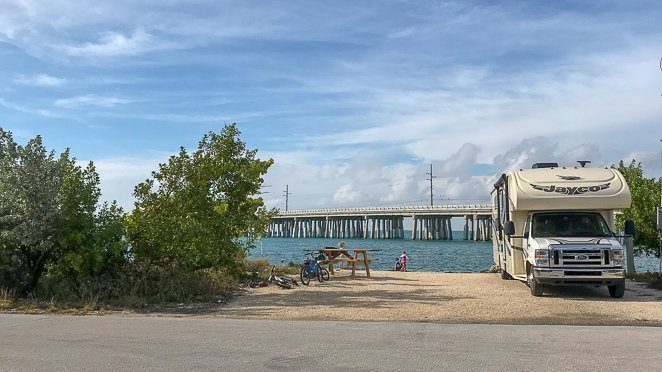 Curry Hammock State Park
There's also Curry Hammock State Park that is half way between Key Largo and Key West. The campground sits on the Atlantic ocean and allows RVs and tents and provides water and electric hook-ups with a dump station. I was told that you often see kite-surfers off the shore of Curry Hammock.
Long Key State Park
Long Key State Park has a campground, but is currently under restoration and still closed January 2020.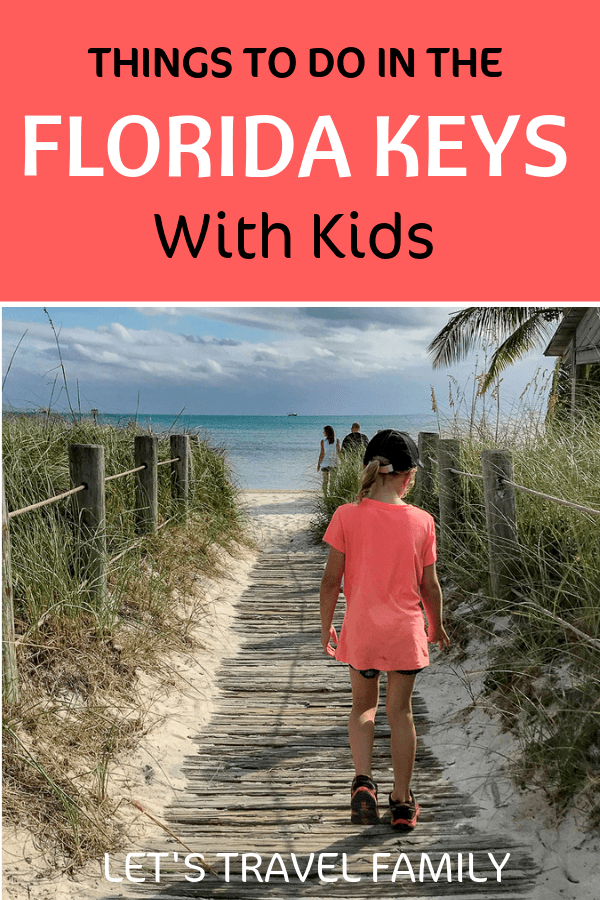 13. Attend A Ranger Led Program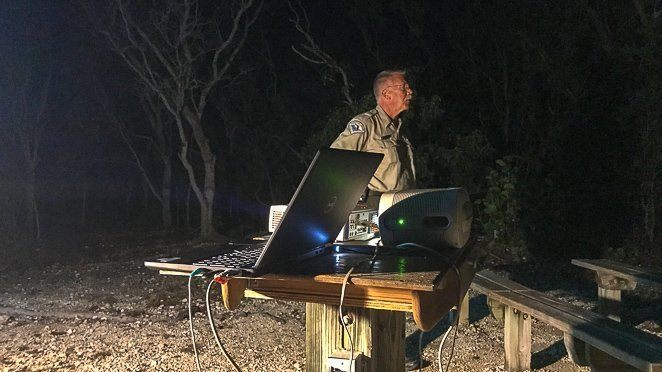 When visiting one of the Florida State Parks, ask about ranger led programs for the week. They are free, very educational, and a fun thing to do in the Florida State Parks. Our family especially enjoyed an evening program that taught us the difference between an alligator and a crocodile when we camped at John Pennekamp State Park.
14. Go Hiking at Florida Keys State Parks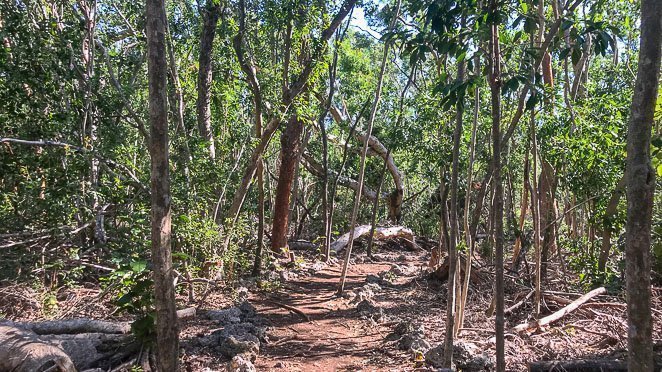 Now, state parks in the Florida Keys are not necessarily known for hiking trails. However, you can always find a beach to hike on or if you visit John Pennekamp, they have a great trail out to a citrus farm.
15. Visit John Pennekamp Visitor Center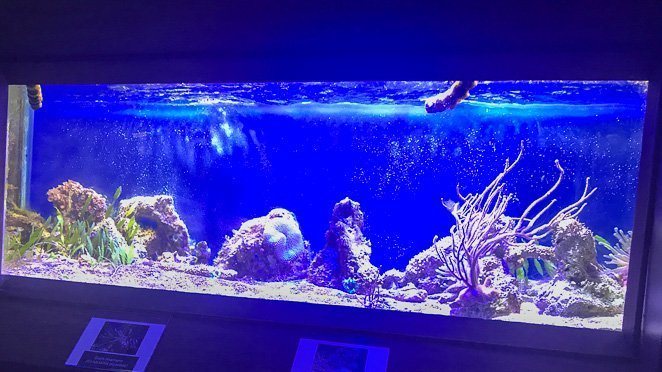 A family vacation Florida Keys experience can include a visit to the visitor center at John Pennekamp State Park. It has several marine animals in the indoor aquariums that allowed our family to see what we might find when going out to snorkel.
16. Walk On the Old Bahia Honda Rail Bridge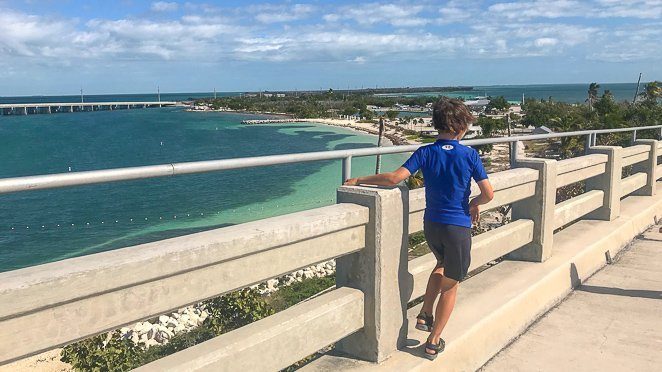 Hike to the top of the Bahia Honda bridge and grab a photo of the beautiful aqua-colored ocean below. It was a short hike and easy for the kids. We even caught a glimpse of a sea turtle when we were up there! It's such a simple and fun Florida Keys for families experience.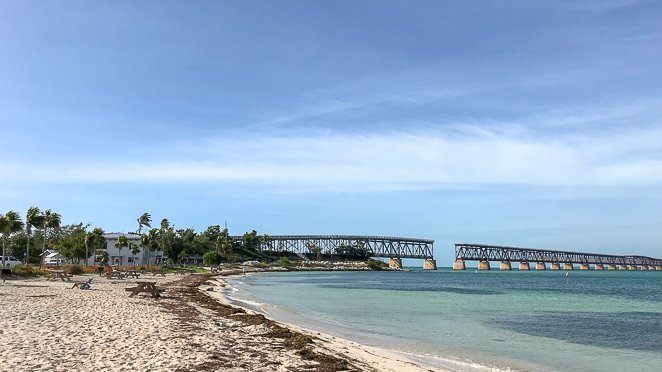 17. Visit The Nature Center at Bahia Honda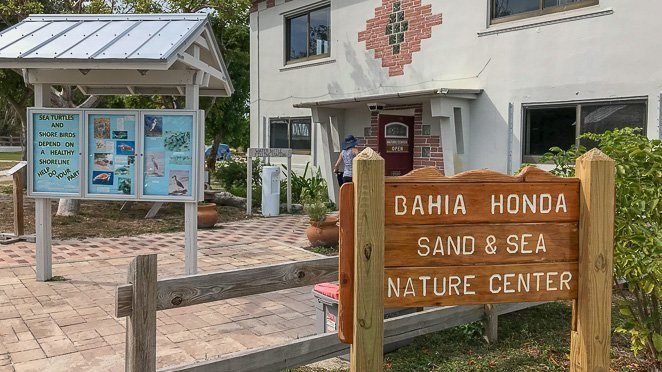 If you make it out to Bahia Honda, not only can you take the short hike with your kids to the top of the Bahia Honda Old Rail Bridge, you can also visit the Nature Center that is geared toward families.
18. Build Sand Castles At Bahia Honda
Even if you don't camp at Bahia Honda, making a trip to this beautiful state park with your kids should be near the top of your list of things to do in the Keys.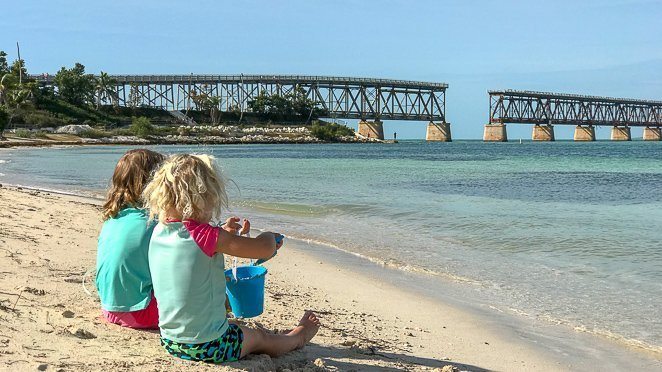 The sand here is PERFECT for making sand castles. Oh, and depending on the wind, you have two beaches to choose from. One beach is facing the Atlantic Ocean and the other is facing the Gulf of Mexico. Depending on the wind conditions, we'd choose a beach to go swimming, snorkeling and build sand castles at each day.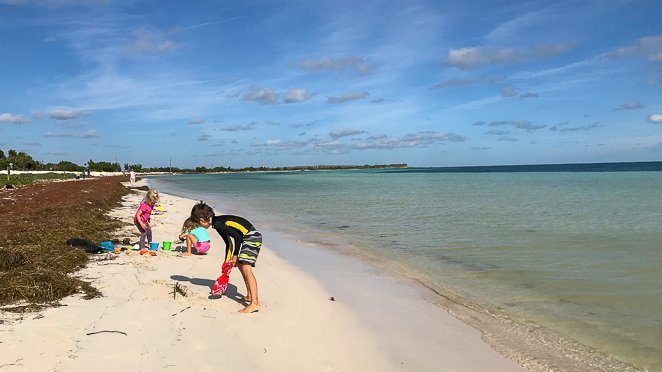 19. Visit Theatre of The Sea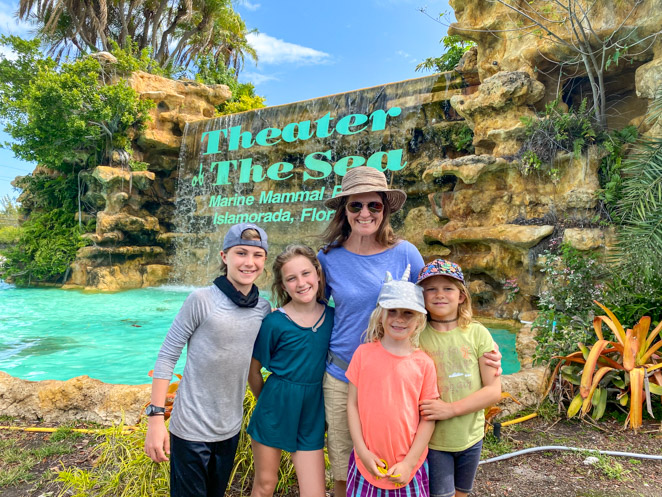 Make a stop in Marathon to visit Theater Of The Sea. From sea turtles and tropical birds to a fantastic dolphin show, you will love your time there.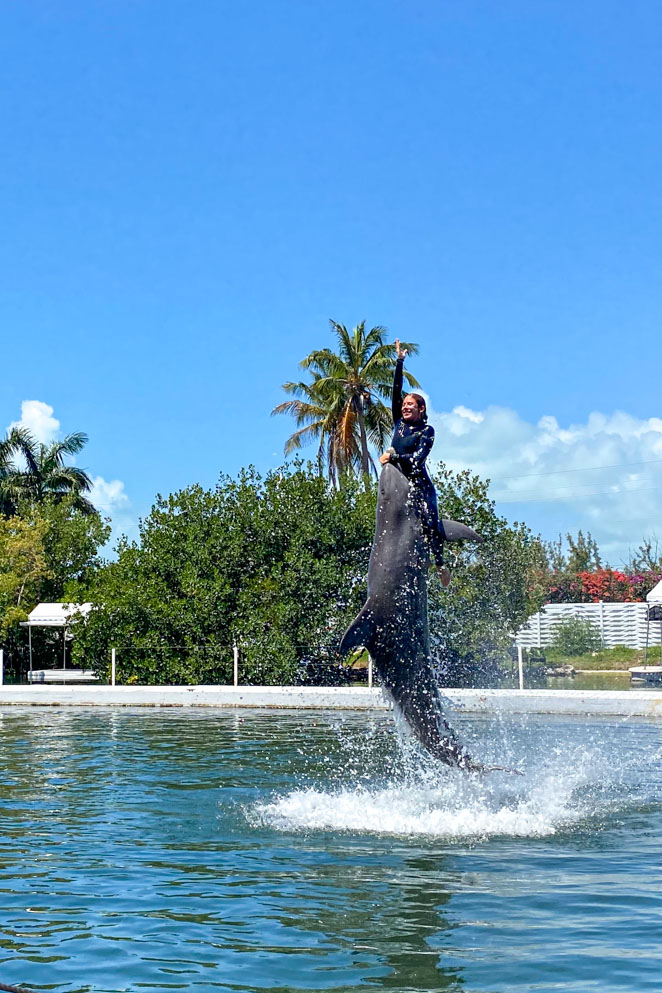 20. Visit The Florida Keys Eco Discovery Center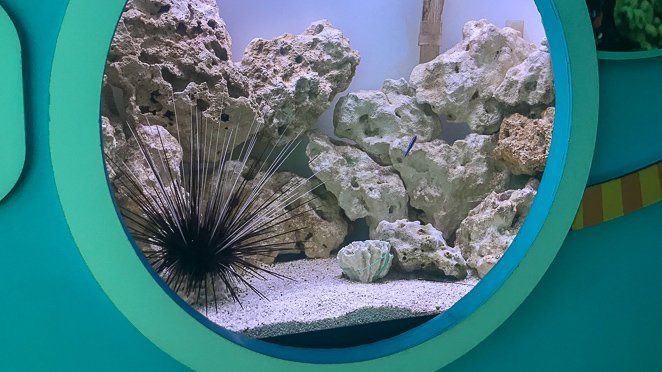 Visiting the Eco Discovery Center is an educational, fun and free activity to do in Key West with kids. It's a kid friendly Florida Keys indoor experience, too. The scavenger hunt was a favorite activity of our family while taking a break inside to cool off and learn a bit about the Florida Keys together. The Eco Discovery Center is located near Fort Zachary Taylor on Key West.
21. Go On A Conch Train Tour of Key West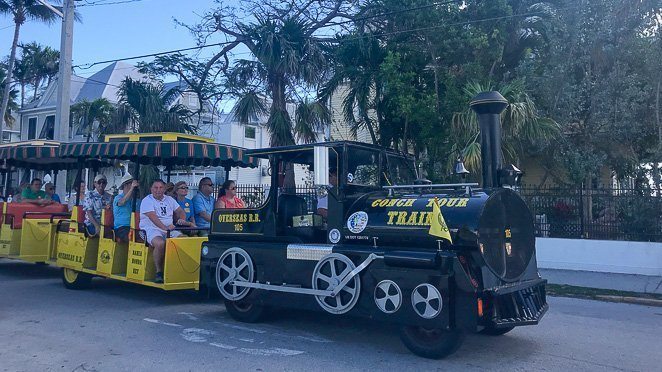 Taking a ride on the Conch Train in Key West was a fun way to learn the history, see the sights, and grab some souvenirs and treats at our train stop. We were able to see the Truman Little White House, Key West Beaches, Duval street, and learn about the history of Key West all while our kids stayed interested and occupied onboard.
I always recommend taking a guided tour of a new place with the kids, you'd be surprised how much they pick up and learn just by listening to the guide.
22. Eat A Slice Of Key Lime Pie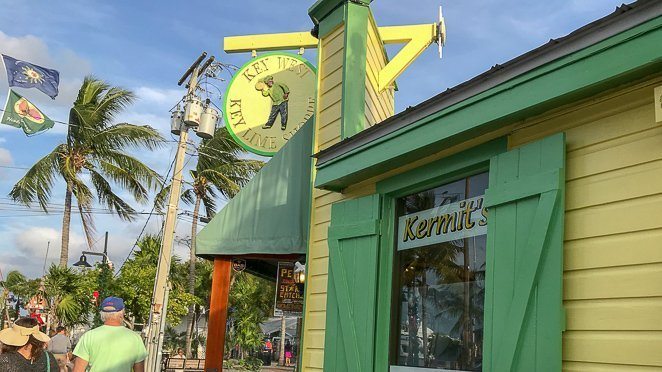 You can't arrive in the Florida Keys without having a slice of Key Lime pie! Lilya, our 8 year old, has been talking about the Key Lime pie she was going to get for weeks before our second Florida Keys road trip. She was thrilled to have her own slice at Kermit's Key West Key Lime Shoppe.
23. Visit The Turtle Hospital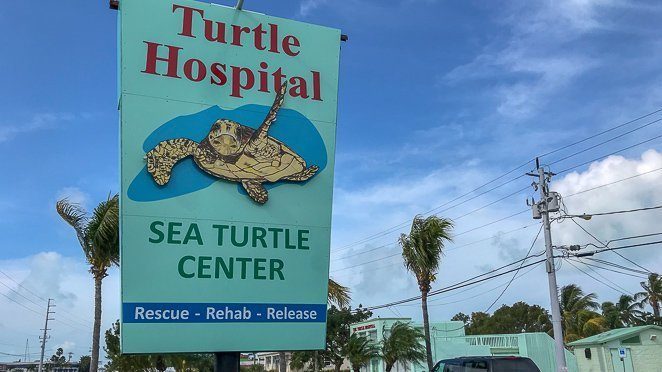 When planning out your Florida Keys family vacation, I highly recommend scheduling a visit to The Turtle Hospital in Marathon. It's one of the top fun things to do in Florida Keys for families.
Call ahead to book a time for your family to visit and plan to arrive 15 minutes early to check out the gift shop and fill out the waiver forms.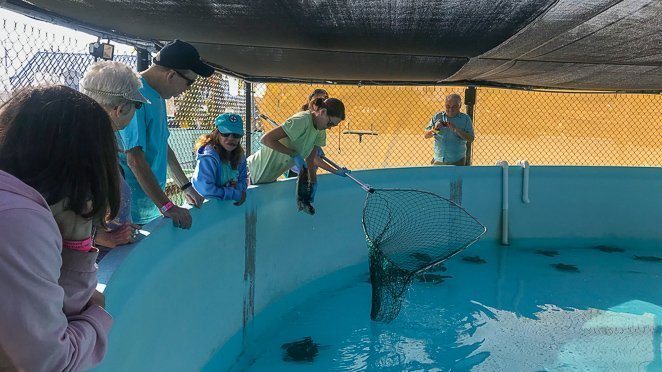 Then, be prepared to learn all about sea turtle habitats and how The Turtle Hospital rescues, rehabilitates, and releases turtles back into the ocean all year round.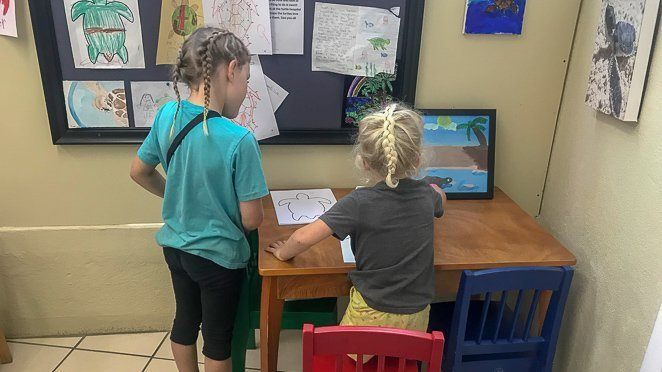 I really appreciated the special children's corner in the video viewing room at the beginning of the tour.
Jasmine colored while Gwen completed a puzzle as our older two sat with Tony and listened to the presentation and short video clips.
We all enjoyed seeing the turtles in the different tanks around the outdoor campus and especially enjoyed feeding them at the end! The cost is $25 per adult and $12 per child. Children 3 and under are free.
Pro Tip: if you have a toddler, be prepared to hold her hand when looking into the tanks.
24. Shop at The Rain Barrel Sculpture Gallery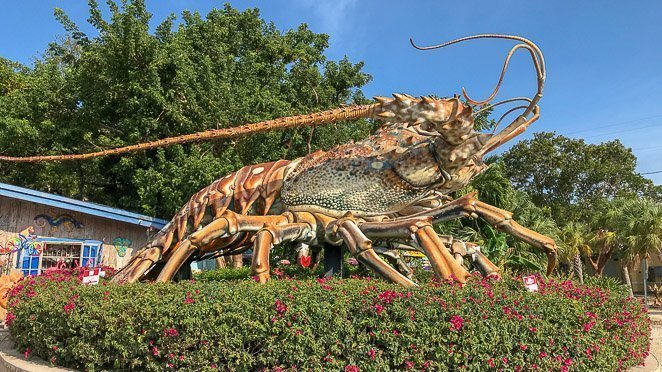 One of the Instagram-worthy photos you often see when searching for great photos and things to do in the Florida Keys is the photo of this crustacean at the Rain Barrel Sculpture Gallery.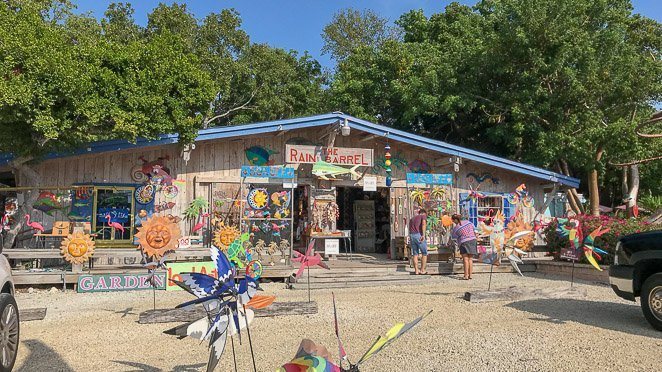 I just had to stop and take a look around!
The Rain Barrel Sculpture Gallery is located on Plantation Key around mile marker 86. You'll find fun island wear, home goods, and even children's clothes and toys here. So, if you're looking for fun things to do in Islamorada and your kids can handle a bit of shopping, this would be a fun place to check out.
25. Visit The Key West Garden Club
Finding fun things to do in Key West with kids isn't as hard as some might think. The Key West Garden Club, next to Higgs Beach, was a fun and FREE find during our time in Key West. I think our family spent over an hour walking around the garden, catching sight of some butterflies, eating a snack we brought at one of their tables, and learning all about the tropical plants.
From banana trees and orchids to giant cactus plants and star fruit trees, we were amazed.
26. Watch The Sunset and Street Performers on Mallory Square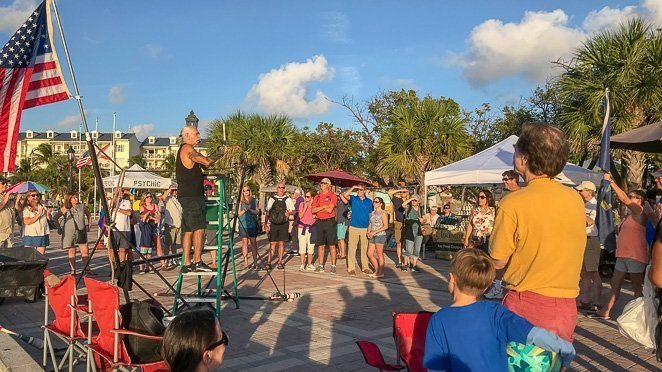 If you're looking for free Florida Keys activities, then be sure to head over to Mallory Square in Key West about 1 hour before sunset. This is when you'll see many street performers out, food and goods for sale, and a great chance to watch the sunset over the Gulf of Mexico. It's one of the things to see in Florida Keys that almost everyone recommends!
27. Visit The Best Beaches In The Keys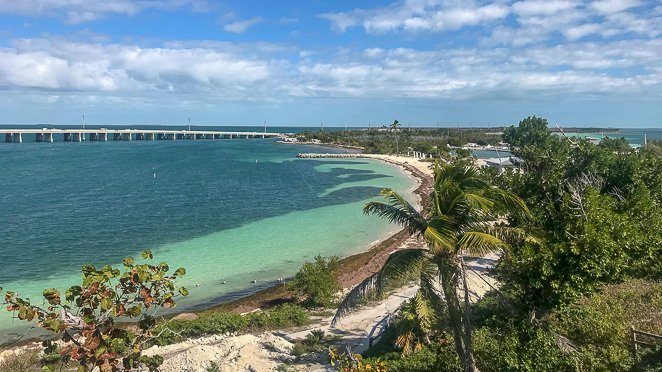 The Florida Keys themselves are not covered in super soft sandy beaches, yet there are a few great ones that are worth checking out.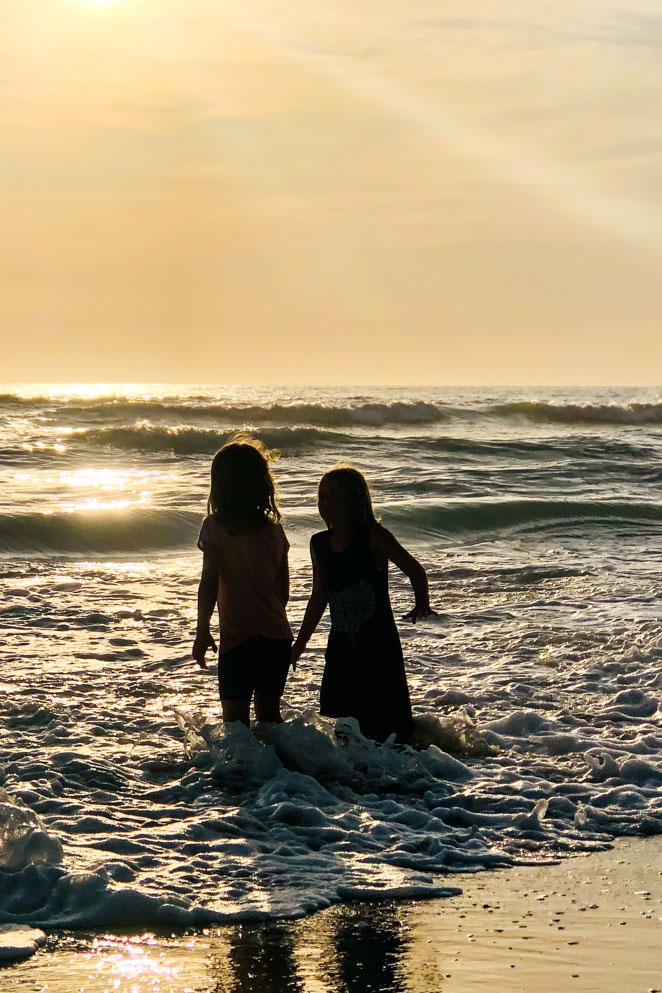 From Harry Harris beach on Key Largo, to Smather's beach in Key West, there are many family-friendly and free beaches to choose from. Now, if you want the best sand castle building and aqua blue in color beach to visit, then you have to make a stop at Bahia Honda State Park pictured above. Or, check out our detailed post all about finding the best beaches in the Florida Keys here.
When Is The Best Time To Visit Florida Keys?
I spoke with a few locals and it really depends on how warm you want it to be as to when to visit the Keys. The Key's weather can be hot and humid in the summer while warm and less humid in the winter.
The summer months provide more frequent afternoon rain showers, very warm and humid temperatures, and allows for some amazing snorkeling. The ocean temperature is well into the 80's and visibility into the water is over 100 feet in July and August.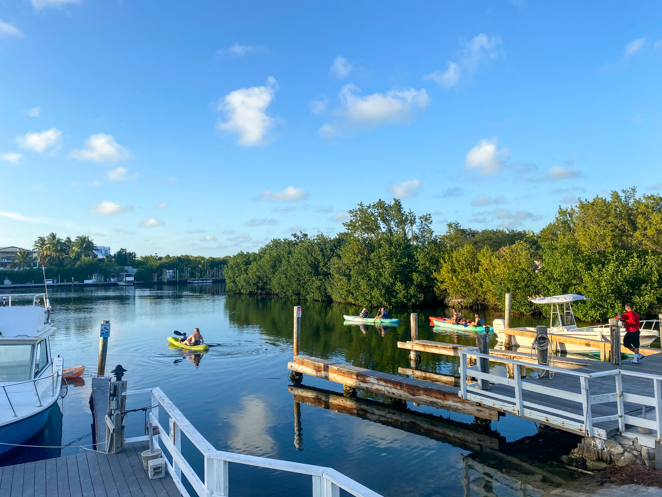 Yet, Florida Keys weather in the summer can be a bit unpredictable with it being hurricane season. If you're looking to take a family vacation during the cold winter months to the southernmost point of the US, then November through May is the best time of year to visit.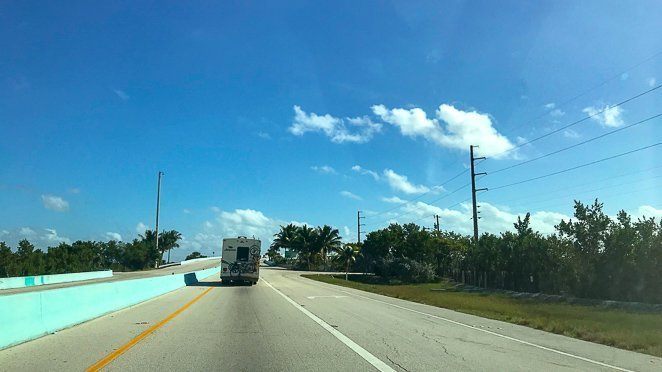 We visited the Florida Keys in December, and again in February on two different trips. The water temperature was in the mid 70's while the air temperature ranged from 62-82 for highs during our stays in both months. We enjoyed mostly dry conditions during our 10 days in December, while in February I believe we also had dry and warm conditions.
How To Get To The Florida Keys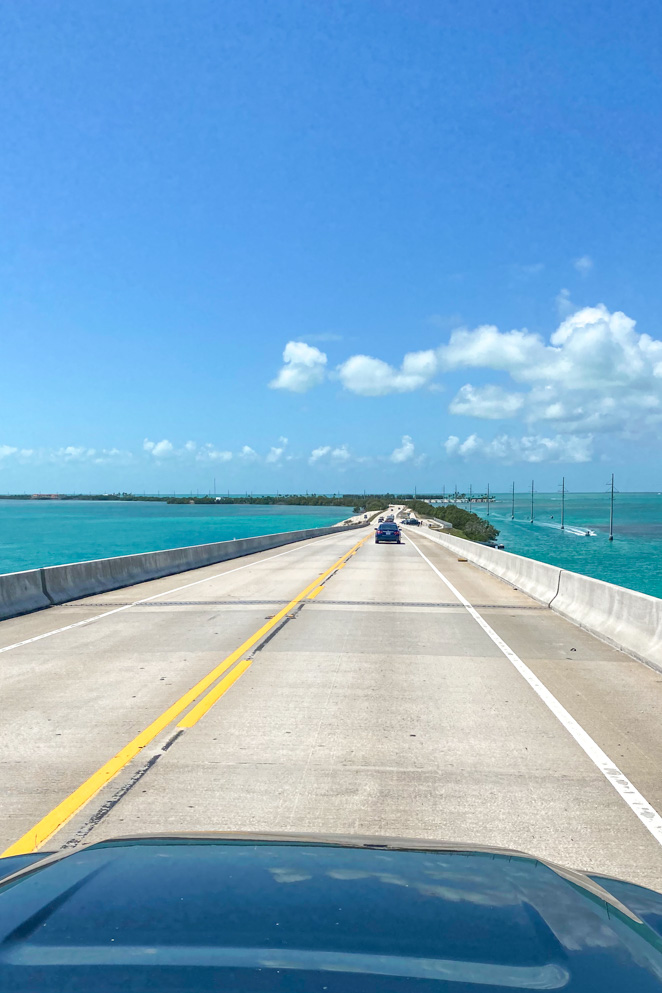 Florida Keys Road Trip
If you want to see and do all the fun things in the Florida Keys, then I recommend driving down Highway 1 from Miami. It's the only route in without flying, and worth the experience.
We enjoyed taking a Florida Keys road trip with kids because it allowed us to stop at shops, beaches, and bathrooms along the way. You can also see so much more of the local life in the Keys while taking a road trip.
If you are not in the Florida area and need to fly in, you can fly into Miami airport and rent a car. Or, you can fly directly to the Key West Airport.
Flights To Florida Keys – Key West Airport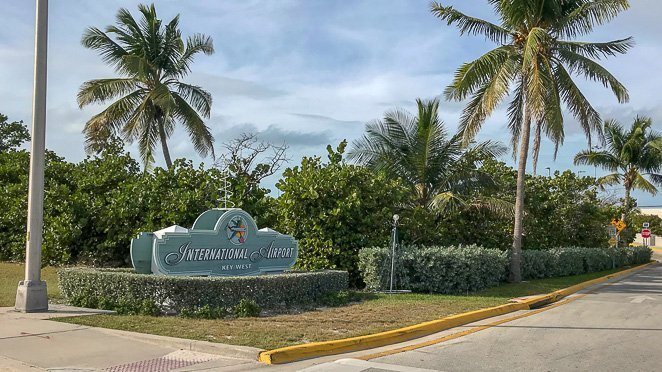 There are a few flights each day to the small Key West airport if you'd like to get directly to Key West.
Where To Stay In The Keys?
Florida Keys RV Parks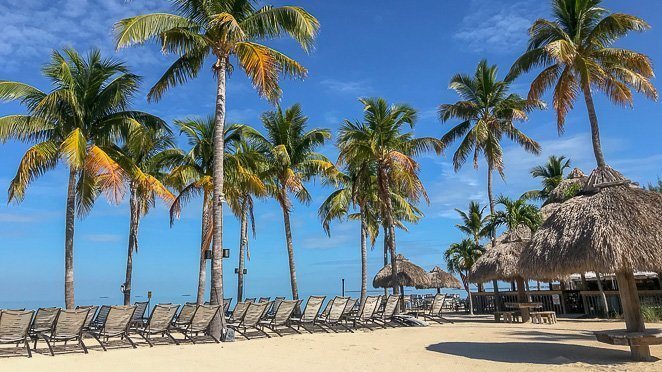 Fiesta Key RV Resort and Marina
If you are looking for Florida Keys RV Parks, be sure to check out Fiesta Key RV Resort and Marina. It's located between Islamorada and Marathon.
Fiesta Key offers full hook-ups, a pool, hot tub, restaurant, brand new playground, and is on it's very own key island!
Oh, and if you are digital nomad family that needs cell service to work while traveling like we do, we had great signal for both Verizon and AT&T at Fiesta RV Resort.
Sunshine Key RV Resort and Marina
Sunshine Key RV Resort and Marina is another great place to camp and to bring your RV. It's very close to Bahia Honda and only a 40 minute drive to Key West. Sunshine Key offers full hook-ups, a pool, and is close to Bahia Honda!
Florida Keys State Park Campgrounds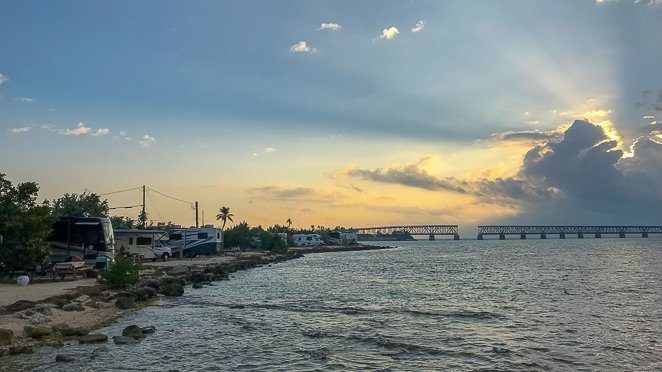 If you're willing to plan ahead…..as in FAR in advance, the Florida Keys State Parks cost around $40 per night (after taxes and fees) and provide some amazing camping experiences. However, be warned that the campgrounds book up to 11 months in advance!
That means you either need to plan VERY far ahead, or you need to be lucky when going in and grabbing a reservation online right after someone else canceled. With that being said, we LOVED our campsite at Bahia Honda State Park and enjoyed staying right at John Pennekamp State Park.
Florida Keys Family Resorts and Hotels
If you're planning to stay in Marathon Key, midway down your Florida Keys road trip, then I highly recommend staying at Kingsail Resort.
We were fortunate enough to get an affordable two-room suite that slept six of us, and the kids just loved the pool on the marina.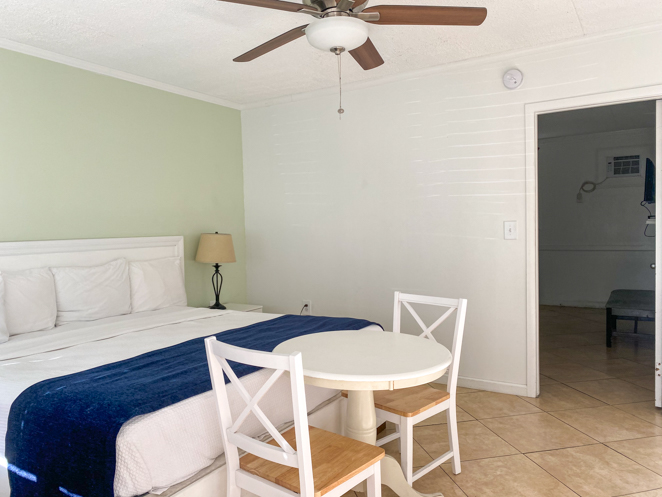 Check out these resorts in the Florida Keys that are sure to be great for your family.
Are There Enough Things To Do In The Florida Keys With Kids?
Yes! We found SO much to do that was family-friendly in the Keys, that we couldn't get it all in! If you are planning your family's trip to the Keys, I suggest planning in a little bit of downtime to soak in the sun and just enjoy your time together. Your time will fly by and soon you'll have to be leaving, so enjoy every moment. I know we did.
Planning to add to your Florida Keys trip and want more ideas on things to do in Florida? Check out these related posts.