RV cooking can seem intimidating, but the reality, it's almost like cooking delicious meals from home. As a full-time RV living family, we cook daily in our Class-C RV. So, we wanted to lay out some of our best RV living tips for motorhome cooking to make your RV travel or camping experience go smoothly.
Trying to create some delicious, yet easy RV meals? It does not have to be difficult!
Honestly, it's not as stressful as you might imagine. Even with 4 kids in our kitchen, Tony and I have found our way around our RV kitchen to make mealtime easy (enough).
In this article, we'll be sharing some RV cooking tips we've learned when we used to live the RV life.
Related Post: 29 RV Kitchen Accessories You Must Have
THIS ARTICLE MAY CONTAIN COMPENSATED LINKS. PLEASE READ OUR DISCLAIMER FOR MORE INFO.
Don't have time to read a bunch of RV travel posts and reviews? Here are some of our top picks for RV living:
Our Favorite RV Resources:
Motorhome Cooking Tips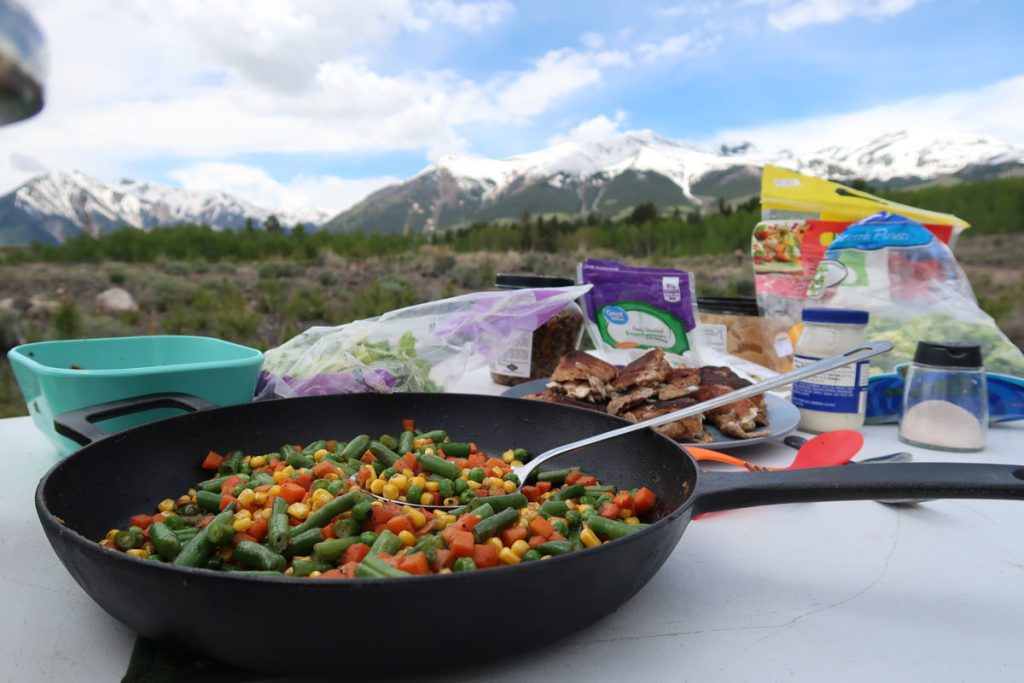 1. Start with a clean RV kitchen.
I know, I know, you can't always have a clean kitchen. But, when you are working in such a small space, it REALLY helps to to start out clean.
We set a goal to have all our dirty dishes washed and put away before bed, so that the next day we start fresh and ready to cook a big protein-rich breakfast (our kids can't go more than 2 hours without eating if we don't fill their bellies well each morning).
2. Use every surface area.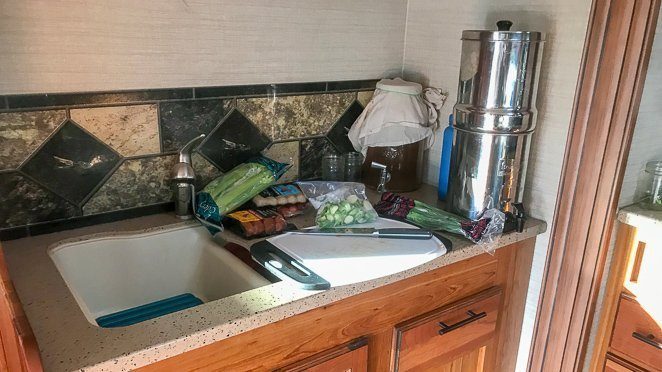 If you don't have a 'sink insert', then I suggest checking these out online. With very little space in a motorhome kitchen, using the TOP of your sink is needed. We place our inserts in every time we cook!
3. Be strategic with your space.
Now, this might go without saying, but keeping your space organized especially your storage space while cooking can make things go smoothly in a tiny kitchen.
I often place food items that I'm going to cut or cook at the back of our counter while working on prepping in the front.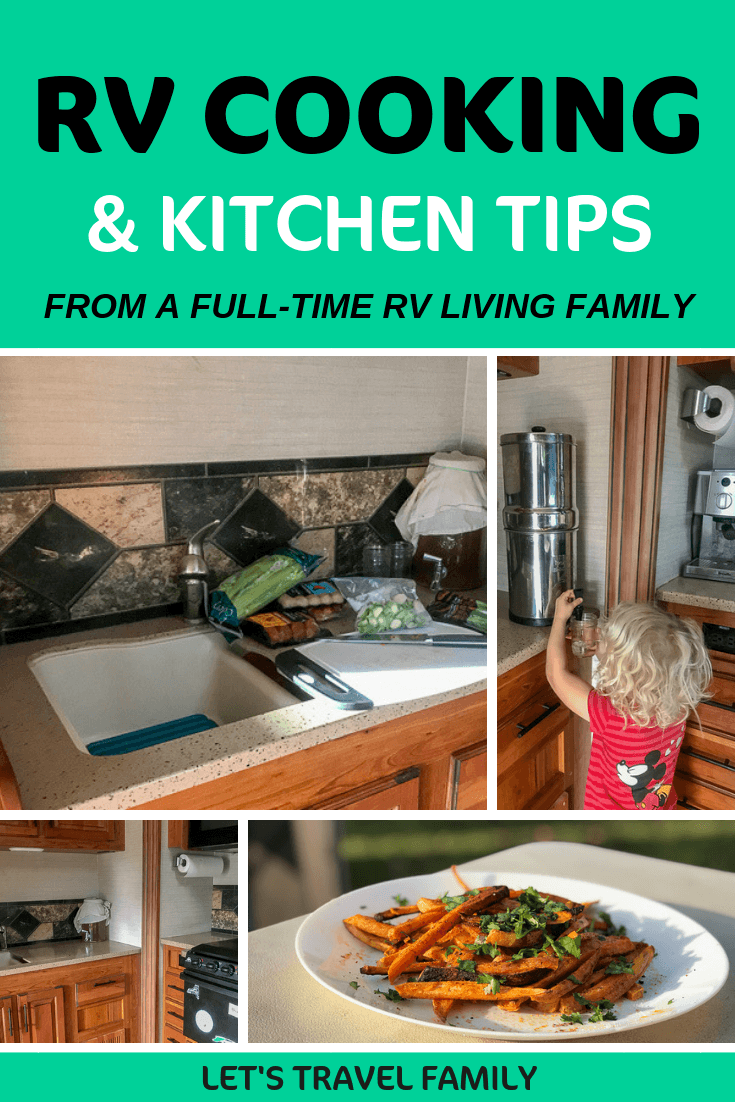 4. Put away anything you are finished with.
If you don't follow any of the previous tips, follow this one! Put away any ingredient, package, dish, cooking tools, etc. as soon as you are done using it. This will allow for not only MORE counter space available to work with, but it will also make for a quick and easy clean up.
Tony doesn't always do this, and I often get on him about this.
5. Keep your kids occupied or helpful.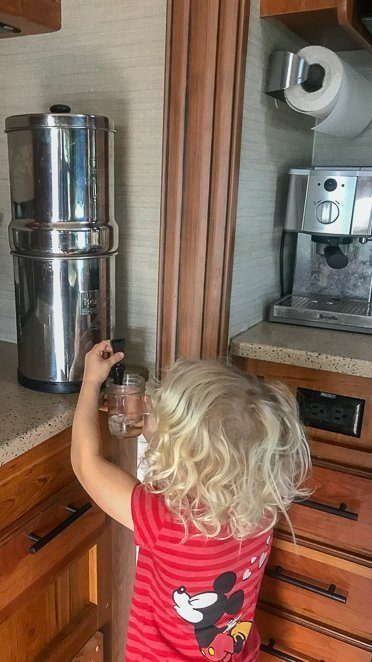 Lilya and Jasmine LOVE to help in the kitchen. If we let them, they would cook almost every meal for our family.
Now, that sounds well and good… except they are 8 and 3 and make a HUGE mess. Oh, and our 3-year old is a bit too young for cooking on hot surfaces. 😉
We have found that giving them each a task, such as getting water from our Berkey, helps everyone feel involved and we can still get a meal ready in a timely manner.
6. Use your exhaust fan AND open a window.
Cooking in an RV means small spaces and not-so-great ventilation. We always open our window above the couch and often our door to help. Yet, I'd say about 3 times a week our smoke detector goes off! Not kidding.
At least we know it works!
Our microwave exhaust fan seems to really help when we are sautéing veggies or cooking on the stovetop. So, if you have a microwave above your RV stove, turn on that fan and avoid having your smoke alarm waking up your neighbors.
7. Use an Instant Pot.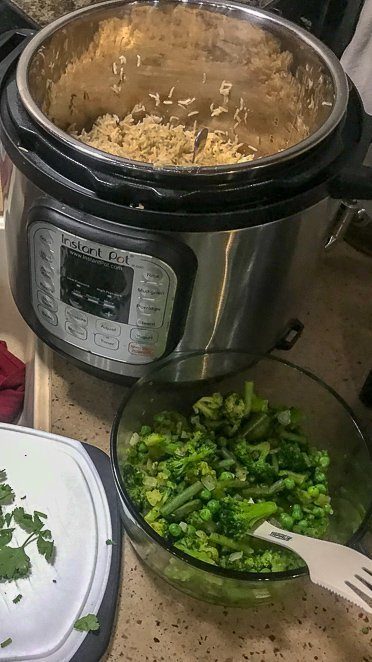 If you don't purchase anything else for your RV kitchen, get an instant pot!
We use ours for SO many things. Rice, hard-boiled eggs, sautéing veggies if we don't want to use the stovetop, our easy instant pot chili, cooking dried beans in under 1 hour, making taco meat, cooking chicken from frozen in under 30 minutes….the list goes on and on. It also really helps a lot when it comes to meal planning.
It's great that you can set its timer and then go exploring with your family for the day to come home to a ready-to-eat dinner on warm.
Whether you are a meat eater, vegan, or something in between…almost every RV family we've met on the road owns at least 1 instant pot.
8. Think about cooking outside.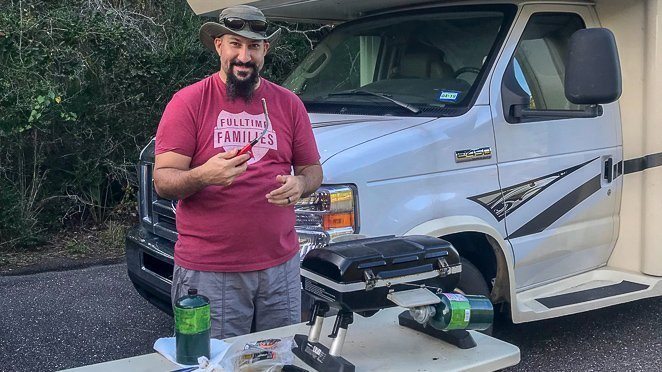 Not only can you set up a folding table, or two, to give yourself more space to cook…but you can keep the heat out of your RV on a hot day by cooking outdoors.
We use our grill outside on a regular basis, but we've been known to bring an extension cord out and cook in our instant pot and electric skillet outdoors.
Related Post: 34 RV Must Haves That We Cannot Live Without
9. Keep it to only 1 cook in the kitchen.
Honestly, there just isn't room for 2 adults cooking in a tiny RV kitchen. If you really both want to cook together, send one outside to fire up the grill while the other is at the kitchen counter.
10. Use a cast iron skillet.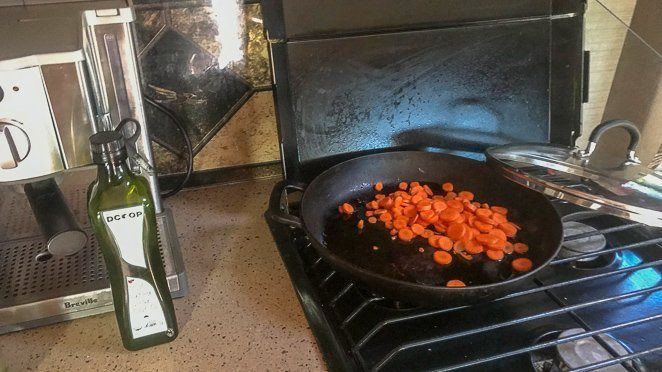 Our cast iron skillet is used DAILY in our RV. It not only holds heat consistently but also lasts and doesn't peel as our old non-stick skillet did. Oh, and ours fits in our oven perfectly for storage! This is the one we have.
12. Start with easy RV camping meals
Now, if you LOVE cooking and want to be a gourmet chef…then go for it! But you really don't need to go overboard preparing meals in a small camper kitchen. A few easy delicious easy RV meal ideas could be tacos with fresh herbs, stir fry chicken sausage and veggies, rice and beans, and eggs and bacon.
If you want a few inspirations for motorhome cooking, check out some of the camping meal ideas below that our family has made recently.
Related Post: Why Are We A Full-Time RV Living Family?
Camping Meal Ideas
Here are some of our favorite RV recipes you can make while on the road. From hearty chili to delicious pancakes, these recipes are sure to please everyone in the family.
Thanksgiving in your RV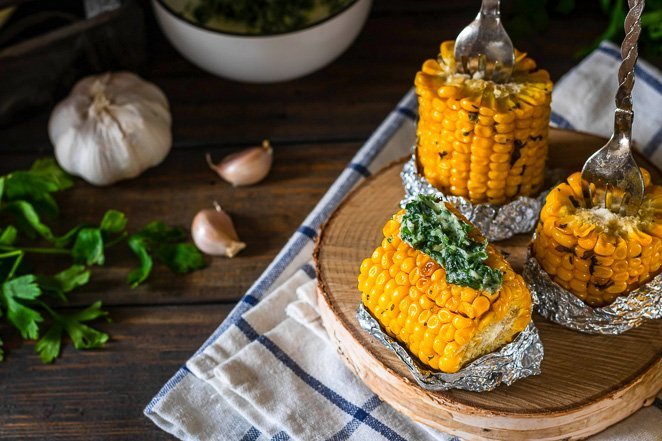 Planning to celebrate Thanksgiving in your RV? It doesn't have to be as fancy or complicated as you think. Even with a little celebration, you can make some great memories. Consider changing up what you plan to serve such as a turkey breast instead of an entire turkey and baking these old fashioned blueberry muffins to sweeten up the meal.
Sushi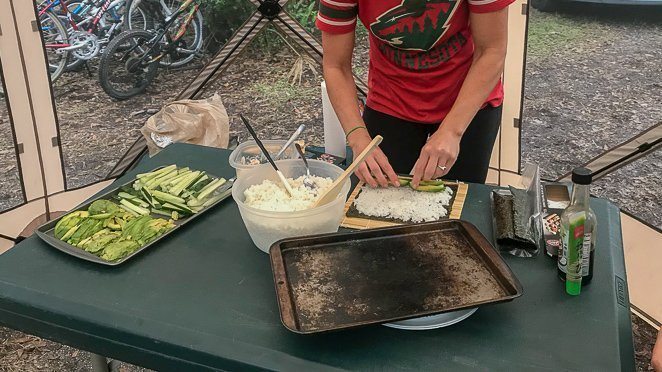 Homemade sushi is BY FAR our family's favorite new meal! We make California rolls with crab meat we purchase from Trader Joe's in the freezer section and Nori (the seaweed) we find at a Publix or another main grocery store.
We then slice up avocados and cucumbers and roll it up! Be sure to take this meal-prep outside for more space. This is when our screened-in tent comes in VERY handy.
Pro Tip: Make your rice ahead of time and rinse it before and AFTER it's cooked. Then refrigerate for a few hours to cool before spreading it out. This will make it easier to spread and not TOO sticky.
Bacon and Eggs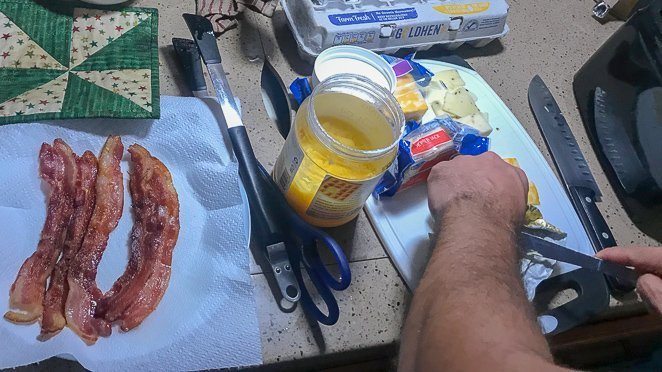 Bacon…need I say more? 😉 We find that baking our bacon in the oven allows for us to use the 3 small-burner stove to make eggs and have all the food finished at the same time and with less mess.
Pro Tip: Grab a package of pre-cooked nitrate-free bacon from Trader Joe's and just warm it up quick for an even faster meal!
Chicken Tikka Masala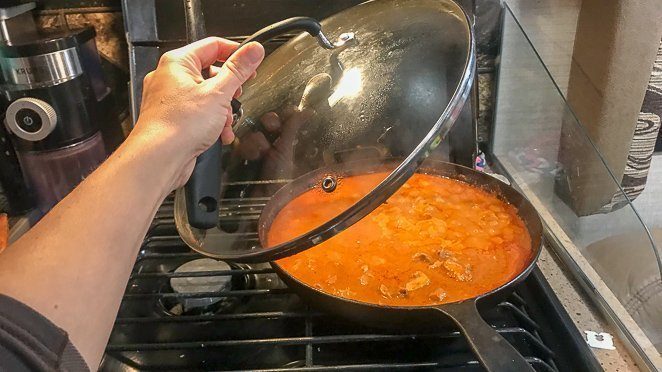 Chicken Tikka Masala is one of our favorite family meals. We follow All Recipes but omit the yogurt. Rice in the instant pot and Tikka in our skillet and we are ready to eat in 30 minutes.
Pro Tip: Find a 12 inch lid online as cast iron skillets do not come with them, but they sure come in handy for meals like this.
Sweet Potato Fries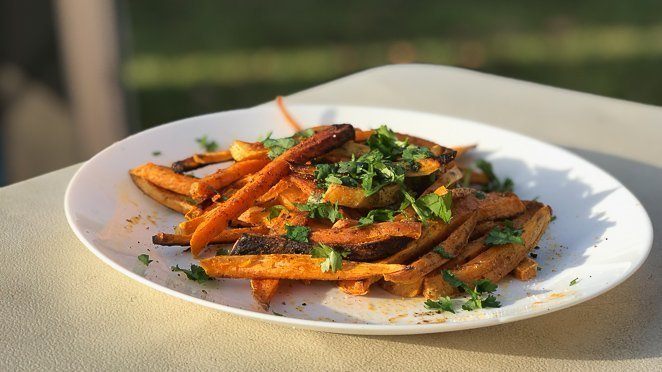 We bought and sliced a bag of sweet potatoes, tossed them with coconut oil, salted, and baked them in our oven on a cookie sheet at 400 degrees Fahrenheit for about 25 minutes. Then garnished with fresh cilantro.
Pro Tip: Be ready for these to go FAST and to make a few batches as your camper stove is too small for multiple cookie sheets.
Pumpkin Pie in an RV oven success!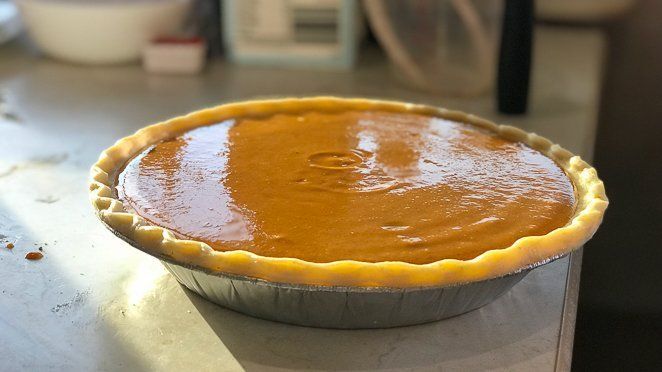 We bought our pie crust pre-made and then followed the recipe on the back of our pumpkin can, except we omitted sweet and condensed milk for coconut milk so it was dairy-free. It turned out great!
Pro Tip: Turn the pan about a quarter turn every 10-15 minutes while baking so that it doesn't burn in the center. RV ovens are notorious for burning baked goods.
Kitchen RV Living Tips
That about sums up our top kitchen RV living tips. Just because you have a small kitchen in a portable house on wheels, doesn't mean you can't eat some fantastic homemade meals! Check out more tips for cooking and camping here or comment below if you have any more questions.
If you're looking for ideas on Kitchen layout, then take some time to go to an RV show like the Tampa RV show. Even if you are diabetic or dairy-free, we make it work and so can you.
Now, I'd love to hear if you have any additional tips or ideas for cooking in an RV. Share them below!