If you're planning a trip to Grand Teton National Park, then you've come to the right spot. We've visited the Tetons many times trying to find the best things to do in Grand Teton National Park.
We've most recently visited trying to discover all the fun things to do in Jackson Hole in winter, and seeing wildlife in Grand Teton National Park was at the top of the list!
Yet, there are so many amazing things to do when it's warm out too. So, if you're trying to decide what to do Grand Teton National Park during your trip, then keep on reading.
We'll help you plan out your Grand Teton itinerary by going over the best hikes in Grand Teton, deciding where to go camping in Grand Teton National Park, and really the top things to do in Grand Tetons.
You can either buy your National Park Pass ahead of time from REI here, or at the National Park once you arrive.
If you have a 4th grade child, learn how you can even get a free National Park pass for the year here.
Keep reading to learn our top tips and exciting thing to add to your list of the best of the Tetons!
THIS ARTICLE MAY CONTAIN COMPENSATED LINKS. PLEASE READ OUR DISCLAIMER FOR MORE INFO.
Things To Do in Grand Teton National Park – The Best of The Tetons
When planning your trip out to Grand Teton National Park, be ready for some great experiences. From visiting waterfalls and hiking to swimming and camping, we have it all covered here.
You see, we love exploring new destinations and seeking out tips to share such as finding the best hikes in Zion National Park or finding fun things to do in Key West with kids.
Yet, you're here to read about the Tetons so let's dive in! Oh, and be sure to book accommodations at one of the best places to stay in Jackson Hole in advance unless of course, you plan on camping or RVing in Grand Teton.
1. Spot the Teton Glacier with a drive through the National Park
Give yourself a few hours to drive around the large National Park. A key point to view is the Teton Glacier.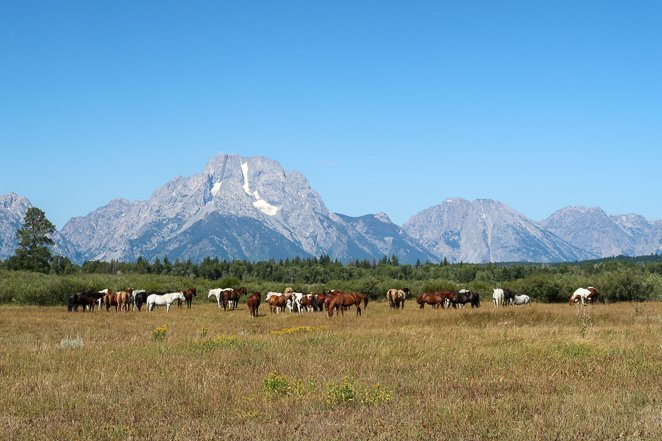 A turn-out for Teton Glacier is just south of Jenny Lake Visitor Center on Teton Park Road. Stop here on your drive to see a fantastic view of Grand Teton at 13,770 feet tall and Teton Glacier on it's East side.
Fun Fact:
Did you know that you can tell the difference between a glacier and snow by looking at the difference in color? A glacier will be gray in color while snow is a brighter white.
2. Visit Jackson Hole Farmers Market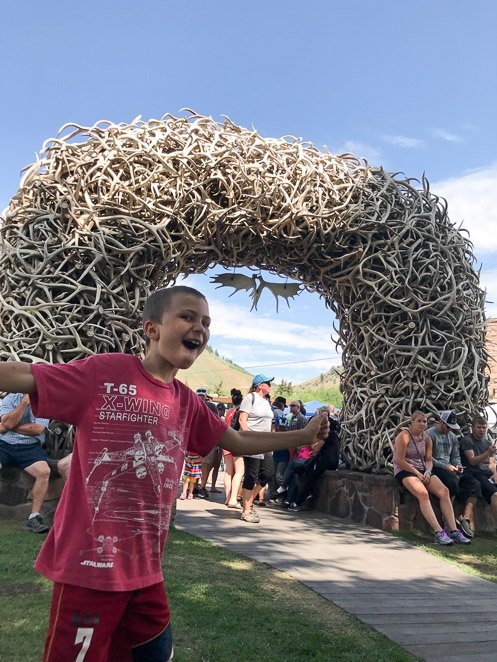 If you like farmers markets, you will absolutely LOVE the farmers market in Jackson, WY. They hold it every Saturday morning from the beginning of July to the end of September from 8am-Noon.
We love finding great farmer's markets, and Jackon's has been one of our favorites. Some things to expect are many varieties of vegetables, fruits, coffee, meat, and prepared food. The organic selections are in abundance and the live music is very welcoming.
If you'd rather hang with the locals for some Jackson hole family fun, then head over the foot of Snow King Mountain on Wednesday evenings for The People's Market.
We dive into our top tips on visiting Jackson Hole Wyoming here if you'd like to make it part of your itinerary.
3. Go On The Best Hikes In Grand Teton
Hike Hidden Falls Trail
If you like finding great hiking in National Parks, then I recommend the Hidden Falls Trail in Grand Teton. It's one of the best family hikes in Grand Tetons for a few reasons.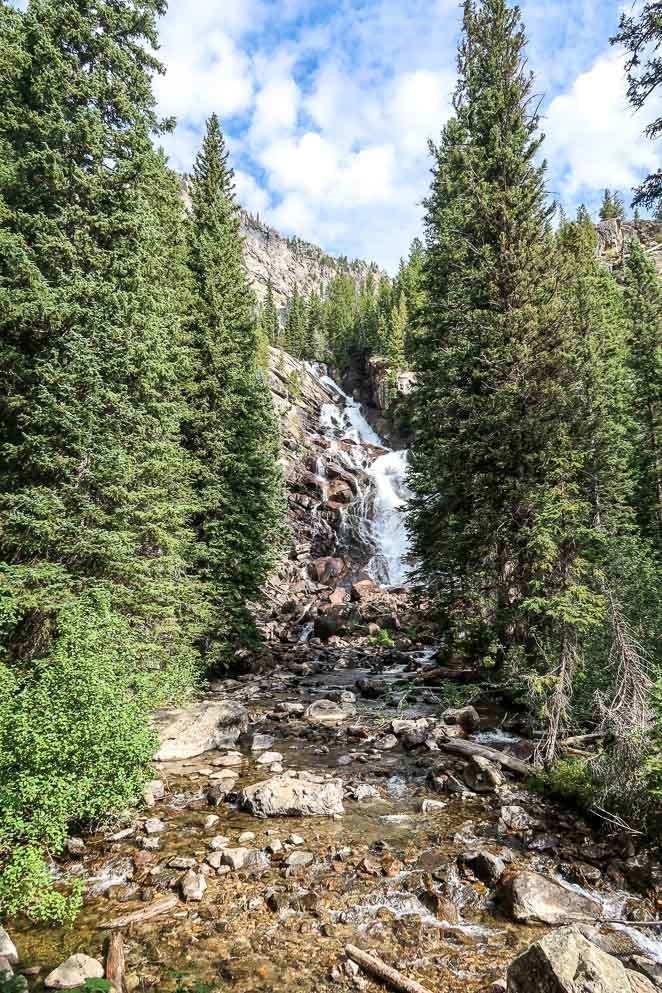 First, you are hiking to a waterfall! Which means the kids have something exciting to look forward to, a goal in mind. A second reason that Hidden Falls Trail is one of the most excellent Grand Teton hikes for families is that if the kids are too tired to hike back, you an just take a boat ride to the start!
It starts at Jenny Lake Trailhead, just next to the visitor center. But, be prepared for a busy parking lot and try to arrive in the early morning or late in the afternoon to increase your chances of finding parking.
The hike is 2.7 miles from the parking lot to the foot of Hidden Falls with some elevation to consider for young ones.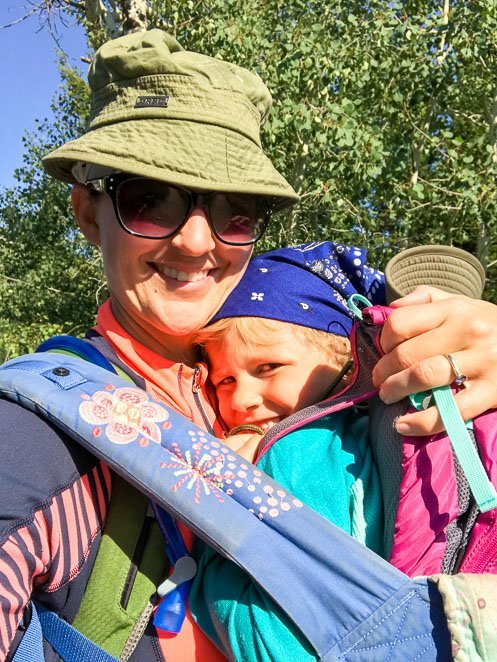 Keep in mind that you are 6,000 or more feet above sea-level. So give you and your kiddos a break if you need one to catch your breath.
It'll also be helpful if you wear the best hiking clothes for the season you're visiting.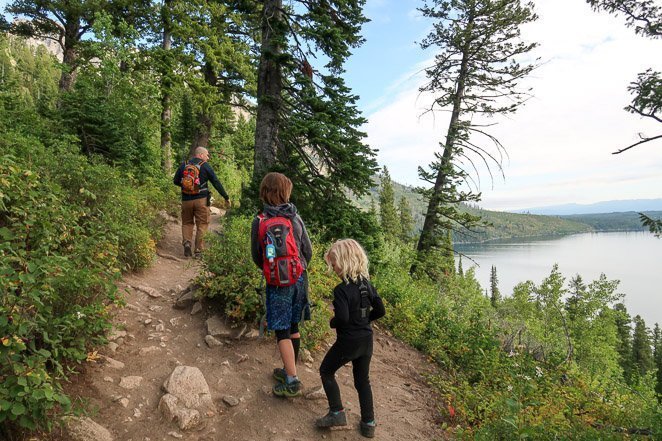 We took several breaks on our way up. The trail goes partway around Jenny Lake. It's a great hike for spectacular views and an exciting endpoint of seeing the Hidden Falls.
Once at the bottom of the falls, there is a great place for the kids to play on downed trees that are used as benches.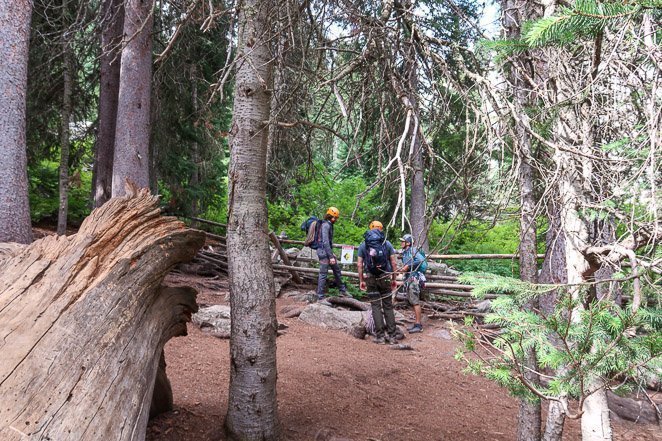 It's a spectacular view of the 80 foot Grand Teton National Park waterfalls, and if you come at the right time you might see the rock climbing groups climbing near the falls! If you're willing to go a bit further, you can hike up to Inspiration Point which is considered one of the best spots in Grand Teton.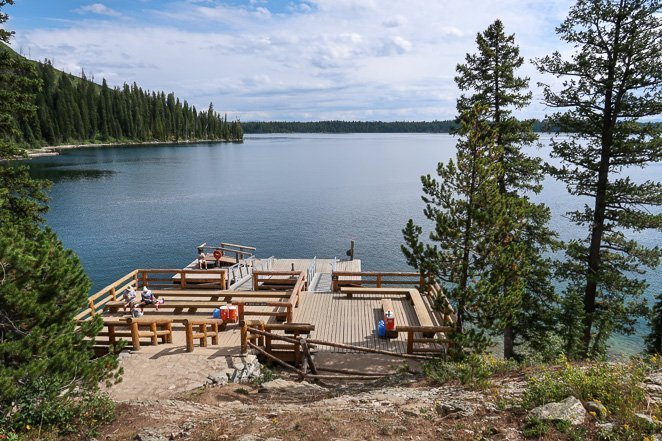 As I mentioned before, a bonus for taking this hike as a family is a chance to take a boat shuttle back! That is if you make it to the falls with young kiddos and find that they are much too tired to hike back. There's a fee involved so be sure to bring money with you on the hike if you are considering taking the shuttle.
During our hike to Hidden Falls one of our daughters came down with a fever and we needed to get back fast. We were happy to hop on the boat for the ride back instead of carrying her all the way back down.
Hike The String Lake Loop
This easy and flat hike has some beautiful views of both String Lake and Leigh Lake. The String Lake Trailhead is located just north of Jenny Lake and allows for some beautiful views of the Tetons.
4. Go swimming At String Lake
The lake is calm, shallow, and at the foot of the Grand Tetons! Due to its small size it warms up enough in the summer to go swimming. I can't say enough how much our family really enjoys finding beaches we love!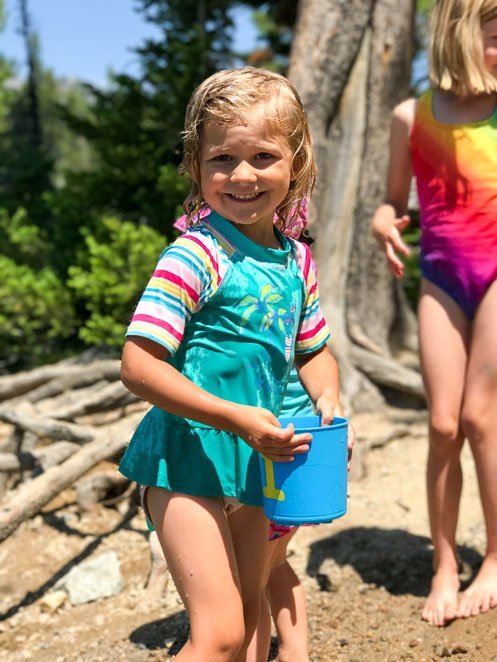 This is the THE place for families to hang out. We had to walk for a while just to find an area on the shore that was available so that we could swim, as many of the areas were already filled with other adults and children.
If you're planning to visit Grand Tetons with kids, then plan for a day at String Lake.
There are bear boxes to use all around the lake and many warning signs reminding you to keep your food contained and please, always carry bear spray.
5. Enjoy Some Grand Teton Kayaking And Paddle-Boarding Experiences!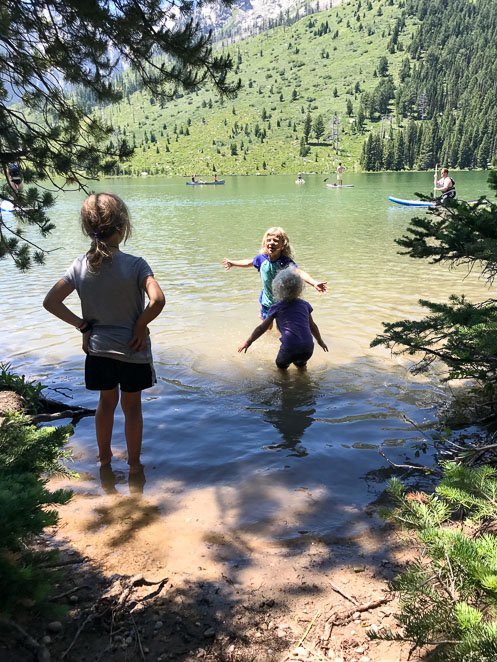 The two calm glacial lakes, String Lake and Leigh Lake, are perfect for some kayaking or paddle boarding. We watched many families bring in their own paddle boards to both String Lake and Leigh Lake while we visited. It looked like so much fun!
If you don't have your own kayak or canoe, you can rent one on Jenny Lake.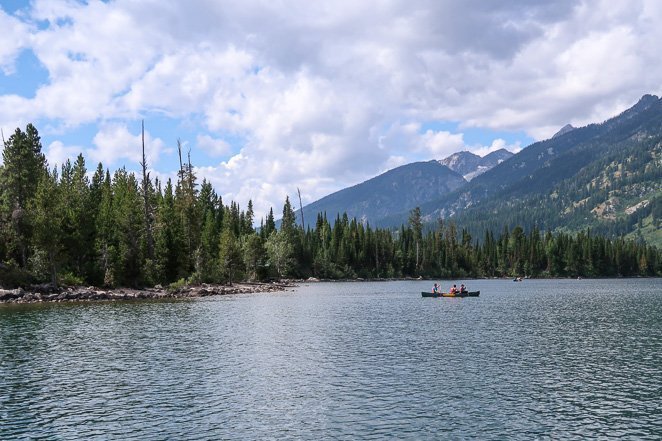 Another great area of the park to swim and use paddle boards is on Jackson Lake in the Colter Bay area. On our second visit to Grand Teton National Park we enjoyed kayaking with friends in Colter Bay.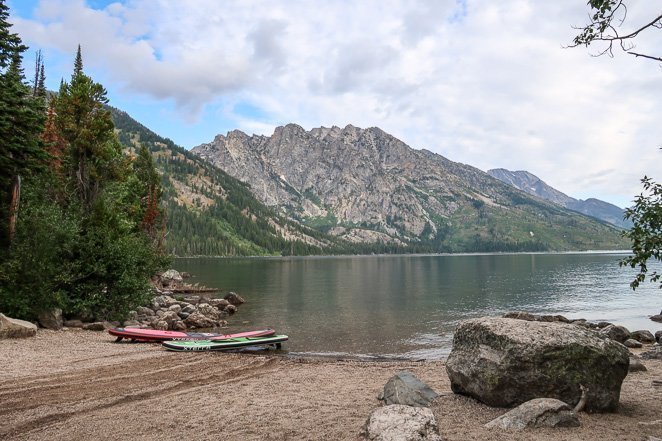 6. Visit Jackson Lake Lodge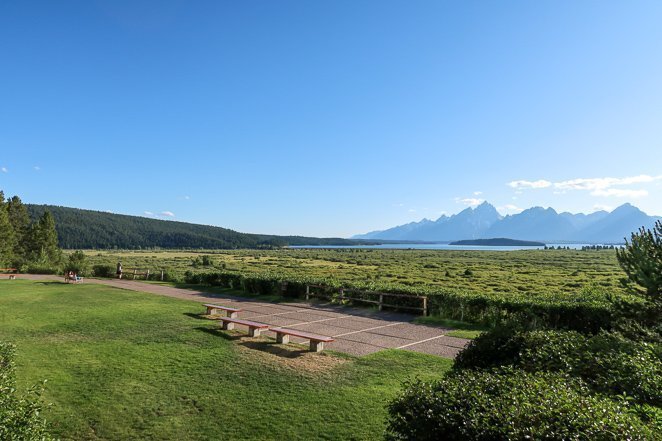 Whether you're looking for Grand Teton National Park lodging, or you just want to see an amazing view of the Tetons, you have to stop by Jackson Lake Lodge.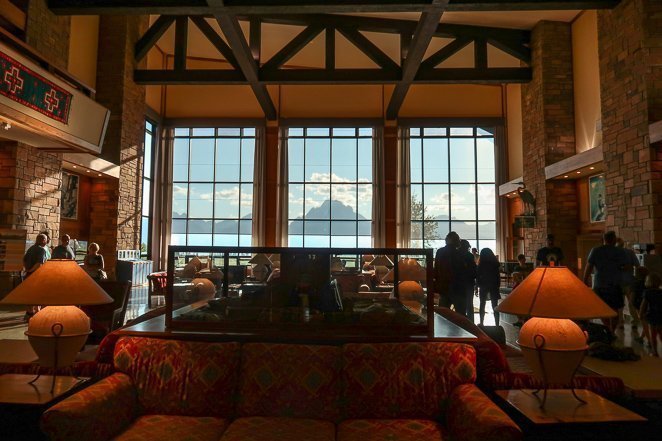 When we walked into the Jackson Lake Lodge the giant picture windows allowed for a spectacular view over looking the lake and the magnificent Tetons themselves.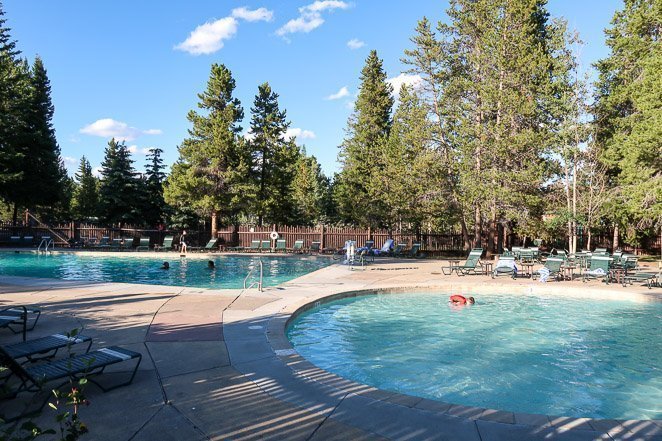 There were four restaurants within the lodge and an outdoor swimming pool and cabins around the lodge area.
7. Visit Moose – A Small City in Grand Teton
Moose is a small town with a gas station, general store, coffee shop, a few restaurants, ATM, and beer and wine.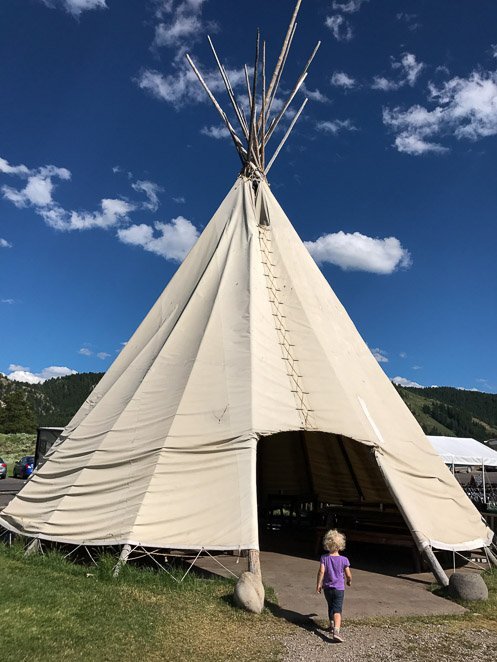 The coffee shop was a great hit for us because, you see, my husband and I have a little addiction to espresso. So finding some fantastic espresso just made our week.
Oh, and the fact there was good cell service was another plus!
We enjoyed dinning in a real teepee at Dornan's, a great chuckwagon, outdoor summer restaurant in the area of Moose.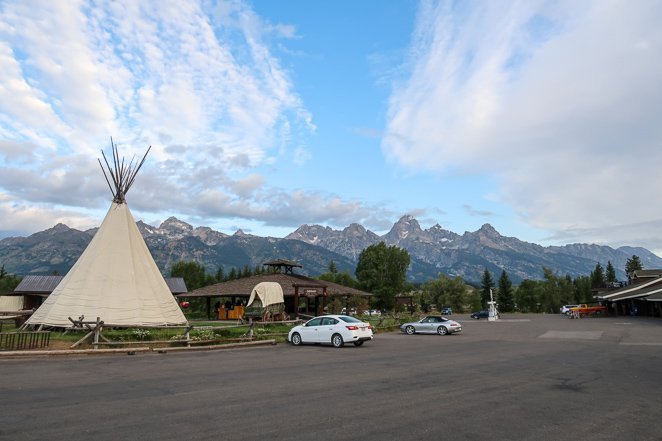 When I say area, I mean that the Dornan family owns this patch of land and all the stores and shops. Its very small, but a nice addition as it's a long drive to Colter Bay Village or Jackson, WY from this central location in the park.
8. Have A Picnic Near Signal Mountain Lodge
Bring some food along with you as you tour the park and plan to have a picnic at one of the many picnic areas. We wanted to pick an area that we hadn't visited yet in the park, so we swung by Signal Lake Lodge to check it out.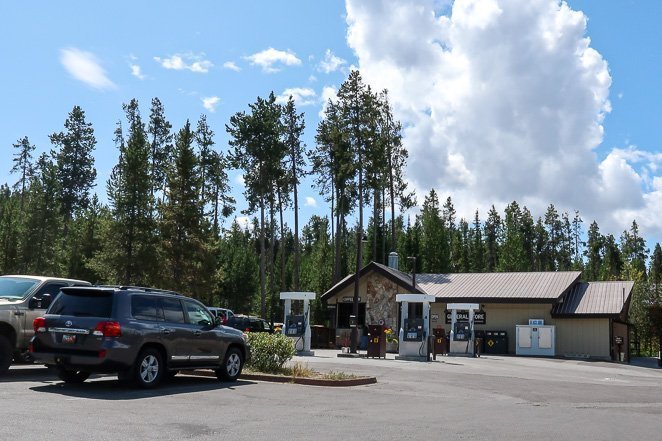 It was small and had a restaurant, gas station, and a small marina, but not a great place for a picnic. So we drove just a few miles north and found the Chapel of the Sacred Heart picnic area for a great view of Jackson Lake while we ate.
9. Go biking in Grand Teton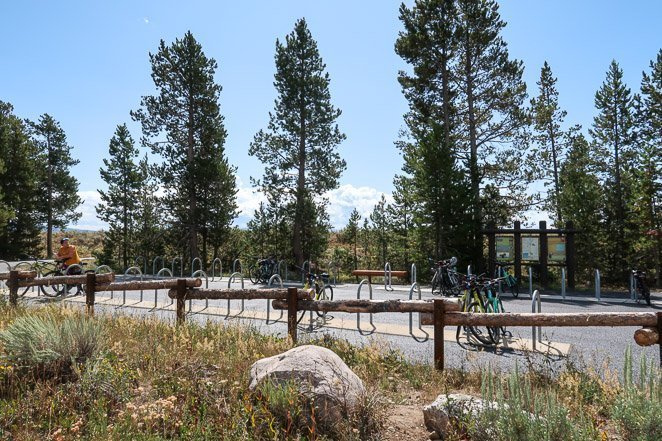 There are many miles of paved bike trails throughout the National Park. So much so, that I was surprised I didn't read about it before we arrived.
We saw a lot of cyclists throughout the park each day and it sure made us excited to take the kids out on the bike trails!
10. Take A Boat Ride From The Colter Bay Marina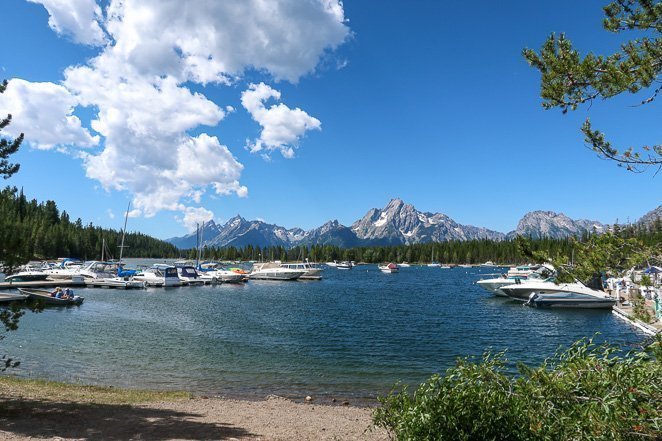 Colter Bay Village, on the North side of Grand Teton National Park, has not only a visitor center and camping, but it also has a large marina.
You can rent canoes, kayaks, or a motorized boat to take out on Jackson Lake. Or, you can book a boat cruise on the lake with a group. From sunset cruises to fishing adventures they have you covered.
11. See Some Wildlife Along Snake River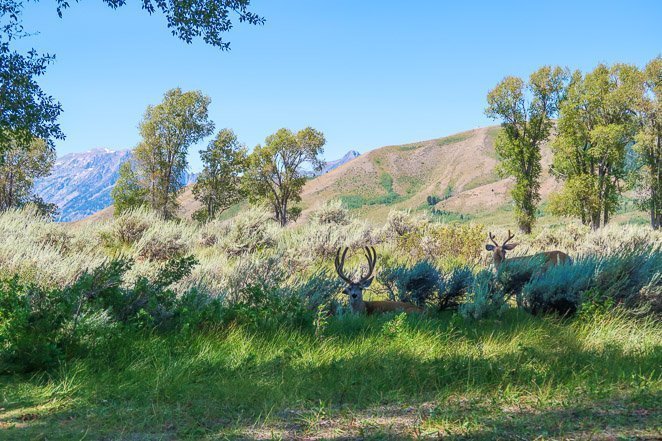 One of the best places to see wildlife in Grand Teton is along the Snake River. Often times while driving to our campground at Gros Venture, we'd see many people looking for Moose along the river.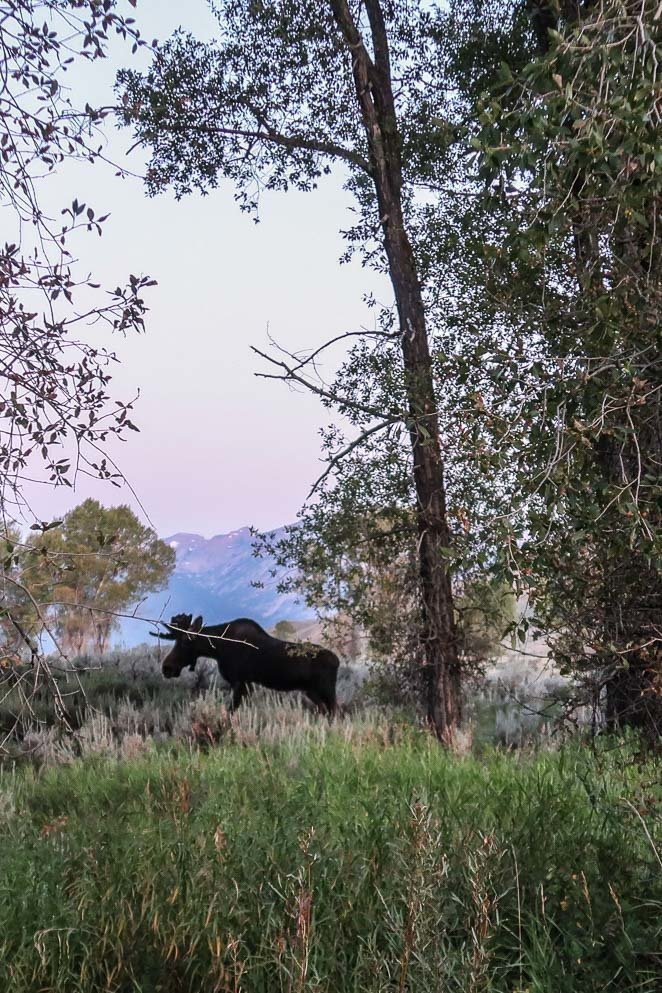 Luckily, we had Moose in our 'back-yard' at our campsite several times and we were able to get up close to the amazing creatures!
It reminded me of seeing so much wildlife in Rocky Mountain National Park during our visit earlier in the summer to the Colorado park. Yet, we never had Moose in our campground there!
12. Experience Fun Camping Inside Grand Teton National Park
Camping in Grand Teton National Park can be thrilling! You are in bear country with breathtaking views of the huge Teton mountain range.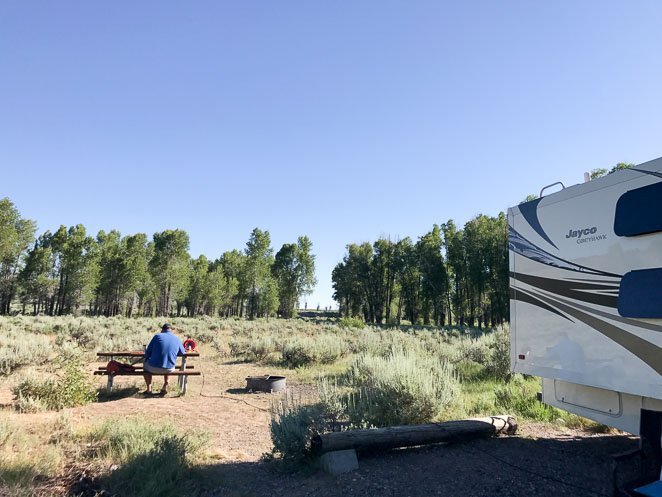 If you can get into one of the many National Park campgrounds that take first-come-first-serve then you are in great luck! That is, if you are visiting during the prime months of June, July or August.
Camping as a family in your RV together makes for great memories. Read more about full time RVing with kids here.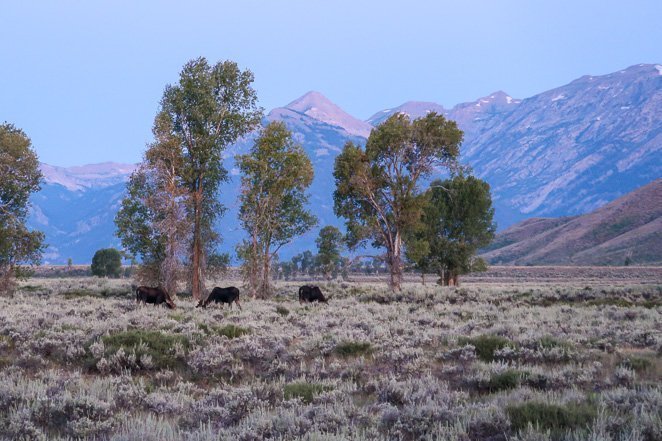 We have a few tips for you if you're planning out your Grand Teton National Park camping. First, if you want a reserved campsite then my advice to you is to book early for any Teton Camping. The campsites that you can reserve fill up at least 6 months ahead of time.
We visited both campgrounds and found that the Gros Ventre Campground had a higher chance of having an available campsite for us during July and we found some cell service at this campground! We also liked the proximity to Jackson, WY.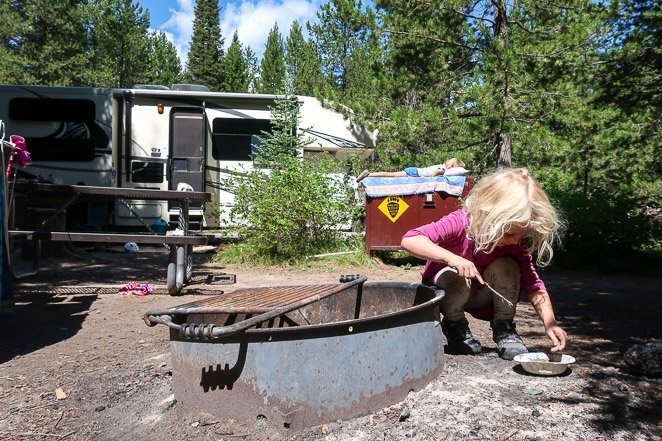 Colter Bay did not have any cell service from Verizon or AT&T and filled up much quicker each morning. During our second visit to the Tetons we did manage to grab a campsite in Colter Bay campground and fell in love with the area.
We could walk to the lake from our campsite and we even found great wifi at the Colter Bay laundromat. Oh, and paid, yet very clean, showers in Colter Bay too!
13. Boondock Outside Of Grand Teton!
If you are looking for a free campsite with a fantastic view, then you need to check out Upper Teton View!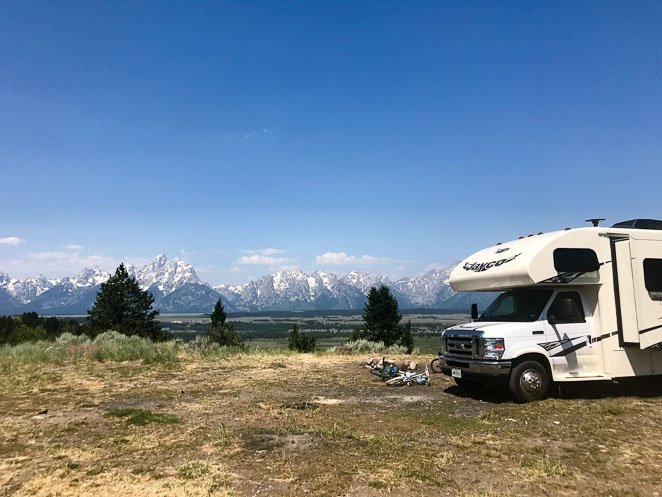 Dispersed Upper Teton View is part of the National Forest in Wyoming. They call it dispersed camping Wyoming. The exact GPS coordinates are: 43.76249, -110.55400. The best part is, it is completely free and you can stay up to 14 days between May and September!
Our family stayed here for 3 nights and it had some of the most breathtaking sunsets that I have ever seen! We were thrilled to have our generator and many other essentials for boondocking while we stayed in the dispersed campsite.
We also met many other traveling friends from all over at Upper Teton View. A group from Australia, a couple from Germany, another couple and their daughter from North Carolina, and another Full time traveling family in an RV!
Some who came before us said that there was decent cell service at the campsite. We didn't find that to be true and needed cellular service since we are traveling as a digital nomad family and work while traveling.
We spent a few days with our new friends and then moved to Gros Ventre Campground, which turned out great for us too!
14. Stop By A Grand Teton Visitor Center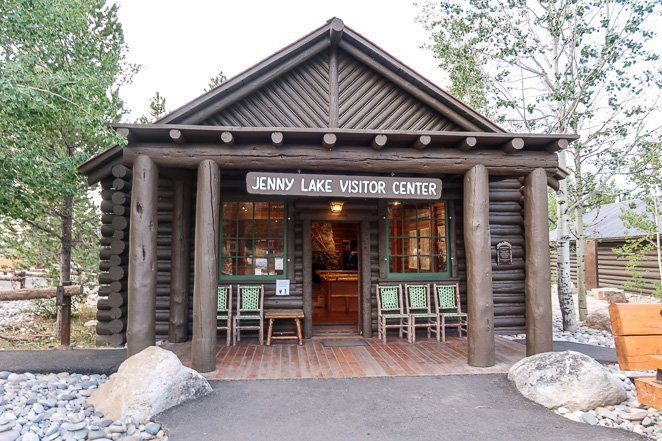 The modern visitor center at Moose Junction, Craig , offers an array of information and educational displays and videos of Grand Teton National Park.
We also enjoyed stopping by the store and smaller visitor center at Jenny's Lake.
Grand Tetons With Kids
If you are planning a family vacation to Grand Teton National Park, then keep reading to learn about the additional things you can do specifically with kids.
Earn Junior Rangers Badges
Grand Teton National Park has a great junior ranger badge program. It is free, which is different from the small fee associated with the Yellowstone Junior Ranger Program.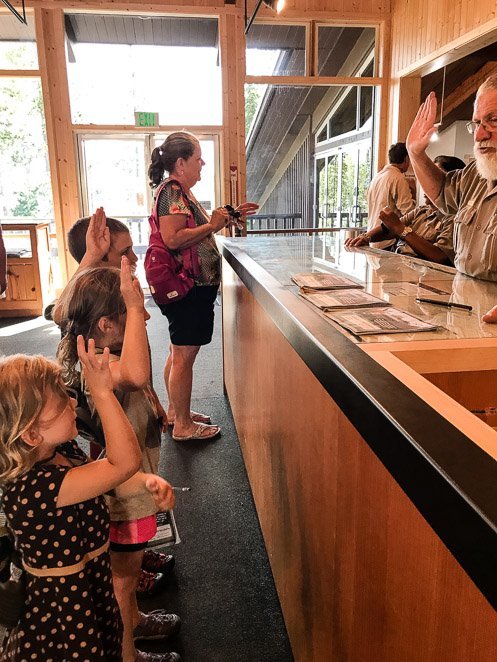 Never heard of the Junior Ranger Badge program? No problem.You just need to stop by a visitor center and ask a Ranger for the Junior Ranger booklets. They are workbooks that the children can complete in order to turn in and earn a Junior Ranger badge to keep and show off to grandparents and friends!
My 8 and 6 year old kids were able to work through their booklet by learning about Grand Teton National Park from the exhibits at the Craig Thomas Discovery and Visitor Center.
They also watched the video at the theater in the center, and went on a Ranger-led hike as a way to finish the requirements to earn their badges!
Go To A Ranger Lead Talk At A Campground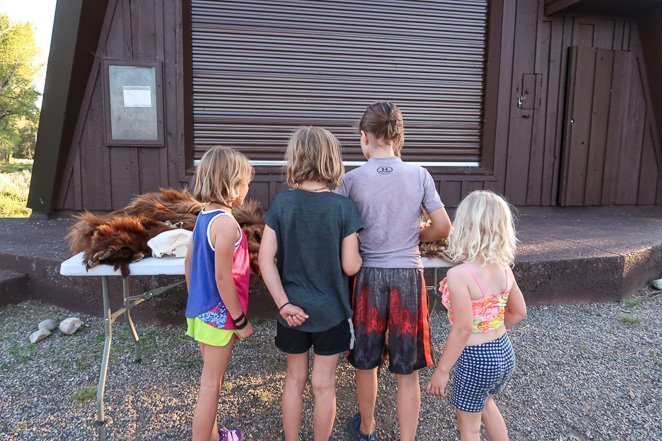 Our kids loved riding their bikes from our campsite at Gros Venture campground to the amphitheater at night when a ranger came to do a talk about bears in the park. Oh, and be sure to buy bear spray once you arrive and keep it with you at all times.
Best of the Tetons Wrap Up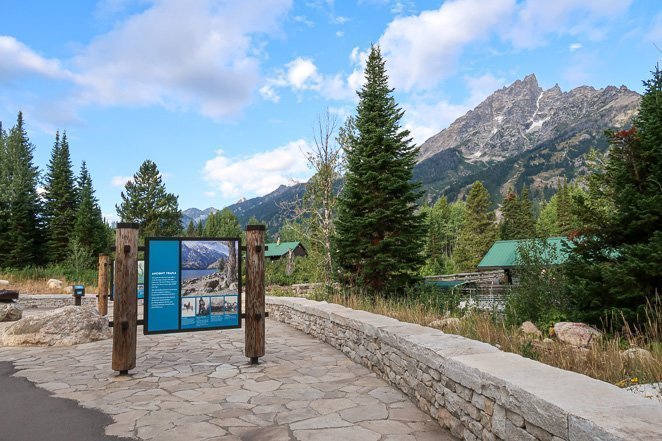 The abundance of Grand Teton things to do will keep you busy for days. If you follow our Grand Teton itinerary above, you'll find yourelf doing some fun outdoor activities ranging from hiking, biking, camping, swimming, canoe/kayak/SUP rentals, whitewater rafting, wildlife viewing, fishing, and so much more.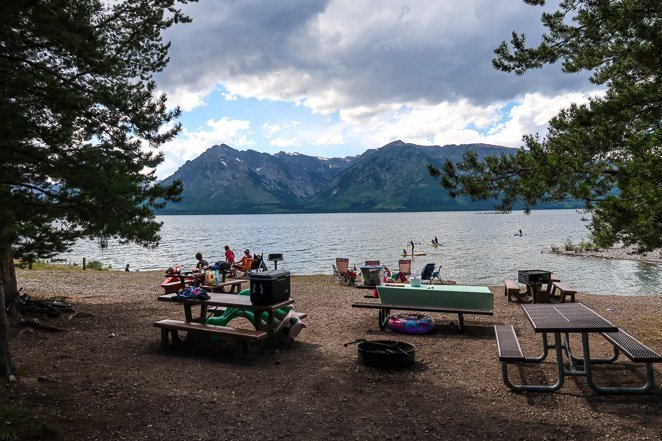 Make your Grand Teton family vacation an amazing experience. Then, if you have time, drive north to visit Yellowstone National Park using this great Yellowstone itinerary to your schedule and even spend some time in Jackson Hole Wyoming.