If you're planning to trip to Malaysia with kids, then you should be sure to make a stop in Penang, Malaysia. There are so many things to do in Penang with kids you will be glad that you added it to your Malaysia travel itinerary.
​Located on the northwest coast of Malaysia, Penang Island is home to George Town, a UNESCO World Heritage Site. This island is a big hit for millions of tourists and once you visit, you'll know why.
During our travels throughout Southeast Asia and after visiting Bali, we spent one month visiting Penang. Not only did we find amazing things to do for kids, but we also found the Island to be safe and clean for a family visiting. The air was clear, the people were nice, and there was a Western vibe while still being in Southeast Asia.
Now, if you're planning your first overseas flight as a family to visit Malaysia, and you have a baby at home, then check out these useful tips on how to take a baby's passport photo.
Okay, let's dive into some great things to do in Penang, Malaysia with kids!
THIS ARTICLE MAY CONTAIN COMPENSATED LINKS. PLEASE READ OUR DISCLAIMER FOR MORE INFO.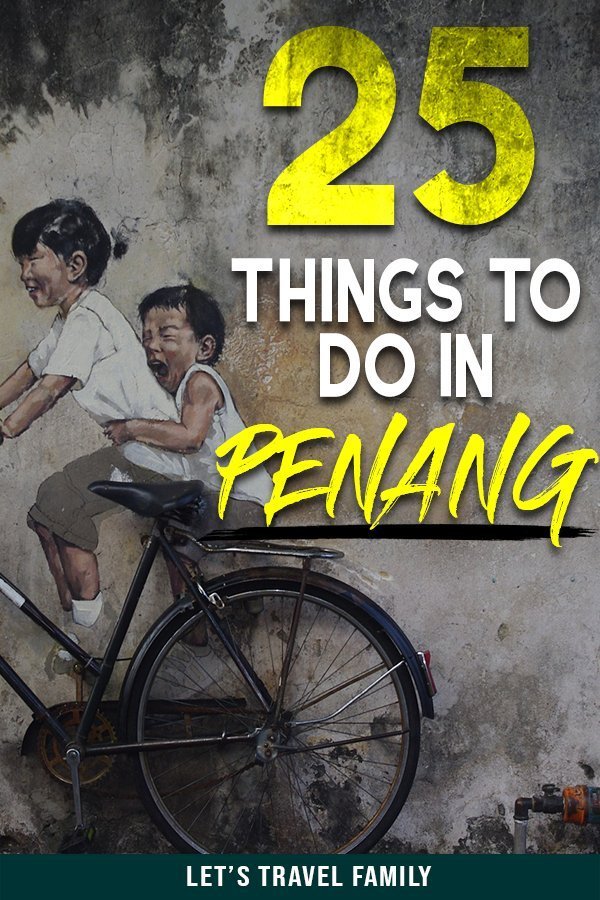 ​
What To Do in Penang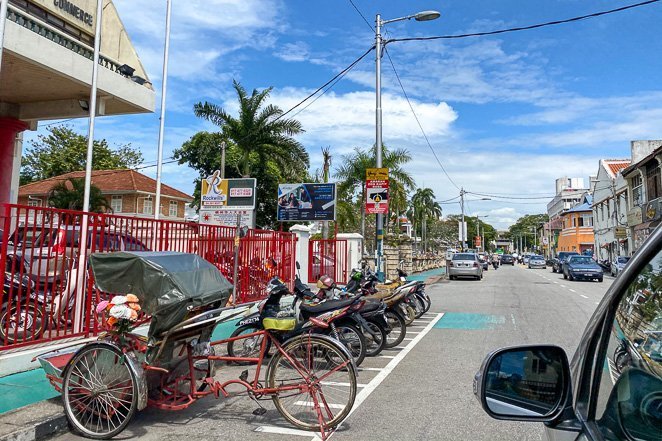 Penang is a place rich in culture and activities. You won't run out of Penang attractions to visit or things to do in Penang Malaysia.
Here's a Penang itinerary that I put together to help you plan out your visit.
1. Visit Escape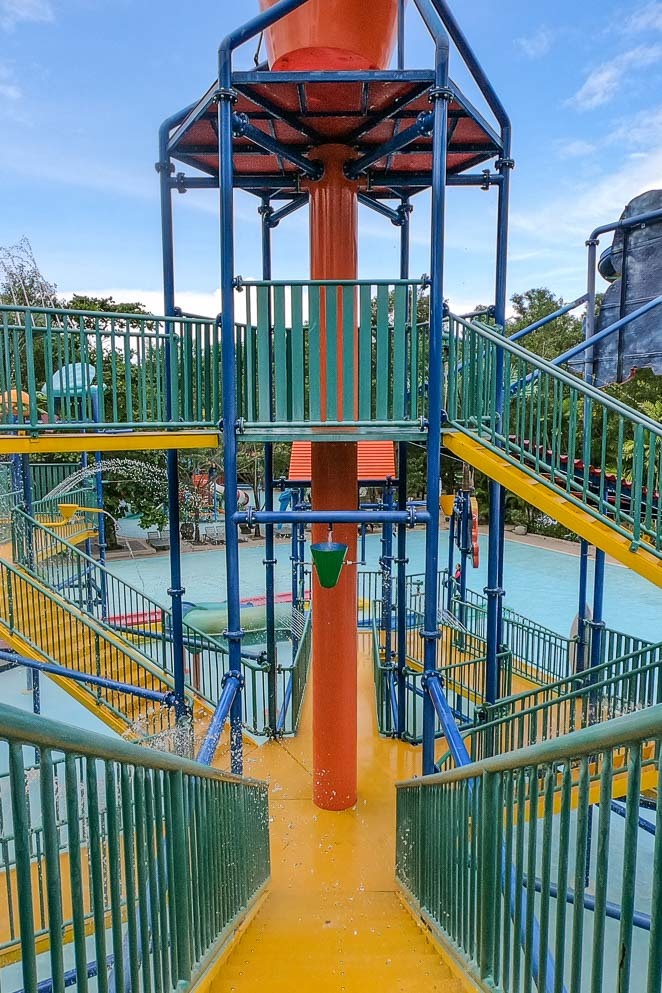 Amusement Parks can be so fun, and we were blown away by Escape theme park in Penang.Our kids loved it, Tony and I loved it, and we truly only have great things to say about it. There was so much to do at this Penang theme park, we wished we would have planned for 2 days to visit.
What makes ESCAPE special is its natural environment which is uncommon for amusement parks. They also have this "Low Tech, High Fun" principle which works for all ages.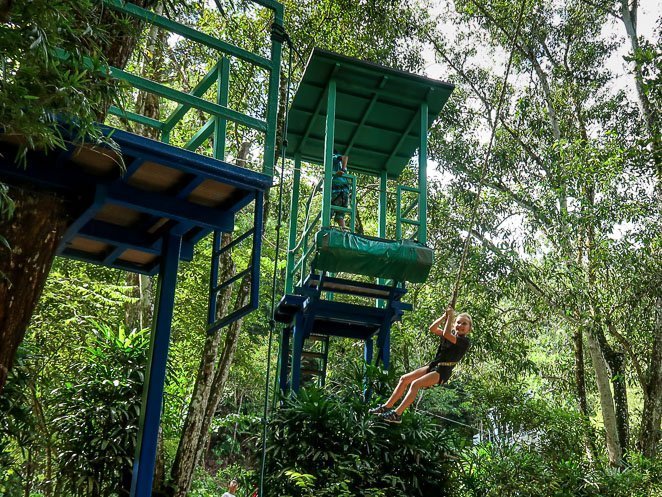 It was even known for winning the Best Attraction/Theme Park from Malaysia Tourism Award for 2016/2017. Makes you curious about how fun it can be there, right?
Plan to spend 2 days visiting so that you have the opportunity to enjoy all that the waterpark side has to offer, while also enjoying the outdoor adventure area.
Our kids loved the ropes course and trampolines while they also enjoyed the water slides and wave pool. Be sure to arrive when it opens and plan to say until it starts to rain. Remember, you are in a tropical area where it often rains in the afternoon.
2. Visit Entopia Butterfly Farm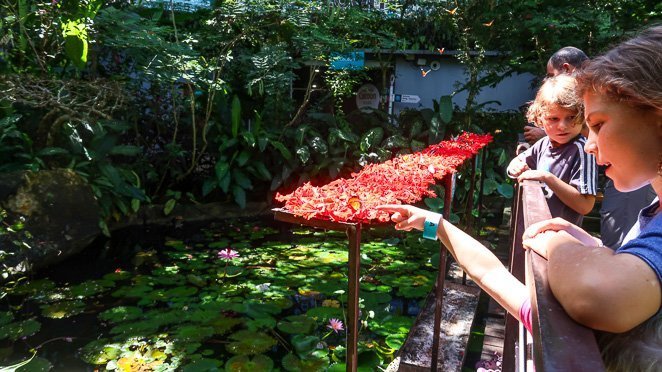 For a fun and exciting learning experience, bring your kids to Entopia Butterfly Farm.
Our family spent several hours at Entopia, and we could have easily spent more if we would have planned better.
It was much more than a Butterfly garden, and more like an educational Science Center with a focus on butterflies, insects and reptiles.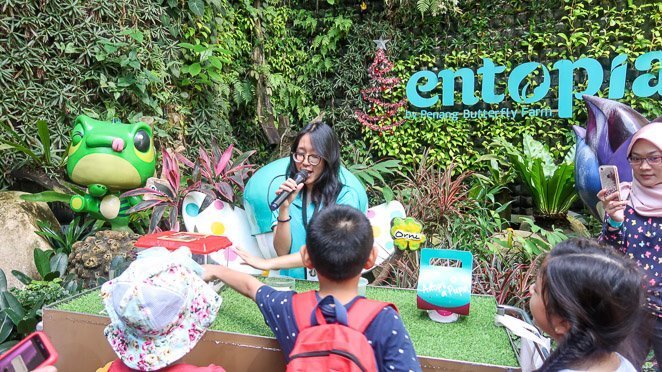 Entopia showcases "The Natureland", one of the biggest butterfly farms in Malaysia. Aside from serving as a habitat for invertebrates and reptiles, they have Approximately 15,000 butterflies in 60 species!
It's also a great place if you want a peaceful stroll.
In addition to their outdoor Butterfly garden area, they have "The Cocoon" which features exhibitions and indoor activities that can keep you busy all day.
Let the kids enjoy and learn through visiting the Pandora Forest, Metamorphosis, Lumino City, Downtown Entopia, Breeding Ground, Underground Mysteries and Understory Tales.
A special thanks to Entopia for sponsoring our visit.
3. Holiday Art Camp With Penang Pac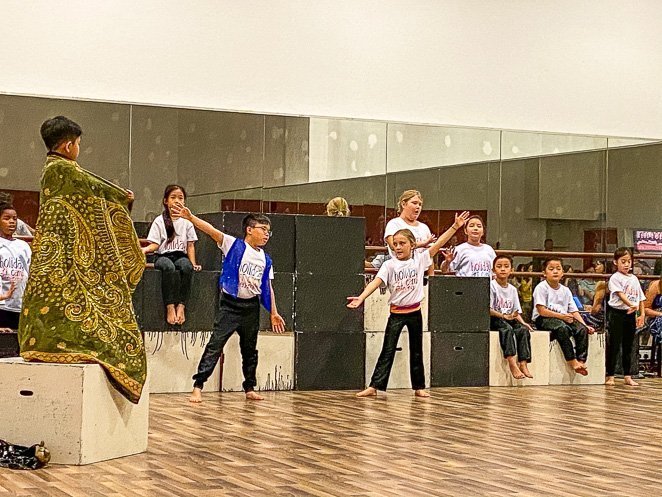 During our month in Penang, I learned about a holiday drama camp for children.
Our kids attended the Holiday Art Camp for a few days of our stay in Penang. It was a great program to develop kids' art and social skills.
It took place in the Performing Arts Centre of Penang where other art events also happen. You can check their future shows through their website.
4. Attend A French Baking Class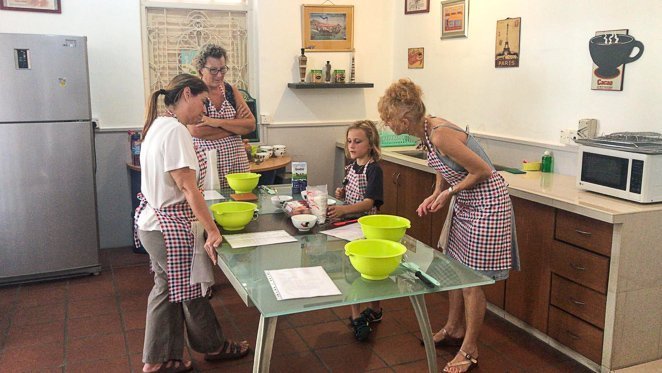 Do you want to experience a little bit of France? Or, are you or kids really into baking? That's not impossible in Penang.
Attend a French Baking Class at Alliance Française de Penang, a French language and cultural centre in Penang.
Aside from baking class, they also have French language classes for kids and group classes. Find the other details through their official website.
Lilya loved taking the pastry class one Saturday afternoon with Tony helping. She learned so much from an amazing pastry chef who was trained at Le Cordon Bleu in France.
5. Visit Gurney Plaza Mall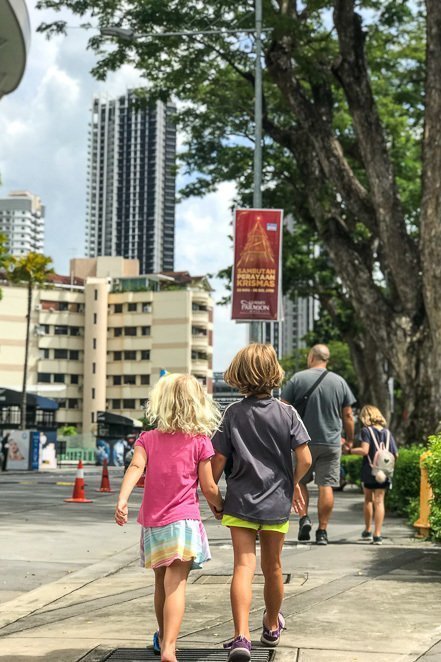 If you find yourself wanting to do something indoors, which some air conditioning, then the best shopping mall in Penang is here to keep you busy and cool you off.
Gurney Plaza Mall has some great stores and restaurants to visit with family. We visited several times during our stay in Penang. That's just how fun it is.
It's open from 10 am to 10 pm and is located in CapitaLand.
6. Go To A Movie Theatre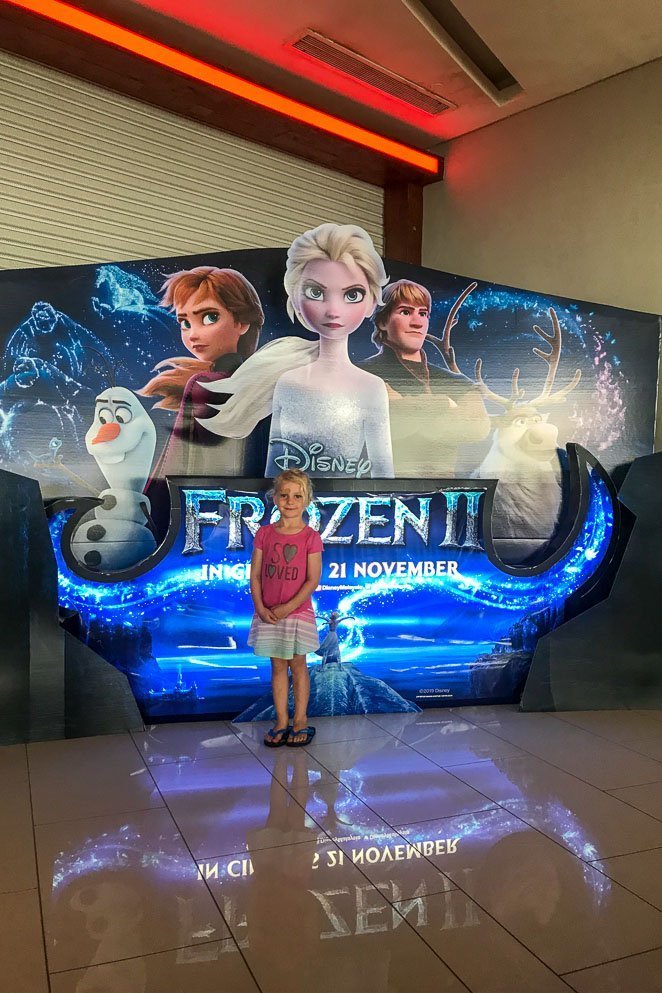 For a relaxing day, take in a movie. Now, I know it's not always on your list of things to do in a new location, but sometimes it's nice to just chill for a bit.
In Penang, going to the movies is VERY cheap, and nice and cool. We actually brought our sweatshirts to make sure the kids weren't too cold during the movie.
We watched the new Frozen movie in one of the movie theatres in Penang. For our traveling family of 6, $16 USD for movie tickets on a Saturday is very cheap!
7. Rock Climb At Project Rock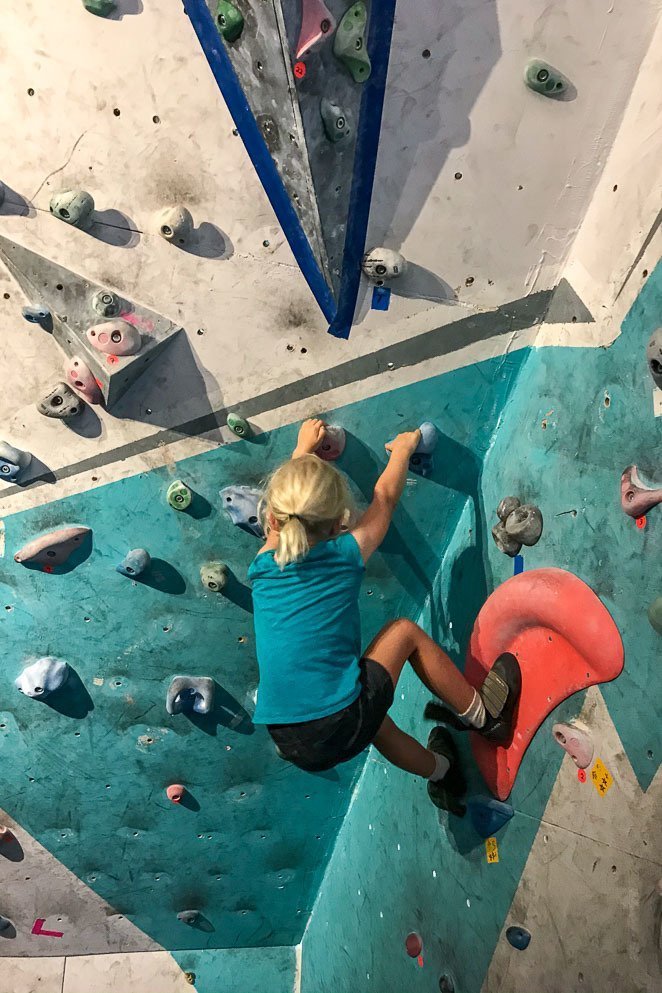 Let your kids practice their rock climbing skills at one of Project Rock's locations. We brought our kids there and they LOVED it. The people were so nice and we spent hours enjoying some bouldering.
Rock climbing also enhances your kids' intellect. Did you know that? Aside from strength, they have to think about the routes they should take as if it were a puzzle.
You can buy tickets in advance through their website OR buy your tickets when you get there.
Just as we left Penang, they opened a second location at the IKEA in Penang.
8. Visit The Local Wet Market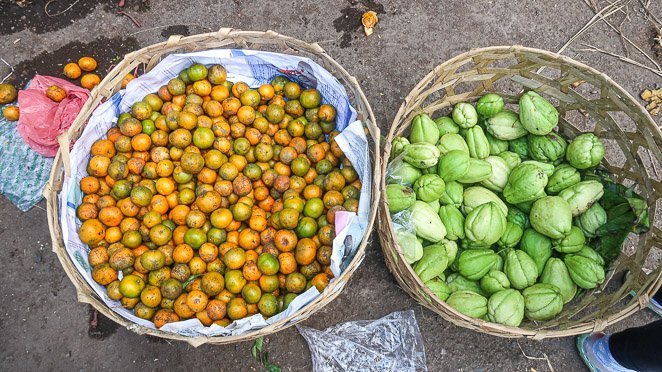 If you want to save money on meals, it's best to pay a visit to the local wet markets and buy from there!
Aside from practicality, visiting local wet markets can also feel great and you can learn more from the locals. You get to see the raw tradition and culture in Penang and get to interact with the locals in a more genuine setting.
9. Visit The Night Market
Walking around at night is certainly therapeutic and also another way to see Penang. Add the night market into the mix and it'll be an extra fun night for the family.
You can find unique jewelry, produce, and local snacks with reasonable prices at the night market in Penang.
​But the goods are not the best part, it's the atmosphere in the night market.
10. Visit The Tropical Spice Garden
One of the top Penang attractions is the Tropical Spice Garden. It is home to spices and tropical plants and a great place to visit if you're interested about the flora and fauna of Penang.
Stretching over 6 acres of land, the garden showcases culture and nature together, making it center of Penang tourism.
Also, you can choose to participate in cooking classes or go on guided tours/hikes.
11. Visit Penang National Park
If it isn't obvious yet with our collection of posts about NPs, we LOVE visiting national parks. Luckily, Penang also has one.
It's also a great place to learn about the flora and fauna of Penang in a natural setting. It has a mangrove area, sandy beach habitats, a meromictic lake, and open seas.You won't run out of things to do and views to see.
​Where To Eat In Penang
If you didn't know, Penang is often referred to as the food capital of Malaysia. Honestly, we never somewhere that Tony and I didn't like and found that eating out or order food in was close to the same price as if we would have bought Western food from the grocery store and cooked for ourselves.
​So, we ate out a lot while in Penang. Here are a few of the places we enjoyed.
12. An Viet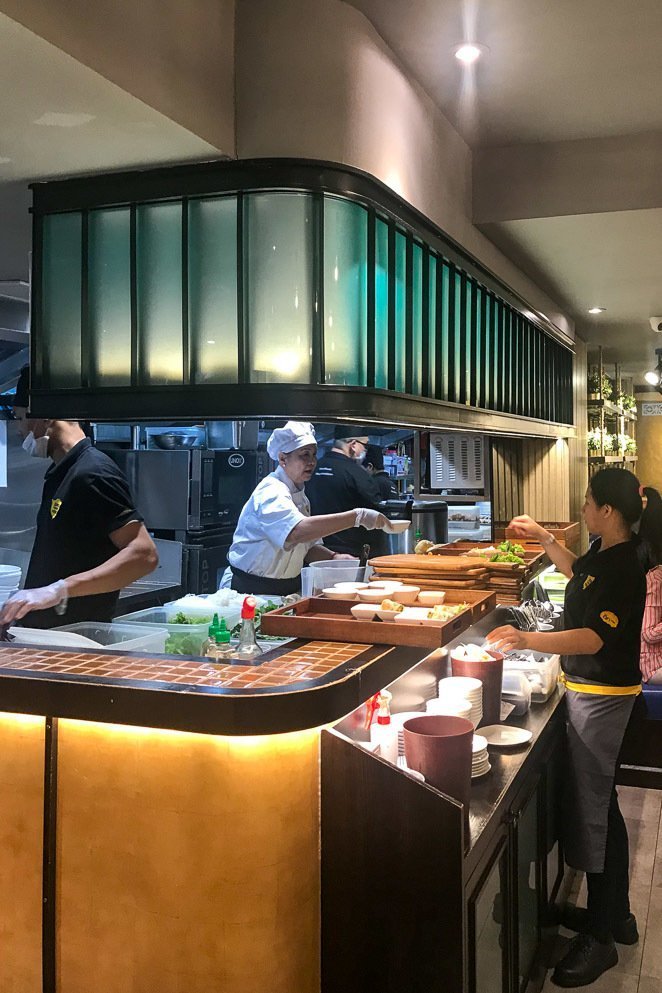 ​Aside from France, you can also experience Vietnam dining in Penang! An Viet can be found at Gurney Plaza and we loved it!
​It can be a bit crowded, so it's better to go early for meal times. This restaurant offers both traditional and modern Vietnamese cuisine so if you want Vietnamese Beef Noodle or a Vietnamese Baguette, they can serve it to you.
I also appreciated and felt inspired by their goal to have you 'choose a portion you can finish' as a way to promote zero waste. So you can choose to have a portion of small, medium or large side of rice or noodles, so that you plan to eat all of your food. If you need more, they will gladly bring you more at no extra charge.
13. Healy Mac's Irish Bar & Restaurant
Located in Straits Quay and open 7 days a week, Healy Mac's is a large restaurant with outdoor seating overlooking the marina.
Aside from the good food, they also offer Sports live coverage and a live band from Thursday to Sunday.
14. Blue Reef Fish & Chips
They have a wide range of food choices but their specialty are their fish and chips which we loved.
Blue Reef is in front of the sea to give you a calming view. Find this diner in Tanjung Bungah, Penang.
15. Love a Loaf Bakery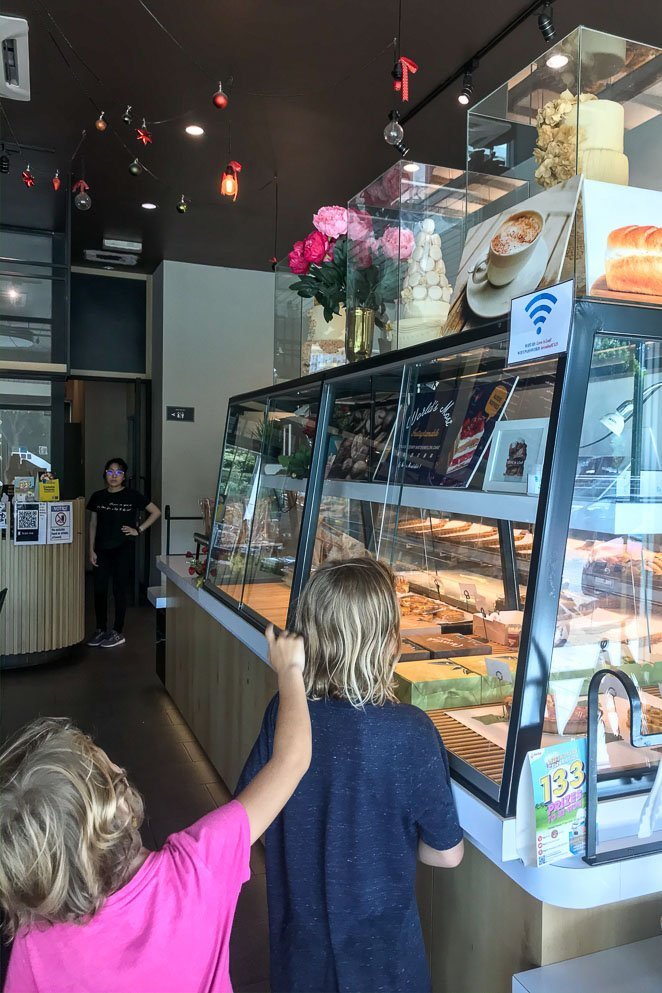 Have another taste of France, or ate least a Western bread taste, in Love a Loaf Bakery. You'll surely fall in love with both the aesthetic and the taste of their baked goods!
Choose from their bread & pastries, cakes & desserts, hot food series, and coffee & beverages.
We visited a few times to stock up on great breads.
16. Cold Storage – Grocery Shopping
If you're looking for an excellent grocery store to help stock up your kitchen while in Penang, you can trust Cold Storage to be the place to visit.
Cold Storage has been known as a source of fresh produce in Malaysia since 1963. They also have their cafe with ready-to-eat meals now.
From poultry to seafood, they've got it all for you.
17. Hans Cafe and Deli
If you have plans to go grocery shopping in Tesco in Penang, you may come across Hans Cafe and Deli. If you do, get in there and try their food, it's worth it!
This hidden gem serves great food and drinks and has great customer service, you won't regret giving it a chance.
18. Sam's Groceria
Another option if you're into a healthy and fit lifestyle is Sam's Groceria.
They make sure to offer fresh products to assist the healthy lifestyle you would want and their employees are all knowledgeable about the products they offer so you can ask about product details anytime.
We visited Sam's almost daily as it was near our Airbnb and had all the food we needed to pick up regularly.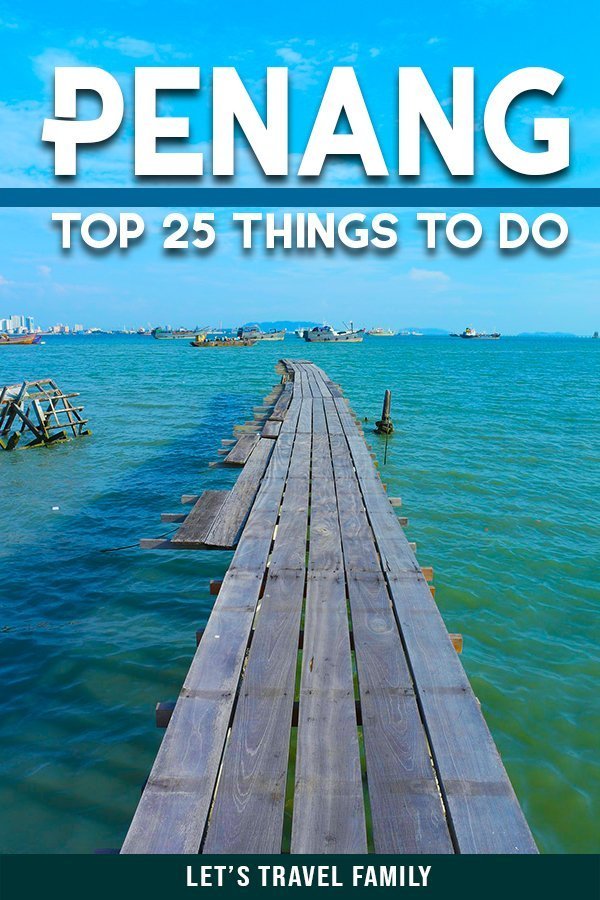 ​
Things To Do in George Town
While visiting Penang Island, you have to take some time to explore George Town. Being the first British settlement in Southeast Asia, George Town has a large mixture of Asian and British architecture and history. It didn't gain its independence from the British until 1957.
If you are a history buff, you'll love Georgetown.
19. Explore The Street Art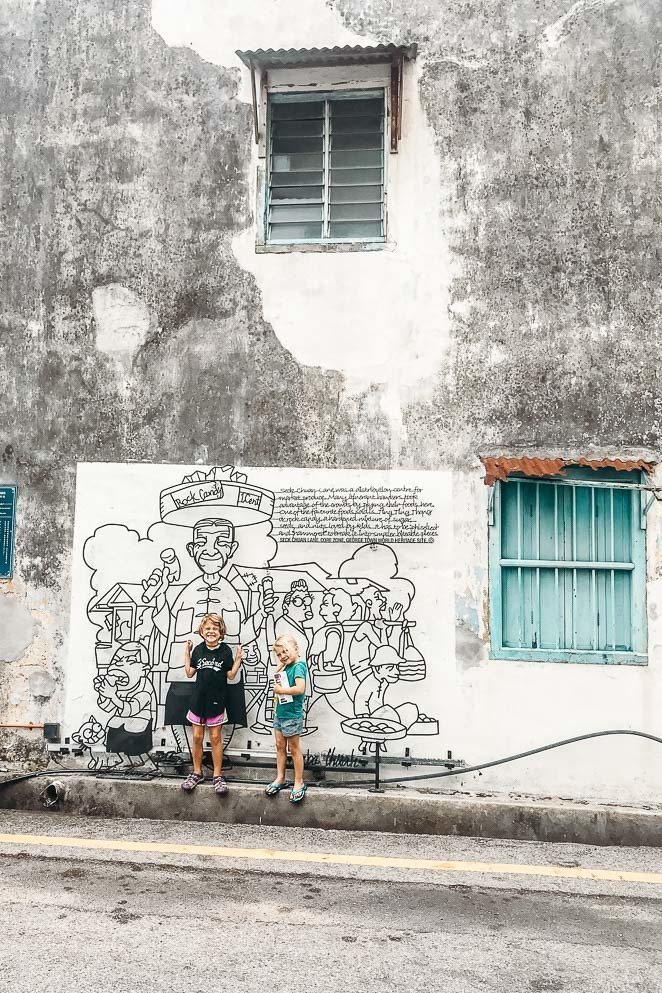 George Town is known for its abundance of street art. There are even tourist maps given out all over on where to find the fun sculptures and art displays. If you're looking in Instagram about George Town, Penang, you almost always see photo after photo of street art.
We found a few great pieces of art, but it's not really a huge interest of ours so we left it at that.
20. The Daily Dose Cafe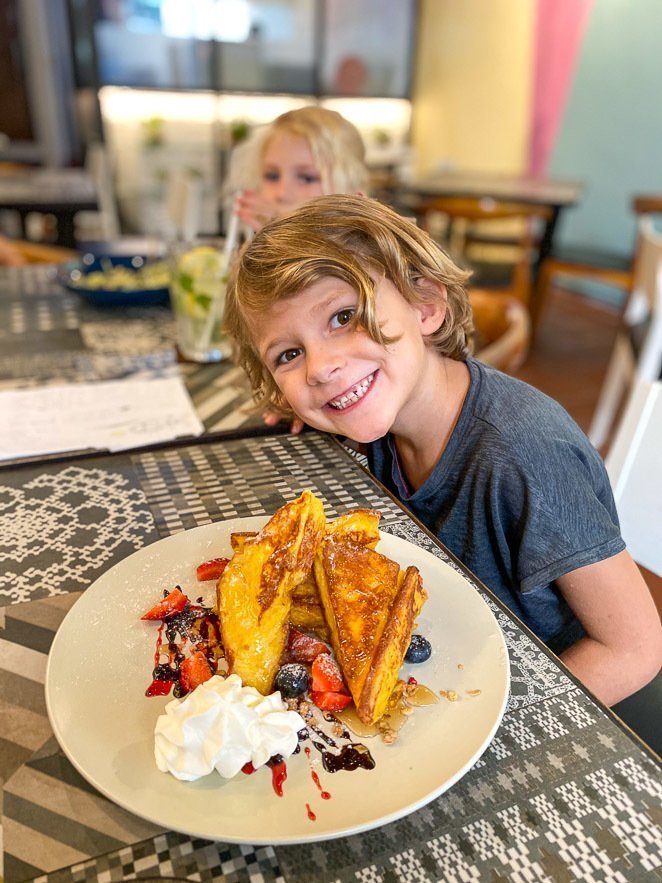 For some amazing breakfast that feels like home during your Penang travel, go and eat in the Daily Dose Cafe.
The cafe serves breakfast, lunch, dinner, coffee, and drinks. They also serve home cooked western food along with Asian choices, that's why they're so popular.
You can reserve a table in advance but walk-ins are welcome, too.
21. Visit Kek Lok Si Temple
One of the best ways to know about Malaysia's rich culture is visiting their temples. Kek Lok Si, a Buddhist temple, is one of the favorite Penang tourist attractions.
Listed as one of the popular Georgetown attractions, Kek Lok Si will amaze you with its intricate details and calming atmosphere.
Even better, there's no entrance fee!
22. Go to Penang Hill
Want to go hiking? Penang Hill is waiting for you!
To get to the top of the hill, you'll have to take the Penang Hill railway. But it's all worth it because once you get to the top, the rewards are breathtaking views.
23. The Habitat
Another option if you want to indulge in Penang's nature is visiting The Habitat.
It's a rainforest on Penang Hill jungle reserve area which has been serving for sustenance of life in Penang.
This interesting place in Penang allows families to go on hikes, guided hikes, and zip line adventures through the jungle.
24. Visit City Park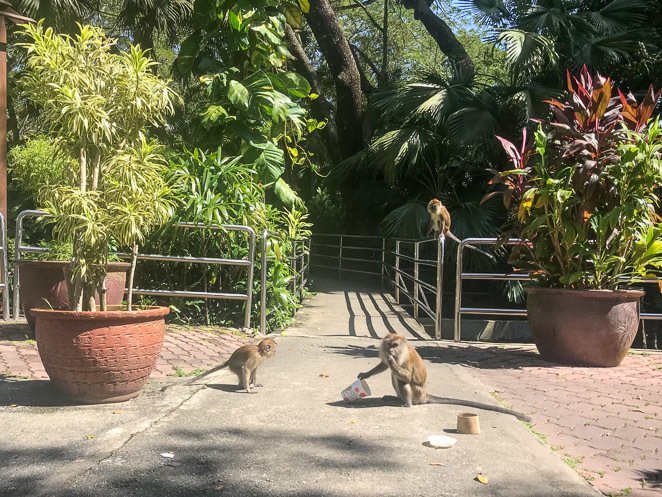 Also known as the Youth Park, the City Park is a great place to hangout with family in nature, but also with a playground and pool.
The park is complete for recreation with its playground, skating rink, graffiti corner, swimming pools, reflexology paths and outdoor auditorium, all of which are open to the public. You won't run out of things to do!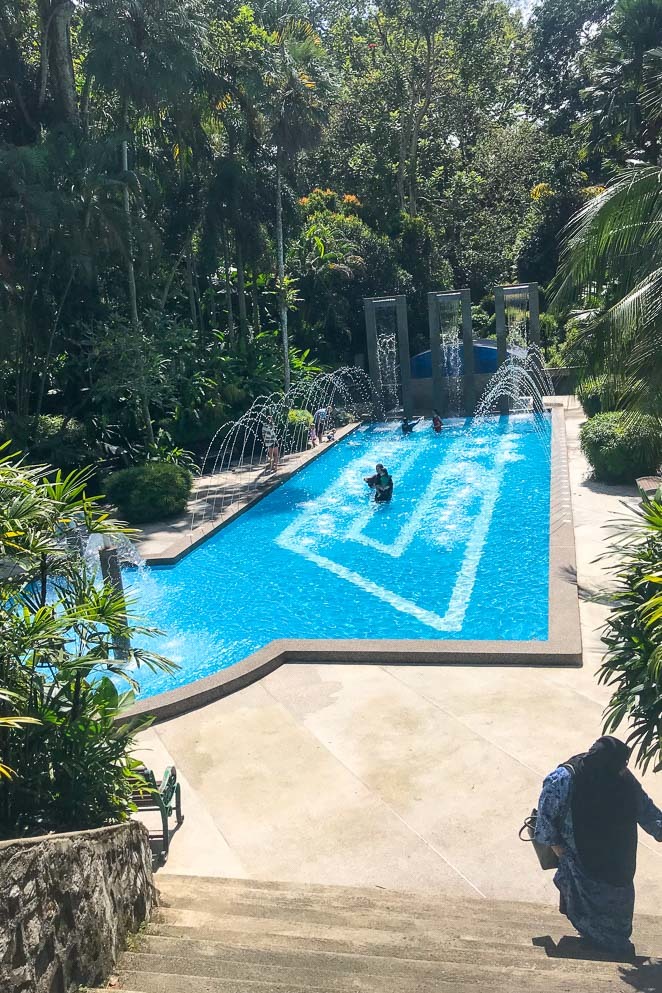 We visited and swam in there twice and we really loved it. Be prepared to see some wild monkeys in the trees while you're there.
25. Enjoy The Sunsets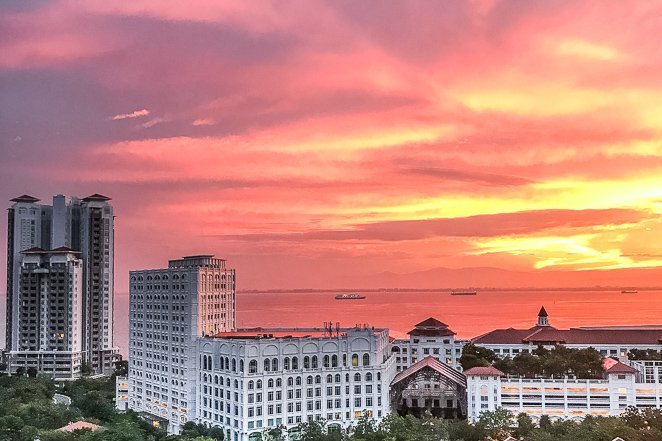 I don't know about you, but I love capturing a great sunset. This was over Straits Que outside the window of our Airbnb.
Ways To Get Around in Penang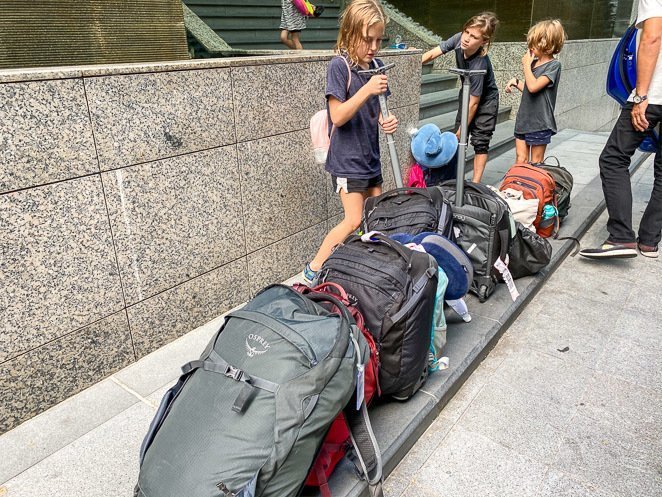 There are a few ways to get around Penang during your visit. You could rent a car, but it's really not necessary. There are sidewalks in most places and depending on where you're staying you can often walk where you want to go.
Otherwise, there are a few options.
Grab
Grab is a mobile app that lets you call for transportation service from a private driver. It is super convenient and extremely affordable in Penang. We used Grab all the time during our stay in Penang as they had the option for car that could seat 4 or 6 and we are a family of 6 so we always got the larger Grabs.
Most of the time, we only had to wait 5-10 minutes for a car and it would cost us under $5 per transport. That was for ALL 6 of us! Now, longer distances cost more, but it was very affordable.
Klook
Klook is another app/ website filled with information on local tourist attractions and things to do in almost every place.
​They also provide maps and let you book transportation services to get to where you want to go. We used Klook to book our large van from the airport to our Airbnb upon arrival. That way we knew we had a driver waiting that had a large enough van for all 6 of us AND all of our luggage.
We regret not ordering a Klook driver for our way TO the airport when we left Penang. Instead, we relied on Grab and that was the day they were short on drivers and we needed to order 2 cars to fit all 6 of us with our luggage.
​Places To Stay in Penang
Whether you are looking for the best Hotels in Penang, or just the best places to stay in Penang, we want to help you find your accommodations. It really depends on how long you plan to visit and what you want to do while you're in Penang.
Airbnb
If you are planning a longer stay and you want access to a kitchen, then Airbnb might your best choice. Airbnbs can often be cheaper than hotel rooms with weekly or monthly discounts, especially for a family.
Click here to get $50 off your first booking with Airbnb!
We loved our 3-bedroom condo in Penang and our host, Daniel, was fantastic. If you want to see where we stayed in Penang, click here.
Hard Rock Hotel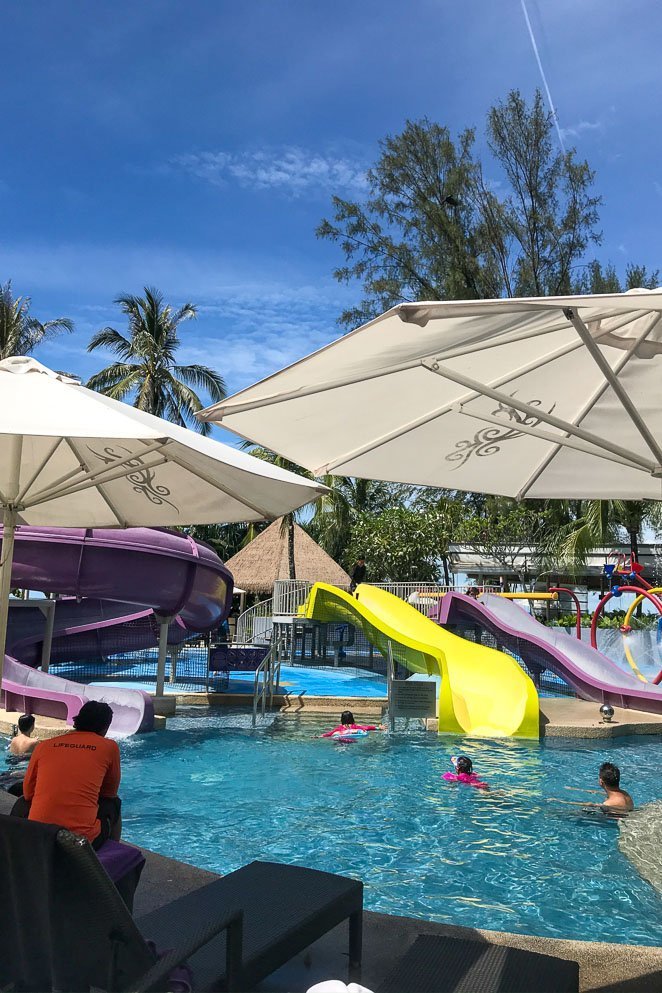 The Hard Rock Hotel is certainly one of the best hotels you can find in Penang. With 350 guest rooms & suites, you have a choice on what type of room to take.
Their amenities are also top-tier with some for kids, teens, and adults. Some are the TABU Teens Club, Roxity Kids Club, Lil' Rockers Infants Club, a spa, and gym.
You'll never go wrong with Hard Rock Hotel. We stopped by ourselves to check it out, and then ate at their restaurant, which by the way was great. We were craving some western burgers and it hit the spot.
Click here to check rates for the Hard Rock Hotel in Penang.
Georgetown SeaView Condo Tropicana
With their garden, outdoor pool, and great views, SeaView Condo Tropicana is a great option for families like us.
​As if their room amenities aren't enough to make guests satisfied, they have free WiFi and free parking.
Palm Mansion Boutique Suites
For those who'd rather pick an accommodation that already comes with shuttle service, Palm Mansion Boutique Suites is for you.
They offer service and shuttle from Penang International Airport for a price.
Each room has a television, a minibar, and a work desk. According to reviews, couples love this accommodation.
Maritime Luxury Suites
If luxury is your priority, then choose the Maritime Luxur​​y Suites!
They also provide an airport shuttle. Also, aside from free WiFi and parking, they have a fitness centre and a bar. Adults will certainly love this place.
​The Best Time To Visit Penang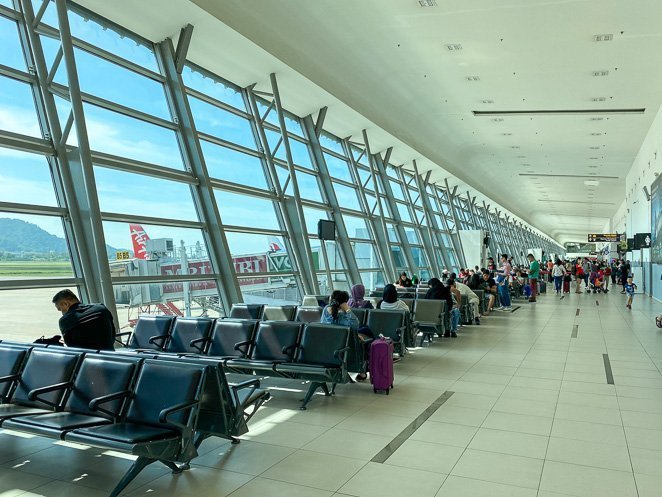 It's humid in Penang all year so you can't avoid that, yet it doesn't seem to both many visitors. You can pick the time when it's significantly less humid which is between December to February.
Just remember that everyone wants to avoid the heat so for times that it's not very hot, there will be quite the crowd of tourists. Penang is in the tropics so you often get rain in the afternoons pretty much year round, so keep that in mind.
Penang, Malaysia is definitely a great destination for a trip with your kids. Aside from the usual family parks and locations, there are lots of things to do for kids in Penang.
Penang sightseeing is also one thing you shouldn't miss and you could add to your family bucketlist.
Let us know what else would be helpful to plan your own Penang trip.
Other great destinations to plan a trip to:
Visit Tokyo in 2 Days or moreFind fun things to do in Kuala Lumpur, MalaysiaEnjoy A Trip To Thailand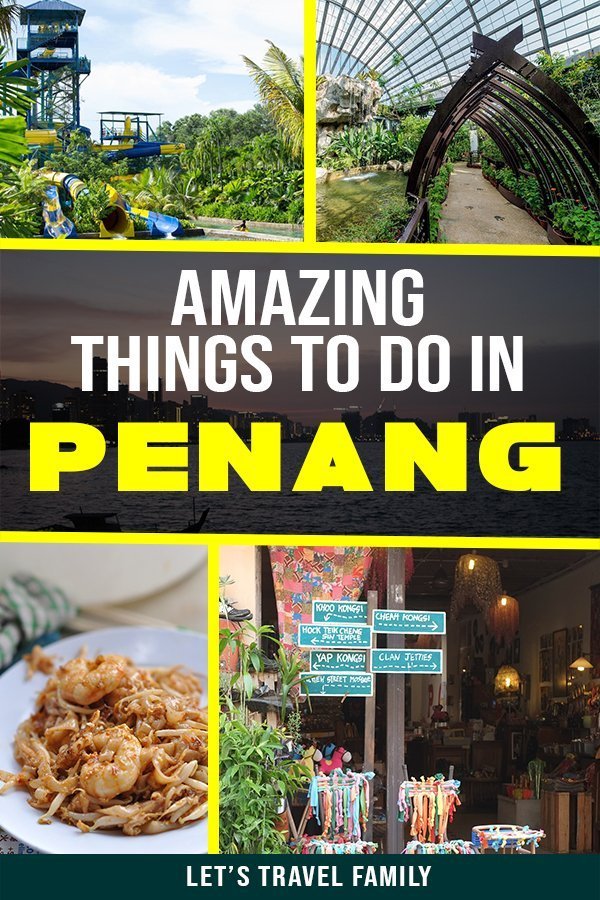 Let's Travel Family is a participant in the Amazon Services LLC Associates Program, an affiliate advertising program designed to provide a means for sites to earn advertising fees by advertising and linking to amazon.com, amazon.co.uk, amazon.ca. Amazon and the Amazon logo are trademarks of Amazon.com, Inc. or its affiliates.